NFC East:

Rodney Harrison
July, 7, 2014
7/07/14
10:00
AM ET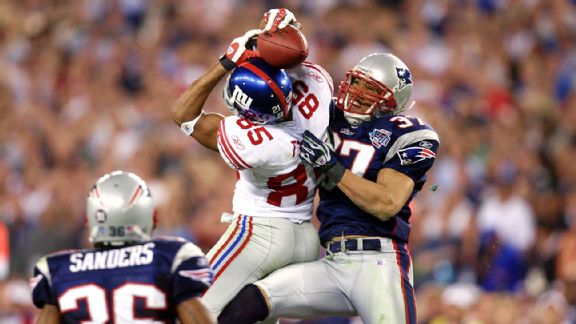 John David Mercer/USA TODAY Sports
»
VOTE HERE
»
NFC Plays:
East
|
West
|
North
|
South
»
AFC:
East
|
West
|
North
|
South
This is one of three nominations for the most memorable play in
New York Giants
history. In the next two days, we'll feature Lawrence Taylor's sack that broke Joe Theismann's leg in 1985 and the Joe Pisarcik-Herman Edwards "Miracle at the Meadowlands" play from 1978. Please vote for your choice as the Giants' most memorable play.
Score
: Giants 17, Patriots 14
Date
: Feb. 3, 2008
Site
: University of Phoenix Stadium

What's forgotten about this play is that Giants quarterback
Eli Manning
was as close to being sacked as a quarterback can possibly be without actually being sacked. The Giants trailed the undefeated
New England Patriots
14-10 with a little more than a minute left in Super Bowl XLII. It was third-and-5 on the Giants' 44-yard line, the eighth play of a drive on which the Giants already had converted a fourth down and would later need to convert another third. The play broke down and it appeared as though the Giants would have to pick up a long fourth down to keep their hopes of the upset alive. But Manning slipped out of the grasp of New England defensive end Jarvis Green, stepped forward in the pocket and fired the ball over the middle, where little-used Giants wide receiver David Tyree and Patriots defensive back Rodney Harrison were jumping for it at the same time.
Replays would show that Tyree caught the ball with both hands but that Harrison's hand got there too and knocked Tyree's left hand off the ball. As the two fell to the ground together, Tyree pinned the ball against the forehead of his helmet with his left hand, then managed somehow to get his left hand back on the ball and maintain possession all the way to the ground.
The result was a miraculous 32-yard gain and a first down that kept alive the Giants' chances. Three plays later, Manning found Steve Smith to convert a third-and-11, and on the play after that, he connected with Plaxico Burress for the 13-yard touchdown catch that gave the Giants the 17-14 lead.
The Giants kicked the ball back to New England, but with only 29 seconds left on the clock,
Tom Brady
couldn't get the ball out of his own end, and the Giants secured the third, and most astounding, Super Bowl title in their history. Tyree's catch was improbable enough to fit the moment. No one thought the Patriots, who carried an 18-0 record into the game and would have been only the second team in NFL history to finish a season undefeated, would lose. Most expected this to be a coronation of the best team in the history of the game. Manning, Tyree and the Giants did everything they possibly could to deny it.
@DanGrazianoESPN been a fan all my life and I gotta say the helmet grab. From Eli's scramble to Tyree's catch, just flat amazing!

— KeithMichaud (@keithmmichaud) June 5, 2014
April, 10, 2014
4/10/14
10:45
AM ET
IRVING, Texas -- We had another lively
Dallas Cowboys
chat on Wednesday with a wide range of topics.
We touched on the Cowboys possibly trading down in the first round if a player like
Aaron Donald
was not available, the non-issue (to me anyway) of
Tony Romo
,
Jason Witten
and
DeMarco Murray
in Jerry Jones' suite at the NCAA title game, if the scheme change was just an excuse for some of the poor defensive play in 2013 and, as always, drafting a quartrerback.
If you want to read the whole chat,
click here.
If you have more questions, send me one on Twitter (@toddarcher) and use the #cowboysmail hashtag. The mailbag posts will go up Friday and Saturday.
But Geno in Plano asked a question I'd like to expand upon.
Church
Thomas
Geno:
the Cowboys seem to undervalue the safety positions- always seem to back fill or try a stop-gap; any chance of signing a more proven commodity this year pre- or post- draft?
Todd Archer:
I don't think so, Geno. There's not a real proven guy worth it right now. Look at Marinelli's safeties in Chicago. They were solid players but hardly stars. Maybe they look in the draft, but I really think they try to see what they have in
J.J. Wilcox
,
Jeff Heath
and
Matt Johnson
.
To expand, I have received a ton of questions about the safety spot this offseason because there is no doubt the play was poor in 2013 next to
Barry Church
. The Cowboys have not expressed interest in any veteran safeties that I have been able to determine, so it looks clear they will go with Wilcox, Heath and Johnson, as I stated in the answer. Personally, I'd take a look at
Steve Gregory
, but they are not about to take me up on that suggestion.
Jimmie Ward
is among the pre-draft visitors, so they could look at him as well.
But the notion is that the Cowboys have to have an
Earl Thomas
to succeed in today's NFL. Sure, but how many teams have an Earl Thomas? Five years ago everybody was saying the Cowboys needed to get a safety like
Troy Polamalu
or
Ed Reed
. Sure, but how many of those guys are rolling around?
They are rare players. I think the Cowboys would have selected
Kenny Vaccaro
last year if he wasn't scooped up by the
New Orleans Saints
before Dallas picked in the first round. He was gone, so they traded down.
In his three years with the
Chicago Bears
, [Rod] Marinelli's safeties were
Danieal Manning
and Chris Harris in 2010, with
Chris Conte
and
Major Wright
handling the duties in 2011-12. The Bears let Manning walk as a free agent when the
Houston Texans
offered him a big deal. Conte and Wright were third-round picks in the 2011 and 2010 drafts, respectively.
Wilcox was a third-round pick last year by the Cowboys.
Since 2000, the winning Super Bowl teams have had five All-Pro safeties: Rodney Harris (New England), Polamalu (twice), Darren Sharper (New Orleans) and Thomas.
You can get by with functional safeties. Marinelli did it in Chicago. He will try to do it here as well.
The question should be do the Cowboys have a functional safety next to Church, not whether they can get a Thomas.
January, 25, 2011
1/25/11
1:13
PM ET
By
Matt Mosley
| ESPN.com
The folks at ESPN.com have put together another installment of "Inside A Moment In Time." This one deals with one of
the most iconic plays in Super Bowl history
. Folks are still trying to figure out how
New York Giants
quarterback
Eli Manning
delivered the ball to reserve wide receiver
David Tyree
in Super Bowl XLII.
For Giants fans, this feature will make you forget about the fourth quarter against the Eagles for a few minutes this afternoon. Tyree calls it a "moment of destiny." Patriots safety Rodney Harrison, who tried to break up the pass, said his team never prepared for Tyree because he was "a special teams player."
July, 29, 2010
7/29/10
11:06
AM ET
By
Matt Mosley
| ESPN.com
At the end of the day, we'll have three teams in training camp, although the Eagles veterans don't show up until Friday. The Giants will open camp in Albany on Sunday afternoon. Let's take a look at some of the top headlines from all four teams:

Cowboys
Eagles
Giants
Redskins

August, 12, 2009
8/12/09
4:34
PM ET
By
Matt Mosley
| ESPN.com
Posted by ESPN.com's Matt Mosley
ALBANY, N.Y. -- One of my favorite things to do in training camp is watch practice through a scout's eyes. I've watched college football with Dolphins general manager Jeff Ireland before, and he's always noticing things that go way beyond whether a guy catches the ball or misses a block.
On Wednesday, I had the opportunity to stand next to Giants general manager Jerry Reese for about 30 minutes during the team's morning session. He watched intently to see how this year's rookies reacted to certain situations -- and he attempted to temper my enthusiasm for third-round pick Ramses Barden, who's on the verge of being named camp MVP -- by me.
Anyway, here are the highlights from my epic interview with Reese:
| | |
| --- | --- |
| | |
| | AP Photo/Bill Kostroun |
| | Giants general manager Jerry Reese is keeping a close eye on the rookies. |
MM:
Is it just me or is Ramses Barden taking over this camp right now?
Reese: He's big and he catches everything. He's a quick learner and he's gigantic. He's got a huge strike zone. He had the stigma of the small school, but so did [Kevin] Boss. If a guy doesn't jump off the screen at a small school, he can't play at this level. Barden jumped off the screen. And he didn't look out of place at the combine. And if you talk to him, he's very bright. We expect him to play right from the start.
MM: Do first-round guys like Hakeem Nicks not know how to pace themselves in practice? Is that why so many receivers get hurt in training camp? I remember it happened to Malcolm Kelly and Devin Thomas for the Redskins last season.
Reese: Yeah, especially your No. 1s. They think they have to be better than anyone else and they get overcooked. All he can do is take mental reps. But it's tough having guys like that out because quarterbacks have to get used to their body language. [A tremendous catch by Derek Hagan interrupts Reese's train of thought.]
MM: How's Steve Smith responding to becoming one of the "veterans" of the receiving corps?
Reese: He's very confident. He was almost NFL-ready when he came out of USC. He's not afraid of competition. People keep talking about how Smith and Domenik [Hixon] only combined for 50 catches or something, but they were only part-time players. You may end up doubling some of those numbers this season. And (Mario) Manningham and Sinorice Moss had good springs. We threw the ball to Moss 12 times last season and he had 12 catches. There were no drops, no missed assignments.
MM: How has David Tyree looked after the long layoff?
Reese: He's still coming off the injury, but he's back in a good position. He's a true gamer. You have to remember that he went to a Pro Bowl as a special teamer.
MM: Who's your No. 2 running back right now?
Reese: (Ahmad) Bradshaw's definitely our No. 2 right now. But the other two guys are nipping at his heels. We want to make guys earn their jobs. That's a heated position battle right there. Andre Brown is everything we thought he would be. He reminded us of Derrick Ward and we were giddy when he was there in the fourth.
MM: Is picking up the blitz one of the toughest things for rookie running backs?
Reese: Yeah, you can just look at a guy like Brandon Jacobs and know that. When he first got up here, he just wanted to run the ball. But one of my favorite things from the throw to Plaxico (Burress) to win the Super Bowl was when Jacobs slid over and blocked No. 37 (Rodney Harrison). No. 37 was getting ready to hit Eli in the earhole. That play never happens if Jacobs doesn't pick him up.
MM: Looking back, what was the biggest factor in you guys faltering down the stretch last season?
Reese: We were fine for three-quarters of the season and then we got banged up on the line and didn't have the firepower to get after the quarterback. (Fred) Robbins was playing with two broken hands, Tuck's foot and knee were banged up and (Mathias) Kiwanuka was fighting through things. We couldn't get Donovan McNabb on third-and-20 [in the Divisional playoff game]. There were a lot of turning points in that game, but that was a big one.
MM: Why do you think Chris Canty's a good fit here?
Reese: We liked his versatility. And we played against him twice a year and he gave us headaches. He and Tuck can go inside or outside.
MM: What's going on with Eli Manning's contract?
Reese: I told our guys here that the contract wasn't done. I didn't care what they wrote, but it's not done. No contract is easy to do, and nothing surprises me when it comes to personnel. Until you have a name on the dotted line, it's not done.
MM: Will you get it done before the start of the season?
Reese: I'm hopeful that will happen, yeah.
MM: I keep hearing people say that Kenny Phillips will have a breakout season. What sets him apart from other safeties in the league?
Reese: First of all, he's having a great camp. He's got some star qualities. There's just a calmness about him. It never looks like he's straining hard. Everything comes easy for him.
MM: Are you still hopeful that Michael Boley can be a productive player this season?
Reese: Yeah, he's outstanding in coverage. We think he can help us cover the running back in Philadelphia (Brian Westbrook), the tight end in Dallas (Jason Witten) and
the tight end for the Redskins (Chris Cooley).
MM: Did it give the team a lift when Antonio (Pierce) wasn't indicted in the Burress case?
Reese: It gave us a little lift. It was a weight off his shoulders. We're happy he's here. It feels like he has something to prove.
MM: Why'd you finally decide to cut your losses with Plaxico?
Reese: You don't want to get rid of a good player. But you have to see the big picture. You've got these other 52 guys. We tried to make it work, but teams have to change sometimes.
MM: What did you learn from last season?
Reese: Well, I learned a lot of things. We got hit right out of the gate last year with a Hall of Famer retiring (Michael Strahan) and a Pro Bowler (Umenyiora) going down. We made it through three quarters of the season, but then we got worn down. I'll try not to let that happen again. We have to sustain the madness up front.
MM: What's the competition like between Rhett Bomar and Andre Woodson for the third quarterback spot?
Reese: Bomar looks like a rookie playing quarterback. But he's got good velocity on the ball. That will be a heated battle in the preseason. Bomar's just trying to figure everything out. Woodson's ahead of the curve because he's been around here. Both of them have good skill sets.
June, 24, 2009
6/24/09
11:00
AM ET
By
Matt Mosley
| ESPN.com
| | |
| --- | --- |
| | |
| | ESPN.com Illustration |
| | There are many memorable moments from the last 10 years to savor. |
Posted by ESPN.com's Matt Mosley
This decade has brought us some amazing moments in the NFL, many of which have been captured during ESPN.com's all-decade week. And if something remarkable happens in '09 (such as the Lions making the playoffs), we reserve the right to amend some of our results.
So far, you've read about the all-decade defensive and offensive teams for the years beginning with 2000 and ending with the '08 season. I spent a good portion of the NFL owners' meeting and my subsequent vacation trying to identify some of the most memorable characters and moments from the decade.
After consulting with coaches, scouts, media guides and fellow bloggers, I've compiled a list of things that stood out over a nine-year period. Please act responsibly as we continue to celebrate ESPN.com's all-decade week -- otherwise known as a blogger's summer oasis.
| | |
| --- | --- |
| | |
| | John David Mercer/US PRESSWIRE |
| | David Tyree's 32-yard circus catch kept the Giants' game-winning drive alive in Super Bowl XLII. |
Play of the decade: In Super Bowl XLII, New York Giants quarterback Eli Manning appeared to be going down for a sack late in the fourth quarter when he somehow escaped and hurled the ball in the general direction of reserve wide receiver David Tyree. Even with Rodney Harrison ripping at him, Tyree somehow trapped the ball against his helmet and came down with it. It was one of the greatest plays in league history -- and it gave Tyree the basis for his first book. There were a lot of memorable plays in the decade, but nothing could match the Manning-to-Tyree special.
Personnel man of the decade: Indianapolis Colts president Bill Polian is ranked pretty high, but everyone you talk to across the league mentions Scott Pioli first. Now the GM for the Kansas City Chiefs, Pioli joined Bill Belichick in building the team of the decade, the New England Patriots. According to one longtime scout, "No one in the league does a better job of scouting their own team, and Pioli was orchestrating all of that."
The Patriots have had the magic touch when it comes to reclamation projects such as Corey Dillon and Randy Moss. But much like the Baltimore Ravens, they always seem to know when it's time to say goodbye to a player. Pioli has a keen eye when it comes to projecting players in Belichick's defense. Now we'll see what he can do with the Chiefs.
Scandal of the decade: Let's stay with the Patriots on this one. The Michael Vick dogfighting story was stunning, but Spygate was bigger because it threatened the integrity of the league. There were so many different layers to the story and it cast doubt on a head coach and his team's remarkable run. Belichick is still regarded as the mad genius in New England, but his violation of league rules will have a lasting impact on his legacy -- unless you're a Patriots fan.
| | |
| --- | --- |
| | |
| | Matt Campbell/AFP/Getty Images |
| | Tom Brady's apparent fumble was overturned and the Patriots beat the Raiders 16-13 in overtime. |
Most memorable off
iciating call: We know what San Diego Chargers fans are thinking, but when thinking back over the decade, the "tuck rule game" has to be the signature call. It was Jan. 19, 2002, and it appeared Oakland Raiders cornerback Charles Woodson had just sealed a trip to the AFC title game by sacking Tom Brady and knocking the ball loose. Instead, Brady's fumble was overturned because of the little-known "tuck rule," which was quietly enacted in 1999. The rule still doesn't make a lot of sense. But it helped launch the Patriots' dynasty. Anyone remember New England's starting wide receivers in the game? That's right, David Patten and Troy Brown.
Best owner: Sort of hard not to give it to Patriots owner Bob Kraft, but let's give a lifetime achievement award to Pittsburgh Steelers co-owner Dan Rooney. After all these years, he's still perhaps the most respected voice in the room. But Kraft wins the all-decade award. He brought a fan's perspective to ownership, and that's what breathed life into the franchise. And he gave Belichick another head-coaching opportunity after a failed stint with the Cleveland Browns.
Best NFL commercial: Since Peyton Manning starred in 82.7 percent of all NFL commercials, it's hard to pass him over. His work for MasterCard stands above the rest. The one where he's doing some yoga with Brian Urlacher and Michael Strahan has stood the test of time -- at least in our minds.
Most prolific locks: The faux-hawk tried to make a comeback, but Troy Polamalu may be the most identifiable player in uniform because of his unwieldy look. Polamalu achieved it by not getting his hair cut this decade.
Funniest player: The NFL doesn't really have an answer to Charles Barkley, although Clinton Portis had a nice run a few years ago when he came up with several alter egos. Let's give it to one of Portis' teammates, tight end Chris Cooley. Occasionally he crosses the line (accidentally publishing a picture of his manhood on The Cooley Zone blog), but he's consistently funny. Still love that he walked out to midfield a couple of years ago and introduced himself to the opposing captains as "Captain Chaos." There's not enough of that type stuff going around.
Best touchdown celebration: Terrell Owens and Moss had their moments, but Chad Ochocinco is by far the best. He has played golf with the pylon (no longer allowed) and he has donned a replica Hall of Fame coat after a touchdown on "Monday Night Football."
| | |
| --- | --- |
| | |
| | AP Photo/David Kohl |
| | Chad Ochocinco had a number of the most memorable touchdown celebrations in the last 10 years. |
Best first-down celebration: No one celebrates a new set of downs like Dallas Cowboys wide receiver Roy Williams. He takes the ball and delivers an emphatic first-down signal. It's not as good as Ed Hochuli's "Guns of Navarone" approach, but Williams doesn't hold anything back.
The most troubled player award: Adam "Pacman" Jones became the poster child for Roger Goodell's tough stance on player (mis)conduct. Pacman is an "Outside the Lines" report waiting to happen.
Most feared player: Until the horse-collar rule put him out of business, former Cowboys safety Roy Williams was well on his way to winning this title. But his descent into mediocrity was steep. Rodney Harrison of the Patriots wins the award. He was regarded as a dirty player by some, but his presence definitely made receivers think twice about going across the middle. John Lynch was a feared player early in the decade, but Harrison eventually surpassed him. James Harrison is closing fast as we prepare to close the books on the decade.
Best assistant coach: It's a tie between two elder statesmen, Steelers defensive coordinator Dick LeBeau and Eagles defensive coordinator Jim Johnson. We're all pulling for Johnson as he battles cancer. He's been remarkably consistent over the years and I put him and LeBeau just barely ahead of former Bucs defensive coordinator Monte Kiffin.
January, 14, 2009
1/14/09
3:00
PM ET
By
Matt Mosley
| ESPN.com
Posted by ESPN.com's Matt Mosley
Most Postseason Interceptions
Eagles cornerback Asante Samuel is now tied with former teammate Rodney Harrison for most postseason interceptions among current players.
Player
INT
Games
Charlie Waters
9
25
Bill Simpson
9
11
Ronnie Lott
9
20
Lester Hayes
8
13
Asante Samuel
7
16
Willie Brown
7
17
Dennis Thurman
7
14
Rodney Harrison
7
13
Source: ESPN Stats & Information
As we talked about recently, Eagles cornerback Asante Samuel needs just two more interceptions to tie the all-time record for most postseason picks, which is shared by the immortal Charlie Waters, the lesser known Bill Simpson and the great Ronnie Lott. Pretty remarkable that Simpson, an ex-Ram and Bill, had nine interceptions in only 11 postseason games.
Waters needed 25 games and Lott 20. Samuel has seven in 16 games. He's had an interception in each of the Eagles' playoff wins, so there's a chance he ties or breaks the record in this postseason. I put in a request to visit with him via phone today, but he doesn't do a lot of one-on-ones -- unless he's on the field. The chart shows how Samuel stacks up against some of the great ones. You'll find three players who spent time with the Raiders, two who spent the majority of their careers with the Cowboys and two players who combined to spend 11 years with the Patriots.