July, 6, 2012
7/06/12
11:38
AM ET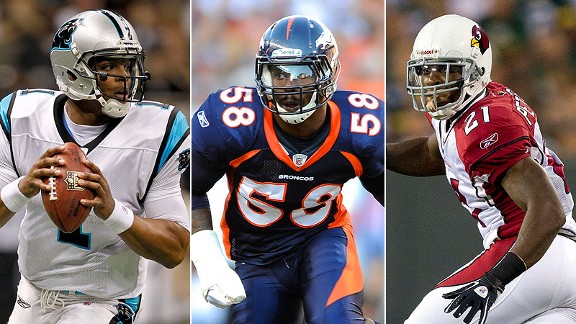 US PresswireCam Newton, Von Miller and Patrick Peterson all contributed right away during their rookie seasons.
There were doubts, this time last year, about
Cam Newton
as the No. 1 pick, about Newton as an NFL-ready starting quarterback, but they were all external. In the offices of the
Carolina Panthers
, who had taken Newton with the first pick in the draft, any and all doubts were outlawed. Newton was their guy, and they were all-in on him. After a rookie season in which he threw for 4,051 yards, ran for 706 and totaled 35 touchdowns, they have no regrets.
"He brings so much to you -- his accurate passing, his mobility, his leadership, his desire to win, his approach to the game, his enthusiasm for the game and his desire to be the best," Carolina general manager Marty Hurney said in March at the NFL owners meetings. "That all combines into an excellent young quarterback with a future that has tremendous upside."
Upside is one thing, but Newton is pretty good right now. If you don't think that's important in today's NFL, look around. We asked 20 coaches and general managers at the owners meetings which player 25 years old or younger they'd like to have on their team, and we got 13 different answers.
Newton got the most votes in this incredibly informal and unscientific poll, with four. Denver linebacker
Von Miller
, who went second in last year's draft, got three. 2011 rookies
Patrick Peterson
of Arizona and
Torrey Smith
of Baltimore were each named twice.
But the more interesting names are those of the players whose draft slot isn't fresh in everyone's mind. One general manager named
New York Giants
wide receiver
Hakeem Nicks
, who is only 24 yet has established himself as one of the best and most reliable receivers in the league.
Philadelphia Eagles
running back
LeSean McCoy
, named by one coach, turns 24 next week. Lions quarterback
Matthew Stafford
, who surpassed 5,000 yards passing in 2011, is only 24. And when one coach picked
Baltimore Ravens
running back
Ray Rice
, it was startling to realize he is only 25. Some of these guys seem as though they've been dominating the league for years, and it's no accident.
"I think the game is getting younger," said Texans coach Gary Kubiak, who picked his 2011 first-rounder,
J.J. Watt
. "These kids that are drafted nowadays, they're playing right away and contributing right away. They just seem to be a little more mature and caught up and ready to go now than maybe back a few years ago. Nowadays, with the cap and the way teams change, when you get a guy in the first round or early in the second round, he's going straight on the field."
The 32 players picked in the first round of the 2011 draft played an average of 13 games in the 2011 season. That counts those who missed time because of injury, such as
Prince Amukamara
, and project quarterback
Jake Locker
, who played sparingly in only five games. Half of those 32 players started at least 14 games as rookies, and 10 started all 16.
What this tells you is that when you evaluate a player you're considering taking in the first round, you're asking yourself all of the normal questions about whether he can play, learn, behave and lead, and you're also asking whether he can do it
right away
.
"I think the way the system is, or the way the system has been, you have to play your young players," Chiefs coach Romeo Crennel said. "We have the salary cap, and with the rookie contracts, if you don't play a guy, then you end up losing a guy when he becomes a free agent. And then you just trained him for somebody else. So you might as well get some value for him while you've got him, and that's why I think a lot of the young guys have been put into the fire sooner."
What it has done is put a premium on figuring out if that young, talented college stud you're considering has what it takes, mentally and physically, to handle what the NFL throws at him while he is still young. That's why pre-draft interviews have become such a major part of the process. No longer are teams willing to use those first-round picks on raw talent they think they can develop. There's no time to develop them. A first-round pick has to be the whole package. Like Newton in Carolina. Or Miller in Denver, who was (no surprise) the pick of Broncos coach John Fox.
"First of all, he's got a lot of God-given ability," Fox said of Miller. "He's very explosive, strong for his size, got good flexibility. That combination of explosiveness and flexibility makes him pretty dynamic as a pass-rusher. And the fact that he's a good young man and he's not afraid to work hard. He wants to do it."
So in other words, NFL teams don't want much out of their young players these days -- just everything.
"It's a young man's game," Fox said. "There's no question that you need any influx of young players. You see it with every team, and the teams that are doing well are the teams that are getting production from that 25-and-under group -- young guys, but already kind of established. And I don't think that's going to change any time soon."
January, 14, 2010
1/14/10
12:11
PM ET
By
Matt Mosley
| ESPN.com
Former Bills interim head coach Perry Fewell is planning to become the New York Giants' defensive coordinator,
according to ESPN's Adam Schefter
. The Giants had been in the running for Jim Haslett, but he chose to join Mike Shanahan in Washington.
Fewell was reportedly the top candidate to become Lovie Smith's defensive coordinator in Chicago, but it looks like the Giants were able to beat the Bears to the punch. The Bills have also considered making Fewell their new head coach, but he'll be out of the mix now. I don't know this for sure, but the fact that Smith's a defensive-minded head coach probably worked against the Bears.
With Coughlin having an offensive background, Fewell should have a lot more freedom to bring his own ideas to the Giants. I know that Fewell was highly regarded by the Bills organization even if they weren't ready to make him a head coach. This is the first sign of good news for the Giants since the end of the season. Candidates such as Haslett and Romeo Crennel had taken other jobs, which had to be a tough pill to swallow for Coughlin.
With Fewell, the Giants have a respected defensive mind who should bring some fresh ideas to the table in trying to determine how to fix what once was considered an elite unit.
January, 13, 2010
1/13/10
11:29
AM ET
By
Matt Mosley
| ESPN.com
The pool of candidates for the Giants' opening at defensive coordinator continued to shrink Tuesday with the news that Jim Haslett had accepted that same role with the Redskins. And former Giants assistant coach Romeo Crennel is apparently going to be part of Todd Haley's attempt to recreate the Patriots' coaching staff of last decade.
Mike Garafolo of the Star-Ledger has been following every twist and turn of the Giants' search, and he says a lot hinges on what happens with Perry Fewell, who could end up becoming the defensive coordinator for the Bears. Garafolo even comes back around to another Bills castoff, Dick Jauron. That's the name we were telling you about from the start. And by process of elimination, Jauron's name might be moving up the charts.
It's pretty obvious that Coughlin's not interested in promoting from within. I bumped into The New York Times' Giants beat writer, Joe LaPointe, the other day in Irving, Texas, and he was very surprised that Coughlin fired defensive line coach Mike Waufle. The former Marine had been a player favorite and I've heard
Justin Tuck
talk about him many times. But it may have been Coughlin's way of sending a message. Several players complained about former defensive coordinator Bill Sheridan, so I don't think his firing upset them that much. But firing a guy like Waufle puts the players on notice that they got one of their favorites fired.
I wouldn't put it past Coughlin to make a sacrifice like that for what he feels like is the greater good.
January, 7, 2010
1/07/10
7:32
PM ET
By
Matt Mosley
| ESPN.com
Giants head coach Tom Coughlin has reached out to Romeo Crennel about his opening at defensive coordinator,
according to the Newark Star-Ledger
. It's not a surprising move considering that Coughlin and Crennel worked together for three years on Bill Parcells' Giants staff.
"I know they've talked," Crennel's agent Joe Linta told the Star-Ledger. "And I'm sure they weren't just calling him to say hi."
Coughlin is expected to go through a very thorough search, but it wouldn't surprise me if he chooses someone he's coached with before. Crennel helped make the Patriots the team of the past decade. He would have instant credibility in the Giants' locker room. Of course, Todd Haley has already hired another member of the the Parcells coaching tree, Charlie Weis, in Kansas City and could go after Crennel next.
The only issue with Crennel is that he's a believer in the 3-4 scheme. The Giants have been drafting for the 4-3 for years and it would be virtually impossible to make an overnight change. But Crennel could certainly bring some 3-4 elements to the 4-3.
The Giants are fortunate that there are so many talented defensive assistants on the street right now.