July, 9, 2014
7/09/14
11:30
AM ET
IRVING, Texas -- Rod Marinelli likes what he saw from his
Dallas Cowboys
defense in the spring.
The defensive coordinator liked that he has more players along the defensive line. He likes the linebackers' "movement skills." He likes how cornerbacks
Brandon Carr
,
Orlando Scandrick
and
Morris Claiborne
can play man-to-man. He likes the growth
J.J. Wilcox
made at safety opposite
Barry Church
.
[+] Enlarge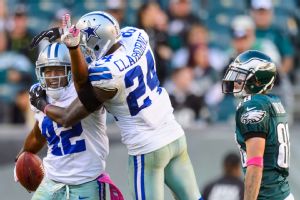 Howard Smith/USA TODAY SportsDallas defensive backs Barry Church and Morris Claiborne didn't have much to celebrate during 2013.
But there's something else Marinelli likes about the group.
"I think there's something to prove a little bit," Marinelli said. "Not something to prove from last year, but there are some guys coming here off the street with something to prove. There are some guys in contract years with something to prove. There are some guys coming out saying, 'I want to be a better player,' who have something prove.
"You get that many guys wanting to prove something, then you can become better. Right now what I like is how hard they're going after their craft."
Last season was a mess for the Cowboys' defense. It has been referenced so many times this offseason that "32nd-ranked defense" has been tattooed on everybody. The Cowboys gave up 6,279 yards in 2013 a year after giving up a franchise-record 5,687 yards. Five quarterbacks had four-touchdown games against the Cowboys. Two times in a three-week span, they allowed more than 620 yards. The
New Orleans Saints
had 40 first downs.
"It definitely bothers us," Church said. "I'm speaking for myself, but it definitely bothers me. But there's nothing we can really say or prove different. We were 32nd in the league and we weren't that good on the defensive side of the ball. This year, the only way we can counter that is by playing good and becoming one of the better teams in the league at taking the ball away and against the run and the pass."
It's not just the players. The tag falls on the coaches, too.
"Nobody wants to look at last year and take ownership of that, but we have to," secondary coach Jerome Henderson said. "And we've got to get better from there, and we cannot let that happen again."
Oh, and now the Cowboys have to show they can be better in 2014 without the franchise's all-time leader in sacks,
DeMarcus Ware
, who was cut, last year's leader in sacks,
Jason Hatcher
, who signed as a free agent with the
Washington Redskins
, and their best playmaker,
Sean Lee
, who suffered a torn anterior cruciate ligament in organized team activities.
But the sense is that Marinelli likes it this way. He had ubertalented defenses with the
Chicago Bears
with guys like Brian Urlacher,
Julius Peppers
,
Lance Briggs
and
Charles Tillman
. He won a Super Bowl with the
Tampa Bay Buccaneers
with guys like Warren Sapp, Derrick Brooks, Simeon Rice, John Lynch and Ronde Barber.
He doesn't have an Urlacher, Sapp, Brooks, Briggs, Rice or Lynch with this group.
He has
Henry Melton
, whom he coached to the Pro Bowl with the Bears, trying to prove he can come back from a torn anterior cruciate ligament. He has
Bruce Carter
trying to prove he is a big-time player in a contract year. He has Claiborne, a former sixth overall pick in the draft, trying to prove he is not a bust. He has Carr trying to prove he is worth the five-year, $50 million contract he received in 2012. He has
George Selvie
trying to prove he was not a one-year wonder after putting up seven sacks last season. He has
Tyrone Crawford
trying to prove he can come back from a torn Achilles.
He has low-cost free agents such as
Terrell McClain
,
Jeremy Mincey
and
Amobi Okoye
trying to prove they can be prime-time players. He has
Justin Durant
trying to prove he can be a middle linebacker and
Kyle Wilber
trying to prove he can be a strongside linebacker. He has Rolando McClain trying to prove that a player who has retired twice in the past year has the desire to keep playing. He has
DeMarcus Lawrence
trying to prove that a second-rounder can make an impact as a rookie. He has Wilcox trying to prove he can play strong safety.
He has guys like Church and Scandrick trying to prove that they can put up solid seasons in back-to-back years.
So much to prove. So much to forget.
"The first thing you do is you take it as coaches and players and you take accountability for it," Marinelli said. "And no excuses. Now we look forward. Now it's about the expectations of this group and with expectations you have to execute. It's that simple. That simple, yet that hard."
May, 9, 2013
5/09/13
4:57
PM ET
Fletcher
The big NFL news Wednesday was the retirement of Buccaneers safety
Ronde Barber
, and with that news we were reminded that Barber had played in 240 consecutive games since the start of the 1998 season. That streak was tied for the longest active streak in the NFL with
Washington Redskins
linebacker
London Fletcher
.
As Mike Jones points out here
, Fletcher is returning to the Redskins this season and is expected to be healed from his offseason surgeries in time to play in the team's opening game four months from tonight. Assuming he does that, he'll break his tie with Barber and be the undisputed holder of the league's "Iron Man" title:
Barber and Fletcher faced each other last season for what turned out to be the final time in their respective careers. Barber said at the time that although the two shared the streak, he considered Fletcher's run more impressive because of the physicality of his position.

"I have to say doing it from his spot," Barber said leading up to the Week 4 meeting. "I don't know how he's doing it. I saw him in the preseason right before the game. Neither one of us were playing, but we had a little conversation about it. I gave him props then. Doing it as middle linebacker 15 straight years is way more impressive than me. I've taken some hits in my day, but not nearly the type of pounding that he has over his career. Much respect for him."
Much respect for both, of course, but Barber was right that the physical demands of Fletcher's position make his streak even more incredible than Barber's was. Fletcher's play slipped a bit early in the 2012 season, but he played better as the year went on and was as always a key figure on a Redskins' defense that played over its head during the second half. Fletcher had 67 tackles and four interceptions during the seven-game win streak that delivered the NFC East title for the Redskins and two sacks in the division-clinching Week 17 game against the Cowboys.
Fletcher will turn 38 later this month, but he's still planning on playing all 16 games in his 16th NFL season. It's pretty hard to bet against him.
April, 8, 2013
4/08/13
11:15
AM ET
By
ESPN.com staff
| ESPN.com
Dallas Cowboys
ESPN Dallas continues its pre-draft series with a look at
Alabama guard Chance Warmack
.
Could
Ronde Barber end up in Dallas
before the start of the 2013 season?
New York Giants
Ed Valentine of Big Blue View examines what's left for
the Giants to accomplish
in free agency. At the top of the list is the Victor Cruz situation.
The Giants are
represented in the documentary
"Running For Jim," which premieres Tuesday at the Soho International Film Festival.
Philadelphia Eagles
Eight of the Eagles' nine draft picks from 2012
remain on the roster
and in the team's plans for 2013.
Philly.com's Emily Babay shares the
story of Matt Marshall
and his journey to an NFL workout.
Washington Redskins
John Bibb takes a look at the
biggest salary-cap hits
the Redskins will take in 2013. Bibb: "The Washington Redskins' five highest paid players in 2013 account for nearly one-third of the team's payroll for the entire season -- led by second-year wide receiver Pierre Garcon, who will earn $8.2 million this season."
March, 19, 2013
3/19/13
4:30
PM ET
PHOENIX --
Aqib Talib
was a pipe dream, a cornerback solution that wasn't realistic for the
Washington Redskins
so long as there were other teams bidding on him in free agency. It was nice to think about, since he'd have fit their need in the secondary so well, but the reality of the Redskins' salary-cap crunch is that first-week free agents weren't going to be there for them this year.

So as discussed in
this Washington Post story
, the Redskins are on to Plan B. They believe they can succeed in the draft, even without the first-round pick they traded away last year in the
Robert Griffin
III deal, and they don't want to restructure current contracts just to fit in one-year free-agent fixes. But that doesn't mean they won't sign
anybody
. The cornerback and safety markets in particular have yet to really take shape, and the Redskins will be patient and see what sorts of bargains shake out for them later in the process.
You want names, though, and while I understand that it's very difficult to give you any beyond speculative ones. They Redskins could pursue an older veteran such as Tampa Bay's
Ronde Barber
, who doesn't fit their usual free-agent profile but might be worthwhile as a one-year stopgap. He has ties to secondary coach Raheem Morris, who used to coach the Buccaneers, and a veteran presence that would be welcome in the locker room. Free-agent
Antoine Winfield
would be a similar option at cornerback if they decide to go the older-guy-for-a-year route.
Failing that, look to younger free agents whose value might be suppressed due to some reason that could be overcome. Someone like former Dallas cornerback
Mike Jenkins
, who wasn't a starter for his own team last year but has experience as one and could be looked on as a potential value pickup because he didn't play as much last year.
I'd recommend using
our free-agent tracker
and looking through the cornerback and safety pages for guys who might fit into those types of categories. I do not know who the Redskins will sign or when they will sign someone. But they do still need help in the secondary, and the early part of free agency just wasn't going to offer it for them this year.
March, 5, 2013
3/05/13
4:42
PM ET
I'm not going to sit here and tell you
Gerald Sensabaugh
was the second coming of Ronnie Lott, or that replacing him has suddenly jumped to the top of the
Dallas Cowboys
' offseason priority list after they cut him Monday for salary-cap room. Sensabaugh was a decent enough player, but surely not irreplaceable. The Cowboys can, without question, find someone in free agency or even in the early rounds of the draft who could give them in 2013 what Sensabaugh gave them in 2012.

However.
The idea that the Cowboys' starting safeties right now are
Barry Church
and
Matt Johnson
... well, it's not an idea befitting a team that wants to make it to the playoffs, let's just leave it at that. Church showed promise early last year but is coming off an Achilles' injury. Johnson was a seventh-round pick they took in the fourth, and he didn't play a single snap as a rookie. The Cowboys can talk all they want about how good they think Johnson will be, but neither they nor anyone else has seen any proof that he can play in the NFL. They need to augment this situation prior to training camp.
Calvin Watkins has a look
at the free-agent landscape at safety, and throws out well-known names such as
Ronde Barber
,
William Moore
and
O.J. Atogwe
as possible Cowboys targets. The safety pool in free agency this year is deep, as is the safety pool in this year's draft. The Cowboys will be able to add to their stable, even if it's not with a well-known name or a first-round pick (which they really should use on an offensive lineman). And if Church and Johnson play well enough to emerge as starters in training camp, then good for the Cowboys and their super-smart scouts.
The key for the Cowboys is to understand they need volume here to create the best possible combination, but not to go too crazy and shoot for a star at a position that doesn't require it. Replacing Sensabaugh isn't the hardest thing Dallas has ever had to do. They just need to make sure they have a candidate or two in place in case Church and/or Johnson can't do it.
October, 24, 2012
10/24/12
6:14
PM ET
Washington Redskins
linebacker
London Fletcher
has played in 231 consecutive NFL games. So to speculate that he might not be healthy enough to suit up Sunday against the Steelers in Pittsburgh is no light thing. Personally, I'll believe Fletcher's not playing when I see it and not a moment before.
However, it is worth noting that the 37-year-old leader of the Washington defense missed practice Wednesday due to two separate physical issues -- a hamstring injury he suffered in Sunday's game and some balance problems for which he's now scheduled to see a neurologist. Per Mike Jones at
The Washington Post
:
Fletcher was on the practice field at Redskins Park Wednesday but did not participate in drills.

"I'll talk to you all later," Fletcher said to reporters as he left the field. "I did what I could."

Redskins Coach Mike Shanahan said Fletcher's hamstring still was sore. Shanahan said that Fletcher also was experiencing some problems with his balance and would see a neurologist about that issue. Shanahan said he found out about Fletcher's balance issue late Monday and hopes it is not a serious problem.
Obviously, it's worth keeping tabs on this as the week goes along. Obviously, there have been times during his streak when Fletcher has not been healthy enough to practice during the week but was still able to start the game Sunday. So they're obviously a long way from ruling him out.
Fletcher's streak ties him with Tampa Bay safety
Ronde Barber
for the longest current consecutive-games streak and the 12th-longest in NFL history.
April, 16, 2012
4/16/12
4:17
PM ET
A little more than a month from now, on May 19,
London Fletcher
will celebrate his 37th birthday. This is a high number for an NFL linebacker. Indeed, according to ESPN's research department, there are only 14 players at any position who are older than Fletcher and currently occupy space on NFL rosters. Eight of those 14 are kickers, one is a punter, one (
Charlie Batch
) is a backup quarterback who almost never plays and one (
Patrick Mannelly
) is a long snapper. The only non-special teams players older than Fletcher who still get get regular playing time are Tampa Bay's
Ronde Barber
, Green Bay's
Donald Driver
and Baltimore's
Ray Lewis
.
If you knew nothing else besides Fletcher's age, he would seem an odd fit with a
Washington Redskins
team that's looking ahead, signing younger free agents on offense, about to entrust its next decade to a rookie quarterback.
But the Redskins know better. They know all of the reasons Fletcher is the worthy exception to their plan to get younger. They know this is a man who has finished in the top seven in the league in tackles for eight straight years, who's in better shape in his late 30s than anyone in the locker room, who has played in 224 games since entering the league without ever missing one.
They know Fletcher is a person and a player who sets the right kinds of examples on the field and off for teammates young and old. Who plays hard on every single play and, without barking or bellowing or calling attention to himself but simply by the mere and apparent fact of his own effort, encourages others to do the same. They know he's a leader to whom other players can go to seek counsel on matters related to football as well as matters related to non-football life.
The Redskins remember this time last year, when the players were locked out and Fletcher was calling teammates, organizing player workouts, scouting high school fields to see if they would hold up well enough or if he'd be putting his men at too great a risk of injury by practicing on them. They remember the stories of how he scribbled down a few of Jim Haslett's 3-4 defense plays on a piece of paper and stuffed it in his back pocket so he could call out specific formations and assignments during those loosely organized workouts.
They know, from having watched it up close, that Fletcher believes in what the coaching staff is trying to do. They have seen him embrace the change from the 4-3 to the 3-4 -- thrive in it personally while he helped teach it and sell it to holdovers and newcomers alike. They believe the development of younger linebackers such as
Perry Riley
,
Brian Orakpo
and
Ryan Kerrigan
has something to do with the proximity those players have had to Fletcher in the locker room and on the practice field. Mike Shanahan views Fletcher as an extra coach -- someone who's so in tune with the program and so commands the respect of his teammates that he alleviates some of the responsibilities of the men on the coaching staff. He makes their job easier.
Fletcher matters to the Redskins. He wants to be a Redskin. He has become the captain, the leader and in a lot of ways the face of the franchise. He wants to be in Washington when it pays off -- when all of the lean years end and the Redskins contend again. The Redskins want him around their rookie quarterback -- be it
Robert Griffin III
or
Andrew Luck
-- and the young receivers they signed. They want him to help corral all of the new members of their secondary and get the best out of them.
Fletcher is going to be 37 years old next month, and if that's all you were looking at then a two-year deal doesn't make sense. But if you've been watching and experiencing his career with the Redskins, you'd know it was a no-brainer. That's how the Redskins felt, and it's a huge relief to them and their fans that he's back in the fold.
September, 6, 2011
9/06/11
9:36
AM ET
You may have heard something about
Peyton Manning
maybe
not starting the Colts' opener
because of his neck injury. And if you have, you've surely heard mention of the fact that Manning has made 208 consecutive starts -- the longest active consecutive-starts streak of any player in the NFL. So if Manning doesn't make the start, that streak ends, and Mike Sando of the NFC West blog did a chart that lists
the players with the longest such streaks
after Manning.
Manning

Fletcher
Should Manning miss the game, the longest consecutive-starts streak in the league would belong to Buccaneers safety
Ronde Barber
, currently at 183. But next on that list is
Washington Redskins
linebacker
London Fletcher
at 163. And a little further down that list, at No. 13 overall currently and No. 2 among quarterbacks behind only his brother, is the
New York Giants
'
Eli Manning
at 103.
Fletcher, as Redskins fans know, is one of the most consistently productive defensive players in the league. The fact that only Peyton Manning and Ronde Barber among active NFL players have made more consecutive starts is a testament to his durability, his consistency and his ability to thrive in the leadership role he has assumed in the latter stages of his career. He's 36 years old, so he'd be 38 if and when his streak got to 200. And he'd have to play (and start every week) until the age of 45 to match
Brett Favre
's all-time record of 297 consecutive starts. So it's not as though Fletcher is likely to get too many accolades for this. But it's worth noting, especially about a player who's not always talked about among the best defensive players in the game but does enough to warrant a place in that discussion.
And speaking of underappreciated players ... Yeah, Eli Manning has the second-longest current streak of consecutive quarterback starts in the league. We have this running debate here on the blog about Eli vs.
Tony Romo
, and I'm on record saying I rate Romo slightly ahead of Eli in a close race. And some people get very upset about that when I say it and use all kinds of crazy arguments to shoot me down. But the one argument (that doesn't come up enough, actually) for which I have no real answer is the durability one. Romo has been injured, and Eli has not. He plays. He takes the ball, and he shows up, every single week, to lead his team. That's clearly a point of pride in the Manning family, and I don't expect Big Brother to give up his streak easily. But if he does, and all of a sudden Eli Manning is the reigning iron man quarterback in the NFL, that would have to make people take notice of something very positive about a player who seems to attract a lot of negative thought.
Incidentally, if he kept his streak alive, Eli Manning would pass Favre in the third game of the 2023 season, at the Favre-ian age of 42.
March, 8, 2011
3/08/11
3:46
PM ET
There's an interesting story coming out of New York that will at least make some fans in Tampa Bay wonder about an intriguing scenario.
Former
New York Giants
running back
Tiki Barber
reportedly
has filed the paperwork necessary to come out of retirement
and return to the NFL. Barber's twin brother,
Ronde Barber
, recently signed a one-year contract to continue his career with the Buccaneers, the only team he's ever played for.
Could Tiki join Ronde as a teammate for the first time since they were in college?
It's at least something to ponder. Although the Bucs generally are following a youth movement,
Ronde has plenty of clout with coach Raheem Morris and might be able to encourage the Bucs to sign his brother.
Tiki would return to the NFL as a free agent, and he was critical of Giants coach Tom Coughlin, so a reunion isn't likely. Tampa Bay found a feature back in
LeGarrette Blount
last season, and the Bucs are hoping to keep
Cadillac Williams
as a third-down back. But the Bucs could use a backup to keep Blount from being overused.
October, 13, 2009
10/13/09
3:58
PM ET
By
Matt Mosley
| ESPN.com

Posted by ESPN.com's Matt Mosley
Our four teams are taking the day off , but the Beast never sleeps. Here's the latest news from around the NFC East. We'll have a Giants and Redskins edition later this afternoon:
Cowboys
Eagles
October, 11, 2009
10/11/09
2:50
PM ET
By
Matt Mosley
| ESPN.com

Posted by ESPN.com's Matt Mosley
PHILADELPHIA -- I think the Eagles have this one well in hand, but they've been able to dodge a couple of serious threats from Bucs quarterback
Josh Johnson
, who single-handedly kept his team in the game in the first half. Johnson is 16-of-26 for 158 yards and a touchdown, but he ended the half by throwing an interception in the end zone.
In his return from a rib injury,
Donovan McNabb
has looked really sharp. He's using his legs to make plays and he's hooked up with rookie
Jeremy Maclin
on deep balls. Maclin has three catches for 108 yards. The Bucs don't have anyone who can cover him. He burned
Elbert Mack
for his first score and then came back with a 40-yard touchdown on which he outmaneuvered safety
Will Allen
.
Kevin Curtis
may never regain his starting spot after this game. The combination of Maclin and
DeSean Jackson
is pretty scary. The Eagles haven't committed to the run, mainly because there's no need. The Spread Eagle offense -- as it's being called here -- was dormant for most of the first half.
Michael Vick
was in for two plays by my count -- a handoff to
Brian Westbrook
and an ill-fated reverse. But right now, it doesn't matter.
The Bucs can't cover the Eagles' receivers. By the way, you'll be seeing
Brent Celek
's 38-yard catch and run on "SportsCenter" tonight. Celek hurdled Bucs cornerback
Ronde Barber
. Remarkable play. I feel good about all the NFC East teams right now -- with the exception of the Cowboys.
September, 12, 2009
9/12/09
7:57
PM ET
By
Matt Mosley
| ESPN.com

Posted by ESPN.com's Matt Mosley
I think most of us agree that the Cowboys have more talent (and experience) than the Bucs. But it's still worth taking a look
at some of the key matchups
.
I actually think the Cowboys could have trouble with the Bucs' two tight ends. But eventually DeMarcus Ware is going to get to Byron Leftwich -- and more than once or twice.
In his key matchups breakdown,
Dallas Morning News blogger Tim MacMahon
calls Aqib Talib and Ronde Barber an "outstanding" cornerback tandem. Really?
That's not exactly how I would describe Barber at this stage of his career. And Talib still has a lot to prove. I think Talib and Barber comprise a pretty mediocre cornerback tandem at this point.
December, 8, 2008
12/08/08
7:39
PM ET
By
Matt Mosley
| ESPN.com
Posted by ESPN.com's Matt Mosley
PITTSBURGH -- In my continued effort to save Disney money, I'm flying home to Dallas on Tuesday morning instead of my usual day-after-the-game flight. It's given me the unique opportunity to dual-blog (the latest rage) with AFC North blogger James Walker and listen to local sports-talk radio.
One of the story lines from Sunday's game that isn't getting a lot of attention nationally is Tony Romo's remark to Steelers defenders after they called a timeout with 1:51 left in the game, and the score tied, 13-13.
"Did you all really call a time out?" Romo yelled to linebackers LaMarr Woodley and James Farrior.
"Yeah, what's your problem?" Farrior shot back.
"I don't know what else he thought would happen," Farrior added later. "That definitely added a little fuel to the fire."
But let's be honest. It was a curious time for the Steelers to call timeout. The Cowboys had opened their drive with a 2-yard gain, and they were rushing up to the line of scrimmage to run a play. You could make the argument that the Steelers did them a favor. But on the next play, Romo threw the back-breaking interception to Deshea Townsend.
Perhaps Mike Tomlin's timeout interrupted Romo's flow. He's been incredibly effective in the two-minute drill -- as evidenced by his performance at the end of the first half. I don't know why Romo felt compelled to say something to the Steelers after that timeout.
Maybe he was just taking a playful jab to lighten the tension of the moment. But the Steelers certainly didn't take it that way. Linebacker James Harrison, who doesn't seem like the type of guy who enjoys a little ribbing, took offense to the comment. The Steelers also hated the fact that Witten suggested that his slip led to the game-winning interception. Townsend wanted everyone to know that defensive coordinator Dick LaBeau knew the exact play the Cowboys were going to run when they lined up with trips to the right side. Well, I highly doubt that. That's the type of things players say when they return a touchdown to win the game.
By the way, I encourage all of you to follow my lead and watch "Monday Night Countdown" right now. Tom Jackson is explaining how Ronde Barber will defend Steve Smith tonight. Pretty heady stuff.
Emmitt Smith just said the sucker-punch that Steve Smith delivered to Ken Lucas during training camp "was special." I'll leave that one alone for now.