NFC East:

ryan fitzpatrick
August, 8, 2013
8/08/13
3:00
PM ET
Three things to look for in the Titans game against the Redskins tonight at LP Field:


Jake Locker's command:
The third-year quarterback's practice work has improved recently, but I've noticed some slow starts. I imagine offensive coordinator Dowell Loggains will make an effort to get Locker started off with some easy completions that get the offense into a rhythm. Another thing we should watch is how he fares throwing to his left, where he's looked more comfortable, as compared to throwing to his right. Expect some deep shots in this game. See the third entry below.
How does Akeem Ayers line up?
The strongside linebacker is going to be used on the line of scrimmage a lot. Sometimes he'll even be a defensive end with his hand in the ground. Is he equally good out of both stances? Does he stay out in space much, if at all? Ayers is a key piece to the Titans' defense this season. Here is the first glimpse in a game setting at how they will deploy him, how an offense will react to him, and how he will produce.
Justin Hunter:
Hunter was part of the University of Tennessee receiving corps that shredded NC State last year in the opening week of the college football season, victimizing cornerback
David Amerson
, among others. Amerson is now a rookie member of the Redskins' secondary. Hunter has gotten an earful from Titans defenders and his position coach, Shawn Jefferson, throughout camp but has shown a great ability to go up and get the ball in practices. The Titans hope he'll be on the end of a big play from Locker or
Ryan Fitzpatrick
tonight.
June, 18, 2013
6/18/13
1:54
PM ET
Consider this your fantasy football post of the day. As much as I always liked former
New York Giants
running back
Ahmad Bradshaw
as a player, I always hated having the Giants' running back situation on my fantasy team.

Two years ago I had Bradshaw and
Brandon Jacobs
and traded the pair of them for
Ryan Fitzpatrick
because
Michael Vick
was hurt and I had lucked into
Kevin Smith
, who was getting hot as a No. 2 running back option for me and I was just sick of trying to guess on the Giants every week. The guy to whom I traded them lost a playoff game because he started Bradshaw instead of Jacobs in the game in Dallas where Tom Coughlin benched Bradshaw for the first half. Remember that game? Anyway, fantasy nightmare.
I bring this up because, if you're asking me in 2013 which Giants running back you should take in fantasy, I'm once again going to say, "None of them." I don't want to have to count on
David Wilson
or
Andre Brown
as anything more than maybe a strategic bye-week fill-in until I see one of them prove he's more than that. And
this from Ohm
, who spoke last week with running backs coach Jerald Ingram, backs me up:
"I think he's grown," Ingram said of 2012 first-round pick Wilson. "He has a fairly good understanding of the offense right now. He's definitely in position to be the guy, but I think just like what we've done in the past here, we're going to be a rotation-type team and what certain backs do best, we'll play."
The Giants are very concerned about the blocking they're going to get from their running backs with Bradshaw now in Indianapolis. He was a critical part of their pass protection, and the plain fact is that until the pads go on this summer they have no way of knowing how close Wilson or Brown can get to replacing that aspect of Bradshaw's game. That's why you're not going to see the Giants commit to one of these guys over the other, likely all year. The Giants use their backs in pass protection, which means even if one of them turns out to be good at it, he's going to need a lot of rest.
April, 4, 2013
4/04/13
12:00
PM ET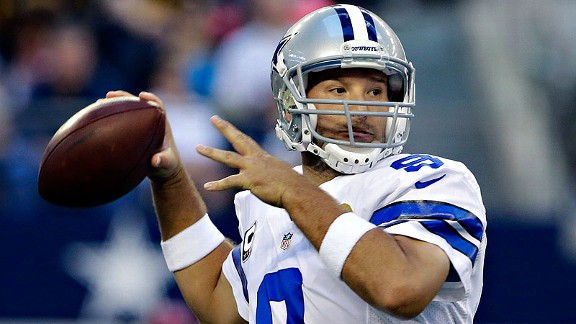 AP Photo/Tony GutierrezTony Romo has 18 fourth-quarter comebacks and 19 game-winning drives, including five last season.
Last week ended with the news of a massive contract extension for
Dallas Cowboys
quarterback
Tony Romo
. Although this news had been expected for some time, it was accompanied by the predictable wailing and gnashing of teeth about how Romo has never won anything, always blows it in the big games and isn't worth that kind of money. Few players are as polarizing as Romo, and everybody from
Dez Bryant
to Donovan McNabb offered a reaction of one extreme or the other.
Then came the quarterback news from the early part of this week, and with it a heavy dose of perspective about just what Romo is and how thankful the Cowboys are to have him locked up long-term.
In case you missed it, the
Oakland Raiders
acquired
Matt Flynn
from Seattle in a trade, then traded
Carson Palmer
to Arizona.
Kevin Kolb
, formerly of Arizona, signed with the
Buffalo Bills
, who recently released
Ryan Fitzpatrick
. This week has been a big game of mediocre quarterback musical chairs, desperate teams settling for the least lousy options they can find on a market bereft of franchise quarterbacks.
Romo is not one of the elite quarterbacks of the NFL. That tier is reserved for record-breakers and champions. But he is a franchise quarterback -- someone around whose skills and ability a team can confidently build. Do the Cowboys wish he hadn't thrown three interceptions in the regular-season finale against the Redskins with the division on the line? Of course they do. But when they step back and see the big picture, they find ample reason to believe Romo is the quarterback for them.
He has delivered for them. Not on the level Cowboys fans demand, which is to say a playoff and championship level, but Romo's career is not simply a laundry list of choke jobs. He has 18 career fourth-quarter comebacks and 19 game-winning drives, including five this past season alone. The Cowboys were 3-5 at one point in 2012 but won five of their next six to get back into contention for the division. The wins in that stretch included Romo-led comebacks against the Browns, Eagles, Bengals and Steelers. During that stretch, he threw 11 touchdown passes and three interceptions.
None of this erases or excuses Romo's miserable flop in Week 17 in Washington, but it does serve to illustrate that he can play quarterback at a high level. He isn't completely clueless about how to win games that need to be won when things aren't going well. If a quarterback shows he can do that, you have reason to believe that someday he might come through in that really big game that always has seemed to vex him. Romo is certainly good enough to win playoff games and a championship for the Cowboys. The fact that he hasn't done it yet doesn't rule out the possibility that it could happen someday. The Cowboys have seen enough good from Romo to warrant hope that he won't always be bad when they need him the most.
If that sounds like damning with faint praise, just look around and tell me who is both available and better. The main reason the Cowboys locked up Romo long-term is because they like him and believe they can win with him. But the deal also helps them against this year's salary cap and, more important, gives them the peace of mind. They won't have to sift through dispiriting, insufficient options year after year at the most important position on the roster.
Romo can't hide his flaws. His term as starting quarterback of the Dallas Cowboys has coincided with a down period in franchise history. He bears some responsibility for this, as does everyone connected with the team. Although the criticism of Romo can be over the top at times, it is not always without merit. He has flopped too many times in critical spots.
But oh, could it be worse, Cowboys fans. Whatever else he is, Romo is a quarterback who gives you a chance to win every week. He's a quarterback you've seen come back in the fourth quarter, many times. You've seen him make brilliant throws on the run after the play breaks down. You've watched him succeed and thrive, for weeks at a time, behind poor offensive lines and in spite of incompetent performances by injury-ravaged (or simply incompetent) defenses. He is exciting, and regardless of how many times he has played poorly in big games, he offers you legitimate reason to believe you're never out of it.
And when it comes right down to it, this week's NFL quarterback news poses the question quite clearly: Would you rather be stuck with Romo for the next half-decade, or be one of the teams that has to play in the Flynn/Palmer/Kolb/Fitzpatrick end of the quarterback pool every year? Put it that way, and Romo's contract extension makes a lot more sense. The Cowboys are, in fact, lucky to have him.
November, 16, 2012
11/16/12
1:30
PM ET
»
NFC Final Word
:
East
|
West
|
North
|
South
»
AFC
:
East
|
West
|
North
|
South
Five nuggets of knowledge about Week 11:
Rookie talk.
Philadelphia Eagles
quarterback
Nick Foles
appears likely to make his first career NFL start against the
Washington Redskins
on Sunday at FedEx Field. According to the Elias Sports Bureau, the Redskins have lost their past eight games against rookie starting quarterbacks. The last one they beat was
Ryan Fitzpatrick
of the Rams in Week 13 of 2005. Elias also reports that this game between Foles and Redskins rookie
Robert Griffin
III would be the eighth game since the start of the 2011 season that featured two rookie starting quarterbacks. There were a total of seven such games from 2003 to '10.
[+] Enlarge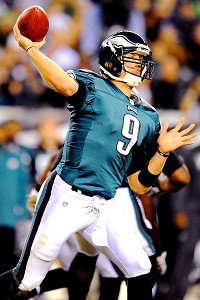 Dale Zanine/US PRESSWIRERookies Nick Foles, above, and Robert Griffin III will meet as starters on Sunday.
Last man standing.
According to ESPN Stats & Information, left guard
Evan Mathis
is the only offensive lineman to start every game for the Eagles so far this year. Every other team in the league has had at least two offensive linemen start every game. The eight different starters the Eagles have used on the offensive line is tied for second most in the league. If newly signed
Jake Scott
were to get a start Sunday (unlikely, but possible), that would obviously make nine.
Just send four.
The Eagles tend to rely on their front four defensive linemen to rush the passer, and that might be a good idea against Griffin. ESPN Stats & Information's Next Level stats tell us that Griffin has a Total QBR of 97.7 when facing five or more pass-rushers. That's the highest such mark in the league. (Remember, 100 is as high as that scale goes.) But when facing four or fewer, Griffin's total QBR drops to 71.6. Teams have picked up on this. Griffin is facing four or fewer pass-rushers on 79 percent of his dropbacks. Only two quarterbacks in the league see four or fewer on a higher percentage of their dropbacks. Carolina may have shown the blueprint for containing Griffin in the game two weeks ago, when the Panthers were able to create a narrow pocket that limited his options.
Clean up the house.
The
Dallas Cowboys
have seven games remaining this season, and five of them are at home. The only reason that doesn't sound encouraging is that the Cowboys are just 1-2 at home this year. And a big reason for that is their turnover differential of minus-9 in those three home games. Only the
Kansas City Chiefs
(minus-13) have a worse turnover differential in home games this season. No one else is worse than minus-6. Of
Tony Romo
's 13 interceptions this year, 10 have come in those three home games. The good news? The
Cleveland Browns
, this week's opponent at Cowboys Stadium, have lost 11 straight road games and haven't won anywhere but Cleveland since Week 2 of last season.
Going deep, or not.
Browns rookie quarterback
Brandon Weeden
has a completion percentage of 19.4 percent on throws 20 or more yards downfield this season. Through Week 10, only Buffalo's Fitzpatrick had a worse completion percentage on such throws. (That's right. We started and finished with a note that included Ryan Fitzpatrick. We dig symmetry here.) Romo's completion percentage on such throws this season is just 32.4, but over his past two games he's 5-for-7 for two touchdowns when throwing the ball 20 or more yards downfield. Better choices may be leading to more success for Dallas in the deep passing game.
August, 9, 2012
8/09/12
10:45
PM ET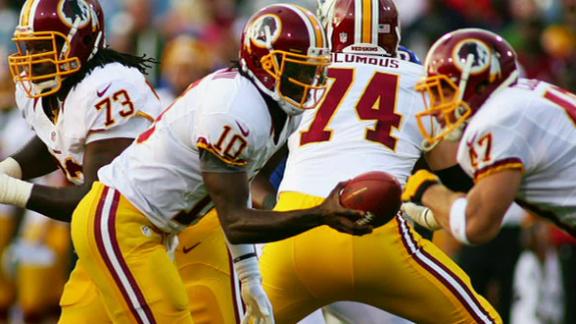 Well, if you tuned in to the
Washington Redskins
' preseason opener because you wanted to get excited about
Robert Griffin III
, congratulations. You had a fun night. Playing the first three offensive series of the Redskins'
7-6 exhibition victory
over the
Buffalo Bills
, Griffin looked poised, sharp and confident running the Redskins' offense. They didn't try anything too new or exciting, which was no surprise given how important it is for them to protect him and the fact that three of their starting offensive linemen were hurt and missed the game. But Griffin's throws were on target, his decision-making was smooth and nothing about the stage or the moment seemed to overwhelm him.
"It felt extremely good," Griffin said in an in-game interview with the Redskins' radio network. "Coach did a good job calling plays, got me in rhythm and helped get the offense in rhythm on that third drive."


That drive featured three big throws to new Redskins receiver
Pierre Garcon
, including the screen pass that resulted in a 20-yard touchdown. He said in that same radio interview that he was hoping to keep the ball and try to run it in, but that he spotted a linebacker coming up to the line and remembered that the most important thing for him to do in this game was play safe.
The young man is going to be fun, and while it's important not to make conclusions or predictions based on preseason performance, Redskins fans who were looking forward to seeing their guy in game action certainly enjoyed watching him Thursday night.
Here's some other stuff I noticed in the Redskins' preseason opener:
1. Trent Williams made the most impressive play of the game.
The Redskins' mercurial left tackle got downfield quickly and blocked two defenders at once on the Garcon touchdown catch. Williams is fast, athletic and as talented as any left tackle in the league, and the sense in Redskins camp is that he's more focused and motivated than he's been in his first two seasons. He looked tremendous on that play and is capable of dominating at the point of attack and at the second level. Williams injured his foot on the extra point, but Mike Shanahan said after the game that X-rays were negative. It would be bad for Washington if Williams were seriously injured. He is by far the best thing the Redskins' offensive line has going for it.
2. Garcon is a very big receiver who plays big.
He went over the middle to catch the ball, didn't shy away from contact and looked more than willing to use his frame to help him add yards after the catch. I believe he will be Griffin's go-to receiver and, assuming health all the way around, is almost a sure thing to lead the team in catches this year.
3. Evan Royster can't afford to fumble.
I think Royster had moved ahead of
Roy Helu
in the race to be the starting running back in
Tim Hightower
's absence. But he couldn't hold on to the ball as Griffin handed it to him, and that's the kind of thing the Redskins can't and won't abide. I still don't see what all the fuss is about with Helu, who's fine in space but doesn't break tackles. But whatever separation there may be between the two in the coaches' eyes will be easily negated if Royster can't hold on to the ball.
4. Ryan Kerrigan is a very good player
. We know he can get after the passer, but in this game I thought he showed improvements in pass coverage and other key areas. He stayed home and batted down a
Ryan Fitzpatrick
pass at one point, and he was his usual disruptive self when he did get into the backfield.
5. The Redskins' coverages are a team effort.
There are major questions at cornerback and safety, and they showed up, especially when Buffalo's
Stevie Johnson
was in the game. But you can see that the Redskins believe it's important their cornerbacks not be isolated. They're always getting help from a linebacker underneath or a safety over the top. Washington's hope is to make up for the lack of quality in the secondary with quantity and teamwork.
6. They have lots of defensive line depth.
The performances of guys like
Jarvis Jenkins
,
Chris Baker
and
Chris Neild
-- especially at the goal line -- showed why the Redskins consider the defensive line a strength of their team. They should be stout against the run and able to create pressure with their defensive front, which also should take some pressure off the secondary.
It wasn't all roses.
Niles Paul
dropped a couple of passes.
Rex Grossman
looked shaky as the backup quarterback. And I don't think I even saw
Santana Moss
once. But all in all, lots of positives from the Redskins' first preseason game. And for a team looking to improve and feel good about itself, that can matter.
April, 7, 2012
4/07/12
11:31
AM ET
Another week over, another Saturday upon us, another trip into the mailbag to see what's on your mind.
Miguel from San Diego
wants to know why everyone assumes the
New York Giants
would move
David Diehl
to right tackle to replace
Kareem McKenzie
rather than move
Will Beatty
there and keep Diehl on the left side: "I feel like, when Diehl stepped in, he did a better job than Beatty and he's now been protecting
Eli Manning
's blind side for the past two seasons.[Manning] 's got to feel comfortable with Diehl on the left."
Dan Graziano:
Interesting point, Miguel, and it's certainly one possible solution if the Giants don't find a starting-caliber tackle in the draft later this month. But while it's true the Giants' line played better as a unit after the Beatty injury when Diehl moved from guard to tackle, I didn't see much to indicate that Diehl's individual performance at left tackle graded out better than Beatty's had. Diehl played fine, don't get me wrong, but I think a lot of their success had to do with how well
Kevin Boothe
played at left guard and the way the group came together as a whole. Regardless, the reason they'd likely move Diehl to the right side rather than Beatty is if they still believe Beatty can be their long-term solution at left tackle. Diehl turns 32 in September and isn't the long-term solution anywhere. I personally didn't see much from Beatty to indicate he's a long-term left tackle fix, but it's possible (and reasonable) the Giants might want to see more before making that judgment. Finally, Diehl has always been willing to move around to different positions on the line when needed, and he might respond better to such a move than Beatty, who could view it as a demotion.
---
Hamad from Kansas City
asks whether it would make sense for the
Dallas Cowboys
to extend the contract of cornerback
Mike Jenkins
if he plays LIGHTS OUT this year. (The caps are Hamad's, not mine.)
DG:
Yeah, I think Jenkins will be their best cornerback this year if he can stay fully healthy. He played very well in 2011 when he wasn't being affected by his various injuries, and if he can get through 2012 without getting hurt, he'd be a strong candidate for an extension, even with
Brandon Carr
and
Orlando Scandrick
already signed long-term. I don't think they have much committed to Scandrick beyond this season.
---
Patrick from Elkins, WV
wants to know what the
Washington Redskins
are planning to do about the offensive line. He's concerned about the safety of Washington's rookie quarterback-to-be.
DG
: They tried early in free agency on guys like
Ben Grubbs
and
Demetress Bell
, but those guys signed elsewhere (and the second one changed his name so other interested teams couldn't find him). Now, it seems as though their free-agency efforts are focused on re-signing guys like
London Fletcher
and
Tim Hightower
and continuing to find help for the secondary. This leads me to believe they're planning to look for offensive linemen with their third-round and fourth-round draft picks and hope for quick recoveries and sustained health from
Kory Lichtensteiger
and
Jammal Brown
. They really liked the way last year's line was playing before the injuries to Brown, Lichtensteiger and
Trent Williams
hit around Week 6, and if all of those guys are fully healthy, they could go with the same five. That's a big "if," though, and so I believe they'll work hard on offensive line in the draft and maybe find a late flier on the free-agent market who can help. The
Philadelphia Eagles
picked up
Evan Mathis
late last year, and he became a big part of the success their line had. So it's possible.
---
P. Quinn of Absaraka, ND
wants to know how much of a dropoff Demetress Bell will be from
Jason Peters
as the Eagles' left tackle.
DG:
The first part of the answer is that almost any tackle in the league would be a significant dropoff from Peters, who was the very best there was last year. Peters can take out a defensive end in a second and then get to the second level and attack linebackers to clear room for the running back or help an intermediate receiver get or stay open. He's a perfect fit with
Michael Vick
, too, since Vick likes to keep plays alive much longer than most quarterbacks do. Bell played in Buffalo, where quarterback
Ryan Fitzpatrick
gets rid of the ball as quickly as any quarterback in the league. So it's hard to know how he'll do with Vick playing behind him and running around all day to keep plays alive forever. He's athletic enough to handle it, but he'll have to get used to it, and that's something we'll have to watch in the offseason and in training camp. He won't be as good as Peters, because very few are. But he's got the ability to be a solid replacement, assuming he can get up to speed quickly on the differences between the way the Eagles play and block versus the way those things are done in Buffalo.
January, 1, 2012
1/01/12
4:17
PM ET
A few thoughts from the
final game of the season
for both the
Philadelphia Eagles
and the
Washington Redskins
:


What it means:
The Eagles won their final four games of the season to finish at 8-8 and avoid what would have been Andy Reid's third losing season in 13 years as their head coach. The Redskins lost their final two and finish at 5-11, one game worse than they were last year in Mike Shanahan's first season as their coach.
Turnovers, turnovers:
Washington quarterback
Rex Grossman
threw his 20th interception of the season in just his 13th game, stretching his streak to 12 games in a row with at least one. He won't lead the league, though, because Buffalo's
Ryan Fitzpatrick
threw four of them today to get to 23 for the season. Philadelphia quarterback
Michael Vick
also threw an interception -- giving him 14 in his 13 games -- and lost a fumble. Vick also threw three touchdown passes, including a 62-yarder to
DeSean Jackson
-- but the turnovers were a reminder of the problem that really sank the Eagles early in the season when they were outplaying teams but finding ways to lose.
Pay the man:
By sitting out the last game of the season with an ankle injury, Eagles running back
LeSean McCoy
might have made an even stronger case for a contract extension than his brilliant first 15 games of the season made. The Eagles just didn't have anything in the run game without him.
Ronnie Brown
offered one final bit of proof for why he didn't get any better offers, and
Dion Lewis
looks like he has work to do to learn the playbook. Jackson's poor season might have eliminated his chance to get the extension he wanted, and you wonder if the Eagles will look to lock up McCoy long-term instead.
Running Redskins:
Rookie running back
Evan Royster
cleared 100 yards rushing for the second week in a row, getting the bulk of the carries ahead of gimpy
Roy Helu
. But Helu did catch a 47-yard touchdown pass, and it seems clear that, especially if
Tim Hightower
can come back from his ACL injury, the Redskins will be extremely strong at running back in 2012.
Eagles' defense finishes strong:
The Eagles' pass rush harassed Grossman all day, and the Eagles will end the season as statistically one of the best defenses in the league. Between the defense and
Jeremy Maclin
and McCoy and the way Vick finished the season, I imagine Eagles fans would be feeling very optimistic about next season if they weren't so justifiably disappointed by the way this season went.
Kicked out?
Graham Gano
had a field goal attempt blocked for the fifth time this season. I have to believe the Redskins will find a replacement.
What's next:
The Eagles need to make some decisions about their coaching staff for 2012, then go out and hunt for linebackers. The Redskins need to start preparing for a draft in which they will pick somewhere between No. 4 and No. 7, and begin the process of finding themselves a quarterback.
December, 23, 2011
12/23/11
1:30
PM ET
»
NFC Final Word
:
East
|
West
|
North
|
South
»
AFC
:
East
|
West
|
North
|
South
Five nuggets of knowledge about Week 16:
Wow, does something have to give:
The
Minnesota Vikings
have played nine games in a row without intercepting a pass -- the longest such streak in the league since the NFL-AFL merger. Their six interceptions for the season is the lowest total in the league, obviously. But this week they get to face
Washington Redskins
quarterback
Rex Grossman
, who has thrown at least one interception in 10 straight games and whose 18 interceptions for the season are one short of
Ryan Fitzpatrick
's league lead -- remarkable considering Grossman has played in only 11 games. One of these streaks ends Saturday. Which way are you betting?
[+] Enlarge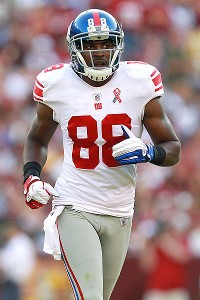 Ronald Martinez/Getty ImagesHakeem Nicks and the Giants' receivers are among the NFL leaders in dropped passes.
Third and wrong:
The
New York Giants
are working on a streak of five games in which their opponent has converted at least 50 percent of its third-down opportunities. That's the longest such streak since the merger, and the Giants are 1-4 in those games. The good news is that the Jets' third-down conversion percentage of 36.5 is only the 18th-best in the league, much worse than that of any of the five teams the Giants have played during that stretch.
Hang on tight:
Even if the Giants' offensive line can keep the Jets away from quarterback
Eli Manning
, Manning will need his receivers to catch the ball. According to ESPN Stats & Information, Giants receivers have 28 dropped passes this season, second-most in the league behind the
Cleveland Browns
.
Hakeem Nicks
' drop of what would have been a long touchdown pass early in the Week 15 loss to Washington stands out, but the team has five drops in the past two weeks.
Victor Cruz
leads the team with seven this season, and Nicks,
Jake Ballard
and
Mario Manningham
have five.
Thank the big guys up front:
Philadelphia Eagles
running back
LeSean McCoy
is in the midst of a special and historic season, having already set a team record with 20 touchdowns and amassed 1,579 yards from scrimmage. But a large part of his success as a runner is due to the job the Eagles' offensive line has done blocking for him. According to ESPN Stats & Info, McCoy leads the league in the percentage of his yards that are gained before initial contact -- 64.4 percent. Of his 1,274 rush yards, 820 have come before he has been hit. McCoy is extremely shifty and excels at finding his way through holes. But his line is also doing a great job of making those holes for him.
Playing clean:
Dallas Cowboys
quarterback
Tony Romo
has played three games in a row without throwing an interception and has just two interceptions (against 18 touchdown passes) in his past seven games. If he can avoid turning the ball over against the Eagles, the Cowboys will greatly improve their chances of winning. Philadelphia leads the league with 35 turnovers, and its minus-12 turnover margin is the second-worst in the league.
October, 30, 2011
10/30/11
10:30
AM ET
As you get ready for the
Washington Redskins
' game against the
Buffalo Bills
this afternoon in Toronto, here's one reason for Redskins fans to be feeling good and one reason for concern:


Feeling good:
The Bills are not a good defense against the run, allowing 136 yards per game on the ground to opponents. The Redskins' offense operates best when it's committed to the run. Even with starting running back
Tim Hightower
out for the season, they have two backs in
Ryan Torain
and
Roy Helu
who should be able to pile up yards and help them control the clock against the Bills.
Cause for concern:
Buffalo doesn't yield many sacks, as quarterback
Ryan Fitzpatrick
is good at getting rid of the ball quickly and Chan Gailey has excelled at designing protections for him. So a Washington defense that's been shaky against the run and relies on getting to the quarterback could struggle if it doesn't find a way to contain star Buffalo running back
Fred Jackson
. The Redskins are leaning on their defense more than ever now with all of those offensive starters down with injuries. They'll need to limit Buffalo's scoring to have a chance.
October, 16, 2011
10/16/11
10:56
AM ET
As you get ready for the
New York Giants
' game today against the
Buffalo Bills
in New Jersey, here's one reason for Giants fans to feel good and one reason for concern:
Feeling good
: If the Giants are going to get their running game going at some point, the Bills offer a good opportunity to do so. Ranked 29th in the NFL against the run, the Buffalo defense today is also without
Shawne Merriman
, which leaves them light at linebacker and should allow the Giants to bounce
Ahmad Bradshaw
outside as well as run him between the tackles. After Bradshaw complained last week about the job the line is doing blocking for him, expect the Giants to focus on getting him going against a soft Buffalo run defense.
Cause for concern:
The key for the Giants' defense is its ability to sack the quarterback, but no team in the league has yielded fewer sacks than have the Bills (4).
Ryan Fitzpatrick
gets rid of the ball very quickly, and the line has done a good job of protecting him, and without
Justin Tuck
at defensive end, the Giants will have their work cut out for them if they want to harass Fitzpatrick the way they've bothered so many other opposing quarterbacks this year.
Osi Umenyiora
and
Jason Pierre-Paul
are both excellent, but neither plays the run as well as Tuck does, and with Tuck out they may need to be paying extra attention to Buffalo's outstanding running back,
Fred Jackson
.
October, 9, 2011
10/09/11
7:00
PM ET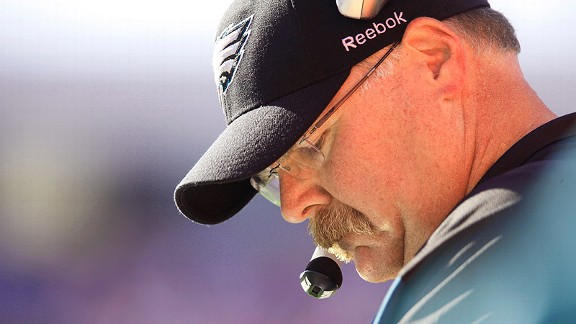 AP Photo/Derek GeeSunday's penalties, turnovers and all-around sloppy play can be blamed on Andy Reid.
ORCHARD PARK, N.Y. -- With 1:23 left in Sunday's game, fourth-and-inches to go from midfield and a seven-point lead, the
Buffalo Bills
had a choice. They could punt the ball away and force the
Philadelphia Eagles
to go the length of the field to tie the score, or they could go for it, knowing the game would be over if they picked up those couple of inches. They called a time out to talk it over and chose a third option -- let the Eagles make a critical mistake.
Good call.
The Bills lined up as though planning to run a play, but quarterback
Ryan Fitzpatrick
just sat behind center barking out his cadence. He barked and barked, and finally ...
"They got me," Eagles defensive lineman
Juqua Parker
said.
Parker jumped offside, and the penalty gave the Bills the first down that clinched a
31-24
victory that dropped the Eagles to 1-4. It was the Eagles' fifth penalty of the game and third of the fourth quarter. And while it was the mistake that ultimately decided the game, it had plenty of help from its friends.
In addition to the penalties, Philadelphia committed five turnovers -- four
Michael Vick
interceptions and one lost fumble -- dropped a couple of key passes, missed enough tackles that Bills running back
Fred Jackson
got 59 of his 111 rushing yards after first contact, and generally played the kind of loose, undisciplined game we've become used to seeing from the 2011 Eagles.
"There's nobody to blame but me," Eagles coach Andy Reid said. "That's how I look at it."
Funny. That's how I look at it too. Reid has been an outstanding NFL coach since taking over the Eagles in 1999, but he's doing a lousy job coaching this season's team. The Eagles have electrifying talent all over the field, but the players play as though they haven't been coached on how to handle game situations. They don't take care of the ball in spots where it needs to be a priority. They don't make good decisions. They look like a team that either didn't practice or didn't pay attention in practice all week, and that's on the coaches, no matter what the players say.
"I think, at this point, it's out of the coaches' hands," said Vick, who rushed for 90 yards and threw for 315 but said he'll remember this game for those four interceptions. "Coaches can stress ball security all week, but the coaches are not out there in the moment. We've got to control it as players, in the moment."
[+] Enlarge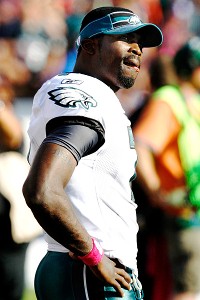 AP Photo/David DupreyMichael Vick was picked off a career-high four times in Philadelphia's loss to Buffalo.
There's a fair point in there, and Vick rightly took his share of the blame for this loss. But a head coach's job is to establish a team-wide culture in which the kind of sloppy play that's killing the Eagles is not tolerated. The players have to buy into the idea that the most important thing they can do is not beat themselves. They have to have it drilled into their heads, to the point where it becomes instinctive, "in the moment," to throw the ball away, to take a sack instead of throwing an interception.
Jason Avant
has to know, when he's in the defender's arms at the end of the 35-yard catch that gets the Eagles out of the shadow of their own goalposts, to go down, protecting the ball and not try to fight for extra yards with 20 minutes left in the game.
"Everyone took turns making mistakes," defensive end
Jason Babin
said.
And every player on the defense has to know, when the Bills are lining up looking as though they'll run a play on fourth-and-inches from midfield with 1:23 left on the clock, that the single most important thing they can do is not get caught offside. If the Bills run and pick up those inches on their own, at least they did something to beat you. But what you can't do in that spot is hand it to them, and that's something the coaches need to (A) make sure the team knows before the plane's wheels touch down on Saturday night and (B) expressly tell every single defensive player during the timeout just before that play.
"Every Saturday, we line up and practice it," Bills coach Chan Gailey said of that final play. "You don't think it's going to work, but the one time it does, it wins the game for you."
Asked if Fitzpatrick was planning to snap the ball, Gailey said, "I'll never tell." Everyone laughed.
There was no laughing in the visitor's locker room, where Parker said the receiver in motion made him think a play would be run and Reid and the rest of the players refused to lay blame at Parker's happy feet.
"I think guys are just trying so hard to make a play," Vick said. "We know what we're capable of, and guys all want to be the one who makes the play, want to be the game-changer. And I understand that. We're desperate for a win. So I can't fault guys for trying too hard."
No, but we can fault Reid and the Eagles' coaching staff for their failure to foster an environment in which their players prioritize smart decisions and sound fundamental football over the urgent desire to change the game. The game, by the time the fourth quarter rolled around, was going very much the Eagles' way. They were moving the ball at will on the Buffalo defense, Vick and
DeSean Jackson
and
LeSean McCoy
showcasing that game-changing speed that was supposed to propel the Eagles' offense to such great heights. Heck, their defense was even forcing the other team to punt for a change. All they had to do was avoid the game-changing mistakes, and they couldn't.
This Eagles team never does. No matter how good they look in stretches, they always find a way to screw it up. A holding penalty here, a face-mask penalty there, an offside penalty at the worst possible time. Well-coached teams just don't play that way.
If Reid really, truly, sincerely wants to take the responsibility for what's going on here, he's welcome to it. When you have this many players making this many inexcusable mistakes in this many critical situations, you have no choice but to seek the common thread. This season was to have been Reid's most glorious yet -- his best opportunity to win a Super Bowl. The front office gave him everything he needed and more to make it happen, and so far he has failed miserably.
August, 18, 2011
8/18/11
10:02
AM ET
In this
very good GQ story
on
Michael Vick
by Will Leitch, one paragraph in particular is raising NFL eyebrows this morning, and it is this one:
"I think I can say this now, because it's not going to hurt anybody's feelings, and it's the truth," Vick tells me a few weeks after the commencement ceremony. "I didn't want to come to Philadelphia. Being the third-team quarterback is nothing to smile about. Cincinnati and Buffalo were better options." Those two teams wanted him and would've allowed him to start, but after meeting with commissioner Roger Goodell and other reps from the NFL, Vick was convinced -- and granted league approval -- to sign with Philly. "And I commend and thank them, because they put me in the right situation."
The immediate question is whether Goodell had any business influencing where Vick signed once he got out of prison, and some have raised the issue of whether the Bengals or Bills will or should be upset about this. I see the point but have some issues with that interpretation.
First, I don't buy that the Bengals would have started Vick ahead of
Carson Palmer
in 2009, fresh out of prison. I may buy that the Bills would have done it, since they were going with
Trent Edwards
and eventually
Ryan Fitzpatrick
, but to say he was a starting option even for a team as quarterback-desperate as Buffalo is revisionist history.
Vick had just gone two full seasons without playing football. No one knew what kind of shape he was in, physically or mentally. If a team -- even the Bills -- was going to sign him, it's impossible to believe they were going to anoint him their starting quarterback right out of the gate. It's easy to look back over the way Vick played last year and say sure, of course he'd have been worlds better than those other options. But in August 2009, nobody knew he'd come back and be what he's become. Not the Bengals, not the Bills, not the Eagles, not Vick and not Goodell.
Goodell's mission at that time was not to return Vick to on-field football glory but simply to return him to NFL society and allow him to resume his career in the situation that would best enable him to be a productive member of that society on and off the field. Goodell had a lot of help in this effort, from agent Joel Segal to NFLPA chief DeMaurice Smith to former Colts coach Tony Dungy, who served as a mentor to Vick during and after Vick's prison stay.
Now, to Goodell and all of those other people, the Eagles looked like the best spot for a number of reasons. They all believed coach Andy Reid, in part because of his own personal experience with his sons and their legal trouble, would be a compassionate mentor. They believed that Reid and his coaches could nurture and coach Vick while Vick served as backup to
Donovan McNabb
. They believed McNabb would be a good mentor for Vick.
Goodell said more than once, at that time, that he was looking for "a success story." And he didn't mean success in terms of yards or touchdown passes. And he certainly didn't mean success for any one particular NFL team. He meant success for Michael Vick -- and that meant putting Vick in the most beneficial situation for Michael Vick. The idea that the commissioner might have been playing favorites, or that other teams should be upset that he may have steered this remarkable athletic talent to a training camp other than theirs, is fueled by nothing other than hindsight. At the time, no one knew if Vick had it in him to ever complete another NFL pass. Even the Eagles didn't know. They just took a chance -- a chance for which they were ridiculed and criticized by many at the time -- and coached him into a better quarterback than he'd ever been before without ever thinking he'd start for them. Remember, a year ago, Vick was
Kevin Kolb
's backup.
To think that Vick would have become what he's become while riding the bench behind Palmer or even while starting games for Buffalo is to underestimate the work the Eagles did with him once they got their hands on him. If this is going to be a controversy, people had better come at it with all of the facts. Sure, it's possible Goodell wanted Vick in Philadelphia. But if he did, it had nothing to do with wanting to help the Eagles. They did that on their own.