December, 9, 2013
12/09/13
8:00
AM ET
SAN DIEGO -- An examination of four hot issues from the
New York Giants
'
37-14 loss
to the
San Diego Chargers
.
[+] Enlarge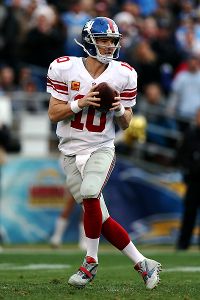 Jeff Gross/Getty ImagesEli Manning threw two more interceptions, bringing him closer to a new career high.
Penalties a killer:
The Giants were flagged for seven penalties for 72 yards. The worst may have been
Charles James
' offside penalty that gave
Nick Novak
a second chance at a field goal (he missed from 41 yards but then made it from 36), but that was just one of four offside calls against the Giants. "There's no excuse for that," Giants coach Tom Coughlin said. "Watch the ball. That's what you do all day long. If you watch us practice, we put a ball on the end of a stick, and the player doesn't move until the ball moves. There's absolutely no excuse for jumping offsides." It's easy to use a word like "undisciplined" to describe a team that gets called for too many penalties, but I think sometimes a team that feels overmatched can start jumping early in an effort to tilt the advantage back in its favor. The Giants have certainly felt overmatched at times this season, and Sunday was a strong example of such a game.
Chargers run wild:
The Chargers rushed for 144 yards on 40 carries.
Ryan Mathews
had 103 yards and
Danny Woodhead
added 42.
Justin Tuck
grumbled that the total had more to do with San Diego's number of rushing attempts than anything special they did against the Giants' defense. But the 144 was the second-highest single-game rushing yardage total against the Giants this season (Carolina had 194 in Week 3), and Mathews found holes all day. The Chargers ended up possessing the ball for 36:56, which was the second-highest time-of-possession total against the Giants this season, just behind Dallas' 37:10 in the opener.
Third-down woes:
The Chargers entered the game with a third-down conversion rate of 46.4 percent, which was second-best in the league to Denver, and they improved it, going 10-for-15 on third down Sunday. The Giants have struggled with third-down defense all season, and rank in the bottom third of the league in that department. But this was especially bad. Chargers quarterback
Philip Rivers
was 7-for-10 for 128 yards and two touchdowns on third down, and that was another huge reason for the time-of-possession edge.
Eli's rough year rolls on:
Hakeem Nicks
was able to make some plays down the field for a change, and ended up with 135 yards on five catches. But quarterback
Eli Manning
struggled again, missing some key throws and once again unable to get the offense into a rhythm. The Giants struggled to protect him early in the game, and he took two more sacks to raise his career-high total to 33 for the season. He also threw his 19th and 20th interceptions of the season, putting him five short of his career high in that department with three games to play. He threw a touchdown pass to tight end
Brandon Myers
for the third game in a row, but Nicks doesn't have a touchdown all season and
Victor Cruz
hasn't caught one since September.
December, 8, 2013
12/08/13
7:39
PM ET
SAN DIEGO -- A few thoughts on the
New York Giants
' 37-14
loss
to the
San Diego Chargers
:
What it means:
The Giants fell to 5-8 with three games left to play and therefore cannot finish with a winning record. Since the Eagles and Cardinals won, this loss eliminated the Giants from playoff contention. Obviously, they hung in longer than could have been expected after starting the season 0-6. But that 0-6 start meant they couldn't afford any more stinkers. And this was a stinker.

Stock watch:
Run defense, DOWN. A Giants strength for much of the season, the run defense failed the Giants in this game. They went into the game concerned about
Danny Woodhead
because he and the manner in which the Chargers use him are different from any running back they'd yet faced. And Woodhead had a big game. But so did
Ryan Mathews
running between the tackles.
Nicks Watch:
Wide receiver
Hakeem Nicks
, a nonfactor in the passing game for most of this season, had catches of 51, 37 and 28 yards in the game. The middle one was a Hail Mary short of the end zone at the end of the first half. The other two were deep downfield in traffic. Nicks was able to outfight defenders for the ball all three times but still isn't separating from them. He also had a couple of drops on shorter patterns, though each of those seemed to be thrown a bit behind him. And he briefly left the game in the second half with some sort of leg injury. Nicks will be a free agent at the end of the year and is likely in his final month as a Giant.
Tuck Watch:
Justin Tuck
, also a pending free agent, had two sacks after collecting four last week in Washington and is now up to 8.5 for the season. Unlike Nicks, Tuck appears to be making an inspired case to stay.
Turnover redux:
Eli Manning
threw his 20th interception of the season and had another potential pick overturned by replay review. The Giants are the only NFL team with at least one turnover in every game this year.
What's next:
The Giants return home, where they will host the
Seattle Seahawks
in a 1 p.m. ET game at MetLife Stadium on Sunday. The Seahawks are tied with the Broncos for the best record in the NFL.
August, 22, 2010
8/22/10
9:00
AM ET
By
Matt Mosley
| ESPN.com
I thought the most significant thing to come out of Saturday's preseason game was the debut of Cowboys rookie linebacker
Sean Lee
in Dallas'
16-14 victory
against San Diego. The second-round pick made back to back plays in the fourth quarter to shut down the Chargers' short-yardage running game. I wondered how he'd react to game speed, but it didn't seem to faze him. Watching him fight off a lead blocker and then tackle the tailback on his own was the most impressive play of the evening.
Now, let's look at some of other aspects of the Cowboys' win:
Nice job by cornerback Terence Newman bouncing back from getting burned to undercut a route and intercept Philip Rivers in the first quarter. This defense looks a lot more opportunistic after three preseason games.
The Cowboys better hope Ryan Mathews is the second coming of LaDainian Tomlinson, because he made them look bad at times Saturday night. The Chargers were able to run down hill with all three of their main backs. Wade Phillips' defense will have to work on tackling this week, because it kept bouncing off Chargers running backs. I've been a fan of Mike Tolbert's ever since he came out of Coastal Carolina. Impossible to bring him down if you go high, and Orlando Scandrick learned that lesson the hard way.
I didn't like the looks of Gerald Sensabaugh's left shoulder injury. Keith Brooking injured his right shoulder and said it was a "mild AC strain." Neither injury is serious, but don't be shocked if they sit out the final two preseason games.
I know that Tony Romo had linebacker Stephen Cooper closing in on him, but you can't throw that pass into the middle of the field. You'd rather see Romo take the sack in that situation, and he admitted that after the game. It wasn't a great night for Romo and the offense, but the red-zone touchdown pass to Miles Austin was a thing of beauty. Romo throws that back-shoulder fade as well as any quarterback in the league right now.
Norv Turner burned the Cowboys with those little slip screens to Darren Sproles. He used the Cowboys' speed against them by letting DeMarcus Ware and Anthony Spencer come free before dumping the ball over their heads. Not even Brooking could make a play in the open field as Sproles raced for daylight.
Marion Barber and Felix Jones aren't doing much in the preseason games. Jones needs to turn some of those runs upfield quicker instead of gliding down the line of scrimmage, hoping to find a seam.
Rookie free-agent safety Danny McCray has become a special teams phenom. I saw him make at least three tackles in coverage. He's already among the Cowboys' top two or three special-teams players, and he's not finished climbing.
It's fun watching left tackle Doug Free get out in space on screen passes. He flattened a defender to lead the way for Barber's 8-yard reception.
Let's give offensive tackle Robert Brewster his due. He certainly had some help at right tackle when Romo was on the field, but I thought he played pretty well. And when he moved over to the left side, Brewster did a nice job of anchoring and giving Jon Kitna a clean pocket. Backup center Phil Costa also receives kudos for some excellent work. He does a nice job on those middle screens. He's been the under-the-radar star of the offensive line in this camp. Mark that down somewhere.
Spencer is pretty much impossible to block right now. He had one sack wiped out because of defensive holding, but he was constantly in the face of Rivers or Billy Volek. He's poised to have a huge season.
During my time in Oxnard, Calif., last week, I kept telling you guys that Martellus Bennett could be a threat in the red zone. Well, Kitna realized that Saturday night. Bennett was a nice third-down option for both Romo and Kitna. He's an enormous target who is too big for safeties to cover and too fast for linebackers. That might have been the best all-around game I've seen him play in a Cowboys uniform. Let's see if he can take it to the regular season.
Linebacker Leon Williams didn't help himself by missing a tackle in the backfield on Tolbert. And fellow linebacker Victor Butler helped himself big time with a strip sack in the second half that led to the game-winning safety. Butler has had an excellent camp.
Cornerback Cletis Gordon's the biggest surprise from this camp. The former Charger snagged an interception with his right hand while running step for step with a wide receiver in the second half. If you count practice, I think he has at least 14 interceptions this preseason.
I like how rookie running back Lonyae Miller runs the ball. He played better than Herb Donaldson on Saturday. I'd try to get Miller on the practice squad. I'm sure he wanted to show off for his former Fresno State teammate Mathews.
April, 30, 2010
4/30/10
8:04
PM ET
By
Matt Mosley
| ESPN.com
IRVING, Texas -- The
Dallas Cowboys
have 24 players attending their 2010 rookie minicamp this weekend, but all eyes were on wide receiver
Dez Bryant
during Friday's morning practice. The good news for Cowboys fans is that Bryant made several nifty catches, including one where he reached up and snatched the ball with one hand. I also observed Bryant adjusting to a deep ball nicely when one of the quarterbacks threw it over his wrong shoulder.
He was the most talented player on the field, which is a good thing since he was the only first-rounder to make an appearance Friday. But now the bad news: In the eight Cowboys rookie minicamps I've covered over the years, I've never seen a player struggle this much from a conditioning standpoint. Wide receivers coach Ray Sherman made sure that Bryant had plenty of reps in each drill. And it only took about 45 minutes for Bryant to walk over to the sideline and attempt to puke.
Several cameramen gathered later to say that Bryant only had "dry heaves," but it was obvious that he was out of football shape. He later claimed to enjoy the whole experience since it had been so long since he'd scrimmaged.
"Just getting back in the flow,"
Bryant told reporters after his first practice
. "As the days go on, you will see a lot of progression."
One of the lesser-known wide receivers in camp was overheard shouting at Bryant during practice, "These people didn't come out here to see me. Let's go!."
Wide receivers coach Ray Sherman, who's tutored some of the best in the league, said he wasn't concerned about Bryant's conditioning -- or lack thereof. He even compared Bryant to
Cris Carter
and former Cowboys great
Michael Irvin
at one point.
"He's in a class of his own, though" said Sherman. "He's gonna be a special player. There's no doubt in my mind."
Bryant said he was relieved to find out the Cowboys have some similar routes to the ones he ran at Oklahoma State. He planned to spend a lot of time in his new playbook in order to learn the different terminology. On Friday, offensive coordinator
Jason Garrett
was purposely throwing a lot at Bryant to see how he responded. And like Sherman, he didn't appear to be concerned that Bryant struggled with his conditioning. The Cowboys believe that some time with strength and conditioning coach Joe Juraszek will eventually do the trick.
LB Lee wears a brace:
Former Penn State linebacker
Sean Lee
, a second-round pick, wore a brace on his left knee during Friday's practice. He had told Dallas-Fort Worth's 103.3 ESPN earlier this week that he would not wear a brace, but he was overruled by the Cowboys' medical staff. Lee had tore his anterior cruciate ligament in '08 and missed that entire season. He wore a brace throughout his senior season at Penn State, but was hoping to lose it for good.
"I hope I don't have to wear it [in 2010]," said Lee after practice.
He said that doctors and trainers wanted to be cautious since he was playing on a different surface than he's accustomed to. I asked Lee to come up with the most important thing he learned from legendary coach Joe Paterno.
"Just the extreme passion that he brings," said Lee. "He's 83 and he still coaches with a sense of urgency. And just all the intangibles. He wants us to succeed on the field, but he also wants us to be good young men."
Other notes:
Tough day for the young quarterbacks on the roster. Eastern Washington's Matt Nichols has a live arm, but he didn't know where his throws were going. The wide receivers dropped so many balls I stopped counting...My pick to click (as far as undrafted players go) is former Fresno State running back Lonyae Miller. He had the misfortune of playing behind first-rounder
Ryan Mathews
, but it's obvious the guy has some ability. He'll definitely be a practice squad candidate...I enjoyed watching fullback Chris Gronkowski in drills. He appears to have fairly soft hands, but more importantly, he fired off the ball and brought a lot of aggression in blocking drills...I'll have reports on the Redskins and Eagles throughout the weekend...Oh, and here's
the latest on the Scott Sicko saga
. He's "incredibly happy" to be a Cowboy after initially telling SI.com's Peter King that he was turning down all offers to play in the league after being passed over in the draft.
April, 26, 2010
4/26/10
7:27
PM ET
By
Matt Mosley
| ESPN.com
The good people at Scouts Inc.
released their list of the top-10 undrafted players
Sunday. You have to spend a dime or two to read the whole thing, but I'll tell you that new Cowboys quarterback
Matt Nichols
of Eastern Washington showed up at No. 10.
"He has the tools and mental aptitude to become a serviceable reserve with proper coaching and development," said Scouts Inc. of Nichols.
I've spent a portion of the day asking scouts about some of the undrafted players. It looks like the Chargers landed a couple of the top undrafted players with Troy defensive end
Brandon Lang
and Fresno State wide receiver
Seyi Ajirotutu
. I also had two different AFC scouts tell me that Fresno State running back
Lonyae Miller
was an excellent pickup by the
Dallas Cowboys
.
Miller backed up
Ryan Mathews
(12th overall to Chargers) last season
but he impressed scouts
at the Senior Bowl with nine carries for 44 yards. I'm told that Miller has a good chance of making the practice squad and that he has the potential to be a contributor down the road.

NFC EAST SCOREBOARD
Thursday, 8/21
Friday, 8/22
Saturday, 8/23