April, 3, 2012
4/03/12
4:25
PM ET
So I have this idea, since everybody loves draft talk and speculation so much, to go through each team's picks and the history of players taken at those spots. It doesn't mean much, since there's no way to know if the guy your team takes in the sixth round is going to become anything or not, but I thought it'd be fun, so I'm going to do it for each of our division's four teams. We'll go in first-round order, so we'll start with the Redskins, who have seven picks.
The Redskins have the No. 2 pick in the draft, which as you might expect has produced a number of great players, including 13 Hall of Famers. But in doing this exercise, I learned that the Redskins this year also have the pick (No. 102) that produced both Johnny Unitas and Nick Buoniconti. The Redskins' second pick in this year's draft is No. 69, which is noteworthy because the Redskins likely made the best No. 69 pick of all time when they drafted Hall of Famer Russ Grimm in 1981. Enjoy.
PICK 2
(second pick of first round)
Last five players taken
2011 --
Von Miller
, LB, Broncos
2010 --
Ndamukong Suh
, DT, Lions
2009 --
Jason Smith
, T, Rams
2008 --
Chris Long
, DE, Rams
2007 --
Calvin Johnson
, WR, Lions
Redskins' history of No. 2 picks

2000 --
LaVar Arrington
1962 -- Norm Snead
1953 -- Jack Scarbath
Hall of Famers picked No. 2
Marshall Faulk
(1994),
Eric Dickerson
(1983),
Lawrence Taylor
(1981), Tony Dorsett (1977), Randy White (1975), Tom Mack (1966), Joe Namath (1965, AFL), Bob Brown (1964), Merlin Olsen (1962), Les Richter (1952), Y.A. Tittle (1951), George McAfee (1940), Sid Luckman (1939)
Other notables
Reggie Bush
(2006),
Julius Peppers
(2002),
Ryan Leaf
(1998),
Tony Mandarich
(1989),
Cornelius Bennett
(1987), Archie Manning (1971)
Last quarterback taken No. 2

1999 --
Donovan McNabb
, Eagles
PICK 69
(sixth pick, third round)
Last five players taken
2011 --
Rob Housler
, TE, Cardinals
2010 --
Jared Veldheer
, T, Raiders
2009 --
Jason Williams
, LB, Cowboys
2008 --
Jacob Hester
, FB, Chargers
2007 --
Buster Davis
, LB, Cardinals
Redskins' history of No. 69 pick
1998 --
Skip Hicks
1981 -- Russ Grimm
Hall of Famers picked No. 69
Russ Grimm (1981), Jack Christiansen (1951)
PICK 102
(seventh pick, fourth round)
Last five players taken
2011 --
Jordan Cameron
, TE, Browns
2010 --
Darryl Sharpton
, LB, Texans
2009 --
Donald Washington
, DB, Chiefs
2008 --
Jeremy Thompson
, DE, Packers
2007 --
Brian Robison
, DE, Vikings
Redskins history of No. 102 pick
1996 --
Stephen Davis
1984 -- Jimmy Smith
Hall of Famers taken N0. 102
Nick Buoniconti (1962), Johnny Unitas (1955)
PICK 109
(14th pick, fourth round)
Last five players taken
2011 --
Colin McCarthy
, LB, Titans
2010 --
Corey Wootton
, DE, Bears
2009 --
T.J. Lang
, T, Packers
2008 --
Mike McGlynn
, G, Eagles
2007 --
Stephen Nicholas
, LB, Falcons
Redskins history of No. 109 pick

2001 --
Sage Rosenfels
1990 -- Rico Labbe
1988 -- Jamie Morris
Hall of Famers taken No. 109
Don Maynard (1957)
PICK 141
(sixth pick, fifth round)
Last five players taken
2011 --
D.J. Williams
, TE, Packers
2010 --
Joshua Moore
, DB, Bears
2009 --
Kenny McKinley
, WR, Broncos
2008 --
Gary Barnidge
, TE, Panthers
2007 --
Greg Peterson
, DT, Buccaneers
Redskins history of No. 141 pick
1971 -- Conway Hayman
Hall of Famers taken No. 141
None
PICK 173
(third pick, sixth round)
Last five players taken
2011 --
Byron Maxwell
, DB, Seahawks
2010 --
Anthony Dixon
, RB, 49ers
2009 --
Javon Ringer
, RB, Titans
2008 --
Dominique Barber
, S, Texans
2007 --
Michael Coe
, CB, Colts
Redskins history of No. 173 pick
2006 --
Reed Doughty
1970 -- Roland Merritt
1969 -- John Didion
Hall of Famers picked No. 173
None
PICK 213
(sixth pick, seventh round)
Last five players taken
2011 --
Brandyn Thompson
, DB, Redskins
2010 --
Willie Young
, DE, Lions
2009 --
Paul Fanaika
, G, Eagles
2008 --
Chauncey Washington
, RB Jaguars
2007 -- Chase Pittman, DE, Browns
Redskins history of No. 213 pick
2011 -- Brandyn Thompson
1986 --
Kurt Gouveia
Hall of Famers picked No. 213
None
December, 2, 2011
12/02/11
3:39
PM ET

Because they claimed
Kyle Orton
on waivers last week and because
Jon Kitna
's injury has had them looking for a veteran backup quarterback, there was speculation Thursday that the
Dallas Cowboys
might claim
Donovan McNabb
following his release from the Vikings. But according to Calvin Watkins of ESPNDallas.com, Cowboys coach Jason Garrett said Friday
that would not happen
. Garrett also said the Cowboys would not claim recently waived
Sage Rosenfels
either, and were planning to roll with
Stephen McGee
as
Tony Romo
's backup the rest of the way:
"They've both been very good players in this league," Garrett said of McNabb and Rosenfels before Friday's practice at Valley Ranch. "Obviously we've competed against Donovan a lot when he was a quarterback for the Eagles and he's been a great player for a long, long time and the same thing with Sage, in a different role. He's been a veteran player who has played for 10-12 years now and really done a nice job with the role he has been in. But right now, we're going to just stand pat with where we are when we evaluate our quarterback situation."
The Cowboy are right to pass on McNabb, who has shown nothing over the past two seasons to indicate he's happy in a backup role or that he could even help if pressed into duty as a starter. I believe there's a chance he makes it all the way through waivers this afternoon, and I think it's possible that we might already have seen the end of his career.
August, 13, 2011
8/13/11
11:11
PM ET

The
New York Giants
could have used a feel-good preseason opener Saturday night. No, I don't think you can read much into these preseason games. You don't know which teams are game-planning and which aren't. You can make judgments on individual efforts in certain cases, and get a sense of what teams might be planning in terms of playing time and defensive and offensive alignments. But when we say a team looked good or bad in a preseason game, we are not making any predictions or judgments about the way the season will go based on that.
All of that said, after a week in which they got knocked around in free agency and faced questions about whether their offseason plan was sound or even extant, the Giants could have used a match that left them feeling good about things. Kind of like the one the Redskins had Friday.
They didn't get it.
Yeah, some good things happened in their
20-10 exhibition loss
to the
Carolina Panthers
.
Jason Pierre-Paul
was the star of the first half, looking fast, athletic and hungry as he recorded two sacks. Both punters looked good, third receiver candidates
Domenik Hixon
and
Victor Cruz
had nice moments, and
Michael Boley
ran back an interception for a touchdown on the first series of the game. But all in all, it wasn't a good night. There were tackling issues, communication issues and special teams issues. The backup offensive line was so bad that it may have gotten kicker
Lawrence Tynes
hurt.
Other than the Tynes thing, none of this is cause for any reason concern. Just because they were sloppy Saturday night doesn't mean anything about the season. I'm just saying, given the way their fans were feeling in the wake of the free-agent departures of
Steve Smith
, they could have used a better performance.
Here's some stuff I saw:
[+] Enlarge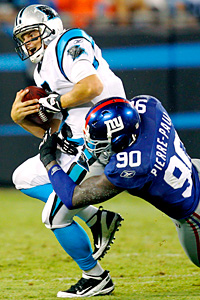 AP Photo/Chuck BurtonJason Pierre-Paul nabbed two sacks and could be a viable replacement if Osi Umenyiora continues to sit out.
1. Pierre-Paul looks like a monster.
The Giants' 2010 first-rounder has been getting a lot of snaps with the starters in practice with
Osi Umenyiora
sitting out, and he looked fantastic Saturday night. Two sacks, pressure on almost every play, quickness off the edge, athleticism, determination -- everything you want in a pass rusher. If Umenyiora wants to continue to sit out because of his contract, the Giants have some tape they can show him of a guy who looks like a very capable replacement. If Umenyiora wants to come back, the Giants have even more depth on the offensive line and can keep
Mathias Kiwanuka
at linebacker. Pierre-Paul's rapid development would be a very useful thing for the Giants.
2. Other good stuff from the defensive line.
We saw encouraging play from the defensive tackles, too, with
Chris Canty
getting into the backfield,
Rocky Bernard
getting a sack, rookie
Marvin Austin
playing well in the second half and the Giants generally producing a lot of pressure with their defensive front. As expected, they moved Kiwanuka up to the line in passing downs, and they did the same thing with
Adrian Tracy
when he replaced Kiwanuka in the second quarter. Tracy played well, helping generate the pressure that led to the Bernard sack as well as
Alex Hall
's. The Giants are looking for depth at linebacker, and Tracy could help if he plays like this.
3. The punters look good. The coverage? Not so much.
Matt Dodge
hit a couple of nice punts, including one that looked a little bit like a
Jeff Feagles
directional special. But
Steve Weatherford
was one of the best punters in the league the last couple of years and hits the ball farther than Dodge does. Could be tough for Dodge to win this competition. And regardless of who wins it, the coverage team will just have to do a better job. This is one area that actually does mean something in preseason, because the guys on special-teams coverage units should be playing hard and trying to win roster spots. They were miserable all night until Cruz came up with a big solo tackle on a punt return in the third quarter. A guy like
Michael Coe
, who has an opportunity with the Giants losing so much depth at cornerback, needs to come up bigger than he did on
Armanti Edwards
' long first return.
3a. Also, one punt-related question:
Why in the world did Tom Coughlin call for a 56-yard field goal attempt in the first quarter when Tynes is coming off knee surgery and he's trying to get a look at two punters? Just wondering. Seemed like a weird decision. Tynes, who is also the only kicker I've seen so far this preseason who hasn't been able to kick it through the end zone on kickoffs, missed the attempt.
4. William Beatty -- some good, some bad:
The new starting left tackle got manhandled a bit on the first two offensive series, looking overwhelmed and doing a lot of reaching and grabbing as he was getting beaten off the edge. But he seemed to settle in and looked much more authoritative and aggressive on the next few series. He stayed in longer than did the other starting offensive linemen, and it's no coincidence. Whether Beatty is ready to handle his new full-time job will go a long way toward determining how well the Giants handle their transition to this new offensive line assignment.
5. Brian Witherspoon was a bright spot.
The Giants' starting secondary looks as though it should be very good (though there did seem to be some communication issues there early on). The question is whether they have depth behind the starters, with
Prince Amukamara
and
Bruce Johnson
hurt. Witherspoon was a star of the second half on special teams as well as at cornerback. A guy to watch as the preseason rolls along.
6. Quick hits:
It was fun to watch top draft pick
Cam Newton
get his first game action for the Panthers. He beat Giants rookie
Tyler Sash
with a great throw on his first drive, but Sash and Coe made good plays to help keep him from capping that drive with a touchdown pass. ... It appears as though Hixon is the leader for that No. 3 receiver spot. He got a lot of work in the slot in the second half with
Sage Rosenfels
throwing to him. ... I thought
Danny Ware
looked all right as a third-down back catching screen passes. ... The word on Tynes was a thigh contusion, which is better than a knee injury for sure.
More on the Giants on Sunday, as you'll get my "Camp Confidential" report on them. Meantime, let me know what you thought.
September, 4, 2010
9/04/10
1:39
PM ET
By
Matt Mosley
| ESPN.com
The
New York Giants
will release second-year quarterback
Rhett Bomar
on Satuday,
according to Mike Garafolo of the Star-Ledger
. The move makes sense with the Giants trading for
Sage Rosenfels
on Friday. But it's hard to imagine Bomar making it through waivers to the practice squad this time around.
In other news, the Eagles announced they've traded an undisclosed 2011 pick for Ravens defensive end
Antwan Barnes
, a former fourth-round pick. An AFC scout who's seen Barnes play quite a bit over the past three seasons said he is an explosive player who will be a good fit for the Eagles' "up the field scheme." He played outside linebacker for the Ravens, but he'll play defensive end for the Eagles. Look for him to immediately be a part of the rotation.
September, 3, 2010
9/03/10
10:08
PM ET
By
Matt Mosley
| ESPN.com
The
New York Giants
have decided to
Eli Manning
. On Friday, they sent a conditional draft pick to the
Minnesota Vikings
for 32-year-old
Sage Rosenfels
, according to ESPNNewYork.com's Ohm Youngmisuk.
Rhett Bomar
played well for the Giants in preseason but apparently general manager
Jerry Reese
and coach Tom Coughlin wanted more experience behind Manning.
Rosenfels has appeared in 32 games as he heads into his 10th season. He's thrown 29 interceptions. His best seasons have come with the
Houston Texans
.
I think it's a wise move by the Giants. Rosenfels could get you through a couple games if anything happened to Manning. I can't really say that about Bomar at this point.
February, 26, 2010
2/26/10
4:15
PM ET
By
Matt Mosley
| ESPN.com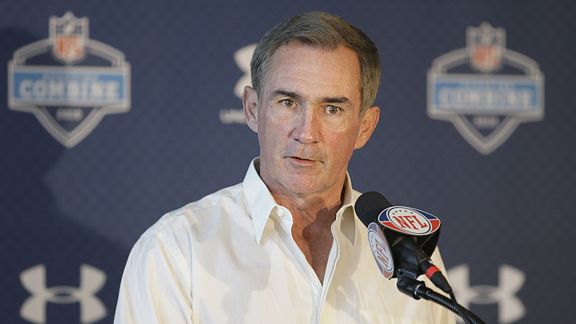 AP Photo/Darron CummingsNew Redskins coach Mike Shanahan held court with the media at Lucas Oil Stadium on Friday.
INDIANAPOLIS -- For years, Mike Shanahan hasn't had a presence at the NFL combine. Even with Broncos beat writers staking out every exit of his hotel, Shanahan's stealth-like approach allowed him to get in and out of Indy without being noticed.
That's what made his appearance Friday at Lucas Oil Stadium so unusual. He arrived at 10:45 a.m. ET and spent more than an hour visiting with reporters and other bystanders. At one point, Shanahan said, "Two more questions, guys." Then he stayed and did one-on-ones for the next 30 minutes. I'm not saying Shanahan's going to turn into an open book, but it's obvious that he's now the face of the
Washington Redskins
.
Now, if he'd just come out and tell us who he's going to take with the No. 4 pick in April's draft. Shanahan was predictably coy with most of his answers, although he didn't hide his passion for free-agent running back
LaDainian Tomlinson
when I broached the topic.
But the main thing on everyone's mind is the quarterback situation in Washington. Shanahan didn't exactly give incumbent starter
Jason Campbell
a ringing endorsement Friday, although he expressed his "admiration" for the way Campbell overcame so much adversity in '09 -- namely preserving most of his body parts while playing behind an injury-ravaged offensive line. Shanahan confirmed that the Skins will offer Campbell, a restricted free agent, a tender that probably will have first- and third-round compensation attached. If he signs the tender, Campbell would make $3.268 million in 2010 -- otherwise known as
Sage Rosenfels
money.
[+] Enlarge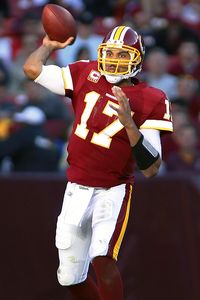 Geoff Burke/US PresswireThe Redskins will offer Jason Campbell a tender for 2010, which is not exactly a ringing endorsement.
Campbell is well within his rights to wonder why the Redskins would ask him to potentially start at quarterback while paying him second-string money. And while he's the ultimate team player -- as evidenced by his behavior last offseason while owner Dan Snyder fawned over other quarterbacks -- there's a chance Campbell could decide not to sign the tender and skip Shanahan's offseason workouts. General manager Bruce Allen is scheduled to meet with Campbell's agent Joel Segal during the combine, according to a league source. Maybe they'll flesh out some of the details. For now, though, Campbell's focused on remaining the starter in 2010.
"No matter who they take, I plan on winning the starting job," Campbell told me Friday. "My plan is to come out and have a great year."
Shanahan has had the good fortune of working with Hall of Famers
Joe Montana
,
Steve Young
and
John Elway
in the past. He knows better than anyone that this is a quarterback's league and that's what led him to trade the 15th and 68th overall picks in the '06 draft to move up and select
Jay Cutler
at No. 11. He made this move despite the fact that
Jake Plummer
had led the Broncos to the '05 AFC Championship Game. And by November of the '06 season, Shanahan had made Cutler the full-time starter.
I'm told that Shanahan became obsessed with getting a new quarterback after spending a lot of time with
Peyton Manning
during Pro Bowl week five years ago. He couldn't believe that Manning was actually studying for the Pro Bowl, something that a free spirit such as Plummer might avoid.
Obviously Shanahan's not going to tip his hand at this point, but you can guarantee that he already has a strong opinion on the top quarterbacks in this draft. I asked him how much college football he watched during his season away from the game and he admitted that it was more than usual. And you can bet that he was paying particular attention to Notre Dame's Jimmy Clausen and Oklahoma's Sam Bradford before he suffered a season-ending shoulder injury. Shanahan said he plans on going to the pro days for both of those quarterbacks.
"You just look at the film," said Shanahan, referring to Bradford. "He's played enough that people should have a strong opinion."
Of course, there's a decent chance Bradford will be off the board when the Redskins pick at No. 4. The
St. Louis Rams
could use a franchise quarterback about now. That leaves Clausen in the mix and perhaps Texas' Colt McCoy in the second round.
I think Shanahan definitely respects what Campbell has done with the Redskins, but the coach's track record suggests he's going to try to make a splash in this draft. And no matter how much you like offensive tackles Russell Okung or Bryan Bulaga, the game's not about the left tackle.
On Friday, Shanahan didn't say anything particularly revealing, but in a lot of ways, his past speaks for itself.
January, 17, 2010
1/17/10
12:02
PM ET
By
Matt Mosley
| ESPN.com
MINNEAPOLIS -- Greetings from the Metrodome, where fans have just been warned that pyrotechnics will be used throughout the game. This is somewhat concerning to me, but I'll just roll with it for now.
Now let's look at today's inactives list. No surprises here. For the Cowboys, special teams ace
Pat Watkins
has returned from a sprained knee and he replaces rookie safety
Michael Hamlin
on the active list.
Cowboys:
Emergency QB
Stephen McGee
, CB
Cletis Gordon
, S Michael Hamlin, LB
Jason Williams
, G
Montrae Holland
, C
Duke Preston
, T
Pat McQuistan
, LB
Curtis Johnson
Vikings:
Emergency QB
Sage Rosenfels
, WR
Jaymar Johnson
, CB
Karl Paymah
, TE
Garrett Mills
, LB
J Leman
, C
Jon Cooper
, DE
Jayme Mitchell
, DT
Letroy Guion
August, 20, 2009
8/20/09
5:10
PM ET
By
Matt Mosley
| ESPN.com
| | |
| --- | --- |
| | |
| | US Presswire |
| | Redskins quarterback Jason Campbell said his coversations with Brett Favre helped him maintain focus on the 2009 season. |
Posted by ESPN.com's Matt Mosley
As far as NFL offseasons go, I'm pretty sure Jason Campbell could've done better. He'd only started at quarterback for 2 1/2 seasons, but the Redskins' brass had seen enough.
First, owner Daniel Snyder fell head over heels for Jay Cutler, who was successfully whining his way out of Denver. He and executive vice president Vinny Cerrato did little to hide their affection for the rocket-armed Cutler, while head coach Jim Zorn was left in the awkward position of trying to console Campbell.
When the Skins lost out on Cutler to the Bears, Campbell was invited to a closed-door session with Snyder, Cerrato and Zorn. They supposedly cleared the air, but it wasn't long before Snyder and Cerrato developed another crush -- USC quarterback Mark Sanchez. Campbell learned about both situations the old-fashioned way -- on local television.
Though he didn't like it, he'd made peace with the Cutler scenario because at least the guy was a Pro Bowl quarterback. The thought of being replaced by a rookie was much more galling to him. And he couldn't figure out why the Redskins chose to wine and dine Sanchez in such a public way.
"It was like they were putting it out there in public that I was not a good quarterback," Campbell told ESPN.com on Wednesday. "I had my friends and family calling to ask what was going on, and I was like, 'I have no earthly idea.'"
Though he was stung by the Skins' pursuit of another quarterback, Campbell never missed a workout. He continued to show up at Redskins Park because he thought he owed that to his teammates. It served as quite a contrast to the "he said, he said" flap that had gone on between Cutler and new Broncos coach Josh McDaniels.
"No matter what people were saying, I was still a Washington Redskin," Campbell said. "I couldn't afford to let something distract me from what I knew would be a big season for me. No matter if it was here or somewhere else, I had to be ready. I just couldn't let all that stuff bring me down."
When the offseason program ended, Campbell took a trip to the Bahamas and St. Kitts to get away from all the drama. But a lot of his inspiration for this season came from a fishing trip he took to Brett Favre's farm in Hattiesburg, Miss. Campbell grew up a few miles down the road and has had access to Favre's ponds (bass and perch) for a couple of years. Campbell and his father had been fishing for a couple of hours one day in late June when Favre showed up for a visit.
Campbell said he didn't ask Favre a single question about his much-publicized comeback attempt because he "figured he could use a break from that." Instead, Campbell listened as Favre gave him some encouraging advice on how to handle his situation with the Redskins.
"Brett told me he knew how hard it was to change systems all the time," said Campbell, who has already been in three different systems in Washington. "He said it was important to play my game and not to forget what it was that got me to this point."
| | |
| --- | --- |
| | |
| | Tom Dahlin/Getty Images |
| | Jason Campbell plans to contact Vikings QB Tarvaris Jackson, who recently was displaced by Brett Favre. |
Campbell said Favre talked to him that day for more than an hour. He talked about his struggles in Green Bay early in his career and said that it took five seasons for him to feel completely comfortable in the Packers' system.
"He told me that every coach and every coordinator is different and that they wanted to teach you the game their way," Campbell said. "He told me to forget about all the stuff swirling around and go play my game."
Campbell said the Redskins' pursuit of a replacement had "tested his manhood," but the conversation with Favre helped him focus on the '09 season. If Campbell can lead his team to the playoffs in the final year of his contract, there's a chance he could receive a lucrative extension. If not, he could be a hot commodity in free agency.
Ironically, Campbell now finds himself wanting to reach out to the quarterbacks Favre is leap-frogging in Minnesota. Campbell and Tarvaris Jackson share the same agent (Joel Segal) and have always been supportive of each other. Campbell's planning to call him in the next few days.
"Tarvaris is still early in his career and Sage is in the middle," Campbell said. "I think both of them can turn what seems like a negative into a positive. I'm going to tell Tarvaris to keep his head up and recognize the opportunity he'll have to pick Brett's brain this season."
Sounds like pretty good advice all the way around.
May, 11, 2009
5/11/09
5:25
PM ET
By
Matt Mosley
| ESPN.com
Posted by ESPN.com's Matt Mosley
ESPN.com columnist Len Pasquarelli thinks that teams such as the Vikings Redskins, Jets and Bucs owe their incumbent (or projected) quarterbacks an explanation after either making or attempting to make moves to upgrade the position. The Redskins have already met with Jason Campbell to explain their position, but I'm not sure that matters. It has to be embarrassing to watch your team desperately try to acquire someone to replace you -- especially when you've done everything they've asked of you over the past four years.
Campbell is heading into this third full year as the team's starting quarterback, and his second year under head coach Jim Zorn. As Pasquarelli points out, the Redskins can't afford to send him into the 2009 season with a lack of confidence. But is there anything they can say to make him feel better? I guess we'll find out soon.
Regarding the other teams Pasquarelli mentioned, I'm not sure why the Vikings owe Tarvaris Jackson or Sage Rosenfels any explanation for going after Brett Favre. Rosenfels just showed up on the scene and Jackson doesn't have any right to gripe after the way he's played the last couple seasons.
And call me callous, but I have no sympathy for Kellen Clemens. What has he done to earn the starting job with the Jets?
August, 22, 2008
8/22/08
10:38
PM ET
By
Matt Mosley
| ESPN.com
Posted by ESPN.com's Matt Mosley
IRVING, Texas -- After a rocky start, Texans quarterback Matt Schaub finished 15-of-27 for 166 yards and a touchdown. Schaub was rushing everything early in the game but settled down and made some nice throws. He forced a ball into Kevin Walters that could have been picked off by Adam Jones in the second half.
Sage Rosenfels, who was solid in extended duty last season, takes over at quarterback. Cowboys reserve cornerback Alan Ball is starting to show what he can do in the second half. One of the coaches told me he "flatlined" against the Broncos last week.
Seats are still available at Texas Stadium. I'd say at least 18,000 people are still here.
NFC EAST SCOREBOARD
Saturday, 12/20
Sunday, 12/21