January, 28, 2014
Jan 28
8:15
PM ET
By
Lyle Crouse
| ESPN.com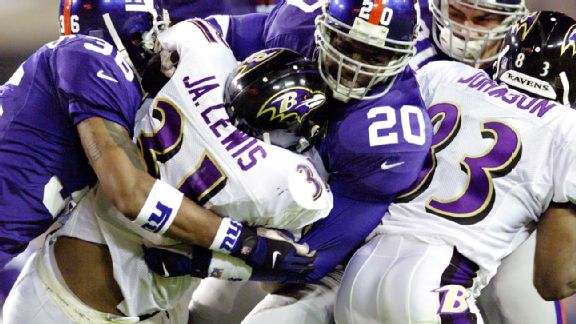 Brian Bahr/ALLSPORT Sam Garnes (20) and the Giants fell behind quickly and never recovered in Super Bowl XXXV.
NEWARK, N.J. --
Sam Garnes
is trying to help the
Denver Broncos
win a Super Bowl, yet he was asked Tuesday about his experience losing the NFL's championship game.
And the former safety didn't backpedal from the line of questioning.
"No, no," he insisted. "That's
real
."
In five trips to the Super Bowl, the
New York Giants
have lost only once. Garnes, a Bronx native, was the starting strong safety for that team, which fell 34-7 to the
Baltimore Ravens
in January 2001.
So Garnes, Denver's assistant secondary coach, imparts a clear message to the Broncos as they prepare for Super Bowl XLVIII against the
Seattle Seahawks
: You don't want to know what it feels like to lose this game.
[+] Enlarge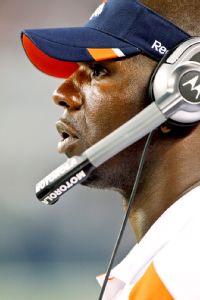 AP PhotoGarnes is in his third year on the Broncos' coaching staff.
"I tell my players, we're not interested in having fun for two weeks between the AFC Championship Game and the Super Bowl," Garnes said at Super Bowl media day. "We want to have a great time for several months [afterward]."
That approach has remained constant for Super Bowl teams through the years. Other aspects of the experience have changed, including media day.
"It's amazing. You've got fans here," he said as he surveyed the scene. "We didn't have fans in Tampa Bay's stadium [13 years ago].
"And now we're playing a cold-weather game, which at that time was unheard of."
Ah, yes, the cold-weather Super Bowl in East Rutherford, N.J. Cold, hot, whatever -- Garnes, 39, is just happy to be home.
"Selfishly, I wanted to be here when they said the Super Bowl was in New York," said Garnes, who attended DeWitt Clinton High School in the Bronx and played for both the Giants and
New York Jets
during his seven-year playing career.
"Selfishly, I wanted to be here, and I will admit that, because this is a place I love. All my players and coaches, they know much I love where I'm from."
Garnes -- who was quick to clarify that the Super Bowl is in the "Greater New York area; there's no disrespect to Jersey" -- looks forward to making the short trip to the Bronx from the Broncos' hotel in New Jersey.
"Right now we're busy," he said, "but as the week winds down, I'll have time to go over there and get me some of that good ol' Bronx pizza and get me some Chinese food."
He'll likely get a warm welcome wherever he goes. "I have a lot of family still in the area," he said. It's the perfect setting for Garnes' return to the NFL's marquee event.
"To come back to your home area and be a part of the Super Bowl," he said, "is a great feeling."
May, 20, 2009
5/20/09
1:17
PM ET
By
Matt Mosley
| ESPN.com
Posted by ESPN.com's Matt Mosley
I try to throw Beastlines on your "doorstep" every morning, but the Giants and Redskins' editions are running late today. Fortunately, that's given us a chance to scour the Internet for the latest updates on these particular teams. Oh, and let me know whether you guys are planning to take Memorial Day off. I'm here if you need me.
Giants
Sam Garnes and Jim Fassel have been reunited. Don't sleep on Tom Rock of Newsday.
If you're in the Manhattan area this evening at about 10 p.m., check out David Diehl's comedy act. Paul Schwartz of the New York Post has the full story on why Diehl's agreed to take part in a series of comedy sketches in a show called "12 Angry Mascots."
As the Bleacher Report demonstrates, it's never too early to talk about training camp battles.
If the Jets came to you guys for advice on whether to sign Plaxico Burress, what would you tell them?
I'm not quite sure this link belongs, so I'll put it here for now: KC Joyner provides an excellent report from the benefit for Paul (Dr. Z) Zimmerman. How is this applicable to the Giants -- or the NFC East as a whole? Well, Dr. Z has spent a great deal of time covering each of the teams in the division. And he's going through a really tough time right now. Kudos to Peter King for doing so much to help Dr. Z. I've had the pleasure of becoming friends with Peter over the last few years and his devotion to his craft (as well as young writers) is pretty remarkable.
You know your career is hanging in the balance when Jerry Angelo's afraid to sign you. The Bears' GM stayed with troubled players such as Tank Johnson and Cedric Benson long after he should've replace them -- in my opinion of course. Now he's saying the Bears aren't one of the two teams reportedly hot and heavy for Plaxico Burress.
In case you missed it Saturday, Ralph Vacchiano had an informative piece on rookie tight end Travis Beckum. (And it's all I can do not to call him "David").
Ralph has joined the Twitter revolution. He's also considering Facebook.
Since when did Mike Garafolo start taking vacations? If anyone sees him, please send him back to the Star-Ledger offices.