NFC East:

Schiano-Coughlin debate
September, 17, 2012
9/17/12
12:34
PM ET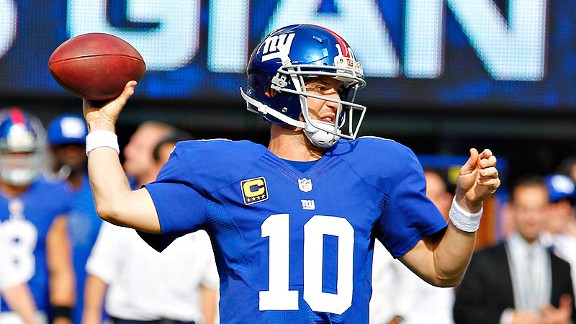 Jim O'Connor/US PresswireEli Manning once again proved his importance to the Giants in Sunday's comeback win.
The Greg Schiano stuff is so silly -- much ado about a rookie coach trying to
make everybody think he's tough
by telling his defense to play hard in the final five seconds after letting receivers run by them without consequence for the prior 14:55. It's all over the place this morning and not likely going away anytime soon. But one of the things that's been somewhat obscured by the focus on the final play is an otherworldly fourth-quarter performance by
New York Giants
quarterback
Eli Manning
.
Has this become so routine now? Are we to the point where we just expect Manning to do something like complete 8-of-13 passes for 243 yards and two touchdowns in the fourth quarter? Manning had one of the 10 highest yardage passing games in the history of the league Sunday, finishing the game with 510 yards of which his team needed every single one to complete its comeback victory over Tampa Bay. But it was his fourth-quarter brilliance that once again brings into focus what Manning means to the Giants. Which is absolutely everything.
The Giants' defense is not yet where it needs to be.
Corey Webster
and the crew of backup cornerbacks with which he's playing are having a terrible time through two weeks. The fact that the pass rush has been somewhat absent so far isn't helping. You give the champs the benefit of the doubt and believe that these things will turn around, but through two weeks the Giants' defense has been downright porous, allowing an average of 29 points and 370 yards per game.
They also aren't going to win by running the ball. Sure,
Andre Brown
looked OK in relief of an injured
Ahmad Bradshaw
, and good for him for doing something with his opportunity. But 71 yards on 13 carries against a defense like Tampa Bay's isn't game plan-changing stuff. It's just good compared to what the Giants have done in the run game over the past year.
[+] Enlarge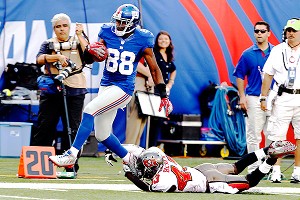 William Perlman/The Star-Ledger via US PresswireThe Giants' Hakeem Nicks is one the league's top receivers, but he's missed games due to injury in every season of his four-year career.
No, I really don't think it's a stretch to say that, if the Giants lost Manning for an extended period of time, they wouldn't win any games at all. He is so important to them, and they have come to rely so intensely on his ability to win games for them in the fourth quarter, that right now they appear completely lost without him. When Manning was struggling and throwing three interceptions in the first half, the Giants looked like one of the worst teams in the league. When he got it together in the fourth quarter, found his rhythm and started hitting
Victor Cruz
and
Hakeem Nicks
in stride, they looked like a Tecmo Bowl offense. These feel as though they could be exaggerations, but they're not. Until they get their defense on track, their running game figured out and their offensive line together, the Giants are 100 percent reliant on Manning to win them games with his receivers.
This makes Manning the most valuable player in the NFL right now, and he plays like it. Yes, he's the same guy who threw those three interceptions in the second quarter. Yes, he can be reckless and take chances because he's not scared to try the most difficult of throws due to his belief that he can make them. But the reason he's the heart and soul of the Giants is that his teammates and his coaches know that the second-quarter interceptions have no effect whatsoever on Manning come the fourth quarter. He is never bothered or flustered or affected by any mistake he makes or any failure that takes place around him. He does not believe there's a lead too big or an opponent too tough to overcome. He is always the same, at the line of scrimmage, on the sideline, in the huddle and in the meeting room, regardless of circumstances. He is a rock, and he is now delivering such consistent fourth-quarter excellence that we hardly even notice it anymore when it happens.
Can you imagine if
Robert Griffin
III had led his team to 25 fourth-quarter points and a comeback win with 243 fourth-quarter passing yards? All of sports would have been canceled this week while we debated whether to change the league's name to the "RG3FL." In Philadelphia,
Michael Vick
has done it twice in two weeks -- overcome his own shoddy early play to engineer game-winning fourth-quarter drives, and a fan base doesn't even know how to handle it. Do they fret about the turnovers? Are they able to just be happy with the wins? Can you do both?
In New York, the Giants and their fans are used to the feeling. They expect it. Manning has delivered it nine times over the past calendar year, including once in an NFC Championship Game and once in a Super Bowl. It's part of who the Giants are. Right now, as they work to get their 2012 legs under them, it's kind of all the Giants are. Manning has become the easy answer to the question, "Which quarterback would you want playing for you if you needed a game-winning drive?" It's now Eli Manning. Not his big brother, who looks good starting over with the Broncos. Not
Tom Brady
, whom he's beaten twice in the Super Bowl. It's Eli. And what he did Sunday proved it all over again.
September, 16, 2012
9/16/12
8:55
PM ET
I'm all for new faces shaking things up. I like it when people question conventional NFL wisdom. I don't think enough people do it, and as a result I think things have a tendency to get a little redundant with the league from time to time. So if a new hotshot coach wants to come in from the college ranks and shake things up with a new defense or some funky new plays or even a new attitude, I'm generally all for it.
[+] Enlarge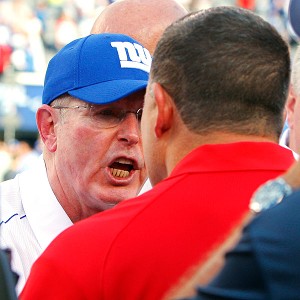 Jim O'Connor/US PresswireGiants coach Tom Coughlin and Bucs coach Greg Schiano "discuss" the ending of their game Sunday.
That is not, however, what
Tampa Bay Buccaneers
coach Greg Schiano is up to with this thing where he had his players jump over the line and after
New York Giants
quarterback
Eli Manning
while Manning was taking a knee at the end of Sunday's game. The Giants were justifiably upset about the maneuver, and Schiano's excuse was weak and stupid.
Per ESPNNewYork.com
:
"I don't know if that's not something that's not done in the National Football League, but what I do with our football team is we fight until they tell us 'Game over,'" Schiano said. "There's nothing dirty about it and there's nothing illegal about it.

"We crowd the ball -- it's like a sneak defense and you try to knock it loose. Watch Rutgers, they would know if they watched us that's what we did at the end of the game."
Rutgers is, of course, where Schiano was coaching this time last year. And there are a few real problems with his rationale. First of all, you don't see teams doing that stuff at the college level, and it's for the same reason you don't see it at the NFL level. It's because it's a real good way to get people hurt for no good reason. If you're losing and out of timeouts and the other team has the ball with so little time left that they can kneel down and run out the clock, you've lost. It doesn't prove anything to your players or anyone else if you're the fake tough guy who refuses to accept that. All it does is put people at silly risk of injury at the end of 60 minutes' worth of brutal, health-threatening collisions. You owe it to your own players to know when you're beaten and back off. Asking them to make a useless leaping hit in that situation is putting them at risk the same way it's putting the other team at risk. It's irresponsible.
It also shows a lack of respect. It's sore-losership. You've been beaten, fair and square, in the part of the game in which both teams were competing honestly. To try to win it cheaply with a sneaky play after the opposing team (and any other opposing team you've ever faced or ever will face) justifiably believes it to have been decided is dishonest and dishonorable. Schiano's team played extremely hard on the road against the Super Bowl champs, but by the time Manning was taking a knee, they'd lost. The game was over. Schiano's postgame assertion that he didn't know that was naive and bush-league.
I personally think the Giants complain too much, and I very often don't like the way they carry themselves as though they're doing everything right and other teams are somehow beneath their standards. I think they're very often haughty and arrogant, and when they're acting that way I am never shy about calling them on it.
In this case, though, they're right and Greg Schiano is wrong. There are better ways of making a name for yourself as an NFL head coach than a fake-tough-guy act in your second game. He should be proud of the way his team has played its first two games for him. He should be ashamed of the way he coached Sunday's final seconds.