NFC East:

Sean Weatherspoon
December, 15, 2013
12/15/13
9:15
AM ET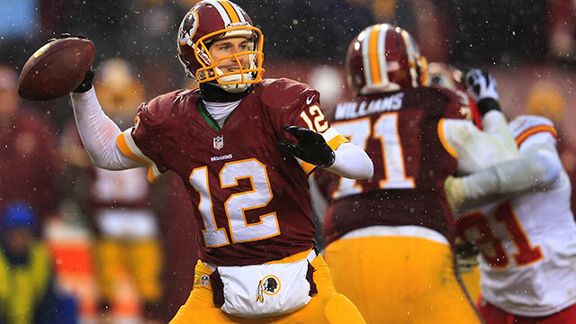 Rob Carr/Getty ImagesKirk Cousins gets his chance to start Sunday for the Washington Redskins.
1. If I'm
Robert Griffin
III, I'm wondering why the Redskins became worried about my health before a game against a bad defense that doesn't apply much pressure – yet left me in to face a good defense in bad field conditions the previous week. When there are so many other aspects to this story, and when so many leaks come out, it's hard not to wonder about every potential motive. Maybe it's as simple as being about his health. Maybe it's performance related. Maybe spite. Because of the distrust on either side this still doesn't feel all that simple.
2. Griffin was laughing and joking with a couple teammates in the locker room after practice, so it's not as if he's walking around defeated all the time. His practice demeanor, in the portions open to the media, did not seem any different. But there is little doubt that he remains bothered by this mess and can't wait to reach the offseason. This is just my opinion, but in reading the situation and being around Griffin, it's tough to see it ever working with him and coach Mike Shanahan. That' s not to blame one side or the other, but that's just the way it is.
3. If
Kirk Cousins
lights up the Falcons, there will definitely be some who will take that and use it as more criticism toward Griffin. Make no mistake, the second-year quarterback hasn't looked sharp at all in three of the past four games. He is a young quarterback enduring growing pains and definitely not always getting the help he needs from others. In the past four games he's faced two defenses currently ranked in the top 10 (New York and San Francisco) and two who are 20th or below (Philadelphia, Kansas City). If you're going to rip him, you need to be fair and point out everything. Griffin holds the ball too long and does miss open targets and does need to work on his pocket presence, learning to keep his eyes downfield and not stare down targets (
Derrick Johnson
nearly picked off two passes because of this last week). But if Cousins plays well Sunday, it doesn't mean that Griffin wouldn't have done the same against the NFL's 26th-ranked defense (20th against the pass, but opposing quarterbacks have an NFL best 104.3 passer rating against the Falcons; only one other team is close. Yes, the Redskins at 101.2).
4. I am curious to see Cousins play, just like everyone else. It certainly adds intrigue to the on-field performance in the next three games and will serve as a couple-hour diversion from the other mess surrounding the franchise. I have heard so many mixed opinions from NFL types who have studied or watched Cousins. Some love him; some consider him just a backup. The Redskins coaches, obviously, are in the former category. They really do believe Cousins can be a quality starter in the NFL. They also thought Pat White would be on someone's roster this season.
5. Cousins' understanding of the offense, helped by being in his second season and getting so many offseason reps, should help Sunday. Cousins said he felt better prepared for this game than he did a year ago at Cleveland, when he subbed for an injured Griffin. "I'm comfortable, I can be more decisive," Cousins said.
6. Atlanta's defense does have some talent, especially up front with tackle
Jonathan Babineaux
, who had a strong game against Washington last season. The Falcons will send the occasional blitz and they will also try to move around at times and disguise fronts and coverages. The problem is, that often gets them out of position and leaves gaps in the coverage. Looks like they try to make you work your way downfield, but if you're patient you will.
7. Another player to watch: running back
Alfred Morris
. The Falcons tend to flow hard to the play side, which means there could be good cutback lanes available. Morris did a terrific job setting up some runs against the Falcons last year, stringing out linebacker
Sean Weatherspoon
on one run before cutting inside. This isn't related, but watch out for tight end
Tony Gonzalez
near the goal line; the vet sells the run fakes well on play-action passes and the Redskins have been stung by that in the past.
8. For better or worse, way too much of this season has been about Griffin: When will he return? How does he look in camp? Is he ready? Do the coach and quarterback really not get along? Is he still hurt? Why is he struggling? Is he back to his old self? Is he a leader? Is he too tight with the owner? Every week a new line of questions. It'll finish up with questions about how he's handling his situation? Some of this Griffin brought on himself; the initial leaks in this whole story came from his side. But certainly not all of them. Now you have both sides leaking stories. It's just not healthy. If I were Griffin, I'd lay low. He can ultimately regain his standing just by going out and playing well next year. All would then be forgotten.
9. Will
London Fletcher
return next season? We still don't know, though I'd be surprised. Here's what defensive coordinator Jim Haslett had to say about Fletcher: "He's effective. He's not doing as much as he's done before in the past, coverage-wise, on third down but I think he's playing pretty well. ... Let me say this – how many linebackers do you know that are 38 years old that playing in the game? There's not many. ... Age catches up with everybody, and he's played a long, long time. He's had a great career and whether he plays another year or not, obviously that's up to him, but I think as you get older you can't do the things that you did when you were 28, 29, 25, 26. That's just life. That's how it works."
10. What happens if the Redskins get blown out and Cousins plays poorly? I can't say that I've heard a lot about that scenario. But if this really is becoming a standoff about money, then I don't know if something like that occurs that anything would change regarding Shanahan's status, unless one side buckles. It still would be a surprise to see him return for 2014. The same questions asked since the spring would return. Who wants that?
November, 4, 2012
11/04/12
12:00
PM ET
As the
Dallas Cowboys
prepare to play the undefeated Falcons in Atlanta tonight at 8:20 pm ET (7:20 pm CT), here's one reason for Cowboys fans to feel good and one reason for concern.


Feeling good:
If the Cowboys' plan is to keep
Matt Ryan
and the Falcons offense on the sideline as long as possible, the game sets up for them to do so. Atlanta's defense is soft against the run, and the absence of linebacker
Sean Weatherspoon
, who's out with an ankle injury, makes it even easier to run against them in the middle of the field. At its best, this Cowboys offense is a balanced one, and if they can have some success early in the run game and establish that balance, they could be in a position to dictate the terms of the game with their very good defense.
Cause for concern:
The problem, of course, with that strategy is that starting running back
DeMarco Murray
remains out with a foot injury and the running game hasn't shown an ability to do much of anything behind backups
Felix Jones
and
Phillip Tanner
. So there's a chance, especially when you factor in their season-long offensive line struggles, that they can't get that run game going even against Atlanta's susceptible defense. The Cowboys have the weapons for a passing-game shootout, but it's not necessarily a wise way to go against Ryan,
Roddy White
and
Julio Jones
.
October, 7, 2012
10/07/12
3:28
PM ET
Even as he has dazzled with his play throughout the first month of his first NFL season,
Washington Redskins
rookie quarterback
Robert Griffin III
has engendered one common concern in those who have watched him -- a fear that, based on the manner and frequency with which he runs the ball, he's exposing himself to too many hits, or one very big one.
In the third quarter of Sunday's game against the
Atlanta Falcons
-- a game in which the Redskins' defense has played extremely well and kept them in it against one of the league's two remaining undefeated teams -- Griffin took a shot from Atlanta's
Sean Weatherspoon
and was knocked out of the game. Fellow rookie
Kirk Cousins
took over at quarterback on the Redskins' next offensive series while Griffin was taken to the locker room for treatment.
Cousins went to work right away and completed a 77-yard touchdown pass to Santana Moss to give the Redskins a 17-14 lead with 12:24 left in the game.
Officially, the Redskins announced that Griffin was "shaken up" and questionable to return in the fourth quarter. That could mean a concussion, which could put his status for next week's game in jeopardy. We will, obviously, keep you posted.
April, 9, 2010
4/09/10
2:00
PM ET
By
Scouts Inc.'s Matt Williamson
| ESPN.com
The Giants' defense is going to look different next season. Perry Fewell is taking over as defensive coordinator and he has new philosophies about how he wants his defense to play. Last year, New York struggled a great deal in coverage from the linebacker and safety positions. Injuries are much to blame at safety, but at linebacker, they lacked speed and playmaking ability. In turn, starting middle linebacker
Antonio Pierce
was let go and surely there will be a premium on improving at this position through the draft.
[+] Enlarge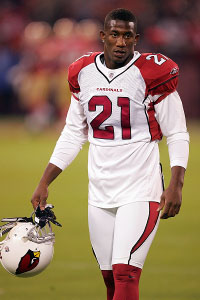 Ezra Shaw/Getty ImagesThe Giants, who signed Antrel Rolle to a $37 million deal, should have the best situation at safety in the division.
In essence, Fewell will play a version of the Tampa 2. In this defense, it is imperative that the entire defense is able to cover a lot of ground. This is true in coverage and in pursuit of the ball carrier in the run game. Fewell wants a lot of bodies around the football. He wants playmakers. He wants speed. All of this was lacking a year ago.
Antrel Rolle
was signed to a big-money deal to be one of the Giants' starting safeties. Rolle entered the league as a first-round cornerback and when compared to other safeties, he covers a lot of ground.
Kenny Phillips
is coming off a major injury, but if right, he certainly is not the typical in-the-box strong safety. In fact, if both of these University of Miami alumni are in peak physical condition, few teams in the league will be able to match the overall athletic ability that New York will feature at the safety position. That is a far cry from what the Giants played with at safety in 2009.
The same probably can be said for the middle linebacker spot. Pierce is gone and is clearly too slow to flourish in Fewell's scheme. Many have pigeon-holed Alabama's
Rolando McClain
in as the Giants' first-round selection, but I tend to think that Missouri's
Sean Weatherspoon
will be the more attractive option in the middle of Round 1. The reason is simple: Weatherspoon runs better than McClain. He can get to the football quicker on the perimeter and will be more adept at covering the deep middle of the field in coverage.
Another very interesting player in this scheme is second-year LB
Clint Sintim
, who is poised to become the starter. A 3-4 outside linebacker in college, he brings size and upfield pass rush to the position. He also could put his hand on the ground if needed. But he brings a skill set to the table that Fewell did not have at his disposal last year, although the Bills did draft
Aaron Maybin
in the first round last season to play this role. Maybin's rookie year was a wash, but Sintim could be a breakout player if used properly.
The biggest problem with this defensive philosophy is in some cases, size and physicality at the point of attack is compromised for speed. Last year, Tampa Bay was the only team that was gashed for more yards per rushing attempt than the Fewell-led Bills defense, but this Giants' defensive line is more talented than the one Fewell dealt with in 2009. Still, this defensive tackle rotation could really use a wide-bodied nose tackle type to utilize on early downs and to better free up a run-and-hit middle linebacker. If the Giants chose
Dan Williams
from Tennessee in Round 1 to fill this need, I would have no problem with that, but there are a few players who fit this bill who could be had for a second-round selection like North Carolina's
Cam Thomas
.
But, last year, only the Jets allowed fewer average yards per attempt in the passing game and only the Packers intercepted more passes than Buffalo. Meanwhile the Giants only intercepted 13 passes all season and were among the worst defenses in passing yards against per attempt. Getting to the ball with many tacklers very abruptly and putting more emphasis on turning their opponent over is sure to come with Fewell manning the defensive controls. While the Cover-2 is his base scheme, he isn't static in his play calling and does have a good feel for mixing in different looks and blitzes.
Also, last year the Bills had too many yards allowed from penalties. Does that come down to coaching or just being undermanned in terms of personnel? The answer is probably a little bit of both and it is something to keep an eye on with Fewell's latest assignment.
Giants' fans should be in store for some major changes on defense. For the most part, and if the right players are acquired in the draft, I see that as a good thing.