December, 3, 2013
Dec 3
9:00
AM ET
IRVING, Texas -- The Cowboys have had some time to wonder some things after their win on Thanksgiving against the
Oakland Raiders
.
Every Tuesday as always wonder about some things. Five Wonders is back and off we go:
November, 14, 2013
Nov 14
12:00
PM ET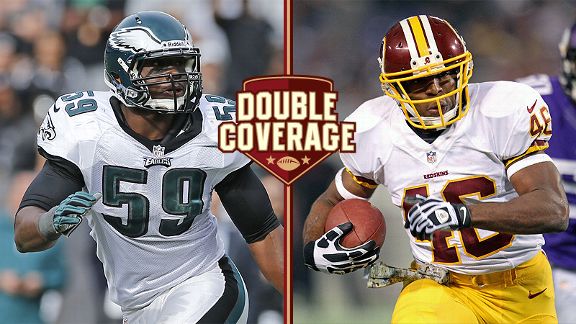 AP Photo, USA Today Sports ImagesExpect a closer game this time around between DeMeco Ryans' Eagles and Alfred Morris' Redskins.
Remember the Chip Kelly revolution? It was televised, on "Monday Night Football" no less, back in September. The first half of Kelly's first game as an NFL head coach looked more like the running of the bulls, and FedEx Field was Pamplona.
Things settled down considerably after that. As Washington comes to Lincoln Financial Field for the rematch, both teams look different at quarterback.
Robert Griffin
III was tentative that night in his first game back after knee surgery.
Nick Foles
was on the sideline as
Michael Vick
ran Kelly's uptempo offense.
The teams meet again with much on the line. The Eagles are 5-5 and, with the 5-5
Dallas Cowboys
on their bye, can slide into first place in the NFC East with a win. Washington is 3-6 and can get within one game of the division leaders. ESPN.com Eagles reporter Phil Sheridan and his D.C. counterpart, John Keim, dig a little deeper.
Phil Sheridan:
The Eagles haven't seen RG III & Co. since the season opener. They were able to do a good job of disrupting the rusty Griffin and bottling up
Alfred Morris
. How far have those two and the rest of the offense come since? Is RG III all the way back?
John Keim:
The offense has come a long way because Griffin's legs are once again a part of the equation. Without his legs he's an ordinary player and it's an ordinary offense. But with the threat of his legs and with Alfred Morris' running ability, the Redskins can use play action. When the Redskins can use play action their offense can be dynamic and explosive. When they can't? It's what you saw in the opener. Morris has had a terrific season and the only thing holding him back is more opportunities. I think Robert is back to being able to make plays and hurt teams in the pass game, except during times when you know they must throw the ball. Griffin isn't quite as explosive, but unlike in the opener he's now willing to run at any point and keep the ball on the zone read. He still has to develop as a passer, something that was true last season as well. He needs a full offseason.
The Eagles surprised the Redskins in that first game a little bit. How has the Eagles' offense changed or progressed since that game? And how much of that is because of the changes at quarterback?
Sheridan:
The Eagles' offense has had major growing pains. That first half at Washington got everyone excited about how Chip Kelly could revolutionize the NFL. And it has been more evolution than revolution since. With Nick Foles at quarterback, obviously there is less threat of the quarterback running 40 yards as there was when Michael Vick was in there. At the same time, Foles seems to keep the tempo up where Chip Kelly wants it, makes quick, smart decisions and generally runs the offense as it is designed. Vick is great or terrible. With the still mysterious exception of the Dallas game, Foles is reliably good and, at times, better than that. He doesn't fire the imagination the way RG III does, but he's a smart quarterback.
This offense had the huge advantage of sucker punching Washington in the opener. No film, no tendencies. Now that defensive coordinator Jim Haslett has had weeks of film to analyze, how do you think he'll approach the Eagles this time?
Keim:
I think the plan will be to stop running back
LeSean McCoy
and they felt good about how they played him in the second half of the opener, mainly by how they aligned their defensive linemen. They focused hard on stopping
Adrian Peterson
last week, but in doing so got hurt badly by play action, which the Eagles do well. I think more than anything the players will be less surprised by what they see. Those packaged plays destroyed the Redskins in the first half; you can talk all you want about keeping your eyes on your keys, but when you get in the game it's tough. They won't yet share their game plan with me (I hate that!). They went a lot off Oregon tape in the first game and a little off the preseason; now they have their own game against them and nine others. The problem they'll still encounter is trying to handle all those weapons.
So much talk about the offense, but how has the Eagles' defense progressed? Where have they struggled? What have they done well?
Sheridan:
Progress is exactly the right word, John. The Eagles got humiliated in Denver by that
Peyton Manning
guy. The final score was 52-20, but Manning could have scored another 20 if he'd been inclined and remained in the game. Since then, no team has scored more than 21 points against the Eagles. They've gotten some breaks. No
Aaron Rodgers
or even
Seneca Wallace
for most of Sunday's win in Green Bay.
Mike Glennon
and
Terrelle Pryor
aren't striking fear into defenses, either. But they also acquitted themselves well against
Eli Manning
and
Tony Romo
. Mostly, they have focused on fundamentals and the run game, with solid success. They did well against Morris in the opener and feel like they can force Griffin to beat them. I guess the difference is that this time, he can.
Bigger picture this time: Is there still a sense Washington is on the rise under Mike Shanahan or has this season lit a fire under his chair? Put another way: Does Washington still feel like it's in the division race in the wretched NFC East and is that a firewall for the head coach?
Keim:
I think they still feel they have a shot, which is probably different than saying they're in the race. To be in a race you have to win a couple of games and I think they understand that. Last year's streak is fresh on their minds, too, so they know it can be done. I think this season has to call into question more about Shanahan and the direction of the franchise. I think the offense is on the rise because they have excellent young talent. Some will point to the salary cap penalty and Griffin's injury to explain all their ills. Those do explain some problems and prevented them from addressing certain areas. (I think some people forget that free agency does not solve everything and never has in Washington.) But they clearly don't explain all of the issues. I also know in the summer the head coach was rather excited about what this team could do, knowing both the cap and Griffin's injury situation. Shanahan has one year remaining on his contract, so these next seven games could determine his future . I don't think he'll get fired, but will he be given an extra year? If they go, say, 5-11 can you give an extension? What helps Shanahan is that he has changed the culture at Redskins Park and I have a hard time seeing his players quitting on him. It gives them a chance to finish better than they started.
Because the NFC East is down and the Eagles are 5-5 they have to be viewed as contenders. But do you think they're a good team on the rise or do they have a ways to go?
Sheridan:
Maybe a little bit of both. Some of the offensive numbers are ridiculously good. We take 450-yard games for granted with Kelly's offense. Foles has thrown 16 touchdowns and zero interceptions. McCoy leads the NFL in rushing. The defense is solid, which is more than half the league can say. And yet the Eagles haven't won a home game, went two weeks in a row without an offensive touchdown and have gotten wins against pretty suspect quarterbacks. So a good team? Probably close. On the rise? That's where it all gets interesting. They are young on defense but getting a little older on the offensive line. The offensive stars aren't that old -- McCoy is 25,
DeSean Jackson
26 -- but they have wear on their treads. So much depends on Foles, I guess. If he's the real deal, then this team should continue to improve. If Kelly still feels he needs to find The Quarterback, then this season will feel more like a one-off than a stepping stone.
November, 11, 2013
Nov 11
4:35
PM ET
PHILADELPHIA -- Chip Kelly made a wisecrack about it, but the Philadelphia Eagles' home losing streak is no longer a laughing matter – not with a division title at stake.
It was one thing when Andy Reid's 4-12 Eagles team lost its last six home games of 2012. And it was not that big a deal when Reid's still-undefeated
Kansas City Chiefs
came to Lincoln Financial Field and beat Kelly in his second home game.
But the streak has hit 10 games now. Kelly is 0-4 at the Linc. Somehow, though, the Eagles are 5-1 on the road and tied with the
Dallas Cowboys
atop the NFC East. If they are going to have a chance to win an unlikely division title in Kelly's first season, the Eagles are going to have to snap that streak.
[+] Enlarge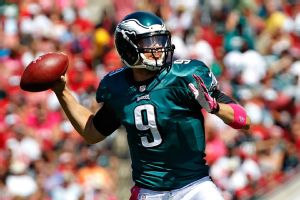 Kim Klement/USA TODAY SportsCan a suddenly sizzling Nick Foles help the Eagles snap a franchise record 10-game home losing skid this Sunday?
Their next chance is Sunday against Washington.
"What's the answer for us not winning at home and being 5-1 on the road? I don't know," Kelly said. "If we knew it, we'd replicate it. Do we have to take the buses and drive around for a half hour before we go to the stadium? I don't know. If that was the answer, we would do it."
It's a funny idea, but it probably won't fix anything. The real issue is who the Eagles have played and when.
They got
Robert Griffin
III in his first tentative game back from his knee injury on opening night at Washington. They've also won road games against Tampa Bay with
Mike Glennon
at quarterback, Oakland with
Terrelle Pryor
and Green Bay with
Scott Tolzien
replacing
Seneca Wallace
.
They split road games against the Manning brothers. Peyton took them apart in Denver and they beat Eli and the Giants the next week.
At home, they faced the Chargers'
Philip Rivers
and the Chiefs'
Alex Smith
in a span of five days when the Eagles' defense was still figuring out where to line up.
Their other two home losses were back-to-back division games against Dallas and the Giants. Both games were finished by rookie quarterback
Matt Barkley
.
Nick Foles
played his worst game against Dallas and left with a concussion.
Michael Vick
started against the Giants and reinjured his hamstring nine plays in. The Eagles didn't score an offensive touchdown in either game.
That's no way to win, at home or on the road.
Since then, Foles has thrown for 10 touchdowns in two weeks, so the offense is operating at a high level. And the defense hasn't allowed more than 21 points in the six games since the Denver debacle. That's how the Eagles got into the NFC race again.
Now they just have to take care of this franchise-record home losing streak. Kelly said he doesn't believe it has gotten into the players' heads.
"No, I don't think that's our mindset," Kelly said. "Our mindset is to win every single game we play. I watch these guys on a weekly basis prepare. And I don't think they say, 'Hey, we're away, let's do this. We're home, let's do this.' They're not like this. It's a consistent group in their approach. But I do think we have an advantage. We love playing at home. Our fans are outstanding. They deserve it. That's what our goal is right now."
Gentlemen, start your buses.
November, 10, 2013
Nov 10
4:13
PM ET
GREEN BAY, Wis. -- Observations on the
Philadelphia Eagles
' 27-13 victory against the
Green Bay Packers
on Sunday.

What it means:
The Eagles are 5-5, are in contention in a weak NFC East and seem to have a legitimate quarterback in
Nick Foles
. A week after throwing seven touchdowns in Oakland, Foles threw for three at Lambeau Field. For the season, he has thrown 16 touchdowns and no interceptions. That was the NFL record for 53 years until
Peyton Manning
broke it this season. The victory also means the Eagles have some luck on their side. The Packers, already without
Aaron Rodgers
, lost second-team quarterback
Seneca Wallace
in the first quarter.
Scott Tolzien
made his NFL debut. The Eagles have wins against
Mike Glennon
,
Terrelle Pryor
and Tolzien this year.
Body count:
Both teams were afflicted by injuries. The Eagles lost three starters: Left tackle
Jason Peters
went out twice, once to be evaluated for a concussion and once with a knee injury. Linebacker
Mychal Kendricks
and safety
Earl Wolff
left with knee injuries.
Allen Barbre
replaced Peters and did a solid job protecting Foles' blind side. Veteran
Patrick Chung
replaced Wolff.
Najee Goode
took Kendricks' inside linebacker spot and was used a couple of times to blitz Tolzien.
Stock Watch:
Riley Cooper
-- Rising fast. After catching three of Foles' record-tying seven touchdown throws last week, Cooper caught two more against the Packers. The first was a fluky 45-yard play. Foles underthrew the ball. Cooper saw it and circled back under it as two Packers defenders overran the play. At the end of the third quarter, Cooper shook safety
Morgan Burnett
and was wide-open on a corner route for a 32-yard score.
What's next:
The Eagles' 10-game home losing streak is on the line as NFC East rival Washington comes to Lincoln Financial Field. Although they're 0-4 there under Chip Kelly, a win would keep them in contention in the division race as they go into their bye week. The Eagles, who are 5-1 on the road, opened the season with a 33-27 win at Washington.
November, 7, 2013
Nov 7
12:00
PM ET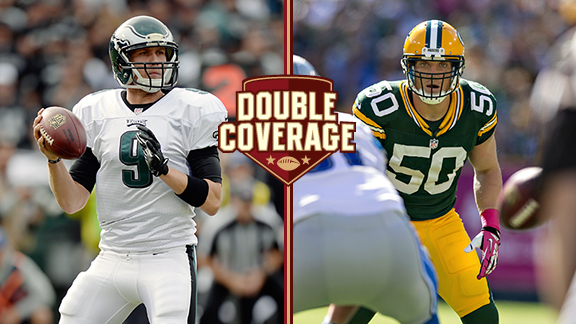 Getty ImagesNick Foles and A.J. Hawk meet Sunday in Green Bay in a game that's turned in the Eagles' favor.
If you expected the
Philadelphia Eagles
to have the edge at quarterback for their Week 10 meeting against the
Green Bay Packers
at Lambeau Field, go to the head of the class.
The teams play Sunday, a week after their quarterbacks made headline news. The Pack's
Aaron Rodgers
broke his collarbone in Monday night's loss to the
Chicago Bears
, a day after the Eagles'
Nick Foles
tied the NFL record with seven touchdown passes against the
Oakland Raiders
.
A game that looked to be safely in the Packers' column is suddenly wide open. NFC North aficionado and all-around NFL expert Kevin Seifert breaks down the game with ESPN.com Eagles reporter Phil Sheridan.
Phil Sheridan:
I'll start with the obvious one: Can the Packers win without Rodgers? Did they take his durability for granted in not having a better backup in place?
Kevin Seifert:
On a local level, the backup quarterback has been an annual source of controversy for the Packers throughout Rodgers' career as a starter. Nationally, most people didn't find out about it until Monday night.
Seneca Wallace
is the backup only because he was available when they realized none of the players they took to training camp was up to the job. He is 6-15 in his career as a starter, and his career seemed over in August 2012 when the
Cleveland Browns
released him.
The Packers' entire scheme is built around Rodgers doing things that only Rodgers can do. Think of what happened when the
Indianapolis Colts
played without
Peyton Manning
in 2011. The Packers will need to make fundamental changes to their offense -- and expect substantial elevation in other areas of their team -- to make it through this wilderness.
I have to imagine the Eagles can't believe their luck to be facing Wallace instead of Rodgers, huh?
Sheridan:
They are saying all the right things about wanting to face the best and never wanting to see anyone get hurt, but they aren't oblivious. This game looked like a double-digit loss the day the schedule came out, and it still looked like an easy Packers home win until Rodgers' collarbone broke Monday night. So it not only becomes a winnable game for the Eagles, it comes when a win, combined with a Dallas loss (the Boys are in New Orleans), would move them even with the Cowboys at 5-5.
And it's not like the Eagles owe anybody an apology when it comes to luck. They haven't had a quarterback start and finish two games in a row since September, and they've been down to
Matt Barkley
twice.
They may not have a starter as good as Rodgers, but their backup isn't half bad. Foles threw for seven touchdowns Sunday against an Oakland defense that didn't blitz or, at times, even cover receivers. Given Dom Capers' background, how would you expect him to respond to a challenge like this?
Seifert:
Capers is known for major scheme changes from week to week, depending on matchups. But as usual, the Packers are dealing with injuries that will limit his options. They are down four linebackers at the moment, although the Packers are hopeful that
Clay Matthews
can return soon -- if not Sunday -- and play with a club to protect his broken thumb.
In short, I'm not sure how many options Capers will have. He does have a group of talented cornerbacks --
Tramon Williams
,
Sam Shields
,
Casey Hayward
and
Davon House
. Capers will have to hope that they can stick with the Eagles' group of perennial All-Pros and future Hall of Famers better than the Raiders did.
Are the Eagles' receivers really that good?
Sheridan:
If they are, they have managed to keep that greatness a secret until Sunday in Oakland.
DeSean Jackson
is a dynamic player, no question about that, but he has been taken out of games in the past when cornerbacks get physical with him. The Raiders did not, and Jackson went off.
As for
Riley Cooper
and
Jason Avant
, they have not made up for the loss of
Jeremy Maclin
to a torn ACL during training camp. Cooper had great numbers Sunday -- five catches, three touchdowns, 139 yards -- but he has been neutralized more often than not during the season.
Tight ends
Brent Celek
and
Zach Ertz
had big numbers at Oakland too. So either the Eagles offense really turned a corner or the Raiders just didn't have anyone playing corner. Maybe a bit of both.
The Packers have added a more robust running game to their offense this season. Now that Rodgers is hurt, can
Eddie Lacy
& Co. carry the team until the quarterback is back? Is that even possible in this pass-happy league?
Seifert:
I tend to doubt it. Up until Monday night's game against the Bears, much of the Packers' success in the run game came against light boxes (six men or fewer) designed to focus first on the pass, according to the charting we get from ESPN Stats & Information. The Bears brought a safety into the box Monday night and the Packers still rushed for 199 yards, but we should note that the Bears have the NFL's fourth-worst rush defense this year.
And even when you run successfully, it usually takes longer to score and thus your total points can drive down. The Packers were averaging 30 points per game before scoring 20 Monday night against the Bears.
How do you think the Eagles will approach it? Eight men in the box? Nine? How about 11?
Sheridan:
This sets up a bit like the Tampa Bay game, I guess.
Mike Glennon
was making his second start, and the Bucs' passing game was not expected to be a big threat. The Eagles focused on shutting down
Doug Martin
, and they did, holding him to 67 yards on 16 carries. It helps, of course, to get a lead and force the opponent to throw the ball more.
All season, the Eagles' focus has been to stop the run while limiting big pass plays downfield. That made them vulnerable to intermediate passing and runs after the catch. Tampa Bay's
Vincent Jackson
, for instance, had nine catches for 114 yards and two touchdowns while the Eagles were focused on Martin.
That has to be the Packers' blueprint for success. If Wallace can get the ball out quickly and catch
Jordy Nelson
and
Andrew Quarless
in stride, the Packers can move the ball. The Eagles are better at tackling and covering underneath than they were, but there's opportunity there.
November, 6, 2013
Nov 6
6:30
PM ET
PHILADELPHIA -- Talk to the Eagles and you sense they would love to beat
Aaron Rodgers
and the
Green Bay Packers
. If they have to settle for beating the Packers without Rodgers, well, that's not such a bad alternative.
"It goes both ways," Eagles center
Jason Kelce
said. "You do always want to play against the best. That being said, they're probably at a significant disadvantage for this game. Winning is the biggest priority. I want to play against the best, but if he's not in there, I'm happy to have any advantage."
Seneca Wallace
, Rodgers' 33-year-old backup, started a game against the Eagles way back in 2008. Wallace was with Seattle at the time. Defensive end-turned-linebacker
Trent Cole
is the only Eagles defender still with the team from that game.
[+] Enlarge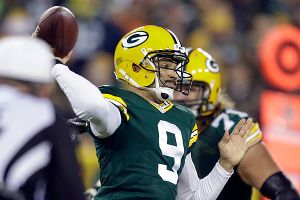 AP Photo/Jeffrey Phelps, FileGreen Bay's backup quarterback Seneca Wallace has the respect of Philadelphia's players and coaches.
There is more familiarity among the Eagles coordinators. Pat Shurmur was the
Cleveland Browns
head coach in 2011 and 2012. Wallace was the Browns' backup and started the last three games of the 2011 season.
"One thing about Seneca, he's a veteran player," Shurmur said. "He knows how to play this game. He's got a good set of legs on him. And he can move around and make throws. I think he's got a very strong arm, and he's played long enough in their system, Mike's [McCarthy] system, to be efficient."
Of course, Wallace got his opportunity to play for McCarthy because Shurmur cut him during the 2012 training camp.
Bill Davis, the Eagles offensive coordinator, was the linebackers coach on Shurmur's staff, so he saw plenty of Wallace in practice.
"Being around Seneca, I know he's a great move quarterback," Davis said. "The boots, the sprints. He's a very athletic guy. Knowing that Seneca can get out of that pocket and has great escapeability, the back half of the coverage has to cover longer. Now instead of covering for three seconds, you're covering for five, six, possibly seven. There's a big difference in the mobile quarterback for us."
Ultimately, the Eagles know their challenge went from Rodgers, one of the top quarterbacks in the NFL, to a journeyman backup in the snap of a collarbone. It certainly looks like a lucky break.
"I don't see it as a break," Eagles cornerback
Cary Williams
said. "I see it as an opportunity to go out and play football. Aaron Rodgers is a monumental part of their organization, a huge part of their offense, a tremendous player, a great athlete. You hate to see a player like that go down, because you want to go out there and compete against the best."
They won't get that chance. They'll have to settle for a better chance to win the game.
"I don't think they're going to change up anything," Williams said, "but I don't think we're catching a break. I think Seneca Wallace is a capable quarterback. He's a savvy veteran. Obviously, he knows how to play the game. He knows how to get the job done. If he wasn't that guy, he wouldn't be in the NFL anymore."
November, 5, 2013
Nov 5
11:00
AM ET
»
Rodgers' effect on
:
49ers
|
Seahawks
|
Lions
|
Bears
|
Cowboys
|
Saints
|
Panthers
IRVING, Texas – With sources saying
Green Bay Packers
quarterback
Aaron Rodgers
could
miss three weeks with a fractured left collarbone
, the
Dallas Cowboys
stand to benefit. Sort of.

At 5-4, the Cowboys could see a potential wild-card partner in the Packers be greatly affected by missing their quarterback. In 2008,
Tony Romo
missed three games with a broken pinky. The Cowboys lost two of the three games with
Brad Johnson
at quarterback, including a 34-14 embarrassment to the
St. Louis Rams
, and missed the playoffs by a game.
The Packers are set to give
Seneca Wallace
the keys to the offense, which shows you why the Cowboys value the quarterback position and have
Kyle Orton
as their backup.
The smoothest road for the Cowboys to take for a return to the playoffs for the first time since 2009 is to win the NFC East. They have a one-game lead on the
Philadelphia Eagles
and a 3-0 record in the division.
Thinking wild card should not enter into their equation. They would lose a tiebreaker to the
Detroit Lions
. The
San Francisco 49ers
and
Carolina Panthers
have better records at this point. The Cowboys control their fate in the division.
If they get into a wild-card battle, then they almost have to sweep the
Chicago Bears
and Packers in December meetings.
Rodgers could be back for the Packers by Dec. 15. The last time he played at AT&T Stadium, he won Super Bowl XLV.
October, 31, 2008
10/31/08
4:00
PM ET
By
Matt Mosley
| ESPN.com
Posted by ESPN.com's Matt Mosley
Dallas Cowboys (5-3) vs. New York Giants (6-1), 4:15 p.m. ET


Giants coach Tom Coughlin bristled when asked if his team might experience a letdown because of the absence of so many key players for the Cowboys. This rivalry has heated up over the past three seasons, and Coughlin won't allow his players to take the Cowboys lightly just because the soft-tossing Brad Johnson is under center.
If Johnson can't at least pose a threat of throwing more than 15 yards downfield, Giants defensive coordinator Steve Spagnuolo will keep eight players in the box in order to stop running back Marion Barber. Defensive end Justin Tuck has an unbelievably quick first step, and he'll try to get inside position on right tackle Marc Colombo. If the Cowboys don't have Jason Witten (ribs), rookie Martellus Bennett will have to help block Tuck. If the Cowboys worry too much about Tuck, defensive tackle Fred Robbins and defensive end Mathias Kiwanuka will harass Johnson.
If the Cowboys fall behind early, backup quarterback Brooks Bollinger might replace Johnson. Wade Phillips is hoping that Johnson can play mistake-free football and complete an occasional pass downfield. The Cowboys are coming off an oustanding defensive performance. Look for safety Ken Hamlin to be active in the blitz packages, and I think you'll even see a corner blitz in this game. The defensive line and linebackers have to maintain gap control to slow down running backs Brandon Jacobs and Derrick Ward.
Quarterback Eli Manning is playing with a ton of confidence, and he'll throw a couple of deep balls early to test the Cowboys' inexperienced secondary. The Cowboys are simply trying to get to the bye. It's almost like they've accepted a loss Sunday, so I'm anticipating a lopsided final score.
Philadelphia Eagles (4-3) vs. Seattle Seahawks (2-5), 4:15 p.m.


This is huge for both teams. You have to try pretty hard to play yourself out of the weak NFC West -- and the Seahawks have done their best. Eagles coach Andy Reid served under Seahawks coach Mike Holmgren in Green Bay and the two men have a great deal of respect for each other. That said, Reid's preparing to deliver a waxing to the outmanned Seahawks.
Without Matt Hasselbeck at quarterback, there's only so much the Seahawks' offense can do. Seneca Wallace can move around a little bit, but his lack of arm strength really hinders any downfield passing game. And the only team that can run on Philly these days is Washington with Clinton Portis. Julius Jones has put up decent numbers, but he won't be a factor in Sunday's game.
Quarterback Donovan McNabb will be glad to see Reggie Brown return to the lineup. Brown has been out the past two games with a groin injury. He and Kevin Curtis complement each other nicely and DeSean Jackson gives the Eagles a legitimate downfield threat and a solid punt returner.
It's tough to win at Qwest Field, but the Eagles are getting ready to batter Wallace. With a healthy McNabb and running back Brian Westbrook, the Eagles have too much firepower for the Seahawks.
Washington Redskins (6-2) vs. Pittsburgh Steelers (5-2), 8:30 p.m. ET, Monday


The NFC East owns the Steelers so far this season. By my count, Ben Roethlisberger was sacked a combined 13 times by the Eagles (8) and Giants (5). The Redskins don't have a dynamic pass rush, but they do an excellent job of stiffening when teams get near the goal line.
Cornerbacks Carlos Rogers, Fred Smoot and Shawn Springs have been strong in press coverage, which will make it tough for Hines Ward and Santonio Holmes to get off the line of scrimmage. Springs is banged up, but the other corners should be up to the task. The Steelers' offensive line hasn't
been very impressive, and the team doesn't have a healthy running back to help compensate for that right now.
On offense, Redskins running back Clinton Portis is in the middle of a remarkable stretch. He has run for 120 yards or more in five consecutive games. And what's even more impressive is it's the second time in his career he's pulled that off. Left tackle Chris Samuels has been slowed by a knee injury, which could hamper the running game. The Redskins love to run a play called "90 press lead" on which Portis starts right and then cuts back to the left behind fullback Mike Sellers. If you see Portis tugging on the back of Sellers' jersey, it's a great sign for the Redskins.
Jason Campbell is one of the most efficient quarterbacks in the league right now. He still hasn't thrown an interception in the first eight games of the season. And that's not because he's overly conservative. The Steelers will try to bring pressure from outside linebackers James Harrison and LaMarr Woodley. But the Redskins will counter that with a steady diet of running plays.
August, 7, 2008
8/07/08
2:13
PM ET
By
Matt Mosley
| ESPN.com
Posted by ESPN.com's Matt Mosley
| | |
| --- | --- |
| | |
| | AP Photo/Pablo Martinez Monsivais |
| | Jason Campbell (above) says he learned a lot while watching quarterback Todd Collins lead the Redskins to the playoffs last year. |
ASHBURN, Va. -- Redskins quarterback Jason Campbell changes his expression at least once a month. He's the face of the franchise, but you'd never know it by the way he carries himself.
Somehow, he's staved off celebrity in a part of the country that worships its football team. In fact, I watched him walk past Joe Theismann on Wednesday without even being noticed by the club's legendary quarterback.
Earlier, I spent 45 minutes talking to Campbell about football and his other passion, fishing.
In a short time, he and new head coach Jim Zorn have created a special bond. And that's not easy when you're used to coaches leaving all the time. From the start, Zorn reminded Campbell of his former offensive coordinator at Auburn, Al Borges, who ran the "Gulf Coast" offense and helped lead the Tigers to a 13-0 season in 2004.
"There are a lot of similarities," Campbell said. "They're both very positive and not uptight. Zorn is a mellow guy who treats you like a grown-up."
Campbell laughed when asked about a recent team meeting that has become a running joke in training camp. Zorn stood up and talked to the team about the proper dress code on road trips. And he wanted to let them know that he wasn't as out of touch as they might think.
"I know jeans are popular for you guys," Campbell recalls Zorn saying. "I want people to feel good about what they're wearing, and part of fashion is unique denim."
In what must've been a surreal moment for the players, Zorn began naming off certain brands (True Religion, Republic, 7's for All Mankind) and noted that he understood that people would be wearing $250 T-shirts.
Then he turned around, pulled down his pants and tightened his belt.
"But I don't want you to wear saggy jeans," he said to roaring laughter.
Campbell characterized it as a breakthrough moment for the new staff. He also echoed what several other players, including tight end Chris Cooley, mentioned: Zorn is upfront about when practices, meals and meetings will be held.
It was a common complaint that Joe Gibbs liked to keep everyone guessing.
"I never asked how things were done with scheduling before," Zorn said. "This is simply how I believe it should be done."
Zorn has not tried to change everything about Campbell overnight. He believes in a gradual process. He's heard other coaches tell players to "stand tall in the pocket," but it's something you'll never hear come out of his mouth.
Even with 5-foot-11 Seneca Wallace in Seattle, Zorn wanted him to stay low in the pocket. He's asked Campbell to take wider steps to get to the back of his drop and he believes that bending his legs and being more athletic will allow him to be more accurate and have more velocity. In his preseason debut, Campbell appeared to be a willing pupil, completing all five of his passes, one for a touchdown, in a win against the Colts.
Campbell could've been insecure about the fact that his season-ending injury allowed backup Todd Collins to lead the Redskins to the playoffs last season. Instead, he stood on the sideline and studied Collins' every move.
"After everything this team had been through with Sean Taylor's death, I was thrilled to watch us go on that run," Campbell said. "I tried to learn as much as I could."
What he learned from Collins is that it's OK to check down several times a game if nothing else is there. Campbell was putting pressure on himself to make plays when he could've been dumping the ball off to running backs.
"Sometimes it's OK to throw a five-yard pass to [Clinton] Portis and let him run 50 yards," he said.
He spent part of his offseason fishing with his parents and girlfriend, a former Miss District of Columbia, in ponds and lakes near his home in Hattiesburg, Miss.
The family even accepted an invitation to fish on Brett Favre's farm one afternoon. He said that Favre was "off in the woods working on something," so they never saw him.
"Brett must not be fishing that lake very much," said Campbell, "because my mom and girlfriend were catching everything. When my girlfriend caught a 5-pound bass, Dad got really serious and started grindin'."
For more on Jason Campbell's trip to the Favre family farm, keep reading the NFC East blog.