January, 27, 2014
Jan 27
9:00
AM ET
IRVING, Texas -- The
Dallas Cowboys
did not know what they had when they signed
Dan Bailey
as an undrafted free agent.
They did not know what they had in him with a week to go in the preseason, either. By that time the Cowboys had five kickers on the roster:
David Buehler
, who held the kicking job in 2010, Bailey,
Shayne Graham
,
Kai Forbath
, an undrafted free agent like Bailey but injured, and veteran
Dave Rayner
.
[+] Enlarge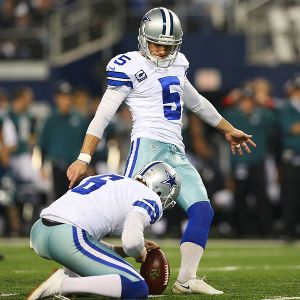 Ronald Martinez/Getty ImagesDan Bailey has made 88 of 98 field goal attempts in his three seasons.
The Cowboys missed three out of four field goal attempts in the final preseason game against the
Miami Dolphins
; one from Buehler and two from Rayner.
By not kicking that night, Bailey elevated himself.
About to enter his fourth season, the Cowboys
rewarded Bailey last week
with a seven-year, $22.5 million deal that makes him among the top 10 highest-paid kickers in the NFL. And for those believing the Cowboys made more of a mess of their salary cap with the signing, Bailey's cap number in 2014 is less than what it would have been if they had given him the second-round tender as a restricted free agent.
"That was a huge advantage looking back at it now, to go up against guys like Shayne and they brought in Dave Rayner, guys that have been kicking in the league a while and been real successful," Bailey said. "At the time, I was just trying to keep my head down and do my own things. I think it was invaluable to get that competition early on to nail down the job."
It taught Bailey that every kick is a new chance. A previous make does not guarantee success. A previous miss does not guarantee failure.
Bailey has made 89 of 98 field goal attempts in his career. He has missed just two kicks in each of the last two seasons. The pressure of winning the job out of a lockout as an undrafted rookie helped prepare Bailey for end-of-game moments. His eight game-winning kicks in three seasons are a franchise record.
"I don't think it changes too much," Bailey said of any added pressure because of the contract. "You're only as good as your last kick. That's the nature of the league. You have to bring your 'A' game every day to practice, to the game, even off the field. You've got to do the right things. I don't think it'll have too much of an impact. I think I take pride on being mentally strong enough to put that on the back burner and focus on the task at hand."
Bailey's leg strength was a question when he arrived, but he had a career-high 52 touchbacks in 2013 after just 54 in his first two seasons. He also made 6 of 7 attempts from 50 yards or more after making only 5 of 9 tries in his first two years from 50 yards or more.
"A lot of it had to do with just improving my leg strength and explosiveness, that stuff I did in the offseason, but just as much as that it was just a mentality," Bailey said. "We practice a lot of those in camp and in practice and even in the offseason. Just getting back there and kicking long field goals, it was creating more of a comfort level for myself to know those kicks do come up in games."
For the first time in his career, Bailey will not have Chris Boniol as a kicking coach. Boniol and the Cowboys agreed to part ways in the offseason, leaving Bailey and punter
Chris Jones
to improve without the watchful eye of an NFL veteran.
"He was a great asset to have," Bailey said. "He was a guy I looked up to because he'd been literally in the same shoes I've been in."
September, 3, 2011
9/03/11
6:49
PM ET
Click
here
for a complete list of the
Dallas Cowboys
' roster moves.

Biggest surprise:
I guess they released four fullbacks, including
Chris Gronkowski
, meaning they kept none. They're obviously deep at tailback with
Felix Jones
,
Tashard Choice
,
DeMarco Murray
and
Phillip Tanner
and at tight end as well, so they either didn't see the need to use a fullback this season or are content with the idea of picking one off the scrap heap within the next couple of weeks. Other than that, I didn't find any of the cuts especially surprising.
Igor Olshansky
started 28 of their 32 games the past two seasons, so he's the biggest name among the cuts. But we'd seen this one coming for a while. It was clear that new defensive coordinator Rob Ryan preferred
Kenyon Coleman
at defensive end, and that the Cowboys weren't going to be afraid to cut ties with established veterans.
No-brainers:
Kickers
Shayne Graham
and
Dave Rayner
had their chances to win jobs but couldn't, so they're gone and the Cowboys will go with
David Buehler
for kickoffs and
Dan Bailey
for field goals.
Lonyae Miller
showed promise early but was passed by Tanner for the lone spot in the crowded running back field.
Akwasi Owusu-Ansah
clearly wasn't panning out at safety in spite of being the team's fourth-round draft pick in 2010.
What's next:
With only five wide receivers on the roster, the Cowboys could theoretically hunt around for veteran help there. But they may believe the receiving ability of their tight ends and running backs minimizes the importance of adding there. They will surely continue looking for a kicker, because
they're obviously not satisfied with what they have, and they may be on the lookout for added depth in the secondary. They kept 10 offensive linemen, but that doesn't mean it's impossible to see them bringing someone in from the outside if they can find a reliable veteran backup for some of their young starters.
August, 24, 2011
8/24/11
8:00
AM ET
Morning. As some of you know, I've been taking a semi-vacation this week with my family, sightseeing in Washington, D.C. The earthquake was a nice touch. Fortunately, nothing can derail the links.
Dallas Cowboys
Unimpressed by the options they already had there, the Cowboys have signed Shayne Graham and
added him to the kicker competition
. You may remember Graham as the guy the Redskins signed about a month ago to create a kicking competition with their guy, Graham Gano. You may also remember than Graham looked utterly awful in the Redskins' first preseason game, missing two field goals, and getting cut the next day. But kicker is a fickle position, and you never know. A guy can be rotten in one place and great in the next. Graham is the most accurate kicker in league history, statistically, and his competition is David Buehler and Dan Bailey.
Interesting thoughts from Cowboys linebacker Bradie James on
why recent Dallas teams have disappointed
. "I think the entitlement kills us," James told FoxSports.com. "Our alumni, our former greats have made us America's Team and we reap benefits that we haven't earned — all the way around, as individuals, as a team. Those guys earned it. We just think we deserve it." Now, that could be James' own conclusion. Or it could be something head coach Jason Garrett is saying behind closed doors and the players are parroting back to the media, as happens often. Regardless, it's good. And if James is the one who came up with it, the Cowboys would benefit from him saying it behind closed doors, too.
New York Giants
Giants fans have to be wondering what their team did to deserve this injury curse. Rookie defensive tackle Marvin Austin has a torn pectoral muscle and
will miss the season
, which means even more will be expected of second-year defensive tackle Linval Joseph and veteran Jimmy Kennedy, who was recently signed for depth at the position. If you count Osi Umenyiora's knee surgery from last week and (obviously) Terrell Thomas' season-ending knee injury in Monday night's preseason game, that's three significant injuries on defense in less than a week's time on a team that already lacked depth.
But here's a bit of good news, Giants fans: Mike Garafolo writes that new center David Baas
showed a lot of improvement
from the first preseason game to the second and that he "feels like he's beginning to turn a corner mentally." That's Baas who's turning the corner, not Garafolo, who remains exactly as mental as ever.
Philadelphia Eagles
Three weeks after suffering a seizure on the practice field due to an arteriovenous malformation in his brain, Eagles defensive tackle Mike Patterson is
expected to play in Thursday night's preseason game
against Cleveland. The doctors have cleared him, they say, and he can play without risking a serious brain injury, so that's good. Everyone's obviously hoping for the best for the guy. From a football standpoint, if he can play, it just deepens the already very deep Eagles defensive line rotation.
Interesting take here from Bob Grotz
, who wonders if all of the offseason player acquisitions the Eagles made could be done in by the fact of so many new faces in key places on the coaching staff. I think it's tough to judge Juan Castillo (or any coordinator, no matter how experienced, on either side of the ball) off of a couple of preseason games. It's always possible the other team had done some game planning and he hadn't. Happens all the time in preseason, and it's the main reason these games have little predictive value. But Bob raises a good point -- as defensive coordinators go, Castillo is a rookie, and if he's not up to his new job, things could get ugly in Philly.
Washington Redskins
Speaking of coordinators, the Redskins did not change theirs, and Santana Moss thinks that
continuity at the offensive coordinator spot
will be a help to the Washington offense as it looks to exceed very low outside expectations. The offense has indeed looked very good in each of the first two preseason games, but remember what I said like an inch and a half above here about the predictive value of that. Moss' theory is sound, but it's going to come down to how well the quarterback plays and how well the line protects him. No matter who the coordinator is.
Dan Daly looks at O.J. Atogwe and where he
ranks among the best safeties in the league
. Atogwe was indeed a very good under-the-radar signing the Redskins made before the lockout hit (and before the market for safeties took off), and it doesn't hurt that he's played under Redskins defensive coordinator Jim Haslett when both were in St. Louis. Atogwe is a strong, quiet leader (of which this Redskins' defense has several), and is one of those players who can help the others understand what the coordinator is saying as the team moves into the critical second year of 3-4 installation.
I'll be back home this afternoon and back up to normal posting speed and reliability either tonight or certainly no later than tomorrow morning. That assumes no frogs or locusts, of course. Thanks for bearing with me. Kids had a blast at the Diamondbacks-Nationals game.
August, 15, 2011
8/15/11
8:00
AM ET
We're back, and so is Osi Umenyiora, who told the AP on Sunday night that he would
return to New York Giants practice Monday
and play under the terms of the contract he hates. This was already in the works at the end of last week, as Umenyiora seemed to be grasping the idea that he couldn't push his protest any further to any real effect, and while it's fun and easy to think that the performance Jason Pierre-Paul put on in Saturday night's preseason opener made Umenyiora wake up and realize the Giants could survive without him, it appears as though he'd already made his decision before that happened. Regardless, the Pierre-Paul thing is one of the reasons the Giants always held all the cards in this situation, and so no, I don't expect them to look to trade Umenyiora because he's unhappy. All along, I expected them to call his bluff, and they did, and now he's back. I imagine he'll be plenty motivated to have a great year and put himself in a stronger position from which to execute this same tactic a year from now.
More Giants
Some things take more time than teams have had, post-lockout, and the Giants believe new center David Baas merely needs more time with his offensive linemates in order to
correct some of the mistakes
that showed up on film from Saturday's game against the Panthers. This year's preseason games are more important than those of years' past due to the limited amount of practice time some of these groups have had together. In the past, a summer's worth of OTAs and minicamps and training-camp two-a-days might have had the reworked Giants line communicating more smoothly by the first preseason game. The point, of course, is to get there by the Sept. 11 regular-season opener in Washington.
Kicker Lawrence Tynes has a
bruised thigh
as a result of the blocked kick by the Panthers late in the game. Tom Coughlin seemed to lay the mistake at the feet of rookie offensive lineman James Brewer, but he declined to name Brewer as the responsible party when pushed on it. Good move, since why get on the rookie when the whole team looked bad, but I don't think Coughlin's fooling anyone on this. Seemed pretty clear that Brewer missed his block. No word on whether they'll bring in a kicker while Tynes gets healthy, but
Shayne Graham is available
.
Dallas Cowboys
Jason Garrett has had
officials at every Cowboys training camp practice
, which is uncommon but is apparently part of Garrett's plan to get his team to cut down on penalties this year. The Cowboys were sixth in the league in penalties in 2010, making that just one of several areas that must improve if what's basically the same roster expects to contend for a playoff spot.
Charean Williams believes Cowboys fans could be seeing a lot more of Stephen McGee in the future, as he is being
groomed to take over
as Tony Romo's backup. Jon Kitna was outstanding as a fill-in last year when Romo got hurt, but he's about to turn 39 and it's possible that McGee could be the guy to take over if Romo were to get hurt again this year. No word on whether this is a make-or-break year for McGee.
Philadelphia Eagles
Those looking for clarity on how the Eagles plan to use their cornerbacks this year are welcome to read
Les Bowen's story on the topic
. But (and this is no reflection on Les), you're not going to find the clarity you seek. That's because the answer to the question of how the Eagles plan to use all of their cornerbacks is: A whole bunch of different ways, depending on situations and matchups. Which is actually smart, assuming you have the kind of nimble coaching minds that can handle the play-to-play adjustments. The Eagles obviously believe they do.
Steve Smith and LeSean McCoy
have yet to meet
to discuss Smith's involvement in this summer's lovingly remembered Twitter feud between McCoy and Umenyiora while Smith was still a Giant. Now that Smith's an Eagle, he said he planned to speak with McCoy about that. McCoy said Sunday that hadn't happened yet.
Washington Redskins
John Beck is back and
planning to play Friday night
in the Redskins' second preseason game. In the first one, with Beck sidelined by a groin injury, Rex Grossman played very well. If Beck wants to be the starter, he'll have to look as composed as Grossman did when the lights go on. But if he does, then yes, I believe he still retains a very good chance of winning the job. The coaches like him a lot.
Safety O.J. Atogwe is
hoping to return soon
from the hamstring injury that kept him out Friday night. This is not an unimportant guy. Not only is he a very good player, but he knows things about Jim Haslett's defense, from their time together in St. Louis, that other guys are still learning. Having Atogwe on the field during games, helping with the calls and the checks, would be an asset.
I am home for the first few days of this week and hoping to catch up on some stuff I still have from my first three training camp trips -- John Beck stuff, Eagles offensive line stuff, William Beatty stuff ... lots of stuff that you'll see here in the coming days. I fly to Dallas on Wednesday night and will spend a couple of days at Cowboys camp Thursday and Friday, so there'll be plenty of stuff from there as well. Meantime, I hope you enjoyed this stuff.
August, 12, 2011
8/12/11
10:31
PM ET
We knew earlier in the week that
Rex Grossman
was a confident quarterback, when he said he expected the
Washington Redskins
to win the NFC East this season. On Friday night, in Washington's
16-7 preseason victory
over the
Pittsburgh Steelers
, Grossman played like a confident quarterback. He looked cool and in control, playing the first half behind a surprisingly sound offensive line and going 19-for-26 for 207 yards and a touchdown.

Now, the first reaction will be to say Grossman has seized the lead over
John Beck
, who missed the game with a groin injury, in the competition for the Redskins' starting quarterback job. But I'm not sure it's that simple. The Redskins' coaches believe Grossman can run their offense as well as, if not better than,
Donovan McNabb
did in 2010. They believe he's as competent as can be, and nothing he did Friday night showed them anything they didn't already know about him. The reason this is a competition at all is that Mike Shanahan and Kyle Shanahan believe Beck has more upside and athleticism. They want to see how Beck handles himself against hostile competition, under the bright lights in a situation with something (i.e., the starting quarterback job) on the line. The groin injury robbed them of that chance this week, and they'll hope they can get him in there next week so the competition can begin for real.
What Grossman's performance did Friday was maybe allow the Shanahans to sleep a little more easily. What they saw reinforced what they thought things would look like if they ended up going with Grossman. But as far as the Grossman-Beck competition is concerned, I'm not sure it's really started yet.
A few more observations from Washington's surprisingly impressive effort in its first preseason game:
1. Ryan Kerrigan can contribute right away.
The first-round draft pick is still getting up to speed, as a leg injury cost him several early training camp practices. And he will need to continue to work on his coverages and get used to playing on two feet as a linebacker rather than out of the three-point stance in which he played as a defensive end at Purdue. But Kerrigan can rush a passer. He showed that several times, making his way swiftly into the backfield from the side opposite
Brian Orakpo
, and getting hits on Steelers running backs and quarterbacks. He might not be a fully finished NFL product by Week 1, but the Redskins can start him at outside linebacker if they want to and just send him after quarterbacks all night, and they'll get plenty of value out of that.
[+] Enlarge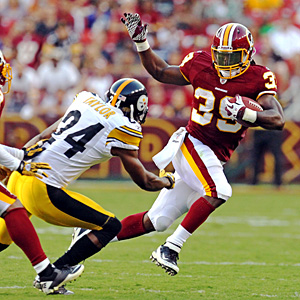 Mitch Stringer/US PresswireTim Hightower rushed for 44 yards on 10 carries in his Redskins debut and looks to be the starter in Washington's backfield.
2. Tim Hightower will be the starting running back
as long as he holds on to the football. Mike Shanahan thought he got a steal when he acquired Hightower in a trade with Arizona during training camp's first week. You saw Hightower look good running the ball, but what really jumps out to Shanahan is the help Hightower can provide in the passing game -- as a receiver and as a blocker.
Ryan Torain
will still get a long look once he gets back from his hand injury, but Hightower is the clear leader to be the starting running back in Week 1.
3. Lots of Evan Royster.
Once Hightower was out of the game, the rookie running back who got the vast majority of touches was Royster, not
Roy Helu
. Helu didn't get a carry until there were about eight minutes left in the third quarter, and the work he got at that point seemed to be aimed at getting a breather for Royster, who came right back in. As Rich Campbell, the fine Redskins beat writer for the Washington Times, pointed out on Twitter, Shanahan likes to give running backs "whole games" to allow them to establish rhythm before he evaluates them. Did the same thing, Campbell says, last season with
Willie Parker
and
Larry Johnson
. By that logic, we should expect to see a preseason game at some point in which Helu gets a ton of carries. Helu looked explosive in the fourth-quarter action he saw, and I'm sure the Redskins are eager to take a longer look at him.
4. Trouble in the secondary?
There were a couple of first-half plays on which Steelers receivers got well past Redskins cornerbacks and would have had big plays if the passes hadn't been overthrown. Some of the secondary problems could have to do with communication issues, since both starting safeties were out with injuries. But newcomer
Josh Wilson
bears watching at corner as the preseason goes along.
5. Mixed results on the defensive line.
I thought there were times when it got pushed around, but the defensive line had its moments. Kerrigan's tackle of
Mewelde Moore
on that third-and-2 probably wouldn't have happened if new nose tackle
Barry Cofield
hadn't gotten quick penetration and held his spot. Moore ran right into Cofield a split-second before Kerrigan grabbed him. Rookie
Jarvis Jenkins
also was able to produce some pressure,
Stephen Bowen
sacked
Byron Leftwich
, and there were plenty of early plays on which the line cleared room for a fired-up
London Fletcher
to get into the backfield and make plays.
6. Veteran receivers.
Whoever the quarterback is, he will be happy to have
Santana Moss
and
Jabar Gaffney
, two professional, veteran route-runners. The young receivers? Meh.
Niles Paul
made a nice play.
Aldrick Robinson
kept dropping the ball on kick returns. And
Leonard Hankerson
had a bad drop, which matters only because that's the thing about him that everybody's watching. The drops.
7. A good night for Graham Gano.
While the quarterback competition might not have begun yet, the kicker competition might be over. Newcomer
Shayne Graham
missed badly from 29 and 49 yards. Gano made his three field goals from 32, 34 and 45. Maybe they brought in Graham just to pressure Gano into doing better, but he didn't exert much pressure Friday, and Gano looked fantastic.
All in all, if you hadn't been following any of the preseason coverage, you'd have tuned in Friday night and thought the Redskins looked pretty sharp. Keep in mind: This is a rebuilding team. So good signs from Friday night can be good signs for the future even if they don't end up portending anything great for 2011. As for 2011 ... One thing the Redskins almost certainly will be able to do is beat outside expectations. Remains to be seen, of course, whether they have any chance of living up to Grossman's.
August, 2, 2011
8/02/11
12:33
AM ET
A programming note here: I will not be doing "How Was Your Day?" throughout the season. There's just no way I'm going to sit up until midnight seven nights a week to do a 800-word post summarizing the way each of the division's team spent its day. But since it's still free agency and training camps have just started and everybody's still excited and I haven't posted in like seven hours because I was at a baseball game with Peter King, I feel it's my duty to check in and ask the simple yet very important question: How was your day...

Dallas Cowboys?
"Boooo-ring."
Yeah, sorry,
Jason Hatcher
, but
you're not enough
to get Cowboys fans off my back about, "When will they
do something
???" Nice stories out of San Antone about Jason Garrett making the
rookies earn their stars
and Rob Ryan
firing shots across the bow
of the S.S. Dream Team, but if the Cowboys don't sign two safeties by Thursday, I'm really going to worry about certain regular members of my Twitter feed and their proximity to sharp objects. Fortunately, this was only Monday, and nobody they sign can practice until Thursday anyway.

New York Giants?
"Victorious."
All those
Ahmad Bradshaw
bluffs flamed out, and the bluff the Giants made (if it was indeed that, which it might not have been, since
Jason Snelling
is a pretty good player)
worked
, as Snelling's visit to East Rutherford appears to have scared Ahmad Bradshaw into signing a four-year deal to stay in New York. It remains to be seen if the
Ben Patrick
signing has the same effect on
Kevin Boss
, or if he's getting enough serious interest elsewhere to lure him away. And
Osi Umenyiora
has gone
off the reservation
. But Bradshaw was a big key for the Giants this offseason, and they appear to have brought him back at something more closely resembling their price than his.

Philadelphia Eagles?
"Kinda weird."
Asante Samuel
said some of the right things in his first news conference since the Eagles brought in two new very good players who play his same position. But he also said some things that indicated
he wasn't overly happy
with the news. I don't know. The Eagles could trade him, I guess. But if it were me, I'd have to get an awful lot in return. Samuel is excellent, and having him,
Nnamdi Asomugha
and
Dominique Rodgers-Cromartie
available at cornerback in a pass-heavy league has to be tempting, right? The Eagles did finally get
first-round pick
Danny Watkins
signed, and he didn't get that fourth year guaranteed, which was supposedly important to him. But we'll see what happens with Samuel and the linebacker position and backup running back and all of that now that the euphoria of Friday and Saturday has begun to subside.

Washington Redskins?
"Hot."
It really was, during the morning practice. And the afternoon walk-through was cut short by a thunderstorm that had the very pleasant effect of cooling things off and knocking out the humidity. But the Redskins had another businesslike day, adding kicker
Shayne Graham
to push
Graham Gano
into kicking his field goals straighter and welcoming
Jammal Brown
back to the fold and
Tim Hightower
to
the running back mix
. Monday was my first day at Redskins camp as I begin my NFC East training camp odyssey, and I found the Redskins to be as I expected them to be -- cool and relaxed without any
Albert Haynesworth
-level distractions and still very questionable at quarterback.
My day? Well, it was excellent. I have many old friends in this area, several of whom cover the Redskins for the Washington Post. It's great to see them, and it was great to spend Monday night at the Braves-Nationals game with some of them as well as Sports Illustrated's Peter King, who's a good man who was a great help to me when I made the transition a couple of years back from baseball writer to football writer. It was nice to kick back at a ballgame Monday night and relax after a week's worth of post-lockout transaction frenzy, and I'll be back at Redskins on Tuesday for more interviews and reporting. Later this week, I'll drop in on the Eagles, and I plan to see the Cowboys and Giants next week. So my day was great and I expect the rest of the next couple of weeks will be too.
How was your day?
August, 1, 2011
8/01/11
5:20
PM ET
ASHBURN, Va. -- I like talking to
Brian Orakpo
because he's a friendly, insightful guy and because he's got this awesome deep voice that matches his physically intimidating presence. I am not alone.
[+] Enlarge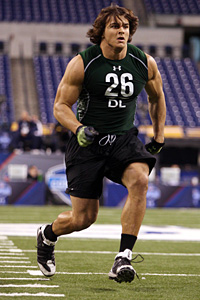 Brian Spurlock/US PresswireRyan Kerrigan, a college defensive end, will be switching to outside linebacker for the Redskins.
"I can certainly see where you're coming from," Redskins rookie linebacker
Ryan Kerrigan
told me after morning practice when I ran that observation past him. "He's got the traps that are almost up to his ears, and his voice certainly matches his physique. He's certainly an imposing guy and a good guy to have on our side."
Especially good for Kerrigan, the first-round pick who played 4-3 defensive end at Purdue but will stand up and play 3-4 outside linebacker in Washington. Orakpo made a similar transition last season when the Skins switched from a 4-3 defense to a 3-4 (he'd been a 4-3 strongside linebacker in 2009 who rushed from a three-point stance on passing downs), but he told me Kerrigan's will be tougher.
"You just kind of practice your technique differently as far as the balls of your feet, staying low, different things that you pick up," Orakpo said. "The transition wasn't that difficult for me, but Kerrigan, he was strictly defensive end, so it's going to take a while to kind of get used to it."
Orakpo said the biggest difference for him was learning to generate explosiveness from just his feet and legs, as opposed to his hips and his hands. Kerrigan seems to feel the biggest difference is in perception and point of view.
"It's just seeing the field from a whole new perspective," Kerrigan said. "When you're a DE in a 4-3 scheme, you kind of have tunnel vision because you can kind of only see what's ahead of you when you're in a three-point stance, but when you're in a two-point stance you're seeing the whole field and seeing everything from a whole different angle, and I think that's the biggest adjustment."
This twosome will be spending a lot of time together here, even though a bruised knee has been keeping Kerrigan out of practice for the past few days. He's planning to pick Orakpo's brain, and Orakpo doesn't mind. He's entering his third year in the league, but roster turnover here has thrust him into a surprising role.
"Very odd, man," he said. "I'm only going into my third year and already guys are looking at me as being the veteran on the team. So it's a different era, where we're at right now, but I'm excited for the opportunity."
*You wanted observations, I have a few:
Trent Williams
looks much less fat than I remember him looking when I was here last year, and Orakpo said he's noticed the difference in Williams' performance at the point of attack...
John Beck
was intercepted by
DeAngelo Hall
on consecutive pass attempts at one point during 11-on-11 drills, which wasn't exactly awesome. But he threw some nice deep balls, including one beauty that
Anthony Armstrong
dropped... Beck was the quarterback who ran the first-team offense... If there's a receiver about whom people are talking, it's
Leonard Hankerson
, though it's obviously quite early. He seems energetic and involved...
Santana Moss
loves him some Mike Shahanan. Said during the lockout and his very brief free agency that he "stayed away from anything that had to do with not being here. The coaching staff we brought in here last year, what they showed me gave me the confidence that, if we put the right pieces in the right places, we can do great things." But when asked about Beck, Moss shrugged, said he'd played with 10 different quarterbacks in 11 years and doesn't pay much attention to it. So there's that.
*Jason La Canfora of the NFL Network tweeted that recently released former Seahawks linebacker
Lofa Tatupu
and recently released former Colts cornerback
Kelvin Hayden
will
visit the Redskins this week
. I wonder now if Hayden's visit will still happen, though, since
Phillip Buchanon
tweeted that he was coming back to the Redskins and that, along with the recently signed
Josh Wilson
, should provide the depth at the cornerback spot even with
Carlos Rogers
leaving. Tatupu could play inside linebacker next to
London Fletcher
, but Scouts Inc's Matt Williamson told me recently he didn't think Tatupu would fit in Washington since he's not the kind of big, physical "take-on" linebacker they need in that spot. So we'll see. Everybody's been asking for Tatupu news, so now you have some.
*Kicker news!! The Redskins have signed kicker
Shayne Graham
to compete with
Graham Gano
and to confuse everybody when Shanahan shouts "Graham!" in an effort to get one of them to pay attention.
"We'll have competition there as well as at all the positions," Shanahan said. "You look at Graham's percentages last year, and he knows he's going to have some competition and that if he doesn't perform, somebody's going to take his spot."
He was talking about Gano there, FYI.
July, 1, 2011
7/01/11
1:04
PM ET
I asked, and the consensus answer was something like, "Sure, why not?" And so we conclude our position-by-position series on potential four-year free agency and the NFC East with a look at kickers and punters. Yeah, even with content hard to come by these days, I couldn't justify splitting them into two posts.
NFC East teams in need
Cowboys
: They're set at punter with
Mat McBriar
, but while they're obviously invested in kicker
David Buehler
, they brought in veteran
Kris Brown
to see if they could put some pressure on Buehler to be better. The new kickoff rules could make Buehler's saving grace -- his ability to drill touchbacks on kickoffs -- less valuable than it used to be, which means making field goals is the only way he's going to keep his job. If he flops badly, it's possible Dallas looks at someone on this list since Brown likely isn't the answer either.
Giants
: Set at kicker with
Lawrence Tynes
, and committed to
Matt Dodge
at punter but you wonder for how long. Following
Jeff Feagles
was never going to be an easy assignment, but as big as Dodge's leg is, his directional gaffes last year were too much for the Giants and their fans to stomach. Not kicking the ball out of bounds against
DeSean Jackson
and the Eagles in that Meadowlands game wasn't the first mistake -- just the worst and least forgettable. Dodge is likely to start the season with the job, but the Giants might want to keep their eye on this list in case they need to make a midseason move.
Eagles
: Situation very much in flux in Philly, where they drafted kicker
Alex Henery
, likely signaling the end of the Eagles career of the great
David Akers
. Punter
Sav Rocca
, is also a free agent and could decide to retire rather than punt again at the age of 38. Bet on the Eagles going with Henery at kicker and bringing back Rocca on a one-year deal, but if Rocca won't have it, they'll need to go shopping.
Redskins
: Well, they have guys at both spots. But
Graham Gano
is coming off a bad year as the kicker, and they could theoretically look to replace him. They have two punters on the roster --
Josh Bidwell
and
Sam Paulescu
-- so they should be able to come up with something out of that.
Top five potential free-agent kickers
1.
Adam Vinatieri
, Colts
2.
Ryan Longwell
, Vikings
3. Akers
4.
Matt Bryant
, Falcons
5.
Shayne Graham
, Patriots
Top five potential free-agent punters
1.
Adam Podlesh
, Jaguars
2.
Ben Graham
, Cardinals
3.
Steve Weatherford
, Jets
4. Rocca
5.
Michael Koenen
, Falcons
Predictions that mean nothing:
At least three of these teams will change kickers and/or punters between now and the end of the 2011 season, but I'm not saying which because kickers and punters are totally unpredictable. Akers leaves the division, though, I predict, though Dallas fans might wish their team would snag him.
October, 16, 2010
10/16/10
2:15
PM ET
By
Matt Mosley
| ESPN.com
This is a weekly staple that allows readers to lash out against the author of the Beast blog. We recently topped the 10,000-letter mark, which is apparently a blog network record at ESPN.com and one that is being celebrated in Bristol, Conn., as we speak. You guys have been prolific this week, so let's get right to it:
Stephen from Philadelphia is concerned with something I wrote about in Friday's Final Word column:
Yeah,
Jared Allen
wore out
Doug Free
to the tune of ... one tackle over almost three quarters. I'm not pretending Free won't have problems -- I don't think Dallas can protect
Tony Romo
-- but the problem Dallas had in that game was
Ray Edwards
around the edge and both Minny's DTs DESTROYED the interior of the the Dallas OL (which I think they will do again), meaning Romo had no pocket to step up into. That was the problem, not Allen's one tackle, which actually came when
Jason Witten
was left one-on-one with Allen.
Mosley:
The NFC East blog has taken a blood oath not to blame any sacks on Witten or Eagles tight end
Brent Celek
, Stephen. But seriously, Free did struggle in that game against Allen, and that's been confirmed by his offensive line coach, Hudson Houck. He was thrown into a tough situation, so I don't think we should hold that against him. And, yes, I agree that Ray Edwards was the bigger problem because he was racing around a gimpy
Marc Colombo
. The Cowboys must try to establish a running game early to neutralize the noise factor in the Metrodome. This may be one of the best home-field advantages in the league. I'd put Arrowhead No. 1 -- even with all the fancy new additions. (Shoutout to Chiefs coach Todd Haley, who reads this column religiously despite his frustration that I never mention the playoff-bound Chiefs.)
---
Jakeem from Atlanta wants to talk NFL trivia:
Tony Dungy may be the only person in NFL history to make an interception and throw one in the same game. Do you know if this happened in the 1977 game against the Houston Oilers that you mentioned?
Mosley:
That's exactly when it happened, Jakeem. Dungy, a former college quarterback, was forced into the game against the Oilers when Terry Bradshaw and his backup were both injured.
Dungy was 3-of-8 for 43 yards
and two interceptions. And, yes, he also picked off the Oilers in that game. That's a point that Wade Phillips forgot to make when he was belittling Dungy's playing career Friday. I like Wade, but that was not a good moment for him. Dungy's paid to analyze teams and players for NBC. If he questions Tony Romo's leadership, it's not that big of a deal. And honestly, I have no problem with Phillips defending Romo. He just crossed the line with his petty commentary about Dungy's game against the Oilers in 1977.
---
Andrew from Dallas has a Cowboys-Redskins related question:
Why is it that when Dallas switched to the 3-4, Roy Williams (SS) was moved horribly out of position and never recovered, but Washington switches to the 3-4 and
LaRon Landry
, a very similar player, has a breakout year? I understand schemes are different, but shouldn't coaches adjust to the abilities of their better players?
Mosley:
I think we all waited for Williams to develop into a
John Lynch
/
Troy Polamalu
type player, but he just didn't have the awareness to be that type guy. Williams really benefited from playing with
Darren Woodson
in 2002 and 2003. When Woodson was forced into retirement because of a back injury, Williams' game immediately leveled off. He certainly had his moments in Dallas, but his limitations in coverage were too much to overcome. And I'm not sure how much passion he had for the game when you really get down to it. Landry's always had the talent, but it looks like Jim Haslett has finally tapped into it on a week-to-week basis. Playing Landry close to the line of scrimmage allows him to be more physical. The guy is an absolute beast to deal with near the line and he seems a lot more engaged than ever. I'll never understand why former defensive coordinator Greg Blache had him playing so far off the ball. But the arrival of Haslett could turn Landry into a perennial Pro Bowl player. He's playing that way right now.
---
Greg B from Philly is trying to settle a dispute with friends:
In regards to
your post
about [Eagles safety]
Nate Allen
, you referred to a Suplex tackle made by
Brian Dawkins
. I find it interesting because my friends and I were attempting to find out just last week who was on the receiving end of the tackle. We have two suspects, neither of which is
James Thrash
, who was on the Eagles at the time. But it is either 83
Cliff Russell
or 87
Rod Gardner
. If you could out who it was, that would help settle a large dispute we are having.
Mosley:
Greg, I recently watched video of Dawkins using the Suplex on then-Redskins receiver James Thrash in an '08 game. But he's had several such tackles during his career, so I wouldn't rule out any "suspects' at this time. Based on my exhaustive Google research Thursday while preparing a column on Allen, I ran across at least five Suplexes/body slams. I believe that Dawkins uses the version popularized by the Texas-based Von Erich family in the 1980s. Fritz Von Erich's "Iron Claw" is still used to settle disputes in remote parts of Kaufman County, Texas.
---
Devin from Sydney, Australia, wants to know what's up with John Clayton and his Power Rankings staff:
Matt, I've loved your analysis on the
Power Rankings
this year. Can you explain the rationale behind Houston -- on a two-game losing streak and looking worse in each -- having a higher ranking than the G-Men who are on a two- game winning streak, looking better each week and befuddled the Texans? It's time we get you on the panel.
Mosley:
Devin, ESPN.com removed me from the voting process two years ago, in part, because I begged for two years to be taken off the panel. It's much more fun to write a post each Tuesday poking holes in John Clayton's voting habits. If the Skins beat the Colts on Sunday, I fully expect The Professor to move them into the top five. But thanks for your support. ESPN.com has looked into having my blog syndicated in Sydney. If it makes you feel any better, the Giants would likely rank No. 1 in my NFC East power rankings, which don't currently exist. I want to see how the Giants' linebackers play against Lions running back
Jahvid Best
tomorrow. I know Best has been banged up, but I think he'll still pose a serious threat. If this game's close, watch out for this
Shayne Graham
situation at kicker. He wasn't on his game last season for the Bengals (by his standards).
Thanks again for your wonderful e-mails and threats. I'm headed out to the Ballpark in Arlington to see if the Rangers can recover from last night's heartbreak. Then it's on to Minneapolis, where that Viking horn sound goes off every 15 seconds -- especially when the Vikes are playing the Cowboys.
October, 16, 2010
10/16/10
1:00
PM ET
By
Matt Mosley
| ESPN.com
With placekicker
Lawrence Tynes
struggling with a left ankle injury, the
New York Giants
have signed former Bengals kicker
Shayne Graham
,
according to ESPNNewYork's Ohm Youngmisuk
. The Giants placed rookie wide receiver
Victor Cruz
on injured reserve to make room for Graham.
Tynes tested the ankle Saturday morning, but it was determined that he wouldn't be ready for the game. Graham spent seven seaons with the Bengals and connected on 23-of-28 field goals last season. He also had eight touchbacks last season. His best season came in '07 when he made 31 of 34 attempts. There's a chance Graham could stick around for a bit. That's what the Giants did with
John Carney
a couple years ago.
September, 22, 2010
9/22/10
3:57
PM ET
By
Matt Mosley
| ESPN.com
ESPNDallas.com's Tim MacMahon reports that Cowboys kicker
David Buehler
continued his
struggles in practice
Wednesday before reporters were sent back to their cubicles. Buehler nailed one from 23 yards and then missed his next four attempts wide left, wide right, wide right, wide right, according to MacMahon's report.
Owner Jerry Jones said his gut told him to remain patient with Buehler after he missed his second key field goal attempt in as many weeks against the
Chicago Bears
on Sunday. But now it's time to do what the Cowboys should've done at the start of training camp: bring in a veteran.
Kris Brown
,
Matt Stover
,
Shayne Graham
and
John Carney
are all standing by as we speak. I'm pretty sure I saw Stover driving around my neighborhood the other night. We'll keep you posted.
November, 16, 2008
11/16/08
8:23
PM ET
By
Matt Mosley
| ESPN.com
Posted by ESPN.com's Matt Mosley
For the first time since 2002, an NFL game ended in a tie. And it turns out quarterback Donovan McNabb and some of his teammates were the last to know. McNabb admitted after the game that he wasn't aware that the league only had one overtime period.


The Eagles were fortunate to salvage the tie. Bengals kicker Shayne Graham pushed a 47-yard attempt wide right at the end of regulation. But even if they'd somehow won the game, the Eagles were once again exposed as being horribly flawed team.
When you're 3-of-18 on third-down conversions, you don't even deserve a tie. And once again, the Eagles were awful in third- and fourth-and-1 situations. They converted only once in those situations, which might be the reason Andy Reid shied away from going for it in overtime.
Once again, the Eagles' inability to have anything resembling a running game led to their undoing. All-Pro running back Brian Westbrook had 3 yards or less on nine of his 14 carries. He finished with a combined 71 yards rushing and receiving.
McNabb had another awful outing. For the second consecutive week, he didn't even complete half of his passes. He had a career-high 58 attempts and he threw three interceptions for the first time since 2006. At this rate, Reid and McNabb are both campaigning to lose their jobs.
The defense played reasonably well, collecting eight sacks.
Much more to come on this game throughout the week.
September, 21, 2008
9/21/08
4:41
PM ET
By
Matt Mosley
| ESPN.com
Posted by ESPN.com's Matt Mosley


The Bengals let the Giants off the hook at the end of regulation with questionable clock management. Sort of stunned it didn't come up on the broadcast. The Bengals are sitting there with a timeout in their pocket, and Carson Palmer throws an underneath pass to the 4-yard line instead of throwing in the end zone. It's not like Shayne Graham needed four or five more yards to make the field goal.
That said, Eli Manning led two brilliant drives, one at the end of regulation and another on the second possession of overtime. He spent a lot of time in training camp working on the deep ball, but he missed a wide-open Domenik Hixon in overtime. But instead of being rattled, he came back and threw a brilliant pass to Amani Toomer on the sideline.
The Giants dodged another bullet on that tipped pass that hung in the air forever. It was a valiant effort by the Bengals, and it's too bad they didn't use good judgment at the end of regulation. T.J. Houshmandzadeh ended up having a huge afternoon, despite the fact that Carson Palmer was sacked six times.
At some point, we need to start talking about Giants defensive tackle Fred Robbins. He had two more sacks today and he's been dominant at times this season. That's why defensive coordinator Steve Spagnuolo can afford to be so creative with how he deploys defensive end Justin Tuck.
Some of you might expect Tom Coughlin to be upset that his team barely beat the Bengals. But I don't think that's the case. Palmer and Houshmandzadeh exposed some weaknesses in the Giants. And kudos to Chris Perry for continuing to pound the ball into the line even when nothing was there.
Derrick Ward came to the Giants' rescue today with nine carries for 80 yards and three catches for 26 yards. The Bengals did an excellent job stacking up Brandon Jacobs. Oh, and Ahmad Bradshaw only had two carries. Coughlin can't seem to find a way to work him into the rotation. In the long run, getting pushed like this will make the Giants a better team.
Can't say enough about how well the Bengals played, though.
NFC EAST SCOREBOARD
Thursday, 11/27
Sunday, 11/30