December, 6, 2009
12/06/09
5:28
PM ET
By
Matt Mosley
| ESPN.com
Everyone will try to make kicker
Shaun Suisham
out to be the goat in
this loss
, but I'd prefer to put the loss on Jim Zorn. Isn't he the guy responsible for red zone play calls? With a 30-23 lead and the ball at the Saints' 4-yard line late in the fourth quarter, the Skins should have simply punched the ball in the end zone.


After all, the Saints were playing without four starters on defense. Instead, Zorn chose to play for the field goal, a 23-yard attempt that Suisham missed to the right. Is it inexcusable for an NFL kicker to miss that kick? You bet it is, but Zorn's refusal to coach like he has a 3-8 team is baffling to me.
I've seen him go conservative at the worst possible times in three consecutive losses. His players deserved to win this game, so why would you put it in the hands of a kicker who's been shaky the past couple of weeks? I just hated the play calling down there at the end. Blame it on whoever you want: Sherm Lewis, Sherm Smith, Chris Meidt, Zorn ... doesn't matter.
Quarterback
Jason Campbell
had one of the best afternoons of his career, but he won't find any solace in his 367 yards and three touchdowns. Second-year wide receiver
Devin Thomas
and tight end
Fred Davis
continue to shine. But again, there is no real upside to another heart-wrenching loss.
The Saints were begging for the loss -- and the Skins let them off the hook in the final minutes. With a 30-23 lead, the Redskins' secondary showed you why it is so overrated. Who cares about having good stats when you allow a 53-yard touchdown with just over a minute left. It looked like
LaRon Landry
let
Robert Meachem
race past him on the touchdown. Landry should've been playing 30 yards off the line of scrimmage at that point in the game.
If the Saints somehow pull off the perfect season, they'll have Zorn and the Redskins to thank.
December, 1, 2009
12/01/09
11:00
AM ET
By
Matt Mosley
| ESPN.com
»
NFC Stock Watch
:
East
|
West
|
North
|
South
»
AFC
:
East
|
West
|
North
|
South
Falling
1. Giants' running game:
Brandon Jacobs
' struggles this season are well-documented. He doesn't look like the same player.
Danny Ware
's getting more time because of an injury to
Ahmad Bradshaw
, but he had a big fumble in the loss to the Broncos. Believe it or not, the Giants are 10th in the league in rushing. But the fact that they've only had six runs of 20 yards or more says a lot. There's no explosiveness in this running game -- and this offensive line doesn't appear to be blowing open holes like it has in the past.
2. Eli Manning, Giants quarterback:
I'm not going to give him the injury excuse. If he says his right foot is fine and he's able to play on it, then we're going to continue holding him to a high standard. Sometimes a franchise quarterback needs to put his team on his back. Against the Broncos, Manning engineered a lifeless offense.
Osi Umenyiora
got so sick of watching the offense that he started shouting at players on the sideline. Manning needs to have his best game of the season against the Cowboys on Sunday. This is about as close to a must-win as a team can have at this juncture in the season.
3. Jim Zorn, Redskins head coach:
I realize that it's fashionable right now to praise Zorn for the way his team continues to fight. But I don't like the way he went conservative when the Eagles had first-and-goal at the Eagles' 10-yard line in the fourth quarter Sunday. Zorn can hear what the Skins' play-calling duo of Sherm Smith (runs) and Sherm Lewis (pass) are coming up with, so I assume he can set the tone for what the team is trying to accomplish. The Skins appeared to play for a field goal when a touchdown would've put them up 28-16. I wish someone would explain to me why a 3-8 team has played conservatively on offense in two division games they should've won. Zorn's still listed as head coach of this team, so that's who I'm going to criticize for Sunday's loss.
[+] Enlarge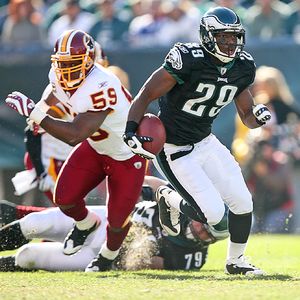 Hunter Martin/Getty ImagesLeSean McCoy has taken advantage of additional practice and game reps.
Rising
1. LeSean McCoy, Eagles running back:
After being frozen out of the game plan Nov. 15 in San Diego, McCoy has rushed for 175 yards and a touchdown over the past two games. He also had a huge second-effort play on the Eagles' game-tying two-point conversion against the Redskins on Sunday. With
Brian Westbrook
still out with a concussion, McCoy has taken advantage of the extra reps in practice. He's becoming more and more comfortable. Other than the fumble in Chicago, he's played really well the past two games. And he's the reason Andy Reid seems to have a lot more confidence in the running game right now.
2. Miles Austin, Cowboys wide receiver:
With one catch early in the game against the Raiders, Austin helped establish the tone for a lopsided win. The Raiders thought their physical corners could succeed against Austin in man coverage -- and he made them pay. The Packers and Redskins wisely stayed back and kept everything in front of them. Tight end
Jason Witten
's still the key to this passing game, but Austin's the big-play threat. With seven catches for 145 yards, he shredded the Raiders' secondary and continued his memorable season.
3. Asante Samuel, Eagles cornerback:
Samuel often gets criticized for shying away from contact, but it doesn't matter when he's picking off two passes per game. He's one of the best corners in the league at baiting quarterbacks into poor decisions. His two interceptions in the first half kept the Eagles in a game in which they were being outplayed. Samuel now has seven interceptions on the season and he has a really good chance to get into double digits.