March, 28, 2013
3/28/13
5:05
PM ET
Several of our division's teams have made moves today that aren't significant enough to warrant their own posts, but I know you guys want to talk about them so I figured I'd throw them all together in a late-afternoon stew of a post and see what you thought. Hope it doesn't smell too bad.
Item No. 1: Philadelphia Eagles trade fullback Stanley Havili to the Colts for defensive end Clifton Geathers.
Basically, the Eagles traded a guy they weren't going to use for a guy they might possibly use. Havili became expendable after the signing of
James Casey
, who can line up at fullback or tight end (or wide receiver, actually; he's a versatile guy). So they ship him off and get back something of which they need more -- a body for the defensive line. I have no idea if the 6-foot-7, 325-pound Geathers makes the roster, or how much he'd play if he did. I'll bet the Eagles don't know either. But they did know they had too many fullbacks and not enough defensive linemen, so why not? They saw something in Geathers they liked enough to trade a spare part for him.
Item No. 2: Washington Redskins sign former Eagles pass-rusher Darryl Tapp.
Tapp wasn't going to be a fit in the Eagles' new defense, especially if it's going to run as much 3-4 as we all think it will. For the Redskins, Tapp profiles as a situational pass-rusher from the outside linebacker position. It's possible they see him as someone who can fill in for reserve outside linebacker
Rob Jackson
while Jackson serves his four-game drug suspension at the start of the season. It's also possible he gets beaten out by someone in training camp and doesn't make the team. Again, these aren't huge moves we're talking about here.
Item No. 3: New York Giants check out former Redskins running back Tim Hightower, according to the New York Daily News.
Ralph Vacchiano reported
that Hightower would visit the Giants, who have
David Wilson
,
Andre Brown
and
Ryan Torain
on the roster at running back but are always looking for depth at that position. If his knee is healthy, Hightower is the kind of back the Giants would like. He's known as an excellent pass-protection back and can catch the ball out of the backfield on screen plays. Those are two things the Giants lost when they cut
Ahmad Bradshaw
. I don't know if they like Hightower, if he's healthy or if he'll end up on the roster. But he could fill a hole or two, and it's worth their time to find out what he's got.
December, 13, 2012
12/13/12
11:55
PM ET
A few thoughts on the
Philadelphia Eagles
' 10th loss of the 2012 season.


What it means:
Not a lot, except to those who expected the Tampa Bay victory to catapult
Nick Foles
to quarterback stardom. The Eagles' rookie quarterback lit up the league's 32nd-ranked pass defense and led the Eagles to a comeback victory Sunday in Tampa, and he looked good leading them back from an early 10-0 deficit to take a halftime lead Thursday night. But he's a rookie, and that means he looks quite shaky at times. Thursday, that meant he fit right in with the rest of his team. His interception was but one of five Eagles turnovers. They also saw a punt blocked and had nine penalties for 76 yards. It was a heinous loss to a Cincinnati team that spent the second and third quarters trying to hand them the game.
More on Foles:
I like the way he moves in the pocket. I like that he doesn't let the garbage going on around him get him down -- that he seems to have a short memory and that he maintains a determination to make a play. I think he makes decent decisions. I don't think he always makes good throws. I know he threw 168 passes in a row without being intercepted, but some of those 168 clanged off of defenders' hands, and he hasn't been super-accurate, especially deep. He has a very strong arm, but he needs better accuracy down the field. His lack of fear is the best thing he has going for him right now, and the reason the Eagles can feel confident they're getting a real look at what he can do over these final games.
Brown out:
The bloom is off rookie running back
Bryce Brown
as well, after his fourth fumble in four starts in place of
LeSean McCoy
. Brown ran extremely well in his first two games, totaling more than 300 rush yards. But he barely factored in the game plan Sunday, and he had a tough time against the tough Cincinnati defense Thursday. And of course, he fumbled, which is obviously a big problem for him. He's got major talent, but the fact that he didn't play much college football at all is showing up in the cavalier way in which he carries the ball. If it doesn't improve, his future in the game will be short.
[+] Enlarge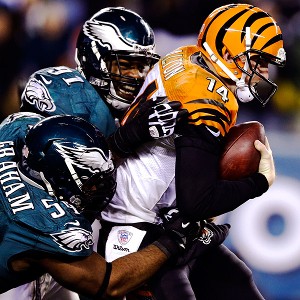 AP Photo/Matt RourkeBrandon Graham (54) and Fletcher Cox had four of the Eagles' six sacks of Andy Dalton.
For the defense:
The pass rush showed up! In the second game since the firing of defensive line coach Jim Washburn, the Eagles came up with six sacks of Bengals quarterback
Andy Dalton
. That raised their total for the season to 28 sacks and elevates them (for the time being) from 29th in the league in that category to 19th.
Brandon Graham
had 2.5 of the sacks,
Fletcher Cox
had 1.5 and
Trent Cole
had one and looked as lively has he has all season. The Eagles will go into the offseason feeling justifiably good about the talent they have on their defensive line.
And of course:
The turnovers. Good for the defense for forcing two, upping its season total to 12. But only the Chiefs and Colts have forced fewer, and the Eagles also had those five giveaways. They now lead the league with 34 giveaways, and their minus-22 turnover differential is tied with Kansas City for the worst in the league. You want to get to 4-10, that's a pretty good blueprint for it.
Ridiculous injury note:
Left guard
Evan Mathis
hurt his ankle and stayed in for a while but was eventually replaced by
Danny Watkins
. If Mathis were to miss next week's game, he'd be the 10th Eagles offensive starter to miss a game due to injury this year, which is to say everyone but fullback
Stanley Havili
, who also left this game with an injury.
What's next:
The Eagles try to continue their spoiler run in their final two games of the season. They will host the
Washington Redskins
a week from Sunday, and the Sunday after that they will travel to New Jersey to play the
New York Giants
. The Eagles are no longer in playoff contention, but they still could have a say in the way the NFC East race turns out.
August, 30, 2012
8/30/12
3:00
PM ET
The
Philadelphia Eagles
will kick off their final preseason game of 2012 at 6:35 pm ET on Thursday night against the
New York Jets
. Here's what I'll be watching...


Most closely:
The running backs, I think. There aren't too many position battles on the Eagles' roster, but the one for third-string running back has been interesting between seventh-round pick
Bryce Brown
and undrafted
Chris Polk
. It looks to me like Brown has the edge as the better runner, but they like Polk as a blocker, and it's kept his chances alive. Can't imagine either of them would go unclaimed if released, so they're not going to be able to stash one on the practice squad and they'll need to decide which they like better.
On the other side of the ball
: The safeties. Their starters are set with
Nate Allen
and
Kurt Coleman
, but backups
O.J. Atowge
and
Jaiquawn Jarrett
have shown little, and it's possible only one of them will be kept. Atogwe is the veteran who had trouble staying healthy last year in Washington. Jarrett is the second-round pick from 2011 who's been a disappointment so far. If one or both of them were to make an impression in tonight's game, it would help the Eagles feel better about their safety depth. If not, they could be in the market for a safety once other teams make their cuts Friday night.
If I think of it:
Interested to watch quarterback
Trent Edwards
, who's scheduled to play the final three quarters in relief of
Nick Foles
. Can Edwards beat out the injured
Mike Kafka
for a roster spot? Has he already?... Who will get the defensive line snaps as the Eagles look to make decisions about how many linemen to keep?... Will
Stanley Havili
show enough to justify the Eagles keeping a fullback when they very rarely use one?
June, 19, 2012
6/19/12
4:43
PM ET
We've been doing running backs today as part of our occasional position-by-position series on the four NFC East teams, and we'll wrap up the day with a look at the backfield of the
Philadelphia Eagles
.
Projected starters:
RB
LeSean McCoy
, FB
Stanley Havili
Reserves:
RB
Dion Lewis
, RB
Bryce Brown
, RB
Chris Polk
, FB
Jeremy Stewart
[+] Enlarge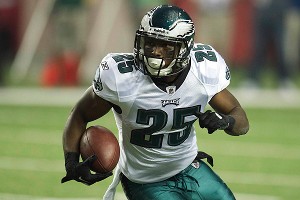 Dale Zanine/US PresswireLeSean McCoy could be the workhorse running back the Eagles lean on to carry the offense.
Potential strength:
McCoy is good enough to be the potential strength of the entire team, not just of the running back corps. He makes a strong case right now for the title of best running back in the league. He's shown the ability to run between the tackles, to operate in space, to catch passes and to deliver at the goal line. Coming off a 20-touchdown season and beginning a new long-term contract, McCoy should be leaned on more than ever as the Eagles go into the season with the highest possible hopes.
Potential weakness:
Lewis didn't show much in limited time as McCoy's fill-in last year. Brown is a seventh-round pick and Polk was undrafted. While all three offer reasons to believe they're capable of big things, each also offers reasons to believe he could bust out. The Eagles don't have an obvious backup about which they could feel great if McCoy went down for a significant period of time. If that happened, they'd likely just pass more. Lewis is the top backup right now, but the Eagles would love to see someone from this group make big strides in training camp so they could feel better about their depth at the position.
Keep an eye on:
Polk. He was a second-round talent who fell all the way out of the draft due to shoulder injuries, and the Eagles believe they may have gotten a steal. As discussed in the last paragraph, he'll have the chance to prove what he can do, and if he's healthy, he could move up the depth chart quickly and force the team to find ways to use him behind McCoy. He'll be among the most closely watched Eagles in training camp.
June, 9, 2012
6/09/12
11:28
AM ET
The weekend mailbag is your forum, and so in it I feel I have little choice but to address things you're asking about that I've been unwilling to post on during the week because I don't think they're worth posting on. So today's first two questions are on topics that fit that description. To wit:
BKW in Mt. Airy, Md
., wonders why I haven't written anything on the possibility of recently released wide receiver
Chad Ochocinco
signing with the
Dallas Cowboys
for their No. 3 wide receiver spot. (BKW obviously doesn't follow me on Twitter!) Says BKW: "He'd love the national stage in Dallas, but would he be able to just "shut up and play" like he did in New England?"
Dan Graziano:
I really don't think it's an issue of "shutting up." It's been quite a number of years since Ocho was any kind of drag on his team from an off-the-field standpoint. He's marketed himself extremely well, and he's justifiably become very popular for his personality. But he's not a locker-room problem and hasn't been for at least the last four or five years. The issue is the second part of what you said, because he really didn't "play" in New England. He was a complete non-factor in their offense, and frankly has had only one productive season (2009) in his last four. Those who excuse last year by saying he was a bad fit for New England's scheme, or that he didn't learn the playbook, are making excuses for a guy they like or a name they recognize. Surely, he knew the playbook in Cincinnati in 2010, but he was not a useful player that year either. He's 34, and eventually guys can't play anymore. This, I believe, is the case with Ochocinco. Those extolling the great aspects of his game are imagining a player he no longer is, and I do not believe he's a player the Cowboys need to pursue. I don't think we've seen anything at all -- last year or the year before -- to indicate that he's any better than the choices they currently have. I also don't like him for the Redskins, Giants or Eagles, in answer to some other mailbag questions.
---
Ryan from Milford, Pa.,
asks what I think about
New York Giants
quarterback
Eli Manning
being ranked 31st in the NFL Network's Top 100 players list.
DG:
Well, it's a jump of at least 70 spots from last year, when he wasn't ranked, right? So that's a pretty sweet jump if you ask me. Look, I haven't addressed this list because I think it's completely ridiculous and gets way too much attention. Also, it's voted on by current NFL players -- not all of them, but a handful of them. They're football players. They're good at playing football. Putting things like this in broad perspective is not, generally speaking, their strength. It's a fine touchpoint for debate if that's what you're using it for, but to imagine it as some kind of valid referendum on the relative quality of Eli Manning or anyone else to the other players in the game is to take it too far. I don't know how to put it more simply than this: I honestly don't care how a few randomly chosen players rank another player against other players. It just doesn't matter to me.
---
Brad from Philadelphia
thinks the
Philadelphia Eagles
might be wise not to keep a fullback on the roster this year if that's what it takes to get some of the more intriguing fringe running backs and wide receivers (he names
Bryce Brown
,
Chris Polk
,
Marvin McNutt
and
Damaris Johnson
) on it.
DG:
Definitely an interesting idea, Brad. As you mention,
Owen Schmitt
was on the field for a very small percentage of the Eagles' offensive snaps, and it's hard to see
Stanley Havili
surpassing his number in 2012. If, as you suggest, they can develop someone like
Clay Harbor
into a hybrid TE/FB, then yes, I definitely agree that carrying a traditional fullback would seem extraneous. The Eagles' offense is built on dynamic, speedy, athletic players at the skill positions, and keeping more of them around at the expense of a barely-used fullback would see to be (a) wise and (b) in line with what they like to do. Something to keep an eye on at roster-cut time, for sure.
---
Manny from Coeur d'Alene, Idaho,
wonders whether
Washington Redskins
defensive coordinator Jim Haslett is in danger of being replaced at some point down the line by new secondary coach Raheem Morris.
DG:
No, I don't think so, Manny. Haslett and Mike Shanahan came to Washington together. Shanahan picked him specifically to go with him and oversee the transition from a 4-3 defense to a 3-4. I think they see themselves as a package deal, and while obviously things can always happen to change the plans, I doubt Shanahan will be looking to replace Haslett when his contract runs out. Morris was brought in because the Redskins felt they needed a new voice overseeing the defensive backs and because they like Morris, who has coached with Kyle Shanahan and for Bruce Allen in previous stops. He was not brought in as a threat or potential successor to Haslett.
Thanks as always for the questions. Get me on Twitter if you have anything pressing between now and next Saturday. And enjoy your weekend.
May, 16, 2012
5/16/12
8:00
AM ET
And a good Wednesday morning to all. (Wednesday, right? Yeah, Wednesday.) I'll be with you just as soon as I catch up on my NBA reading. Wait, it says here the Heat only lost one game last night. Man, based on the reaction I saw all over Twitter after the game, I could have sworn it was four. The NBA confuses me. The NFL, though ... that always makes sense. Links.
Dallas Cowboys
Calvin weighs in on the Tony Romo thing, saying that yes, stats are nice and the stats support Romo as a top quarterback, but that doesn't matter until and
unless he starts winning playoff games
. And yeah, a lot of that's out of his control. But Calvin is right that the outside perception of the guy will not change until the playoff record does. He could have a rotten year and put up lousy numbers in three playoff games, but as long as the team won those three playoff games his reputation would likely improve. Of course, this hypothesis ignores the likelihood that, if Romo had a rotten year, the Cowboys wouldn't have a chance to play in any playoff games.
Michael Irvin thinks the offense is fine and that the
biggest problem
the Cowboys have had is a defense that hasn't shown an ability to generate turnovers and therefore contribute to the scoring from its end. He believes that this offseason's additions at cornerback may have changed that.
New York Giants
In a private ceremony Wednesday night at Tiffany & Co., the Giants will receive their
Super Bowl rings
. Thanks to punter Steve Weatherford, there were some pictures of the ring swirling around the Internet on Tuesday. But Justin Tuck says the photo Weatherford put on Twitter wasn't the real ring. So I guess we'll see.
Tuck also says the Giants won't let the Osi Umenyiora contract situation
become a distraction
to them this offseason, mainly because they're used to it by now. This isn't just talk with the Giants, as we've discussed before. Their veteran locker room is well suited to handle and/or ignore an issue such as the Umenyiora contract dispute, even if it gets far uglier than it is right now.
Philadelphia Eagles
Speaking of contract disputes, DeSean Jackson is happy to no longer be in one this offseason, and the extension he signed with the Eagles has him feeling
like a new man
as he gets ready to begin offseason practices. Jackson admitted several times last year that the contract situation was bothering him and affecting the way he went about his business. So, you know. No more excuses on that front, right?
Owen Schmitt has signed with the Raiders, leaving Stanley Havili ostensibly as the
Eagles' starting fullback
. But as Bleeding Green Nation points out, the Eagles don't use the fullback very much, so it's not likely to be a high-impact change.
Washington Redskins
Richard Crawford, the SMU cornerback the Redskins drafted in the seventh round,
grew four inches
in college and believes that's what helped make him a draftable prospect. We'll see. Lots of opportunity in the Redskins' secondary this offseason.
Former Redskins great Art Monk has been named to the
College Football Hall of Fame
for the career he had at Syracuse before he became a star in the NFL. Somebody on the chat asked me to give this news a "shout-out," and there isn't much else going on, so there you go.