NFC East:

steven hauschka
February, 13, 2014
Feb 13
3:00
PM ET
PHILADELPHIA -- Midway through the 2013 NFL season, SI.com's Peter King took a look at a league-wide trend and concluded, "Kicking field goals is too easy."
King didn't spend that much time in Philadelphia.
It wasn't so much that
Alex Henery
did a terrible job as the
Philadelphia Eagles
' kicker. He made 23 of 28 attempts, a success rate of 82 percent. But the more telling number wasn't the 23. It was the 28.
[+] Enlarge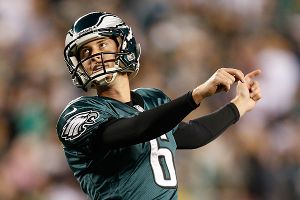 AP Photo/Brian GarfinkelAlex Henery has attempted just five field goals of at least 50 yards in his three NFL seasons.
The best kickers in the league don't just make 90 percent of their attempts. Their range and success rate give coaches the confidence to turn to them in all kinds of situations, at ever greater distances. New England's
Stephen Gostkowski
didn't just make 15 more field goals than Henery; Gostkowski attempted 13 more.
Henery attempted just two field goals of 50 yards or longer, making one. Gostkowski attempted six. Baltimore's
Justin Tucker
attempted seven. So did Green Bay's
Mason Crosby
and Dallas'
Dan Bailey
.
When the Eagles lost to the
New York Giants
at home in October,
Matt Barkley
was playing quarterback in relief of
Michael Vick
. Late in the second quarter, Barkley drove the Eagles to the Giants' 27 before being sacked for a 5-yard loss.
Instead of trying a 50-yard field goal with wind swirling, coach Chip Kelly decided to go for a fourth-and-12. Barkley dropped the snap and threw an incompletion.
Now it goes without saying that Barkley could have made better plays on third and fourth down. Taking the sack probably changed Kelly's strategy. But would the Patriots, Packers, Ravens, 49ers or Cowboys have balked at trying a 50-yard field goal?
The guess here is no. A week earlier, Kelly had made the second-guessable decision to have Henery try a 60-yard kick late in the first half against Dallas. He missed.
A coach without complete confidence in his kicker is like a baseball manager with a shaky bullpen. The ripple effect on his decision-making is constant.
Henery also missed a 48-yard field goal in the Eagles' 24-22 playoff loss to the Saints. His kickoff to the shallow end zone resulted in a long return that set up the Saints' game-winning score.
Henery presents a bit of a conundrum for the Eagles. They invested a fourth-round pick in him in the 2011 draft. At 26, he is still at the point in his career when many kickers find themselves. Is it better to take the risk that he will do just that with the Eagles, or the risk that he will do it for some other team?
Most of the top kickers in the league right now were undrafted. Gostkowski, like Henery, was a fourth-round pick. Green Bay's Crosby was a sixth-round pick. The more typical route is to be signed as a rookie free agent and bounce around until finding the right combination of opportunity and success.
Seattle is
Steven Hauschka
's sixth team. Denver is
Matt Prater
's third.
So the Eagles will almost certainly bring in a kicker to compete with Henery, something they didn't do last year. But it seems unlikely they will use a draft pick, unless somebody they really like -- Chris Boswell from Rice or Anthony Fera of Texas, maybe -- is sitting there in the sixth or seventh round.
Hauschka is to become a free agent, but will likely remain with the defending champions. Veterans
Adam Vinatieri
and
Phil Dawson
should be on the market. One intriguing name is
Dan Carpenter
, who had a good season in Buffalo. If the Bills re-sign Carpenter, that could make
Dustin Hopkins
, their sixth-round pick from Florida State last year, available.
Kickers are out there. The Eagles have a decent one. The question is whether that's good enough.
January, 6, 2013
1/06/13
6:07
PM ET
LANDOVER, Md. -- The first quarter of Sunday's playoff game could not have gone better for the
Washington Redskins
-- with one very significant exception. As Washington was rolling down the field on two impressive touchdown drives that resulted in an early 14-0 lead, possessing the ball for 11 of the first quarter's 15 minutes, and the Redskins fans at FedEx Field were roaring their enthralled disbelief, Redskins rookie quarterback
Robert Griffin
III got hurt.


The Redskins have made no announcement about Griffin's injury, since he has not yet missed a play. But we are left to assume it has something to do with the right knee ligament he injured in Week 14. Between drives, he was taken to some sort of enclosed structure behind the Redskins' bench and checked out by team's medical personnel, but he went back into the game as soon as Washington got the ball back. The problem is, the injury appears to have completely changed the ability of Washington's offense to move the ball. Griffin looks nearly immobile, in the pocket as well as outside of it, and he underthrew a pass toward the end of the second quarter that was intercepted by Seattle safety
Earl Thomas
. The fluidity of an offense that Seattle could not stop in the first quarter has evaporated, and it simply has to have something to do with the health of Griffin's leg.
Seattle, a very good team that entered the playoffs on a five-game winning streak, is taking advantage. After being outgained 129 yards to 9 in the first quarter, the Seahawks outgained the Redskins 168-11 in the second and cut the lead to 14-13 at halftime. Seattle will also get the ball back to begin the second half.
The question is, whenever the Redskins get the ball back in the second half, what will they do about quarterback? They're either going to have to adjust the offense around an obviously limited Griffin or think about replacing him with backup
Kirk Cousins
, who finished the Week 14 game and won the Week 15 game in Cleveland with Griffin sitting out due to the knee injury. It would be a tough decision to switch to the backup quarterback in the second half of a playoff game, but the Redskins must make an honest assessment of Griffin's ability to perform at the level at which they need him, or they risk seeing their season end today.
All of this happens amid a
controversy
resulting from a USA Today report in which Dr. James Andrews, who's working for the Redskins this year as part of their oversight of Griffin's health (short-term and long-term), contradicted Redskins coach Mike Shanahan's account of the way Griffin's injury was handled when it happened in Week 14. Andrews is on the Redskins' sideline today and presumably monitoring Griffin's health as the game progresses, and he'll surely be involved in whatever decision they make.
The Redskins could theoretically go run-heavy behind
Alfred Morris
, but the problem with that is that Seattle can simply stack the box and take away the run, daring Griffin and his bad leg to beat them. The way the second quarter went not only showed that to be a poor solution, it made it a more difficult one to employ. Would have been easier to grind out yards and clock with Morris if they were up 14 than it is up only one.
One other note that could have an impact on the game: Seattle kicker
Steven Hauschka
has an ankle injury, the team announced during the second quarter. He limped out to kick a 29-yard field goal as time expired in the first half, but it remains to be seen to what extent Seattle will be able to count on him if it needs a big kick made late in this game. This could affect their offensive strategy.
NFC EAST SCOREBOARD
Saturday, 12/20
Sunday, 12/21