August, 9, 2012
8/09/12
10:45
PM ET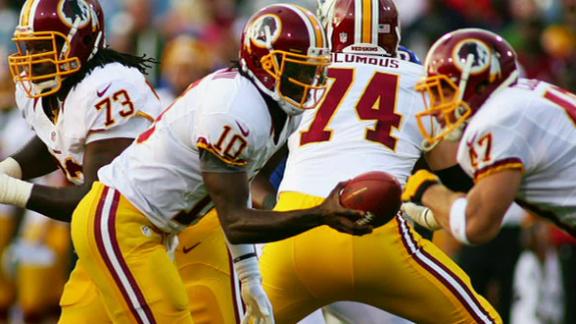 Well, if you tuned in to the
Washington Redskins
' preseason opener because you wanted to get excited about
Robert Griffin III
, congratulations. You had a fun night. Playing the first three offensive series of the Redskins'
7-6 exhibition victory
over the
Buffalo Bills
, Griffin looked poised, sharp and confident running the Redskins' offense. They didn't try anything too new or exciting, which was no surprise given how important it is for them to protect him and the fact that three of their starting offensive linemen were hurt and missed the game. But Griffin's throws were on target, his decision-making was smooth and nothing about the stage or the moment seemed to overwhelm him.
"It felt extremely good," Griffin said in an in-game interview with the Redskins' radio network. "Coach did a good job calling plays, got me in rhythm and helped get the offense in rhythm on that third drive."


That drive featured three big throws to new Redskins receiver
Pierre Garcon
, including the screen pass that resulted in a 20-yard touchdown. He said in that same radio interview that he was hoping to keep the ball and try to run it in, but that he spotted a linebacker coming up to the line and remembered that the most important thing for him to do in this game was play safe.
The young man is going to be fun, and while it's important not to make conclusions or predictions based on preseason performance, Redskins fans who were looking forward to seeing their guy in game action certainly enjoyed watching him Thursday night.
Here's some other stuff I noticed in the Redskins' preseason opener:
1. Trent Williams made the most impressive play of the game.
The Redskins' mercurial left tackle got downfield quickly and blocked two defenders at once on the Garcon touchdown catch. Williams is fast, athletic and as talented as any left tackle in the league, and the sense in Redskins camp is that he's more focused and motivated than he's been in his first two seasons. He looked tremendous on that play and is capable of dominating at the point of attack and at the second level. Williams injured his foot on the extra point, but Mike Shanahan said after the game that X-rays were negative. It would be bad for Washington if Williams were seriously injured. He is by far the best thing the Redskins' offensive line has going for it.
2. Garcon is a very big receiver who plays big.
He went over the middle to catch the ball, didn't shy away from contact and looked more than willing to use his frame to help him add yards after the catch. I believe he will be Griffin's go-to receiver and, assuming health all the way around, is almost a sure thing to lead the team in catches this year.
3. Evan Royster can't afford to fumble.
I think Royster had moved ahead of
Roy Helu
in the race to be the starting running back in
Tim Hightower
's absence. But he couldn't hold on to the ball as Griffin handed it to him, and that's the kind of thing the Redskins can't and won't abide. I still don't see what all the fuss is about with Helu, who's fine in space but doesn't break tackles. But whatever separation there may be between the two in the coaches' eyes will be easily negated if Royster can't hold on to the ball.
4. Ryan Kerrigan is a very good player
. We know he can get after the passer, but in this game I thought he showed improvements in pass coverage and other key areas. He stayed home and batted down a
Ryan Fitzpatrick
pass at one point, and he was his usual disruptive self when he did get into the backfield.
5. The Redskins' coverages are a team effort.
There are major questions at cornerback and safety, and they showed up, especially when Buffalo's
Stevie Johnson
was in the game. But you can see that the Redskins believe it's important their cornerbacks not be isolated. They're always getting help from a linebacker underneath or a safety over the top. Washington's hope is to make up for the lack of quality in the secondary with quantity and teamwork.
6. They have lots of defensive line depth.
The performances of guys like
Jarvis Jenkins
,
Chris Baker
and
Chris Neild
-- especially at the goal line -- showed why the Redskins consider the defensive line a strength of their team. They should be stout against the run and able to create pressure with their defensive front, which also should take some pressure off the secondary.
It wasn't all roses.
Niles Paul
dropped a couple of passes.
Rex Grossman
looked shaky as the backup quarterback. And I don't think I even saw
Santana Moss
once. But all in all, lots of positives from the Redskins' first preseason game. And for a team looking to improve and feel good about itself, that can matter.
February, 23, 2012
2/23/12
10:11
AM ET
Dallas Cowboys
fans, by and large, seem to want their team to re-sign wide receiver
Laurent Robinson
. He played very well for the team during
Miles Austin
's injury absences and even after Austin was back.
Tony Romo
threw 11 of his 31 touchdown passes to Robinson. Only two wide receivers (and one tight end) in the entire league caught more touchdowns. He says he wants to come back. The team says it wants to have him back. It all makes sense, in the abstract.
But as
Todd Archer points out
, due to the rules and conditions under which Robinson was signed last year, the Cowboys can't re-sign him before the new league year and full-on free agency open March 13. They can talk contract parameters with his agent, but Todd also wisely points out that they probably don't want to give the agent a figure he can go out and shop:
"The conversation with him goes more like, 'What are you thinking and then we'll think about it,'" executive vice president Stephen Jones said.
So, theoretically, if there's a team out there that loves Robinson and thinks he fits its system and wants to throw a bunch of money at him on March 13, the Cowboys are probably going to lose him. While neither Austin nor
Dez Bryant
is extremely costly, the Cowboys have a lot of needs that are more pressing than No. 3 wide receiver. If Robinson is going to get good No. 2 wide receiver money from some other team, my guess is the Cowboys will let him go.
What will help them keep him is the potentially flooded wide receiver free-agent market. The odds are that Robinson isn't going to be able to cash in his breakout season to the same extent he might have if he weren't competing for teams' affections with the likes of
Vincent Jackson
,
Marques Colston
,
Dwayne Bowe
,
Brandon Lloyd
,
Stevie Johnson
,
Robert Meachem
,
Reggie Wayne
,
Mario Manningham
,
Pierre Garcon
,
Mike Wallace
,
DeSean Jackson
and
Wes Welker
.
It's possible the Cowboys and Robinson get something reasonable worked out and he returns as a very good No. 3 wide receiver. But if his price starts to go up much beyond that range, don't be surprised if they let him walk and just try and find next year's Robinson the same way they found last year's.
January, 2, 2012
1/02/12
9:48
AM ET
ASHBURN, Va. -- Everyone knows the
Washington Redskins
need a quarterback. Head coach Mike Shanahan might not want to come out and say he needs to fix quarterback this offseason, since he doesn't want to insult the players he currently has at the position. But in a wide-ranging interview in his office Friday, he did acknowledge that it would be good to have a "franchise" guy.
"Everybody wants a franchise quarterback," Shanahan said. "Every team you talk to, if you don't have a franchise quarterback, everybody's looking for a franchise quarterback. I understand. If you're in this business long enough, you understand that everybody wants a
Peyton Manning
, a
Drew Brees
, a
Tom Brady
, and rightfully so. If they're out there, you try and get one. And if they're not, you go with what you have and try and get it done."
I pointed out to Shanahan that part of the problem is that there aren't 32 guys in the world who fit that description. He smiled.
"Not everybody understands that," he said.
I left Shanahan's office with the definite impression that the Redskins would look at every conceivable available option at quarterback this offseason -- drafting one, trading up to get an Andrew Luck or Robert Griffin III if they need to, or even looking at the possibility of bringing in Manning if the Colts let him go as expected and he can prove he's healthy. Shanahan didn't really discuss any of those specific names, and I didn't expect him to, but every time I raised a specific possibility, he made it clear they'll look at all options.
As for other needs, let's go to your questions.
Jason from Washington, D.C.
checked into the mailbag last week and wanted me to ask Shanahan what was "the most glaring positional need" for the Redskins to address in the draft or free agency.
Mike Shanahan:
"We've got to get a wide receiver that's a playmaker. You've got to have a No. 1, no question about it. We've got [Santana] Moss, and [Jabar] Gaffney, who's going to be right at 1,000 yards. But you're still looking for a guy that can go the distance and make plays, running on a short shallow cross and go the distance. Everybody's looking for that."
---
Later in the interview
, the topic of rookie wide receiver
Leonard Hankerson
came up. Hankerson missed the final seven weeks of the season with a hip injury, but Shanahan's eyes got big when he talked about him.
MS
: "I think he's got a chance to be
the
guy. Health is what we don't know. He's got the hip. But we're hoping he's going to be that guy. You can see in practice where he's a natural. Big. The thing that separates guys at No. 1 is when they can beat bump coverage and they don't have to slow down to beat it. They're able to keep their speed and be able to get by somebody. He's got that."
Of course, if the Redskins are looking for a No. 1 receiver for next year, it's unlikely they'll be willing to take a chance that Hankerson could come that quickly. There are some potential free-agent options in guys like
Dwayne Bowe
,
Stevie Johnson
,
Reggie Wayne
and
Vincent Jackson
. And if the Redskisn decide to take a receiver instead of a quarterback in the first round, Oklahoma State's Justin Blackmon is the top option.
---
Bill from Maryland
submitted a question asking what Shanahan's plans are for free agency, and he responded that they'd be similar to what they were last year, when they targeted a couple of specific guys with specific characteristics --
Barry Cofield
,
Stephen Bowen
,
Josh Wilson
-- at some need positions.
MS
: "We'll try and do the same thing this year -- take a look at a couple of upgrades on defense, a couple of upgrades on offense. Guys that have proven themselves, who aren't too old, that we think are still hungry in that 26-, 27-, 28-year-old range. That's what we'd like to target in free agency if we can get those guys, and then try to target everything else in the draft."
So there you go. That's your fun homework assignment for this week. Go look at the lists of prospective free agents and find guys in that 26-28-year-old range who play positions like safety and offensive line and wide receiver and see if you can figure out who they might be targeting. I will of course do what I can to find out more, but it sounds like we can start piecing some possibilities together no?
Lots more to come all this week from my Shanahan interview, including more of your questions.