NFC East:

Stock Watch NFC
September, 2, 2014
Sep 2
7:59
AM ET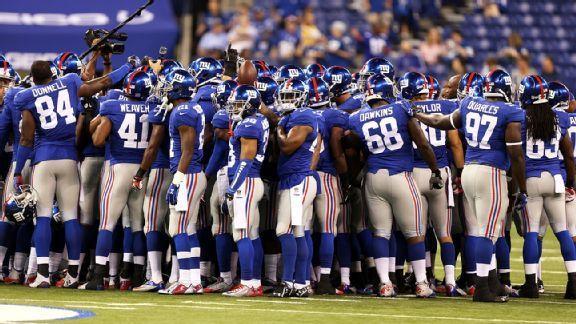 ESPN.com
New York Giants
reporter Dan Graziano makes his game-by-game picks for the 2014 season.
Week 1: at Detroit Lions
The Giants are coming off a mess of a preseason, undermanned and overwhelmed, with the offensive line still a mess and the new offense not clicking at all. No one will pick them to win this game. Except me. Prediction: Win
---
Week 2: Arizona Cardinals
This one's a comedown off the Week 1 surprise, as Arizona's banged-up defense still manages to flummox Eli Manning and collect a few interceptions. It's a bummer of a home opener as reality begins to set in. Prediction: Loss
---
Week 3: Houston Texans
Houston's defense is as liable as Arizona's to make life miserable for Manning and the offensive line. But Houston has bigger questions on offense than even the Giants, and this is a win for the New York defense against Ryan Fitzpatrick. Prediction: Win
---
Week 4: at Washington Redskins
The short week and Washington's stellar crew of offensive weapons prove too much for the Giants to overcome. Will Beatty still sees Brian Orakpo in his nightmares. Prediction: Loss
---
Week 5: Atlanta Falcons
The pattern continues, and the Giants overcome two Osi Umenyiora sacks to outscore the Falcons with a furious Manning comeback in the final minutes. The Giants poke their heads over the .500 mark as they make the turn into the most brutal stretch of their schedule. Prediction: Win
---
Week 6: at Philadelphia Eagles
The Giants don't have Matt Barkley to kick around this time when they visit the City of Brotherly Love. Chip Kelly and the Eagles show them what a truly innovative offense looks like. Prediction: Loss
---
Week 7: at Dallas Cowboys
The season-long debate about what gives when an anemic Giants offense meets a pathetic Cowboys defense tilts in Dallas' favor in the first meeting. Tony Romo & Co. have more than enough weapons to outscore Manning and his bunch, and the Giants hit the bye with a 3-4 record. Prediction: Loss
---
Week 9: Indianapolis Colts
After a long break before the Monday night home game, the Giants get taken apart by Andrew Luck, Hakeem Nicks & Co. at MetLife Stadium for a third straight loss. The offense is starting to run more smoothly, but it still doesn't have enough playmakers to outscore one of the league's better offenses. Prediction: Loss
---
Week 10: at Seattle Seahawks
You're kidding, right? Prediction: Loss
---
Week 11: San Francisco 49ers
The Giants have obviously handled the Niners in recent years and in some high-profile situations. But by this point in the season, San Francisco's defense is back to full strength, and the 49ers can't afford to lose ground to the Seahawks by failing to beat the team Seattle just beat the week before. Prediction: Loss
---
Week 12: Dallas Cowboys
A sixth straight loss is by no means out of the question here, as Romo and his crew still have the potential to outscore anyone in a given week. But from this far out, I'll forecast that something goes wrong for Romo late in this game, and the Giants get a gift. Prediction: Win
---
Week 13: at Jacksonville Jaguars
This is where the schedule starts to soften up, when the Giants start playing teams that insist on not starting their best quarterback. It's unfortunate they're 4-7 at this point and just about out of the playoff hunt, but they will get it going against the bottom-feeders. Prediction: Win
---
Week 14: at Tennessee Titans
I think the Titans are going to be dreadful this year, and by December they won't be very difficult for anyone to beat, even at home. A third straight victory keeps the Giants' hopes alive. Prediction: Win
---
Week 15: Washington Redskins
Have to be honest: The NFC East is so unpredictable that, when doing these predictions, I just decided to give the Giants a 3-3 division record with victories in all three home games and losses in all three road games. It's as fair a way as any to do it, I believe. Prediction: Win
---
Week 16: at St. Louis Rams
After moving back to .500 with four straight wins, the season falls apart at the hands of the St. Louis pass rush. An offensive line that has once again been the Giants' biggest problem all year can't protect Manning in a must-win game. Prediction: Loss
---
Week 17: Philadelphia Eagles
Tom Coughlin's teams can always find a way to play for pride. The Giants' playoff hopes are extinguished, but they still manage to end the season on a high note and with a .500 record. Prediction: Win
---
Predicted Record: 8-8
May, 13, 2010
5/13/10
1:00
PM ET
By
Matt Mosley
| ESPN.com
»
NFC Stock Watch
:
East
|
West
|
North
|
South
»
AFC
:
East
|
West
|
North
|
South
Falling

Patrick Crayton, Cowboys wide receiver
: He's always had excellent hands, and just when you count him out, he'll deliver with a punt return for a touchdown. Unfortunately for Crayton, though, he's getting caught in a numbers game.
With the addition of
Dez Bryant
and the eyesore that is
Roy Williams
, there might not be a place for Crayton on this roster. The Cowboys love second-year wideout
Kevin Ogletree
and he comes at a better rate than Crayton. The DeSoto, Texas, native has been skipping voluntary workouts in recent weeks while he hoped the Cowboys could find a trading partner. But teams probably will wait until Crayton is released before acting.
He'll head into training camp as a safety valve for the club.
Tony Romo
wants Crayton back, but there's a decent chance it won't happen. And if the Cowboys go ahead and release Crayton, I think they'll eventually regret the move.
Crayton's played in big games and he's willing to fight for balls across the middle. He would make some team an excellent third receiver or possibly a No. 2. I'm a little surprised the Dolphins haven't made a play for Crayton. Bill Parcells loves Crayton's toughness.
Rising

Brian Orakpo, Redskins outside linebacker:
I spoke with Orakpo two weeks ago and he was thrilled to be working with new defensive coordinator Jim Haslett. He had 11 sacks while playing linebacker and defensive end in a 3-4 scheme.
Haslett told a local television station that Orakpo probably rushed the passer 200 times last season. He expects that number to be closer to 600 in 2010. I don't think there's a player on the team who will benefit more from the scheme change than Orakpo. The guy has no business dropping back in coverage. He needs to be hunting quarterbacks at all times.
Forget
Albert Haynesworth
's whine festival. Orakpo's the best player on this defense. And Haslett will build around him. I think 16 sacks would be a pretty reasonable goal.
Doug Free
better be watching film as we speak because Orakpo could be his worst nightmare.
May, 6, 2010
5/06/10
1:00
PM ET
By
Matt Mosley
| ESPN.com
»
NFC Stock Watch
:
East
|
West
|
North
|
South
»
AFC
:
East
|
West
|
North
|
South
Falling

Dallas Cowboys' offensive line:
Obviously, there's a big question mark at left tackle with
Doug Free
taking over for
Flozell Adams
. Free did an excellent job at right tackle when
Marc Colombo
went down with a leg injury. But his only experience at left tackle came in an emergency situation against the Vikings in the playoffs. I actually think Free will be a solid left tackle, but it's not going to happen overnight. And no one's talking about the fact that
Leonard Davis
had a poor season at right guard by his standards. Throw in the fact that Colombo's returning from a serious injury and you have the makings of a shaky offensive line.
Now that Free's starting at left tackle, who's supposed to be the "swing" player who backs up both tackle spots? I posed that question to offensive line coach Hudson Houck recently and he sort of struggled for an answer.
Pat McQuistan
might be in the mix, but he's never really mastered any position. And Jerry Jones has been throwing out
Montrae Holland
's name. Good luck with that. There's also the scenario where Davis would move to one of the tackle spots if necessary.
The Cowboys have been incredibly fortunate with injuries the last few years, but they should not count on that trend to continue. Right now, the depth along the offensive line is a major issue.
Rising

Stewart Bradley, Eagles middle linebacker:
I'm not sure we truly appreciated Bradley's immense talent until the Eagles were embarrassed in back-to-back games at Cowboys Stadium last season. He's the rare player who can take on enormous blockers and also match speedy tight ends and running backs in space. Bradley was on his way to becoming a perennial Pro Bowl player before his knee injury in last year's training camp. But by all accounts, he's not suffering any lingering affects from ACL surgery.
The late Jim Johnson loved Bradley because he was able to quickly diagnose what opposing teams were trying to accomplish. Defensive coordinator Sean McDermott tried his best to patch together a defense last season, but without Bradley, the Eagles were in trouble from the start. There's a swagger that the former Nebraska player brings to the field. Everyone talks about the Eagles' youth movement, but Bradley's sort of an old soul.
His return should provide a huge boost and he'll make young players such as
Moise Fokou
feel a lot more comfortable. I know that safety
Quintin Mikell
felt all alone at times last season. With Bradley on the field, the Eagles' defense gets an automatic upgrade.
April, 29, 2010
4/29/10
1:00
PM ET
By
Matt Mosley
| ESPN.com
»
NFC Stock Watch
:
East
|
West
|
North
|
South
»
AFC
:
East
|
West
|
North
|
South
Falling

The New York Giants' veteran defensive linemen
: No matter how Tom Coughlin and general manager Jerry Reese choose to spin it, this draft was an indictment of some of the players on the Giants' defensive line. Reese signed defensive tackles
Rocky Bernard
and
Chris Canty
to lucrative free-agent contracts last offseason and neither player had any production. They were banged up for much of the season, but the Giants didn't want to wait around and see if they healed in 2010. And we all know the story of defensive end
Osi Umenyiora
, who saw his star fade significantly last season. His late-season benching has led to an offseason of unrest. The Giants have said Umenyiora won't be traded, but it's not like they're in a hurry to return him to the starting lineup.
The Giants had a huge need at middle linebacker, but they didn't let that dictate the first couple of rounds of the draft. Once the Raiders selected Alabama linebacker
Rolando McClain
, the Giants focused on landing a pass-rusher. South Florida defensive end
Jason Pierre-Paul
is raw, but he has immense potential. There's not a more athletic pass-rusher in this rookie class. In the second round, the Giants selected East Carolina defensive tackle
Linval Joseph
. He's not a polished player, but he's enormous (328 pounds) and he should contribute immediately. The Giants are attempting to regain their identity as a dominant defensive line through this draft. And that's why players such as Bernard might not be around to see the results.
Rising

Doug Free, Cowboys left tackle:
Jerry Jones told anyone who would listen that he's comfortable with Doug Free as his starting left tackle. I guess we should have believed him. The Cowboys didn't attempt to land a potential starter at that position in the draft. They may have briefly thought about moving up the board when
Bryan Bulaga
began to slip, but they were mostly focused on
Dez Bryant
.
Cowboys players were surprised by
Flozell Adams
' release.
DeMarcus Ware
,
Bradie James
and
Tony Romo
have all expressed some level of surprise by the announcement. The release of Adams was a financial decision. It was a chance for Jones to trim a significant salary without any penalty because of the uncapped season. But the move would not have been made if the Cowboys didn't feel like Free was ready. Scouts have always told me that Free's a good "foot athlete," which means he's good in space. And against
Brian Orakpo
and
Trent Cole
, he better be
really
good in space. Free did a superb job filling in for
Marc Colombo
at right tackle last season. But protecting Tony Romo's blindside is a completely different assignment. The Cowboys have displayed a lot of faith in Free. Now we'll see if they're rewarded.
April, 15, 2010
4/15/10
1:00
PM ET
By
Matt Mosley
| ESPN.com
»
NFC Stock Watch
:
East
|
West
|
North
|
South
»
AFC
:
East
|
West
|
North
|
South
Falling

Marcus Spears, Cowboys DE:
After the '09 season, owner Jerry Jones indicated that Spears had a long-term future with the club. But he has a funny way of showing his devotion to the restricted free agent who recently signed his first-round tender. Spears, who would've been an appealing player on the open market, is scheduled to make less money than backup defensive ends
Stephen Bowen
and
Jason Hatcher
. All three players could be unrestricted free agents after next season.
I think a team such as the Redskins would be wise to make a move for Spears during the draft. The Cowboys would probably move him for a mid-round pick. For whatever reason, the team has soured on Spears, who's actually one of the better leaders on the team. It's not like the defensive end in Wade Phillips' 3-4 scheme is going to have a lot of sacks. I'm not quite sure why Spears' stock has fallen so much, but it's at an all-time low at this point.
Rising

Oklahoma State LT Russell Okung going to the Redskins at No
.
4 overall:
Mock drafters across the country will at least get this one right. When the Skins traded for
Donovan McNabb
, it all but guranteed that they'd select Okung in the first round. I've watched the guy in person several times over the last few years and he's a refined athlete who doesn't have many holes in his game. Barring injury, he'll start at left tackle for the next 10 years. In the past, Vinny Cerrato and Dan Snyder neglected the offensive line in the draft. But Mike Shanahan and Bruce Allen won't make that mistake.
I had a long conversation with Okung at the combine. He's a no-nonsense guy who seems to have a bit of a mean streak. That will go over well in Washington. If not for those two great defensive tackles, Okung would have gone even higher in this draft. He's a more refined player than last year's No. 2 overall pick
Jason Smith
, although he's not quite that athletic.
April, 8, 2010
4/08/10
1:00
PM ET
By
Matt Mosley
| ESPN.com
»
NFC Stock Watch
:
East
|
West
|
North
|
South
»
AFC
:
East
|
West
|
North
|
South
Falling

Albert Haynesworth, Redskins DT
Oh how the mighty have fallen. Mike Shanahan's barely been on the job three months and he already wants Haynesworth out of his sight. He made it known how important it was for players to attend the "voluntary" offseason conditioning program. Haynesworth passed on that opportunity. And the player also complained about having to potentially play nose tackle in Jim Haslett's 3-4 scheme. The Redskins reportedly offered Haynesworth to the Eagles, but they weren't interested.
To date, Haynesworth has already been paid $32 million by the Redskins. The fact that Shanahan wants to dump him says a lot about his power in the organization. Can you imagine Jim Zorn suggesting such a thing? I'm not even sure Joe Gibbs could've pulled this off during his second tour of duty. But right now, Dan Snyder is totally yielding to Shanahan. And the new coach is providing some great theater in the NFC East.


Rising
Kevin Kolb, Eagles QB and Donovan McNabb, Redskins QB
For Kolb, this is the chance he's been waiting on his whole career. But he shouldn't expect the honeymoon to last long. Eagles fans aren't interested in using the "rebuilding" word, but then, Kolb's not either. He honestly believes the Eagles will be a better team in 2010 and you have to admire his optimism.
McNabb never dreamed of finishing his career with a division rival, but considering the circumstances, this is a pretty good outcome for him. If he can somehow help Mike Shanahan awaken this once-proud franchise, it will only enrich his legacy. Can you imagine the satisfaction he'd feel if he's able to lead the Redskins to a Super Bowl title? I'm not ready to make that prediction, but I do think McNabb will play well with a huge chip on his shoulder. He's looking forward to leading a new group of young players. Now, he just needs a couple more offensive linemen who can help him stay upright. With McNabb in Washington and Kolb in Philly, this is by far the most compelling division in the league.
And it's not like we were hurting for storylines before.
April, 1, 2010
4/01/10
1:00
PM ET
By
Matt Mosley
| ESPN.com
»
NFC Stock Watch
:
East
|
West
|
North
|
South
»
AFC
:
East
|
West
|
North
|
South
Falling

Ken Hamlin, Dallas Cowboys safety:
The veteran safety reportedly (he tweeted it) spent some time at the Playboy Mansion this past weekend and didn't make it back in time for the first official day of "voluntary" workouts. The Cowboys offer make-up sessions, so this in itself isn't a big deal. But Hamlin's future is already hanging in the balance because he hasn't lived up to his lucrative contract extension.
There's a decent chance the Cowboys draft his replacement in the first round. And if you see someone such as South Florida's
Nate Allen
come off the board at No. 27, it might be a good sign that Hamlin's on his way out. Hamlin is known as a fierce hitter, but he continues to get victimized in coverage. With the Eagles and Giants both making moves to upgrade at safety, the Cowboys can't afford to go with status quo. It wouldn't surprise me at all if Hamlin's released this offseason. I don't think anyone wants to trade for his contract.
Update:
The Cowboys
cut Hamlin and offensive tackle Flozell Adams
on Friday.
Rising

Kevin Kolb, Philadelphia Eagles quarterback
He's just biding his time while the Eagles try to find an exit strategy for
Donovan McNabb
. But with each day, fans become more and more excited about the Kolb Era. He needs to enjoy it while it lasts. Kolb's a laidback Texan off the field, but his young teammates have come to respect his presence in the huddle.
Outside of
Brian Westbrook
(released) and fullback
Leonard Weaver
, you haven't heard anyone rush to McNabb's defense. I think young players such as
Jeremy Maclin
,
DeSean Jackson
,
LeSean McCoy
and
Brent Celek
are ready to play with Kolb. I also think Kolb has a lot more respect from scouts around the league than some folks think. Do you think the Eagles would trade Kolb if someone offered them a late first-round pick? I don't.
March, 25, 2010
3/25/10
1:00
PM ET
By
Matt Mosley
| ESPN.com
»
NFC Stock Watch
:
East
|
West
|
North
|
South
»
AFC
:
East
|
West
|
North
|
South
Falling

Albert Haynesworth, Redskins defensive tackle:
Well, it didn't take long for Haynesworth to run afoul of new coach Mike Shanahan. The coach had made it clear that he expected full participation in the club's "voluntary" offseason conditioning program. Shanahan's brought in new strength coaches, new equipment and a different attitude. But Haynesworth has his own personal trainer and has chosen not to join his teammates at Redskins Park. I asked Shanahan about the situation during the owners meetings this week and he said he "totally disagreed" with Haynesworth's decision but respected the fact the defensive tackle came in and discussed it with him in person. He likes the "communication." Redskins general manager Bruce Allen told me that he was not disappointed at all that Haynesworth is skipping the offseason program. Allen acted as if he couldn't believe it was even an issue. But no matter how they spin it, Haynesworth already seems to be in a power struggle with the new regime. He has said publicly that he'll do whatever he's asked, but he's also made it known that he doesn't look forward to playing nose tackle in a 3-4 scheme. I think Jim Haslett will put Haynesworth in a position to succeed, but the player's not making the best first impression.
Rising

Kevin Kolb, Eagles quarterback:
Obviously, we're spending most of our time talking about a potential
Donovan McNabb
trade. But one of the main reasons the Eagles are suddenly so eager to move their veteran quarterback is their belief that Kolb is ready to take over. None of this would be taking place if Kolb had flopped in those two starts last season. But now he has won over the offensive coaches and a lot of his young teammates. If you took an anonymous poll among the Eagles' offensive players right now, I fully believe that Kolb would be favored to start over McNabb. There's a feeling in the organization that it's time to turn the page. And why not do it while McNabb still has some value on the open market? The Kolb era has finally arrived -- if the Eagles can land a decent draft pick for McNabb.
March, 18, 2010
3/18/10
1:00
PM ET
By
Matt Mosley
| ESPN.com
»
NFC Stock Watch
:
East
|
West
|
North
|
South
»
AFC
:
East
|
West
|
North
|
South
Falling

Marcus Spears, Cowboys defensive end:
If he signs his tender, he'll make less money in 2010 than two backups at defensive end,
Stephen Bowen
and
Jason Hatcher
. The Cowboys only gave Spears a first-round tender and it doesn't look like they're interested in giving him a contract extension. If Spears had been an unrestricted free agent, I think he would've generated some interest on the open market. He actually played well for the Cowboys in 2010. But he's obviously discouraged at this point and I think the Cowboys would be willing to trade him for a third-round pick. Spears has been a solid presence in the locker room, but apparently Wade Phillips thinks that Bowen and Hatcher are about to surpass him. We'll continue to monitor Spears' situation throughout the offseason.
Rising

Howie Roseman, new Eagles' general manager:
I think it was smart to lock up fullback
Leonard Weaver
and wide receiver
Jason Avant
early in free agency. Why take a chance on someone trying to sign them to an offer sheet. I also think that Saints restricted free agent
Mike Bell
could be an excellent change-of-pace back to
LeSean McCoy
. The Eagles need someone who can convert in goal-line situations. The Super Bowl aside, Bell has been a solid runner at the goal-line and he could help the Eagles in other short-yardage situations. I also think
Marlin Jackson
was a good risk at free safety. He's a 26-year-old player coming off an ACL injury. There's certainly a risk involved, but he'll end up being a steal if he can restore order to the position opposite
Quintin Mikell
. And no matter who made the decision, it was time to move on without former Pro Bowler
Shawn Andrews
. Now we'll continue the quarterback watch. If the right deal comes along, I think Roseman will want to take a long look. With Andy Reid having final say, it's hard to know who's pulling the trigger on these deals. But from what I'm hearing, Roseman's been very assertive in his new role.
March, 11, 2010
3/11/10
1:00
PM ET
By
Matt Mosley
| ESPN.com
»
NFC Stock Watch
:
East
|
West
|
North
|
South
»
AFC
:
East
|
West
|
North
|
South
Falling

Redskins defensive end Andre Carter:
Yes, we're bringing back this wildly popular entry for a couple months. And honestly, I think it's too early to suggest that any of the four NFC teams are in the "falling" category. The Cowboys are certainly the quietest team in free agency, but I don't necessarily think that's a bad thing. But in the interest of participation, let's put
Carter in the "falling" section. I've said from the start that he's not a good fit as an outside linebacker in a 3-4 and now there's speculation he could lose his starting job. Carter's been a highly productive player in the league, but he's looked awkward in the past when asked to stand up in the 3-4.
Greg Ellis
went through this in Dallas under Bill Parcells, but he eventually became a productive outside linebacker. We'll see how things turn out for Carter.
Rising

Philadelphia Eagles
: This is a team that is desperately trying to close the gap with the Cowboys. I like that general manager Howie Roseman has locked up talented players such as
Leonard Weaver
and
Jason Avant
. And signing former Colts cornerback
Marlin Jackson
is a good risk to take. Yes, he's had two ACLs (one on each knee). But the Eagles reportedly kept the guaranteed money low enough where they won't feel burned if he struggles. If the 26-year-old returns to form, he could start at free safety for the next three or four years. The Eagles also restructured guard
Stacy Andrews
' contract. I bumped into offensive line coach Juan Castillo in Indianapolis and he truly believes Andrews will come back strong in 2010 after being hampered by a knee injury.
Welcome back to the Stock Watch. That's how I see it.