March, 13, 2014
Mar 13
4:00
PM ET
The
Denver Broncos
have won the offseason title and free agency is not even four days old.
John Elway signed safety
T.J. Ward
to a four-year, $23 million deal that guarantees him $14 million. He stole cornerback
Aqib Talib
away from the
New England Patriots
with a six-year, $57 million deal that guarantees him $26 million. Then he thanked the
Dallas Cowboys
for their cap woes and unwillingness to pay
DeMarcus Ware
and signed Ware to a three-year, $30 million deal that includes $20 million guaranteed.
Ware will make $250,000 more with the Broncos this year than he would have with the Cowboys.
Add those three to an offense that will still put up points even if
Eric Decker
leaves and Denver should be viewed as the favorites in the AFC.
In fact, they might look like a "Dream …" Sorry. Got something stuck in my throat. "A Dream …" Man, there it goes again.
One more time: A dream team.
Could the 2011
Philadelphia Eagles
serve as a reminder that a "dream team" doesn't mean a Super Bowl team?
To refresh: The Eagles loaded up with
Jason Babin
(five years, $28 million),
Cullen Jenkins
(five years, $25 million) and
Nnamdi Asomugha
(five years, $60 million). They traded
Kevin Kolb
and got
Dominique Rodgers-Cromartie
in return. They added serviceable pieces in
Ronnie Brown
and
Evan Mathis
turned out to be a steal.
Then they signed
Vince Young
, who came up with the dream-team tag.
And Philadelphia finished 8-8.
The Broncos have
Peyton Manning
, so it's hard to see an 8-8 season. But what happens if Manning gets hurt?
March, 7, 2014
Mar 7
11:00
AM ET
»
AFC Free-Agency Primer
:
East
|
West
|
North
|
South
»
NFC
:
East
|
West
|
North
|
South
Key free agents:
QB
Michael Vick
, WR
Jason Avant
, S
Nate Allen
, P
Donnie Jones
, S
Kurt Coleman
.

Where they stand:
By keeping wide receivers
Riley Cooper
and
Jeremy Maclin
off the market, the Eagles assured their starting offense would look very much as it did in 2013. There are no obvious positions of need on that side of the ball that would likely be addressed in free agency. The defensive side is another matter. That unit made fine progress in its first year with coordinator Bill Davis' 3-4 scheme, but the Eagles need playmakers there, especially in the secondary. Having $20-25 million in salary-cap space gives them the flexibility to do whatever they choose.
What to expect:
GM Howie Roseman has repeatedly said he does not want to overpay in free agency, but the Eagles might have to go that route with a safety like
Jairus Byrd
,
T.J. Ward
or
Chris Clemons
. Going for bargains at that position just has not worked, and Roseman has acknowledged he doesn't want to get to the draft in dire need of a safety. There isn't a lot of depth at outside linebacker -- teams do their best to hold on to effective pass-rushers -- but Roseman could look for a second-tier guy there. It would not be surprising if the Eagles re-signed Jones and added a kicker in free agency to compete with, or flat-out replace,
Alex Henery
. Keep an eye on a return man, perhaps
Devin Hester
or
Dexter McCluster
.
March, 6, 2014
Mar 6
11:00
AM ET
The only player evaluations that matter, as far as the Eagles are concerned, are the ones done by general manager Howie Roseman and his staff.
The media-produced rankings of potential NFL free agents may not tell us much about what the Eagles are thinking. But the wide range of evaluations can provide insight into how wildly divergent different teams' opinions can be.
Let's take a look at the safety position, which figures to be an area the Eagles try to address. Buffalo's
Jairus Byrd
is generally considered the best safety available, but there are dissenting opinions.
Over at
NFL.com
, Byrd is listed as the No. 1 free agent available regardless of position. He is the only player tagged as a "difference-maker." On
ESPN Insider
, former NFL executive Bill Polian and his team have Byrd as the fourth-ranked safety.
Antoine Bethea
of the Colts, the only safety with an A grade, is rated the best safety on the market.
Polian has Miami's
Chris Clemons
as his second-ranked safety, with Cleveland's
T.J. Ward
third. NFL.com calls Clemons "a league-average starter," which would still make him an upgrade for the Eagles.
Over at
Pro Football Focus
, Byrd is rated the top safety and No. 2 free agent overall, behind only Seattle defensive end
Michael Bennett
. PFF rates Ward as the second best safety (No. 8 overall), while Clemons is No. 30 overall. Bethea, the top safety and a Grade-A player for Polian, is No. 61 overall on PFF's list and No. 51 on the NFL.com list.
PFF places Byrd in the same category as Seattle safety
Earl Thomas
. Considering the Seahawks just won the Super Bowl with Thomas as a key defensive player, it is likely many teams will make a run at Byrd in hopes of recreating that success.
Ultimately, Roseman and his personnel staff have graded players based on their game tape and how they project players in the Eagles' scheme. Cleveland's Ward is considered a better run defender, more of a strong safety type. Byrd is better at playing deep and at coverage, which was a huge problem area for the Eagles. Their pass defense was dead last in the NFL.
Malcolm Jenkins
of the Saints, a converted cornerback, might be a better fit than Ward, from the Eagles' perspective. And that's the bottom line here: The Eagles' perspective is the only one that will matter to them, and they haven't published their opinions on the Internet.
March, 5, 2014
Mar 5
8:00
AM ET
The
Philadelphia Eagles
will be in almost perfect position when NFL teams are allowed to open talks with unrestricted free agents Friday.
They are perceived as a team "headed in the right direction," as soon-to-be-free-agent safety
Jairus Byrd
said on ESPN on Tuesday. And they have enormous flexibility thanks to more than $26 million in salary-cap space, according to ESPN's Roster Management service.
The Eagles didn't have to release wide receiver
Jason Avant
for cap purposes. That decision was about paying the $1 million roster bonus negotiated into his contract and due on March 15. But with Avant's departure, the Eagles save another $2.5 million on their cap.
General manager Howie Roseman has set low expectations for the team to make a huge splash in free agency. He could be doing that because he simply doesn't see a free agent worth splurging on, because he wants to prevent potential fan disappointment or because he doesn't want to telegraph his real plans to other teams before the market opens.
Three of the more intriguing names disappeared from a potential wish list this week: Miami extended the contract of cornerback
Brent Grimes
, Washington placed the franchise tag on linebacker
Brian Orakpo
and Pittsburgh linebacker
Jason Worilds
signed his transition-tag tender.
The two top safeties, Byrd and Cleveland's
T.J. Ward
, are expected to hit the market. Roseman has acknowledged his preference to address the safety position in free agency so it isn't a glaring need going into the draft. But he may have his sights set on some of the less expensive players expected to be on the market.
Roseman said last week that his spree of contracts for current Eagles would not limit the Eagles' options in free agency.
"It will affect other things going forward," Roseman said. "We have some flexibility. Obviously, this affects it, the things we've done the past couple of days. But we're going to go out and try to do things that make sense for our football team."
Another thing working in the Eagles' favor is the expansion of the cap this year to $133 million and the expected continuing rise over the next couple of years. That extra cap space comes just as Roseman will have to decide on extensions for players like
Nick Foles
,
Fletcher Cox
,
Brandon Boykin
and
Mychal Kendricks
.
Foles, especially, gives the Eagles a lot of flexibility. Starting quarterbacks can eat up 12 to 15 percent of a team's salary cap. Foles' 2014 salary of $770,880 accounts for 0.65 percent of the Eagles' cap. That's about as much as backup offensive lineman
Allen Barbre
.
Eventually, if they're going to be successful, the Eagles will have to pay a quarterback that kind of money. For now, they can build a team and deal with Foles -- or someone else if Foles should stumble -- when the cap increases.
"It's hard to look three years out," Roseman said. "It's hard to know where you're going to be after two full seasons and after two draft classes. We do spend a lot of time on the cap next year. We try to be conservative with what the cap projections are going to be."
Finally, there's this reality: The salary cap is not nearly as onerous as it is made out to be. The
Dallas Cowboys
were in as tight a situation as any team in the NFL going into the new league year. By reportedly reworking quarterback
Tony Romo
's contract, converting salary to bonus money, the Cowboys resolved their cap issues.
So there is an escape hatch from cap purgatory. The Cowboys still probably won't have the cap space to be proactive in free agency.
The Eagles will. They are in position to do whatever they want.
March, 3, 2014
Mar 3
7:15
PM ET
The Eagles haven't exactly advertised their free-agency plans, which is understandable. Now that the deadline for franchise and transition tags has passed, all we can say is that their plans likely haven't changed much.
Washington linebacker
Brian Orakpo
had the franchise tag placed on him. That takes him off the list of possible targets for the Eagles, but the odds were against them making a play for Orakpo. He is exactly the kind of free agent -- a guy who could command more money than his production warrants -- that general manager Howie Roseman has said the team is not interested in.
(That said, he's also exactly the kind of player that fans and media like to speculate about. Orakpo would be a perfect edge pass rusher in the Eagles 3-4 defense and signing him would mean not facing him twice a year.)
Worilds
Another player that has been discussed as a possibility for the Eagles is Pittsburgh linebacker
Jason Worilds
. The Steelers placed the transition tag on Worilds, which means only that they would have the right to match any offer he receives.
If the Eagles were planning to take a shot at Worilds, that shouldn't slow them down. The Steelers do not have the cap space to match a carefully designed offer sheet. Indeed, to keep Worilds, Pittsburgh may have to release other players to create cap space. If
LaMarr Woodley
is a casualty, he could be a nice consolation prize. Bottom line: There just aren't that many pass rushers worth pursuing in free agency.
Eagles defensive coordinator Bill Davis has often cited the Steelers' Dick LeBeau-coached defense as his model. It stands to reason Davis could use a big-time player who is already schooled in that style of play.
Neither of the top safeties were tagged, which makes for an intriguing scenario when free agency opens. Buffalo's
Jairus Byrd
and Cleveland
T.J. Ward
will be on the market. Both are 27. Both have been to the Pro Bowl. Either would be the Eagles' best safety since
Brian Dawkins
.
Is Roseman willing to make Byrd the highest paid safety in the NFL? That's what it will take? Would he make a run at Ward, who knows Davis from his stint in Cleveland?
Even if Ward and Byrd are not on Roseman's list, their presence in the market has a ripple effect. They will attract immediate attention from teams desperate for safety help. That will leave the next tier -- safeties like Miami's
Chris Clemons
and Carolina's
Mike Mitchell
-- for the Eagles to approach if that's the way they choose to go.
March, 3, 2014
Mar 3
10:50
AM ET
PHILADELPHIA -- Late Friday afternoon, after completing a flurry of four contract negotiations with Eagles players, general manager Howie Roseman did a conference call with reporters.
Coming off the scouting combine and the deals for
Jason Peters
,
Jason Kelce
,
Riley Cooper
and
Jeremy Maclin
, Roseman was planning on a quiet weekend. The first part of the Eagles' offseason plan was complete.
[+] Enlarge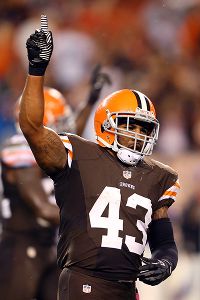 Ron Schwane/USA TODAY SportsIf T.J. Ward doesn't get the franchise tag from the Browns, the Eagles might be interested.
"We're going to take a deep breath," Roseman said. "We'll catch up on Monday. We'll take stock of where we are and where we're hopeful to be."
The Eagles certainly have ideas about what comes next. They can begin talking to free agents on Friday, and can actually sign players beginning March 11. But they can't be entirely sure what the market will look like until some decisions are made in other NFL cities.
The deadline for applying franchise and transition tags, which passes Monday at 4 p.m., will add some clarity. There are reports that the
Buffalo Bills
are unlikely to tag safety
Jairus Byrd
, one of the elite players at the Eagles' most glaring position of need. Cleveland safety
T.J. Ward
has also avoided a tag up until now.
Byrd and Ward both played at Oregon, so Chip Kelly has some insight into them as players and as people. That helps the Eagles avoid the pitfalls of a "forced marriage" -- Roseman's term to describe bad free-agency fits such as
Nnamdi Asomugha
-- with either player.
Roseman is also reluctant to pay good players like great players, another common result of free agency. Byrd has reportedly turned down a deal that would make him one of the five highest-paid safeties in the NFL. That, combined with the fact he held out of training camp last year because he was unhappy with the franchise tag, suggests Byrd may be pricier than the Eagles want to go.
Ward's situation is different. With all the apparent disorder in Cleveland, he may be even more motivated to leave. The Browns surprisingly released his teammate, veteran linebacker and leader
D'Qwell Jackson
, last week. With Kelly, former Browns head coach Pat Shurmur and defensive assistant Bill Davis, the Eagles can offer Ward familiarity as well as a lucrative deal.
Another tag situation is in Washington, where outside linebacker
Brian Orakpo
is waiting to find out his status. Orakpo has been linked to the Eagles only in media speculation, but there is logic in it. Orakpo is exactly the kind of versatile outside linebacker the Eagles need, and signing him would have the added appeal of weakening a division rival.
The Eagles have a working game plan for the offseason, but it has some either/or elements in it. This week, they'll get answers to those questions and can prepare accordingly for the start of free agency.
February, 26, 2014
Feb 26
8:00
AM ET
PHILADELPHIA -- Taken individually, each of safety
Nate Allen
's four seasons with the
Philadelphia Eagles
gets an asterisk.
In 2010, the second-round pick was a rookie on a team that still had championship aspirations (or delusions, depending on your perspective). Allen tore the patellar tendon in his right knee late in the season.
Allen
That injury provided an asterisk for 2011, as did the disastrous promotion of offensive line coach Juan Castillo to defensive coordinator. Allen was part of a mismatched secondary that included marquee acquisitions
Nnamdi Asomugha
and
Dominique Rodgers-Cromartie
.
As for 2012, that was a lost season for the entire franchise, and Allen was hardly the biggest problem. In 2013, Allen spent his first season in the system of new defensive coordinator Bill Davis. He also had arguably his best all-around season, as far as that goes.
Taken all together, though, Allen's tenure with the Eagles amounts to very little -- he has as many career interceptions (six) as
Brandon Boykin
had in 2013. Maybe the odds were against him to some degree, but there is no escaping the sense that a better, more aggressive safety would have left more of a mark than Allen did.
It is not out of the question that he will be back. The defense as a whole improved over the course of Davis' first season. While general manager Howie Roseman has acknowledged the need to improve the back end of the defense, there is a chance he won't be able to acquire a significantly better safety during free agency. If it comes down to Allen or
Patrick Chung
, the Eagles might be better off with the 6-1, 210-pound Allen. He is, after all, only 26.
But then there is the flip side. Allen said immediately after the season that he would like to return to the Eagles. But it might be that he finds a change of scenery appealing once he hits the market. If several of the top safeties --
Jairus Byrd
,
Donte Whitner
,
T.J. Ward
-- never reach free agency, Allen could be attractive to a team looking for a reasonably priced alternative.
Some teams, especially those that liked Allen coming out of South Florida in 2010, might see the asterisks more clearly than the Eagles do.
February, 17, 2014
Feb 17
2:30
PM ET
PHILADELPHIA -- Since Eagles general manager Howie Roseman said the team would like to address the safety position before the draft -- in other words, during free agency -- he couldn't be certain what the market would look like.
He still can't. But as other teams clear roster spots (and cap space) and with the window open for using franchise and transition tags now open, there is more clarity every day.
Two of the elite safeties due for free agency, Cleveland's
T.J. Ward
and Buffalo's
Jairus Byrd
, could be tagged. That would not only take them off the market, it would have a domino effect on the players who do hit free agency. A guy like Miami's
Chris Clemons
might command more money than he would if Ward and Byrd were in the market.
And then there's San Francisco's
Donte Whitner
. The 49ers want him back, but it might be tougher to negotiate a new deal without using a tag on him if he is by far the best safety available.
Judging by Roseman's comments, he isn't likely to get in a mad bidding war for the hot commodity. The Eagles' recent approach has been to look for value among players in the second tier, after the market settles a little bit.
In that sense, the picture has improved for the Eagles in recent days. New Orleans released
Roman Harper
and Detroit parted ways with
Louis Delmas
late last week. Whether they are good fits in Philadelphia or not, they add to the pool of available talent and create more options.
Delmas is an interesting possibility. He is only 27, same as Ward and Byrd. He is a relatively physical player who has had some knee trouble. That could actually help keep his asking price down, which might make him that much more appealing to the Eagles.
Delmas was taken one pick ahead of
Patrick Chung
in the 2009 draft. But then, the Eagles took
Nate Allen
one pick ahead of Ward in the 2010 draft.
Allen and Chung finished the season as the Eagles' starting safeties. Rookie
Earl Wolff
had taken Chung's starting job before injuring his knee in Green Bay in October.
Allen will be an unrestricted free agent, as will safeties/special-teamers
Kurt Coleman
and
Colt Anderson
. With the Eagles lukewarm on Chung, there could be as many as four roster spots open for safeties.
Roseman said recently that he doesn't want to go into the draft with a gaping hole on his roster. That, he said, leads to mistakes as teams reach for a position of need. So it is likely the Eagles will look to add safeties in free agency. The market is shaping up.
February, 17, 2014
Feb 17
8:00
AM ET
The
Philadelphia Eagles
don't have an obvious target for use of the franchise or transition tag, which is mostly a positive thing.
It means they have most of their most important players under negotiated contracts and don't have to anger anyone by using the tag to keep him from free agency. Using the tag has created bad feelings and problems for the Eagles in the past, most dramatically when they removed the tag from linebacker
Jeremiah Trotter
after weeks of bitter back-and-forth.

The negative aspect, of course, is that the players most likely to be tagged -- such as
Jimmy Graham
of the Saints and
T.J. Ward
of the Browns -- are from the 2010 draft class. The Eagles don't have star players from that class they are fighting to keep.
Monday is the first day teams can apply franchise and transition tags to players. For an explanation of tags and their ramifications, click
here
.
Safety
Nate Allen
and wide receiver
Riley Cooper
were starters in 2013. The Eagles wouldn't mind having both back. But they are not likely to want to pay them franchise-tag salaries -- likely to be more than $8 million for one season for safeties and $10 million-plus for wide receivers.
The Eagles took Allen one pick before Cleveland selected Ward. Four years later, the Eagles remain in dire need of safety help. They are apt to be affected more by Ward's status than Allen's. If Ward is on the market, the Eagles could be very interested in him. At the very least, he would expand the pool of free-agent safeties.
The Eagles' first-round pick from 2010,
Brandon Graham
, still has another year on his rookie contract. Nine of the 10 other 2010 draftees on shorter deals are long gone. The 10th, safety and special-teams guy
Kurt Coleman
, is certainly not going to be tagged.
The Eagles' most intriguing decision among their free-agents-to-be concerns wide receiver
Jeremy Maclin
. The 2009 first-round pick missed the entire 2013 season after tearing his ACL in training camp.
Could the Eagles use the tag to hang on to Maclin and try to work out a more reasonable deal? It's possible, but not likely.
That's how general manager Howie Roseman deployed the tag in 2012, the last time the Eagles used it. Roseman tagged wide receiver
DeSean Jackson
. By mid-March, Roseman had signed Jackson to a new five-year contract.
The difference here is that Maclin is coming off his second ACL surgery. The Eagles or another team might want him on a one-year, prove-it deal, but not at a guaranteed $10-11 million.
February, 5, 2014
Feb 5
8:00
AM ET
PHILADELPHIA -- The secondary was already the
Philadelphia Eagles
' most obvious need area. After watching the NFL postseason, especially the Super Bowl, that need looked even more glaring.
Put another way: The Eagles got by with their secondary in 2013. Elite defenses do better than get by. Their safeties and cornerbacks are impact players.
Let's look at the more dire safety situation first. We'll address the cornerback position in a separate post.
Good safeties have been as elusive as unicorns for the Eagles since Brian Dawkins' unfortunate departure five years ago. (Say that out loud: Dawk's been gone for five years.) They have tried nearly everything to fill that void: second-round draft picks, second-day draft picks, midlevel free agents.
[+] Enlarge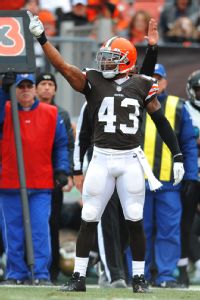 David Dermer/Diamond Images/Getty ImagesIt might be time for the Eagles to pursue a starting safety in free agency, like Cleveland's T.J. Ward.
As it happens, three of the safeties on the Eagles' roster are to become unrestricted free agents next month: starter
Nate Allen
, former starter
Kurt Coleman
, and special-teamer
Colt Anderson
.
That should be viewed as an opportunity more than a problem. By doing nothing, the Eagles can start the process of turning over this part of their roster. They can really turn the page if they release
Patrick Chung
, who lost his starting job twice during the season.
That would leave
Earl Wolff
, last year's fifth-round draft pick and the guy who took Chung's job before getting hurt, and
Keelan Johnson
as the only two safeties on the roster.
When we said the Eagles have tried nearly everything, it's because the one thing they haven't done is sign a top-level free agent. For years, the Eagles rated the safety position fairly low on their list of priorities. Dawkins was a homegrown superstar who transcended the position, but their emphasis was always on edge pass-rushers and cornerbacks.
General manager Howie Roseman has said the team will avoid splurging on big-ticket signings, and that is a reasonable position. But one reason the team has struggled to resolve the safety problem is its insistence on mediocre, small-ticket free agents. Chung and
Kenny Phillips
were last year's additions to a list that includes Sean Jones, Jarrad Page, Marlin Jackson and O.J. Atogwe.
Maybe Buffalo's
Jairus Byrd
or Cleveland's
T.J. Ward
will demand too much money to be options, but this might be the year the Eagles have to pay full-market price at this most challenging of positions. Miami's
Chris Clemons
might be a better value signing.
You could make a case for retaining Allen, who had his best season. Maybe spending more time in Bill Davis' defense will help Allen continue to grow. But the feeling here is that Allen personifies the concept of just getting by at the safety spot. The Eagles are not going to be a tough, hard-hitting, intimidating defense like Seattle or San Francisco by just getting by.
Sign one starter (Ward, preferably) and at least one veteran who can compete for playing time. Hope Wolff can lock down one starting position with a full offseason and some experience under his belt. Give Johnson a chance to earn a roster spot with special-teams play.
The timing is treacherous. If the Eagles allow Allen, Coleman and Anderson to walk, they will have to move quickly in free agency to fill at least a couple of those spots. They can hang on to Chung as security until they do. But the worst-case scenario is going into the draft in May with a desperate need for safety help.
The Eagles have done that before, and it has not ended well. But then, nothing they've done at safety has gone much better.
January, 31, 2014
Jan 31
1:00
PM ET
PHILADELPHIA -- It is a word the Eagles hated using for years and it's a word that doesn't really apply to the franchise now, just one year into Chip Kelly's tenure.
Rebuilding.
In evaluating the decline of the team in Andy Reid's final years, Eagles owner Jeff Lurie and general manager Howie Roseman have said the big mistake was thinking the team was always one move away from a championship. In trying to make that one decisive win-now move, the Eagles instead made mistakes that weakened their infrastructure.
[+] Enlarge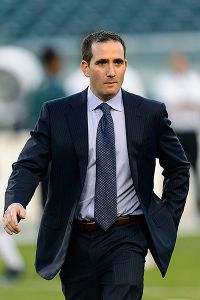 Howard Smith/USA TODAY SportsGM Howie Roseman has said the Eagles will avoid lavish free-agent deals.
But it would also be a mistake to go too far the other way. The Eagles are not a rebuilding team right now. They were 10-6 and are defending NFC East champions. They have an offensive team with key skill players in the prime of their careers:
LeSean McCoy
,
DeSean Jackson
and
Brent Celek
. The offensive line, which is vital to the team's success, has three starters over the age of 30.
The goal should be simple: Keep adding talent around those core players until the Eagles are at the elite level of the teams that will play in the Super Bowl Sunday. That means using every tool available, including spending money on free agents when it is warranted.
The
Denver Broncos
weren't exactly thinking about a five-year plan when they signed
Peyton Manning
two years ago. The
Seattle Seahawks
splurged on a quarterback in free agency that same offseason. They signed Green Bay's
Matt Flynn
to a three-year, $26 million contract.
Manning had one of the great seasons ever and will start for the Broncos Sunday. Flynn is back in Green Bay as a backup.
Russell Wilson
became Seattle's starter and quickly emerged as one of the top young quarterbacks in the NFL.
If the Broncos had ruled out high-priced, quick-fix free agents, the Patriots would be in the Super Bowl. If the Seahawks had avoided drafting a quarterback that high after signing Flynn, San Francisco or New Orleans would be preparing for
Tom Brady
.
This isn't to say the Eagles should go crazy and throw big money at every flavor-of-the-month free agent on the market. But they also shouldn't rule out the occasional bold move. Yes, they were burned by
Nnamdi Asomugha
a few years back, but Reid's era of success was made possible partly by acquisitions like
Hugh Douglas
(in a trade, with a new contract included),
Jon Runyan
and, well, let's just admit it,
Terrell Owens
.
Roseman has said repeatedly that the Eagles will avoid huge free-agent deals. That would seem to rule out difference-making players like Washington linebacker
Brian Orakpo
and safeties
Jairus Byrd
of Buffalo and
T.J. Ward
of Cleveland.
And that's fine, provided the Eagles are able to obtain high-quality players in other ways. Seattle got 16-1/2 sacks in the 2013 season from free-agent pickups
Cliff Avril
(two years, $13 million) and
Michael Bennett
(one year, $5 million). Smart shopping is the key, whatever the price tag.
The key point is that the Eagles didn't make a mistake by signing marquee free agents. They made mistakes in player evaluation in both free agency and the draft. You don't stop drafting because you selected
Danny Watkins
and
Jaiquawn Jarrett
, so you shouldn't rule out free agency because you signed Asomugha and
Vince Young
.
The Eagles made huge strides in one year because Kelly made excellent use of the considerable offensive talent he inherited, and because his overall approach in all phases reinvigorated a stale franchise. To make those next steps toward a championship-caliber team will require better players in a few key spots.
If Byrd, Orakpo or some other elite player can further that process, the Eagles shouldn't hesitate to go after him. There is no rebuilding, only building, and that process should be constant. The well-run organizations of the last decade understand that. The Eagles should know -- a few missteps aside, they're one of them.