February, 6, 2013
Feb 6
10:10
AM ET
Jean-Jacques Taylor has
run the numbers
and figured out that the
Dallas Cowboys
'
Tony Romo
will be the second-oldest starting quarterback in the NFC next season, behind only
Drew Brees
. Yipes.
Now, as we have discussed here many times, 33 is not end-of-the-line old for quarterbacks in the NFL in the year 2013. But it's closer to the end than it is to the beginning, and Jacques' point here is that the infusion of talented and successful young quarterbacks in the NFC is making Romo's path to the Super Bowl even more difficult than it already was. His other point is that Romo needs help:
For Romo to lead the Cowboys to the Super Bowl, Jerry must build a team around Romo the way the Denver Broncos built around John Elway.

When the Broncos won consecutive Super Bowls in 1997 and 1998, they were built around running back Terrell Davis, tight end Shannon Sharpe and receiver Rod Smith. Those guys did the heavy lifting.

A few times each game, the Broncos asked Elway to deliver one of his magical plays -- and he did. Early in his career, the Broncos asked Elway to do all of the heavy lifting and he was still dynamic enough to get Denver to three Super Bowls, which is why he's in the Hall of Fame.

No one is comparing Romo to Elway in terms of talent -- only in terms of what their teams ask each player to do.
Funny, that last part, because sometimes the criticism of Romo does remind me of what people used to say about Elway. In the final two years of his career, Elway went from "good, talented quarterback who couldn't win the big one" to "maybe the best quarterback ever to play the game." He did it by winning two Super Bowls at the helm of a team that could win with its running game.
Jacques is right that Romo needs help. The Cowboys' offensive line has been awful the past two seasons and the run game has been injury-plagued and unreliable. There is no question that Romo and his three interceptions were to blame for this year's season-ending loss in Washington, but he didn't lose all eight of the Cowboys' games single-handedly. There are deeper problems on this Cowboys team than Romo. If he finishes his career there without an Elway-type Super Bowl flourish, he'll go down in history as a Cowboys disappointment. Which is the way it goes with quarterbacks, even when it's not completely fair.
June, 28, 2012
6/28/12
10:03
AM ET
Fantasy week has captured the imagination of readers of the NFC East blog, and one of those readers is our very own "Football Scientist," KC Joyner. You may have seen KC in some of the roundtable videos we've been featuring in this week's fantasy-related content, and much of what he's offering there can be found in his annual "
TFS Draft Guide
." KC has emailed to share some of the NFC East-related content from this year's guide, and this one bit in particular caught my eye:
Washington has a very good group of run blockers, as their 45.7 good blocking rate (GBR) ranked tied for 11th in the league. If they keep that level of play up or improve upon it, it really shouldn't matter who Mike Shanahan decides to put into the backfield on a week to week basis.
That is, as you likely know by now, Shanahan's theory. Barring the presence of a special, Terrell Davis-type back, he's content to use his running backs as interchangeable because he thinks the zone-blocking scheme will help make them into stars. He preaches this to his offensive linemen, running through lists of backs who have had big years in his system. And the fact that
Roy Helu
,
Ryan Torain
and
Evan Royster
were all able to post 100-yard games in 2011 after starter
Tim Hightower
got hurt helps make his point.
If healthy, Hightower is the starting running back in Washington. Shanahan just thinks he helps the most overall, as a runner, a pass-blocker and a receiver. But Hightower is coming off that ACL tear, and that could mean early-season opportunity for Helu or Royster. The good thing is, if you have a Redskins running back on your fantasy team, and he happens to start the game in a given week, you can feel pretty confident that he'll put up numbers for you. The bad thing is, from week to week, you can't feel confident at all that your guy is going to be the starter.
June, 8, 2012
6/08/12
10:04
AM ET
Picking up our occasional series looking at each of the NFC East's four teams on a position-by-position basis, today we will examine the offensive lines. They all come with questions this year, and we'll start with the one that may have the most -- that of the
Washington Redskins
.
Projected starters:
LT
Trent Williams
, LB
Kory Lichtensteiger
, C
Will Montgomery
, RG
Chris Chester
, RT
Jammal Brown
Reserves:
T
Willie Smith
, T
Tyler Polumbus
, T
Tom Compton
, T
James Lee
, G Josh LeRibeus, G
Adam Gettis
, G
Maurice Hurt
, G/C
Erik Cook
[+] Enlarge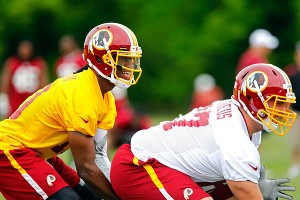 Geoff Burke/US PresswireThe Redskins drafted a couple of offensive linemen, including Josh LeRibeus, right, who they feel will thrive in the team's zone blocking scheme.
Potential strength:
The Redskins believe the strength of their offensive line is in the scheme -- specifically the zone-blocking run game. Mike Shanahan tells them stories of Terrell Davis glory days and all of the running backs who had success with him in Denver and convinces his linemen that they can make stars of their backs if they learn the scheme and stick to it. For that reason, they look for specific kinds of linemen who can do what they do in the run game. The third-round pick of LeRibeus and the fifth-round pick of Gettis stand as examples of that -- the Redskins targeting specific players because they believe they could fit the zone-blocking scheme -- and for that reason don't be surprised if one (or even both) of them works his way into the starting mix before long.
Potential weakness:
The problem last year was a lack of depth behind the starters. The line was playing well during the 3-1 start, but injuries to Williams and Lichtensteiger, along with the ongoing hip issues that limited Brown all year, left them exposed. I believe this remains a weakness, especially with Lichtensteiger and Brown continuing to carry injury questions. Yes, they added pieces in the draft, but they can't be sure either of those aforementioned guys is going to be ready soon. And although Lee comes with something of a résumé as a potentially solid backup, a major injury to a starter could force someone from the Smith/Polumbus/Hurt group to show more than they showed last year when thrust into a replacement role. I'm also not sure Montgomery is the long-term solution at center, and if they do develop someone at that spot this year or in the future, they could move him to one of the guard spots. That would help the depth.
Keep an eye on:
Williams. He's the most important part of this whole mix -- the franchise left tackle and former No. 4 overall pick in the draft. He missed the final four games of 2011 due to a drug suspension, so all eyes are going to be on him to make sure he stays clean, first of all. And assuming he's on the field for 16 games, he needs to find a way to make them 16 consistently good games. Redskins coaches have no problem telling you that, while they've seen the flashes of brilliance from Williams, the important thing is for him to bring that brilliance consistently. They believed he was making strides in that area last year before the suspension, and if he emerges as a top tackle this year, that will go a long way toward helping this line be a helpful unit.
September, 9, 2010
9/09/10
2:45
PM ET
By
Matt Mosley
| ESPN.com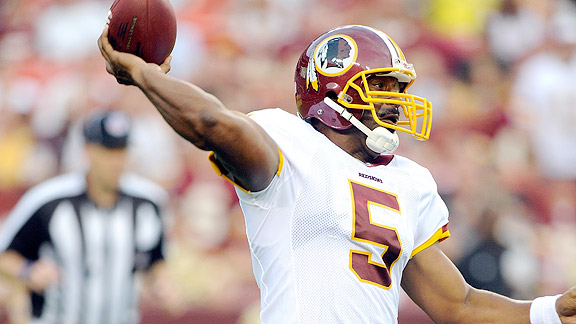 Greg Fiume/Getty ImagesDonovan McNabb is looking forward to a fresh start with the Washington Redskins.
I can remember a time when
Donovan McNabb
owned the
Dallas Cowboys
. The specific play that comes to mind is the one that lasted 14.1 seconds on "Monday Night Football" in November 2004. In addition to producing that iconic completion to -- who else? -- Freddie Mitchell, McNabb threw for 345 yards and four touchdowns in leading the Eagles to a
49-21 victory
.
But those memories have faded in recent years. McNabb has lost seven of his last 10 games against the Cowboys, including all three matchups last season. Never mind that McNabb and the Eagles swept the other two NFC East teams in 2009. I think his recent failures against the Cowboys are a large part of why the
Kevin Kolb
era finally got off the ground in Philly.
And despite what McNabb has said publicly this week, don't think that last point's lost on him. In Philadelphia, every facial expression he made on the sideline was dissected in print, online and on talk radio. His air guitar session before last January's playoff game at Cowboys Stadium has come up several times this season, although he's quick to remind folks that it's something he'd been doing all season.
Perhaps the silver lining in the whole
Albert Haynesworth
fiasco is that McNabb has sort of flown under the radar at Redskins Park -- by his standards. Normally a starting quarterback with an ankle injury would generate plenty of headlines in the nation's capital, but it was a mere footnote to the ongoing catfight between Mike Shanahan and Haynesworth. For his part, McNabb seems incredulous to the theory that his recent failures against the Cowboys might have some bearing on Sunday night's season opener at FedEx Field.
"It's a new year. You start all over again," McNabb told the Dallas-Fort Worth media Wednesday. "I think that's probably the plus for all of us. Not just for me but for them as well. I'm sure they're not excited about the way their season ended last year. Obviously, I wasn't excited about the way my season ended last year. Everyone is coming into this game 0-0 and looking forward to getting their season started on the right note."
The reason McNabb might be a bit puzzled that so much is made of his disappointing play against the Cowboys is because he went 9-2 against them in the first six years of his career. Cowboys owner Jerry Jones might have conveniently forgotten that record when he told the Philadelphia Daily News' Paul Domowitch last month that the Eagles might not be such a boom or bust team with Kolb at the helm.
But the 33-year-old McNabb hasn't dwelled on the past since showing up at Redskins Park. On the morning of his introductory news conference, he was already in the weight room with his new teammates, and on Thursday, he was elected captain. Shanahan and McNabb have restored a sense of credibility to the organization, but this process will take time.
McNabb told me recently that he called former Broncos greats John Elway, Terrell Davis and Rod Smith to ask them about Shanahan. The Redskins' quarterback had a close relationship with Eagles coach Andy Reid that by all accounts is still intact. But he didn't want to assume that things would be the same with Shanahan.
"I wanted to get a head start on knowing what type of verbiage he and Kyle [Shanahan] use, and I put pressure on myself to know what's going on inside their heads," said McNabb. "You know, I'm a jokeful kind of guy who likes to keep everyone loose, but I needed to know how they approached things too."
During a recent conversation inside his office at Redskins Park, Shanahan talked about how much he'd learned from working with Hall of Famers such as Steve Young and Elway. He said McNabb has some of the characteristics that helped those players lead teams to Super Bowls.
"Those guys could make plays when nothing was there," said Shanahan. "And [McNabb] has that same ability."
Shanahan said he's tapped into some of McNabb's knowledge of the Cowboys' defensive personnel. The Skins quarterback has a lot of respect for All-Pros
Jay Ratliff
and
DeMarcus Ware
, but he also has an idea of where the Cowboys might be vulnerable.
"I think he knows them quite well," Shanahan told reporters Wednesday. "He knows the defense and he knows the personnel. Anytime you play within the division, obviously you know that team quite well."
How much will that knowledge help when McNabb's looking downfield for the aging
Joey Galloway
on Sunday? We're about to find out.
April, 6, 2010
4/06/10
1:58
PM ET
By
Matt Mosley
| ESPN.com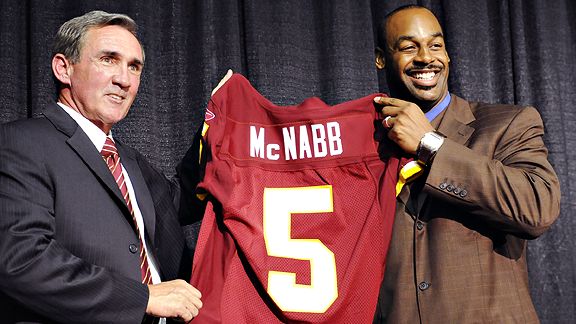 Mitchell Layton/Getty ImageDonovan McNabb was officially introduced as a member of the Redskins in a Tuesday press conference.
Donovan McNabb
made it pretty clear in his introductory news conference Tuesday he has an enormous chip on his shoulder.
That's a great sign for Redskins fans.
Washington landed an elite-level quarterback who spent the past 11 seasons making the Eagles one of the most successful organizations in the league. Watching him hold his new No. 5 burgundy and gold jersey with coach Mike Shanahan was the first of many surreal moments this blockbuster trade will produce.
McNabb talked about how John Elway was 34 when Shanahan became his head coach in Denver. The two went on to win two Super Bowls together. The 33-year-old McNabb smiled as he talked about the similarities. Fortunately, reporters were gracious enough not to point out that Elway had
Terrell Davis
at running back and a stable offensive line. But let's not deal with those harsh realities in this entry.
McNabb tried to keep the focus on Washington, but he couldn't help poking the Eagles with a sharp stick a couple times. Twice he said that he would treat the Eagles just like the Cowboys or Giants, but we all know better.
"They're rebuilding," McNabb said of the Eagles, knowing that word drives them nuts. "They're going young. I never knew 33 years was old, but I guess I'm too old."
McNabb said he's in good company when it comes to former Eagles stars who've finished their careers elsewhere. And it was no accident he brought up the "ultimate Eagle," safety
Brian Dawkins
, as an example. Without Dawkins, who signed with the Broncos in free agency, the Eagles were exposed at safety in '09.
But in a lot of ways, McNabb seemed grateful Tuesday all the offseason speculation had ended, saying, "I'm just so happy that it's over."
Dressed in a three-piece suit and standing next to Shanahan, McNabb seemed completely comfortable talking about himself as a Redskin. He spent Tuesday morning working out with his new teammates and he seems particularly excited about providing leadership to a new group of players. I think McNabb offended some of his young teammates when he called them out late in the '09 season. And that's probably why you didn't hear an outcry of support from the Eagles locker room once they began shopping McNabb.
Make no mistake. McNabb desperately wanted to finish his career in Philly, and he confirmed that during Tuesday's news conference. But now he's been given the rare opportunity to prove the Eagles made a poor decision by playing against them twice a year. McNabb said he talked to his replacement in Philly,
Kevin Kolb
, last night by phone. He obviously wants to beat the Eagles, but he has no ill will toward Kolb.
"I'm excited for him," McNabb said. "Andy's a great coach and great guy. He's shown the trust and confidence in [Kolb]."
Asked to talk about Mike Shanahan's offense, McNabb delivered the zinger of the day. Apparently he believes the Redskins will make more of a commitment to the run game than the Eagles.
"A lot of you people that came up from Philly don't know much about that run game," said McNabb, drawing laughs from the audience.
Shanahan yielded to McNabb for the most part, but he did point out that Elway was in his 13th season when he took over the Broncos and that Steve Young was in his 11th year when he worked with him in San Francisco. He said the starting quarterback "sets the tempo for the rest of the team" and he obviously believes that McNabb's experience is a huge plus.
Given the opportunity to address Eagles fans directly during the news conference, McNabb said, "Thank you for giving me the opportunity to come and display my talents...The most important thing is that every time the Eagles stepped on the field, we felt like we could win that game."
McNabb basically sounded like the same guy we've followed for the past 11 years. He was engaging at times and he also sprinkled in some defiant moments. If he walked away from the game today, he'd leave an impressive legacy. But he acknowledged there's something very important missing, and he's hoping a change of scenery will help him accomplish that goal.
"I'm starting a new chapter in the book of Donovan," he said with a smile.
January, 13, 2010
1/13/10
4:43
PM ET
By
Matt Mosley
| ESPN.com
Redskins coach Mike Shanahan has hired longtime Broncos assistant Bobby Turner to be his associate head coach/running backs,
according to the Denver Post
. The Broncos initially blocked Turner's exit, according to the report, but relented when Shanahan added the title of "associate head coach."
Turner presided over one of the most successful running games in the league beginning in 1995. The Broncos pretty much introduced the phrase "system running back" with their ability to mine 1,000-yard seasons out of relatively obscure players such as Olandis Gary (fourth round), Mike Anderson (sixth round) and the great Terrell Davis (sixth round). Of course, it's worth pointing out that the Broncos haven't had an 1,000-yard rusher since 2006.
In Washington, Turner will be reunited with
Clinton Portis
, who surpassed 1,500 yards in each of his first two seasons with the Broncos. I'm sure both Shanahan and Turner will meet with Portis in the coming weeks to measure his desire to return from what was effectively a lost season for him in 2009. Shanahan has already alluded to the fact that a veteran back has to be willing to put in the work in the offseason, something that hasn't been one of Portis' strengths in the past.
We'll see if the presence of a former mentor can have any influence on Portis, a player who chose to criticize his teammates on the radio this past season rather than actually hang around and help them through some tough times.
April, 23, 2009
4/23/09
2:40
PM ET
By
Matt Mosley
| ESPN.com
Posted by ESPN.com's Matt Mosley
| | |
| --- | --- |
| | |
| | Mark Cunningham/Getty Images |
| | The Eagles might be better off waiting until the middle rounds to pick a running back. Shonn Greene is one possibility. |
As we prepare to finalize the Beast draft board, which oddly enough looks almost exactly like Todd McShay's, something keeps bothering me. Yes, I know that Eagles fans and their local reporters have all but assured us the club will take a running back in the first round, but I'm still not buying it.
Maybe it has something to do with the Eagles not taking a running back in the first round since Keith Byars in 1986. Or perhaps it's the fact they recently gave All-Pro running back Brian Westbrook, a third-round pick in 2002, a long-term extension. I know he turns 30 this September, but it seems a bit premature to start planning his retirement party.
Even the Philadelphia Daily News' esteemed NFL columnist, Paul Domowitch, has issued a running back guarantee in the first round, although the Eagles had two picks at the time. The thought is the Eagles will select either Georgia running back Knowshon Moreno or Ohio State's Chris "Beanie" Wells with that No. 21 overall pick. My response to that is, "Why?"
If you don't think talented running backs grow on trees, you haven't looked around the NFC East lately. Over the last couple seasons, the Giants have had one of the best stable of running backs in the league. Starter Brandon Jacobs was taken in the fourth round out of Southern Illinois. His backup the past two seasons, Derrick Ward, was taken by the Jets in the seventh round in 2004, and he signed a four-year, $17 million contract with Tampa Bay thos offseason. And the man dubbed "Fire" in the Giants' version of "Earth, Wind and Fire," Ahmad Bradshaw, was the 250th pick in the 2007 draft.
The Cowboys are led by feature back Marion Barber (fourth-rounder), and former Georgia Tech star Tashard Choice (fourth round) appears to be an excellent complementary piece to Barber and first-rounder Felix Jones. When you throw in Westbrook, three of the top four running backs in the division were taken in the third round or later.
| | |
| --- | --- |
| | |
| | NFL.com Video |
| | An inside look at tight end Brandon Pettigrew from Oklahoma State. |
And if we're being too provincial, let's take a look at a team like the San Diego Chargers that has hit on backs like Michael Turner (fifth round) and Darren Sproles (fourth round). I could bring up the ultimate second-day guy in Terrell Davis, but this is starting to feel like overkill. (Priest Holmes anyone?)
So, explain to me again why the Eagles have to take a running back in the first round Saturday? In my mind, it would be a luxury pick, which is OK if you don't have a specific need at any position. But I happen to think the Eagles would be foolish to call Brent Celek their No. 1 tight end and just move on down the road -- especially with a potentially elite player such as Oklahoma State's Brandon Pettigrew sitting there. There, I've said it. I would take Pettigrew before either of the top running backs (Moreno and Wells). You might even be able to trade down a spot or two and still end up with Pettigrew.
In his latest seven-round mock draft, Todd McShay has Wells going to the Chargers at No. 16 overall and Moreno going to the Eagles at No. 21. I think most Eagles fans would be pleased with that result, but I think the Eagles would be better off taking someone like Iowa's Shonn Greene in the third round. Both Moreno and Greene have excellent instincts and would be good fits in the Eagles' zone running game. I've talked to scouts who've said that Wells would be much better suited in a power running game that features more angle blocking. And if you don't like my man Greene, take a look at LeSean McCoy in the second round. I just don't see a huge separation between the first-, second- or third-round running backs. Now if you want to refute some of the things I'm saying, check out this Bob Brookover story in the Philly Inquirer.
Though management hasn't admitted as much, perhaps the Eagles are a little gun shy about waiting on a running back this year because of their recent past. Spending third-round picks on Ryan Moats in 2005 and Tony Hunt in 2007 didn't exactly work out -- and so far the Lorenzo Booker experiment (acquired in a trade) isn't faring much better. Maybe they think it's time to end the 23-year streak of not taking a back in the first round.
In my mind, the Eagles are better off waiting at running back. This time of year, I talk to a lot of scouts. But sometimes it's important to talk to the men who are actually going to coach these players. I wanted to know why running backs seem to have an easier time making the transition to the NFL than other position players -- and why you can find so many of them throughout the draft.
"I think it's because that's where you put your best athletes," said the Jets' new running backs coach, Anthony Lynn. "The running back position is more instinctive than any of the other spots. That's something you can't coach. You either have it or you don't. And for whatever reason, the guys who have it aren't confined to the top of the draft."
If the Eagles stay at No. 21 Saturday, they'll have a decision to make at running back. My suggestion is that they stick to tradition -- and wait.