February, 17, 2014
Feb 17
3:45
PM ET
This was not supposed to be
Brian Orakpo
Day on the blog, but that's what it turned into. Not only is there discussion about whether or not he should receive the franchise tag, but now you have to wonder about the impact of Terrell Suggs' deal on Orakpo's next contract.
Orakpo
Suggs has the impressive career numbers and was the AFC Defensive Player of the Year in 2011. Orakpo has not come close to that sort of honor (it took Suggs nine years to reach that point). Suggs has played on defenses that are much better than any Orakpo has been on, which perhaps has given him more chances to rush the passer.
But there's a difference between the two and it's why Orakpo likely won't have to settle for a similar deal.
Suggs will turn 32 during the season and exiting his prime; Orakpo will be 28 next season, still in his prime (though it's always better to catch players at the beginning of their prime, not midway through it).
That's why the Ravens could reduce his salary Monday, taking him from a contract that would have resulted in a $12.4 million cap hit to $7.4 million. But he was able to receive an extension plus $16 million in guaranteed cash; that's not bad. So, in essence, he's getting $8 million per year the next two seasons. It's better than the deals received by 30-something pass-rushers
Dwight Freeney
and
John Abraham
a year ago, giving Suggs a good reason to take this deal. I'm guessing Orakpo will probably get a deal that averages around $10 million a year, just because he has a couple more years left in his prime.
And here's what ESPN.com's Ravens reporter Jamison Hensley, who has covered the team a long time,
wrote about the deal
: "There is some risk involved in extending Suggs. His game has been in decline the past two seasons. He missed half of the 2012 season after tearing his Achilles tendon and he picked up weight in the second half of the 2013 season, which led to one sack in his final eight games and a reduced number of snaps. But, considering what the Ravens have to address in the draft and free agency, they didn't have the luxury to spend money in free agency or use a draft pick on a pass-rusher this offseason."
The
linebacker it probably impacts more is Dallas'
DeMarcus Ware
, who is at a similar age and, like Suggs, was under contract.
Orakpo is coming off a strong finish -- seven sacks in his last seven games -- and had no issues with the torn pectoral muscle that sidelined him for 14 regular-season games in 2012. He's the best available pass rushing outside linebacker scheduled to hit the open market -- how good remains up for debate. I don't view him as elite, but rather as an above average player. Last offseason
Paul Kruger
received a deal that averaged $8 million per year in Cleveland with $20 million guaranteed (the number that matters most). Orakpo is better.
The demand for pass rushers hasn't lessened. In fact, while Seattle's secondary received a ton of attention (by myself included), it's the Seahawks' pass rush that allowed them to play a certain way.
It's hard to imagine that Orakpo won't benefit from his first foray into free agency, even after Suggs' deal. Their situations are different.
February, 17, 2014
Feb 17
11:15
AM ET
IRVING, Texas – The NFL offices are closed today for the holiday, but you can bet the
Dallas Cowboys
will have a keen eye on what is going on today with the
Baltimore Ravens
.
The Ravens and outside linebacker
Terrell Suggs
have agreed on a contract extension that will significantly lower the outside linebacker's $12.8 million salary-cap figure. He was set to make a $7.8 million base salary in the final year of his deal.
Why would the Cowboys care?
DeMarcus Ware
.
True, Suggs is an outside linebacker and Ware is a defensive end, but they by and large play the same position.
Ware is set to make a $12.25 million base salary and count $16.003 million against the cap. He is technically signed through 2017, but the final two years of the contract will void so he will be a free agent after the 2015 season.
Suggs turns 32 in October. He missed eight games in 2012 because of an Achilles injury. He had one sack in the last eight games of the 2013 season but still had 10 on the year.
Ware turns 32 in July. He has missed significant amounts of practice the last two seasons because of myriad injuries and missed the first three games of his career in 2013 with a quadriceps strain. He had a career-low six sacks last season after putting up four in the first three games.
The extension the Ravens give Suggs could serve as something of a blueprint for the Cowboys. Needing salary-cap space, the Cowboys cannot have Ware count $16 million against the cap. They can restructure his deal again, but all that does is push money into future caps. They can cut him, which leaves them without a pass rusher of note. They can offer him a cut in pay with the chance to earn money back in incentives.
NFL Nation Ravens reporter Jamison Hensley offered up his take on the Suggs' deal and what it meant for both sides.
"In the end, Suggs realized he wasn't going to make more money elsewhere and the Ravens understood they weren't going to get a pass-rusher like Suggs at a lower price. It was a smart move for the Ravens and Suggs. The Ravens know they're not getting the 2011 NFL Defensive Player of the Year, but Suggs is still a quality defender who can rush the passer and set the edge against the run (although he had lapses in this area last season). He made 80 tackles and 10 sacks in what was a below-average season for him.
"There is some risk involved in extending Suggs. His game has been in decline the past two seasons. He missed half of the 2012 season after tearing his Achilles tendon and he picked up weight in the second half of the 2013 season, which led to one sack in his final eight games and a reduced number of snaps. But, considering what the Ravens have to address in the draft and free agency, they didn't have the luxury to spend money in free agency or use a draft pick on a pass-rusher this offseason."
The decisions are the same for the Cowboys and Ware, although I would contend the Cowboys could still take a pass rusher in the draft even if Ware is back.
The Cowboys understand they cannot get into the top-end of the free agent market. The pass rushers in the draft do not look to be as bountiful or as talented as some other years. Ware has to figure out what he would get on the open market after a down season and see if it would be worth it to him to take a look.
That's why the Suggs' deal matters to the Cowboys.
February, 14, 2014
Feb 14
9:30
AM ET
Washington Redskins
defensive coordinator Jim Haslett has two desires for next season: More sacks and more turnovers. If that happens, he knows what the result will be: more wins.
Haslett, speaking on ESPN980 Thursday for the first time since he was retained by the Redskins, also told Doc Walker and Brian Mitchell that improving the pass rush is a primary goal.
Haslett said that is one reason he hired Brian Baker to coach the outside linebackers (where the bulk of the pressure comes from in a 3-4 defense). Haslett sounded like a coach anticipating
Brian Orakpo
's return, too. Orakpo can be a free agent next month.
[+] Enlarge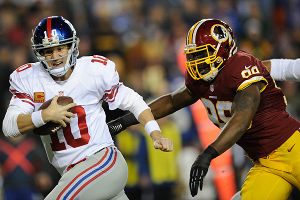 AP Photo/Nick WassDefensive coordinator Jim Haslett is expecting an improved pass rush next season, led by pending free agent Brian Orakpo.
"Can we get better? No doubt about it. I think Rak can get much better, and I know
Ryan [Kerrigan]
can get a lot better," Haslett said. "That's why we hired a coach to coach them on the rush element. We'll try to turn them loose more this year, do more with them game-wise. Don't worry so much if they lose contain, because they'll lose frickin contain half the time. Let's roll and make sure the tackles cover for them. Different things like that."
Orakpo and Kerrigan combined for 18.5 sacks this past season, which he pointed out was one less than Baltimore's duo of
Terrell Suggs
and
Elvis Dumervil
, and 3.5 less than Kansas City's tandem of
Tamba Hali
and
Justin Houston
.
Coaches often talk about pressures more than sacks (especially when the sack totals are low), but constant pressure also leads to more sacks. In 2011, with a healthy Orakpo,
Stephen Bowen
and
Adam Carriker
, the Redskins tied for 10th in the NFL with 41 sacks.
But in 2012 they finished tied for 23rd with 32, and this past season they were tied for 21st with 36.
Haslett pointed to turnovers as an area that must change. The Redskins only caused five fewer than they did in 2012 (going from 31 to 26 this past season). He dismissed yardage as a stat to measure a defense -- "That's kind of for losers," he said. (As an aside, I'll say this: Every coach I've covered will point to this stat when it suits them; every single coach. But I do agree that other stats matter, like points allowed and turnovers. They impact the game more. Yardage totals can be inflated by game situations).
"The object is to get the ball back from the offense and let them score points," Haslett said. "The offense has to control the ball and keep us off the field. Don't turn the ball over so we're on the field for 15-18 possessions like the last game of the year. And you win games. That's what we did down the stretch the year before; that's why we won seven in a row. That's our goal, we want to create more turnovers."
Haslett also said that "you'll see more of what we want to do from the standpoint of coverage."
He did not expand on that statement, but it stemmed from being asked how much more his personality would be revealed in the defense now that he's working for a coach who will stick to offense. Clearly, there was a difference of opinion in what previous head coach Mike Shanahan wanted and what Haslett wanted at times, whether it came from coverages or play calls.
"You've got to get these guys doing the same thing over and over and over to where they get good at what they do," Haslett said. "We bounced around early in the season. We had a heck of a preseason. We thought we were good, but that's preseason. It got your hopes up a little bit, but it wasn't really what we wanted to do.
"I think you'll see more of something we'll be good at. Whatever we do, we'll be good at. It doesn't make a difference what you're running ... We were in a four-man line 62 percent of the time last year anyway. But we're going to be good at what we do, and we're going to do it over and over and over until we get good at it."
November, 29, 2013
11/29/13
7:53
AM ET
Washington Redskins linebacker Brian Orakpo provided strong insight into his season, coming back from two torn pectoral muscles and answers whether or not he's an elite pass-rusher.
You've talked about shaking off the rust. When you look back early in the season, how did you see it affecting you?
Brian Orakpo:
It's kind of hard. It's not really rust. It is rust, but it's more so -- I'm trying to make it easier to understand. It's just going out there and believing. When you miss a year, your normal routine is just not the same. Going out there and playing full games, man, it's different. That means your vision is not correct, your tackling is not up to par as you'd like it to be. Everything comes into play and you can see that. Even though I'm still feeling good, I want to do more. As the season progresses, that's when I start to play a lot better and make more plays. That's what I mean when I talk about getting the rust off.
Do you feel you've gotten your strength back?
[+] Enlarge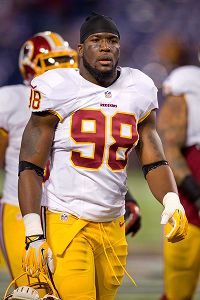 Bruce Kluckhohn/USA TODAY SportsAfter missing nearly all of the 2012 season with a pectoral injury, Brian Orakpo has collected 6.5 sacks in 2013.
Orakpo:
Strength-wise, I felt good. I just had to trust my body again because at times I'll be put in a position where I need to make a tackle with one arm and I wasn't too sure. Stuff like that I wasn't sure how my body would hold up going a full game again. You're scared because you don't want it to happen a third time. So you're going out there timid at times and really not being as aggressive. But as the weeks go on you get better and better. That's what's happening.
Are you past that point?
Orakpo:
I'm completely past that. It's night and day as far as where I began and where I am now.
You've talked about how you rush more by instincts. Can you have countermoves if you go by instincts? How do you feel you do there?
Orakpo:
It's hard to say. Everyone wants the countermoves, but the way we're predicated on rushing we don't have a lot of options to do it because we have a lot of other obligations. The time we do have, you have to understand we have rules within the defense. It's hard to do something outside of that because a lot of times we have a game on. We have interior guys rushing inside. We're basically coached and taught to contain rush the majority of the time. There are times you can use that and be effective. But at times you want to go inside, you want to do stuff but you can't because of the defense. That really goes a long way with trying to do the other stuff.
What is an elite rusher and do you feel you're in there?
Orakpo:
Absolutely I feel like I am. Absolutely. Anybody will tell you that.
What makes someone an elite rusher?
Orakpo:
Just being effective when he can. We don't rush a lot, me and Ryan [Kerrigan], like a lot of other 3-4 'backers, like people would think we do. We don't. You want to be effective, you see a lot of 3-4 'backers… we do way more than others in the league in terms of everything. I would love to work a tackle. It's a chess match. I'd love to work a tackle play after play. That's not the case so the times I do go out there we will give it our all as far as getting off the ball and trying to make a play happen. Another call may change what you're doing the next play. You don't have time to sit there and learn what you did on the previous play on a guy. You're very limited what you can do at times depending on the defense.
When you say you're doing more, you mean in coverage?
Orakpo:
Just from the 3-4 outside 'backer we play, it's very different from what
Terrell Suggs
does in Baltimore in his 3-4 and what DeMarcus [Ware] would do in Dallas where they're going forward at all times. We do way more than what a lot of guys are doing in the league. People need to understand that. We're not selfish players. I could go to the coaches and say, 'I'm tired of always dropping. I'm tired of doing this. I should be going for it. Look at all these guys with 10 sacks already. I only got 6 1/2. I can do that.' You're trying to be a team player. That's what I'm all about.
Sacks are good for your next contract, but obviously this team knows what you are doing.
Orakpo:
Around the league everyone knows what type of player I am. I have no worries in the world. Every day I have coaches tell me how much a player I am, how great a player and, 'I wish we had you on our team.' Steady compliments about what you bring to the table. That's what keeps me satisfied. These coaches praise me every day, what I'm capable of doing and what I do out there and how much my game progresses year after year. It keeps me trying to get better. That's what I can hang my hat on.
January, 31, 2013
1/31/13
2:58
PM ET
NEW ORLEANS -- The glitz is still here, but the tone this Super Bowl week just doesn't seem to fit with the celebrations on Bourbon Street or the free and easy nature of the host city.
The issue of player safety has been as topical as
Ray Lewis
' last game or brothers Jim and John Harbaugh coaching against each other.
We've heard predictions that the NFL will be gone in 30 years, or at least reduced to a game of two-hand touch. President Barack Obama hypothetically has wondered whether or not he would let a son play football. Current players have said they "signed up" for a violent game and all that may eventually come with it, even as thousands of former players are pursuing lawsuits claiming the NFL failed to warn them of the long-term effects of concussions.
ESPN.com surveyed a group of current and former players and executives to get their thoughts on the player-safety issues.
The group included current San Francisco linebacker
NaVorro Bowman
, former NFL cornerback Eric Davis, current Baltimore safety
Ed Reed
, retired quarterback Bobby Hebert, former NFL director of officiating Mike Pereira, former linebacker Willie McGinest, current San Francisco linebacker
Aldon Smith
, NFL Players Association president Domonique Foxworth, current Baltimore linebacker
Terrell Suggs
, retired lineman Shaun O'Hara, current San Francisco fullback
Bruce Miller
, longtime
Dallas Cowboys
executive Gil Brandt and current San Francisco guard
Alex Boone
.
[+] Enlarge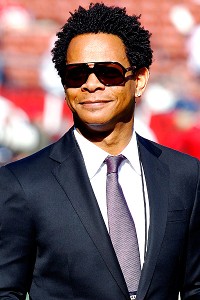 AP Photo/Kevin Terrell"Let's be real honest," former NFL safety Eric Davis said. "It's a gladiator sport. Coliseums were built for it."
Here are the highlights of their answers to the hot-button questions:
Where do you see the NFL in 30 years?
Brandt:
"I don't think we're Montgomery Ward. Montgomery Ward, at one time, was the leading retailer in the world and they made the mistake of saying we're not going to go into the little towns, we're just going to go into these big places, and they stood still. The league may doze, but it will never close. They're always looking for ways to make things better. They've been working on making the game safer and they'll continue to make it safer."
Pereria:
"I see it not a whole lot different than it is. I think the league will go as far as it can and still go further than it is now to try to make the game safer. But I don't think it's going to make the league disappear as some people have said. I think this is still a once-a-week game that people get very passionate about their games."
McGinest:
"I think the NFL definitely is going to be here to stay. I think that this is the best game in the world. I think that they're doing everything in their power to keep it that way and to make it one of the safest games. I don't think it's going to look different. I think they're just changing certain things to make it safer. If you're talking about hit zones, if you're talking about staying away from head shots and stuff like that, that's not something we're not used to hearing. So I don't think we're going to go back to leather helmets with no face masks or no helmets. This game is going to be the way it is. I just think they're doing everything and taking every precaution to make it safer."
O'Hara:
"Football is not going to disappear in 30 years. Will it look different? Of course it'll look different. Look at the game 30 years ago to today -- different game, different rules, different equipment. So 30 years from now, absolutely, it'll be a different game."
Are the safety concerns overblown?
Foxworth:
"My responsibility is just to protect the rights of the players and their health and safety, so I don't think that there can be enough [attention given to safety issues], especially given some of the things that have happened as a result of some of the head injuries. I'm pretty sure that those players and their families would say that there's no such thing as too much attention on the health and safety of the guys. So I come from that standpoint, and, being a former player, it's something I'm keenly aware of from a personal standpoint, and a lot of my friends are in this league and I know a lot of our kids may potentially be in this league. So it's very important that we put as much effort, time and money toward evolving the game and the science of the game as we can."
Smith:
"The game is what we signed up for. We didn't sign up for tennis. We didn't sign up for swimming and didn't realize we were going to go out there and get tackled. We signed up for football, which we knew was a physical sport."
Davis:
"Let's be real honest. It's a gladiator sport. Coliseums were built for it. People like to watch it and we're talking about big, strong, fast men. There are going to be collisions. There are going to be injuries. Do all the things you have to do to make it as safe as possible, but the reality is there's always going to be some danger."
Hebert:
"A little bit. But the NFL is so popular because it's the modern-day gladiator. I mean, I don't know what that says about mankind. But you can also look at boxing and ultimate fighting and how popular they are. Fans don't want to see flag football. I still think football will be here. You can change it, but you can only change it so far."
McGinest:
"I think it's necessary based on some of the studies, some of the former players and what they're going through, some of the players now. It's necessary. And it's also showing that the NFL cares about its players. If they're taking time to put on these full-on studies and they're going through every precaution with the testing of the gear and the helmets and they are willing to change certain things about the game to make sure that it's going to be here and be a safer game, it has all the signs of going in the right direction."
Boone:
"I just never understood how you change the game when you have players who are bigger, stronger and faster every year. It's just football. It's going to be physical. It's a physical sport. There are going to be injuries, but we're doing things to correct it.''
What one change would you make to improve safety?
Pereria:
"The safety issue is really all about the head. That's something the league has been focusing on for a long time and they'll continue to focus on making the rules broader than they are right now. Right now, only nine players are protected in certain situations. Can you go further? Possibly. The whole notion is going to try to be to get the head out of the game and get back to the wrap and tackling as opposed to lowering the head. They're serious about that, and they should be. To me, as I watch so much football on Sundays, it's already made a difference. You see situations where a defender really has a chance to blow up a receiver and he doesn't. To me, that means the rules are taking effect and that the fines have made a difference."
Davis:
"They're making the game safe for quarterbacks and star players. But they're not making it safer for all players. You never hear of a defenseless running back. You never hear of a defenseless linebacker. Defensive players aren't protected. Unless you make it safer for all players, I don't think you're doing as much good as you can. You have to put everyone on equal footing."
Reed:
"Defensive players should be protected, too. Offensive guys, quarterbacks in general, shouldn't be treated better than everybody on the football field.''
McGinest:
"I would take out the chop-block. That's another thing we don't talk about. A lot of emphasis is on the head, guys getting concussions and stuff, but there are also a lot of players getting their ACLs knocked out because now guys are diving. Now that they know they can't go high, guys are starting to attack with chop-blocking. That's also knocking guys' careers either out or messing them up. Not everybody's
Adrian Peterson
coming back from those injuries. A lot of guys, they take the wrong hit on the knee, they're never the same player."
O'Hara:
"I think the only real way to get everybody on the same page is to somehow get all the players in the NFL and all the coaches in the NFL and all the referees, get everybody in the same building and have, 'This is what is acceptable and this is what is not.' No second- and third-person regurgitation of the facts and, 'Here's what we're looking for,' because that needs to be consistent and everybody needs to hear the same message. Centralize the education, basically."
What else can be done to make things safer?
Hebert:
"I think you truly have to take it out of the players' hands as far as whether you're going to go back into the game or not after a head injury. As a player, when it comes to your teammates, you never want to be looked upon as a wuss. You want to be a tough son of a gun. To me, it totally has to be out of the hands of the players."
[+] Enlarge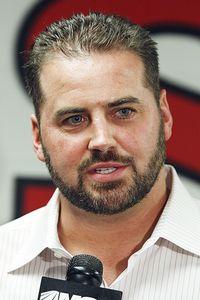 AP Photo/Mel Evans"You wouldn't give your son a circular saw and let him go and start whittling wood," former lineman Shaun O'Hara said. "You would teach him how to use that."
Davis:
"Look, the guys I played with and the guys that are playing now were schooled a certain way. It's too late for us and maybe too late for the guys still playing in the NFL. But the next generation is where a difference can be made. The kids that are coming into Pop Warner now need to be taught how to tackle properly. And maybe, just as importantly, they have to be taught that if you get dinged, if you take a hit to the head and you don't feel right, you go straight to the coach or the doctors and tell them immediately. People do that with ankle injuries. You hurt your ankle, you come out of the game. Head injuries need to be treated the same way."
Foxworth:
"In nine years, you can ask me that question and I'll have a definitive answer. But I don't know. We don't know how much damage repetitive hits do or whether it's the big knockout blows that do the damage. There are just so many questions. We're not sure about the best treatments and the quicker recovery time and if there are any precursors that make someone predisposed to have these kinds of brain injuries. Those are questions that will be answered by this Harvard research, and at that point, I think we can be able to set forth clear protocols of how to treat a player after a practice or how many hits [before] it's time to sit a guy out. Those sorts of things that are changes that can be made easily."
Brandt:
"I think it's like the Internet. People that are older, like myself, are not Internet-savvy. Kids that are 7 or 8 know more about it than I do. I think it's a thing that you build from the bottom up. Where I think we have a problem is that we have a lot of youth football leagues and the guys that are coaching sometimes get overzealous. I think we're gradually educating that element."
Would you let a young son start playing football right now?
Bowman:
"I'm not going to deter my kids from the game. When they see the game, they understand what it's all about. It's a physical game."
Suggs:
I respect [the president's comments] for the simple fact that this is a very physical and dangerous sport, especially considering that with the concussions and the current findings of Junior Seau. A parent would be reluctant [to let] his or her child play football. I think, if you play the game right and you play it appropriately, that injuries are part of the game.''
Pereria:
"Sure, I would. But I'd also be out there with him, coaching and working with the coaches to make sure that the game, at that level, is being coached properly and that kids are keeping their heads up and abiding by the rules that are still in the NFL rule book, which defines tackling as wrapping your arms around the opponent and taking him to the ground."
Miller:
"Everyone has their own opinions, but I would let my kid play football. It's a violent game, but not too violent. At the same time it builds character, hard work, dedication, responsibility. All of those things are important. They are taking caution to be careful and concerned for the players' safety and taking that into account more."
Foxworth:
"My son's so young, I like to think that we would have made advances by the time he's old enough to play to make it safer. Given the current state of the game, I wouldn't stop him from playing it, but I'd be very cautious about the exposure and the frequency with which he may come into contact with those type of dangers."
O'Hara:
"If my son wanted to play football, I would absolutely let him. I would drive him. But I would teach him. You wouldn't give your son a circular saw and let him go and start whittling wood. You would teach him how to use that. There's a proper way to use power tools. So my issue is, when I hear parents say, 'I don't want him to play football,' well, it's because you don't want to take the time to teach him how to do it right. Or you don't know how to teach him right. So that, to me, is a big sticking point. When I see kids that want to play football, I just want them to learn it the right way. We need to make sure our coaches are teaching our kids the right way to do things, because for every one kid that gets hurt, that's something that could affect a whole lifetime."
December, 9, 2012
12/09/12
11:30
AM ET
As the
Washington Redskins
prepare to host the
Baltimore Ravens
at 1 p.m. ET in a game critical to their newfound playoff hopes, here's one reason for Redskins fans to feel good about their team's chances and one reason for concern.


Feeling good:
The game is at FedEx Field, which matters. The Ravens are 27-4 at home and 18-17 on the road the past four seasons. Even with key defensive players such as
Ray Lewis
,
Lardarius Webb
and probably
Terrell Suggs
out with injuries, the Ravens would seem a far more daunting opponent if the game were being held 33 miles up the road in Baltimore. The Ravens' defense isn't what it used to be. Baltimore allows 125.8 rushing yards per game, while the Redskins' rush offense is the best in the league at 167.2 yards per game. Most people expect the Redskins to confuse the Ravens' defense with their pistol formation and read-option plays behind fantastic rookie quarterback
Robert Griffin
III, and that's entirely possible. But they're also pretty good when they just line up and run it between the tackles with rookie running back
Alfred Morris
.
Cause for concern:
I don't like the secondary matchups for the Redskins, particularly with cornerback
Cedric Griffin
starting a four-game suspension this week. The Ravens' receivers are either fast enough (
Torrey Smith
) or savvy enough (
Anquan Boldin
) to win consistently against what's left of the Washington defensive backs, and it's easy to see this being a nice rebound game for Baltimore quarterback
Joe Flacco
after a tough game last week against the Steelers.
October, 24, 2012
10/24/12
1:58
PM ET
The
Philadelphia Eagles
still have a couple of weeks before they have to make a decision on the health status of left tackle
Jason Peters
. But in spite of tearing his Achilles tendon twice (and having it surgically repaired twice) this offseason, Peters has been doing running and agility drills this week and Eagles coach Andy Reid now says "
there's a chance
" Peters could play in 2012. Per Tim McManus:
Ravens linebacker Terrell Suggs recently returned to the field just five months after suffering a similar injury. There is one key difference, however.

"You saw Suggs go through his thing. Now the difference is, Jason has had two of these," said Reid. "I'm not going to put him at risk, that's not what we're going to do. We're going to make sure the doctors are on board, that Jason is on board, and then we go from there. If he's physically able to be there, that's OK. But I'm not going to do anything to risk further injury to him."
So that's the context in which to view any Peters news the rest of the year: As long as there's no risk of a setback or further injury, the Eagles will continue to ease Peters back into shape in the hopes that he might be able to join them at some point this season. The difference he would make, if he could come back fully healthy, is nearly incalculable.
Everyone knows the Eagles' offensive line has struggled this season, and that the injury that cost them center
Jason Kelce
has been part of the problem as well. But the extent to which Peters' absence is being felt is thorough and extensive. His ability to take out a defensive end at the first level and quickly get upfield to block a linebacker or a safety at the second was a critical part of what
LeSean McCoy
and the Eagles were able to do in the run game last year. His absence is being felt in the screen game, as well, and of course in pass protection. Peters is an elite-level talent at his position, and
King Dunlap
and
Demetress Bell
have simply been insufficient replacements.
Even if Peters can come back, it doesn't sound as though it could possibly be much before December, if at all. But if the Eagles can hang in the race without him and he can return, the Eagles would surely benefit from picking up an all-pro talent at such a key position down the stretch.
May, 16, 2012
5/16/12
2:32
PM ET
A couple of months ago, left tackle
Jason Peters
was coming off the best season of his career and preparing to lead a very strong
Philadelphia Eagles
offensive line into a season of teetering hope and expectations. Then he tore his Achilles tendon during a workout and had to have surgery to repair it. Then he tore it again after falling from the device he was using to help get around post-surgery, and he must have surgery to repair it again.
Now, courtesy of Chris Mortensen, comes word that Peters (as well as Baltimore's
Terrell Suggs
) could
lose millions of dollars
in salary as a result of the injury:
The applicable wording in the CBA, Article 20, Section 3 provision states: "A player who is placed on a Nonfootball injury or Illness list ("N-F/I") is not entitled to any compensation under his contract while on such list ..."

Both players have claimed they were injured during off-site training sessions but league and union sources agree that any injury sustained that does not occur at the team's facility or under its direction is considered a "Nonfootball injury."

The Eagles and Ravens may act in accordance with their own wishes and pay the players all or a portion of their salaries. League sources say both Peters and Suggs are facing a financial reduction in 2012.

Peters will be subject to a loss of at least $3.25 million of his scheduled base salary of $7.9 million because that is the amount the Eagles will pay his replacement, former Bills tackle Demetress Bell, to take his spot this season. League sources say the team already has amicably discussed the financial reduction with Peters and his representative, Eugene Parker.
My guess is that the most likely resolution is that Peters and the Eagles come to some kind of resolution about what constitutes a fair amount. It does not appear that Peters would have any real recourse, given the wording of that portion of the CBA and the fact that the union agrees with the league on this aspect of the definition of "nonfootball injury," if the Eagles decided to throw the book at him. So the best resolution here is to come to an arrangement in which the loss from his end is as palatable as possible. Perhaps the Eagles, who have plenty of cap room, will take it easy on him.
The lesson, I guess, is to do your offseason workouts at the team facility, right? The new CBA doesn't require players to do as much work in the offseason as they used to do, or spend as much time at team facilities. But being off-site does, apparently, come with some risk, and cases such as these, in which the player is injured doing his own workout at his own location on his own time, could lead other players in the future to confine the most intense of their offseason workouts to their teams' weight rooms and practice fields.
One thing that is clear as a bell here is this: There aren't too many players in the NFL who have had a lousier offseason than Peters has.
May, 4, 2012
5/04/12
4:45
PM ET
On Thursday, we offered "One big question" for each of our division's teams and took a stab at answering it. If you missed them, you can check them out
here
. But I get tons of questions, and not all of them are big. So as we head into the weekend, I thought I'd take a shot at answering a couple of smaller, more specific questions I seem to be getting asked a lot these days. Let's do one per team.

Dallas Cowboys:
Will they go after Jacoby Jones?
It'd make a lot of sense, for the right price. He's a veteran receiver who can help as a return man. Basically what they need after
Laurent Robinson
and the 11 touchdowns he caught last season left for Jacksonville. But remember that last year, when No. 3 wide receiver was a question mark, the Cowboys didn't panic. They believed that
Jason Witten
's pass-catching ability at tight end lessened their need to prioritize that position, and they scooped up Robinson as a late-offseason bargain and got more than they ever expected. If there's competition for Jones, I wouldn't expect the Cowboys to push overly hard. There are still other options, including fifth-round pick
Danny Coale
and some of the other young guys on their roster.

New York Giants
:
Will they trade Osi Umenyiora?
This one surfaced with renewed energy Thursday after the news broke that Baltimore's
Terrell Suggs
was out for the season. The Ravens liked Umenyiora last year and now really could use him, and it's possible they'll call. But I don't see the Giants as motivated sellers. They have Umenyiora under contract for a reasonable price, and they have no fear that his contract situation will be a distraction to the team as it gets ready for the season, because everybody on the team is used to Umenyiora and his contract situation by now. The Giants would have to be blown away by an offer, and I don't expect that to happen. He'll either play for them in 2012 or sit out of his own accord.

Philadelphia Eagles:
Do they need a red-zone receiver?
The name of
Plaxico Burress
has been floated, and he remains a free agent who'd fit the description of the kind of big end-zone target Eagles fans say the team needs. But as with the Cowboys above, I don't see the Eagles going too crazy to bring Burress in. If the price is right, and there's little risk involved from the team's end, sure. But with a running back in
LeSean McCoy
who rushed for 17 touchdowns last season, I don't think the Eagles feel the need to do anything dramatic to improve their performance in the red zone. When they get close to the goal line, they feel pretty good about their chances to run it in.

Washington Redskins:
Who will start at running back?
My money's still on
Tim Hightower
, but there is that nettlesome little issue of his not currently being on the team. The Redskins have worked at re-signing him, and even if they do he's still going to be recovering from a torn ACL. Second-year backs
Roy Helu
and
Evan Royster
showed promise as rookies, but the Redskins' coaching staff isn't yet convinced of either as a full-time starter for 2012. Even if they bring back Hightower, I'd expect them to add another running back or two to the camp mix. And if Hightower goes somewhere else, I expect them to give themselves as many options as possible there, kind of like they're doing at safety.
May, 4, 2012
5/04/12
8:00
AM ET
Dallas Cowboys
The Cowboys are one of nine teams opening rookie minicamps Friday, and the occasion gave Calvin Watkins reason to remember Dez Bryant's rookie minicamp from two years ago -- and to write
this post
about the big things the Cowboys are expecting from Bryant in this, his third NFL season.
David Moore believes that Cowboys owner Jerry Jones has quietly been allowing his son, Stephen Jones, more and
more control
of the team's day-to-day operations for a number of years now -- mainly because Jerry was so preoccupied with the building of the new stadium for some of those years -- and that Stephen and Jason Garrett are now in charge of most of the football decisions. I can't speak to the Jerry vs. Stephen dynamic as well as David can, but I do think the past two offseasons reflect an increasing level of control for Garrett over roster and coaching staff decisions.
New York Giants
The Giants' rookie camp isn't until next week, but Ohm Youngmisuk's already taking a look at the rookies, beginning with
this snapshot
of first-round running back David Wilson. The Giants likely have higher hopes for Wilson than do these Scouts Inc. reports, but he'll have to separate himself from that Da'Rel Scott/D.J. Ware mix in the offseason in order to have a role befitting a first-round pick.
Clark Judge thinks the Ravens should
call the Giants
and do a deal for Osi Umenyiora in the wake of the Terrell Suggs injury. I'm sure they will make that call, and I do believe Umenyiora could play outside linebacker in a 3-4 defense. But the Giants can and will ask for a lot in return for Umenyiora, whom they control cheaply for next year. They don't fear any distraction he and his contract dispute might bring. They're not desperate to move him. The Ravens are going to need to come strong (possibly with a first-round or second-round pick) if they want to pry him away. Especially because the Giants know they're desperate.
Philadelphia Eagles
Forget last year, Nick Fierro writes. This Eagles' offseason has been so good that the result is a roster that appears to be in
better shape
than any in memory.
Vince Young -- who spent a weird 2011 season as Michael Vick's backup, started three games while Vick was hurt, and will forever be remembered for foolishly saying the words "dream team" when asked about the Eagles' 2011 run of free-agent signings -- impressed some people in a recent
workout for the Buffalo Bills
. It's true. I'm told Young didn't throw one single interception during his workout in Buffalo.
Washington Redskins
As the Redskins begin their rookie minicamp Friday, Mark Maske of the Washington Post looks at
what type of contract
the team will end up giving to first-round draft pick Robert Griffin III, given the CBA's new restrictions on rookie contracts.
In John Keim's latest
email report
, he checks in with SMU coach June Jones, who says he thought offensive lineman Josh LeRibeus would go in the second round, not the third, where the Redskins picked him. Some people felt the pick was a reach, but due to their zone-blocking scheme the Redskins evaluate linemen a little differently and targeted LeRibeus.
January, 7, 2012
1/07/12
9:40
AM ET
Matt Williamson of Scouts, Inc. has ranked each of the 12 NFL playoff teams by position group. He gives each group a score from 1 to 12 -- 1 being the best and 12 being the worst, and adds all of the scores up. The
New York Giants
came in eighth in the rankings, ahead of Sunday's opponent, the
Atlanta Falcons
, as well as the
Detroit Lions
,
Cincinnati Bengals
and
Denver Broncos
.
You can find the offensive position-group rankings
here
and the defensive ones
here
, but this is an Insider feature and you'll only be able to read it if you pay for it. So I'll hit some of the Giants-related highlights for you:
The Giants rank no better than fifth in any of the position groups except one. Matt has rated their defensive line No. 1 in these playoffs:
We will be privileged to watch some great defensive lines this postseason. With Justin Tuck and Osi Umenyiora now healthy and playing at a high level, I picked the New York Giants for the top spot here. But the reality is, there could be a great argument for Baltimore (I do count Terrell Suggs as a defensive end, not a linebacker) or San Francisco to claim the top spot.
Matt has the Giants fifth-best at quarterback, with
Eli Manning
ranking behind
Aaron Rodgers
,
Drew Brees
,
Tom Brady
and
Ben Roethlisberger
. You could make a case, certainly, for the 2011 version of Manning being better than Roethlisberger, but you can't argue with Big Ben's postseason record.
Matt also has the Giants fifth at running back, behind Houston, Baltimore, San Francisco and New Orleans and ahead of Atlanta, which surprised me a little except that I know Matt likes
Ahmad Bradshaw
a lot and that, like me, he puts the blame for the Giants' 32nd-ranked running game far more on the offensive line than on the backs.
The Giants' worst grades came at offensive line and linebacker, where he ranks each 10th. The Giants' line ranks ahead of only Atlanta's and San Francisco's, and at linebacker he ranks them ahead of only Cincinnati and New Orleans. The Giants don't have a case at either of these positions. Their line has played better recently, but (a) so has Atlanta's, since they went more to the no-huddle in the second half of the season and (b) on overall 16-game body of work, the ranking is justified. I mean, 32nd in the league in rushing is 32nd in the league in rushing.
Matt also has the Giants ninth at defensive back and seventh at special teams, which again ... tough to really argue.
A couple of spots where I think he underrated the Giants a bit are at receiver, where he has them sixth, and at coaching, where he has them eighth. The receiver rankings are real eye-of-the-beholder stuff, and when you factor in tight ends, yeah, I can see how someone might rank them behind New England or Detroit. I personally think the
Hakeem Nicks
-
Victor Cruz
tandem this year ranks with any one-two wideout combo in the whole league, but again -- eye of the beholder. And on coaching? Tom Coughlin's used to being underrated, even in his own town. He'll survive.
Bottom line, if Matt's right, the places where the Giants are weak are similar to those in which the Falcons are weak, which bodes well for them in this first-round game. And in the places where they're strong -- quarterback and defensive line -- they rank with or ahead of anyone, which bodes well for them if they get past the Falcons.
July, 17, 2009
7/17/09
10:49
AM ET
By
Matt Mosley
| ESPN.com
Posted by ESPN.com staff
Dallas Cowboys
New York Giants
Philadelphia Eagles
Washington Redskins
December, 21, 2008
12/21/08
2:44
AM ET
By
Matt Mosley
| ESPN.com
| | |
| --- | --- |
| | |
| | AP Photo/Tony Gutierrez |
| | Tony Romo (252 yards passing) and the rest of the Cowboys couldn't break through against the Ravens. |
Posted by ESPN.com's Matt Mosley
IRVING, Texas -- In a surreal scene that bordered on the absurd, the 2008 Cowboys crossed paths with men such as Drew Pearson, Roger Staubach, Bob Lilly and Michael Irvin on their way to the losing locker room Saturday night. It's too bad players synonymous with greatness were forced to be associated with a team that once again gagged when the stakes were at their highest.
Following a 33-24 loss to the Ravens, America's Team on Paper will have to try to back its way into the playoffs. And the one man offering alibis on the final regular-season night at Texas Stadium happens to own the club.
In a different time, perhaps Jerry Jones would've been tempted to fire head coach Wade Phillips on the spot. The man he entrusted to add some bite to his 3-4 defense failed on so many levels Saturday, but Jones stood by Phillips in his hour of need.
Jones was asked over and over to clarify his comments, in part because they didn't make a lick of sense. Even after watching the Ravens ice the game with 77- and 82-yard touchdown runs in the final 3:32 of the game, the owner blamed it on poor tackling, and said it had nothing to do with coaching.
"That floors me," he said. "Those are missed tackles."
Show of hands real quick: Did anyone see the Cowboys lay a hand on Willis McGahee as he raced toward relevance to give the Ravens a 26-17 lead? Jones, who spent several minutes in the closed locker room period asking quarterback Tony Romo to tell him what he saw out there, clearly thought Saturday's loss was on the players.
Asked whether he'd consider firing his head coach if the Cowboys missed the playoffs, Jones said, "Absolutely not. I don't have any inclination about any coaching changes. None. None."
He then rolled out an explanation that made its first appearance last month. Jones said Phillips is going to "do the best job of making his head coach look good." When I reminded him that Phillips was actually hired to be the head coach, Jones said he didn't want a "walk-around" head coach. Translation: He wants a head coach who also coordinates one side of the ball. The problem is that Phillips has always been more successful with only one of those roles -- and I don't need to tell you which one.
"Bill Parcells Jr. isn't gonna come in here," said Jones. "That's not a cure-all. As I stand here right now, it doesn't make sense [to make a change]. You look around at all the people who have changed and then how many people end up winning the Super Bowl."
The Cowboys (9-6) now find themselves on the outside looking in for the final wild-card playoff spot. They will root for the Bucs, Falcons and Eagles to lose Sunday and the Bears to fall Monday. Then they'll need to take care of business Dec. 28 in the regular-season finale in Philadelphia, which seems like such a far-fetched idea in the wake of Saturday's performance.
"We had control over our own destiny and now we don't," Phillips said in a quiet voice. "That's unfortunate. The only good thing about it was that they are an AFC team."
I'm not sure that was the silver lining Cowboys fans were looking for, Wade. One of the reasons Jones might be so supportive of Phillips is that the head-coach-in-waiting Jason Garrett's stock is in a free-fall. Until it was in a desperate situation late in the game, the Cowboys' offense didn't accomplish anything meaningful. Heading into the fourth quarter, Romo had thrown for 72 yards and two interceptions.
Garrett's "Twilight Zone" moment came on a key short-yardage situation early in the fourth quarter. The Cowboys were trailing 16-7, but they faced a third-and-1 at the Ravens' 16-yard line. Garrett called for Romo to run an option play to rookie Tashard Choice. Phillips claims the team has worked on the play in practice, but it wasn't ready for prime time. Choice couldn't handle the pitch, and the Cowboys settled for a 35-yard field goal.
For the better part of the game, Choice was the only reliable option. He had 17 carries for 90 yards and he was certainly capable of getting a couple of inches up the middle in that situation. It was a case of an assistant coach getting cute when there was no need for style points. The irony is that he could've been on the opposing sideline. The Ravens were prepared to name him their head coach, but Jones coughed up $3 million to keep Garrett in Dallas and Baltimore hired John Harbaugh. At least one team is getting its money's worth.
Romo threw two made-to-order interceptions to All-Pro safety Ed Reed, the second one setting the Ravens up for a go-ahead field goal before halftime. He then missed a wide-open Miles Austin in the third quarter on a deep ball that would've put the Cowboys on top, 14-9.
"I told Jerry when he came in the locker room that when you play these guys that are in our division you start to get the beat on things," Romo said. "But it took us a good three quarters to understand who was what and what position each individual was playing. I give them credit. They did a good job of keeping us off balance."
It's too bad the Cowboys couldn't figure things out in the final game at Texas Stadium -- especially since Jones apparently petitioned the league for the Cowboys to play the Ravens because it once looked like a winnable game. Jones sort of confirmed that theory to me after the game, but I couldn't tell whether he was joking. It didn't matter to the Ravens.
"We had a lot of politics that really made this game more fun," said Ravens linebacker Terrell Suggs. "They personally recommended us as their homecoming opponent. We fed off it the whole game. We hope they enjoy their ceremony tonight, but I guess we were the dynamite."
NFC EAST SCOREBOARD
Saturday, 12/20
Sunday, 12/21