February, 27, 2014
Feb 27
10:00
AM ET
IRVING, Texas -- Tuesday marked the 25th anniversary of Jerry Jones' purchase of the
Dallas Cowboys
and Texas Stadium for $140 million.
The highs have been high, but the lows have been low, especially since the Cowboys last won a Super Bowl in the 1995 season.
Here we will look at Jones' top five moments as the Cowboys' owner and general manager while realizing that a large segment of the fandom will not give him any credit for what happened in the early years when Jimmy Johnson was around.
1. How do you like those Super Bowls?
[+] Enlarge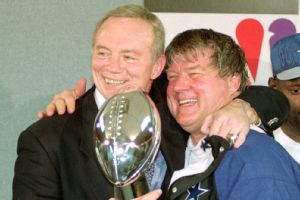 AP Photo/Charles KrupaOwner Jerry Jones and coach Jimmy Johnson celebrate their 30-13 win over Buffalo in Super Bowl XXVIII on Jan. 30, 1994, in Atlanta.
The Cowboys won three titles in Jones' first seven years as owner. They became the first team to win three Super Bowls in a four-year span, becoming the team of the 1990s with the Triplets -- Michael Irvin, Troy Aikman and Emmitt Smith -- becoming household names. The Cowboys beat the
Buffalo Bills
in Super Bowls XXVII and XXVIII by a combined score of 82-30. They claimed Super Bowl XXX with Barry Switzer as coach by beating the
Pittsburgh Steelers
27-17, exacting some revenge for the '70s Cowboys who could not beat Terry Bradshaw & Co.
2. Hiring Jimmy Johnson
Jones expressed regret Sunday about the rushed nature of firing legendary coach Tom Landry, but there is no doubt he made the right decision in bringing his former college teammate Johnson with him to the Cowboys. Johnson was the best coach in college football at the time at the University of Miami and brought a brashness that took the NFL by storm. The Cowboys suffered greatly in 1989 by going 1-15, but by Johnson's second year they were competing for a playoff spot in the final week of the season and winning a playoff game by the third year. By Year No. 4, Johnson had his first of two straight Super Bowl wins. It ended badly between Jones and Johnson, wrecking what could have been a history-making era because of the egos of the owner and the coach.
3. The trade of all trades
This is where the Jimmy and Jerry camps will always be divided. If you were a Jimmy guy, he engineered the trade of Herschel Walker to the
Minnesota Vikings
. If you were a Jerry guy, he had the final say. Regardless of who you want to credit, the moment is in Jones' era as owner and is among his biggest moments. The Walker trade brought about the formation of the Super Bowl teams. The Cowboys received five players and eight picks, turning those picks into Smith, Alvin Harper, Dixon Edwards and Darren Woodson. It might be the best trade in NFL history.
4. A new home
At $2.1 billion, there is no stadium like AT&T Stadium. This will be the monument Jones leaves whenever he is no longer the owner and general manager of the team. To get the stadium built, Jones acquiesced to a degree by bringing in Bill Parcells as coach in 2003 after three straight 5-11 finishes. With Parcells and the coach's two Super Bowl wins, Jones could show people he was serious about winning and changing his ways. The stadium is unmatched in the NFL, if not the world, with its nightclub-type feel, center-hung digital board, retractable roof and sliding doors. The Cowboys might not have the same home-field advantage they had at Texas Stadium, but the stadium has delivered a Super Bowl, an NBA All-Star Game, numerous concerts and the upcoming Final Four.
5. Trading for Charles Haley
Again, this will divide the Jimmy and Jerry camps, but Haley was the piece to the puzzle who got the Cowboys over the top. It weakened the Cowboys' biggest rival at the time, the
San Francisco 49ers
, and brought the Dallas defense an attitude it lacked. The signing of Deion Sanders in 1995 also weakened the Niners, but Haley brought two titles -- if not the third, as well. The drafting of Smith, No. 17 overall, was another top moment with him becoming the NFL's all-time leading rusher. But Haley's arrival brought to Dallas what the fans want most: Super Bowls.
February, 4, 2012
2/04/12
2:00
PM ET
»
Super Bowl XLVI Final Word
:
Patriots
|
Giants
Five nuggets of knowledge about Super Bowl XLVI:
Home sweet road:
The
New York Giants
have won six straight playoff games on the road or at neutral sites dating to 2007, according to ESPN Stats & Information.
Eli Manning
has been the quarterback for all six of them, and his six career postseason wins away from home tie him for the record with four other quarterbacks, including the
New England Patriots
'
Tom Brady
. (The others are Terry Bradshaw, Roger Staubach and Joe Montana, so not a bad list.) Manning's ability to remain cool under all kinds of pressure has been well-documented, and his record in hostile or neutral environments in postseason games offers yet another example.
[+] Enlarge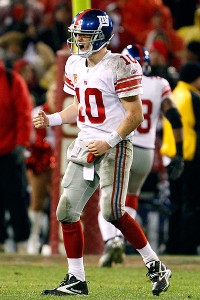 William Perlman/The Star-Ledger via US PresswireEli Manning has a 7-3 record in the postseason.
You again?
Manning and Brady are the third pair of quarterbacks to face off in multiple Super Bowls. The Cowboys'
Troy Aikman
and the Bills'
Jim Kelly
met in Super Bowls XXVII and XXVIII. Aikman won both. The Steelers' Bradshaw faced the Cowboys' Staubach in Super Bowls X and XIII. Bradshaw won both. Brady is hoping to buck history and pull off a split with Manning, who beat him in Super Bowl XLII.
Hot at the right time:
The Giants are the third team in history to reach the Super Bowl after failing to win at least 10 games in the regular season (not counting strike-shortened seasons). The previous two were the 2008
Arizona Cardinals
and the 1979 Rams. Each of those teams lost its Super Bowl, so a Giants win would make them the first Super Bowl champion to enter the playoffs with fewer than 10 wins. The Giants are already the first team to reach the Super Bowl after being outscored by their opponents in the regular season. They scored 394 points and allowed 400 on their way to a 9-7 regular-season record. Those 2008 Cardinals (plus-1) and 1979 Rams (plus-14) were the teams with the worst point differential in Super Bowl history until this year.
Peyton's place:
Eli Manning is playing the Super Bowl at Lucas Oil Stadium in Indianapolis, where his brother
Peyton Manning
has established himself as an all-time great quarterback with the Colts. Peyton had a head start on Eli and has fashioned a brilliant Hall of Fame career, but little brother's playoff numbers stack up with big brother's. Peyton Manning is 9-10 all time in postseason games with a 63.1 completion percentage and a 29-19 touchdown-to-interception ratio. Eli Manning is 7-3 in the postseason with a completion percentage of 59.8 and a TD-INT ratio of 16-8. If Eli throws three touchdowns on Sunday, it would give him 11 touchdown passes this postseason, which would tie the record for a single postseason set by Montana in 1989 and equaled by
Kurt Warner
in 2008.
Tough guys:
According to ESPN Stats & Information's "Next Level" stats, the pass-catchers in this game are very difficult to tackle after they catch the ball. The stat they use is "yards after contact," which differs from "yards after catch." Patriots tight end
Rob Gronkowski
, who's been struggling with an ankle injury since the AFC Championship Game, led the league with 290 yards after first post-catch contact. Giants wide receiver
Victor Cruz
was second with 245. Patriots wide receiver
Wes Welker
was third with 242 yards, and Patriots tight end
Aaron Hernandez
was fourth with 231.
February, 3, 2012
2/03/12
8:00
AM ET
INDIANAPOLIS — My favorite of today's links is
Kate Fagan's diary
of the Madonna news conference, and it's not because the Madonna news conference was my favorite part of the week so far. It wasn't. Top five maybe, but not No. 1. And no, it's none of your business what No. 1 was. Regardless, Kate's account of Madonna is an excellent and entertaining read. But for those of you who are more traditionally inclined and conditioned to two links per team per weekday ... well, we have that, too.
Oh, and since I know you're counting — the pedometer says I took 22,031 steps Thursday, bringing the total to 78,896 — or about 37.4 miles. All of them for you. Every single one of them for you. Even the ones that got me free gumbo from the 2013 New Orleans Super Bowl host committee. Which was awesome. I seriously wish you all could have enjoyed it with me.
Anyway, links.
New York Giants
Ian O'Connor says the Giants' pregame talk puts them at risk of being a
punch line
if they lose Sunday. I guess. Still doubt
Tom Brady
needs bulletin-board material for motivation to win as many Super Bowls as Terry Bradshaw won. Also, I think I think the Giants will win. But predictions come out... you know... later.
Jerry Reese thinks it's funny that his team won 10 regular-season games last year and missed the playoffs, won nine regular-season games this year and reached the Super Bowl and now
people think he's smarter
than he was then. This is the rare thing on which Jerry and I agree. I also think that's funny.
Philadelphia Eagles
Sam Donellon thinks Juan Castillo is in a
no-win situation
. I think Sam would be right if media and fan perception were the ultimate judge of the success of a team and a coach. But since it's not -- and since Castillo's employers, who like him, will ultimately make the call on whether he was responsible for the Eagles' 2012 successes or failures -- I think Castillo has a chance to win and win big.
Sheil has a look at Luke Kuechly, who'd be a
pretty sweet pick
for the Eagles at No. 15 in the draft this April if he's still there.
Dallas Cowboys
Jean-Jacques thinks the Hall of Fame needs
Charles Haley
in order to
consider itself complete
. We'll find out Saturday if the Hall voters feel the same way.
Michael Irvin
believes that
Dez Bryant
will eventually be the
best receiver in the NFL
. That would be pretty awesome for the Cowboys if that happened.
Washington Redskins
Kyle Shanahan says
his opinion
on
Rex Grossman
hasn't changed since a year ago. I guess that's... good? Or bad? I don't know. Still pretty sure they need to upgrade.
Nathan Fenno writes that
Sean Taylor
's friends and family
still await justice
.
October, 16, 2010
10/16/10
2:15
PM ET
By
Matt Mosley
| ESPN.com
This is a weekly staple that allows readers to lash out against the author of the Beast blog. We recently topped the 10,000-letter mark, which is apparently a blog network record at ESPN.com and one that is being celebrated in Bristol, Conn., as we speak. You guys have been prolific this week, so let's get right to it:
Stephen from Philadelphia is concerned with something I wrote about in Friday's Final Word column:
Yeah,
Jared Allen
wore out
Doug Free
to the tune of ... one tackle over almost three quarters. I'm not pretending Free won't have problems -- I don't think Dallas can protect
Tony Romo
-- but the problem Dallas had in that game was
Ray Edwards
around the edge and both Minny's DTs DESTROYED the interior of the the Dallas OL (which I think they will do again), meaning Romo had no pocket to step up into. That was the problem, not Allen's one tackle, which actually came when
Jason Witten
was left one-on-one with Allen.
Mosley:
The NFC East blog has taken a blood oath not to blame any sacks on Witten or Eagles tight end
Brent Celek
, Stephen. But seriously, Free did struggle in that game against Allen, and that's been confirmed by his offensive line coach, Hudson Houck. He was thrown into a tough situation, so I don't think we should hold that against him. And, yes, I agree that Ray Edwards was the bigger problem because he was racing around a gimpy
Marc Colombo
. The Cowboys must try to establish a running game early to neutralize the noise factor in the Metrodome. This may be one of the best home-field advantages in the league. I'd put Arrowhead No. 1 -- even with all the fancy new additions. (Shoutout to Chiefs coach Todd Haley, who reads this column religiously despite his frustration that I never mention the playoff-bound Chiefs.)
---
Jakeem from Atlanta wants to talk NFL trivia:
Tony Dungy may be the only person in NFL history to make an interception and throw one in the same game. Do you know if this happened in the 1977 game against the Houston Oilers that you mentioned?
Mosley:
That's exactly when it happened, Jakeem. Dungy, a former college quarterback, was forced into the game against the Oilers when Terry Bradshaw and his backup were both injured.
Dungy was 3-of-8 for 43 yards
and two interceptions. And, yes, he also picked off the Oilers in that game. That's a point that Wade Phillips forgot to make when he was belittling Dungy's playing career Friday. I like Wade, but that was not a good moment for him. Dungy's paid to analyze teams and players for NBC. If he questions Tony Romo's leadership, it's not that big of a deal. And honestly, I have no problem with Phillips defending Romo. He just crossed the line with his petty commentary about Dungy's game against the Oilers in 1977.
---
Andrew from Dallas has a Cowboys-Redskins related question:
Why is it that when Dallas switched to the 3-4, Roy Williams (SS) was moved horribly out of position and never recovered, but Washington switches to the 3-4 and
LaRon Landry
, a very similar player, has a breakout year? I understand schemes are different, but shouldn't coaches adjust to the abilities of their better players?
Mosley:
I think we all waited for Williams to develop into a
John Lynch
/
Troy Polamalu
type player, but he just didn't have the awareness to be that type guy. Williams really benefited from playing with
Darren Woodson
in 2002 and 2003. When Woodson was forced into retirement because of a back injury, Williams' game immediately leveled off. He certainly had his moments in Dallas, but his limitations in coverage were too much to overcome. And I'm not sure how much passion he had for the game when you really get down to it. Landry's always had the talent, but it looks like Jim Haslett has finally tapped into it on a week-to-week basis. Playing Landry close to the line of scrimmage allows him to be more physical. The guy is an absolute beast to deal with near the line and he seems a lot more engaged than ever. I'll never understand why former defensive coordinator Greg Blache had him playing so far off the ball. But the arrival of Haslett could turn Landry into a perennial Pro Bowl player. He's playing that way right now.
---
Greg B from Philly is trying to settle a dispute with friends:
In regards to
your post
about [Eagles safety]
Nate Allen
, you referred to a Suplex tackle made by
Brian Dawkins
. I find it interesting because my friends and I were attempting to find out just last week who was on the receiving end of the tackle. We have two suspects, neither of which is
James Thrash
, who was on the Eagles at the time. But it is either 83
Cliff Russell
or 87
Rod Gardner
. If you could out who it was, that would help settle a large dispute we are having.
Mosley:
Greg, I recently watched video of Dawkins using the Suplex on then-Redskins receiver James Thrash in an '08 game. But he's had several such tackles during his career, so I wouldn't rule out any "suspects' at this time. Based on my exhaustive Google research Thursday while preparing a column on Allen, I ran across at least five Suplexes/body slams. I believe that Dawkins uses the version popularized by the Texas-based Von Erich family in the 1980s. Fritz Von Erich's "Iron Claw" is still used to settle disputes in remote parts of Kaufman County, Texas.
---
Devin from Sydney, Australia, wants to know what's up with John Clayton and his Power Rankings staff:
Matt, I've loved your analysis on the
Power Rankings
this year. Can you explain the rationale behind Houston -- on a two-game losing streak and looking worse in each -- having a higher ranking than the G-Men who are on a two- game winning streak, looking better each week and befuddled the Texans? It's time we get you on the panel.
Mosley:
Devin, ESPN.com removed me from the voting process two years ago, in part, because I begged for two years to be taken off the panel. It's much more fun to write a post each Tuesday poking holes in John Clayton's voting habits. If the Skins beat the Colts on Sunday, I fully expect The Professor to move them into the top five. But thanks for your support. ESPN.com has looked into having my blog syndicated in Sydney. If it makes you feel any better, the Giants would likely rank No. 1 in my NFC East power rankings, which don't currently exist. I want to see how the Giants' linebackers play against Lions running back
Jahvid Best
tomorrow. I know Best has been banged up, but I think he'll still pose a serious threat. If this game's close, watch out for this
Shayne Graham
situation at kicker. He wasn't on his game last season for the Bengals (by his standards).
Thanks again for your wonderful e-mails and threats. I'm headed out to the Ballpark in Arlington to see if the Rangers can recover from last night's heartbreak. Then it's on to Minneapolis, where that Viking horn sound goes off every 15 seconds -- especially when the Vikes are playing the Cowboys.
September, 17, 2008
9/17/08
11:25
AM ET
By
Matt Mosley
| ESPN.com
Posted by ESPN.com's Matt Mosley
If you haven't visited the Web site, ColdHardFootballFacts.com, there's no time like the present. In the wake of Monday's epic Cowboys-Eagles game, the folks at Cold, Hard have come up with several fascinating nuggets.
I couldn't hear the broadcast from my seat at Texas Stadium on Monday, but apparently Mike Tirico mentioned that Donovan McNabb was one of only seven quarterbacks in the history of the league to have thrown for 25,000 yards and run for 2,500. So who are the other six?
John Elway -- 51,475 passing yards and 3,407 rushing yards
Frank Tarkenton -- 47,003 and 3,674
Steve Young -- 33,124 and 4,239
Steve McNair -- 31,304 and 3,590
Randall Cunningham -- 29,979 and 4,928
Jim Harbaugh -- 26,288 and 2,787
Donovan McNabb -- 25,765 and 2,965
And here are some players who barely missed the mark:
Bobby Layne -- 26,768 and 2,451
Rich Gannon -- 28,743 and 2,449
Mark Brunell -- 31,826 and 2,433 (still has a shot)
Terry Bradshaw -- 27,989 and 2,257
Steve Grogan -- 26,886 and 2,176
The other item I found interesting is that Cowboys quarterback Tony Romo is on his way to having the highest passer rating in the history of the league. Through 28 starts and 919 attempts, Romo now has a 97.6 rating. Steve Young has the highest with 96.8. Romo needs 581 attempts to reach the league minimum for ending up in the record books.