February, 15, 2013
2/15/13
8:00
AM ET
Washington Redskins
What kind of recovery can Redskins fans expect from linebacker Brian Orakpo? And assuming recovery from a second straight season-ending pectoral injury, what kind of production can the Redskins expect from their former first-round pick?
Mike Jones takes a look
at these questions whose answers will be a huge part of the Redskins' 2013 defense.
Redskins GM Bruce Allen says it's "
ludicrous
" to think that the team is is trying to upset people with its nickname. But the problem with that remark by Allen is that no one thinks that. No one on this side of the argument thinks the current GM or coaches or players on the Redskins are doing anything with the intent to offend. Allen is in the wrong discussion, and saying what he said indicates that the team doesn't want to have the right one. That's the disappointing thing. On Twitter on Thursday, RedskinsST21 wrote to me, "This conversation is so frustrating as a fan. Feels like we did something wrong." It shouldn't. This is just an opportunity to do something right. It would hurt absolutely no one to change the name of this or any other professional sports team. In the grand scheme of things, the name of a professional sports team is incredibly insignificant. If changing it allows us to take a step toward greater respect for fellow human beings, it's simply a no-brainer. And it's disappointing that the team doesn't see that side of it.
New York Giants
Ohm's
looking today at special teams
, where the main question right now seems to be whether the Giants are moving on from free-agent kicker Lawrence Tynes. The return game seems in good hands, especially with David Wilson on kickoffs.
Carolina linebacker Thomas Davis has been
providing inspiration
for Giants defensive back Terrell Thomas as the latter attempts to come back from a third ACL surgery.
Dallas Cowboys
Bill Callahan, who may be given offensive play-calling duties if those are taken away from head coach Jason Garrett, thinks
too big a deal
is being made of this particular issue. And he may well have a point, but surely someone of Callahan's experience understands the extent to which offensive play calling as an issue fires up football fans.
The Cowboys believe DeMarco Murray can be an "
elite runner
," especially if they can find ways to keep him healthy. I think they're right. Murray has shown a lot when he's been on the field the past two years, especially considering the way the offensive line has played in front of him. But they need to find a way to keep him healthy, that is beyond doubt.
Philadelphia Eagles
Running backs coach Duce Staley wants the Eagles' running backs to improve in
blitz pickup
. This has been a hole in LeSean McCoy's game, to be sure, and with the questions the Eagles face at quarterback and trying to get their banged-up offensive line healthy, it's likely to take on even more importance in 2013.
Continuing a position-by-position look at the Eagles' offseason, Zach Berman takes up the question of
safety
, which has been a thorny one in Philadelphia now for quite some time.
June, 23, 2011
6/23/11
9:47
AM ET
We continue to take a position-by-position look at potential four-year unrestricted free agency and the way it could impact the offseason plans of the teams in the NFC East. We did cornerbacks and running backs Wednesday, and today we're taking a look at outside linebackers. The division's 3-4 defenses appear set at those spots with
DeMarcus Ware
and
Anthony Spencer
in Dallas and
Brian Orakpo
and
Ryan Kerrigan
in Washington, so we'll focus on the 4-3 teams along the I-95 corridor. The pool has been diminished as teams have placed franchise designations on top players such as
LaMarr Woodley
,
Chad Greenway
and
Kamerion Wimbley
, but there are still options available for the Eagles and Giants to bolster weak spots.
NFC East teams in need
Giants
: Linebacker is a muddy situation for the Giants. If they sign a middle linebacker, they could move
Jonathan Goff
to the outside and lessen their need there. And assuming they bring back
Mathias Kiwanuka
, who's been something of a Swiss army knife on the defense, they might be able to get by with
Clint Sintim
and
Michael Boley
at the starting outside linebacker spots. But neither Sintim nor Boley is a sure thing, and while the Giants have ignored this position over the past couple of years, they would do well to keep their minds open to the possibility of an upgrade.
Eagles
: Either
Jamar Chaney
or
Stewart Bradley
will man the middle, with the other (assuming Bradley re-signs) taking one of the outside spots. But that doesn't mean the Eagles couldn't use more depth at this spot. They'll have a chance to get creative, perhaps signing a guy for the middle and using Chaney on the outside. But Chaney showed a lot in that middle linebacker spot last year and they'd do well to think about adding outside pieces around him.
Top five potential unrestricted free-agent outside linebackers:
[+] Enlarge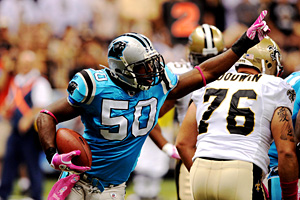 Chuck Cook/US PresswireCarolina's James Anderson is the top free-agent target among outside linebackers.
1. James Anderson
. Had a very good year on the strong side for Carolina, which isn't likely to offer him much to stay. If the Giants were to get serious about the position (and if they didn't have so many other free agency issues at other positions), Anderson would be a great fix for their strong side linebacker void. Carolina teammate
Thomas Davis
is another name who could attract interest, but Davis is coming off an injury and might be more affordable for the Panthers to retain.
2. Manny Lawson
. The 49ers could let him walk, and Lawson is a hyper-athletic, multi-purpose linebacker who can play the run and pressure the passer. His sack numbers haven't been great, but he grades out well as a disruptive force in backfields. Could be a great answer for the Eagles on the weak side.
3. Rocky McIntosh.
He didn't like or fit into the Redskins' new 3-4 scheme last year, and he's likely better off playing the pass from the weak side in a 4-3. Also would be a helpful guy in Philadelphia, and he might could be had relatively cheap.
4. Stephen Nicholas.
The Falcons would like to keep him, but he might have a hard time cracking the starting lineup in Atlanta, so if there's a team out there that could park him on the strong side and use him to solidify their run defense (i.e., the Giants), he could bolt for greener pastures and/or more green.
5. Clint Session.
Played only five games for the Colts last year because of injury. Session is quick and small but replaceable in Indianapolis, so he's likely to be on the market for teams looking for depth and versatility in the linebacking corps.
Predictions that mean nothing
: Eagles sign McIntosh. Giants continue to overlook the position, maybe pursue a middle linebacker such as
Paul Posluszny
so they can move either him or Jonathan Goff to the outside, depending on how things look in training camp.
September, 28, 2009
9/28/09
8:55
PM ET
By
Matt Mosley
| ESPN.com

Posted by ESPN.com's Matt Mosley
ARLINGTON, Texas -- The Cowboys raced the ball down the field thanks to running back
Felix Jones
on their opening possession, but they were turned away in the red zone. On the sack by
Thomas Davis
, Romo appeared to be waiting for a receiver to make an adjustment on his route. It never happened and Romo was slung to the ground.
Nick Folk
is usually automatic from 40 yards out, but he missed wide right. To me, it looked like he never followed through on the kick. Now the Panthers are driving. The vaunted Cowboys pass-rush is still missing in action at this point. The Panthers are going with some quick-hitting routes along the sideline to counter the Cowboys' speed. And the Cowboys are once again having a difficult time making tackles. I've counted about 14 yards after contact so far.
NFC EAST SCOREBOARD
Thursday, 11/27
Sunday, 11/30