NFC East:

thomas dimitroff
December, 12, 2013
12/12/13
9:20
AM ET
ASHBURN, Va. -- They have the same record, but are going through a far different experience.
Washington Redskins
coach Mike Shanahan blamed the noise surrounding his team on their record and that's partly true. But there's little noise out of Atlanta, which also entered the season with Super Bowl hopes and instead are seven games under .500, just like the Redskins.
Why is that? Here's a good place to start: The Falcons were 56-24 under coach Mike Smith entering the season. (They were 11-21 the previous two seasons and coming off the Mike Vick saga, so this was not an easy turnaround.) The Redskins were 21-27 under Shanahan.
Any coach such as Smith can withstand a bad season after so many good ones. Any coach in Shanahan's position will be scrutinized, especially when in the last year of a contract. (Smith signed a three-year extension in 2011; general manager Thomas Dimitroff said earlier this season that Smith was going nowhere.) When you're in Shanahan's situation, leaks result.
[+] Enlarge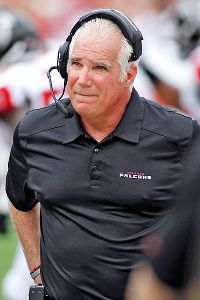 AP Photo/Reinhold MatayFalcons coach Mike Smith's success in the recent past affords him leeway that Mike Shanahan is not getting right now.
Smith said he's handled their 3-10 season by staying positive.
"I'm a very positive person and I think that you have to be transparent with your team in terms of when things are going well and when things are not going well," he said. "We have collectively contributed to the success that we've had and we've collectively contributed to the season that we're having this year. We're all responsible for it and we're all accountable for it. I think when you have that type of communication between the different parts of the organization and everybody takes accountability for it, it makes it a lot easier."
"Certainly, it's a tough time," Falcons quarterback
Matt Ryan
said. "I think Coach Smith has done a great job of handling the different situations."
A strong locker room helps, too. The Redskins say they have it and, being in there every day, I agree. I do think the next three weeks will be a struggle with the circus atmosphere that now dominates. The outside stories about Shanahan's future or past and examining every relationship involving Griffin have taken a toll.
Atlanta doesn't have to endure any of that.
"You want to point fingers, that's just the way it is, but it does you no good," Ryan said. "I think guys have realized that -- that blaming other people and trying to throw guys under the bus, it's not going to help us. Certainly that's one of the things, when you look at a tough season, that's one of the things that is a positive."
Here, there's talk about the nature of owner Dan Snyder's relationship with
Robert Griffin III
. We don't know how Arthur Blank gets along with Ryan. (We do know he was close to Vick.)
Smith on Blank:
"Well, Arthur is a very good leader. He's got a lot of experience not only in football, but in business as well. He knows how to handle things when times are great and knows how to deal with things when times are bad. I think it starts at the top with him. ... Again, I think collaboration is very important, and communication, so that you have a collaborative atmosphere where you can have discussions and make decisions to try to get things first. That's what we're trying to do at this point in time and we will get it done."
Meanwhile, the Redskins will enter the offseason with plenty of questions that the Falcons just don't have to answer.
July, 30, 2012
7/30/12
10:08
AM ET
Over at the NFC South blog,
Pat Yasinskas has done a post
updating the progress of former
Philadelphia Eagles
cornerback
Asante Samuel
. The Eagles traded Samuel to the Falcons just before the draft for a seventh-round draft pick, and many Eagles fans bemoaned the deal because of how little they got in return. It was the kind of deal that made you think the Eagles believed Samuel to be done as a player, and a few weeks back Jeff McLane of the Philadelphia Inquirer wrote that Eagles coach Andy Reid believed Samuel was in "
steep decline
."
Samuel
Pat spoke with Falcons coach Mike Smith and GM Thomas Dimitroff about Samuel and they said they're happy with him. Not a huge shock, since what are they going to say in the first week of camp? "The guy's a bum, I'm sorry we traded for him?" But Smith talked in detail about the kind of player Samuel is -- a cornerback who can match receivers' ability to play in space. And I think that's a pretty fair assessment. If they'd brought him in to be a shutdown, man-coverage corner, I think it'd be fair to say they'd made a mistake. But they didn't. They already had
Brent Grimes
and
Dunta Robinson
on their roster, and they likely can use Samuel in situations that play to his strengths. And he does have several.
I don't think, based on everything I was being told at the time, that "steep decline" was the driving reason for the Eagles' decision to trade Samuel. I think it was a money issue (i.e., they wanted to get rid of his salary so they could sign their younger players long-term) and a scheme issue (i.e., they wanted to be able to play their corners in man coverage more this season and couldn't do that as long as Samuel was one of the starters). Like Pat, I would not be surprised to see Samuel do well in Atlanta. If he does, I would not automatically believe that means the Eagles made a mistake. The Eagles didn't think they could use him anymore, especially at his price. The Falcons saw a guy who fits what they want to do. It's entirely possible it could work out well both ways.