March, 28, 2014
Mar 28
1:15
PM ET
IRVING, Texas -- While we have discussed the long-term futures of
Tyron Smith
and
Dez Bryant
with the
Dallas Cowboys
this offseason, one player we have not touched on much is
DeMarco Murray
.
Murray is scheduled to be a free agent after this season. He was named to the Pro Bowl after rushing for 1,124 yards and nine touchdowns, and catching 53 passes for 350 yards and a touchdown. When Murray has played well and been given a chance to carry the ball, the Cowboys have won.
Murray
But running backs' values have dropped dramatically in the past few years. If they aren't
Adrian Peterson
, they don't get paid the mega deals. And the guys that have been paid in recent years, like
Ray Rice
and
Maurice Jones-Drew
, have taken a downturn.
In 2008, the Cowboys signed Marion Barber to a seven-year deal worth $45 million that included $16 million in guarantees.
Those days are long gone.
The best free-agent deals for running backs so far have been to
Donald Brown
and
Toby Gerhart
, who received three-year, $10.5 million deals from the
San Diego Chargers
and
Jacksonville Jaguars
, respectively. Brown has never rushed for more than 645 yards in a season. Gerhart has never rushed for more than 531 yards, though he was playing behind Peterson.
Knowshon Moreno
is joining the
Miami Dolphins
on a one-year, $3 million deal after rushing for 1,038 yards in 2013 for the
Denver Broncos
.
Rashad Jennings
received a three-year, $10 million deal from the
New York Giants
after rushing for 733 yards last season with the
Oakland Raiders
.
Murray had his best season in 2013, but he missed two games and has yet to play a full season. But his advisors have to see how the market is going for running backs. There wasn't a running back taken in the first round last year. The top running back chosen in 2012,
Trent Richardson
(No. 3 overall), was traded to the
Indianapolis Colts
last season.
Murray will make $1.406 million in 2014 as part of his rookie deal.
The Cowboys could lock him in for another three seasons at a good number and still have plenty in reserve for Smith and Bryant.
February, 18, 2014
Feb 18
8:00
AM ET
PHILADELPHIA -- You learn a little bit about what coaches are thinking by listening to them speak. You learn a lot more by watching what they do when the pressure is on.
All season, Eagles coach Chip Kelly had positive things to say about
Bryce Brown
and
Chris Polk
, his backup running backs. They were coming along. They would get some carries as Kelly sought to lighten the load on
LeSean McCoy
.
[+] Enlarge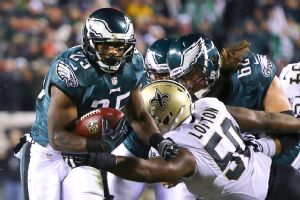 Al Bello/Getty ImagesLeSean McCoy rushed for 1,607 yards and had 539 yards receiving last season.
When the Eagles played Dallas in the final game of the season with the NFC East title on the line, Brown got exactly two carries when McCoy desperately needed a blow late in the game. Polk had zero carries and one catch.
The next week, in the Eagles' playoff loss to the
New Orleans Saints
, neither Brown nor Polk touched the ball. No carries, no catches, no nothing.
That tells you that the Eagles, the team with the NFL's leading rusher and No. 1 overall running game, need an upgrade at the running back position.
McCoy, who is still just 25, is and will be the man. Part of the reality here is that it is just plain tough to take him out of a game. He's that good. But his career is going to be longer if the Eagles can find a way to lessen his workload.
McCoy carried the ball 314 times in 2013 and caught 52 passes for a total of 366 touches. That's more touches than anyone in football (Chicago's
Matt Forte
was close with 363 -- 289 rushes and 74 receptions). When you add pass blocking, that's a lot of contact.
But sheer volume isn't the only factor. There were several games in which the run game just wasn't clicking. The offensive linemen talked about not being "on the same page" with McCoy at times. McCoy himself admitted to being too fine at times and not just hitting the holes that were there.
That might be an opportune time to get another back a series or two. See if things start working better. Once the run game gets into a groove, McCoy just might slide right into it and produce as he normally does.
The two most notable of those not-on-the-same-page games were the touchdown-less losses to the Giants and Cowboys in consecutive weeks. Brown got a total of five carries in those games. Polk was inactive for one and had zero touches in the other.
With
Matt Barkley
forced to play quarterback because of injuries to
Nick Foles
and
Michael Vick
, the run game was needed even more. It produced even less.
Polk had surgery on his shoulder after the season, so it's possible he was limited by that injury in the second half of the season. Brown and Polk both got in on the snowy rout of Detroit in December, but neither made much of a mark otherwise.
So yes, the Eagles have arguably the best running back and the most productive running game in the NFL. But they are still very likely to look to upgrade the running back position during this offseason.
There are a number of backs available in free agency, including Minnesota's
Toby Gerhart
-- a player Kelly went out of his way to praise and who played for new Eagles quarterbacks coach Bill Musgrave.
If Kelly is sentimental, he could look at New England's
LeGarrette Blount
, who played for Kelly at Oregon. If Kelly is feeling mischievous, he could bring in Denver's
Knowshon Moreno
, who was on the receiving end of some barbed comments from McCoy back in September.
More likely, the Eagles will keep an eye out for a back they like in the draft. Another Oregon product,
De'Anthony Thomas
, could be an interesting match. Thomas is just 5-9, 176 pounds, but has elite speed and could be the answer to the Eagles' need for a big-play return man as well.
January, 21, 2014
Jan 21
2:45
PM ET
PHILADELPHIA -- It's easy to understand why Eagles coach Chip Kelly would be impressed with
Bill Musgrave
.
A month ago, Musgrave was calling the plays for the
Minnesota Vikings
when
Matt Cassel
threw for 382 yards and two touchdowns in a 48-30 blowout. Without
Adrian Peterson
or backup
Toby Gerhart
, Musgrave helped deal Kelly and the Eagles their only loss in the second half of the regular season.
[+] Enlarge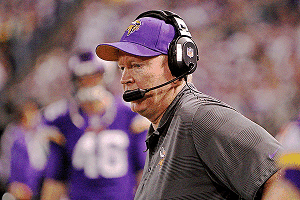 Brace Hemmelgarn/USA TODAY SportsBill Musgrave's work as the Vikings' playcaller likely impressed Eagles coach Chip Kelly during their December meeting.
Kelly hired Musgrave, the former Minnesota offensive coordinator, as his new quarterbacks coach on Tuesday. Musgrave, 46, replaces Bill Lazor, who left the Eagles after one season to become offensive coordinator of the
Miami Dolphins
. The hiring was first reported by Alex Marvez of Fox Sports.
Musgrave's history is intriguing for three very different reasons.
Most important, he has deep roots in the West Coast offense, as does Eagles offensive coordinator Pat Shurmur. Musgrave spent most of his playing career as a backup in San Francisco, where he played under Mike Holmgren, Mike Shanahan and Gary Kubiak. He followed Shanahan to Denver, where he backed up John Elway for a couple of years.
Kelly, of course, is not a West Coast offense guy. He dubbed the Eagles' offense the "See Coast" offense, because he and his staff borrow from things they see and like. Kelly stressed that the Eagles' offense is the product of his entire staff, not an attempt to replicate what he ran at Oregon.
After the season, rookie quarterback
Matt Barkley
said the Eagles' running game was very similar to the one Barkley saw while playing for USC against Oregon. But the passing game had West Coast influences thanks to the presence of Shurmur and Lazor.
In that sense, then, Musgrave represents continuity.
Musgrave also has a history with
Michael Vick
, having served as quarterbacks coach for Vick's final season in Atlanta. It isn't clear whether that's good or bad for Vick's potential return to the Eagles, since the Falcons went 7-9 that year and took
Matt Ryan
in the first round of the 2008 draft. Musgrave worked with Ryan for two seasons.
The other interesting thing about Musgrave's coaching career is the odd way that it began. He was hired immediately after his playing career as the quarterbacks coach for the
Oakland Raiders
, serving on the staff of a first-year head coach named Jon Gruden.
That job lasted for only the 1997 season.
Meanwhile, the Eagles were in utter disarray after losing Gruden, their offensive coordinator, to the Raiders. Head coach Ray Rhodes hired Dana Bible to replace Gruden, but by the end of training camp was already regretting the decision. Rhodes hired Musgrave as an offensive consultant.
By mid-October, Musgrave had unofficially taken over offensive coordinator duties. He was just 30 years old, a year younger than starting quarterback Rodney Peete. Bible remained on the staff. So did the quarterbacks coach, a young up-and-comer named Sean Payton.
The whole staff was fired at the end of that 3-13 season. Andy Reid and his crew came in as replacements.
Musgrave rebounded, coaching quarterbacks in Carolina, Jacksonville, Washington and Atlanta before becoming the Vikings' offensive coordinator in 2011. He returns to Philadelphia under much better circumstances this time around. Musgrave will work with
Nick Foles
, Barkley and possibly an as-yet unknown third quarterback.
One other change: Eric Chinander, the Eagles' assistant defensive line coach, returned to the University of Oregon as a linebackers coach. Chinander followed Kelly to Philadelphia last year. Jerry Azzinaro remains the defensive line coach.
December, 23, 2013
12/23/13
6:40
PM ET
PHILADELPHIA -- If it's better to be lucky than good, the 2013
Philadelphia Eagles
could win the NFC East title by being a little of both.
They opened the season against Washington, with
Robert Griffin III
looking very much like a young quarterback who hadn't taken a preseason snap.
They played Tampa Bay in
Mike Glennon
's second career start, while the Buccaneers were dealing with fallout from the
Josh Freeman
mess and a MRSA outbreak.
[+] Enlarge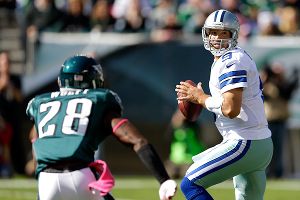 AP Photo/Matt RourkeTony Romo passed for 317 yards in Dallas' 17-3 win against Philadelphia on Oct. 20.
Green Bay's
Aaron Rodgers
broke his collarbone six days before the Eagles played the Packers, and his backup,
Seneca Wallace
, left with an injury in the first quarter.
When the Eagles were worried about how to cover
Calvin Johnson
, eight inches of snow covered the Detroit receiver for them.
Minnesota's
Adrian Peterson
injured his foot the week before the Eagles played the Vikings. His backup,
Toby Gerhart
, also missed that game.
And now
Tony Romo
will be out for the biggest game of the season, the virtual playoff game between the Eagles and Dallas, according to ESPN reports.
It's enough to make you wonder if Chip Kelly's super-secret sports science program includes hexes and voodoo dolls.
While there will be plenty of jokes about the Cowboys being better off without Romo and his 1-6 record in win-or-go-home games, his absence clearly takes some of the luster off of this much anticipated battle for the NFC East title.
Kelly, speaking before the news broke, had little regard for those criticisms of Romo. He cited the game-winning touchdown Romo threw Sunday to beat Washington and force the showdown with the Eagles.
"Fourth [down], game on the line, scrambles, keeps the ball alive, hits the mark to [DeMarco] Murray and they win the game," Kelly said. "I'm always on what you did last, and what he did last was pretty special -- the way he avoided the rush, kept drives alive, and I think he's as talented a quarterback as there is in this league.
"Any time with that position, sometimes I think you get probably too much credit and too much blame. But he's one of the really, really, really good quarterbacks we've seen, and I said that the first time we played him. If you're a fan of just quarterback play, he's pretty special."
As the Eagles learned the hard way, a little luck is no guarantee. They went to Minnesota two Sundays ago knowing that Peterson and Gerhart were unlikely to play. And they still were stomped 48-30 by
Matt Cassel
and the Vikings. A virtually unknown running back named
Matt Asiata
ran for three touchdowns in that game.
Cowboys backup quarterback
Kyle Orton
has more of a pedigree than Asiata or -- sticking with his position -- Glennon, Wallace or
Scott Tolzien
, who played most of the Packers game. Orton has faced the Eagles twice. He beat them in 2008 while with the Bears, and lost to them the following year as a Bronco.
Though the Eagles have had their share of luck this season, they aren't going to feel too sorry for the Cowboys. Remember,
Michael Vick
was their starting quarterback when the season began. After he was hurt,
Nick Foles
took over and played too well to be sent back down the depth chart.
Throughout that process, Kelly repeatedly said that you had to have two good quarterbacks in the NFL. The Packers found out what happens when you don't. If Orton isn't able to compete, that's on the Cowboys for not having another quarterback in development.
The year Orton and the Bears beat them, the Eagles went to the NFC Championship Game against Arizona. If Orton can beat them this time, they're going home.
December, 12, 2013
12/12/13
12:00
PM ET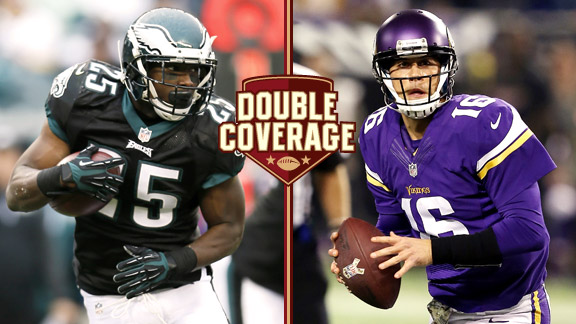 AP PhotoLeSean McCoy and the explosive Eagles offense visit Matt Cassel and the struggling Vikings.
The
Minnesota Vikings
and
Philadelphia Eagles
couldn't be in much different places than they were a year ago.
In 2012, the Vikings made a seven-game improvement, winning their final four games and riding
Adrian Peterson
's 2,097-yard season to a 10-6 record and a playoff berth. The Eagles, meanwhile, lost nine of their final 10 games, finished 4-12 and fired longtime coach Andy Reid. This season, it's Philadelphia that's racing toward the playoffs, with a new quarterback (
Nick Foles
), one of the most exciting offenses in football and an 8-5 record. The Vikings haven't been able to settle on a quarterback, have blown five leads in the last minute of games and might be preparing to part with coach Leslie Frazier after starting the season 3-8-1.
To get you ready for the game, ESPN.com Vikings reporter Ben Goessling and Eagles reporter Phil Sheridan discuss the matchup and the rapidly changing directions of both teams:
Ben Goessling:
Phil, it's been surprising to see how much better the Eagles' offense has worked under Nick Foles than
Michael Vick
, considering how well Chip Kelly's system seemed to suit Vick. What is Foles doing to make it work so well, and just how bad of a matchup is this for the Vikings' defense?
Phil Sheridan
: At the moment, I'd have to say the Eagles' offense is a tough matchup for any defense. Their past two opponents, Arizona and Detroit, came in as well-regarded defenses. The Eagles scored 24 points on the Cardinals by early in the third quarter and then exploded for 34 second-half points in the snow Sunday against the Lions. The Eagles are able to run or pass at a high level right now, which makes them just plain tough to defend.
As for Foles and Vick, it does seem counterintuitive that a running threat wasn't as effective as the relatively slow-moving Foles in Kelly's offense. But Foles is good at several key facets of what Kelly wants done. He's become adept at keeping the tempo up in the no-huddle. He's been accurate in the passing game. And he's made good decisions when Kelly's play call presents him with an option.
Kelly gave a hearty endorsement of
Toby Gerhart
, whom he faced while he was at Oregon and Gerhart played at Stanford. Kelly said he thought Gerhart could be an impact player who just happens to be stuck behind one of the great backs of all time. What's the deal? Can Gerhart replace Peterson and keep the Vikings' offense going?
Goessling:
It depends on his health. He's dealing with a hamstring issue of his own, so if Peterson does indeed miss the game because of his sprained foot, Gerhart might not be able to handle the same kind of workload as Peterson. He's only got two games of 20-plus carries in the NFL, but then again, as Kelly said, he's certainly built to take a pounding. He's a stout, physical back who runs well between the tackles and does a solid job picking up blitzes. Plus, he's not exactly afraid to embrace the idea that he's auditioning for other teams before he hits free agency in March. He certainly isn't going to be a featured back in Minnesota behind Peterson, and while I'm sure the Vikings would like to keep him, he might find better opportunities elsewhere.
What's the key to solving the Eagles' defense? The Vikings probably won't be at full strength this week, given their running back situation and the fact they've been shuffling through quarterbacks all year. What do they need to do to move the ball and avoid the turnovers the Eagles have been creating lately?
Sheridan:
It is still possible to move the ball on the Eagles. They give up a lot of yardage and are vulnerable to runs after the catch in the short- and intermediate-passing game. I was fascinated to see if they could handle
Calvin Johnson
and
Reggie Bush
on Sunday. But the weather limited Johnson and Bush didn't play at all, so that riddle remains unsolved. Teams have been able to move the ball but have bogged down or turned it over in the red zone. If the Vikings can find ways to score from inside the 20, they can stay in the game.
One key for opponents is not falling behind. Green Bay, Washington and Arizona did, and that allowed the Eagles' defense to concede rushing yards and go hard after quarterbacks. That has led to turnovers as much as anything.
Not so long ago, it was intimidating for opposing offenses to come into the Metrodome and deal with
Jared Allen
coming off the edge with all that crowd noise behind him. Is Allen still that kind of force, and has the atmosphere changed with the team struggling this season?
Goessling:
Allen hasn't been the same guy this season. He'll still play hard, and he's as relentless in his pursuit of a quarterback outside the pocket as anybody you'll find in the league, but he just looks like he's lost a step. He isn't as quick around the edge as he used to be, and he's gotten lost when he's been double-teamed. The guy who has brought more of the Vikings' pass rush this season is right end
Brian Robison
, who got a contract extension from the team during the season. He's not quite as quick off the edge as Allen was in his prime, but he might be a better edge rusher now, and he's good at knowing when to disengage from his blocker, step back and deflect a pass.
The Metrodome has lost a little of its edge in recent weeks with the Vikings struggling, but I wouldn't sleep on the fans there: If the game is close Sunday, they'll still get loud. They've only got two more games to crank up the volume in that old Teflon-coated warehouse before it's torn down, so I'd expect the noise level to be there, if partly for nostalgic reasons.
From afar, it would seem like the Eagles have every reason to be confident heading into the final stretch of the season. How far do you think they're capable of going in the playoffs?
Sheridan:
That's a heck of a question, because the whole idea of the playoffs seemed so remote just a few weeks ago. Gradually, as the Eagles got within striking distance of the Cowboys in the NFC East, it seemed like a good first season for Kelly if the Eagles could get a taste of the postseason.
Now? After five wins in a row, they are in sole possession of first place in the division. Foles and
LeSean McCoy
are putting up epic numbers. The defense hasn't allowed more than 21 points in nine games. That sounds to me like a team that can win a home playoff game. Can they go to Seattle or New Orleans and win? That seems like a stretch, but the Eagles keep raising their own ceiling.
Leslie Frazier's first NFL coaching job was here in Philadelphia as an assistant on Andy Reid's staff. He seems to be in a tough spot there, with the kind of quarterback issues that undermine even good coaches. Is the feeling that Frazier is to blame for this season, and what kind of job security does he have?
Goessling:
I certainly wouldn't put it all on Frazier -- the quarterback situation has been a mess, and the Vikings have also paid dearly for GM Rick Spielman's decision to cut
Antoine Winfield
and go almost completely with young defensive backs. That's had as much to do with the Vikings' defensive issues as anything else, and when you've got problems at quarterback and in the secondary, you're going to have a really hard time in today's NFL. Players are still playing hard for Frazier, but the Vikings have blown five leads in the last minute, and coaching issues seem to have contributed to at least a couple of those breakdowns. What's more, Frazier didn't get a contract extension after the Vikings' surprise playoff berth last year, so to come back, he'd either have to coach into the final year of his deal or get an extension. Neither one of those seem as likely as him paying the price for the Vikings' many issues this year.
November, 6, 2013
11/06/13
4:45
PM ET
ASHBURN, Va. -- He tried to single one man out, before giving up.
London Fletcher
couldn't do it. When it came to naming the best running back he's faced in the NFL, he settled on three -- one of whom he'll face Thursday night.
Fletcher
Fletcher's choices: Marshall Faulk, LaDainian Tomlinson and
Adrian Peterson
.
"It's really flip a coin," Fletcher said.
But there are some things Peterson does that the others could not do. And, Fletcher said, the reason Faulk and Tomlinson are on the list along with Peterson is because of their work on third downs. Both excelled in that area.
Fletcher has played four games against Peterson in his career, all with the Redskins. Peterson has never rushed for more than 79 yards against Washington. In fact, teammate
Toby Gerhart
has more rushing yards in three games (186) against Washington than Peterson has in four (180). And Peterson's longest run versus Washington? Thirty two yards; in the three other games his longest carry was 18 yards.
But he has left an impression. The way Fletcher talks, it's as if Peterson is the best runner he's faced during his 16 seasons, just not as complete as Faulk, the ex-St. Louis Ram and Indianapolis Colt, and Tomlinson, the ex-San Diego Charger and New York Jet.
"When you look at the power part and speed part and being able to cut on a dime, I can't think of a back with all those different attributes," Fletcher said of Peterson. "Marshall … had the speed and he had the cuts, but he didn't have the power, although he did run hard it was a different type than Adrian. When [Peterson] takes on contact he breaks a lot of tackles with just sheer effort, there's almost violence in the way he runs."
Peterson isn't on pace (yet) to match his 2012 output of 2,097 yards rushing. But with 711 yards he's still on his way to yet another good season. Fletcher could be facing him for the final time as the teams aren't scheduled to play next season, and it's uncertain if Fletcher will play beyond this season.
But Fletcher knows what must happen Thursday: swarm Peterson. Or else.
"It's 11 guys knowing what they need to do," Fletcher said. "Sometimes that's the difference in stopping a running back."
December, 27, 2011
12/27/11
1:00
PM ET
»
NFC Stock Watch
:
East
|
West
|
North
|
South
»
AFC
:
East
|
West
|
North
|
South
FALLING
1. Cowboys' offensive line
. With the exception of brilliant rookie right tackle
Tyron Smith
, who handled the red-hot
Jason Babin
well most of the night, the
Dallas Cowboys
' line was dominated physically by the Eagles' defensive front. And now, with left guard
Montrae Holland
out with a torn biceps, they're shorthanded for their big division title game against the
New York Giants
and their fearsome D-linemen. Someone on the Cowboys' line is going to have to step up and play better than they've been playing. And no matter what happens Sunday night, interior offensive line is going to be a need position this offseason.
2. The Philadelphia Eagles' draft position.
One more win gets the Eagles to .500 for the season and could slide them further back into the middle of the draft's first round than they already are. (Currently, they'd hold the No. 13 pick). That lessens their chances at an impact player that would hasten their planned 2012 turnaround, but the Eagles have several needs they can address on defense at that point in the draft. They might even be able to get a wide receiver there if they cut ties with
DeSean Jackson
.
3. Washington Redskins' self-confidence:
Flying high two weeks ago after a big victory over the Giants, the Redskins' defense melted down Saturday against
Joe Webb
,
Toby Gerhart
and the
Minnesota Vikings
' bench. The loss deprived the Redskins of a chance to improve on their 2010 record and, as their worst defensive performance of the season, left them scratching their heads a bit as they ponder the future. The thought around Washington has been that this offseason's focus would be on offense. But there may be some tinkering left to do on defense, particularly on the back end.
RISING
[+] Enlarge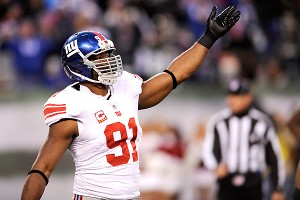 AP Photo/Bill KostrounWith Justin Tuck healthy and on his game, the New York Giants can be a force on defense.
1. Justin Tuck, Giants defensive end.
And, with him, the Giants' defensive line. After last week's pep talks by coach Tom Coughlin and GM Jerry Reese, Tuck was able to exert a little bit of mind over matter for the first time this season, sweep aside the aches and pains that have been bugging him and play his best game so far this year. Tuck admitted after the game he hasn't been mentally right this year, and he has let his injury problems bother him more than they should have. If he's back in the right frame of mind to stay, and the Giants can come after
Tony Romo
from his side and
Jason Pierre-Paul
's on Sunday night, you have to like their chances.
2. Cowboys fans' blood pressure.
Because this should have been taken care of weeks ago. If the Cowboys lose to the Giants and miss the playoffs, the laments will be numerous and woeful. They should have held their late leads against the Jets, Lions, Patriots, Cardinals and Giants. Win two of those five games -- all of which they surely could have won — and they'd have rendered the season finale meaningless. But their inability to finish games has put them in a position to have to finish the season with a tough win on the road. And their fans will spend this entire week fretting over whether Romo, Jason Garrett and the crew have what it takes to do that.
3. Victor Cruz, Giants wide receiver.
His 99-yard touchdown catch flipped the game in favor of the Giants right before halftime and may have been the play of the Giants' season. Cruz also set a new Giants team record for receiving yards in a single season, running his 2011 total to 1,358 and breaking
Amani Toomer
's team record. He's not likely to be announced as a Pro Bowler tonight, because he wasn't on the fan ballot and the fan vote counts for one-third of the total. But his breakout season is a big reason the Giants have a chance to make the playoffs.
December, 24, 2011
12/24/11
4:06
PM ET
A few thoughts on the
Washington Redskins
' disappointing
33-26 loss
to the
Minnesota Vikings
in their final home game of the season:


What it means:
The Redskins have lost at least 10 games for the third season in a row, and much of the good feeling that accompanied last week's victory over the
New York Giants
has to have ebbed a bit. This was a Vikings team whose star running back and rookie quarterback left the game with injuries, and the Redskins' defense was nonetheless powerless to stop backups
Toby Gerhart
and
Joe Webb
.
Credit where due:
Jabar Gaffney
had six catches for 77 yards and a touchdown to continue a very strong season that hasn't received much attention because of the circumstances in which he plays. If he's a Redskin next year, he'll be an asset to whoever they use at quarterback. He's up to 919 receiving yards for the season.
Another rookie runner:
With
Roy Helu
hurting, Mike Shanahan gave the start at running back to Helu's fellow rookie,
Evan Royster
. And Royster did a lot to back up the notion that running backs are interchangeable in the Shanahan offense. He had 132 yards on 19 carries and gives the Redskins and their fans another thing to feel good about as they look ahead to what they might be able to piece together on offense next year if they can get a quarterback.
Something had to give:
The battle of the interception streaks went to the Vikings, who picked off a
Rex Grossman
pass in the fourth quarter. That broke a streak of nine consecutive games in which the Vikings' defense had not intercepted a pass. And it extended Grossman's personal streak to 11 straight games with at least one interception. Grossman had a fine statistical game otherwise, completing 26-of-40 passes for 284 yards and two touchdowns.
What's next:
The Redskins will try to match last season's win total when they finish their season next Sunday afternoon against the Eagles in Philadelphia.
December, 28, 2010
12/28/10
1:29
PM ET
By
Matt Mosley
| ESPN.com
Are you ready for some Tuesday night football? For the first time in 64 years, the NFL will hold a game on a Tuesday. The
Minnesota Vikings
have been hanging out in Philadelphia since Saturday, and they'll likely be starting rookie quarterback
Joe Webb
unless
Brett Favre
has a little more drama up his sleeve. Here are five thoughts on tonight's battle between the
Philadelphia Eagles
and Vikings:


1. Which team does the 48-hour delay help more?
I've enjoyed all
the rhetoric coming out of the Pennsylvania governor's office
. Gov. Ed Rendell, an unabashed Eagles fan who appears on Eagles postgame shows, thinks the postponement was un-American and that China wouldn't have considered delaying a game because of a little blizzard. But Rendell should actually be pleased that the Eagles will play on a relatively dry field tonight. The Eagles may have the fastest offense in the league, so the snow could have neutralized that advantage over the Vikings. I know Philadelphia will have to play the
Dallas Cowboys
on short rest on Sunday, but I don't think it'll be intimidated by the prospect of facing young
Stephen McGee
at the Linc. In the big picture, perhaps it will hurt the Eagles that they could end up playing three games in a 12-day span, but it won't be an issue against a Vikings team led by a rookie quarterback. Even the great
Adrian Peterson
can't bail this team out at this point.
2. The Eagles must shut down the Vikings' running game early.
The delay may have allowed Peterson (knee, ankle) to be able to play. His backup is
Toby Gerhart
, a powerful inside runner who's not really a home-run threat. The Eagles have been excellent against the run since defensive tackle
Antonio Dixon
took over as the starter in Week 5. The Eagles allow only 89.1 rushing yards per game. If Philadelphia can keep Peterson and Gerhart down early, it will put a lot of pressure on Webb. Peterson has had only one 100-yard rushing day in his past seven outings, so it's hard to imagine him going off Tuesday night.
3. Andy Reid may want to consider a few handoffs early in the game.
The Eagles will invariably try to go up top with a deep ball to
DeSean Jackson
or
Jeremy Maclin
early in this game. Every team in the league should know what's coming on that first possession, but most of them can't do anything about it. Vikings interim coach Leslie Frazier has a ton of respect for Reid and offensive coordinator Marty Mornhinweg. He'll try to emulate
what the Bears did
against the Vikings, but I don't think he has the personnel to get it done. The Vikings have an All-Pro defensive end in
Jared Allen
, but I think the Eagles could actually run the ball at him. If
LeSean McCoy
can rip off a couple of nice runs early in this game, it will make
Michael Vick
even more effective in the play-action game. The Vikings will do everything they can to make him roll right, but that's easier said than done.
4. The Eagles will be vulnerable to big plays by the Vikings' tight ends.
The Vikings have an excellent tight end in
Visanthe Shiancoe
. I believe Minnesota will try to get Shiancoe matched up on Eagles rookie middle linebacker
Jamar Chaney
. The rookie played really well against the Giants last week (16 tackles), but Shiancoe is a tough cover down the seam. The Vikings are at their best when they can get their big targets (Shiancoe and
Sidney Rice
) the ball in the middle of the field. The Eagles must make sure they tackle in the secondary in this game. Cornerback
Dimitri Patterson
had an awful game against the Giants, so look for the Vikings to take some shots to his side.
5. The Eagles must win this game in the first 10 minutes.
Philadelphia has been prolific in the first quarter this season. Reid and Mornhinweg do a tremendous job scripting those first 15 plays, and we've seen teams (Redskins, Cowboys) get overwhelmed against them from the opening snap. If the Eagles can grab a comfortable lead in the first quarter, it will put the Vikings in a really bad spot. The best-case scenario for Reid is if Vick and several other starters are hanging out on the sideline midway through the third quarter. The Eagles have the firepower to cause that scenario. If that happens, this whole 48-hour delay can sort of be mitigated.
And for those of us who watched that Yanks-Giants game 64 years ago, we know how exciting Tuesday night football can be. Enjoy the show. And the Beast will be available for postgame comments.
November, 28, 2010
11/28/10
6:05
PM ET
By
Matt Mosley
| ESPN.com
A few thoughts on
another lost opportunity at home
by the
Washington Redskins
:


What it means:
The Redskins (5-6) have pretty much bowed out of the playoff race with this loss. The Minnesota Vikings may have been inspired by their new interim head coach Leslie Frazier, but the Skins still had plenty of opportunities in this game.
Donovan McNabb
got off to a hot start by leading the Redskins to a touchdown on their first drive. He completed all eight of his passes on that initial drive, but he never regained that form. McNabb wasn't very sharp the rest of the game and he was undermined by drops, one of which led to a key interception for the Vikings.
The Goat:
Perry Riley
's block in the back wiped out
Brandon Banks
' 77-yard punt return halfway through the fourth quarter. Banks has become the Redskins' best weapon, but Riley's needless block prevented the Skins from taking the lead. He was also called for another block in the back earlier the game. The Skins don't have much margin for error because their offense isn't capable of putting up a lot of points. Banks also had a 65-yard kickoff return that allowed Washington to kick a field goal in the fourth quarter. He's the most electrifying player on the field and it appears that Kyle Shanahan has finally figured that out based on those Wildcat plays we saw.
Adrian Peterson's backup steamrolls Skins:
Washington knocked Adrian Peterson out of the game in the second quarter, but the Vikings simply turned to
Toby Gerhart
, who finished with 22 carries for 76 yards and a touchdown. And late in the game, the Redskins couldn't stop a 41-year-old quarterback when he scrambled for a game-clinching first down. The Redskins needed to capitalize on the Vikings losing their star player, but Minnesota seemed to rally around Gerhart.
What's next:
The Skins will make their first trip to New Meadowlands Stadium to face the 7-4
New York Giants
. The Redskins beat the Eagles on the road, but I don't see them pulling the upset over a Giants team that overcame a lot of adversity to beat the Jaguars on Sunday. The Redskins are a wildly unpredictable team, but I think their lack of weapons on offense is catching up with them. When you only put up 26 rushing yards in a game, that's a major problem. This is a team that desperately needs takeaways on defense to win games, but
Brett Favre
wasn't cooperating on this afternoon.
October, 17, 2010
10/17/10
3:42
PM ET
By
Matt Mosley
| ESPN.com
MINNEAPOLIS -- If you want to know how poorly Cowboys wide receiver
Kevin Ogletree
has played on special teams this season, just
take a peek at the inactives list for today's game
. He's been replaced on the 45-man active roster by former reality TV star Jesse Holley, who was brought up from the practice squad Friday.
The Vikings made a late decision to make cornerback
Chris Cook
inactive to make room for running back
Toby Gerhart
. They also made
Jon Cooper
the starting center for today's game over
John Sullivan
, who will be in uniform. Take a long look at that matchup between Cooper and
Jay Ratliff
. That's one the Cowboys should definitely win. I'd be surprised, though, if Cooper's left in many one-on-one situations against Ratliff.
January, 12, 2010
1/12/10
4:00
PM ET
By
Matt Mosley
| ESPN.com
In case you missed our weekly noon ET chat today,
I've secured the transcript
. We talked about all four teams in the division, but our focus was Vikings-Eagles. Thanks again for your participation. Here's an excerpt from the chat for you to clip and save:
Travis (Chantilly, Va.)
: Let's talk Redskins. Which players on the current roster will not be here next year and who can we bring in through the draft or trades to make this team better next year? I think with the fourth pick in the draft we need Russell Okung and
Toby Gerhart
in the second round (shades of Riggins).
Mosley at 12:26 p.m. ET:
The trade thing will be tough. Better to build through the draft. I like Okung. Watched him play at least eight or nine times on TV or in person over the years. I think you get rid of
Clinton Portis
,
Carlos Rogers
and some of the spares on the OL. You don't need
Mike Williams
hanging around. Say goodbye to
Randy Thomas
. Obviously
Chris Samuels
is probably done. I'd clean out that secondary. Tryon's not a player. Say goodbye to Smoot. And lose some age on defense. I like Daniels, but it's time to move on. And Gerhart's a lot faster than Riggins ever was.