December, 13, 2013
Dec 13
8:00
AM ET
IRVING, Texas -- As the
Cowboys
walk to the team meeting room every day, they are met with pictures of Dallas' five Super Bowl winners. Each collage has a team photo and pictures of smiling players, coaches and executives from winning NFL championships.
At Lambeau Field, the photos from the great moments in Packers history line the wall from the tunnel to the locker room. When the stadium was renovated years ago, they took a row of old bricks and moved it to the new tunnel so players can say they walk over the same ground as the greats who played at Lambeau Field.
With a loss Sunday, though, either team will need even more help to just make the postseason.
[+] Enlarge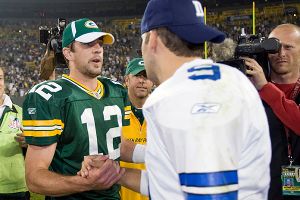 AP Photo/David StlukaCowboys QB Tony Romo, right, and Green Bay's Aaron Rodgers know the burden that comes with playing for franchises trying to recapture past glory.
Like the
Pittsburgh Steelers
and
San Francisco 49ers
, the Cowboys are constantly chasing ghosts from past teams.
The Packers and Cowboys have combined for 18 NFL championships (Green Bay 13, Dallas five) and nine Super Bowls (Green Bay four, Dallas five). They produced one of the NFL's iconic games -- the Ice Bowl -- in the 1967 NFC Championship. They were coached by legends in Tom Landry and Vince Lombardi. They rekindled the rivalry in the 1990s, meeting in the playoffs from 1993 to 1995.
The current teams carry something of a burden with them because of the successful pasts.
"We always look at it as a sense of pride and energy to tap into," Green Bay coach Mike McCarthy said. "We think it's very important to have that and recognize it and honor it, so I always refer to it as there's pride in the bricks of Lambeau Field and it's something we need to tap into. We talk to our current team about it and how important it is to win and represent the
Green Bay Packers
the right way."
Jason Garrett does not talk about the expectations laid out from the likes of Roger Staubach, Bob Lilly, Tony Dorsett, Randy White, Mel Renfro, Michael Irvin, Troy Aikman and Emmitt Smith. He talks about the standard those players and teams set.
"You want to be in a place where there's a high standard for achievement," Garrett said. "I think that's a good thing. That brings the best out in people. What we try to do each and every day is be our best. Come to work as players and coaches and put our best foot forward and get ready for our challenges each week and again, embrace the past. That's a good thing. ... That drives us. That's part of what drives us to achieve, really, each and every day, and certainly each season."
Tony Romo
is constantly measured against Staubach and Aikman.
Aaron Rodgers
is measured against Bart Starr and Brett Favre, but he has the Super Bowl ring that Romo is still looking for, having beaten the Steelers at AT&T Stadium in Super Bowl XLV.
Rodgers has 23 teammates on the roster with a Super Bowl ring.
Romo hopes one day to have his own, so he and his teammates can have their pictures on the wall holding the Lombardi Trophy.
"You want to be a part of a storied franchise," Romo said. "It just makes it important. You want a challenge. You want it to matter, and you want it to be important. That's what's great about this organization and great about our fans."
December, 3, 2013
Dec 3
9:00
AM ET
IRVING, Texas -- The Cowboys have had some time to wonder some things after their win on Thanksgiving against the
Oakland Raiders
.
Every Tuesday as always wonder about some things. Five Wonders is back and off we go:
June, 4, 2013
Jun 4
1:30
PM ET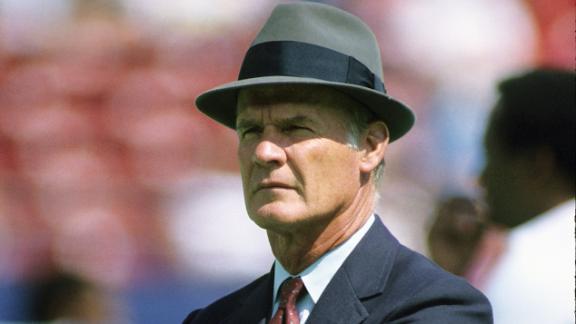 Jason Garrett is entering his third full season as the head coach of the
Dallas Cowboys
, and many are convinced that if he doesn't make the playoffs, it will also be his last. So let's pause today to discuss a man who held Garrett's job
for 29 years
. Our countdown of the top 20 coaches in NFL history makes its stop today at No. 8,
where we find Tom Landry
.
Landry was the Cowboys' first coach and lasted from 1960 to 1989. During that time, he went to five Super Bowls, won two of them and posted an incredible streak of 20 straight winning seasons. (Herein lies the critical difference from my first sentence, as Garrett has yet to have one). He was a winner, but also an innovator who's credited with the invention of the 4-3 defense, the "flex" defense (in which two of the four down linemen would move off the line pre-snap depending on the offense's formation) and the shotgun offense. He actually invented the 4-3 (removing one of the five down linemen and adding the middle linebacker position) while defensive coordinator of the
New York Giants
.
Landry was famous for his stone-faced personality and his trademark fedora, and former Cowboys running back Tony Dorsett recounted for Jean-Jacques Taylor a story about a time he (Dorsett) was late for a game his parents had come to see and Landry told him he wasn't going to start:
I was scared to death. I thought he might fine me, but I was scared he might cut me. So I get in there and I'm pleading my case, but it's not working. Finally, Coach Landry says, "You're not going to start and you're probably not going to play. OK." When Coach Landry says OK, that means the conversation is over.

At first, I'm staring daggers at him 'cause I don't even want to think about my mom and dad being at the game and I'm not playing. Then I feel some big ol' tears start welling up in my eyes, so I just got up and left. I didn't start, but when I finally got in the game, I didn't want to give him a reason to take me out. I had a big game and scored a long touchdown. The next day during our film session, Coach Landry says, '"Maybe, you need to be late more often."
We're probably in the midst of a generation that knows Landry as "the guy with the hat" and doesn't fully understand the depth of what he meant to the Cowboys franchise or the league itself. That is, of course, one reason why this whole exercise is so great. It gives us a chance to bring some significant NFL historical figures to life for people who might not appreciate what they missed.
February, 3, 2011
2/03/11
4:00
PM ET
By
Matt Mosley
| ESPN.com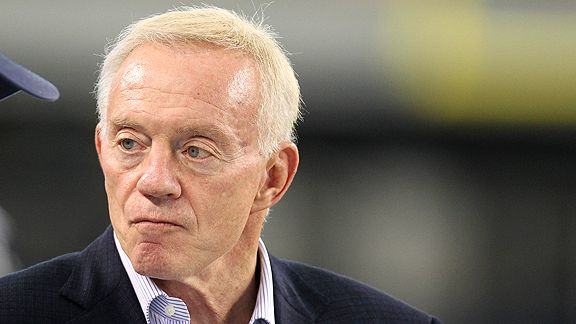 Matthew Emmons/US PresswireJerry Jones had hoped his team would be playing in Cowboys Stadium for the Super Bowl XLV title.
ARLINGTON, Texas --
Pittsburgh Steelers
backup center
Doug Legursky
had a difficult time making eye contact with reporters during the NFL carnival known as Super Bowl media day on Tuesday. It's not that he was being disrespectful, but like a kid seeing snow for the first time (or ice in North Texas), Legursky was awestruck by a JumboTron that hovered over 60 yards of the field like a spaceship in search of a docking station.
No matter what you think of
Dallas Cowboys
owner Jerry Jones -- and Forbes Magazine indicates you really, really dislike him -- the man's a marketing genius. He has somehow kept the Cowboys national brand strong despite all the losing over the past 15 years. The man presides over the most relevant 6-10 team in the NFL. And I'm already hearing the national media talk about the Cowboys as a bounce-back team in 2011.
Much like the New York Yankees, there's always going to be interest in the Cowboys. Given the option of flexing out of a nationally televised matchup involving a 5-8 Cowboys team, I don't think any network would pull the trigger. Jones began a news conference Tuesday at the Super Bowl media center by saying he didn't want to take anything away from the Steelers and Packers. Then he spent the next 42 minutes doing just that.
Over the past 15 years, Jones has become the league's leading illusionist. He has somehow been able to keep the Cowboys in the conversation despite producing only two playoff wins in that span. The
Oakland Raiders
may be the laughingstock of the league, but they've at least been to a Super Bowl since the Cowboys' dynasty ended in the mid-1990s. Meanwhile, the Steelers are in the midst of putting together a dynasty that could rival Chuck Noll's run in the 1970s. They've now been to three Super Bowls in six seasons. And against all odds, the Rooney family has done it without switching head coaches every couple of years -- or ever.
Steelers president Art Rooney II could take a seat on radio row, which I wouldn't advise, and not be recognized by 75 percent of the talk-show hosts. If Jones showed up, they'd treat him like Brooklyn Decker in a two piece. I'm pretty sure I saw Rooney standing off in the distance during media day, surrounded by a handful of reporters. Not far away, reporters breathlessly asked defensive end
Brett Keisel
about his beard grooming. (One male reporter asked and was granted permission to run his fingers through Keisel's beard, which somehow seemed appropriate on that day.)
The Rooneys almost seem amused that folks find their belief in continuity so revolutionary. Steelers coach Mike Tomlin would have to do something like naming his offensive line coach defensive coordinator to even get them to raise their eyebrows. Oh wait, that's another Pennsylvania team.
I'm sure Rooney didn't think he was saying anything profound Tuesday, but something on the 67 quote sheets I received via BlackBerry really got my attention. The Steelers' president was asked why his organization rarely made splashy moves, say, signing
Terrell Owens
or
Albert Haynesworth
.
"Panic doesn't seem to work," he said. "Let's put it that way. There are enough people that seem to have gone through that mode and our feeling is that you pick good people and you try to stick with them if you have good people. There are ups and downs in any sport, but if you have the right people in place, you'll always have a chance to be successful and that's what we do. Every year, we have a single goal, and that's to try and put a championship team on the field and everybody in the organization understands that is the goal. We don't try and make it too complicated."
What I love is that some of my friends try to constantly separate Jerry Jones the owner from the Cowboys' general manager. There's a belief, which doesn't make sense to me, that Jones is a great owner, but a terrible general manager. I certainly think he's an excellent stadium-builder and salesman, but I always thought that part of owning a successful company was hiring the right people -- and letting them do their jobs.
[+] Enlarge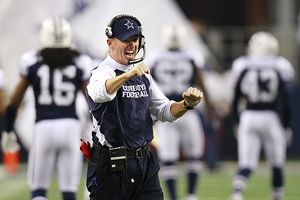 AP Photo/Mike FuentesJason Garrett has been charged with turning the team around on the field.
Jones has constantly undermined his head coaches over the past 15 years because players know that he's ultimately pulling the strings. Yes, I know that he hired a strong head coach in Bill Parcells in 2003, but he has admitted (to a hidden camera in a seafood restaurant) that Parcells was here to help him convince taxpayers to contribute to his crown jewel, Cowboys Stadium.
New head coach Jason Garrett, God bless him, stood up at his introductory news conference last month and talked about doing things the "Cowboy way." But no one really knows what the hell that means anymore. I guess it's a reference to the Jimmy Johnson years, but that's ancient history by NFL standards.
My colleague
Mike Sando wrote a column Thursday
about how the once-proud 49ers organization has been in the wilderness for years. But the Cowboys are in a much different situation. At least 49ers fans realize how awful their team has become. Mark my words that by August or whenever the lockout ends, fans and media will convince themselves that the Cowboys are ready to challenge for a Super Bowl. These are the Sultans of September -- except for this past season of course.
At least Jones has attempted to own up to his team's failure during his public appearances, which are numerous.
"I've done my worst work when I thought I had a pretty good hand," he said. "We certainly didn't play, didn't coach, didn't general manage, didn't own up to expectations."
But within moments, Jones was talking about how the Cowboys could make like the Packers and return to the Super Bowl next season. He did surprise everyone with his recent pronouncement that Garrett would have "final say" when it comes to hiring and firing coaches. But I'm pretty sure Jones has retained the right to fire Garrett.
I spent some time this week talking to Cowboys legends such as Tony Dorsett and Lee Roy Jordan about what the Cowboys have become. They both like Jones on a personal level, but remain somewhat skeptical that things will change.
"The first time [Jones] overrides Jason with one of the players, then Jason will have lost credibility or any discipline," Jordan said. "Every time he overrides the coach from then on, it will steamroll. I hope for everyone involved that Jerry has learned his lesson."
And for Cowboys fans, it never hurts to dream.
January, 31, 2011
1/31/11
6:03
PM ET
By
Matt Mosley
| ESPN.com
FORT WORTH, Texas -- I just bumped into
Dallas Cowboys
Hall of Fame running back Tony Dorsett on the ESPN 103.3 stage in Sundance Square. Dorsett played his college football at Pittsburgh and remains a Steelers fan despite knowing how much that frustrates Cowboys fans.
I asked Dorsett for his take on the way the Rooney family runs the Steelers as opposed to how Jerry Jones runs the Cowboys:
"The Rooneys are very classy," said Dorsett. "They're very deliberate with their decision-making. Once you're part of that family, Steeler nation, they treat you with respect. You don't have a lot of rambunctious players running around."
When I asked Dorsett about
Ben Roethlisberger
's issues, he was quick to respond:
"They will not allow a player to smear the organization," he said. "They wanted to let that situation run its course. But I promise you he is very lucky to still be on that team."
When he was coming out of college, Dorsett actually begged the Rooneys to draft him. But he didn't want to end his career with Pittsburgh.
"I would've only played for them if I had plenty of gas left in the tank," said Dorsett. "I wouldn't have done that to that team."
I also just talked to Cowboys legend Lee Roy Jordan. More on that later.
September, 22, 2010
9/22/10
12:15
PM ET
By
Matt Mosley
| ESPN.com
»
NFC Stock Watch
:
East
|
West
|
North
|
South
»
AFC
:
East
|
West
|
North
|
South
FALLING
1. Wade Phillips, Dallas Cowboys defensive coordinator/head coach:
Phillips has asked the media to place the blame on him when things go wrong, so I'm just following orders. I thought the identity of this team was going to be its defense, but
Chicago Bears
offensive coordinator Mike Martz exposed some serious flaws. The Cowboys held the Bears to 1-of-11 on third downs, but it didn't matter because they allowed several big plays. The Bears used the Cowboys' speed against them in dumping the ball to
Matt Forte
and finding wide-open targets such as tight end
Greg Olsen
. It was a really poor performance by what was reputed to be one of the best defenses in the league.
2. DeAngelo Hall, Washington Redskins cornerback:
A week after being one of the heroes in a win over the Cowboys, Hall was part of a defensive collapse that allowed the Texans to record a 30-27 win in overtime. After his "this is my team" rant after the game, Hall looked rather foolish.
Andre Johnson
and
Kevin Walter
combined for 23 catches and more than 300 yards receiving. Are we to believe that defensive coordinator Jim Haslett prevented Hall from covering either player? I admire Hall's enthusiasm to a certain extent, but at some point he crossed over to showing up his teammates and coaches in that postgame rant. And that's why Hall appears on the infamous NFC East "FALLING" list this week.
3. Brandon Jacobs, New York Giants running back:
Players who throw their helmets into the stands during games -- whether intentional or not -- always end up on this list. And Jacobs went the extra mile by trying to bounce that run outside in the third quarter and losing an additional 4 or 5 yards. When you're a 264-pound sledgehammer, you shouldn't be trying to channel Tony Dorsett against the Vikings on "Monday Night Football."
4. Andy Reid, Philadelphia Eagles head coach:
This is a bonus item. For more information, please read my
column from last night
.
[+] Enlarge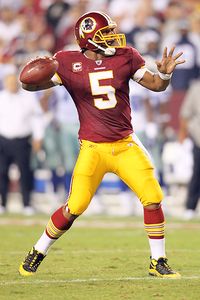 Jeff Fishbein/Icon SMIDonovan McNabb threw for 426 yards in Sunday's loss to Houston.
RISING
1. Michael Vick, Philadelphia Eagles quarterback:
I think Reid made a misguided decision, but that's not Vick's fault. He took several sacks, but he also made a ton of plays behind a patchwork offensive line. Vick was accurate and he seemed to have a good sense of when to leave the pocket, which is to say every time he dropped back to pass. Reid said he might be the hottest quarterback in the league right now, and that's hard to argue with.
2. Donovan McNabb, Washington Redskins quarterback:
Who needs weapons at wide receiver when you have McNabb to spray the ball around? He threw for over 400 yards and he carried a team that didn't have a running game. Why does that sound so familiar?
3. LeSean McCoy, Philadelphia Eagles running back:
The Lions had an excellent pass rush, but they had a difficult time with McCoy, who had three touchdowns. He showed excellent speed and he's starting to arrive in the passing game. McCoy can be a huge help to Vick if he'll keep going to him when he's in trouble. Reid needs to keep feeding him the ball.
November, 30, 2009
11/30/09
8:00
AM ET
By
Matt Mosley
| ESPN.com
The Dallas Morning News asked 20 current and former staffers to come up with the top 50 Cowboys in the organization's first 50 years. Coaches, players, owners and administrators were all considered.
Here's the list
. And it should come as no surprise that
the late Tom Landry finished No. 1 overall
. I don't know how it could be any other way.
Here's the breakdown of the top 10:
1. Tom Landry
2. Roger Staubach
3. Emmitt Smith
4. Bob Lilly
5. Troy Aikman
6. Tony Dorsett
7. Randy White
8. Michael Irvin
9. Mel Renfro
10. Tex Schramm
Owner/general manager Jerry Jones checks in at No. 17, one spot ahead of safety Cliff Harris.
Jason Witten
is the highest-ranked current Cowboys player at No. 29 -- and I have no problem with that. He's been one of the top tight ends in the league since his 2003 rookie season.
DeMarcus Ware
is No. 36, but he'll probably end up much higher -- when the DMN does its 75-year list. Quarterback
Tony Romo
checks in at No. 47 and left tackle
Flozell Adams
rounds out the list at 50. I like the fact that Danny White cracked the top 30. He took a lot of abuse, but if he wins one of those three NFC title games, his legacy is completely different. His reputation also took a hit during the strike, but that doesn't change what he accomplished on the field.
I think Charles Haley ended up at No. 31 because he was only with the Cowboys from '92-'96, but the fact that he was a big part of three Super Bowl titles should've put him higher on the list. His behavior off the field is well-documented, but he was a brilliant pass-rusher who deserves to be about five spots higher.
I also think Cornell Green's too low at No. 25. I've had a lot of former players tell me that Green was one of the best defensive backs in league history. He got his hands on everything, but he dropped a lot of potential interceptions. I'm shocked that the late Mark Tuinei, the left tackle on those 90s Super Bowl teams, didn't receive a single vote. That makes no sense to me. Kicker Rafael Septien received a few votes, but a man who played 15 seasons at offensive tackle was shut out?
The selection panel came up with only a single vote for the great defensive coordinator, Ernie Stautner. Linebacker Ken Norton and defensive tackle Leon Lett didn't show up on the list, but both are worthy. Some people will argue that
Terrell Owens
should've been on the list. I'm not buying that one because he was only with the Cowboys for three seasons and the team didn't win a playoff game during that time.
It's pretty remarkable that two Hall of Famers -- Bob Hayes and Rayfield Wright -- didn't even crack the DMN's top 10. The only thing I'd change about the top 10 is that I'd probably put Bob Lilly in front of Emmitt Smith. I know that sounds crazy to some of you, but this list was about "greatest Cowboys," not the greatest NFL players. When I think about the players that have defined this franchise, Lilly comes before Smith in my opinion. They don't call him "Mr. Cowboy" for nothing.
What did you guys make of the list?
September, 23, 2009
9/23/09
10:23
AM ET
By
Matt Mosley
| ESPN.com

Posted by ESPN.com's Matt Mosley
When you ask the most famous Tony in Cowboys history to comment on Tony the quarterback, you never know what might happen. Hall of Famer Tony Dorsett had some interesting thoughts on
Tony Romo
when he joined Fox Sports Radio on Monday. He thinks Romo is a media-created superstar and that he was anointed too quickly in 2006. Here's some of what Dorsett had to say,
via sportsradiointerviews.com
:
"Well, for one thing, I don't know why on God's earth Tony Romo has been anointed a superstar in the National Football League," Dorsett said. "Tony is very young in his career. Not to say you can't be young in your career and be a superstar because you've got one up there in Minnesota in
Adrian Peterson
. But the thing is this: You have a guy who hasn't done much and quarterbacks in the National Football League, most of them go through this growing curve. He hasn't gone through that growing curve, but he was anointed this great player all of a sudden. Now he's having to live up to that. And obviously Tony has some deficiencies. I mean, he's a young quarterback, that's going to happen.
"He's not going to be on top of his game every game, week in and week out, because this game is a very fast moving game and he makes some decisions sometimes -- he's like a gambler man, he takes chances and sometimes those things, he gets bit in the butt by that. But, he's a good player who's still learning how to play in the National Football League and I think the media has given him too much credit for doing nothing. He hasn't done anything really in the National Football League to deserve all the recognition and visibility that he's gotten so far. And now he's going to have to live with how they treat the quarterback in the National Football League whether you're a young quarterback or you're a superstar or you're not. When you win, you get a lot of the credit. When you lose, you get most of the blame. And so he's having to live through that and I'm hoping he pulls through it because they do have a pretty talented team offensively."
First, it was Emmitt Smith saying the
Cowboys would go 7-9
this season. Now, Dorsett's saying that Romo's an overhyped quarterback. Perhaps Jethro Pugh will emerge soon to complain about
Igor Olshansky
's work at the line of scrimmage. But honestly, Dorsett's correct on some of his points. I can't help but wonder whether Romo would be a different quarterback had a quarterback guru such as Norv Turner been hired. It almost happened.
Has anyone checked
Philip Rivers
' numbers lately?
I said this on the radio in Dallas on Tuesday and I'll say it again. The Cowboys thought Jason Garrett was a younger version of Turner. They thought he'd basically be able to accomplish with Romo what Turner could've accomplished. Now in Year 3 of the Phillips era, that hasn't come to fruition.
May, 13, 2009
5/13/09
5:11
PM ET
By
Matt Mosley
| ESPN.com
Posted by ESPN.com's Matt Mosley
Cowboys Hall of Fame running back Tony Dorsett was on hand Tuesday for a North Texas Super Bowl committee news conference. (Fellow reporters, welcome to the downtown Sheraton Hotel! Had no clue it was still in use.)
Both Dorsett and Emmitt Smith talked about the Cowboys' three-headed running attack with Marion Barber, Felix Jones and Tashard Choice. You have to love Dorsett's enthusiasm:
"When I watch him play, I've never seen anybody in any sport that has any more passion for what he's doing than Marion Barber," Dorsett said. "I just love to see the guy, but I think he sometimes puts himself at a disadvantage. He takes too many hits in the wrong places and exposes himself.

"Now, Felix Jones. Felix Jooooooones! Lemme tell you now. That man right there is the truth. I mean, that's a great change-up for a defense. He's a good-sized kid, he's got great speed and he can take it the distance from anywhere on the field. I'm looking forward to see exactly how this plays out for them."
Smith provided this bit of wisdom: "So, Marion and Felix, I've only got one word of advice: Don't get hurt."
But who's counting, Emmitt?