August, 31, 2013
8/31/13
6:43
PM ET

Most significant move:
Keeping four quarterbacks with back-from-the-dead
Pat White
making the roster. Anyone who saw White throw early in spring workouts would not have predicted this scenario. But White, who has been out of the NFL the past three seasons, improved throughout the summer and the coaches genuinely liked what they saw. One coach predicted earlier in the week that he would be on someone's roster. White showed he can still run and mastered the slant routes and digs. He still needs to work on finesse throws and prove he can make throws into tight windows over the middle, but his improvement was noticeable.
However, keeping four is still a lot. But with
Kirk Cousins
nursing a sprained right foot and with
Robert Griffin
III not having played in the preseason, the Redskins might just keep White around for the first couple of games. They have roster exemptions for end
Jarvis Jenkins
and linebacker
Rob Jackson
, both suspended for the first four games, so they could make this sort of move. If Griffin and Cousins both stay healthy, it's hard to see this being a long-term situation. Still, White made big strides after a rough start.
The Redskins also opted to keep running back
Evan Royster
, who perhaps saved his job with a strong preseason finale at Tampa Bay. He's one of five running backs along with speedy rookie
Chris Thompson
.
Gone, but not yet forgotten:
The Redskins would like to re-sign a number of their released players to the practice squad, including
Chase Minnifield
,
Nick Williams
,
Tevita Stevens
,
Will Compton
and tight end
Emmanuel Ogbuehi
, among others. Minnifield's release was a surprise, given how the coaches talked about him during camp and his physical style in press coverage -- and with the loss of corner
Richard Crawford
. But the coaches liked corner Jerome Murphy's physical style as well – and his special teams ability. Williams is an intriguing prospect as a slot receiver and punt returner. Ogbeuhi is a raw prospect who needs to spend a year or two on the practice squad.
Safety
DeJon Gomes
, a fifth-round pick in 2011 and opening day starter in 2012, did not progress in coverage. Though he was better in the box, the Redskins have
Brandon Meriweather
and
Reed Doughty
ahead of him at strong safety. And they opted for
Jose Gumbs
, signed right before camp, as a swing safety.
The Redskins also placed offensive lineman
Maurice Hurt
on the reserve/physically unable to perform list. The tough cut? Receiver Dez Briscoe. According to a league source, Briscoe would have made the roster had he not injured his shoulder in the preseason finale.
What's next:
The Redskins next big moves will occur after Week 4 when Jenkins and Jackson return from their four-game suspensions. At that point end
Phillip Merling
could be in trouble, along with, possibly White, simply because it would be unusual to keep four quarterbacks all season.
The Redskins lack experienced depth along the offensive line and could always use more help at safety. So if anyone intriguing clears waivers, the Redskins would be interested. They also retain the rights to suspended safety
Tanard Jackson
, who is now eligible for reinstatement. However, it could take a while for the NFL to grant his return -- if they give it to him at all.
Redskins cuts:
RB:
Keiland Williams
,
Jawan Jamison
, RB
Tristan Davis
(from exempt/left squad list). WR:
Skye Dawson
, Nick Williams,
Lance Lewis
, Dez Briscoe (designated as injured). OL: Tevita Stevens,
Tony Pashos
,
Kevin Matthews
,
Xavier Nixon
. TE: Emmanuel Ogbuehi. DL: Chigo Anunoby,
Dominique Hamilton
,
Ron Brace
. DB: DeJon Gomes, Chase Minnifield LB: Vic So'oto, Will Compton,
Marvin Burdette
.
August, 28, 2013
8/28/13
7:30
PM ET
Taking a look at the key ongoing battles for Washington Redskins roster spots. Today we check in on the offensive line:
Projected number:
This is a little like the NCAA basketball tournament projections, except that you can't see me moving names around on my whiteboard. Considering I don't own a whiteboard, you're not missing much. As of now, I'm projecting eight players make the cut here.
Locks:
LT
Trent Williams
, LG
Kory Lichtensteiger
, C
Will Montgomery
, RG
Chris Chester
, RT
Tyler Polumbus
. No surprises considering this was the starting line last year and has been the starting line throughout training camp. There was no real challenge to Polumbus, despite two veterans being signed in the offseason. Besides, Polumbus would be a lock as a swing tackle if nothing else.
[+] Enlarge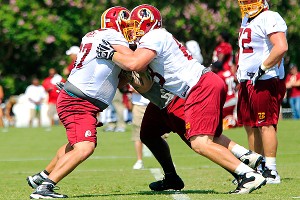 Geoff Burke/USA TODAY SportsTackle Tom Compton, right, looks much improved over 2012, while guard Josh LeRibeus, left, has rebounded after a bad start to camp.
Looking good:
T
Tom Compton
, G
Josh LeRibeus
, G
Adam Gettis
. Both Compton and Gettis have progressed a great deal compared to this time last season; I really like Compton's development. He's much stronger and is more able to control blocks in both the run and pass game. He had his best game versus Pittsburgh, blocking rookie first-round pick
Jarvis Jones
. The more Compton develops, the more I could see him challenging Polumbus someday. Gettis has improved in the run game, an area in which he struggled last year. He blocks with an attitude and is stronger than expected given that he's a smaller guard. He has a knack for anchoring in pass protection despite getting stood up. I would love to have seen him against starters, but he did his job against the backups. LeRibeus improved in the past two games after a really bad opener, which followed a bad offseason in which the coaches were unhappy with his conditioning. But he was a third-round pick last season, and they liked how he played in relief of Lichtensteiger during the playoff loss to Seattle.
On the bubble:
T
Tony Pashos
, C
Kevin Matthews
, G/T
Maurice Hurt
. Really, the only guy who might be kept from this category is Pashos. Hurt likely will open on the physically unable to perform list, so he'll stick around. If I had to pick right now, I'd probably keep Pashos off the list. I like parts of his game: He's aggressive with his hands, much more than the other tackles. He's strong. But I did not see him moving as well as the other tackles, a byproduct perhaps of his ankle issues from 2011. If the Redskins feel Compton has progressed that much, then they have a backup right tackle (it's not as hard of an adjustment going from left to right). This would leave them without a veteran backup, which could be an issue. They kept
Sean Locklear
two years ago and
Jordan Black
last year. It's a leap of faith with the youngsters, and that could be Pashos' best hope. He has improved after missing all of last season, but I'm not sure it will be enough. They could keep a one-position player if there was no alternative, but with Compton's ascension, I think they have one. Really, the decision to keep Pashos could come down to whether or not they keep six receivers and/or five running backs. These coaches like skill players.
August, 23, 2013
8/23/13
7:30
PM ET
Here's what I'll be watching when the Redskins host the Bills at 4:30 p.m. ET Saturday in the third preseason game for both teams:
The pace of Buffalo's offense. I wrote about this Friday morning, but Buffalo likes to use a fast-paced attack, something the Redskins' season-opening opponent, Philadelphia, does as well. How will the Redskins handle this? What will the Redskins do if caught in a personnel grouping that isn't the best for what Buffalo's offense has on the field? Because the starters will play only 15-20 snaps, it will provide only a small test -- the pace can take its toll over the course of a game -- but it will be a help nonetheless.

Safety Bacarri Rambo's progression. I'd play him more than the other starters, or at least in the final preseason game, just to give him more chances to tackle in the open field. He clearly needs the work. He might end up starting, but he still has yet to truly win the position. At this point he's in there by default. He has a lot of skills to offer, but if this area doesn't improve it'll cause big problems.

Corner Josh Wilson. He'll make his preseason debut after sitting out the first two games while his surgically repaired shoulder continued to heal. Wilson remains the starter, ahead of rookie David Amerson. But Wilson is not coming off his best season and was asked to take a pay cut in the offseason -- so it's not as if he's firmly entrenched at this position. He's much more knowledgeable about the defense than Amerson and, with a rookie safety, that matters. The Redskins can't afford a lot of defensive backs learning on the go, though Amerson has looked good at times. But Wilson still needs to play well.

[+] Enlarge

AP Photo/Wade PayneRookie safety Bacarri Rambo (29) needs more work on his open-field tackling to avoid headaches later.

Backup running backs. There's no doubt who the top two players are at this position (Alfred Morris and Roy Helu -- but you really didn't need me to tell you that, did you?). Is Evan Royster in any danger? The problem is, the rookies have yet to show that they deserve a roster spot. Chris Thompson has flash, but he's barely done anything in practice, let alone a game, in part because of injuries. Coaches are big on players being available; can they rely on Thompson in this area? His speed is intriguing (and speed is why Mike Shanahan, among others, initially fell in love with Brandon Banks in 2010). So it matters. But based on performance Thompson still needs to prove he belongs. I like Jawan Jamison's running style, but the same applies to him. Royster is an average runner, so he's no lock. Keiland Williams is a good special-teams player, but not much help from scrimmage.

Veteran backups. Specifically linebacker Nick Barnett and receiver Donte' Stallworth. Barnett, the ex-Bill, isn't worried about any sort of revenge; rather, he needs to show that he can still play at a certain level. This will be his first chance to do so. The Redskins have a pressing need for inside linebacker depth, and having a former starter who is familiar with this defense would help. As for Stallworth, he'll make it only if the Redskins keep six wideouts. He's played special teams sparingly in his career, but will have to show he can help there to stick around. And stay healthy. Lingering injuries never help aging vets.

Right tackle. If Bills defensive end Mario Williams plays -- he went two series in the opener and did not see time last week -- then Redskins right tackle Tyler Polumbus will have a good game to measure any progress. Polumbus did not have a strong game last week. Nobody else has taken first-team reps at right tackle. But along with watching Polumbus, I want to keep an eye on veteran Tony Pashos. He's Washington's most aggressive right tackle when it comes to using his hands, but what does he have left? The Redskins likely would need to keep nine linemen for him to make the roster. And Tom Compton is still working on the left side, but he's coming off a strong game.

Nose tackle Chris Neild. With Barry Cofield sidelined by a fractured bone in his right hand, Neild will get a chance to work against the Bills' starting line. He's not in danger of being cut, but this is a good opportunity to face quality blockers.

Rookie tight end Jordan Reed. He struggled as a blocker last week, mostly, it appeared, because of inconsistent technique. He was not overpowered, which is a good sign for him. But he does need to help in this area. Reed also dropped a ball last week; I'd like to see him get a chance to display his athleticism.
July, 19, 2013
7/19/13
12:00
PM ET
NFC Eight in the Box:
East
|
West
|
North
|
South
»
AFC:
East
|
West
|
North
|
South
What are the three key camp issues facing each NFC East team?

DALLAS COWBOYS
Offense: Running game
Dallas averaged a paltry 3.6 yards per rush in 2012. In turn, the Cowboys too often got away from their run game and became too reliant on
Tony Romo
and this very good passing attack. The offensive line was mostly to blame for the ground struggles, but at least Dallas did use a first-round pick on
Travis Frederick
to improve the interior of the line. But
DeMarco Murray
is increasingly difficult to count on, having missed nine of 32 games in his two NFL seasons. Murray's yards per attempt also dropped from 5.5 to 4.1 in his second season.
Defense: Scheme change
New defensive coordinator Monte Kiffin is a smart man and surely will not rely on his usual Tampa 2 scheme as some might speculate. Still, after investing so heavily in
Brandon Carr
and
Morris Claiborne
as man-to-man corners, Dallas now -- just one year later -- will ask these two to operate much more out of their comfort zone. It will be interesting to see what percentage of man coverage Dallas plays this season.
Wild card: The linebackers
If Dallas does move to a predominant Tampa 2 scheme, two players who should benefit a great deal are
Sean Lee
in the middle and
Bruce Carter
at the Will linebacker spot. Both have outstanding range and playmaking skills. Lee could flourish much like
Brian Urlacher
did in his prime as an outstanding coverage linebacker, while Carter could have a
Derrick Brooks
-type impact as a run-and-hit defender.

NEW YORK GIANTS
Offense: Plenty to like
Few seem to be talking about it, but I expect the Giants' offense to produce an awful lot of points this season. With the addition of
Justin Pugh
, the offensive line should be upgraded. My only slight concern is at tight end, where
Martellus Bennett
's blocking will be missed. New starter
Brandon Myers
really isn't even comparable in that department. I am expecting a breakout season from running back
David Wilson
, with
Andre Brown
acting as a superb complement. Wide receiver
Rueben Randle
also should take monumental steps forward in his second season, and I have little doubt that
Eli Manning
is still an exceptional quarterback. What's not to like?
Defense: Back seven
While I am extremely high on the Giants' offense and think the defensive line will be improved, the back seven of this defense is worrisome. This just might be the worst group of linebackers in the NFL, and I expect
Kenny Phillips
to be missed at safety. Certainly the Giants have been successful defensively by dedicating resources to the defensive line, but this is a bit ridiculous.
Wild card: Defensive line
Can this deep and talented front make up for all the concerns behind it? I have my doubts, but that isn't a knock on this front four. Potentially, the Giants should go four deep at end and six deep at tackle with high-end talent. That is pretty amazing and should allow this group to constantly have fresh, hungry players on the field. Also,
Jason Pierre-Paul
should be healthier than he was a year ago, which is frightening.

PHILADELPHIA EAGLES
Offense: Jason Peters
Before his Achilles injury, I thought Peters was the best offensive lineman in the NFL. He missed the entire 2012 season, a year in which the Eagles' offensive line was simply horrible. Other injuries certainly factored into that ineptitude, but getting Peters back in the form we saw pre-injury would go a long way to making this a potentially excellent unit, especially with the addition of
Lane Johnson
. But therein lies the question: What kind of movement skills will we see from the 31-year-old Peters, a tight end in college who once possessed exceptional quickness, balance and agility?
Defense: Cole, Graham and Curry
By all accounts, the Eagles are going to be a predominant 3-4 defense under Chip Kelly. But
Trent Cole
,
Brandon Graham
and
Vinny Curry
are prototypical 4-3 defensive ends. Cole and Graham, who somewhat quietly played exceptional football during the second half of the 2012 season, are listed as outside linebackers in this 3-4, and Curry is listed at defensive end. It will be a shame if these three players are misused, and it will be interesting to see their role when camp opens.
Wild card: All new secondary
The Eagles' starting cornerbacks greatly underachieved last year, and the safety play was just terrible. The new Philadelphia regime completely revamped the back end of the defense, and it looks as though the Eagles will have four new starters in the secondary. Philadelphia had an inordinate number of mental errors last season; while it might take some time for this group to jell, it should be improved in that capacity as well as in its overall play.

WASHINGTON REDSKINS
Offense: Right tackle woes
Robert Griffin III
's immense abilities and Mike Shanahan's scheme masked a major deficiency at right tackle in 2012. The scheme won't change and Griffin will have even better on-the-field awareness in his second season -- even if he isn't as mobile while recovering from injury -- but Washington certainly realized this area of concern and brought in
Tony Pashos
and
Jeremy Trueblood
to compete with
Tyler Polumbus
. My fear is that none of the three is the answer.
Defense: O-Sack-Po?
Much like Peters for the Eagles,
Brian Orakpo
will be under a microscope when camp opens, as all eyes will be watching to see if he still has his same explosive movement skills post-injury. Far and away Washington's best pass-rusher, Orakpo and his edge presence were missed in a big way last season, and the Redskins were forced to blitz, exposing their weak secondary, much more than what would have been ideal.
Wild card: New DBs
Again much like in Philadelphia, the Redskins put many of their limited offseason resources into improving a poor secondary. A healthy Orakpo's pass rush certainly will help, but the Redskins could see as many as three rookies --
David Amerson
,
Phillip Thomas
and
Bacarri Rambo
-- playing prominent roles in their secondary early in the season. Rookie cover men rarely enter the league without their share of growing pains.
July, 2, 2013
7/02/13
2:40
PM ET
Lots of people asking about the
Washington Redskins
' "right tackle battle," but I don't think there is one right now.
Mike Shanahan
said during minicamp that people who were starters last year go into training camp as starters. And while he may not knock your socks off, the fact is
Tyler Polumbus
didn't do anything last year to cost himself the job. Yes, they brought in
Jeremy Trueblood
and
Tony Pashos
as other options there, but if you'll recall, they signed those guys before they re-signed Polumbus, so as much as anything those moves were hedges in case the position was open and they needed someone to fill it.
No, I think the Redskins plan to start the same five offensive linemen who started 16 of their 17 games last year, because continuity matters, because certain of them (
Trent Williams
at left tackle,
Will Montgomery
at center and
Chris Chester
at right guard) played very well and because they believe Robert Griffin III as a running quarterback helps mask some deficiencies. But as the guys at csnwashington.com discuss in
this post here
, the question about the Redskins' offensive line is whether they have enough depth to withstand injury, or to replace someone if performance should dictate that someone need to be replaced.
For me, the issue isn't whether Pashos is a better option than Polumbus to start at right tackle. It's whether guys like
Josh LeRibeus
and
Tom Compton
have advanced enough (or can advance enough in the next couple of months) to be reliable backups. Because what happened last year with the Redskins' line -- staying so healthy that they started the same five guys in all but one game? That doesn't happen every year. Those are the offensive line issues to watch in camp -- the ones at the backup spots. Because the odds are, someone's going to need to emerge from those ranks and help out at some point in 2013.
May, 29, 2013
5/29/13
8:00
AM ET
Three and a half hours to drive 110 miles home from Philadelphia last night in the rain.
Three and a half!!!
And you guys wonder why I prefer to work from home? Links.
New York Giants
Could the Giants make a run at unsigned veteran pass-rusher John Abraham?
Ed Valentine doesn't see it.
The money line: "If the Giants wanted to overpay for a one-dimensional pass-rush specialist they would have simply caved in to the big-money demands of Osi Umenyiora and kept him." Yup. At this point, if there's a leftover free agent hanging around and the Giants haven't signed him, you're safe to assume they're not interested.
Asked about the crowd the Giants have at defensive tackle, Mike Eisen correctly answers that there's
no such thing as too much
at a position where the Giants (and most teams) understand the need to rotate players often.
Philadelphia Eagles
Cornerback Cary Williams missed a month of the Eagles' offseason program for a variety of reasons but is
not concerned about being behind
. I'm sure there's plenty of the new stuff on which it's important for the defensive backs to get up to speed, but my sense is there's not as much change for them as there is for the front seven guys or anyone on offense.
Kenny Phillips said the reason he missed practice wasn't a setback with his knee but rather
caution
because Tuesday's practice was on a wet field and he didn't want to risk the work he's doing to get the knee stronger. Phillips' knee is obviously an issue, and the main reason he's no longer on the Giants.
Washington Redskins
It's possible that one of two newly signed veterans, Tony Pashos or Jeremy Trueblood, could overtake returning starting Tyler Polumbus for the Redskins' starting right tackle job. But the pair has
a lot of catching up to do
.
So far, Rich Tandler says, Brian Orakpo would appear to rank
low on the list
of Redskins injury concerns. Sounds as though Orakpo has looked pretty good.
Dallas Cowboys
The other day, Jerry Jones said Jason Garrett was not coaching for his job this year, which is what owners always say about coaches. Tuesday,
Garrett said
everyone is always coaching for (or playing for) his job, which is what coaches always say. The good news is that May is almost over. The bad news is that the season doesn't start until September.
DeMarco Murray says he
plans to play all 16 games
in 2013. I'll say this: If he does play all 16 regular-season games, I like the Cowboys' chances of playing at least 17 games.
March, 20, 2013
3/20/13
8:00
AM ET
PHOENIX -- Big morning here at the NFL owners meetings. It's the NFC coaches' breakfast, which means each of our division's four coaches will be available for an hour this morning here at the Arizona Biltmore. Only problem is that the availability is simultaneous. So I'm going to do what I did last year and spend exactly 15 minutes at each NFC East coach's table. It's only fair. I'll update you on the interesting stuff I learn. Meantime, have some links.
Dallas Cowboys
Jerry Jones says he's
not concerned
about the length of time it's taking to complete the long-term deal with quarterback
Tony Romo
, and that he expects it to be done soon.
The Cowboys will get an early start on training camp because they're playing in the Aug. 4 Hall of Fame game, and Jason Garrett thinks that will
help the team
with the transition from a 3-4 defense to Monte Kiffin's 4-3.
New York Giants
John Mara thinks the most important thing for the Giants to improve in this coming season is play
on the lines
-- offensive and defensive. They've already addressed the defensive line with
Cullen Jenkins
, but it remains to be seen how they will structure their offensive line for the 2013 season and beyond.
What's
Victor Cruz
doing while he and the Giants work on resolving his long-term contract situation? He's bopping around
Jersey City schools
talking to kids about the important stuff.
Philadelphia Eagles
Jeff McLane runs down
seven candidates
the Eagles might take with the No. 4 pick in the draft next month. The most intriguing continues to be West Virginia quarterback
Geno Smith
.
The former coach of new Eagles
Connor Barwin
and
James Casey
says he was
upset
to see those two players leave the
Houston Texans
as free agents.
Washington Redskins
The Redskins continue to hope to reach a new deal with tight end
Fred Davis
, but they like having depth at the tight end position, and Bruce Allen tells Rich Campbell that
Chris Cooley
is
still an option
if he doesn't find work elsewhere.
John Keim has a story on the
remarkable toughness
of new Redskins tackle
Tony Pashos
, who played the 2011 season with a torn tendon in his foot.
March, 18, 2013
3/18/13
2:22
PM ET

PHOENIX -- The
Washington Redskins
used the same five starting offensive linemen for 16 of their 17 games last year, and they believe that continuity was a key to the success of the league-best run game. So even though they spent last week picking up potential fallback options like
Tony Pashos
and
Jeremy Trueblood
at right tackle, they wanted 2012 starter
Tyler Polumbus
back all along. Monday, Polumbus tweeted that he was re-signing with Washington.
John Keim reports
it's a two-year deal.
It's a good move for the Redskins, whose cap problems prevent them from playing in the deep end of the free-agent tackle pool with guys like
Andre Smith
and
Sebastian Vollmer
. Polumbus was something of a surprise as he turned into a reliable starter in place of the perpetually injured
Jammal Brown
. And while he's not perfect, if you can't upgrade, why not bring back a guy who's been successful in your system?
As we've mentioned a few times here, the Redskins did go 10-6 and win the NFC East last year, so holding together their 2012 roster isn't a terrible idea on its face. To this point, cornerback
DeAngelo Hall
and reserve linebacker/special teamer
Lorenzo Alexander
are the only players they wanted to keep and haven't been able to keep. Tight end
Fred Davis
remains a free agent they're hoping to re-sign.
March, 14, 2013
3/14/13
12:20
PM ET
The
Washington Redskins
have signed
Jeremy Trueblood
, an offensive tackle formerly of the
Tampa Bay Buccaneers
, and Redskins fans want to know who he is and why.
Trueblood is a guy who was once thought to have some promise but didn't end up being a great player in Tampa. He turns 30 in May, is 6-foot-8 and was benched during the season last year due to ineffectiveness.
Trueblood
What? That doesn't sound like the final piece for a Super Bowl run? Hey, this is reality, Redskins fans. Due to the league-imposed salary cap penalties, the Redskins are bargain shoppers. And
as Rich Campbell writes
, the plan at right tackle appears to be to create competition and see what emerges. Trueblood joins recently signed veteran
Tony Pashos
and 2012 sixth-round pick
Tom Compton
as options to fill the position played by free agent
Tyler Polumbus
in 2012.
I know the Redskins like Compton, but he may not be ready to be a starter right away in 2013. So they bring in a couple of veterans they like who can either push him or push each other to be worthy of the starting job by Week 1.
I wouldn't get my hopes up about any bigger-name offensive linemen making their way to Washington this offseason.
March, 11, 2013
3/11/13
7:04
PM ET
The
Washington Redskins
released cornerback
DeAngelo Hall
on Monday, a move that
saved them $8 million in salary-cap space
and will require them to find a new starting cornerback.

Hall
Hall was one of the Redskins' most polarizing players, his deficiencies and antics often upstaging his talent on the field. And he certainly wasn't worth an $8 million salary in 2013. But to hallelujah over this move is to ignore the role Hall played in the Redskins' 2012 second-half surge and division title. The job he did on wide receiver
Dez Bryant
in the division-clinching victory over Dallas in Week 17 will remain one of the key stories of that game.
And I think that's important to remember here, as we assess this move in the larger context. The salary-cap penalties the league levied against the Redskins last year are having a definite effect. Mike Shanahan said in a Monday news conference that he figures it has cost them a chance to sign six to eight players over the past two seasons. GM Bruce Allen called the penalties "
a travesty of fairness
," and if you read this blog regularly you know that I agree. But they are a significant reality of the Redskins' life right now, and the Hall news reflects that.
The Redskins didn't want to cut Hall. For all of his faults and foibles, they liked him and appreciated his value to their coverage schemes. The fact that they didn't work to convince him to take a pay cut, as he'd said he would, indicates that this was a move they
had
to make. After signing four of their own restricted free agents as well as unrestricted free agent
Kory Lichtensteiger
to long-term deals to keep their 2013 cap numbers low, they still had to cut Hall
and
restructure the contract of defensive end
Adam Carriker
in order to get under the cap by Tuesday's 4 pm ET deadline. Shanahan said at the news conference that the Redskins are now about $1 million under, and if my experience with coaches and executives has taught me anything, he's estimating high.
Even if he's not, this is where the Redskins stand as free agency starts. They need a cornerback to replace Hall. They need a starting safety. They need a right tackle. (
Tony Pashos
, whose signing was also announced Monday, is likely a backup at this point.) They do not have a first-round draft pick. When and if they get close on a deal with a free agent they like, they're going to have to get further under the cap in order to sign him. That means the moves aren't done. Wide receiver
Santana Moss
remains a candidate for a pay cut or to be released. They could still end up having to restructure other contracts and shift salary-cap money into future years, a practice of which the Shanahan/Allen administration have worked hard to steer clear. They may not be able to re-sign valuable linebacker and special-teamer
Lorenzo Alexander
.
The decisions the Redskins don't want to make have begun, and they may have to continue. Such is the effect of the cap penalties on the reigning NFC East champions. They've done well to retain as much of the core of their 10-6 team as they have, but this isn't going to be a very fun offseason for the Redskins or their fans.