November, 21, 2014
Nov 21
8:00
AM ET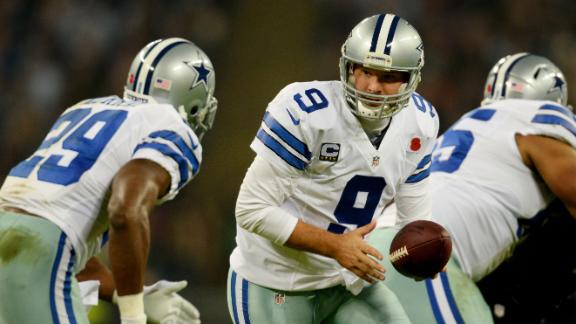 When:
8:30 p.m. ET Sunday
Where:
MetLife Stadium, East Rutherford
TV:
NBC
The 7-3
Dallas Cowboys
have a chance to mathematically eliminate the 3-7
New York Giants
from the NFC East race on Sunday night. ESPN Cowboys reporter Todd Archer and ESPN Giants reporter Dan Graziano hereby present your game preview:
Graziano:
Hey, Todd, the Giants haven't won a game since the last time we did this, so I'm eager to see what questions you've come up with. But during their current five-game losing streak, the Giants' best offensive game was the loss in Dallas. It was the only game in the streak in which they've rushed for 100 yards and the only one in which the opponent didn't generate consistent, disruptive pressure on quarterback
Eli Manning
. How is that Dallas front seven looking these days?
Archer:
The easy answer is not bad, but for those used to seeing
DeMarcus Ware
for close to a decade, he's not walking through that door again. The good news for the Cowboys is that they are getting healthier whereas last year they were signing guys on a Tuesday and playing them on Sunday.
Tyrone Crawford
did not play against Jacksonville, but he should be back.
Rolando McClain
didn't play against the Jaguars, but he will be back.
Henry Melton
has been much more active. Rookie defensive end
DeMarcus Lawrence
didn't play in the first meeting because of a foot injury but he is coming on.
Josh Brent
is eligible to play but I don't think he will be on the 46-man roster Sunday. They have been decent against the run but have had some breakdowns. The pass rush has been better but it's still not good enough. Like the defense as a whole, the front seven is getting by.
I'll keep it simple off the top: Is this the end for Tom Coughlin?
Graziano:
Well, this game surely isn't. Coughlin will certainly coach out this season, and I honestly think his future as the Giants' coach will depend a lot on how the Giants do in their final six games. If they rally against a December schedule that includes games against Jacksonville, Tennessee, Washington and St. Louis and get back to 7-9 as they did last year, it'll be easier for Giants ownership to justify giving Coughlin another year of this rebuilding project. If they fall completely apart and finish, say, 4-12 or 3-13, I imagine all bets are off and no one is safe. A lot of people want a definitive answer on Coughlin's status, but I don't believe ownership has made one yet. They love him and love having him as their coach, and if he does decide to leave or if they decide to move on from him, they know they'll need a good plan in place for how to replace perhaps the best coach in franchise history (apologies to Bill Parcells). So it's no sure thing, but the way this team is playing and the inevitable fact that they'll miss the playoffs for the fifth time in six seasons does not work in his or any other coach's favor.
What's Jason Garrett's status these days? Has the Cowboys' surprisingly good season done anything to quiet those who perpetually call for his head?
Archer:
A little bit it has, but if they don't make the playoffs then the calls for his job will be heard again. I've written that he deserves to be extended. I think the plan he has put in place has started to come together. But it will all be determined by what they do from now on. As you know, they have lost three straight winner-take-all season finales to the Giants, Redskins and Eagles. At least Garrett had them in position to win the division, but this year they have to get over the top. Jerry Jones has been patient with Garrett and often talks about wanting him to be the coach long term, but he hasn't backed those words up with a new deal. Along with the contractual statuses of
Dez Bryant
and
DeMarco Murray
, this one could get juicy here down the stretch.
How much of this Giants mess is on GM Jerry Reese? They have let guys go and not had replacements ready, especially on the offensive and defensive lines.
Graziano:
I think it's almost all on Reese, Todd, and you've hit it right on the head. His drafts have been flat-out terrible from the standpoint of finding players who have turned out to be foundation pieces. Do you know that, since Reese became Giants GM in 2007, only three of his draft picks have signed second contracts with the team? And none of those three was a first-rounder? (They're
Will Beatty
,
Ahmad Bradshaw
and
Zak DeOssie
.) You're right that the Giants haven't done a good enough job of finding and developing players to replace those who have left, and the result was that last year's roster got so hollowed out that they had to sign more free agents than any other team in the league just to fill out a 53-man roster. That's why I say this is a rebuilding project that has to take more than one year, and why I blame Reese much more than I blame Coughlin or the coaching staff for the mess this team is in. The Giants don't fire GMs as a matter of policy. They've had only three of them in the past 38 years. But as I said when we were talking about Coughlin, if things get really ugly over these final six weeks, all bets are off.
Let's move the discussion to the field. When the Giants and Cowboys played in that Week 7 game, Murray have to leave for a while with an injury. He came back and seems to have been fine since, but are there any signs of his extreme workload wearing on him? And are they doing anything to keep him from wearing down?
Archer:
There really hasn't been any drastic change in his production. He has had 100 yards in every game but one this season and even in that Arizona game he averaged 4.2 yards per carry. He had at least 22 carries in the first seven games of the season but has maxed out at 19 in each of the past three. I don't know if that is by design. Some of it has been dictated by the circumstances of the games. They are using
Joseph Randle
and
Lance Dunbar
earlier in games to spell Murray some. Offensive coordinator Scott Linehan said he is not worried so much about the carries as he is the snaps Murray plays. He's a three-down back and has 36 catches. It's a tricky balancing act the Cowboys have to follow because Murray is so valuable to what they do. He said he felt refreshed after the bye week and largely stayed off his feet. Whatever the Cowboys do in their final six games will be with the same formula they used in their first 10 games: a lot of Murray.
When these teams met in October, it looked like Manning was feeling his way through the change in offense pretty well. Is this scheme a fit for what Manning does best or is he held back by what's around him?
Graziano:
The group around Manning sure has taken a pounding. The Giants lost top wide receiver
Victor Cruz
to a season-ending knee injury in Week 6, and they were without starting running back
Rashad Jennings
for four games due to a knee sprain. Jennings was back last week, and I thought the offense would look better as a result, but then Manning went and threw five interceptions, nearly doubling his season total. (He'd thrown six in his first nine games.) You're right that Manning was looking comfortable in the new offense until last week, and I think all eyes are on him Sunday night and the rest of the way to see whether this last game was a fluke or whether it's a sign that "Bad Eli" is always potentially around the corner no matter what system they put him in. One thing he has dealt with is a lot of pass-rush pressure, and that crescendoed a bit last week against the 49ers. They may make some changes on the offensive line this week, and if those changes help protect him better, I think he gets back into that rhythm he was in earlier in the year.