March, 31, 2011
3/31/11
5:55
PM ET
By
ESPN.com staff
| ESPN.com
During a legendary 15-year career with the
Dallas Cowboys
, Ed "Too Tall" Jones endured three strikes, and feels certain league owners and the NFL Players Union will find a compromise to the current work stoppage before it affects the 2011 schedule.
Why? Money, he said. There's too much to be made by too many people for it to drag on.
Read the full story at
ESPNDallas.com
.
June, 22, 2010
6/22/10
11:00
AM ET
By
Matt Mosley
| ESPN.com
Notable players
: QB
Troy Aikman
, RB
Emmitt Smith
, FB
Daryl Johnston
, WR
Michael Irvin
, G
Nate Newton
, C
Mark Stepnoski
, OT
Erik Williams
, TE
Jay Novacek
, DT
Russell Maryland
, LB
Ken Norton
, DE
Charles Haley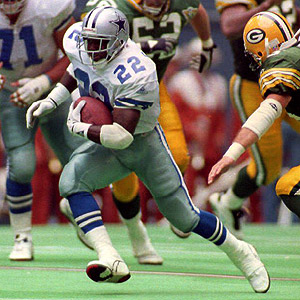 Tim Roberts/AFP/Getty ImagesEmmitt Smith held out to start the season, but once he returned, it all came together for the Cowboys.
Analysis
: I could make the argument that the '94 team that lost to the 49ers in the NFC title game was the best, but I'll save that one for another day. In '93, Jimmy Johnson and the Cowboys had an enormous target on their backs and the team began the season with Smith in a holdout. Disgusted by an 0-2 start without Smith, Jerry Jones quickly signed the running back to a new contract. The Cowboys ran off seven straight wins and finished the season 12-4.
Dallas sent 11 players to the Pro Bowl after the season, and they could've had a few more on defense. If not for Smith's holdout, this was the type of team that might have made a run at a perfect season. The Triplets were unstoppable, and the Cowboys had perhaps the best offensive line in the league. The Roger Staubach teams of the '70s were formidable, but I just don't think they were as deep as Johnson's teams of the early '90s.
The Doomsday defense from the late '70s trumps the defense from the early '90s, but the Triplets surpassed what Staubach, Tony Dorsett and Drew Pearson accomplished.
Most impressive win
: It's too easy to say the Super Bowl, so give me the overtime victory in the Meadowlands over the Giants to end the regular season. The win gave the Cowboys the division title and a wild-card bye week. In that 16-13 win, Smith had one of the best individual efforts in club history. Playing with a separated shoulder, he rushed for 168 yards and caught 10 passes.
Best player:
How can you not go with the guy who won the NFL's MVP award, the Super Bowl MVP and the rushing title in the same season? Let's go with Emmitt.
Honorable mention
1977
: The Super Bowl champions were dominant on both sides of the ball. Dallas began the season 8-0. The Broncos didn't belong on same field in the Super Bowl. Ed "Too Tall" Jones, Harvey Martin and Randy "Manster" White put the "Doom" in Doomsday.
1992
: You almost forget how Jimmy Johnson could send waves of pass-rushers at quarterbacks.
Tony Tolbert
had more sacks than Haley in '92. And Maryland and
Leon Lett
were just beginning to figure things out. The collection of talent was remarkable. The Triplets truly began to impose their will on opponents.
1971
: Some of the great defensive players from the early days -- Bob Lilly, Chuck Howley, Lee Roy Jordan -- finally got their championship. The offense scored 29 points per game and the Cowboys won by an average of 13.1 points per game.
June, 26, 2009
6/26/09
10:06
AM ET
By
Matt Mosley
| ESPN.com
Posted by ESPN.com's Matt Mosley
Cowboys owner Jerry Jones has said that no one will go in the Ring of Honor this season. And that's too bad. The opening of a new stadium would be a great time to do what Jones should've done years ago: put former wide receiver Drew Pearson in the Ring of Honor.
He was a huge part of what the Cowboys accomplished in the 1970s -- and he's the most deserving former player. Jones needs to put Pearson in before he starts updating the Ring with players from the 90s such as Darren Woodson and Larry Allen.
Who do you guys think should be next? The late, great Harvey Martin? Ed "Too Tall" Jones? Charlie Waters?
March, 3, 2009
3/03/09
5:02
PM ET
By
Matt Mosley
| ESPN.com
Posted by ESPN.com's Matt Mosley
| | |
| --- | --- |
| | |
| | James D. Smith/Icon SMI |
| | Bill Parcells on Chris Canty: "He's smart, works hard, has great size." |
Dolphins executive vice president of football operations Bill Parcells was asked Monday about new Giants defensive tackle Chris Canty. A writer from the Newark Star-Ledger named Paul Needell basically wanted to know why the Dolphins didn't go after Canty if Parcells liked him so much in Dallas.
"Well, we drafted three defensive linemen last year and signed two free-agent linemen," Parcells said. "We filled our needs then ... Oh, Chris is a really good kid. He's smart, works hard, has great size. Of course, he played end for us but rushed the passer inside. I wouldn't see why he wouldn't have a huge upside for them. He played for Al [Groh in college at Virginia] and me, so he knows what Tom [Coughlin] will expect."
The Cowboys landed Canty in the fourth round in 2005, mainly because he had a bad eye injury that he suffered when a beer bottle was hurtled across a crowded bar. The Cowboys did all their homework and determined that Canty was simply in the wrong place at the wrong time.
"Why would it be [a concern]? It wasn't his fault. He was just in the wrong place at the wrong time," Parcells said. "He was never any problem for us. Like I said, he's a great kid."
And without any prompting at all, Parcells went on to praise the work of defensive tackle Rocky Bernard.
"You know, that other kid, Rocky Bernard, is a pretty good player, too," Parcells said. "We had to play him a few times [in Dallas] and always had our hands full. He'll do a good job for them, too."
But let's get back to the original reason Needell was asking the question. Why isn't Chris Canty a Miami Dolphin? Well, I think Parcells realized (like Coughlin) that Canty would ultimately be more effective in a 4-3 scheme. But I do think Parcells is being genuine in his praise of Canty. He thought Canty had a chance to become a perennial Pro Bowler in Dallas at one point. In fact, he couldn't help but think of "Too Tall" Jones when he saw Canty line up. And that's a really good thing.
December, 18, 2008
12/18/08
4:24
PM ET
By
Matt Mosley
| ESPN.com
Posted by ESPN.com's Matt Mosley
Ravens defensive coordinator/assistant head coach Rex Ryan was asked Thursday if he was worried about the Cowboys being jacked up more than usual because of this weekend's matchup being the final game at Texas Stadium.
"It's probably kind of a circus atmosphere there," said Ryan in the understatement of the year. "They're bringing everybody back and all that. But we have to focus on the 11 guys that are out there that we're going to be trying to defend. Maybe before the game, I think they'll realize that there's something to this one, a little bit. But our focus is we have to win this game to go to the playoffs, so it doesn't matter if 'Too Tall' Jones is out there."