September, 20, 2013
9/20/13
7:30
AM ET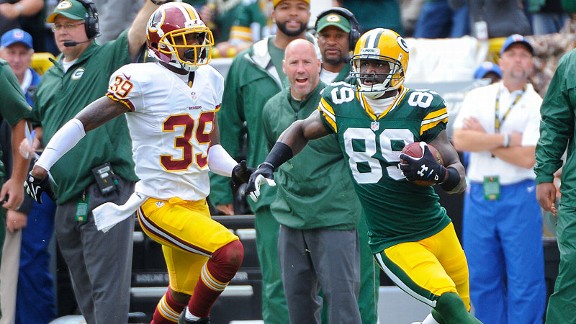 Benny Sieu/USA TODAY SportsRookie David Amerson has learned that peeking back at the quarterback while in coverage can get you burned in the NFL.
ASHBURN, Va. -- The lessons
Josh Wilson
learned throughout his career let you know one thing: It takes time to learn how to play corner in the NFL. And it's often because of the so-called little things.
For starters, you have to get used to facing quarterbacks of the caliber you rarely saw in college.
"In college you may have that second to look back and then the ball's here," Wilson said. "In the NFL, that ball will just be thrown and will be right on the outside shoulder where it's supposed to be. In college it could be anywhere. You might get a bad ball 50 percent of the time. In the NFL, going against
Aaron Rodgers
, 99 percent of the time the ball will be where it's supposed to be."
And then you have to learn how receivers alert you that the ball is coming. Some receivers' eyes provide the clue; for others it's their hands. But it's not always that easy. Wilson learned that facing certain veterans.
"Isaac Bruce and
Torry Holt
, their eyes [didn't] change," Wilson said. "Torry's hands didn't go up until the ball is there. He'll wait, he'll wait and that ball is right there and then he'll throw his hands up. It's hard."
Which is why he gives Redskins rookie corner
David Amerson
credit for being in position to play as a rookie. There are plenty of lessons to be learned. (One of which was how to play the proper leverage; against Green Bay, on the play in which
Randall Cobb
barely stepped out of bounds, Amerson could not get off his block and, just as bad, lost outside contain. It was not good.) Anyway, here are two things Amerson learned in coverage last week:
1.
Play the defense.
Amerson said the coaches wanted him to play outside leverage all game and that's what he was doing. Until he played
Jordy Nelson
with inside leverage, getting beat for a 37-yard catch and being flagged for pass interference.
"Little things will get you in trouble if you fall off for one second," Amerson said. "I was [playing outside leverage] and I was killing it and killing him and the one time I did slide to inside leverage, that's when they threw the fade on me. After I was killing him pretty much all game one little mistake like that and it's a 30-yard gain."
Wilson's take: "You have to be technique-sound. You can't get caught in bad leverage because in this league great quarterbacks will take advantage of it."
2.
Keep your eyes on your work.
Jones beat Amerson with a double move in man coverage. The problem: When Jones made his first move, Amerson looked back at the quarterback. That's a no-no. Double moves will get every corner on occasion, but in this case Amerson needed to keep his eyes elsewhere. He was fortunate that the ball wasn't caught (and that he wasn't called for holding or pass interference after he grabbed Jones).
"That's one of those tough plays," Amerson said. "In the NFL, there are more comebacks than there are comeback and go's. You have to do whatever you can to break up the pass or stop the receiver. At that point I had to tug him a bit to give me a chance and for the defense to come back on the field and to not give up a touchdown. With double moves the best thing you can do is keep your eyes on the receiver."
Wilson's take: "Double moves are hard. There's a reason why they're doing them. It doesn't matter what year, it's hard. To come over and get away with a tug? Hats off to him. That's a veteran move. That's something I would have told him to do in that same situation."
February, 23, 2012
2/23/12
8:00
AM ET
Morning. Sorry things kind of tailed off yesterday afternoon, but it was 58 degrees here, and let's just say I felt like the clubs you see in the predictions videos needed to be temporarily relocated. Ironic, no, that this is brought up here? In the links?
New York Giants
Ohm's position-by-position review takes a look at
wide receivers
, which is a group that got a well-deserved "A" on Ohm's report card. He addresses the Mario Manningham free-agency situation and suggests that Ramses Barden would be first in line for the opportunity to replace Manningham should the latter leave.
I found it interesting to read that former Giant Harry Carson has decided
not to run for Congress
as a Democrat in the district in which I personally reside. It's a shame. I almost certainly would have voted for him. But Harry says he wouldn't be able to do it with the same passion with which he played football, which I guess is a good reason.
Philadelphia Eagles
Geoff Mosher writes that the people who run the Eagles' front office are under more pressure and
more scrutiny from fans
than they've ever been before as they head off to Indianapolis for the scouting combine.
The Steelers may end up losing wide receiver Mike Wallace due to their salary-cap situation. Wallace is a restricted free agent who'll be tendered, but teams would be able to get him for a first-round pick if they structure their offer sheet correctly.
Sheil Kapadia discusses
what this means for the DeSean Jackson situation -- namely, that it'd be tougher for the Eagles to trade him with another outstanding deep threat like Wallace on the market.
Dallas Cowboys
Stephen Jones says he views Jay Ratliff as a
nose tackle
. Not sure whether that means they're scrapping the idea of moving him to end or if Jones is just saying this because that's the way the roster is constructed right now. Jones also says he thinks the Cowboys have
plenty of leaders
in the locker room and that Ray Lewises don't grow on trees. That'd be one big tree.
Randy Galloway writes that the most important "
leadership" development
in the Cowboys' locker room would be an improvement in that area by head coach Jason Garrett. Fair point, especially as it works off of Garrett's bungling of the end of the Arizona game and the days that followed. Garrett is, as we've said here many times, a young head coach who's doing this for the first time. Improvement and growing pains are to be expected in many areas. By the way, Garrett's scheduled to address the media Thursday in Indy. Yeah, we'll have something off of that.
Washington Redskins
Redskins offensive lineman Kory Lichtensteiger recalls an NFL team official asking him, "When was the last time you smoked crack?" during a scouting combine interview. It's one of the neat details in
Rich Campbell's combine advance
.
Dan Steinberg is trying to track everything everyone in the world is saying about Peyton Manning and the Redskins. In
this latest entry
, we find that Lorenzo Alexander opposes the idea because he doesn't think Manning's neck is healthy enough (fair), that Torry Holt opposes the idea because he thinks Mike Shanahan's offense requires a mobile quarterback who can get out of the pocket (baloney, it worked 10 times better with Rex Grossman than with mobile John Beck in 2011, and Holt's is an unsupported, clichéd claim) and that Clinton Portis loves the idea as long as Manning's healthy. Yeah. That's me, on the same side of the debate as Clinton Portis.
September, 1, 2011
9/01/11
11:34
AM ET
As part of its NFL preview, ESPN the Magazine asked "football scientist" KC Joyner to offer
his "V-factor" players
for each NFL team. Now, this ties into the NFC East at a conceptual level, first of all, because the term "V-factor" is named after Eagles quarterback
Michael Vick
, a player for whom it's impossible for other teams to plan for because of his unique skills. But he also picked a V-factor player for each NFC East team (and picked one other than Vick for the Eagles), so I'll let you know which they are, with KC's analysis included:
Dallas Cowboys: Jason Witten, TE
Jason Garrett is a master at disguising his plays. But he needs the right personnel to sell his subterfuge. Witten, coming off back-to-back 1,000-yard seasons, fits the part to a T. He can be used flexed out or in tight. The seven-time Pro Bowler even lines up as a wingback or RB on occasion.
New York Giants: Hakeem Nicks, WR
The third-year receiver is eerily reminiscent of the retired Torry Holt. At the snap, he always lines up the same, whether it's a 40-yard go or a nine-yard hook. That ability to disguise routes drives corners mad -- they can't get a read on him. No wonder he burned them for more than 1,000 yards and 11 scores last season.
Philadelphia Eagles: Jeremy Maclin, WR
Obviously, our V-Factor namesake is the most difficult player to scheme against. But Maclin is nearly as tough. He is the team's best receiverat selling one route and then running another. After two seasons and 14 TDs, he has a bagful of stop-and-go tricks to keep corners' heads spinning.
Washington Redskins, Fred Davis, TE
Chris Cooley has a higher profile, but Davis causes more trouble for defenses. His go-to move: fake a block on a bootleg, sneak down the line and then shoot upfield (catches of 62 and 71 yards last season). It's a play that keeps opponents from clamping down on the slant run or bootleg pass.
I especially like the Nicks analysis, because it touches on what I consider to be the most important aspect of Nicks -- his skills as a technician. He's a relentless studier of film who obsesses over the details of his craft, and it shows on the field, where he consistently creates separation between defenders and recognizes the ball first in a crowd.
I also found the David one interesting, since I've long thought Davis was a guy who looked great to scouts but not as great to fans because his production hasn't seemed to match his physical abilities. I'm sure Davis could be a factor in the passing game for Washington in a number of ways. But I think they need him too much as a blocker to allow him to really show everything he can do.
May, 29, 2009
5/29/09
10:47
AM ET
By
Matt Mosley
| ESPN.com
Posted by ESPN.com's Matt Mosley
Many of you (perhaps thousands) responded to my invitation to send questions to Eagles rookie wide receiver Jeremy Maclin on Thursday. I chose four of the questions to ask on your behalf. If your name is called, please take a dramatic bow:
| | |
| --- | --- |
| | |
| | Hunter Martin/Getty Images |
| | Jeremy Maclin is focusing on consistency with his routes. |
PhiladelphiasFavSon asked this question at 12:40 p.m. ET on Thursday: I know the veteran WRs will have some tricks of the trade to show you, but have you learned anything from our veteran DBs? I would think being able to line up against and pick the brain of a great corner like Asante [Samuel] would definitely be a big help in the transition to the pros, and a boost to your game. Any tricks of the trade from the defensive side?
Maclin: I had a few times in the first minicamp where it hit me that I was going up against some pretty amazing players. Going against [Ellis] Hobbs, Asante, [Sheldon] Brown and [Joselio] Hanson ends up making you better. It got very competitive in 7-on-7 drills.
Mosley's follow up to PhiladelphiasFavSon: I'm assuming you didn't face a lot of press coverage in the Big 12?
Maclin: Every time they tried to press me, it didn't work out too well for them. So, no, not a lot.
tmscfinest wants to know about Maclin's route running: Jeremy, regardless of where you are lined up on the field, the three most important elements of the West Coast offense as a WR is good route running, speed and smarts/field awareness. Your route running has been noted as the part of your game that needs improvement. What have you done to work on that?
Maclin: All of the veteran guys have been showing me the ropes. I've already grown a lot in that area. We ran a lot of no-huddle in college, and there wasn't as much downfield stuff. There were 10-yard and 12-yard routes with options. Fortunately, I've always been able to pick things up pretty easily. The main thing is for me to become consistent on how I run the routes. Consistency will be key.
kevcorcoran1 begins with an editorial statement: J-Mac, congratulations on joining the Eagles, and the city with the greatest fan base in sports. Question: who was your favorite team growing up, and did you follow the Eagles at all during your time at Mizzou?
Maclin: I grew up in the St. Louis area, so I was a big fan of "The Greatest Show on Turf." Those guys did it all. My favorite receiver was Torry Holt. He ran great routes and always made plays. Other teams knew what was coming, but they couldn't stop it. And I always knew how the Eagles were doing, although they weren't my team at the time.
Mosley follow up to kevcorcoran: Are you getting settled in yet in Philly?
Maclin: I haven't even started looking for a place yet. It's not like I already have a bunch of money to spend on a home. I've actually been helping Jason Smith (No. 2 overall to the Rams and former Baylor University left tackle) find a good place to live in St. Louis).
Mosley: You only played the two seasons at Mizzou. How tough a decision was it to leave early?
Maclin: It was very tough. I cried at my press conference. Being part of a great, great team is something pretty special. Winning's supposed to be fun, and that's the way it was at Missouri. I probably talk to one of my former teammates every day. There are about six to seven of us that are [close friends].
JSmith731 has a McNabb-related question: Do you plan on working out with [Donovan] McNabb in Arizona?
Maclin: I haven't figured that out yet. Everyone's been asking me that. I've got to speak with Donovan.
Thanks again for your participation. Any requests for my next NFC East exclusive interview via phone?
May, 28, 2009
5/28/09
2:52
PM ET
By
Matt Mosley
| ESPN.com
| | |
| --- | --- |
| | |
| | Hunter Martin/Getty Images |
| | New additions Jason Peters, Jeremy Maclin and LeSean McCoy should be a boon for the Eagles' offense this season. |
Posted by ESPN.com's Matt Mosley
Let's face it. The offseason Lombardi Trophy has to come out of the NFC East. The division may have let a Super Bowl appearance slip through its fingers last season, but the NFC Beast has a stranglehold on the months of March and April.
Rank 'Em: NFC East
So, SportsNation, which team tops your NFC East power rankings? RANK 'EM
And of all the blockbuster moves -- Terrell Owens' release, the signing of Albert Haynesworth, Plaxico Burress' final act -- the Eagles may have come out on top. Of course, they started free agency with a whimper by signing a lesser-known Andrews brother (Stacy) and a Browns castoff (Sean Jones). Things were going so slowly that Donovan McNabb reportedly told management he needed to see more before considering a contract extension with the club.
But all at once, things started to change. Armed with two first-round draft picks, the Eagles used one to rescue one of the top left tackles in the league, Jason Peters, from football Siberia (the Buffalo/Toronto franchise). With that one move, some of the sting from Brian Dawkins' departure seemed to go away. Tra Thomas had done an admirable job protecting McNabb's blindside for years, but he was a mediocre run-blocker who was in his mid-30s. Peters, a former tight end at Arkansas, is a 27-year-old mauler from Queen City, Texas. He was disgruntled in Buffalo because of his contract situation, so the Eagles gave up their late first-round pick and sent over the Brinks truck.
| | |
| --- | --- |
| | |
| | Hunter Martin/Getty Images |
| | The Eagles brought in Stacy Andrews (76), formerly of the Cincinnati Bengals, to bolster their offensive line. |
They followed that up by trading up two spots to steal Missouri wide receiver Jeremy Maclin, who had fallen out of the top 10, in part, because Al Davis remains the owner of the Raiders. It was a coup for the Eagles, and they scored again by selecting Pittsburgh running back LeSean McCoy in the second round. Though you hate to say it in polite company, Brian Westbrook isn't durable enough to be an every-down back. Never has been, although the Eagles have tried. Draft busts such as Ryan Moats and Tony Hunt put the Eagles in the spot of desperately needing to hit on a suitable backup for Westbrook. In McCoy, the Eagles have an instinctive player who should flourish behind the club's zone-blocking scheme.
Eagles coach Andy Reid is a prideful man who rarely covets another man's players. In fact, he described a scenario during the recent NFL owners' meeting where the Eagles could simply move guards Shawn Andrews and Todd Herremans around and stay with the status quo. And he didn't really see the need for more firepower at receiver, which sort of threw a wet blanket on our breathless pursuit of the Anquan Boldin/Braylon Edwards story line.
But in the end, the Eagles actually looked in the mirror and saw an accurate reflection. They may have been one of the hottest teams in the league in December and January, but there were still deficiencies. Namely, the Eagles' offense has a tendency to freak out in short-yardage situations -- especially in the red zone. The additions of Peters, McCoy and the elder Andrews brother should help significantly in that regard.
Reid would provide a more scientific explanation, but the bottom line is the Eagles couldn't move anyone off the line in those short-yardage situations. That led to Reid and his trusty assistant, Marty Mornhinweg, coming up with curious plays around the goal line instead of banging the ball in the end zone with quarterback sneaks.
Regarding the Maclin pick, some have worried that he's too similar to second-year wideout DeSean Jackson. Maclin is at least two inches taller than Jackson -- and a little thicker. And the most important similarity they have is speed. I caught up with Maclin via phone Thursday just before he ducked into a receivers meeting and asked what made him different from Jackson.
"We're completely different," he said, with a hint of indignation. "I'm bigger. I'm considered a big receiver at 6-feet. But we both know how to stretch the field."
Neither guy is a possession-type receiver, but that's why you have players such as Jason Avant around. Maclin and Jackson are both home run receivers -- and that makes life tough on a defensive coordinator. If you try to take Jackson out, you're leaving Maclin in one-on-one coverage. If you try to keep everything in front of you by playing coverage, then Westbrook and McCoy can hurt you.
If there's a negative about Maclin, it's that he played in a spread offense in college. I think that's a crock, but you'll hear a lot of scouts bring it up. Players out of Big 12 schools such as Texas Tech and Missouri were not asked to run pro-style routes. But all this talk about not knowing the full "route tree" sounds like a lot of NFL savants who are intoxicated with their own coachspeak. To paraphrase something Texas Tech's Mike Leach once said about quarterbacks, a good coach should be able to teach a 4.4 receiver with excellent hands how to get in and out of a "pro-style" route. It's not as if Missouri was letting Maclin and quarterback Chase Daniel draw up plays in the dirt. Well, at least not on first down.
"We ran a lot of no-huddle [at Missouri]," Maclin said. "There were a lot of 10-yard and 12-yard routes. And we had options on those routes. I would say that we used a lot more concepts than plays in college. It's obviously more complex here, but fortunately I pick things up pretty quickly."
Growing up in the St. Louis area, Maclin fell in love with wide receiver Torry Holt and the Rams' "Greatest Show on Turf." Even at a young age, he studied the way Holt ran his routes and attempted to apply it to his game. And at Missouri, Maclin said he watched film of the Colts to get a feel for what the NFL would be like.
Maclin hasn't decided whether he'll join McNabb in Arizona this summer for some side work, although it doesn't seem like a bad idea.
"I haven't figured that out yet," Maclin said. "I've got to speak with Donovan."
That sounds like a conversation he shouldn't put off for long.
March, 6, 2009
3/06/09
2:02
PM ET
By
Matt Mosley
| ESPN.com
Posted by ESPN.com's Matt Mosley
As of today, I've decided to resume/start fielding your mailbag questions on a daily basis. You've been incredibly generous with your feedback (over 3,800 questions at last glance), and I want to honor that with some consistent interaction. Now, let's see what's in The Bag. Something tells me T.O.'s name might come up today.
Bryan B. from (of all places) Dallas, you have the first word: Matt, I haven't heard anyone address the Cowboys' situation at wide receiver now heading into next year. I am hopeful that they will not enter next season with Roy Williams, Patrick Crayton and Sam Hurd as their starters. Is there any news or rumors about what, if any, moves they will make?
Mosley: Bryan, we've been addressing this topic on ESPN.com from the moment T.O. was released Wednesday evening. Matt Williamson from Scouts Inc. was kind enough to cover this topic on the Beast. There's no question that this offense loses a major contributor with T.O.'s departure, but the Cowboys should be able to make up for it in different areas. Tim Cowlishaw had an excellent column Friday in the Dallas Morning News about how the Cowboys should convert to a run-based offense since they appear to have three excellent backs.
I think that you may have to live with the Cowboys beginning the season with Williams and Miles Austin as the starters. Austin has a huge upside, but it's a stretch to consider him a legit No. 2 guy in the NFL at this point. As some of you know, I've fallen hard for Ohio State receiver Brian Robiskie. Great pedigree, great route runner and big-time hands. Doesn't have elite speed, but then, neither did Anquan Boldin. The only other solution is to wait for Torry Holt to get cut and then go sign him to a short-term deal for $2 million or so a year.
March, 6, 2009
3/06/09
12:43
PM ET
By
Matt Mosley
| ESPN.com
Posted by ESPN.com's Matt Mosley
The New York Giants are proceeding as if they won't have Plaxico Burress in 2009, although it's sounding more and more like they'd welcome him back to the lineup. Ralph Vacchiano, author of The Blue Screen Blog, has an entry on some of the team's options -- namely Braylon Edwards, Torry Holt and Anquan Boldin.
If the Browns could get a similar deal (fleecing) that the Lions received in the Roy Williams trade, something tells me they'd be happy to part ways with the butter-fingered Edwards. But as Vacchiano points out, Holt would come at a much lower price point.
The more likely scenario is the Giants taking someone like Kenny Britt or Brian Robiskie on Day 1 of the draft. A lot of you want the Giants to draft a receiver in the first round. For some reason, I don't think that's going to happen.
September, 14, 2008
9/14/08
7:47
PM ET
By
Matt Mosley
| ESPN.com
Posted by ESPN.com's Matt Mosley
The Rams actually hung in this game for three quarters, but then the Giants buried them with three touchdowns in the fourth quarter. Quarterback Eli Manning was 20 of 29 for 260 yards and three touchdowns, but the story of the game was the Giants' swarming defense. In the first two weeks of the season, the losses of Osi Umenyiora and Michael Strahan haven't hampered the club's pass rush.
The Giants finished with six sacks, and defensive end Justin Tuck continued his Pro Bowl campaign with two sacks and an interception return for a touchdown. It's not like Tuck came out nowhere (he had 10 sacks last season), but he's emerging as one of the top defensive players in the NFC East.
The once vaunted Rams offense was held to 201 total yards, and they only made it close in the second half because of a miracle catch by Torry Holt that made it 20-13. The Giants responded with a long touchdown drive and we were reminded why Ahmad Bradshaw is such a weapon when he took a swing pass from Manning 18 yards for a touchdown.
Tom Coughlin was worried to death about this game -- and for good reason. This is obviously a bad Rams team, but Coughlin knew there was an opportunity for a letdown. His offense, though, gashed the Rams with Brandon Jacobs and Derrick Ward on the ground.
Giants defensive coordinator Steve Spagnuolo constantly rotated his talented defensive linemen, with defensive tackles Jay Alford and Fred Robbins combining for three sacks. Instead of worrying about players who aren't available, other players have raised their level of play.
NFC EAST SCOREBOARD
Saturday, 12/20
Sunday, 12/21