NFC East:

Tramon Williams
April, 18, 2014
Apr 18
3:10
PM ET
The
Washington Redskins
' defense is optimistic about where it's headed, thanks to the addition of
Jason Hatcher
and a tweaked philosophy regarding the pass rush. Whether their play matches that optimism always remains the biggest hurdle. What's not in doubt: They will have two players among the most expensive at their positions when it comes to the salary cap. The fact both are in their front seven isn't a coincidence as the Redskins' offseason goal has been to improve the pass rush. So, after breaking down where the
Redskins' top cap hits at each position offensively stood in comparison to their NFL counterparts
earlier this week, it's time to take a look at the defense.
Safety
NFL's top five cap hits
Eric Berry
,
Kansas City Chiefs
$11,619,700
Eric Weddle
,
San Diego Chargers
, $10,100,000
Antrel Rolle
,
New York Giants
, $9,250,000
Dashon Goldson
,
Tampa Bay Buccaneers
, $9,000,000
Michael Griffin
,
Tennessee Titans
, $8,000,000
Meriweather
Redskins' top cap hit
Brandon Meriweather
(59th), $1,000,000
Summing it up:
Notice who's not in the top five?
Jairus Byrd
, after his new deal with New Orleans. But don't worry: He's set to take up the most cap room in 2015 at $10.3 million. I like Byrd, but not at that figure (I'd have paid
Sean Taylor
that sort of cash). But Byrd was never really a legitimate option for the Redskins.
Mike Mitchell
was and he'll count $2.2 million this season and $4.95 million in 2015. But the overriding point is Washington views the best way to help this position is by bolstering the pass rush. Starters Meriweather and
Ryan Clark
both are on one-year contracts, so this position is still a question mark beyond this season (and still will be one entering the year).
Corner
NFL's top five cap hits
Brandon Carr
, Dallas, $12,217,000
Johnathan Joseph
, Houston, $11,250,000
Lardarius Webb
, Baltimore, $10,500,000
Brandon Flowers
, Kansas City, $10,500,000
Tramon Williams
, Green Bay, $9,500,000
Porter
Redskins' top cap hit
Tracy Porter
(43rd), $2,800,000
Summing it up:
Next season,
Darrelle Revis
' cap hit jumps to $25 million. Which means he's playing on a one-year deal. Is it a good thing the Redskins' biggest cap hit here belongs to Porter, who has battled injury issues along with consistency during his career? Of course, it's not like he occupies a lot of space.
DeAngelo Hall
's cap hit is $2,062,500 but that jumps to $4,812,500 in 2015. By then the Redskins need young corner
David Amerson
to have fully emerged -- can he become their best corner? If not, then they'll have to start looking for a No. 1 corner. By the way, the top five on the list for 2014? They've combined for four Pro Bowl appearances and one All-Pro spot (Joseph). But Carr did do a good job vs. Washington last year (and in at least one game against then-Eagles receiver
DeSean Jackson
).
Linebacker
NFL's top five cap hits
Lawrence Timmons
, $11,816,250
Tamba Hali
, Kansas City, $11,464,706
Brian Orakpo
, Washington, $11,455,000
Clay Matthews
, Green Bay, $10,943,750
James Laurinaitis
, St. Louis, $10,400,000
Orakpo
Redskins' top cap hit
Orakpo
Summing it up:
That's quite a list for Orakpo to be part of, but to stay on there after this season -- at least in Washington -- he'll have to be a little more productive. But even if he has another season like last year, Orakpo will still be in the $10-million range. When Hali got paid, he responded with sack totals of 12, nine and 11 in the next three seasons (with nine forced fumbles and one interception). I don't think anyone says Hali's overpaid (well, at least not many). In Orakpo's last three full seasons, he has a combined 27.5 sacks, but only four forced fumbles. More game-changing plays and he'll get the contract he desires. Another interesting part on this is that two of the five are inside linebackers, though Timmons plays in a 3-4 and Laurinaitis in a 4-3.
Defensive tackle
NFL's top five cap hits
Ndamukong Suh
, Detroit, $22,412,000
Haloti Ngata
, Baltimore, $16,000,000
Gerald McCoy
, Tampa Bay, $15,627,253
Geno Atkins
, Cincinnati, $9,000,000
Barry Cofield
, Washington, $7,667,500
Cofield
Redskins' top cap hit
Cofield
Summing it up:
Cofield's base salary jumped from $840,000 last season to $4.55 million (the lower figure was the result of a restructuring last spring in which $3.5 million in base salary was converted to a signing bonus). This is as high as Cofield's cap number will be and in two years it falls to $6,877,500. I know the coaches felt he would become the NFL's top nose tackle by this time. That's not the case, but Cofield does have his strengths and has done a nice job with Washington. For a short stretch last season he was playing as well as anyone on the team defensively, and he always plays hard. He'll be helped by having Hatcher in the pass rush, perhaps giving Cofield more one-on-one matchups. If that happens, then perhaps Cofield will have the sort of season in all phases that coaches have hoped for.
Defensive end
NFL's top five cap hits
Mario Williams
, Buffalo, $18,800,000
Charles Johnson
, Carolina, $16,420,000
Chris Long
, St. Louis, $14,900,000
Greg Hardy
, Carolina, $13,116,000
Calais Campbell
, Arizona, $11,250,000

Bowen
Redskins' top cap hit
Stephen Bowen
(15th), $7,020,000
Summing it up:
All of the top five on this list play in a 4-3, where ends can excel as playmakers and, therefore, command big bucks. The 3-4 ends, typically, are not -- with some exceptions. Bowen has not been a playmaker, though for a while he was an effective player both against the run and as a rusher. However, he has just one sack since the 2011 season (26 games). And after microfracture surgery and being 30, I wonder about the level at which he'll be able to play. Multiple Redskins sources said they still expect him to be in the Redskins' plans, but will it be at this cap figure? That's a big hit for someone in his situation. If Bowen returns healthy and plays well, the Redskins will greatly benefit. If not? That's a lot of cap room to occupy. One more note: Johnson and Hardy combine for approximately 23 percent of Carolina's cap.
December, 15, 2013
12/15/13
10:45
PM ET
ARLINGTON, Texas -- At some point you would think there is not enough room for losses like Sunday's against the
Green Bay Packers
, that the mantel might finally run out of space.
Somehow the
Dallas Cowboys
and
Tony Romo
keep expanding it.
Put Sunday's loss right next to the loss to the
Seattle Seahawks
in the 2006 playoffs. Nestle it up to the loss in the 2007 playoffs to the
New York Giants
and the crushing 44-6 season finale against the
Philadelphia Eagles
in 2008. Don't forget the 2010 loss to the
Detroit Lions
when they coughed up a 24-point lead.
[+] Enlarge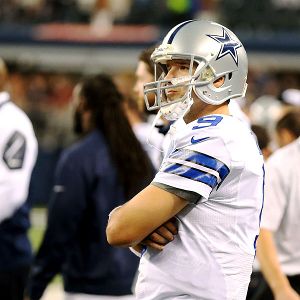 Matthew Emmons/USA TODAY SportsTony Romo's two fourth-quarter interceptions helped the Packers mount a 23-point comeback.
Romo opened 2011 with a fourth-quarter interception that led to the New York Jets' winning field goal and then in December saw an 11-point lead disappear against the Giants after
Miles Austin
lost a sure touchdown in the stadium lights.
And don't forget the three-interception finale against the
Washington Redskins
that led to the Cowboys' second straight loss in a de facto NFC East title game.
Oh, and there's this year's loss to the
Denver Broncos
when a fourth-quarter interception led to the game-winning field goal.
This one might not be the cruelest -- it's hard to top the Seattle loss because of the playoff significance and what it meant to the franchise -- but it is no less disheartening.
Romo was intercepted on back-to-back drives in the fourth quarter to set up the Packers'
37-36 victory
as the Cowboys blew a 23-point halftime lead and a 12-point advantage with 7:55 to go.
The decision to thread a pass to
Miles Austin
after Romo escaped an unblocked
Clay Matthews
and the miscommunication with wide receiver
Cole Beasley
will be scrutinized for the next week and even longer if the Cowboys do not make the playoffs for the fourth straight season.
The decision on the Austin throw that was intercepted by
Sam Shields
was a poor one. The Cowboys had a running play called, but with the Packers stacked where the Cowboys would run it, Romo threw a "smoke" route to Austin. He had to hitch because Matthews was in his way and he was unable to lead Austin, giving Shields the chance to come down with the interception.
"It was my fault for obviously putting the ball in a position where the defense could make a play," Romo said.
The Packers took the lead on the ensuing drive with 1:31 to play on
Eddie Lacy
's 1-yard touchdown run.
The Packers took the game seven seconds later when Beasley cut off his route and Romo threw wide, where
Tramon Williams
came up with the turnover after the pass was initially ruled incomplete. By the time Walt Coleman announced the reversal, Cowboys fans were headed to the exits and
Dez Bryant
was just about to the locker room.
"I think [Beasley] and Tony were just not on the same page on how to read the defense," coach Jason Garrett said.
Those throws will be the most scrutinized, but Romo missed a few chances to put the game out of reach earlier in the game. Twice he underthrew Bryant on deep balls that allowed Green Bay defenders to break up the passes. One pass to Bryant in the end zone in the first half was a hair too far in front. Once he underthrew
Jason Witten
when the tight end got behind the defense.
Garrett answered in coachspeak about Romo's deep misses, saying they needed to look at the tape but mostly lauded the quarterback's game -- 29-of-48, 358 yards, two touchdowns, two picks -- while almost ignoring just how much better those numbers could have been.
The Cowboys have not thrown deep much this year. Romo entered Sunday averaging a career-low 7.1 yards per attempt. He entered the season averaging 7.9 yards per attempt and made his name since taking over in 2006 with big plays to
Terrell Owens
,
Terry Glenn
, Austin and Bryant.
This season it has been different and it never was more evident than on the Cowboys' second-to-last drive that ended up in Shields' interception.
"We know what they're going to do," Garrett said. "They're going to put nine guys on the line of scrimmage. They're going to try and get you in second-and-12 and third-and-14 and get the ball back that way."
On first down from the Dallas 20, Shields was in single coverage on Bryant. Romo saw it. Bryant saw it. The chance for a big play was there, but Romo's pass was short and Shields was able to make a play. If the ball is two yards further, Bryant scores a touchdown and the aggressiveness of Garrett, offensive coordinator Bill Callahan and Romo is lauded.
Instead they are criticized for not running the ball more and the loss gets added to a mantel that just never seems to get too crowded.
"I think the worst thing you can do sometimes with Dez is overthrow him," Romo said. "Obviously you would like to hit him perfectly in stride and go. Sometimes he's such a great athlete that he comes down with most of them. I look back and I wish I had one or two where I gave it a little bit more. Usually I make sure if I err it's just slightly less and he always goes up and gets it. Obviously when I look back I'll push those down the field if I have the opportunity."
Romo will have two more opportunities with games left against the Redskins and Eagles.
"Hopefully we can get better," Romo said before turning down a hallway to an elevator. "We need to get better."
November, 7, 2013
11/07/13
12:00
PM ET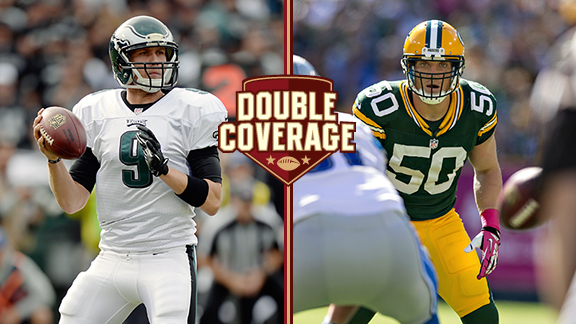 Getty ImagesNick Foles and A.J. Hawk meet Sunday in Green Bay in a game that's turned in the Eagles' favor.
If you expected the
Philadelphia Eagles
to have the edge at quarterback for their Week 10 meeting against the
Green Bay Packers
at Lambeau Field, go to the head of the class.
The teams play Sunday, a week after their quarterbacks made headline news. The Pack's
Aaron Rodgers
broke his collarbone in Monday night's loss to the
Chicago Bears
, a day after the Eagles'
Nick Foles
tied the NFL record with seven touchdown passes against the
Oakland Raiders
.
A game that looked to be safely in the Packers' column is suddenly wide open. NFC North aficionado and all-around NFL expert Kevin Seifert breaks down the game with ESPN.com Eagles reporter Phil Sheridan.
Phil Sheridan:
I'll start with the obvious one: Can the Packers win without Rodgers? Did they take his durability for granted in not having a better backup in place?
Kevin Seifert:
On a local level, the backup quarterback has been an annual source of controversy for the Packers throughout Rodgers' career as a starter. Nationally, most people didn't find out about it until Monday night.
Seneca Wallace
is the backup only because he was available when they realized none of the players they took to training camp was up to the job. He is 6-15 in his career as a starter, and his career seemed over in August 2012 when the
Cleveland Browns
released him.
The Packers' entire scheme is built around Rodgers doing things that only Rodgers can do. Think of what happened when the
Indianapolis Colts
played without
Peyton Manning
in 2011. The Packers will need to make fundamental changes to their offense -- and expect substantial elevation in other areas of their team -- to make it through this wilderness.
I have to imagine the Eagles can't believe their luck to be facing Wallace instead of Rodgers, huh?
Sheridan:
They are saying all the right things about wanting to face the best and never wanting to see anyone get hurt, but they aren't oblivious. This game looked like a double-digit loss the day the schedule came out, and it still looked like an easy Packers home win until Rodgers' collarbone broke Monday night. So it not only becomes a winnable game for the Eagles, it comes when a win, combined with a Dallas loss (the Boys are in New Orleans), would move them even with the Cowboys at 5-5.
And it's not like the Eagles owe anybody an apology when it comes to luck. They haven't had a quarterback start and finish two games in a row since September, and they've been down to
Matt Barkley
twice.
They may not have a starter as good as Rodgers, but their backup isn't half bad. Foles threw for seven touchdowns Sunday against an Oakland defense that didn't blitz or, at times, even cover receivers. Given Dom Capers' background, how would you expect him to respond to a challenge like this?
Seifert:
Capers is known for major scheme changes from week to week, depending on matchups. But as usual, the Packers are dealing with injuries that will limit his options. They are down four linebackers at the moment, although the Packers are hopeful that
Clay Matthews
can return soon -- if not Sunday -- and play with a club to protect his broken thumb.
In short, I'm not sure how many options Capers will have. He does have a group of talented cornerbacks --
Tramon Williams
,
Sam Shields
,
Casey Hayward
and
Davon House
. Capers will have to hope that they can stick with the Eagles' group of perennial All-Pros and future Hall of Famers better than the Raiders did.
Are the Eagles' receivers really that good?
Sheridan:
If they are, they have managed to keep that greatness a secret until Sunday in Oakland.
DeSean Jackson
is a dynamic player, no question about that, but he has been taken out of games in the past when cornerbacks get physical with him. The Raiders did not, and Jackson went off.
As for
Riley Cooper
and
Jason Avant
, they have not made up for the loss of
Jeremy Maclin
to a torn ACL during training camp. Cooper had great numbers Sunday -- five catches, three touchdowns, 139 yards -- but he has been neutralized more often than not during the season.
Tight ends
Brent Celek
and
Zach Ertz
had big numbers at Oakland too. So either the Eagles offense really turned a corner or the Raiders just didn't have anyone playing corner. Maybe a bit of both.
The Packers have added a more robust running game to their offense this season. Now that Rodgers is hurt, can
Eddie Lacy
& Co. carry the team until the quarterback is back? Is that even possible in this pass-happy league?
Seifert:
I tend to doubt it. Up until Monday night's game against the Bears, much of the Packers' success in the run game came against light boxes (six men or fewer) designed to focus first on the pass, according to the charting we get from ESPN Stats & Information. The Bears brought a safety into the box Monday night and the Packers still rushed for 199 yards, but we should note that the Bears have the NFL's fourth-worst rush defense this year.
And even when you run successfully, it usually takes longer to score and thus your total points can drive down. The Packers were averaging 30 points per game before scoring 20 Monday night against the Bears.
How do you think the Eagles will approach it? Eight men in the box? Nine? How about 11?
Sheridan:
This sets up a bit like the Tampa Bay game, I guess.
Mike Glennon
was making his second start, and the Bucs' passing game was not expected to be a big threat. The Eagles focused on shutting down
Doug Martin
, and they did, holding him to 67 yards on 16 carries. It helps, of course, to get a lead and force the opponent to throw the ball more.
All season, the Eagles' focus has been to stop the run while limiting big pass plays downfield. That made them vulnerable to intermediate passing and runs after the catch. Tampa Bay's
Vincent Jackson
, for instance, had nine catches for 114 yards and two touchdowns while the Eagles were focused on Martin.
That has to be the Packers' blueprint for success. If Wallace can get the ball out quickly and catch
Jordy Nelson
and
Andrew Quarless
in stride, the Packers can move the ball. The Eagles are better at tackling and covering underneath than they were, but there's opportunity there.
January, 14, 2012
1/14/12
10:50
AM ET
Usually we take a break from the links on the weekend, because of the cholesterol. But it's the playoffs, so just a few won't hurt too much.
January, 4, 2011
1/04/11
12:00
PM ET
By
Matt Mosley
| ESPN.com
Longtime Scouts Inc. writer Gary Horton has come up with
a list of 48 players who he's calling the "X factors
" in the playoffs. He picked four players from every roster who have a chance to make a significant impact in the playoffs.
Let's see who Horton came up with for the Eagles. (This is for ESPN Insiders only, but I've taken some liberties in order to produce a blog entry).
Philadelphia Eagles
MLB Jamar Chaney: He is a rookie replacing veteran Stewart Bradley, and while he has good athletic skills, he must improve his recognition skills in the playoffs.

FS Kurt Coleman: He replaces Nate Allen in the secondary and even though he is a rookie, he is playing with range and composure and is usually in the right place.

WR Jeremy Maclin: He can work out of the slot or wide, he is an excellent red zone target, he is good on third down, and he is an underrated blocker.

TE Brent Celek: Early in the season Michael Vick concentrated on deep passes to his WRs, but Celek will be a bigger part of this offense in the playoffs.
It's a bit strange to see front-line players such as Maclin and Celek referred to as X factors, but it's true that the Eagles' tight end's numbers were down this season while playing with Vick. Celek was banged-up early in the season and had some drops. But it was in the 2008 playoffs that Celek grabbed everyone's attention and helped lead the Eagles to the NFC title game. I agree with Horton that he could emerge as a threat again in the playoffs. But for that to happen,
Jason Peters
might have to block someone on his own a time or two against the
Green Bay Packers
.
One of Horton's X factors for the Packers is cornerback
Tramon Williams
. I actually think Williams had a better overall season than
Charles Woodson
. Vick will need to be aware of Williams at all times because he does an excellent job of baiting quarterbacks into interceptions.
January, 2, 2011
1/02/11
8:03
PM ET
By
Matt Mosley
| ESPN.com
Three things to know about next Sunday's Packers-Eagles wild-card game:


1. Can the Philadelphia Eagles recover from two consecutive losses to end the season?
I don't think a season-ending loss to the Cowboys on Sunday will have a major impact because the Eagles left most of their stars on the sideline. In fact, it was pretty impressive that a bunch of backups nearly handed the full-strength Cowboys a loss. But the loss to Minnesota last Tuesday is still baffling. The Eagles actually had something to play for in that game, and they didn't show up. If
Michael Vick
continues to recover from his quadriceps injury and
DeSean Jackson
's foot heals, the Eagles should regain their devastating speed. Resting the starters against the Cowboys was the right move. Now, the Eagles will face one of the best quarterbacks in the league in
Aaron Rodgers
. The
Chicago Bears
held the Packers down for much of Sunday's game, but Rodgers was able to connect with
Greg Jennings
on a gorgeous throw to set up the winning touchdown.
2. Michael Vick began his remarkable season against this team.
When
Kevin Kolb
left the Eagles' season-opener against the Packers with a concussion, Vick was sensational in relief. He threw for 175 yards and a touchdown to go along with 103 rushing yards. He famously said after the game that he thought the Eagles would've won had he been on the field the entire time. Andy Reid ended up making Vick the starter, and the rest is history. But this week, the sixth-seeded Packers will be game-planning for Vick. Cornerback
Charles Woodson
may be headed to the Pro Bowl, but I believe that
Tramon Williams
has had the better season. The Packers' defensive backs will try to be physical with Jackson and
Jeremy Maclin
at the line of scrimmage. The Packers held
Jay Cutler
and the Bears to a field goal Sunday in bailing out what is normally a prolific offense. Why did the Bears play their starters when nothing was on the line? It's probably because they desperately wanted to keep a dangerous team such as the Packers out of the playoffs. I think the Eagles would've preferred playing the Giants a third time to playing the Packers again.
3. The Eagles' secondary is about to encounter perhaps the best group of receivers in the league.
The Packers' receivers do a tremendous job of running after the catch, as the Giants learned last week. If Rodgers gets in a groove early, the Eagles could be in trouble. The Eagles have given up 31 passing touchdowns this season, which ranks them right behind the Cowboys in terms of worst in the NFC. Rodgers thrives on finding his receivers on crossing routes and watching them add 20 or 30 yards to the play. The Eagles' defensive backs must do a much better job tackling against this group. The Eagles have the offensive firepower to keep up in a shootout, but Reid doesn't want it to come to that. Philadelphia's biggest flaw is its defense, and the Packers have the weapons to expose it. Fortunately for the Eagles, the Packers' offensive tackles have struggled at times. This is the type game when defensive end
Trent Cole
's ability to get leverage will help in a big way. And the Eagles must figure out a way to keep defensive end
Juqua Parker
from playing too many snaps. D-end
Darryl Tapp
made some nice plays against the Cowboys on Sunday and the Eagles need him to continue his strong play. But I can't imagine a better first-round matchup than this. If you can think of the last No. 6 seed that looked this scary, let me know.
NFC EAST SCOREBOARD
Saturday, 12/20
Sunday, 12/21