May, 23, 2012
5/23/12
4:15
PM ET
Yeah, sorry about the Vokle chat. Sometimes our technology just doesn't do what we want it to do. There are plans in the works to try again. I hope you'll give us another shot if we try next week.
Anyway, back to the blog. As a twist on the usual Power Rankings, we had a panel of ESPN experts put together something called the
NFL Future Power Rankings

, basically projecting how the Power Rankings will look three years from now. It's Insider, so you have to pay to read it and I can't give it all away to you here. But if you are interested, the piece explaining how the panelists came to their conclusions is available to everyone and is
here
.
Here's how the NFC East teams fared, and partial explanations for why:
3. New York Giants
Trailing only the Packers and the Patriots, the Giants got a score of 81.13 out of a possible 100, with coaching, front office and quarterback their highest-scoring categories. Here's Trent Dilfer on the quarterback in particular:
He has the baby-brother look, but Eli Manning turns 32 this season, and since his 1-6 record as a rookie, has started all 16 games in seven straight seasons. He has had his INT issues, but is an elite passer when he gets comfortable with his targets. He has many good years ahead.
7. Philadelphia Eagles
Quarterback was the only place where the Eagles didn't score high, as uncertainty about Michael Vick's age (32) and future in Philly pushed them down to a 5.75 in that category. They had an overall score of 74 out of 100, buoyed but very high marks in front office, draft and coaching. Mel Kiper on their drafting:
A remarkably good draft in 2012 could shore up the defense and make the Eagles Super Bowl contenders. If Vick has any health issues, is Nick Foles the next guy in line? You never know what they'll do at that spot. But they have a system, draft very well and, at least based on my board, maintain a really strong sense of value and how to maneuver.
14. Dallas Cowboys
The highest score the Cowboys got was their 7 in quarterback, and their overall score was 62.06 out of 100. Their lowest marks were for draft and front office, and this is Gary Horton on their roster:
Age is a concern. And unless they do a good job in free agency and the draft, the talent level will drop off in the next couple of years. They should remain fairly young at WR and RB, and they seem to be rebuilding their offensive line. Defensively, they are not very young and their best playmaker of the future will be rookie CB Morris Claiborne, but a lot of replacements are needed.
20. Washington Redskins
An overall score of 56.38 out of 100, with the highest mark their 6.75 in coaching. The panel gave them a 6.25 for quarterback, which is generous since their current starter has never played an NFL game. But the assumption is that he'll fit in well and that he has the talent to be a franchise quarterback. Dragging the Redskins' score down the most is the 4.75 for the current roster. Here's Horton on that:
Obviously, this future will be built around rookie QB Robert Griffin III. The challenge will be to surround him with talent on both sides of the ball with limited high draft picks. Washington doesn't have a lot of young, talented guys at the offensive skill positions. The Redskins tried to upgrade the passing game in free agency and TE Fred Davis is a solid player. On defense, age is a real problem and with the exception of young edge rushers Brian Orakpo and Ryan Kerrigan, upgrades will be needed.
So like I said, Insider if you want to read it all. And remember, no one's saying this is definitely how it'll all turn out -- just the way it looks to those experts' eyes from here.
October, 12, 2010
10/12/10
11:53
AM ET
By
Matt Mosley
| ESPN.com
ESPN's Trent Dilfer says the
New York Giants
are the best team in the NFC East right now, but he still thinks the
Dallas Cowboys
will eventually win the division.
I'm racking my brain to see what I missed while the Cowboys were penalized 12 times and made back-breaking mistakes in the red zone in Sunday's 34-27 loss to the
Tennessee Titans
. Was there some sign in that game that Dallas was ready to walk into Minneapolis and turn this season around?
Dilfer said he thinks the "moral authority in the locker room" will take hold at some point in the near future. What is the "moral authority" in a locker room, you ask? I'm going to try to track down Trent this afternoon and find out.
January, 13, 2010
1/13/10
1:00
PM ET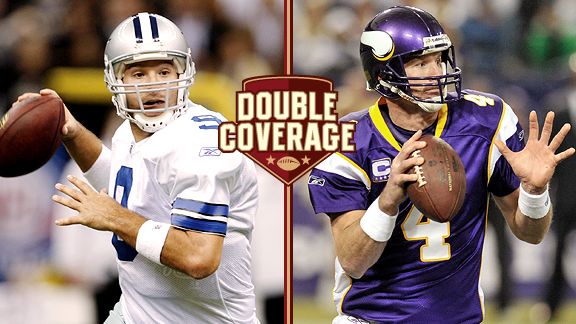 Icon SMIThe Vikings-Cowboys playoff matchup on Sunday will feature high-powered passing attacks led by Tony Romo and Brett Favre.
Here on the ESPN Blog Network, we're bracing ourselves for quite possibly the biggest divisional playoff game in the history of the 2010 postseason. Come Sunday afternoon at the Metrodome, Dallas and Minnesota will reprise a storied postseason rivalry -- sans (hopefully) whiskey bottles, push-offs and Hail Marys. (Well, at least the
push-offs
.)
ESPN.com's Matt Mosley and Kevin Seifert have spent most of the week buried in the film room -- er, basement -- refining the blogging plan for the rest of the week. As now they're ready to start breaking down this most critical game.
Kevin Seifert:
Greetings from the North Pole, Matt. Actually, you're going to get lucky this weekend. We're expecting unseasonably warm temperatures here this weekend, with highs in the 30s. Normally we call that "May" in Minnesota. Usually at this time of year, you can get frostbite on half your hand while walking from the parking lot to the media entrance at the Dome.
Matt Mosley:
I will look for any excuse to visit Minneapolis in mid-January and this game is as good as anything else I might come up with.
Sid Hartman
and I have been waiting on this postseason matchup for years. Jerry Jones tried to capture the "charm" of the Metrodome in his new Cowboys Stadium, but I'm not sure things worked out. And by the way, Drew Pearson told me to pass along his best wishes to Vikings fans.
KS:
OK, Matt. Let's get down to it. Everyone in the world thinks the Cowboys are going to win this game. Even
ESPN's Trent Dilfer
is convinced of it. You've been close to the Cowboys this season. Are they as hot as everyone says they are?
MM:
Kevin, in my eight years of covering the team, I've never been around a more confident bunch of players. I think they're the hottest team in the NFC right now because of something that took place last month in New Orleans. The players got sick and tired of all the talk of their December failures and went out and overwhelmed a Saints team in the Superdome. That game did wonders for the Cowboys' confidence. No quarterback in the playoffs has performed as well as
Tony Romo
over the past six games and he benefits from having a dominant defense. So yes, I think the Cowboys are as hot as everyone at the Mall of America is indicating.
KS:
Actually, Matt, you need to be more specific. We now have
Mall of America Field
here in addition to the
Mall of America
. At Mall of America
Field,
the conversation is revolving around two things: Are the Vikings willing to accept that they are a pass-first offense? And can their tackles,
Bryant McKinnie
and
Phil Loadholt
, keep
DeMarcus Ware
and
Anthony Spencer
at bay long enough for
Brett Favre
to get the ball downfield?
If they come out of the gates aggressively and use their full array of offensive weapons, I think they can put up some serious points against the Cowboys' defense. The Vikings are one of two teams in NFL history to have six players catch at least 40 passes. That's too many receivers for any defense to keep track of if the pass protection is there.
What's your take, Matt? Do you think Ware & Co. can be slowed down?
MM:
I agree with the aforementioned Dilfer that Loadholt and McKinnie are outmatched by the Cowboys' outside linebackers. Since the last time you saw this team, Spencer has become a force. Cowboys defensive coordinator/head coach Wade Phillips even lines them up next to each other at times.
Donovan McNabb
didn't have a chance against the Cowboys' pass rush and you can argue that
Jason Peters
and
Winston Justice
are superior offensive tackles to what the Vikings have to offer. The Cowboys' plan is to make sure Favre has to test those 40-year-old legs. The last time he saw this defense, he completed 5 of 14 passes and was intercepted twice before being knocked out of the game at Texas Stadium. He was of course with a 10-1 Packers team at the time in '07.
Keith Brooking
told me Tuesday that the Eagles and Vikings have similar offenses, but he alluded to the fact that Brad Childress is much more likely to use the running game than his mentor, Andy Reid. Of course, that's a lot easier to do when you have the pride of Palestine, Texas,
Adrian Peterson
, in your backfield. It's been quite a while since a team has put up points on this defense -- and that includes a Chargers team that was held to a season-low in points. I don't think we'll have a shootout on our hands, but Sid might have other ideas.
[+] Enlarge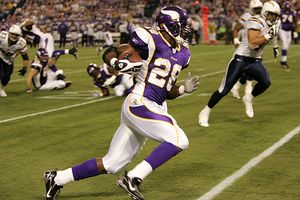 K.C. Alfred/Union-Tribune/Getty ImagesHow will Adrian Peterson figure into the Vikings' game plan against Dallas' tough run defense?
KS:
I'll check with Sid when I see him. In the meantime, Matt, we have two elephants crowding the room for this game: The head coaches. In Minnesota, there is an unspoken fear that Brad Childress will get in the way and try to force his power running game on the Cowboys. Prior to Favre's arrival, and at times this year, that has been Childress' preference. Childress also made a couple of questionable game-management decisions in last year's playoff loss to Philadelphia.
On the other side, however, is Phillips. Do Minnesota fans have anything to fear in this matchup?
MM:
Calling Phillips an elephant is a low blow, Kevin. The man might fill out a pair of Russell coaching shorts, but he deserves better from you. And yes, there's reason for Vikings fans to fear The Wade. No matter what you say about his head-coaching credentials, he's always been an excellent defensive coordinator. He puts players in position to succeed and he does a superb job of exploiting weaknesses. From reading your fine work on a regular basis, I'm aware that Vikings center
John Sullivan
isn't a large man. He'll be facing one of the best nose tackles in the game in
Jay Ratliff
. From time to time, the behemoth-type centers give Ratliff a little trouble. But he's been known to destroy the guys who are close to his size. Everyone's focused on the offensive tackles, but I could see the "Ratt" having a big game in the middle. It all starts with him in this defense.
KS
: Interesting. OK, Matt. This was great but is only a step in our coverage plan for this week. Keep checking back on the NFC East and NFC North blogs through Sunday.
MM:
Just to be honest, my coverage plan for Saturday is a little weak because of travel. But I've thoroughly enjoyed this tremendous show of synergy within the NFL Blog Network. Kevin, I arrive at 8:10 local time on American, so please pass that along to my driver. Peace and courage from the Beast.
January, 12, 2010
1/12/10
5:27
PM ET
By
Matt Mosley
| ESPN.com
I don't always turn to the ESPN Countdown Key Matchup for controversy, but former quarterback Trent Dilfer has enraged Vikings fans across the nation with his prediction that the Cowboys will smash Minnesota on Sunday. He said the Cowboys' outside linebackers were a "total mismatch" for the Vikings' offensive tackles. And you should've heard the stuff Trent said off the air!

Below is the video heard 'round the state of Minnesota and surrounding states.
January, 6, 2010
1/06/10
7:47
PM ET
By
Matt Mosley
| ESPN.com
Before the season ESPN's
Trent Dilfer
, a former Super Bowl-winning quarterback,
put together an interesting list
breaking down the quarterbacks across the league. On Wednesday, he
broke down the 12 quarterbacks in the playoffs
. Here's what he said about
Tony Romo
and
Donovan McNabb
heading into Saturday night's big game:
Dilfer's take on Romo:
The skill set has always been there. The Cowboys' transformation this season is a testament to a man who can identify his mistakes and then mature as a person and player. Because Romo exorcised his demons, the Cowboys exorcised theirs as well. The entire team reflected his change in mentality. Romo has become the poster boy for the new Cowboys -- mentally tough, resilient, singularly focused on the moment at hand, playing his best football in the highest-stakes games. Romo is as primed as anyone to play his best in the playoffs and make a Super Bowl run.
Dilfer's take on McNabb:
The greatest testament to McNabb's season was the high level of productivity he enjoyed despite throwing to a very green corps of receivers. McNabb changed his game from a first-completion, West Coast mentality to a down-the-field approach seeking big plays to
DeSean Jackson
. The question I have here is whether McNabb's occasional inaccuracy issues will rise up and bite him the way they did against Arizona in the playoffs last season.
My take:
I think McNabb certainly has the advantage in terms of playoff pedigree, but Romo's the hotter quarterback right now. McNabb has more weapons than Romo at wide receiver. But the major difference is that the Cowboys' defense is playing much better than the Eagles' defense. Romo's not making as many dangerous throws these days because he knows it's OK to occasionally punt the ball. The Cowboys are also putting the Eagles in poor field position. Heading into this game, I believe that Romo's playing with more confidence than McNabb. Even during the Eagles' six-game winning streak, McNabb was making some loose throws. Romo's in a much better place at this point in the season.
September, 2, 2009
9/02/09
7:50
PM ET
By
Matt Mosley
| ESPN.com

Posted by ESPN.com's Matt Mosley
Former Super Bowl-winning quarterback
Trent Dilfer
has made a really nice transition into broadcasting over the past year or so. He's particularly adept at breaking down the quarterback position -- and he was kind enough to contribute his analysis of 49 different NFL quarterbacks to ESPN.com. He said he's tired of hearing quarterbacks take unfair criticism and wanted to have a deeper discussion.
Here's his list
. And he puts quarterbacks in the following categories: The Elite, The Superstars, Stars, Knocking at the Door, Glad They're Ours (GTOs), Gotta Prove It (GPIs), In The On-Deck Circle, Just-win Baby, Not Enough Evidence, Rehab Projects and Do Not Write Them Off Yet.
Here's where the quarterbacks on NFC East teams ended up:
Stars:
2.
Donovan McNabb
, 3.
Eli Manning
Tom Brady
and
Peyton Manning
were the only two quarterbacks in "The Elite" category and they were followed by
Drew Brees
and
Philip Rivers
in "The Superstars" division. I personally think that McNabb, Eli and
Ben Roethlisberger
belong in the same category as Rivers and Brees -- but that's just me.
Knocking at the door:
1.
Tony Romo
Romo led this category and
Carson Palmer
was No. 2. I'm a little surprised Palmer was this low. Do you guys think Romo should be ranked behind
Kurt Warner
and
Matt Hasselbeck
? That's what Dilfer thinks. Here's Dilfer's take on Romo: "Quickest release in the NFL … unparalleled ability to throw from multiple foot platforms, both intermediately and down the field … as artistic as any quarterback in the league, instinctively using all available resources (eye placement, shoulder nods, pump fakes, arm angles, you name it) … can make something out of nothing on a consistent basis … sometimes careless with the football, both in the pocket and through the air … limited big-game success."
Wow! After reading that first part, I'm sort of baffled by Dilfer putting Romo behind Hasselbeck. Yes, Hasselbeck's been to a Super Bowl. But who would you rather have as a starter right now?
GPI (Gotta Prove it):
3.
Jason Campbell
Campbell's ranked behind
Matt Schaub
and
Trent Edwards
on the list. Here's what Dilfer said about Campbell: "Very good arm talent … hard worker who has embraced the cerebral part of game … still must demonstrate consistency in production."
Rehab Projects:
1.
Michael Vick
2.
David Carr
Vick comes in just ahead of Carr.
Kyle Boller
,
Chris Simms
and
Vince Young
were the players ranked immediately behind Vick and Carr.
Do Not Write Them Off:
2.
Jon Kitna
Kitna checks in just behind
Jeff Garcia
and in front of
Billy Volek