NFC East:

Trenton Robinson
July, 18, 2014
Jul 18
11:00
AM ET
Examining the
Washington Redskins
' roster:
Quarterbacks (3)
Jay Gruden only had two quarterbacks in each of his three seasons with Cincinnati, but Griffin still needs to prove his durability. If something happened to him, they woulld still be in good shape with Cousins and McCoy. If they go with two then McCoy gets left off.
Running backs (4)
The Redskins could also stash
Chris Thompson
on the practice squad as further insurance. Thompson can easily bump himself onto the roster with a good summer; he's a good fit in Gruden's offense and the new coach liked Thompson coming out of college. But durability is an issue. By keeping four here, the Redskins can go with an extra player at another spot. This means
Evan Royster
is on the outs, but he doesn't give the Redskins anything they don't have in better players. He is insurance only.
Receivers (6)
I am not cutting
Leonard Hankerson
, rather I'm just not sold that he will be on the active roster at the start of the season. If he shows this summer that he can play, then, yes, I would have him on the 53-man roster. But the Redskins were not sure what to expect from him and when he might be healthy. Therefore, I can see him taking a little longer to return. Gruden likes Moss and they drafted Grant. Robinson needs to take a step.
Tight ends (3)
Rookie tight end
Ted Bolser
would head to the practice squad, where he can develop. He didn't look close to a roster spot just based on how he looked this spring. Reed is firmly entrenched as the starter with Paulsen their top blocker and Paul a special teams ace.
Offensive line (10)
In reality, I could see them keeping only nine offensive linemen. It all depends on how Long and/or LeRibeus looks at guard. They love Long -- Gruden has said he could compete immediately -- so if he shows he can play, then they could cut Chester. Compton is a little surprise, but they like him as well. This position will be fluid and I'm not sold on the 10 I have listed.
Defensive line (6)
This one is fluid as well because it depends in part on Bowen's health. I like
Chris Neild
and so do they, but can they keep him? Golston is more versatile and a key player on special teams, but he's also 30 and they must get younger.
Linebackers (9)
As of now I'd have
Rob Jackson
out, especially if Jenkins develops as a pass-rusher. But this will be a close race. And I have them keeping an extra guy inside in Hayward because of his special teams ability.
Cornerbacks (5)
Chase Minnifield
remains eligible for the practice squad.
Richard Crawford
is coming off a knee injury and it's hard to place him on here without seeing him play. The one benefit for Crawford is that he can play in the slot; they need depth at that spot.
Safeties (4)
I really don't feel good about this position and am not confident that I have this one right, at least for that final spot. Robinson's special teams ability gives him the edge over
Bacarri Rambo
, who must have a strong camp.
Akeem Davis
can help on special teams, but with no NFL experience he will be stashed on the practice squad.
Specialists (3)
The Forbath selection is based on never having seen rookie
Zach Hocker
kick in an NFL game. If Hocker is consistent this summer and shows a strong leg, then he can win the job.
March, 12, 2014
Mar 12
5:15
PM ET
The
Washington Redskins
' hole at safety could be filled by a familiar face:
Ryan Clark
. The former Redskin and Pittsburgh Steeler said on ESPN that he will visit with Washington on Thursday.
Clark
Clark played for the Redskins from 2004-05, but not for the current defensive staff (though inside linebackers coach Kirk Olivadotti was here during that time). But after 24 starts, Clark signed with Pittsburgh in 2006 and formed a strong safety tandem with
Troy Polamalu
.
Clark was a free safety in Pittsburgh, but played both safety positions in Washington. The Redskins run the same scheme as Pittsburgh, so there wouldn't be a big transition. Clark has missed only four games in the past six years.
Washington missed out on safety
Mike Mitchell
, who opted to sign with Pittsburgh -- to replace Clark. The Redskins were not strong bidders for
Jairus Byrd
, who signed with New Orleans. The question will be: What does Clark, at 35, have left? He obviously would be used to mentor and help groom the young safeties such as
Phillip Thomas
,
Bacarri Rambo
and even
Trenton Robinson
and
Jose Gumbs
.
The Redskins could always opt to also re-sign safety
Brandon Meriweather
to a small deal as well. If they re-sign
Reed Doughty
, it would be as a backup and special teamer. His return is not a lock, though some in the building would like to see him return.
December, 9, 2013
12/09/13
8:00
AM ET
LANDOVER, Md. -- A review of four hot topics following the
Washington Redskins
'
45-10 loss
to the
Kansas City Chiefs
:
Shanahan's status:
As Monday began, Redskins coach Mike Shanahan remained employed. He looked exhausted or perhaps resigned to his fate Sunday night when he left FedEx Field nearly 90 minutes after an embarrassing 45-10 loss to the Chiefs. There have been too many recent stories detailing relationships -- Shanahan and
Robert Griffin III
; Shanahan and Griffin/Dan Snyder and Kyle Shanahan and Griffin -- and too many losses on the field to think this situation can be salvaged. Four years into the regime, the roster still needs a lot of work. The salary-cap penalty didn't help, but free agency has been mixed for Redskins anyway, so to think it would have solved everything is incorrect. There are reasons to change regimes other than failed relationships. Aside from Griffin, the team leaders have publicly endorsed Shanahan's return, and privately, players support him as well. But with a 24-37 record, they haven't backed their support up with the sort of success the organization wanted.
Garcon
Morris
Griffin's status:
On any other Sunday, the fact that Shanahan did not commit to Griffin to start the following week would make huge news. But it got lost in the drama of Shanahan's job and the dynamics of various relationships. Shanahan would only say they'll "talk about it later." If there was no doubt, Shanahan would say so. It could be a moot point, as Shanahan might not even be the one making that decision. And it's becoming clear he won't be the one making these decisions in 2014. Still, for now, Shanahan isn't sure whether he wants Griffin or
Kirk Cousins
to start against Atlanta. Shanahan is a strong believer in Cousins, and Griffin has been inconsistent at best. It also makes you wonder whether owner Dan Snyder would stand for something like this, knowing the future implications. Playing Cousins to "see what you have" doesn't make much sense because Griffin remains the future. Just like it doesn't make sense to bench Griffin just to keep him healthy. If he is the future, he needs to play and play a lot. If you're not sold on that, then that's a reason to play Cousins, or maybe also if you want to send a parting shot to the current starter. Regardless, it's just more drama in Washington -- because there wasn't enough already.
Special-teams mishaps:
Niles Paul
was as upset as anyone after Sunday's game because of the special teams' performance. He blamed it in part on players' mindsets, saying that some guys project themselves as future starters, so they don't prepare right for special teams. The thing is, on punt and kickoff coverage, there aren't a lot of young players who are even guaranteed of a roster spot next season, let alone a starting job. On kick return Sunday, there were four players who are in their first or second years --
Bacarri Rambo
,
Jose Gumbs
,
Josh Bellamy
and
Trenton Robinson
. Rambo already is starting (he was knocked for his special-teams play earlier this season). On punt coverage, 10 of the 11 players have been in the NFL for at least three years. The exception: Robinson. No, it's not about young guys who don't get it. Rather, it's about veterans who don't do it well. This unit was put together poorly.
Milestone marker:
In a bad season, two Redskins offensive players have been consistent producers -- receiver
Pierre Garcon
and running back
Alfred Morris
. Both surpassed the 1,000-yard mark Sunday; Morris has now rushed for 1,027 yards, while Garcon has a career-best 1,017 yards receiving. Morris' overall yardage total won't match his 2012 number of 1,613 yards, but that's not his fault. Morris is averaging 4.7 yards per carry and has run the ball only 37 times combined in the past three games, two of which were blowouts. He's also averaged 3.7 yards or fewer in those games as teams focused hard on stopping the Redskins' run game. Still, Morris has had a strong year running the ball in an offense with so much inconsistency. Garcon has posted big numbers, though he doesn't have many big plays and has caught just three touchdown passes among his 89 catches. His longest catch is 44 yards, a function of a passing game that is either inaccurate downfield or doesn't get enough time to throw certain passes. Garcon is averaging 11.4 yards per catch, his lowest figure in his five seasons as a full-time starter. But he's done a good job being able to catch and run, especially on screens, and is the lone receiver who worries a defense.
October, 25, 2013
10/25/13
2:55
PM ET
ASHBURN, Va. --
Washington Redskins
safety
Reed Doughty
did not practice Friday, after being limited the previous two days, and is questionable for Sunday's game at the
Denver Broncos
.
Doughty was not in the locker room and therefore did not talk to the media. He has said that he'll wait to see how he feels Sunday. Redskins coach Mike Shanahan said Doughty will be tested again Saturday and if he passes, he will play.
It's not a good sign that Doughty couldn't practice after working on a limited basis.
"The whole week he hasn't been perfect," Shanahan said. "That's why we gave him some time off."
If Doughty can't play, the Redskins have a real hole at safety with
Brandon Meriweather
already suspended for one game. They could opt for corner
E.J. Biggers
at safety, a role he has played this season -- and started there in the season opener versus Philadelphia. Because Denver is a pass-happy team, Biggers' speed deep is a help. He's also a more experienced player than some of their other options.
Jose Gumbs
and
Trenton Robinson
, for example, have combined for nine NFL snaps -- all by Gumbs.
Meanwhile, defensive end
Stephen Bowen
(knee) also is questionable, but is expected to play. Receiver
Leonard Hankerson
(foot) and nose tackle
Chris Neild
(calf) are questionable. But Hankerson said Thursday there's no doubt he'll play.
October, 22, 2013
10/22/13
8:00
AM ET
*Even if
Brandon Meriweather
wins an appeal on his two-game suspension, he might still end up serving one game. Tampa Bay's
Dashon Goldson
earlier this season and then-Baltimore safety
Ed Reed
a year ago both had their one-game suspensions reduced to fines. By giving Meriweather two games the NFL, it would appear, made it so that if the suspension were reduced he'd still sit out a game. I'd imagine someone with Meriweather's repeat offender history would have a hard time getting it reduced to just a fine. Meriweather has three days to appeal the ruling that was handed down Monday.
*The Redskins' safety situation goes back to their inability to develop a player at that position or find a solution via free agency. They signed an aging O.J. Atogwe right before the lockout. Some executives and scouts I had spoken with said Atogwe was done -- and had been for a year. He turned out to be slow and ineffective. And done. They followed it up a year later by signing a two-time drug offender in
Tanard Jackson
who was then ... suspended indefinitely (and remains out) for drugs. They signed a player in Meriweather with a history of undisciplined play. Yes, at times he has helped them and when he's going good the defense is better, but they're in a bind now because of ... undisciplined play. They signed another aging vet in
Madieu Williams
, who was only supposed to be a backup but was forced into starting. And looked like an aging vet.
[+] Enlarge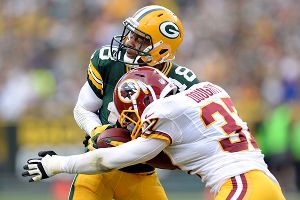 AP Photo/Greg TrottReed Doughty has been a steady contributor at safety for the Redskins.
*This position has been greatly affected by the salary-cap penalty. I'm quite sure they would have signed someone of a higher caliber than the guys they had to settle on. But remember, their first choice a few years ago was Atogwe, back when the cap wasn't an issue. So there's no guarantee. But it has to be a top priority in the offseason.
*The only steady player at safety has been veteran
Reed Doughty
, who was here before this regime. Doughty gets a terrible rap by the fans, but he's the lone player they can count on -- no off-field worries; no undisciplined play, etc. He's best as a backup, but he's a quality one and the Redskins are fortunate he's still around. He does his job and the coaches know exactly what they'll give them; they can work with that.
*Yes, they allowed
LaRon Landry
to leave. Given his two-year run of Achilles' issues, that was a 50-50 call and Landry wasn't all that thrilled with the Redskins' training staff, so he was looking to get out. Even coaches here who liked him were quick to bring up his health long before he left. Landry played every game last season but has missed four because of a high-ankle sprain this year with the
Indianapolis Colts
.
*Drafting and developing has been a problem too. The Redskins haven't selected a safety above the fourth round, but they've had misfortune (2012 seventh-rounder Jordan Bernstine with terrible ligament tears that ended his time here; 2013 fourth-rounder
Phillip Thomas
with a Lisfranc injury) and some who didn't develop (2011 fifth-rounder
DeJon Gomes
). They also have rookie
Bacarri Rambo
, a sixth-round pick who went from starter the first two games to inactive the past three.
*Being inactive is a reflection on Rambo's special-teams performance. But if you lose your starting job, one way to get it back is to become a force on special teams. Defensive coaches love guys like that; also says something about how you respond. If and when Rambo gets back on the field he'll have a lot to prove. He was not ready to start initially (sixth-round picks rarely are) and his inclusion in the lineup always was as much about what they didn't have as what he could do.
*My preseason prediction of who would start at safety? Meriweather and Doughty. Why? Because it's very, very tough for a rookie low-round pick to become an instant starter with how much they had to adjust to from college and learn. Maybe Thomas and Rambo become the starters in future seasons, but it's way too early to believe that definitely will happen.
*What could save them, or at least help them, is the versatility of their corners. That's something they talked about after the draft, following their selection of corner
David Amerson
. For now, he's not the versatile one. But they can use
E.J. Biggers
in a safety role and they have used
Josh Wilson
in a variety of roles as well as
DeAngelo Hall
(more so in the past). You need to be a smart player to handle such a role. If they're saved Sunday, this versatility will be part of the reason. It allows them to do more with their coverages, which has helped a great deal in recent weeks, until the second half Sunday. It hasn't always worked, but the real issue in the opener versus Philadelphia, when Biggers started at safety, was having to be in a nickel front all game.
*I really don't know what they'll do in Meriweather's place Sunday, though I'd imagine Biggers will play a key role. Can they really trust
Jose Gumbs
(nine career defensive snaps) or
Trenton Robinson
(zero career defensive snaps)? Against
Peyton Manning
? Re-sign
Jordan Pugh
? The pass rush will need to be outstanding Sunday.