April, 1, 2014
Apr 1
12:15
PM ET
IRVING, Texas -- The
DeSean Jackson
trade talks that never went anywhere got ESPN Insider Field Yates to think about
some trades that should happen.

Claiborne
Yates has one for the
Dallas Cowboys
, sending cornerback
Morris Claiborne
to the
Arizona Cardinals
for defensive tackle
Dan Williams
.
He writes:
Dallas Cowboys trade cornerback Morris Claiborne to the Arizona Cardinals for defensive tackle Dan Williams

Why it works for Arizona: Claiborne's NFL struggles are hard to figure after he starred at LSU, but his natural abilities are still enticing. The team added depth in the secondary with Antonio Cromartie this offseason, but Claiborne would bring higher upside playing alongside former LSU teammates Patrick Peterson and Tyrann Mathieu. Peterson also happens to be a free agent next offseason, and while the Cardinals are angling to keep him around long term, a rejuvenated Claiborne would give them insurance in case Peterson ends up elsewhere.

Why it works for Dallas: Claiborne is the Cowboys' third cornerback right now and has disappointed. The team has had better luck adding cornerbacks in free agency than through the draft and is desperate for big bodies along the defensive line. Williams has just one year left on his deal, but he presents an intriguing size and strength combination next to Henry Melton, a penetrating interior force. It may not be the most natural fit in what Dallas does defensively due to Williams' lack of quickness, but his ability to clog space would provide an upgrade against the run.
Maybe this
could
happen but it definitely
won't
happen, and we're not talking about any salary-cap issues that could hinder a deal. The Cowboys are not about to give up on Claiborne, whom they moved up to the sixth pick in the 2012 draft to select. And Williams does not bring enough value in return. He's in the last year of his contract. The Cowboys control Claiborne's rights for another two years.
This is a huge year for Claiborne, who has yet to flash the potential most people thought he had coming into the draft. Maybe it has been health. Maybe it has been scheme. Maybe it has been a lack of confidence. Maybe it's all of the above.
But for the Cowboys to get the benefit of the trade up to get him, Claiborne has to come through in a big way in 2014. For them, not for the Cardinals -- or anybody else.
December, 3, 2013
12/03/13
8:00
AM ET
PHILADELPHIA -- Eagles quarterback
Nick Foles
' biggest mistake so far this season might be setting unreasonably high expectations for himself.
Foles has been so good, so statistically close to flawless, that it is easy to forget he hasn't started a full season's worth of games yet. He is 23 and still facing new challenges and unfamiliar situations almost weekly.
That's why it isn't a criticism of Foles to suggest that the Eagles' second-half offensive troubles Sunday against Arizona had more to do with the quarterback than with Chip Kelly's play calling.
On three possessions in a row, with a 24-14 lead, Kelly remained aggressive with his play calling. Foles simply didn't throw the ball very well on several plays. He was under intense pressure on a few others.
After the Cardinals scored to make it 24-14, the Eagles got the ball back on their 29-yard line. The first-down call was for a pass to
DeSean Jackson
, who was running a shallow crossing route from right to left. Jackson was wide-open.
Last week, Kelly was asked whether those flyswatter contraptions in practice could help explain how Foles had avoided having a single pass batted at the line of scrimmage. Well,
Calais Campbell
didn't have a flyswatter, just a long reach. He smacked Foles' low throw away.
After a
LeSean McCoy
run was stuffed for a 2-yard loss, Foles dropped back to pass again. This time, linebacker
Daryl Washington
blitzed behind two linemen, sliding off and making a beeline for the quarterback. Foles stepped to his right and into the arms of
Matt Shaughnessy
for the easy sack.
A
Cary Williams
interception gave the Eagles the ball at their own 49 with 51 seconds left in the third quarter. Not only did they fail to take advantage of the field position, they had to punt on the first play of the fourth quarter. They took less than a minute to go three-and-out.
The first two plays were both passes. Foles missed
Brent Celek
, who had a step on safety
Yeremiah Bell
. A better throw and the Eagles are nearly in field goal range with a first down. On second down, Foles overthrew McCoy on a swing pass to the right. Kelly called a run on third down, and the Eagles punted again.
The final relevant sequence came on the Eagles' first possession of the fourth quarter. It was still 24-14. They needed to move the ball and score or at least kill a chunk of the remaining time. They used just under two minutes.
Foles threw two deep balls on this possession. On the first play, from his own 36, he had tight end
Zach Ertz
matched up one-on-one with safety
Tyrann Mathieu
down the left sideline. Foles overthrew Ertz when a back-shoulder throw might have gone for a long gain. Ertz made a great effort, nearly catching the ball by diving forward.
After getting a first down at the Arizona 46, Foles went deep down the left sideline again. This time he had
Riley Cooper
matched up with cornerback
Jerraud Powers
. This time, Foles underthrew the receiver. There was contact as Cooper tried to fight his way back. He got his hand on the ball, but couldn't gather it in. The TV cameras caught Cooper on the ground, looking up at an official and saying, it appears, "He grabbed my arm."
The next two plays were pass calls. Foles was sacked both times, as unblocked Arizona defenders blitzed him and forced him into the arms of teammates.
Three of the Cards' five sacks took place during those three possessions. Foles and the offensive line, usually so adept at reacting to blitzes, were overcome by the pressure. On the next series, Foles was hit as he threw the interception that was negated by a penalty. Frequent hits will do that to even the most experienced quarterback.
Foles is not that, not yet. The Arizona defense raised its game in the second half, desperately trying to get back into a game with huge playoff implications for the Cardinals. Defensive coordinator
Todd Bowles
was more aggressive, taking risks in order to stop McCoy and create turnovers.
"People aren't playing the normal defenses they normally play in the first, second and third quarter," Kelly said. "They're putting an extra guy on the line of scrimmage. If you bring in an extra tight end, they're going to have two more than you -- one for the quarterback and one for the extra player. That is a difficult situation to run the ball against. The answer is easy: Hey, throw it. If you throw it and it's incomplete, the clock stops."
When Foles threw Sunday, it was incomplete. With experience, he will get a better feel for how to deal with situations like that. For now, he handled it well enough to avoid killer mistakes and secure the win. That's good enough.
December, 2, 2013
12/02/13
8:00
AM ET
PHILADELPHIA -- A look at four issues from the
Philadelphia Eagles
'
24-21 win
against the
Arizona Cardinals
Sunday.
[+] Enlarge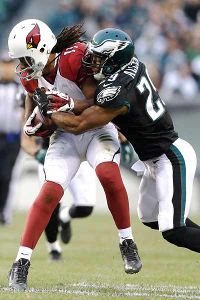 Matt Rourke/AP PhotoEagles safety Nate Allen did his best to keep Cardinals receiver Larry Fitzgerald in check during their Week 13 game Sunday.
Foles is lucky as well as good.
Nick Foles
needs to throw just two more touchdown passes to break
Peyton Manning
's NFL record of 20 touchdown passes without an interception. Foles also broke teammate
Michael Vick
's team record of 224 consecutive pass attempts without an interception. Going back to late last year, Foles has thrown 233 pick-free passes.
That's all good. But luck came in when he threw an ill-advised pass as he was being hit in the fourth quarter. The ball landed in the hands of Arizona cornerback
Patrick Peterson
, but the interception was negated by a holding penalty on safety
Tyrann Mathieu
.
"It definitely was a mistake by me," Foles said. "I was happy there was a penalty that kept our drive going. It wasn't a smart decision." It was the kind of decision that can turn a game around. Luck kept that from happening.
"That's just the game of football," Foles said. "It's a crazy game, and things happen."
Nate Allen isn't Brian Dawkins, but that's OK.
Allen, the fourth-year safety from South Florida, made a nice break on an underthrown
Carson Palmer
pass for an early interception. Allen was part of an egregiously bad secondary the past two years and has not exactly been a huge fan favorite. But his improved play has been a big part of the defense's development.
"He's one of the hardest workers in the building," Eagles defensive coordinator Bill Davis said. "It means so much to him. He's motivated because he hasn't had the success and everyone has been on him for a couple years here. Everyone wanted him to be Brian Dawkins and now everybody's kind of letting him be Nate Allen."
Fitzgerald? Check. Megatron?
The Eagles' defense did a decent enough job on Arizona's
Larry Fitzgerald
and
Michael Floyd
. Each caught a touchdown pass. Fitzgerald caught five passes for 72 yards, Floyd five for 99. Those are very good numbers, but neither could break open the game. That's encouraging, because the Eagles defenders get Detroit's
Calvin Johnson
here next Sunday.
"Those guys stepped up and took on the challenge of playing this top receiving group," Davis said. "There's a lot of times they were one-on-one. Throughout the game, I was mixing in [coverages], but there were a lot of snaps that were, 'Hey, get your man.'"
Davis often had linebacker
Connor Barwin
lined up directly across from Fitzgerald, especially in the slot. Barwin was able to get a more physical jam on Fitzgerald at the line before giving him up to a defensive back to cover.
The NFC playoff picture is a little clearer after this.
The Eagles earned a tiebreaker over Arizona should they wind up with the same record in the wild-card race. Sunday's win also keeps them within a game of San Francisco (8-4), which is currently in position to earn the second wild card. Chicago's loss to Minnesota leaves the Bears at 6-6, a game behind Detroit. The Eagles face those three NFC North teams over the next three weeks -- Detroit and Chicago at home, with Minnesota on the road in the middle.
The Eagles' best shot at the playoffs remains in beating Dallas (7-5) for the NFC East title, but the Cowboys are one of the teams with a realistic shot at a wild card.
April, 27, 2013
4/27/13
6:30
PM ET
»
NFC draft analysis
:
East
|
West
|
North
|
South
»
AFC
:
East
|
West
|
North
|
South
The draft started off heavy in the NFC East, as the three teams with first-round picks this year used them on offensive linemen. And while there were a few little surprises and treats along the way, it never really got hot. All four of the division's teams had workmanlike drafts that balanced need and value and didn't stray into any of the juicy storylines. No
Manti Te'o
,
Geno Smith
or
Tyrann Mathieu
for us.
There was a trade-down in the first round, as the
Dallas Cowboys
moved out of a No. 18 spot they didn't like and still managed to get their first-round offensive lineman, while adding a third-rounder to the mix. There were two trade-ups in the fourth round, as the
Philadelphia Eagles
and the
New York Giants
maneuvered to add quarterbacks in surprising moves. And there were the
Washington Redskins
, without a first-rounder but fine with it because they have
Robert Griffin III
, who waited it out and got two talented safeties in the late rounds for a secondary that needs rebuilding.
We'll be breaking this all down for days and weeks and months, but here's a quick early look at the way the 2013 draft went in the NFC East.
BEST MOVE
In the absence of any earth-shaking moves in the early rounds by NFC East teams, I'm going to have to go with the Eagles taking tackle
Lane Johnson
at No. 4. They probably could have traded down and out of the pick, but this was a draft in which six offensive linemen went in the first 11 picks, and the value of the third-best tackle with the fourth pick was worth hanging in there. After what happened to their offensive line with injuries in 2012, the Eagles were wise to load up there, taking an athletic player who can start at right tackle right away and maybe move to left tackle down the road once
Jason Peters
is done. It also helps that Johnson is the kind of lineman who can move. If Chip Kelly plans to run a lot of read-option, or even a lot of bubble screens, Johnson's ability to get out and block at the second level is going to be a big help.
Also considered: The Eagles' trade-up for quarterback
Matt Barkley
at the top of the fourth round. ... The Redskins' getting two quality safeties in the fourth and sixth rounds in
Phillip Thomas
and
Bacarri Rambo
. ... The Cowboys trading down in the first round and getting wide receiver
Terrance Williams
with the third-round pick they added in that deal.
RISKIEST MOVE
[+] Enlarge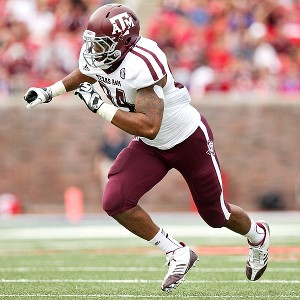 Thomas Campbell/US PresswireDamontre Moore put up impressive numbers at Texas A&M, but he has to disspell concerns over his work ethic and attitude at the next level.
There weren't any real big risks taken by NFC East teams with their most valuable picks in the first and second rounds, I didn't think. So I'm going with defensive end
Damontre Moore
, who went to the Giants in the third round. Moore is a big-time talent with big-time production numbers in college -- 12.5 sacks last year, 26.5 over the past three. But there are good reasons a player as good as he is was still there at pick No. 81, and in Moore's case those reasons include a marijuana bust and a reputation as a young man who struggles with attitude and work ethic.
Now, Moore is just 20 years old, and it's wrong to assume anyone that age will always be what he has been so far. But Moore is the player from this draft whose job it is to bolster the future of the Giants' pass rush with
Osi Umenyiora
gone and
Justin Tuck
aging. If he's a solid citizen and produces the way he did at Texas A&M, he's going to be a steal. If he's an attitude case who doesn't take to coaching and causes problems, the Giants are going to have to keep looking for long-term solutions at defensive end in the next several drafts. A third-round pick isn't too much to risk on a player with Moore's potential, but it's a pick with which the Giants could have found help elsewhere. So if he does flop, they will regret it.
MOST SURPRISING MOVE
The Eagles pulled the surprise of Day 3, moving up three spots to the top of the fourth round, where they selected USC quarterback Matt Barkley. Most analysts were convinced Kelly would seek a fast, athletic, running quarterback when he finally pulled the trigger on that position, but Barkley was a pro-style pocket passer at USC and doesn't fit the "system" everyone seems to be assuming Kelly is determined to run now that he's in the pros. As you know if you read this blog regularly, I think that's hogwash and that Kelly is smart enough to know that the best way to coach is to find talented players and figure out the best way to coach them -- not come wading in with your own "system" and only look for players who fit it.
Kelly knows Barkley from coaching against him in college, and Barkley is a guy who a year ago was thought of as a possible No. 1 overall pick. If 2012 was just a bad year for him and he ends up being a good NFL quarterback, nobody's going to care that he can't run the read-option. For a fourth-round pick and a seventh-round pick, which is what it cost the Eagles to move up and take him, it's a worthwhile risk. And it leaves Kelly with a lot of options at the most important position on his team as he begins his first offseason as an NFL coach.
The Giants pulled a surprise of their own later in the round, trading up six picks to select Syracuse quarterback
Ryan Nassib
to develop behind
Eli Manning
. The 32-year-old Manning hasn't missed a game since 2004, so it's unlikely Nassib sees the field anytime soon. But the Giants decided it was time to start thinking down the road at the position.
FILE IT AWAY
I liked the Cowboys' first round more than most people did, because I thought they absolutely needed to come out of that round with an offensive lineman, and they did. And while
Travis Frederick
may have been a reach at 31, reaching for an offensive lineman wasn't a bad move for this particular team in a draft in which eight offensive linemen went in the top 20 picks. They traded down from 18 and got the pick that netted Frederick and the third-round pick that netted wide receiver Terrance Williams, and they like that pair better than they liked what was available to them at 18.
But they won't have to look far to remember what might have been. The Giants took Syracuse offensive lineman
Justin Pugh
at 19, which means the Cowboys could have stayed put and picked up a better-regarded lineman than Frederick (though, obviously, not also get Williams in the third). If Pugh turns out to be a great player for the Giants and Frederick flops in Dallas, the Cowboys could end up regretting the Day 1 trade-down in the long run.
April, 26, 2013
4/26/13
8:20
PM ET
The
Washington Redskins
didn't have a first-round pick in this year's NFL draft. They traded it away last year as part of the deal that landed them quarterback
Robert Griffin III
. That meant that each of their NFC East rivals got to pick twice before the Redskins' first pick of the draft rolled around. It was the 19th pick of the second round, the 51st overall, and with it they addressed one of their most significant positional needs with the selection of North Carolina State cornerback
David Amerson
.
Interesting choice, and one that seems to be based on size, upside and college production. Amerson was the No. 15-ranked cornerback in this draft according to Scouts Inc., but the Redskins made him the seventh one taken, passing over the likes of
Blidi Wreh-Wilson
,
Robert Alford
,
B.w. Webb
and of course
Tyrann Mathieu
. But at 6-foot-1, 205 pounds, he's bigger than all of those players.
The knock on Amerson is inconsistency in coverage, which is sure to frustrate Redskins fans unless it's fixable by Raheem Morris at the pro level. But they had to like the 18 interceptions he made in his last two college seasons as proof that he knows how to make a play. Reading the scouting reports and descriptions of him, the way he plays could well remind you of current Redskins cornerback
DeAngelo Hall
-- a playmaker liable to make a brilliant interception but just as susceptible to mistakes that result in big plays. The goal will of course be to improve his discipline in coverage, but in the meantime they have a guy who can potentially make a game-changing impact at any time.
April, 26, 2013
4/26/13
9:45
AM ET
The second and third rounds of the NFL draft are set for tonight back at Radio City Music Hall, and the second will begin at 6:30 p.m. ET. After a first round that saw nine offensive linemen, one quarterback and no running backs taken Thursday, it's possible tonight will have more star power than the first night did. Scouts, Inc. has done a
second-round mock draft

, and this is what they've come up with for the NFC East's teams.

3 (35). Philadelphia Eagles:
John Cyprien
, S, Florida International
In this scenario, West Virginia quarterback
Geno Smith
is off the board, taken by Jacksonville with the night's first pick, and the Eagles end up with the best remaining safety to fill a position of perennial need. Other possibilities I could imagine for the Eagles here include a defensive lineman with a 3-4 background, Stanford tight end
Zach Ertz
or Smith if he's available. I doubt they'll trade up for Smith (because they could have done so last night), and if he's gone I'm guessing they wait a few rounds for someone like Arizona quarterback
Matt Scott
.

15 (47). Dallas Cowboys:
Kawann Short
, DT, Purdue
After getting the interior offensive line help they so badly needed in the first round, this mock has the Cowboys turning to the interior of the defensive line, where
Jay Ratliff
always seems banged-up and
Jason Hatcher
is entering the final year of his contract. Short is a big talent whose question marks are about motivation and inconsistent college production. He could be a developmental guy for them -- help some in a rotation in the first year but more as a down-the-road replacement for one of the starters. I'd also have no issue with the Cowboys addressing safety here with someone like Cyprien or
D.J. Swearinger
. Could see them looking at a running back like
Eddie Lacy
or
Montee Ball
. And no, I absolutely do not think it would be a mistake for them to take another offensive lineman such as
Menelik Watson
or
Larry Warford
here.

17 (49). New York Giants:
Kevin Minter
, ILB, LSU
Linebacker is a need for the Giants. But as we've discussed, it's not one on which they tend to spend valuable resources. This is still a relatively high pick, and while Minter makes sense, I could easily see them spending this on a safety like the ones we've mentioned, a cornerback like
Johnthan Banks
or
Jamar Taylor
, a defensive end like
Tank Carradine
or even one of those running backs. They do like to have depth there.

19 (51). Washington Redskins:
Johnthan Banks, CB, Mississippi State
Finally, the Redskins make their first pick of this year's draft, and it's at a position where they need immediate help and long-term depth. This draft is deep in defensive backs, and the Redskins should be able to take advantage of that with a good cornerback or safety at this spot.
Tyrann Mathieu
is still on the board in this mock, but I'd be surprised if Washington went that way, especially with so many less questionable options available. Cyprien, Swearinger or
Shamarko Thomas
make sense if they want to go safety. Banks, Taylor,
Blidi Wreh-Wilson
or Banks' teammate,
Darius Slay
, are among the good options at corner. If they don't take a defensive back here, maybe it's because a tackle like Watson or
Terron Armstead
fell to them. And you can't rule out wide receiver as a possibility here either.
April, 23, 2013
4/23/13
8:00
AM ET
Oh yeah. That's right. Today at noon is our ESPN.com blogger mock draft, in which I and my fellow division bloggers make the first-round picks for the teams in our respective divisions. Trades are allowed and encouraged. It's a good time, and you should drop whatever you're doing at noon and come right back here to the blog to follow along, comment, whatever you like. You know you're not going to be thinking about work today anyway, what with the draft two days away. So please, come join in.
By then you should have digested your links.
New York Giants
John Mara says a
long-term deal
between the Giants and wide receiver Victor Cruz will be done in time. And while the dispute between the two sides about Cruz's relative worth as a slot receiver or a No. 1 receiver or whatever is significant, Mara's statement likely reflects the reality that it's best for them both that the long-term deal get done to keep Cruz in New York. I think he's right that the way this ends is with Cruz in a Giants uniform for a long time. I just think it'll be a bumpy road to the finish.
Tom Rock makes a good point about the Giants potentially drafting guys with off-field issues like Manti Te'o and Tyrann Mathieu -- namely, that they have the locker-room and coaching-staff
infrastructure
to handle guys like that the right way and bring them along in their program. Still don't see them breaking a 28-year stretch of not taking linebackers in the first round with Te'o.
Philadelphia Eagles
Fletcher Cox is looking ahead to a second straight year of
significant change
, as the Eagles' 2012 first-round draft pick learns a new coaching staff and defensive scheme.
Phil Sheridan thinks the best thing for the Eagles to do with the No. 4 pick in Thursday's draft is to
keep it
and draft a very good player -- i.e., not trade down. Sheridan is a wise man, and 100 percent correct. The Eagles don't need quantity. They have lots of good players. They need a franchise building block, and they'll find one at No. 4.
Washington Redskins
Keith McMillan ponders the question of whether the Redskins should try and
trade their second-round pick
this year for a first-round pick next year. I mean, sure, yeah, if they could. But do other teams really do that? I don't see it. And with their cap problems, the Redskins kind of need to try and find a 2013 starter there in the second anyway.
The Redskins really liked safety Jordan Bernstine coming out of training camp last year and likely could have used him as the secondary suffered so many injuries along the way. If he recovers from the significant knee injury he suffered in last year's season opener,
Bernstine could be a factor
in this year's secondary. Surely, it appears, there will be opportunity.
Dallas Cowboys
Jerry Jones says the Cowboys "
really are in good shape
" on the defensive side of the ball leading up to the draft. That could be interpreted as a clue that they'll spend their first-round pick on an offensive lineman, which they absolutely 100 percent should. Or it could be useless pre-draft words from a team owner/GM who has no interest in divulging clues about his team's actual plans. Or it could be both. You use it however you want.
DeMarcus Ware clarified that "
put up or shut up
" comment from a couple of weeks ago, which everyone breathlessly rushed to take as a shot at Tony Romo. I don't think he needed to clarify it, but I guess I'm in the minority.
January, 8, 2011
1/08/11
2:53
PM ET
By
Matt Mosley
| ESPN.com
I'm about to board a flight to Philadelphia for Sunday's Packers-Eagles wild-card playoff game, but let's dip into the mailbag for a few questions first. A lot of folks are wondering what Jason Garrett will do at defensive coordinator now that he's been granted so much authority by Cowboys owner Jerry Jones. Let's get right to your questions:
Kevin in San Jose, Calif., what's on your mind?
Is it reasonable to hope and wish for a Champ Baily-Washington reunion this coming offseason?
Mosley:
I realize that Mike Shanahan seems to value veteran players more than most head coaches, but I don't see him committing a lot of money to Bailey at this point in his career. Bailey's been one of the best cornerbacks in the league for years, but he's a declining player at this point. The Redskins would be better off identifying a cornerback in the draft. I think LSU's Patrick Peterson might be gone by the time the Skins pick at No. 10 (
Now No. 4 on Mel Kiper's Big Board
), but he's certainly someone to keep in mind. I tried to focus on Peterson in last night's AT&T Cotton Bowl, but a freshman named Tyrann Mathieu kept stealing the show. It looked like Mathieu was the best defensive back on the field in the win against the Aggies, but it's not like I've watched a ton of LSU football this season. Bringing in aging players (see
Donovan McNabb
and
Larry Johnson
) didn't exactly work out for Shanahan in his first season, so I'd be surprised to see him make a play for Bailey.
---
Al from High Point, N.C., has two New York Giants questions:
1.
Do you see [defensive coordinator] Perry Fewell as being interviewed by certain teams for a head-coaching job more as a legitimate concern for the Giants or are the other teams making him more of a Rooney Rule candidate? 2: How come the Giants do not find a way to keep coordinaters from becoming head coaches some other place by trying to make one of them a successor to Tom Coughlin?
Mosley:
That whole coach-in-waiting thing rarely works out at any level. Ask the University of Texas about that strategy. Coughlin sees himself coaching for several more years, so he wouldn't be pleased with that type of scenario. The Redskins had Gregg Williams as their coach-in-waiting to Joe Gibbs, but that didn't work out for him. Fewell did some nice things this season, but it's too early to overreact and make him a coach-in-waiting. Jerry Jones basically did that with Jason Garrett by making him the highest-paid assistant in the league following the '07 season. And the plan of succession didn't go off that smoothly, with Wade Phillips getting fired eight games into the 2010 season. Regarding your first question, I think Fewell has a legitimate chance to be a head coach. I think owners and general managers across the league have a lot of respect for how he handled the interim job in Buffalo, and I don't think the Rooney Rule's the only reason he's getting a look right now. Ultimately, though, I think he'll be with the Giants for at least another season. And it's not a bad thing when teams want your assistants to be head coaches. It normally means a team is having a lot of success. You can't really say that about the Giants right now, but the defense certainly took some positive steps.
---
Jason from Bryn Mawr, Pa., is one of our most prolific mailbag participants. He has an Eagles thought:
"Can the Eagles Flip the Switch?" is a great article
, providing well-balanced information. Everyone seems to be concerned with only the Eagles' performance against the Vikings, but let's not forget they had not played very well in the weeks prior to that game. I believe the "Miracle in the Meadowlands II" has masked our recollection of prior events. They were then blown out by the Bears (final score is no indication) and required fourth-quarter come-from-behind TDs to beat both the Texans and Cowboys.
Mosley:
Jason, I agree with you that teams have sort of caught up with
Michael Vick
a little bit since that first game against the Giants. But I'm afraid that Vick was so brilliant through the first 10 games that we sort of developed unreasonable expectations for him. He'd had enough near-interceptions earlier in the season to indicate that he'd eventually have some turnovers. But the fact that he has nine fumbles in his past six starts is pretty remarkable. But if Vick is close to 100 percent from that quad contusion suffered against the Vikings, he's capable of making the Packers' defense pay. I think Andy Reid and Marty Mornhinweg have spent a lot more time getting Vick ready for some of those cornerback blitzes that the Vikings used with a lot of success. And I can promise you that
Jason Peters
will have some help at left tackle to make sure that Packers outside linebacker
Clay Matthews
doesn't take over this game. Packers defensive coordinator Dom Capers will try to be aggressive with the blitz early in this game. And if the Eagles can pick it up, they'll have a shot at a big play on that first drive. I'm told that Reid and Mornhinweg have emphasized a quick start on offense all week. That's why I wouldn't be surprised to see Vick dial up
DeSean Jackson
on one of those double moves on the first play from scrimmage.
---
Steve in Philadelphia wants to talk about Jason Garrett's decision-making power:
Jerry Jones did not say that Jason Garrett would have final say on picking players. He said that no one would be on the team that Garrett doesn't want on the team. I believe that this may mean that while Jones continues to function as the GM, he would merely shy away from major free agents or draftees that Garrett has some apprehension about from a character perspective, like T.O. I do not believe this is the same as "final say" on all personnel decisions. Do you agree?
Mosley:
Steve, I think you're on the right track. Jones did stunningly say that Garrett would have "final say" when it came to the hiring and firing of assistant coaches. But I don't think Garrett necessarily wants "final say" when it comes to player personnel decisions. Only Andy Reid and Mike Shanahan enjoy that type of power in the league right now. And it's not like Shanahan has a great track record when it comes to drafting players. I think Garrett's smart enough to know that he doesn't have the skins on the wall to demand complete authority on draft picks. I think what Jones was saying is that he won't release or sign a player against Garrett's wishes. It's still surprising that Jones made that statement Thursday, but it doesn't necessarily mean he'll follow it.
I'll check in with you guys from Philadelphia on Sunday.
NFC EAST SCOREBOARD
Saturday, 12/20
Sunday, 12/21