December, 13, 2013
12/13/13
8:00
AM ET
IRVING, Texas -- As the
Cowboys
walk to the team meeting room every day, they are met with pictures of Dallas' five Super Bowl winners. Each collage has a team photo and pictures of smiling players, coaches and executives from winning NFL championships.
At Lambeau Field, the photos from the great moments in Packers history line the wall from the tunnel to the locker room. When the stadium was renovated years ago, they took a row of old bricks and moved it to the new tunnel so players can say they walk over the same ground as the greats who played at Lambeau Field.
With a loss Sunday, though, either team will need even more help to just make the postseason.
[+] Enlarge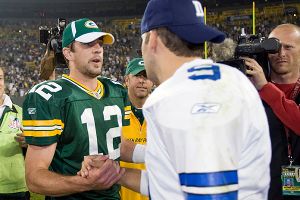 AP Photo/David StlukaCowboys QB Tony Romo, right, and Green Bay's Aaron Rodgers know the burden that comes with playing for franchises trying to recapture past glory.
Like the
Pittsburgh Steelers
and
San Francisco 49ers
, the Cowboys are constantly chasing ghosts from past teams.
The Packers and Cowboys have combined for 18 NFL championships (Green Bay 13, Dallas five) and nine Super Bowls (Green Bay four, Dallas five). They produced one of the NFL's iconic games -- the Ice Bowl -- in the 1967 NFC Championship. They were coached by legends in Tom Landry and Vince Lombardi. They rekindled the rivalry in the 1990s, meeting in the playoffs from 1993 to 1995.
The current teams carry something of a burden with them because of the successful pasts.
"We always look at it as a sense of pride and energy to tap into," Green Bay coach Mike McCarthy said. "We think it's very important to have that and recognize it and honor it, so I always refer to it as there's pride in the bricks of Lambeau Field and it's something we need to tap into. We talk to our current team about it and how important it is to win and represent the
Green Bay Packers
the right way."
Jason Garrett does not talk about the expectations laid out from the likes of Roger Staubach, Bob Lilly, Tony Dorsett, Randy White, Mel Renfro, Michael Irvin, Troy Aikman and Emmitt Smith. He talks about the standard those players and teams set.
"You want to be in a place where there's a high standard for achievement," Garrett said. "I think that's a good thing. That brings the best out in people. What we try to do each and every day is be our best. Come to work as players and coaches and put our best foot forward and get ready for our challenges each week and again, embrace the past. That's a good thing. ... That drives us. That's part of what drives us to achieve, really, each and every day, and certainly each season."
Tony Romo
is constantly measured against Staubach and Aikman.
Aaron Rodgers
is measured against Bart Starr and Brett Favre, but he has the Super Bowl ring that Romo is still looking for, having beaten the Steelers at AT&T Stadium in Super Bowl XLV.
Rodgers has 23 teammates on the roster with a Super Bowl ring.
Romo hopes one day to have his own, so he and his teammates can have their pictures on the wall holding the Lombardi Trophy.
"You want to be a part of a storied franchise," Romo said. "It just makes it important. You want a challenge. You want it to matter, and you want it to be important. That's what's great about this organization and great about our fans."
May, 22, 2013
5/22/13
9:48
AM ET
As part of our project on the all-time greatest NFL coaches, Rick Reilly offers us a look at
his top-20 ballot
. This is an NFC East post because he ranked former
Washington Redskins
coach Joe Gibbs as the No. 2 greatest coach of all time, behind only Vince Lombardi. Rick's reasoning has to do with the well-established fact that Gibbs won "three Super Bowls with three different quarterbacks, none of whom are in the Hall of Fame. That's like crossing the Pacific in a Little Mermaid floatie."
I haven't seen the final list, and we're going to reveal the overall top 20, one per day, starting tomorrow on the site. We'll obviously post as the NFC East-relevant ones come up. But while I appreciate Rick's case for Gibbs, it's hard for me to believe he'll end up ranked ahead of guys like Paul Brown, Bill Belichick, Bill Walsh, Tom Landry and Don Shula. Maybe. We'll see.
The rest of the NFC East-relevant coaches on Rick's list are Landry at No. 6, Jimmy Johnson at No. 14, George Allen at No. 15, Tom Coughlin at No. 18 and Ray Flaherty at No. 19. (Dan Reeves is No. 20, but not because of anything he did with the Giants.)
Rick's list does not include former Giants and Cowboys coach Bill Parcells:
Lot of people are going to file a grievance over that. Fine coach, fun guy, but his regular-season coaching record was only .570, which ranks below most of the coaches in my top 20. Plus, Parcells' stature was blown up because he did his best work in New York, which is the scuba mask of the world. Everything you do in New York looks one-third bigger than it really is.
Nor does it include current Redskins coach
Mike Shanahan
:
Like Parcells, Shanahan is a wizard, but both his Super Bowls came with one quarterback, Elway. He has won one playoff game in the 13 years since. Needs to prove it.
One man's opinion, and one of the sweet parts about this project is that you can
go here and make your own top 20
. It's not as easy as it looks!
July, 9, 2010
7/09/10
12:00
PM ET
By
Matt Mosley
| ESPN.com
Before I departed for vacation, I spent some time in the mailbag reading your comments about the best NFC East teams of all-time. Here's a sampling of what you guys have been talking about:
Dylan from Newport, R.I., writes
: Matt, anyway you could set up a poll of "The Best NFC East Team of All Time"? Let the fans decide whether the '86 Giants could take the '93 Cowboys, etc?
Mosley
: I'm not able to set up a poll because I'm currently on vacation, but it's a debate worth having in the "comments" section. I think the Giants had the better defense, but the Triplets gave the Cowboys the upper hand on offense. I'd also like the '60 Eagles and '91 Redskins to throw their hat in the ring.
Troy Aikman
would've wanted no part of Chuck Bednarik.
---
Stephen from Pennsylvania sent this via Beast fax
: It's hard to pick between the '86 and '90 Giants since they were built from the same blueprint and vary only slightly. I think Hostetler could have won with the '86 Giants, and he could have defeated the Broncos in 21 as he did the Bills in 25. He "grew up" in that system, and the Parcells QB of that era completed high percentage passes which were practiced to a science. I doubt Hostetler would have been 22-of-25 as Simms was, but he could have and would have won the game (SB 21). The 1990 Giants defense more consistently gave up fewer yards than did the 1986 defense, and generally got teams down and sat on them. the '86 team had more explosiveness with the likes of McConkey, so it evens out. Very hard pick!
Mosley
: Excellent work, Stephen. Folks within the Giants organization actually tried to convince me to rank the '90 team ahead of the '86 team. I think the fact that a backup such as Hostetler played such a prominent role on a Super Bowl-winning team spoke to how much talent he had around him. And I'm not so sure I agree with you that Hostetler would have gotten the job done for the '86 team.
---
Steve from East Aurora
writes: Best Giants team was the 1956 team. Won championship over Bears, 47-7. Gifford, Webster, Conerly, Brown on offense and the defense may have been one of the best of all time with Huff, Nolan, Grier, Modzlewski, et. al. Defense coached by Tom Landry and offense by Vince Lombardi. Hasn't gotten any better than that! And you don't even give them an honorable mention. Do your homework!
Mosley
: Steve, you raise some excellent points. I probably held it against them that the league had about half the teams it does now. It's more of a challenge to win a Super Bowl these days. But did the '56 team deserve honorable mention? You bet it did. Take consolation in the fact that my Giants-fan editor agrees with you.
June, 22, 2010
6/22/10
11:45
AM ET
By
Matt Mosley
| ESPN.com
Notable players
: LB Chuck Bednarik, WR Tommy McDonald, SE Pete Retzlaff, LB Maxie Baughan, QB Norm Van Brocklin, FB Ted Dean, DE Marion Campbell, CB Tom Brookshier
[+] Enlarge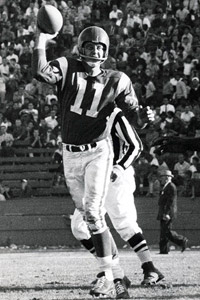 David Boss/US PresswireNorm Van Brocklin quarterbacked the Eagles to the 1960 championship.
Analysis:
Because we reward championships -- even when there weren't a lot of other teams. The Eagles beat Vince Lombardi's Packers in the championship game at Franklin Field, and that's saying something. Bednarik remains an iconic part of the franchise's history. In a win over the Giants in 1960, he famously knocked out Frank Gifford with a punishing blow. Gifford didn't get up that day, and he also missed the following season.
Van Brocklin was at the end of the career, but he made his final season count by delivering bombs to McDonald and Retzlaff. McDonald, a Hall of Famer, averaged more than 20 yards per catch in 1960. He scored a 35-yard touchdown in the Eagles' classic 17-13 win over the Packers. The Eagles won their other two titles in the late 1940s under coach Greasy Neale, but the '60 team made more of an impact in the community. It's only appropriate that the Eagles will break out the kelly green jerseys for the season opener against the Packers. Too bad they can't play at Franklin Field (they supposedly looked into it).
Most impressive win
: Definitely the title game against the Packers. In his second season as head coach of the Packers, Vince Lombardi had Jim Taylor, Bart Starr, Paul Hornung, Max McGee, Jerry Kramer and Forrest Gregg on offense. This was a dynasty in the making, but the Eagles forced the Packers to wait a year before Green Bay won the NFL title in '61.
Best player
: McDonald was a burner, but I'll go with Bednarik because he gave the team its identity. He played center and linebacker.
Honorable mention
2004
:
Donovan McNabb
and
Terrell Owens
formed one of the top combinations in the league, and
Brian Westbrook
was dangerous as a dual threat. This was a superb team -- as evidenced by its playoff run without the injured T.O.
1980
: Eagles fans have fond memories of Wilbert Montgomery carving up the Cowboys in the NFC title game for 194 yards and a touchdown. Nose tackle Charlie Johnson helped anchor a dominating defense.
2002
:
Duce Staley
ran for 1,000 yards and had 500 yards receiving. The Eagles were deep enough that they made it to the NFC title game during a season in which
A.J. Feeley
had to start five games because McNabb was injured. I don't have to remind you what happened against Tampa Bay in the playoffs. By the way, the Eagles dominated the Bucs in a 20-10 win earlier that season.
March, 15, 2010
3/15/10
3:14
PM ET
By
Matt Mosley
| ESPN.com
When the Cowboys recorded back-to-back wins over the Eagles last season (three in all), there was a school of thought (led by the Philadelphia Daily News' Rich Hofmann) that
Donovan McNabb
had taken his last snap in Philly. Eagles coach Andy Reid insisted that McNabb would be his quarterback in 2010, but then, what else did you expect him to say?
[+] Enlarge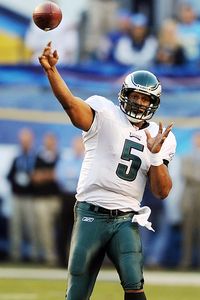 Christopher Hanewinckel/US PresswireAt 33, Donovan McNabb appears to still have a number of productive seasons ahead of him.
But as the draft approaches, it's becoming more and more likely the Eagles will put off the
Kevin Kolb
era for at least one more season. Today in his award-winning (I assume) Monday Morning Quarterback column, Peter King wondered aloud why more quarterback-needy teams aren't lining up to trade for McNabb. And I couldn't agree more with Peter on the theory that trading a first-round pick for McNabb is actually safer than spending $35 million or so on a rookie quarterback such as Notre Dame's
Jimmy Clausen
. Here's a portion of
Peter's column
:
"A playoff quarterback near his prime can be had for a premium price," writes King. "The fact that there's a real chance the Eagles could deal McNabb, and that McNabb is a half-year younger than
Peyton Manning
and apparently intends to play four or five more seasons, and also apparently has kicked the injury bug, leads me to this question: What in the world are all these quarterback-needy teams doing? Why aren't teams running to deal for McNabb?
"The prime object of this game in the personnel area is to get a quarterback who can win games and lead your team, and a good, proven one is out there. The Eagles aren't shopping him, but they surely are listening. I asked a coach with a quarterback need about McNabb, and the coach said because McNabb is on the last year of his contract and would probably need to be re-signed, and the fact that Philadelphia would want a high draft choice for him in a very good draft, and the fact that he doesn't have a lot of years left, all combine to make it a tough trade. Understood. Good factors all. But McNabb is 33.
"I have my own problems with McNabb. I don't consider him on the Manning-Brady-Brees plane. I think the Eagles should go with Kolb and make the best deal they can for McNabb this offseason, because, basically, it's Groundhog Day in Philadelphia. Every year's the same, and I don't see McNabb getting Philly over the hump and into another Super Bowl. So why would I want to pawn him off on another quarterback-needy team when I don't think he's a top-five quarterback? Simple. Because he's a top-10 or top-12 quarterback, and they're too hard to find to let one pass when he's just sitting there for the taking.
"McNabb would shore up any team's most important position for the next half-decade. Some team's going to take Jimmy Clausen between, say, the fourth and 20th pick in the first round, and whoever takes him is going to have no idea if he's the long-term solution at quarterback."
In the case of the Vikings, they can't make a play for McNabb until they hear from
Brett Favre
. But even if they're willing to offer a first-rounder for McNabb, the Eagles might not want to help out a team that competes in the same conference. But if teams such as the Bills or Rams (same conference but not a true threat) put a nice package together, surely the Eagles would be interested.
A scenario in which McNabb, Kolb and
Michael Vick
all return to the Eagles still seems unlikely despite what you're hearing on at least one network. Courage awards aside, Vick had no choice but to say all the right things in '09. But I could see him becoming extremely frustrated during another season of limited Wildcat reps. I don't think it makes any sense for the Eagles to bring him back. Do we think that Reid and offensive coordinator Marty Mornhinweg will spend much of this offseason trying to develop an expanded Wildcat package?
Former Eagles general manager Tom Heckert is now with Cleveland, so I thought he might make a play for McNabb. But now the Browns have signed former Panthers quarterback
Jake Delhomme
, a man coming off by far the worst season of his career. Perhaps a team will finally panic when we get closer to the draft and make a strong offer for McNabb.
But if not, it looks like the Eagles are prepared to go with a lame-duck quarterback in 2010. I think you're asking for problems with that approach, but maybe the Eagles are willing to take the risk. Meanwhile, Kolb continues to say all the right things publicly. Something tells me, though, that he won't be thrilled with yet another season on the sideline. Call it intuition after watching how much he enjoyed those two starts in '09.
One last note from King: Eagles quarterbacks coach James Urban and Mornhinweg
were in the Bronx on Friday
to watch Fordham quarterback
John Skelton
's pro day. Doesn't that seem like a little overkill for a late-round prospect from a school not known for being an NFL farm system? (apologies to Fordham grads Alex Wojciechowicz and Vince Lombardi of Seven Blocks of Granite fame).
July, 9, 2009
7/09/09
1:07
PM ET
By
Matt Mosley
| ESPN.com
Posted by ESPN.com's Matt Mosley
Cowboys
Eagles
Giants
Redskins
September, 20, 2008
9/20/08
4:30
PM ET
By
Matt Mosley
| ESPN.com
Posted by ESPN.com's Matt Mosley
Interested in reading a love letter to Packers third-year head coach Mike McCarthy? Have at it. Mike Vandermause of the Green Bay Press-Gazette better have a nice seat in the press box tomorrow night.
The basic premise of the column is that McCarthy is vastly underrated because the dreaded national media is focused on coaches such as Bill Belichick, Tony Dungy and John Fox?
Some of us thought Fox was squarely on the hot seat this season, but according to Vandermause, he's a media darling. But anyway, the most interesting/baffling thing in the column was that legendary P.R. man Lee Remmel (now retired) told Vandermause that McCarthy might one day be remembered as the best head coach in franchise history. No one knows more about the Packers' past than Remmel, but this statement caught me off guard.
Seems like Mike has a little ground to make up on the greatest coach in the history of the league. And don't sleep on Curly Lambeau, either. I missed seeing him in action by a couple of years, but he had to do something right to have a stadium named after him.
Mike Holmgren? Thought the guy had a decent run.
Give the column a read and see if you think I'm overreacting. It happens occasionally. Maybe McCarthy is the next Lombardi.
Remind me to tell you guys about pulling up in front of the great Vince's house last January. His grandson was at the wheel. (hat tip: DMN Cowboys Blog)