NFC East:

Wade Phillips fired
November, 8, 2010
11/08/10
9:08
PM ET
By
Matt Mosley
| ESPN.com
Dallas Cowboys
owner Jerry Jones finally has his man as head coach, but he never planned for it to happen this way. This was Jason Garrett's job to lose since he was hired to be the offensive coordinator in 2007, and that's exactly what he did.
Garrett turned down head-coaching offers from the
Atlanta Falcons
and the
Baltimore Ravens
following the Cowboys' 13-3 season in 2007, in part, because his dream job was in Dallas. Jones paid him $3 million to remain with the Cowboys, which was roughly the same amount Wade Phillips was making. It was an uncomfortable pairing from the start because Phillips knew that the guy calling plays was his hand-picked successor.
Phillips didn't balk, though, because he was pleased to serve as Jones' defensive coordinator and faux head coach. And as long as Phillips could produce results on his side of the ball, it didn't bother Jones that he never had the demeanor or the presence of a real head coach.
[+] Enlarge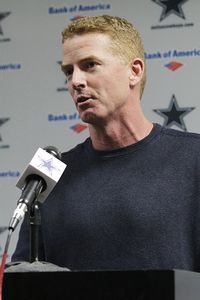 AP Photo/Tony GutierrezNewly appointed interim head coach Jason Garrett responds to questions during a news conference at the Cowboys' training facility on Monday.
That suited Jones just fine because Phillips was a refreshing change to the Bill Parcells era, which is gaining prestige with each Cowboys loss. Phillips desperately wanted his players to like him, and by all accounts, that was never an issue. He was loyal to them even when they didn't deserve it. While some players across the league lived in fear of being cut at any minute, Phillips created an atmosphere of comfort. During a 25-minute news conference Monday during which Jones seemed to be in a fog, he admitted to being in "denial" about what was going on with this team. He desperately wanted the Cowboys to keep it close in Green Bay, so he could justify sticking with a coach he greatly admired and liked personally. But Sunday's 45-7 loss to the Packers was the ultimate reality check.
"When we started having the problems we're having [on defense], that compounded the overall team thing," said Jones. "There was a lot of me in denial for at least the last couple of ball games. But where we are right now is that we've got to be able to do the biggest challenge everybody does in the NFL and that is get a defense that can slow them down."
Former Syracuse head coach Paul Pasqualoni will take over as the defensive coordinator. Jones said he liked Pasqualoni's "disposition," which is probably a reference to the man's refusal to smile at anyone at Valley Ranch. Jones talked about a "culture change" needing to take place, but he's the guy who created this current culture.
I don't think Cowboys fans are thrilled with Garrett, but he was certainly impressive during his first news conference as head coach. He constantly talked about "moving forward" and said this team would reflect his personality. I've never been able to detect any personality with Garrett, but perhaps his new role will force him to take a different approach. I still think it's a long shot for Garrett to be named the permanent coach, but he'll at least have the opportunity to lead the team for two months. If the Cowboys could go 4-4 the rest of the way, it would be a minor miracle. Jones said he'd be looking for "tangible success."
"He does have the opportunity to get the job long-term," said Jones. "That opportunity would be obvious if you stepped back and looked at it and we do outstanding as a team and we have very visible, very tangible success then certainly that's doing your job, if you will, in a crisis situation and that kind of action goes beyond a résumé, especially when you're in the foxhole with him."
The apologists point out that Garrett went out of his way not to usurp Phillips' authority given their unique arrangement. They think he'll come into his own now that he's in charge. But wait. Other than Jimmy Johnson and Bill Parcells, have any head coaches really been "in charge" during the Jones era?
Asked if he'd give Garrett the freedom to do as he pleased with this roster the final eight games, Jones went into full stammering mode before blurting something about his not being able to "quantify" something like that. The one move that would truly change the culture at Valley Ranch is something Jones will never do, and that's for him to resign as general manager.
As long as he's in charge of football decisions, it really doesn't matter who's serving as head coach. Jones will inevitably do something to undermine the process.
November, 8, 2010
11/08/10
6:32
PM ET
By
Matt Mosley
| ESPN.com
Sounding as if he hadn't slept since Sunday night's 45-7 loss in Green Bay,
Dallas Cowboys
owner Jerry Jones talked of a "culture change" at Valley Ranch in addressing his decision
to fire coach Wade Phillips
and replace him with Jason Garrett on an interim basis. Jones sounded incredibly measured -- almost robotic -- in explaining his decision.
He admitted to being in "denial" about this decision and said he'd still believed Phillips could save his job as late as Saturday night. Jones said he wouldn't apologize for changing his mind after saying Friday that Phillips would coach the rest of the season. He talked about his friendship with Phillips, but he said the failure of his defense eventually led to his demise.
"One of the things I always felt [with Phillips], is that his head-coaching would have a great benefit from how well his defense was going," said Jones.
You could tell how difficult this decision was for Jones as he struggled to find the words. I think he's still in a state of disbelief over how his team played against the Packers. But at one point during his rambling news conference, he said his player gave "great effort" in the loss. Maybe he simply lost his train of thought.
Jones said that Garrett would have a legitimate shot to become the permanent head coach if the Cowboys had "tangible success," but right now he's focused on the next eight games. Garrett will address the media at 7:30 p.m. ET from Valley Ranch.
"He does have the opportunity to get the job long-term," said Jones.
He said that his firing of his pal Phillips was a "vivid example of accountability" within the organization. A lot of Cowboys fans would've enjoyed seeing that example a few weeks ago. We'll have more throughout the evening.
November, 8, 2010
11/08/10
6:21
PM ET
Owners typically hire a new coach with the opposite demeanor of the old coach.
For
Dallas Cowboys
owner Jerry Jones, it's uncertain whether he will follow tradition in replacing Wade Phillips and new interim head coach
Jason Garrett
after the season. Phillips has always been a coach who creates a positive, supportive environment for players, which has led to criticism his teams sometimes were undisciplined.
The logical move would be to hire a disciplinarian, as Jones did in 2003 when he chose Bill Parcells to replace Dave Campo. Logic would point to a big-name coach with winning experience.
Although successful, the Parcells experience was tough on Jones. Parcells wanted a big voice in personnel. Jones likes to pick the players and have coaches teach them. That's why Bill Cowher -- perhaps the biggest winning name available -- probably won't get the job. Since leaving the Steelers, Cowher has been looking for a head-coaching job that pays top dollar on a franchise that has an elite quarterback. Like Parcells, Cowher wants control of the personnel office. That's why he probably isn't a fit. Remember, Jones could have hired Mike Shanahan during the offseason but decided to stay with Phillips. Expect Garrett to be interviewed, but I don't think he will get this job.
Here are the main candidates for the Cowboys' job:
Jon Gruden, former head coach of the Oakland Raiders and Tampa Bay Buccaneers:
Gruden is the perfect choice, but there is more of a chance he will stay in broadcasting until at least 2012. Should Gruden decide to coach in 2011, Mike Holmgren of the
Cleveland Browns
could be after him, but Jones will be all over him. Gruden, who signed a multiyear extension with ESPN last November, has a brilliant offensive mind. He is a master of the West Coast offense, but he also orchestrates a well-structured running attack. Some of Gruden's run schemes are the most innovative in football. Gruden would be a nice mentor for
Tony Romo
. Though he can be tough on veteran quarterbacks, Gruden got the best out of
Rich Gannon
when he was with the Raiders and
Brad Johnson
when he was with the Bucs. This could be Gruden's job to lose, but don't be surprised if he passes on the opportunity.
John Fox, Carolina Panthers head coach:
There would be no better compromise candidate than Fox. He's a winner. He fits in Dallas because he doesn't demand control of personnel. He's a coach's coach. Fox, in the last year of his contract with the Panthers, has taken players given to him in Carolina and made the most of the situation. With Jones, Fox would be getting an owner who isn't afraid to spend and keep a talented team together. Fox is considered a players' coach, but he is organized and runs a disciplined operation in which players enjoy the experience.
Marvin Lewis, Cincinnati Bengals head coach:
Lewis, whose contract is up after the season, has won two division titles for Mike Brown in Cincinnati. He would like more control of personnel in Cincinnati. Although he might not get that control in Dallas, coaching for one of the best brands in sports is highly appealing. Jones knows Lewis well from their time together on the Competition Committee.
Leslie Frazier, Minnesota Vikings defensive coordinator:
Frazier is one of the league's hotter assistant coaches, but it's debatable whether Jones will go for an assistant. Phillips was the Chargers' defensive coordinator when Jones hired him as Dallas' head coach. Phillips' head-coaching experience in Denver and Buffalo appealed to Jones. This would be Frazier's first chance to be a head coach.
Ron Rivera, San Diego Chargers defensive coordinator:
Rivera was a hot name a few years ago when he was the
Chicago Bears
'defensive coordinator. He's getting hot again because of the work he has done in San Diego, which has the league's second-ranked defense. Rivera took a chance in joining the Chargers to learn the 3-4 scheme. Even though the talent base of the Chargers has dropped off the past couple of years, Rivera has put together creative schemes.
Mike Zimmer, Cincinnati Bengals defensive coordinator:
A former position coach and defensive coordinator in Dallas, Zimmer is disciplined and aggressive, and players like playing for him. And Jones knows him, a big plus.
November, 8, 2010
11/08/10
5:58
PM ET
By
ESPN.com staff
| ESPN.com
Dallas Cowboys owner Jerry Jones announced the dismissal of coach Wade Phillips.



Phillips released a statement:

"I would like to express my sincere appreciation to the fans of the Cowboys and to the entire Jones family for all of the support that we received here in Dallas. I would also like to thank our coaches and players for their loyalty and dedication.

"I told the team today that I have been proud to be a part of their family, and that will never change. I have enjoyed the privilege and responsibility of representing this franchise as its head coach.

"I am disappointed in the results of this season to this point, but I am also very proud of what our team and our players accomplished in the previous three years. In good times and difficult times, our players stuck together and never lost hold of their belief in each other and the strong team bond that they have shared. Family and coaching football have always defined my life and I will always be grateful for my experiences here with the Dallas Cowboys."
November, 8, 2010
11/08/10
3:47
PM ET
By
Matt Mosley
| ESPN.com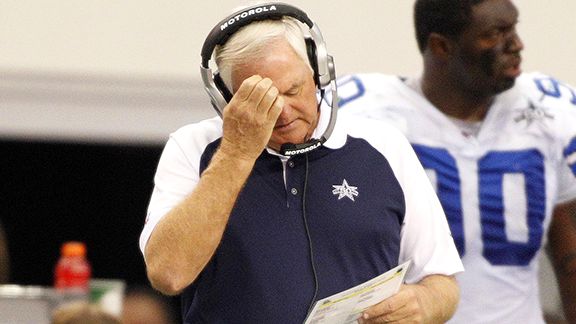 Tim Heitman/US PresswireWade Phillips produced a 35-23 record during his time as the Dallas Cowboys' head coach.
This is what you call a mercy firing. Wade Phillips was not solely responsible for the Cowboys' miserable 1-7 start this season. Not by a long shot. But it was time for him to go anyway, because this meek group of players had stopped playing for him weeks ago.
Cowboys owner Jerry Jones fired Phillips on Monday,
according to ESPN's Chris Mortensen and Ed Werder
. The fact that offensive coordinator Jason Garrett will reportedly replace Phillips won't exactly inspire the Cowboys' fan base, but any form of change was needed. I don't think for a second that Garrett is being considered the long-term answer as head coach. I guess if the Cowboys rally behind him and play well down the stretch, it will carry some weight. But if Garrett had done a great job, Phillips would've been canned a long time ago.
Phillips led the Cowboys to two NFC East titles during his tenure and their first playoff win since 1996. The players responded to him immediately in '07 because of his laid-back demeanor -- and the fact he was polar opposite from Bill Parcells. But his refusal to hold his players accountable was his eventual undoing.
When his starters played horribly against the Jaguars last week, he didn't make any personnel changes. And the one reason Phillips was in Dallas -- his defensive acumen -- failed him in the end. A defense with All-Pros such as
DeMarcus Ware
and
Jay Ratliff
went belly-up in losing five consecutive games.
Jones should also fire himself as general manager, but we know that won't happen. He's responsible for this mess, and on Monday he began a massive cleanup effort. Phillips is a likable man whom the players enjoyed playing for. But he tried to win his players' friendship instead of their respect. If they had any respect for the man, surely they wouldn't have quit on him in such epic fashion.
As a result of all the coddling, the Cowboys may be the thinnest-skinned team in the league. They've become a huge embarrassment based on their preseason expectations. Now, Jones will be hosting a Super Bowl at Cowboys Stadium while conducting a coaching search.
This move would've been made earlier if Jones wasn't so stubborn. He desperately wanted to keep Phillips around because it was a comfortable situation for him. Phillips never minded deferring to Jones on pretty much every decision. But once again, Jones sacrificed winning for comfort.
Phillips was begging to be fired the past couple weeks. On Monday, Jones finally granted his wish.
I'm eager to hear what he has to say this afternoon, but it's not like there are any quick fixes for a team that's in such pitiful shape. This move had to be made because a fan base was getting ready to rebel. Jones was thoroughly embarrassed by Sunday night's effort. Now he's taking some ownership for the mess he's created.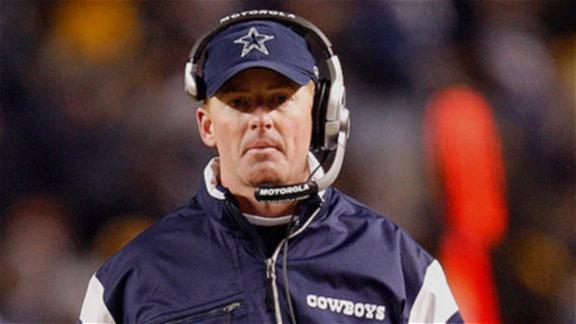 November, 8, 2010
11/08/10
3:08
PM ET
By
ESPN.com staff
| ESPN.com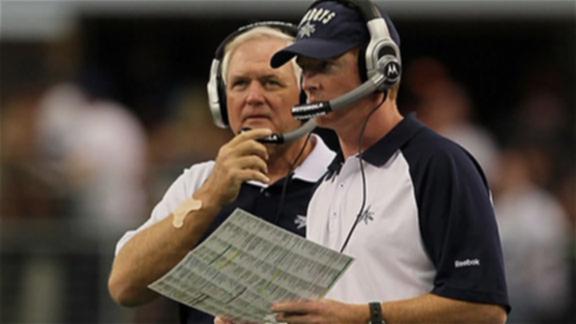 Dallas Cowboys owner and general manager
Jerry Jones fired coach Wade Phillips on Monday
, sources told ESPN's Chris Mortensen and Ed Werder on Monday.
ESPNDallas.com's Calvin Watkins discusses what the Cowboys' dismissal of Phillips
means for the team moving forward
.

ESPNDallas.com's Richard Durrett looks back at the
Cowboys coaches over the years
.