July, 9, 2014
Jul 9
11:30
AM ET
IRVING, Texas -- Rod Marinelli likes what he saw from his
Dallas Cowboys
defense in the spring.
The defensive coordinator liked that he has more players along the defensive line. He likes the linebackers' "movement skills." He likes how cornerbacks
Brandon Carr
,
Orlando Scandrick
and
Morris Claiborne
can play man-to-man. He likes the growth
J.J. Wilcox
made at safety opposite
Barry Church
.
[+] Enlarge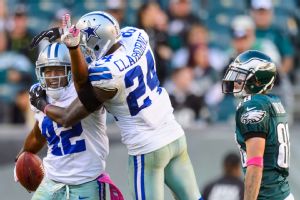 Howard Smith/USA TODAY SportsDallas defensive backs Barry Church and Morris Claiborne didn't have much to celebrate during 2013.
But there's something else Marinelli likes about the group.
"I think there's something to prove a little bit," Marinelli said. "Not something to prove from last year, but there are some guys coming here off the street with something to prove. There are some guys in contract years with something to prove. There are some guys coming out saying, 'I want to be a better player,' who have something prove.
"You get that many guys wanting to prove something, then you can become better. Right now what I like is how hard they're going after their craft."
Last season was a mess for the Cowboys' defense. It has been referenced so many times this offseason that "32nd-ranked defense" has been tattooed on everybody. The Cowboys gave up 6,279 yards in 2013 a year after giving up a franchise-record 5,687 yards. Five quarterbacks had four-touchdown games against the Cowboys. Two times in a three-week span, they allowed more than 620 yards. The
New Orleans Saints
had 40 first downs.
"It definitely bothers us," Church said. "I'm speaking for myself, but it definitely bothers me. But there's nothing we can really say or prove different. We were 32nd in the league and we weren't that good on the defensive side of the ball. This year, the only way we can counter that is by playing good and becoming one of the better teams in the league at taking the ball away and against the run and the pass."
It's not just the players. The tag falls on the coaches, too.
"Nobody wants to look at last year and take ownership of that, but we have to," secondary coach Jerome Henderson said. "And we've got to get better from there, and we cannot let that happen again."
Oh, and now the Cowboys have to show they can be better in 2014 without the franchise's all-time leader in sacks,
DeMarcus Ware
, who was cut, last year's leader in sacks,
Jason Hatcher
, who signed as a free agent with the
Washington Redskins
, and their best playmaker,
Sean Lee
, who suffered a torn anterior cruciate ligament in organized team activities.
But the sense is that Marinelli likes it this way. He had ubertalented defenses with the
Chicago Bears
with guys like Brian Urlacher,
Julius Peppers
,
Lance Briggs
and
Charles Tillman
. He won a Super Bowl with the
Tampa Bay Buccaneers
with guys like Warren Sapp, Derrick Brooks, Simeon Rice, John Lynch and Ronde Barber.
He doesn't have an Urlacher, Sapp, Brooks, Briggs, Rice or Lynch with this group.
He has
Henry Melton
, whom he coached to the Pro Bowl with the Bears, trying to prove he can come back from a torn anterior cruciate ligament. He has
Bruce Carter
trying to prove he is a big-time player in a contract year. He has Claiborne, a former sixth overall pick in the draft, trying to prove he is not a bust. He has Carr trying to prove he is worth the five-year, $50 million contract he received in 2012. He has
George Selvie
trying to prove he was not a one-year wonder after putting up seven sacks last season. He has
Tyrone Crawford
trying to prove he can come back from a torn Achilles.
He has low-cost free agents such as
Terrell McClain
,
Jeremy Mincey
and
Amobi Okoye
trying to prove they can be prime-time players. He has
Justin Durant
trying to prove he can be a middle linebacker and
Kyle Wilber
trying to prove he can be a strongside linebacker. He has Rolando McClain trying to prove that a player who has retired twice in the past year has the desire to keep playing. He has
DeMarcus Lawrence
trying to prove that a second-rounder can make an impact as a rookie. He has Wilcox trying to prove he can play strong safety.
He has guys like Church and Scandrick trying to prove that they can put up solid seasons in back-to-back years.
So much to prove. So much to forget.
"The first thing you do is you take it as coaches and players and you take accountability for it," Marinelli said. "And no excuses. Now we look forward. Now it's about the expectations of this group and with expectations you have to execute. It's that simple. That simple, yet that hard."
May, 23, 2014
May 23
10:00
AM ET
IRVING, Texas -- Part 1 of the Dallas Cowboys' Twitter mailbag is ready.
In it we discuss:
When Dez Bryant might sign an extension.
Lance Dunbar's roster spot with the addition of Ryan Williams.
The team's best free-agent pickup
The state of the defensive line.
The best of the undrafted receivers.
Look for Part 2 of the mailbag on Saturday.
Away we go:
January, 29, 2014
Jan 29
4:10
PM ET
NEW YORK --
New York Giants
defensive end
Justin Tuck
is surely biased, having played with and learned under defensive end
Michael Strahan
during Tuck's early years in the league. But the whole issue between Strahan and
Warren Sapp
, who
demeaned Strahan's Hall of Fame candidacy
at Super Bowl media day on Tuesday, mystifies Tuck as much as it does the rest of us.
"I think the dispute is childish," Tuck said in an appearance on ESPN Radio's "
Mike and Mike
" on Wednesday. "And secondly I think Michael's career speaks for itself. They'll make the decision off of what Michael did in his career, and getting the opportunity to play with him, I can honestly say I got the opportunity to watch what I feel is one of the best defensive players to ever play the game, one of the best football players ever to play the game. Some of the things I saw him do in the latter stages of his career were truly remarkable. I can't even fathom what he was doing in years five, six, seven, eight, nine. I got him at the end of his career, and he was still the best football player on the field at that point."
Strahan is one of 15 finalists in this year's election to the Pro Football Hall of Fame, which takes place Saturday. Strahan missed election last year on his first try while Sapp got in.
January, 29, 2014
Jan 29
12:00
PM ET
NEW YORK -- A friend called
Michael Strahan
last year on the night before the Super Bowl and told him he hadn't been elected to the Pro Football Hall of Fame on the first ballot. Strahan's reaction?
"All right, let's go get something to eat," the former
New York Giants
defensive end recalled Tuesday.
One of 15 finalists in this year's election, the results of which will be announced Saturday night, Strahan continues to insist that he doesn't give his Hall of Fame chances much thought until someone asks him about them. As the co-host of the syndicated morning talk show "Live! with Kelly and Michael," and a member of Fox's NFL pregame show, Strahan's card is extremely full these days. So he uses that fact to support his claim that he hasn't even imagined what it would feel like if he got a call this year telling him he made it.
"To be honest with you, I don't have enough time right now to imagine things," Strahan said. "I wake up, I work, I go to sleep and I wake up and do it again."
Strahan spoke Tuesday as part of Fox's pre-Super Bowl media availability with its on-air personalities. Earlier in the day, Hall of Famer
Warren Sapp
created a stir by saying he didn't think Strahan's case stacked up with those of others on this year's ballot. Strahan waved off Sapp's criticism by mentioning his 15 years in the the league, his 141.5 career sacks (a figure that ranks fifth in league history) and his belief that his career didn't tail off toward the end the way many do. And he said he believed making the Hall of Fame would be about more than just himself.
"This is about my family, my teammates, my coaches, the people who helped me get to this point," Strahan said. "I'm just trying to teach a lesson here that it isn't about yourself. I don't hang onto statistics from football. I've done everything I could do. So it's not up to me to vote whether I make it to the Hall of Fame. It's not up to the opinion of another player. It's howling into the wind, because who cares?"
If Strahan gets the votes he needs this time, he admits he could be singing a different tune come Saturday night. But if he doesn't, he's got plenty to do to keep his mind off of it for another year.
January, 29, 2014
Jan 29
8:30
AM ET
Yeah, the old
Michael Strahan
-
Warren Sapp
feud
resurfaced Tuesday
, which means it must be Super Bowl week. Strahan is up for Pro Football Hall of Fame election Saturday for the second year in a row, and Sapp, who got in last year, doesn't think he should make it.
I'm with Strahan on this one, in that I don't understand why Sapp would make this a cause of his. Part of it may be that he'd like to see his friend and former teammate
Derrick Brooks
get in instead, but this venom is too much to assign away simply to that. It's clear Sapp hates that Strahan holds the single-season sack record and that he believes
Brett Favre
handed it to him. But to hold that grudge for 12 years? And to continue it even after you got into the Hall of Fame first? Doesn't make a lot of sense to me. Maybe Sapp wanted to be the new Regis and is jealous that Strahan got the job instead.
Anyway, we'll have more on Strahan and his thoughts on the Hall of Fame later today, and of course we'll let you know what happens with the election Saturday night.
Meantime, as Jordan Raanan points out, there was
a smattering of a Giants presence
at Super Bowl Media Day, even without the Giants themselves here. I didn't watch the broadcast to see how P.R. man Pat Hanlon acquitted himself as a commentator. I hope he was as open about his feelings and opinions
as he is on Twitter
.
January, 7, 2014
Jan 7
1:15
PM ET
IRVING, Texas -- When the
Dallas Cowboys
made the switch to the 4-3 scheme last year, they thought they had the pieces in place to make a smooth transition.
Nobody could have seen what happened to the defense in 2013, finishing last in the NFL.
Carr
Revis
But when Monte Kiffin was hired last January, we all tried to make the pieces fit, comparing the Cowboys players to what Kiffin had during his run with the
Tampa Bay Buccaneers
or what Rod Marinelli had with the
Chicago Bears
.
DeMarcus Ware
would be
Simeon Rice
. Jay Ratliff would be Warren Sapp.
Bruce Carter
would be Derrick Brooks.
Sean Lee
would be Brian Urlacher.
The secondary was an issue. The Cowboys had man-to-man corners in
Brandon Carr
and
Morris Claiborne
, and they didn't really have a John Lynch at safety, but they liked
Barry Church
.
Kiffin told his guys to study up on what the
Seattle Seahawks
did defensively as a sign that they would not be a traditional Tampa 2 team.
Now that Lovie Smith has taken over the Buccaneers, the same comparisons are being made.
Gerald McCoy
will be Sapp.
Lavonte David
will be Brooks.
So who's
Darrelle Revis
?
"We're a 4-3 team," Smith said in his introductory news conference. "There's a reason why we have Tampa-2 associated to one of our coverages, but I just want you to know, especially [in reference to cornerback] Darrelle Revis, we don't play Cover-2 every snap. We have a place for a great cover corner that's physical and can do all things."
Now Revis is better than Carr and Claiborne. I'm not making the player-for-player comparison. If he's not the NFL's best corner, he is at least in the conversation, and he was coming off a knee injury. I'm making the style of play comparison.
But there was a frustration from Carr and Claiborne about the lack of man coverage the Cowboys were playing, especially early in the season. Players want to do what they do best, and too often they felt like they had to play off and soft in zone coverage.
So Smith might be able to promise Revis that he will be able to man his own island, but the proof will be when the games count, because coaches want to do what they know best.
That was part of the Cowboys' growing pains in 2013.
August, 3, 2013
8/03/13
10:30
AM ET
CANTON, Ohio – Warren Sapp's introduction to Rod Marinelli was rough, but as Sapp enters the Pro Football Hall of Fame, he's not so sure he would be here if not for the
Dallas Cowboys
' defensive line coach.
From 1996-03, Marinelli was the
Tampa Bay Buccaneers
' defensive line coach and Sapp was at the top of his game. Or so he thought.
"He made me dream beyond anything I could see for myself because he spent more hours there," Sapp said. "I realize that now. I get Defensive Player of the Year in 1999, 12.5 sacks, and we lose in the championship game, 11-6. I get back the next day and I walk into the meeting room with my chest out, 'What you got for me now?' He said, 'Let's see if your play can catch up with your athletic ability.' What does that mean? He says, 'What can you do athletically?' I said, 'Almost anything,' and he said, 'There you go.' I come back with 16.5 sacks. He always had the next challenge for me. He would never let me rest."
It was a tough love, too.
"If he wanted to talk to the group, he would yell and curse at me," Sapp said. "When he first started doing it, I waited in the meeting room and said, 'Me and you got to talk.' He said, 'I'm not talking to you. I'm talking to the unit. But if I talk to you like that they'll allow me to talk that way.' I couldn't fathom it, 'Coach, I'm giving you everything I've got. Look at the tape.' He says, 'I know, but I want to get that from the rest and if I talk to you, they'll follow."
June, 20, 2013
6/20/13
12:22
PM ET
Former
Tampa Bay Buccaneers
defensive lineman
Warren Sapp
was elected to the Pro Football Hall of Fame this year. Former
New York Giants
defensive lineman
Michael Strahan
was not. This apparently has not settled whatever issues Sapp has with Strahan, which appear to be significant.
In
an interview with Ira Kaufman of the Tampa Tribune
, Sapp asserted that Strahan was not as good a player as Sapp's former teammate,
Simeon Rice
. Sapp is apparently annoyed that Strahan gets considered for the Hall of Fame and Rice does not. He thinks The New Regis benefited from playing against weaker competition:
"[Rice] didn't rush the worst lineman,'' said Sapp, who beat out Strahan for a spot in the Pro Football Hall of Fame Class of 2013. "You know the right tackle is the worst of the five. Strahan played right end his first four years. When they were putting the label on him as a bust, they put 'B-U-S . OK, let's transition him on the other side and see if he can play in his fourth year.'

"They put him at right end and he couldn't do it, so they moved him to the weak guy. One-on-one with the (Eagles right tackle) Jon Runyans for eight quarters every year. Sim won't ever have his name brought up (for the Hall of Fame), and that's a shame. He's one of the best pass rushers I've ever encountered in my life.''
I mean, sure. Rice was great. But why you gotta run down Strahan to make that point? Let alone poor
Jon Runyan
. What did he ever do to anyone? Is this some sort of political vendetta?
Anyway, this isn't the first time tensions have flared up between these two, as Kaufman's story points out. I couldn't tell you why Sapp has it in for Strahan. Maybe he wishes it was him interviewing celebrities every morning next to Kelly Ripa. I'd just be guessing. But it sure is funny. And a bit odd that a guy who's about to go into the Hall of Fame is still worried about comparisons like this. You won, dude. You're in the Hall of Fame. Try and enjoy it a little, huh?
February, 28, 2013
2/28/13
11:17
AM ET
This scouting combine story
from Todd Archer
tells us that the
Dallas Cowboys
were planning a switch from a 3-4 defense to a 4-3 defense even before the 2012 season ended. According to coach Jason Garrett, they believe they have the right kind of personnel to make the switch:
"You just go through all those scenarios and at the end of it we felt good about, 'Hey, we can do this and it won't take us three years to do this,'" coach Jason Garrett said. "And we certainly want to continue to add pieces to it and make that defense better, but we felt good about the flexibility and versatility of the guys we already have."

Monte Kiffin and defensive line coach Rod Marinelli agreed with Garrett's analysis after they joined the staff. They used players such as Simeon Rice, Warren Sapp, Derrick Brooks and Brian Urlacher as frames of reference for DeMarcus Ware, Jay Ratliff, Sean Lee and Bruce Carter.
Well, yeah. I mean, if all of those guys at the end of that sentence play like all of the guys at the beginning of that sentence, then yeah, the Cowboys will really have something. But there are some "ifs," and most of them are tied to health. For instance, I think Lee can be a brilliant playmaking middle linebacker in a 4-3. But he has to stay on the field, and he's had trouble doing that. And then there's this later in the story from former Cowboys exec Jeff Ireland, comparing Ware to
Cameron Wake
, who moved from a 3-4 outside linebacker to a 4-3 end last year for Ireland's Dolphins:
"We felt like when Wake was in a three-point stance he probably was a better rusher than he was in a two-point stance," Ireland said. "I don't know that about DeMarcus. I'd have to study that, but I'm sure he's equally efficient in a three-point or two-point stance, so I don't think it will be that tough."
Ware is a very interesting part of all of this. Again, I don't think it's a question of his ability to perform effectively in a 4-3 but rather his ability to hold up physically while playing closer to the ball and mixing it up more directly with bigger offensive line bodies. Ware has shown some signs the past couple of years that his body could be beginning to break down, and if that is a trend and not an aberration, then a move like this isn't going to help with it.
This transition to the 4-3 is one of the very interesting stories of the Cowboys' offseason, so we'll continue to examine it as it goes along. I think they have the right kinds of players to pull it off, but a lot depends on who goes, who stays and who shows up to play it once the salary cap is straight and free agency and the draft have settled.
February, 7, 2013
2/07/13
8:00
AM ET
Washington Redskins
He's missed so much time the last two years that it's easy to forget how valuable
Brian Orakpo
is. But the Redskins' 3-4 defense is built on the idea of bookend pass-rushers at outside linebacker, and
Ryan Kerrigan
can't do it alone. The Redskins likely will work to
lock up Orakpo long-term
this offseason.
The Redskins may have to look at internal options in the return game, and it's possible
Richard Crawford
could be the
long-term answer
as a punt returner.
New York Giants
Ahmad Bradshaw
says he's
left the door open
to returning to the Giants at a lower salary, and generally handled his release with class, which was no surprise. A return is unlikely, though, since the Giants appear to be moving on at the position and Bradshaw is likely to find a market for his services elsewhere once he's recovered from his most recent foot surgery.
There was no love lost between Warren Sapp and Michael Strahan in their playing days, and Sapp
took a couple of shots
at Strahan, whom he beat out for first-ballot Hall of Fame selection last weekend.
Dallas Cowboys
If the Cowboys cannot bring back
Anthony Spencer
, which is possible due to their salary-cap concerns, there's a chance
Spencer could reunite
with former Cowboys defensive coordinator Rob Ryan in New Orleans.
Nick Eatman doesn't expect the Cowboys to
do much of anything
in free agency this offseason, and the truth is they likely can't. Which is why I think this year's Cowboys draft has to be much more tightly focused on filling immediate needs than last year's was.
Philadelphia Eagles
It is more than fair to say that the signing of
Demetress Bell
did not work out for the Eagles, who believed he fit the profile of a good
Jason Peters
replacement when they signed him in the wake of Peters' season-ending injury last summer. Whether Peters gets back for the start of the season or not, the Eagles are
through with Bell
.
DeSean Jackson
is indeed serious about making rap music, and you can read all about it
here in this story
from ESPN the Magazine's music issue.
February, 2, 2013
2/02/13
6:02
PM ET
NEW ORLEANS -- Two of the NFC East candidates up for election to the Pro Football Hall of Fame this year were selected for induction.
Former
New York Giants
and
Dallas Cowboys
coach Bill Parcells became a Hall of Famer on his fourth try, after being eligible in 2001 and 2002 and again last year. Former Cowboys offensive lineman Larry Allen was elected in his first.
The announcement was made at 6 p.m. ET Saturday.
Former Giants defensive lineman Michael Strahan, eligible for the first time, was among the 10 finalists but did not receive enough votes to be elected this year. I'm a bit surprised that Warren Sapp made it and Strahan did not, and I'll have more on that later, as well as analysis on the elections of Parcells and Allen.
Wide receiver Cris Carter also was elected, and while he will be remembered as a Viking, he did play the first three seasons of his career with the
Philadelphia Eagles
. So I guess we can count him as an NFC East Hall of Famer as well.
June, 30, 2011
6/30/11
8:00
AM ET
The optimism over the possibility of the NFL lockout ending soon has spread to the fantasy football community, and our excellent fantasy writers rolled out a whole bunch of new content this week that's worth looking at if fantasy football is your kind of thing. The meatiest item is
Christopher Harris' extremely detailed breakdown
of Eagles quarterback
Michael Vick
, and whether or not his chances of repeating his 2010 brilliance are good enough to justify using a first-round fantasy draft pick on him. Harris concludes that they are not, in part because Vick is just statistically unlikely to rush for nine touchdowns on his own again and in part because he gets hit so much. The gist:
I have every expectation that owning Vick will be spectacular fun some weeks. He's a big play waiting to happen, and he can win you fantasy games by himself. And listen, I'm not saying Vick will suddenly find himself in Matt Hasselbeck territory. I think he'll be a top-five fantasy QB. But to be worthy of a first-round fantasy pick -- and to be worthy of the first overall fantasy pick, a notion I've heard floated by some this summer -- a player must boast an elite combination of steadiness, upside and safety. I don't think Vick is there.
Unnecessary shots at Hasselbeck notwithstanding, Harris has me re-thinking Vick a bit. I was very gung-ho on the idea of Vick as a first rounder and maybe even a No. 1 overall pick (maybe even our NFC East blog fantasy league!). Having had him on a team last year I think, if he's healthy, he's an almost irreplaceable commodity. But
Aaron Rodgers
gets rushing yards too and may be the safer pick. Must continue to mull this.
Meanwhile, we'll do the links with a fantasy flavor today, sprinkling one fantasy item and one non-fantasy link for each team, just in case you're not into the fantasy thing.
More Eagles
As
Bleeding Green Nation
discovers, Fox's Adam Caplan agrees with me that it's far more likely the Eagles will get draft picks, not established players, in exchange for
Kevin Kolb
. But if they do get a player, Caplan raises the possibility that it could be someone like linebacker
Daryl Washington
rather than much-discussed cornerback
Dominique Rodgers-Cromartie
. Makes a little more sense, and might help fill a need. Washington plus a pick or two would be a nice return for Kolb.
Dallas Cowboys
Looking through the
sortable rankings
our fantasy folks put together, the Cowboys have the No. 10 and No. 12 wide receivers --
Miles Austin
and
Dez Bryant
, respectively. Also, if you click on the QB rankings, you'll see
Tony Romo
at No. 7, a full five spots ahead of
Eli Manning
, in case anybody wants to kick off that old debate again. (Dan ducks, chuckles, runs out of the room cackling...)
Cowboys fans hoping to land
Michael Huff
as the answer to the safety problem won't enjoy
this review
from
Warren Sapp
, who said Huff's practice habits while the two were teammates in Oakland made him want to "throw up." I mean, okay. But Sapp hasn't played in three years, right? Young players do, occasionally, figure things out and improve where they need improvement. Just saying.
New York Giants
The first Giant off the board in
our site's first mock draft
is wide receiver
Hakeem Nicks
, who goes off the board at No. 14 overall, with the fourth pick in the second round. He's the third receiver taken, behind only
Andre Johnson
and
Roddy White
and ahead of
Calvin Johnson
. Not sure I'd take him over Calvin, but he's in that discussion, given his level of fantasy production in 2010.
Tiki Barber
's back in the news, saying... no. No, I am not going down the Tiki road again. I'm giving you this, instead, from
Big Blue View
-- a look at
Travis Beckum
, whose role might increase out of necessity if the Giants should lose
Kevin Boss
to free agency. Wonder what Tiki would think about this? No! Stop it!
Washington Redskins
Wide receiver
Anthony Armstrong
gets a little love as
a possible fantasy sleeper
from Matthew Berry, who calls him "A legit deep threat whom the Redskins really like, he had double-digit fantasy points in three of his final five games. If he can become more integrated into all aspects of the passing game and not just the home run or bust he was last year, you're looking at
Mike Wallace
lite." Well, yeah. That'd be pretty useful. Again, though... who's throwing him the ball?
Looks as if
Graham Gano
will get another shot as the Redskins' kicker after a disappointing 2010. Does he deserve it? Will he do a better job with it?
Redskins.com takes a look
.
Now, if you'll excuse me, I need to put together my tight end fantasy cheat sheet...
February, 3, 2009
2/03/09
5:12
PM ET
By
Matt Mosley
| ESPN.com
Posted by ESPN.com's Matt Mosley
The best linebacker in the history of the league turns 50 on Wednesday. It doesn't seem possible that Lawrence Taylor can be 50 years old, but the birth certificate I'm staring at says just that.
In other news, there are rumors that Taylor will be on this season's "Dancing With the Stars," which comes as a shock to those of us who had Phil McConkey in the office pool.
Emmitt Smith won the competition a few years ago and players such as Jerry Rice, Jason Taylor and Warren Sapp have performed admirably. I'm not sure what to make of L.T.'s chances.
ABC will announce this season's celebrities Sunday, according to sources close to the Beast.