May, 17, 2014
5/17/14
1:30
PM ET
A few observations from the Redskins rookie minicamp Saturday morning. Keep in mind: This was our first chance to see the rookies. Their heads are swimming with new knowledge. That serves as a warning: Take these for what they're worth. Now, having said that...
Tackle Morgan Moses is a big man and stands out in the crowd -- even among his peers. But Moses will always need to work on staying low in his stance. The first time I saw him try to block, he was moving to his left and lunged -- too bent at the waist on other times, too. He'll have to work on staying balanced. That's what this weekend is for; to start correcting some of these issues.
But he used his long arms a couple of times to stop Trent Murphy -- also long -- on the pass rush. I'll be curious to see how he progresses coming off the ball and being able to attack defenders.
Could tell when he was, or wasn't, driving off the ball by how he set. A light set did not always mean pass protection, though. But it did mean he wasn't going to drive off the ball.
One thing Murphy will have to learn: how to lessen the gap between he and the tackle. Otherwise, it'll be hard to use his hands. In a one-on-one rush, Murphy dipped and should have had the advantage, but failed to get it.
After the rush, outside linebackers coach Brian Baker – do not underestimate this guy's presence – worked with him on dipping his shoulder to complete the move. That's what this weekend is all about: learning a lesson, then applying it as they move forward. They spoke for another 5-10 minutes after the practice while the other players exited.
Murphy lined up at left outside linebacker all of practice. Eventually I can see him being moved around; it's what he did in college and it worked.
Guard Spencer Long was beaten in a one-on-one the first time I saw him by tryout linebacker Aaron Davis; speed to Long's outside. But the next time he went, Long anchored well. Saw him do that in college, too; strong base. For what it's worth, Long said he feels normal coming off his MCL tear this past season.
Did not see all of tight end Ted Bolser's drops, but others saw them. Did see him get bumped off his route by Murphy -- one thing that was evident on tape is that the ex-Stanford linebacker is comfortable moving in space.
Corner Bashaud Breeland likes to get his hands on receivers, even after the five yards that are allowed. He's physical and with long arms. He'll try to get a subtle grab at the top of a route. Just something to watch this summer.
But Breeland, playing right corner, is experienced in press. Used good technique on one jam, getting his left hand on the inside of the receiver and bumping him off stride. Did not see a lot of separation from receivers against him.
Didn't watch a lot of receiver Ryan Grant, but the one time I did he dropped a pass. Turned his head too soon. I'll pay more attention Saturday afternoon.
Need to see more of running back Lache Seastrunk catching the ball. In one drill where players weave through cones and then catch a pass, saw a drop. But to measure his hands, need to see a lot more and in game situations. He's convinced his hands aren't an issue.
In a one-on-one drill designed to help special teams, Seastrunk did one of his classic plant and cut moves. He made a hard jab to the left, let the defender bite and then cut back the other way.
For what it's worth, Seastrunk told the Redskins he would like a shot at returning kicks. Not sure if that will happen or not.
The first-year guys in camp: linebacker Will Compton, punter Blake Clingan, defensive back Peyton Thompson, safety Akeem Davis and lineman Tevita Stevens.
September, 1, 2013
9/01/13
6:45
PM ET
The Redskins completed their weekend of moves, adding corner Chase Minnifield and seven others to their practice squad. Washington also added one of its draft choices, seventh-round running back Jawan Jamison.

They also added linebacker Will Compton, defensive lineman Dominique Hamilton, receiver Lance Lewis, offensive lineman Xavier Nixon, offensive lineman Tevita Stevens and receiver Nick Williams.
Unlike past years when compiling a practice squad, the entire group was with Washington in training camp. Of this group, Minnifield, Williams and Compton intrigue me most, along with Lewis. The latter has skills, notably his ability to make plays on the ball in the air -- making the same sort of leaping catches he did at East Carolina. But he's a raw route runner and needs refinement. Minnifield would have been a second- or third-round pick had he been healthy before the 2012 draft and has endured a long road just to reach this point. Unlike the others, all of whom were long shots, Minnifield will arrive with a chip on his shoulder. When
Richard Crawford
was injured and lost for the year it appeared Minnifield would be on the roster. But they only kept five corners and the fifth,
Jerome Murphy
, is considered a better special-teams player.
Compton is not a fast linebacker, but plays smart and is decisive, allowing him to beat blockers to the spot and make plays. He could be a good special-teamer one day if nothing else. The Redskins coveted Williams after the draft and liked what they saw this summer. He's a slot receiver who shows good awareness and quick feet. He also can return punts.
The other three showed flashes in camp. Nixon improved, but he also struggled against better rushers -- he didn't bend well and would get beat around the edge. But he was better in the last couple preseason games.
August, 31, 2013
8/31/13
6:43
PM ET

Most significant move:
Keeping four quarterbacks with back-from-the-dead
Pat White
making the roster. Anyone who saw White throw early in spring workouts would not have predicted this scenario. But White, who has been out of the NFL the past three seasons, improved throughout the summer and the coaches genuinely liked what they saw. One coach predicted earlier in the week that he would be on someone's roster. White showed he can still run and mastered the slant routes and digs. He still needs to work on finesse throws and prove he can make throws into tight windows over the middle, but his improvement was noticeable.
However, keeping four is still a lot. But with
Kirk Cousins
nursing a sprained right foot and with
Robert Griffin
III not having played in the preseason, the Redskins might just keep White around for the first couple of games. They have roster exemptions for end
Jarvis Jenkins
and linebacker
Rob Jackson
, both suspended for the first four games, so they could make this sort of move. If Griffin and Cousins both stay healthy, it's hard to see this being a long-term situation. Still, White made big strides after a rough start.
The Redskins also opted to keep running back
Evan Royster
, who perhaps saved his job with a strong preseason finale at Tampa Bay. He's one of five running backs along with speedy rookie
Chris Thompson
.
Gone, but not yet forgotten:
The Redskins would like to re-sign a number of their released players to the practice squad, including
Chase Minnifield
,
Nick Williams
,
Tevita Stevens
,
Will Compton
and tight end
Emmanuel Ogbuehi
, among others. Minnifield's release was a surprise, given how the coaches talked about him during camp and his physical style in press coverage -- and with the loss of corner
Richard Crawford
. But the coaches liked corner Jerome Murphy's physical style as well – and his special teams ability. Williams is an intriguing prospect as a slot receiver and punt returner. Ogbeuhi is a raw prospect who needs to spend a year or two on the practice squad.
Safety
DeJon Gomes
, a fifth-round pick in 2011 and opening day starter in 2012, did not progress in coverage. Though he was better in the box, the Redskins have
Brandon Meriweather
and
Reed Doughty
ahead of him at strong safety. And they opted for
Jose Gumbs
, signed right before camp, as a swing safety.
The Redskins also placed offensive lineman
Maurice Hurt
on the reserve/physically unable to perform list. The tough cut? Receiver Dez Briscoe. According to a league source, Briscoe would have made the roster had he not injured his shoulder in the preseason finale.
What's next:
The Redskins next big moves will occur after Week 4 when Jenkins and Jackson return from their four-game suspensions. At that point end
Phillip Merling
could be in trouble, along with, possibly White, simply because it would be unusual to keep four quarterbacks all season.
The Redskins lack experienced depth along the offensive line and could always use more help at safety. So if anyone intriguing clears waivers, the Redskins would be interested. They also retain the rights to suspended safety
Tanard Jackson
, who is now eligible for reinstatement. However, it could take a while for the NFL to grant his return -- if they give it to him at all.
Redskins cuts:
RB:
Keiland Williams
,
Jawan Jamison
, RB
Tristan Davis
(from exempt/left squad list). WR:
Skye Dawson
, Nick Williams,
Lance Lewis
, Dez Briscoe (designated as injured). OL: Tevita Stevens,
Tony Pashos
,
Kevin Matthews
,
Xavier Nixon
. TE: Emmanuel Ogbuehi. DL: Chigo Anunoby,
Dominique Hamilton
,
Ron Brace
. DB: DeJon Gomes, Chase Minnifield LB: Vic So'oto, Will Compton,
Marvin Burdette
.
August, 25, 2013
8/25/13
1:20
PM ET
After watching the 30-7 win over Buffalo again, here are some thoughts on the Redskins' defense:
Saw this during the game, but wanted to see how often they ran the front with Brandon Jenkins, Ryan Kerrigan, Darryl Tapp and Brian Orakpo as their front four. Turns out they used that look three times with mixed success. Jenkins recorded a sack the first time, getting pushed to the ground but showing athleticism by reaching out to grab a panicked Kevin Kolb. Seriously, Kolb escaped as if he faced imminent danger; he did not. He put his head down and tried to run wide and Jenkins got him. I can't believe anyone ever traded a player and a second-round pick for him. The second time they used that front was a third and 12 and David Amerson extended the drive with a facemask penalty. The front applied no pressure. They used it on a third-and-3, which is usually a passing down but against that front you could justify some sort of run. Did it work this time? Well, yes and no. The Bills kept in seven to block and there were four blockers against Kerrigan and Orakpo, both on the right side. Kolb ran for a first down after leaving the pocket. So the rush occupied blockers; the coverage prevented a pass but the Bills still managed a first down.
That look works because Kerrigan and Tapp are comfortable playing inside, both having converted from defensive end. Both are strong enough and play with good leverage. But this is obviously designed for pass rushes and provides the Redskins more creative looks -- without blitzing. Jenkins, though, was easily blocked by the right tackle.
How much did the fast pace hurt Washington? It really didn't. The Redskins were quick with subs; on one play, Tapp ran from the sidelines to the huddle less than six seconds after the whistle blew. The fastest the Bills got off a snap after the whistle blew was 18.8 seconds. The Redskins weren't fooled: Orakpo took two steps up then dropped into coverage and broke up a second-down pass. The next snap came 31.4 seconds later and the Redskins were able to switch from their base front to the fast nickel with Jenkins and Tapp entering. The Redskins' first defense changed their front on eight different occasions and never looked lost. Tapp has been one of the more pleasant surprises this summer.
The one time where I thought the fast pace hurt was at the end of Buffalo's scoring drive. They had to keep the same front in the game – a big nickel with Kerrigan, Kedric Golston, Stephen Bowen and Orakpo – for four consecutive plays. They got the next play off in 20.3, 26.1 and 20.6 seconds, respectively. The final one was a touchdown of course against a tiring front.
The Bills also ran a set of their own run-pass option plays in this sequence, showing a bubble screen to one side and a run option the other way. They opted for the run on C.J. Spiller's 19-yard gain – the numbers dictated the outside would be blocked and it was. All Spiller had to do was beat David Amerson and he did. On Spiller's touchdown, they called for a bubble right. But, knowing he had six blockers to take on six defenders in the box, Kolb handed it to Spiller for an easy score.
The Redskins used their base front seven times, with Chris Neild handling nose duties for injured Barry Cofield. Neild was fine. Helped make a play with good leverage, getting under the blocker's pads and helping make a tackle. On four runs versus Washington's base coverage, the Bills managed nine yards.
I like the subtleties of the pass rush because they make a huge difference. And here's how players, and scheme, can free defenders up even in a four-man rush. When Bowen and Orakpo are on the same side if Bowen rushes inside the guard then the guard can chip him and slide back out to help the tackle if Orakpo shoots inside. That's what happened on the game's first play, though Orakpo still had a hand in Kolb's face. But later Bowen started rushing at the outside shoulder of the guard. This guaranteed Orakpo one-on-one with the tackle and the center looking to help. It did not result in a sack, but it did lead to a quick dump-off over the middle. Just something to look for at times.
The Bills rarely threw anything downfield against the starters, except for two shots versus Josh Wilson – one of which he was beaten on and drew a pass interference penalty and the other he had played perfectly and was interfered with. Their longest completion against the starters was for 11 yards on third and 15. Every other pass against the starters was for six yards or less. That's the result of having Jeff Tuel enter the game in the first quarter because of Kolb's concussion. That, of course, makes it tough to measure just how good the defense was but the Bills played starters at every other spot into the third quarter.
It's really hard to tell about coverage off a TV feed; actually, it's almost impossible unless they give you a full-field shot. So it's hard to say how the young guys played in most of their coverages. David Amerson clearly got beat off a double move in the second quarter; he was lulled by Tuel wanting to throw a quick out the other way, but corner E.J. Biggers' coverage changed that plan. So Tuel went back to the other side at receiver T.J. Graham, who had raced past Amerson and drew a 42-yard pass interference penalty. The Bills had mostly been throwing short all game, but Amerson still needed better eye discipline on that one.
Amerson continued to show a willingness to tackle, but he did miss Spiller on a 19-yard run, allowing him to get wide. That's a no-no for the corner. He also missed a tackle on a play in which Bryan Kehl forced a fumble. But earlier on that same drive Amerson had made two tackles. There's still a lot of learning going on here; it's good that Josh Wilson returned. It allows Amerson to grow without the pressures of having to start. Plus, it would be difficult to have two rookies starting in the secondary, at least initially. The secondary remains a work in progress; some good signs and some not so good.
Safety Bacarri Rambo had a better tackling game, as I wrote about in my observations. It wasn't the same looks that he faced in the first two games in terms of a dangerous back in the open field. It could have been had he not made a good, quick read on Spiller and forced an incompletion with his hit. He was decisive and drove at his inside hip, a good angle. The good news for the Redskins is that Rambo didn't miss any tackles. He just needs to be reliable back there. I don't know whether this means his tackling issues are resolved -- I'm guessing there are more lessons to be learned – but it was a good game for him to gain confidence. In coverage, the one play that stood out was the near interception. I did not see Rambo after the game to ask him this but I wonder if he didn't quite trust his eyes on this play. He saw Tuel looking at Stevie Johnson and hesitated. When he broke he was just a little late. But he showed his playmaker mentality by going for the ball.
Linebacker Brandon Jenkins' pass rushes were mixed. He had a sack, though it wasn't as if he beat the tackle on the play. He's clearly still trying to figure out what works best for him at this level; even saw him throw in a hesitation move similar to one you'd see in basketball, with an exaggerated step. It failed. But he did have a couple good rushes, including one in which he lowered his right shoulder into the tackle, then controlled him to the inside for a pressure. Two plays later he learned a lesson on awareness. As he tried to get wide of the tackle, Spiller knocked him to the ground with a block. But I really liked some of what I saw of Jenkins on special teams. He was the first one down on a kick return, shooting through an opening and nearly making a great play, though he was nudged a little off his path at the end. On the next kickoff, he blew up the blocker and the returner, Marquise Goodwin ended up tripping over him. This is where I really like Jenkins early in the season.
Said it last week, but will say it again: I really like linebacker Will Compton, a rookie undrafted free agent. He's worth keeping on the practice squad; decisive reads and showed quickness to the hole, beating the blockers. He and Bryan Kehl did a good job with the second unit. So, too, did Rob Jackson against starting offensive tackle Cordy Glenn. Jackson had two nice pass rushes and set the edge well; he did lose backside contain on one Spiller run in which he reversed field. And Darryl Tapp continues to play well. He's just a strong dude, especially in the lower half. When tight end Lee Smith would try to engage him, Tapp did a great job keeping his lower half bent enough to slightly explode into Smith's pads and not lose any ground.
Corner Chase Minnifield continues to improve and play physical. Even before Richard Crawford's injury it was real tough to see Minnifield being cut. Because of his aggressive hands, Minnifield plays receiver's blocks with good leverage. He came up aggressively on a pass to the fullback (though he was the one knocked down on his hit). And Minnifield played the "robber" play well, coming off the outside receiver to the inside one but dropping a poorly-thrown ball.
August, 20, 2013
8/20/13
8:29
PM ET
After watching the Redskins' 24-13 victory over Pittsburgh on Monday, here's what stood out:
August, 9, 2013
8/09/13
8:30
PM ET
After rewatching the Redskins' 22-21 win over Tennessee, a few opinions were solidified, some shifted a little and a few discoveries were made:
1.
Bacarri Rambo
was put in a terrible spot by his front seven on
Chris Johnson
's 58-yard touchdown run and, considering it was his first game, he had no chance. There was too much open field, though had he made the play it would have said a lot about Rambo. The fact that he did not just lumps him in with many other safeties. But the Titans' other touchdown run, by
Shonn Greene
, was a result, in part, of a poor angle by Rambo coming from deep middle. Rambo started too much inside, was a little too slow and any chance he had at making a touchdown-saving tackle was lost. Poor angles have doomed many a safety, and it's a big reason why I was surprised Rambo opened as the starter from the first camp.
[+] Enlarge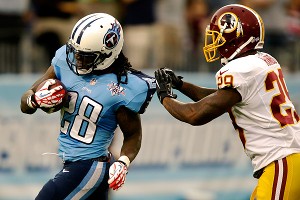 AP Photo/Wade PayneRedskins safety Bacarri Rambo (right) couldn't keep Chris Johnson out of the end zone Thursday, but it was another Titans touchdown that showed Rambo taking a bad angle for a tackle.
2. Keep in mind the Redskins do not do any live hitting or any sort of drills that simulate what Rambo witnessed last night – certainly nothing at that level of speed. A key will be how he develops in this area throughout the preseason. In the end, these plays could be beneficial to the Redskins. Same with the 15-yard late-hit penalty he received at the end of the second touchdown run. He has to play with more discipline. If the Redskins have to start multiple rookies, there will be many lessons learned.
3.
Phillip Thomas
did a good job on the first play of the game, ducking under the tight end to race across the line and help on a tackle. But he got sucked too far inside on Johnson's long touchdown run, helping to create the huge opening. Technically Johnson broke a tackle at the line, a shoestring attempt by
Brian Orakpo
. But in reality nobody had a shot at him because Thomas covered inside, then was blocked;
Stephen Bowen
and
Chris Neild
were blocked inside and Orakpo came upfield too far.
4. It wasn't just the rookies who struggled with angles. Even linebacker
Perry Riley
took a poor one on a pass completion, leading to a 13-yard gain when Riley went too wide to the inside, allowing Greene to get wide.
5. The difference with Orakpo on the field? On the
Ryan Kerrigan
sack, the guard blocked Bowen, then allowed the center to take over while he slid to his left in case Orakpo cut inside vs. the tackle. This left Bowen in a one-on-one situation with the center. When the outside rushers Orakpo and
Brandon Jenkins
pinched the pocket, Titans quarterback
Jake Locker
could not step up because Bowen had collapsed the middle. Too often last year Bowen received double teams and could not be as effective.
6. Another point on Kerrigan's sack: It came when he was aligned in a four-point stance vs. the guard. But the real point is that it allowed him to use his favored rip move. One difficulty doing it outside is that tackles can keep a distance and negate this move. Much tougher to do that inside, and sure enough it worked for Kerrigan. It'll be interesting to see how defensive coordinator Jim Haslett works his linebacker group in pass-rush situations.
7. I also forgot to note in the Ten Observations another play that stood out with Orakpo: Ducking under the left shoulder of the tackle en route to a sack. It was an impressive display of balance and explosion, one that
Michael Roos
could not handle. The Redskins had rushers go by linemen last season; not like this.
8. This wasn't exactly Ken Houston stopping Walt Garrison, but it was a good job by
David Amerson
to stop
Kenny Britt
on a third-and-4 pass, leaving the Titans a yard short. Amerson played more physical than he had showed at N.C. State last season. He won't look pretty in this role at times, but he just needs to be willing. He did allow himself to be cut by a blocker on one run; he'll learn how to avoid those situations.
9. Brandon Jenkins did a nice job on some rushes, but his spin move will need refining. It did work one time when he dipped his right shoulder into the right tackle and spun back inside. It worked this time. But the next time he tried it, Jenkins appeared to start his spin a bit early and the right tackle had no trouble adjusting. He's going to be at his best when paired alongside Kerrigan and/or Orakpo. I also think Jenkins will be a nice addition on special teams.
10. Seemed like
Bryan Kehl
was a step slow to the ball Thursday night, or a step slower than I expected at least. He didn't really make any plays. Undrafted free agent
Will Compton
, playing alongside him, was decisive, but he has a ways to go.
Roddrick Muckelroy
did not distinguish himself, missing a couple tackles. He also got sucked up on a play-action pass on Tennessee's second-half touchdown in which the flat on his side was wide open.
11. If you saw any of Chase Minnifield's jams, you understand why the coaches consider him the most aggressive corner in this area. He practically jumps at the receiver and I worry sometimes about him getting off-balance. But I haven't seen that happen yet. And I like how willing he is to hit.
12. One reason I like
Richard Crawford
is because he's a smart player. In talking to him last year, it's easy to see him becoming a coach someday. So it wasn't a surprise that he knows how to play as a small corner. On his near-interception, Crawford forced the quarterback into a tough throw by being in good position in terms of his depth. When you're shorter, you have to understand how to play and Crawford doesn't have Amerson's length. So he must be in even better position, and on this play he was.
13.
Phillip Merling
did what a veteran should do against backups: play well. He's held his own against the No. 2 linemen in camp and he played with power Thursday.
Chris Baker
also showed a little bit at times; his best rush came when he remained low – that's a lot of heft driving a lineman back. Baker did make a play by beating the tackle. There was one time in which he appeared to get upfield too fast and vacated his gap, leading to a hole and solid run.