NFC East:

Will Mongtomery
March, 20, 2014
Mar 20
11:30
AM ET
Because I'm thinking too much about the offensive line and what the
Washington Redskins
are doing:
At coach Jay Gruden's introductory news conference, he talked about wanting to have versatility and variety in the offense. So he wanted to use the zone read (some) and he wanted to run power. Here's what he said:
"I like the power plays. I like the gap-blocking plays. So there's a little bit of everything. I don't think any offense in the NFL anymore is just, 'We are this.' I think we have to adhere to what we have offensively, talent-wise. We can do the read-option. We can do naked bootlegs. We can run outside zone. We can run bubble screens. We can run deep balls. We can do play-action deep things. I think the whole idea to be a successful offense is to be diverse and be good at a lot of different things and not just one."
So it's no surprise that when looking at offensive linemen in free agency, he's opted for players with a little more size. That doesn't mean the Redskins will abandon what they had done in the past. This offseason, offensive coordinator Sean McVay said, "The run game will be very similar." But it does mean that they want players who can perhaps be capable of doing more.

McGlynn

They hosted two linemen Wednesday: former Saints center Brian de la Puente and ex-Colts guard/center Mike McGlynn. De La Puente weighs 306 pounds (former center Will Montgomery weighs 304; Kory Lichtensteiger, who will move to center, weighs between 280-285 but is adding 10-15 pounds in the offseason. I'm anxious to see Lichtensteiger at center; I've long thought that would be his future home and agree with Chris Cooley that he would be good here).
McGlynn weighs 325 pounds. The problem here: he struggled big time at guard by all accounts last season. As much as everyone wants to hammer the Redskins' offensive line, few were worse than Indianapolis' -- especially in the interior. Where McGlynn started. But he started three games at center and, again, according to those who watched the team on a daily basis, he fared much better.
Here's what ESPN Colts reporter Mike Wells wrote about McGlynn: "McGlynn was in a tough position last season. He started 11 games at guard but he's weak at that position and was part of one of the worst interior offensive lines in the league with center Samson Satele and guard Hugh Thornton. ... Slide McGlynn to center, which happened three times because of injuries to Satele, and all is better for him because he plays the position better than Satele. ... Colts coach Chuck Pagano had an opportunity to keep McGlynn at center and bench Satele in the playoffs but he decided against it."
And here's what Stephen Holder, a Colts' beat reporter for the Indianapolis Star, wrote about McGlynn: "McGlynn was not a strong performer when used at guard this season, but he and the line overall played better when he was the starting center (he started three games). If the Colts offer a contract to McGlynn, expect it to be modest in value and look for McGlynn to have to compete for playing time and/or a roster spot."

De la Puente

De la Puente did not exactly play with a lot of power in New Orleans. I saw him get moved back in a couple games, but I also saw him be effective when on the move -- whether to block a linebacker or maintain leverage on a defensive lineman.
I think he was helped playing with Saints quarterback Drew Brees; the bulk of his throws (54 percent) were unloaded in less than three seconds. Robert Griffin III unloaded in that amount of time 45 percent of the time (according to ESPN Stats & Information).
But the point is it's not as if De la Puente would be a bad fit for some sort of outside zone-based scheme (if they sign him, that is). Actually, he's probably a good fit. Nor would his signing signal some shift to a strictly power-based run game. It does sound as if he was a smart center with the Saints, so that would be good.
Newly-signed guard Shawn Lauvao weighs 315 pounds, about the same size as Chris Chester (Josh LeRibeus is bigger, though his listed weight was 315 pounds last season). So if Lauvao and Chris Chester are the guards (not sure yet if that will be the case; if they sign someone else, then I'd imagine a current Redskins linemen could get released and Chester represents $2.7 million in cap savings) then that would give them a bigger tandem than the past couple years. But both are capable of running outside zone plays -- word out of Cleveland is that this style would fit Lauvao. And Chester is not a power blocker.
Point is, the Redskins still don't look like they're abandoning what they have done in recent years with the run game. But that doesn't mean it will look exactly the same, and other aspects will be emphasized because Gruden will want to incorporate some of his style. It is his offense after all. Some of the changes they're making, or trying to make, are as much about performance as scheme.
February, 4, 2014
Feb 4
2:30
PM ET
Monday was the first day teams could start releasing players -- and therefore putting in waiver claims when applicable. The Redskins obviously did not release anyone Monday. Nor did they claim anyone off waivers. As of now, Washington will have approximately $30 million in salary-cap space (which could change once the NFL releases the cap figure for 2014). So the Redskins don't have to free up a lot of room. Except that re-signing
Brian Orakpo
could be expensive and they have an entire secondary of free agents -- so they'll have be to re-signed or replaced. At some point the Redskins might need more room.
Here are some Redskins players to watch now that they can make moves:
Defensive end Stephen Bowen
(potential savings: approximately $2 million): Bowen is scheduled to count $7.02 million against the cap in 2014. He also has just one year left on his original contract and if released, the dead money from his deal would count $5.04 million against the cap so the Redskins would save nearly $2 million. If not for his knee injury, Bowen would not be on this list. It's not as if he was playing great before his injury, though his play against the run remained solid -- and that was his primary job. But he had microfracture surgery this past season and that's never a good sign for a pro athlete. He turns 30 in March.
[+] Enlarge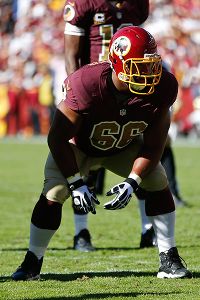 Geoff Burke/USA TODAY SportsWith a new regime in Washington, guard Chris Chester could be a cap casualty.
G Chris Chester
(potential savings: $2.7 million): He's signed through 2016, but will count $4.3 million against the cap this season. If they cut him, the final $1.6 million of his original $4 million signing bonus would go against this year's cap, giving the Redskins an additional $2.7 million in savings. Chester played better in 2012 than this past season, but the Redskins did not consider any of the young guards good enough to challenge him. It helps Chester that line coach Chris Foerster will return and that they'll use the same running game. But if the Redskins want to not only re-sign key players, but pursue other big free agents, then Chester could be a casualty. Jay Gruden's guards in Cincinnati all weighed over 300 pounds; Chester, at 305 pounds, is borderline here. He's also 31 and the Redskins have several young offensive linemen behind him. The reason you drafted them was for situations like this if you want to make a move. Of course, one of the young guards is
Adam Gettis
, who is lighter than Chester and the other is
Josh LeRibeus
, who messed up his second season with a terrible offseason.
DE Adam Carriker
(potential savings: $2.98 million): Most players who have had multiple surgeries on their quad in the past 18 months would not be in his situation, still pursuing a roster spot. The Redskins would have cut him last summer had he not worked the way he does. But Carriker will count $6.5 million against the cap in 2014. If they release him, it would save Washington $2.98 million. They could always re-sign him to a lesser deal; considering he's missed 30 games the past two years combined Carriker lacks leverage. As of now, Carriker would account for nearly 20 percent of the salary-cap space on defense. He might return and be fine, but that's an awful lot to commit to a player in his situation.
C Will Montgomery
(potential savings: $1.93 million): He'll count $3.43 million this season and, though he's signed through the 2016 season, his contract voids five days following the Super Bowl in February 2016. If they released Montgomery the Redskins could save $1.93 million against the cap. The Redskins would then need a starting center, of course, but could always move
Kory Lichtensteiger
from guard. Lichtensteiger will need to gain weight regardless; by the way, if they cut him it would free up $1.1 million.
RT Tyler Polumbus
(potential savings: $2.5 million: His base salary is $1.5 million and he also has an annuity that will pay him $1 million based on play time and would be considered likely to be earned, therefore it would count against the cap). If the Redskins find another starting right tackle, be it
Tom Compton
or someone else, they could free up extra money by releasing Polumbus, unless they want to keep him around as a swing tackle. Polumbus improved, but the Redskins could upgrade here.
P Sav Rocca
(potential savings: $1.2 million): He's entering the final year of his contract and will have a cap number of $1.36 million. If released, the Redskins would save $1.2 million. Rocca's been inconsistent the past two years and while this is moderate savings, they'd still have to sign a punter so it's not like they could use a lot of this savings and apply it elsewhere. But in the end they could save some money with another punter.
October, 15, 2013
10/15/13
11:05
PM ET
Thoughts and observations on the offense after rewatching the Redskins-Cowboys game:
The line had way too many issues against Dallas' front. But the problem is that the interior's struggles come against the sort of players Dallas has in its line: bigger, physical players. It's not that they outweighed the Redskins' front by a lot, but Jason Hatcher, for example, is 6-foot-6, 299 pounds. He's a strong man, too. That's why the Redskins' game plan was to get them running side to side and tire them out. It didn't work. Once again: This group is best on the move and using play-action. But the receivers need to help by winning more battles against man coverage.

I wrote Sunday that Kory Lichtensteiger was off to a good start. Dallas was not his best game. Both he and right guard Chris Chester had tough nights. They both tried to attack the tackles at times and saw it backfire. But mostly it was about physics. In general, the line did not hold its second-level blocks well either.

[+] Enlarge

Richard W. Rodriguez/Fort Worth Star-Telegram/Getty ImagesAlfred Morris did not have a great game Sunday, and part of that may have been down to the Redskins' troubles containing Dallas' front four.

On one play in the red zone, it took four Redskins blockers to handle the Cowboys' tackles. End DeMarcus Ware moved inside against tight end Jordan Reed to make the tackle. Alfred Morris would not have gained a lot on this play, but the ability of Dallas' front to hold the double-team was impressive.

Center Will Montgomery needs to finish his block on linebacker Sean Lee in the first quarter; it would have a led to a Robert Griffin III touchdown. But you also have to give Lee a ton of credit for the play he made. That guy is underrated. Anyway, he slid to avoid the cut block, started to the ground, balanced himself with his left hand, bounced up and wrapped up Griffin.

Josh Morgan is turning into a poor man's James Thrash with his expanded special-teams duties (he's not nearly as good as Thrash on special teams, of course). And when he's in the game it seems like he's mostly asked to block. Just like Thrash.

I wish I had an answer for why there seems to be so many times when Griffin will turn one way and the running back will go the other. It happened again Sunday. A draw play was delayed, too. Griffin turned to hand it off but Morris was not yet coming forward. I don't care whose fault it is; it's just sloppy.

This is not a matchup I would want again. The Redskins ran a failed screen pass to Roy Helu in the fourth quarter, in which receiver Leonard Hankerson motioned to the backfield and had to block the defensive end. Guess the result: Hankerson got moved back a couple yards and bumped into Helu. Because of that, the screen was delayed and resulted in an incompletion.

I love watching Reed get open off the line in man coverage; it's probably the thing that jumped out at me the most in training camp. I do want one question answered about him in zone coverage. There was one pass that eventually was batted away by Lee in zone. He did not find the soft spot.

The Redskins showed their full-house pistol look (or diamond formation) with Reed and Fred Davis both in the backfield. They ran out of this set, with both players pulling; eventually they will pass out of it. They need to find a way to get Davis more involved in the passing game. If they could find throws for Niles Paul last season, they can find some for Davis this year.

Reed and Davis helped clear the outside on one Morris run; he helped by pressing the outside, but both Reed and Davis controlled their blocks, with Davis on the end. Reed works really hard when he blocks. He's not perfect, but he seems to concentrate hard on this role. Liked how he used his feet to get an edge on Lee on one screen to Santana Moss. And I liked how Reed stayed low and balanced as he ran to block the safety.

Morris didn't have a great night, but he did an excellent job selling the play-side run on his touchdown. It's still something Helu does not do as well; too bad you couldn't combine Morris' patience with Helu's burst. Anyway, Morris got the linebackers to flow hard to that side, allowing Montgomery to block Lee and left tackle Trent Williams to cut another linebacker and then Lichtensteiger to seal the inside. You can also see an example of Morris looking past his next cut. After he makes his first cut and is into the second level, he's eyeing the green grass ahead and not the closing defensive backs, both of whom missed.

Pierre Garcon showed his frustration a bit too often, with hands on hips after several misses or with gestures. But I'd never extinguish that fire. On one play, cornerback Brandon Carr was about 15 yards from the ball. As he jogged to contain the backside Garcon engaged him hard and blocked him that way until the whistle.

On the dropped interception by safety Barry Church, a reason why Lee was in Griffin's face on the throw: Helu's inability to pick him up. Helu did not square him up in the hole, giving Lee a chance to run through him. Garcon was open, too.

Didn't like the separation the receivers got against man coverage. Against some corners Garcon is able to box them out for the ball, but that was harder to do with Carr (6-foot, 206 pounds). I wrote about this play in my RG III report, but I left out one part: On the failed out route to Garcon in the fourth quarter (just before the missed field goal), the ball was delivered late. But Garcon did not get Carr to bite on an inside stem and therefore was covered.
NFC EAST SCOREBOARD
Saturday, 12/20
Sunday, 12/21