March, 25, 2010
3/25/10
2:27
PM ET
By
Matt Mosley
| ESPN.com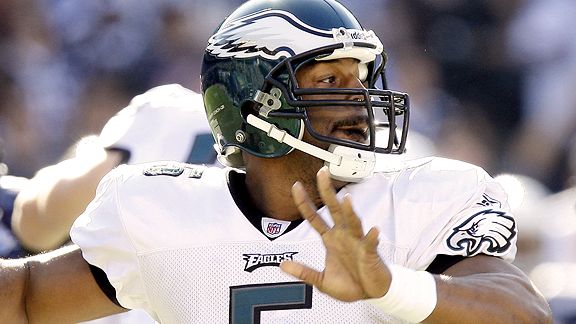 Jody Gomez/US PresswireMight quarterback Donovan McNabb be on the move? The Eagles are said to be entertaining offers.
ORLANDO, Fla. -- If you were hoping the
Donovan McNabb
era would officially end in Philadelphia, Tuesday and Wednesday provided watershed moments. Andy Reid, perhaps McNabb's biggest defender, said he's all ears if someone wants to trade for the veteran quarterback.
Reid's statement after the season that McNabb would be his starting quarterback in 2010 was left dangling in the wind, although we're reviewing tapes to see if his fingers were crossed. I've had the sense for the past two months that club president Joe Banner and new general manager Howie Roseman were leaning toward moving McNabb, but it was hard to imagine Reid getting on board.
On Tuesday in a Ritz-Carlton restaurant, Reid sounded the retreat. He told a Philadelphia Inquirer columnist the Eagles were "entertaining" offers on all three quarterbacks, but McNabb was obviously the headliner. Despite the infamous '08 benching in Baltimore, Reid and McNabb have remained close over the past decade. But apparently someone in the building has convinced Reid that he should at least be open to the idea of moving McNabb while he still holds some trade value.
On Tuesday afternoon, while other head coaches rushed off to tee times, I saw Reid, owner Jeff Lurie, Banner and Roseman huddle for several minutes in a breezeway outside the hotel. About 30 minutes later, Reid was uncharacteristically spilling his guts to a Philadelphia newspaper. At 7 o'clock the next morning, Reid attempted to temper some of his remarks.
"I'm listening," said Reid. "I'm not saying I'm doing anything, but I'm keeping my ears open, which we do on every player. This is no different. ... I mean, Donovan's our No. 1 quarterback, and
Kevin [Kolb
]'s our No. 2 quarterback, and
Michael [Vick
]'s our No. 3 quarterback. That's how I feel."
So this is no different than, say, trading for linebacker
Will Witherspoon
during the regular season? No, this is
way
different than any trade Reid's been involved with. He's openly admitting that the one player his coaching career is most intertwined with is being shopped. And the point that some folks are missing is that Reid's also showing immense trust that the 25-year-old Kolb can hit the ground running as the franchise quarterback. (Try not to think about the fact the Eagles will enter 2010 with major questions at center and right guard, Kevin.)