August, 8, 2013
8/08/13
5:00
PM ET
Maybe it was out of need; maybe it was about finding a gem. Most likely it was a little of both. Regardless, Redskins coach
Mike Shanahan
has kept an undrafted free agent in two of his first three camps in Washington. It'll be tougher this year because the Redskins are deeper than they were in 2010 when tight end
Logan Paulsen
, returner
Brandon Banks
and running back
Keiland Williams
all made the cut. A year later tackle
Willie Smith
made the roster. Paulsen has developed into a solid blocker and Williams, noted for his special teams play, is on the bubble. Banks and Smith are gone.

Last season? Nobody made it -- though if Chase Minnifield had stayed healthy he would have. Then again, if he had been healthy before the draft he'd have been a third-round pick at worst. The Redskins had drafted 21 players in 2011 and '12 combined, making it tougher for an undrafted free agent to earn a spot. It'll be more of the same this year, but here's a breakdown of this year's group:
August, 1, 2012
8/01/12
3:16
PM ET
It's easy to come away from a couple of days at
Washington Redskins
camp impressed with rookie quarterback
Robert Griffin III
. It's also easy to see that the Redskins face some issues with the offensive line that's in charge of protecting him. This is the topic of my
Blogger Blitz video
for the week, which was ironically filmed in a dorm lounge at Lehigh University, the site of the Eagles' training camp. I keep writing this stuff because it helps me remember where I am from day to day.
Anyway, yeah, Redskins' offensive line. Played OK last season when everyone was healthy, they
got relatively good news
on the health of right tackle
Jammal Brown
and they expect left guard
Kory Lichtensteiger
to be back in time for the start of the season. So if those guys are both OK and can stay that way, there's a chance things could be all right. But just because Brown doesn't need surgery on his hip doesn't automatically mean that hip will be healthy enough to allow him to be a productive player for them all year. And just because Lichtensteiger doesn't have knee-ligament damage doesn't mean he won't have another setback or be slow to regain his own form. The Redskins believe they have more depth than they did last year that these positions, if only because guys like
Tyler Polumbus
,
Maurice Hurt
and
Willie Smith
got some experience as starters last season. But if the line looks shabby in late July and early August, it's reason for a certain degree of concern.
In related news, John Clayton has his
observations from Redskins camp
, where I ran into him yesterday. And my Redskins "
Camp Confidential
" is on the schedule for Thursday, so keep an eye out for that. It should be great, but I can't be sure, since I haven't started writing it yet. Wait. Did I say that out loud?
July, 26, 2012
7/26/12
6:15
PM ET
After the
Washington Redskins
' first training camp practice, coach Mike Shanahan told reporters that right tackle
Jammal Brown
had been placed on the physically unable to perform list due to his recurring hip injury. Rich Campbell of the Washington Times
reports via Twitter
that Brown's hip tightened up on him Wednesday and that he will have an MRI.
Brown
This is distressing first-day news for the Redskins for a couple of reasons. First, an offseason of yoga and other new training was supposed to have resolved Brown's hip problems, and the Redskins were counting on him coming to camp healthy. And second, they really don't have any good options to replace him.
The Redskins looked at tackles during free agency, bringing in
Demetress Bell
when his name was Demetrius and before the Eagles signed him to be their left tackle in the wake of the
Jason Peters
injury. But they didn't sign anyone, and as of minicamp last month their hope was that Brown would be healthy enough to start for them.
What they do have going for them is that the season is still six weeks away, and this is a problem that could blow over. But because it's Brown, and because it's the hip, there's a here-we-go-again feel to it. The best thing they can say about potential replacements
Willie Smith
and
Tyler Polumbus
is that they got some experience late last year when Brown was hurt and left tackle
Trent Williams
was suspended, so they're a little more prepared to step into the zone-blocking scheme than they were a year ago. They also have former Buccaneers tackle
James Lee
, a five-year veteran, in camp, and they like sixth-round draft pick
Tom Compton
, though he's a rookie and likely a long-term project.
Basically, if Brown is hurt, the Redskins start the season with their offensive line a bigger question mark than it already was. And considering that they have a very pricey rookie quarterback to protect and that their run game depends on the cohesive blocking schemes of the line, this is no small issue.
June, 15, 2012
6/15/12
12:08
PM ET
My
Washington Redskins
fans ask a lot about tight end
Chris Cooley
, who's one of their favorite players but hasn't been the same the past few years due to injuries, the emergence of
Fred Davis
and some other factors. The most common question I get about Cooley these days is whether he's a sure thing to be on the Redskins' 2012 roster. And after spending a couple of days earlier this week at Redskins minicamp and talking to Redskins people there, I can definitively tell you this: I don't know.
[+] Enlarge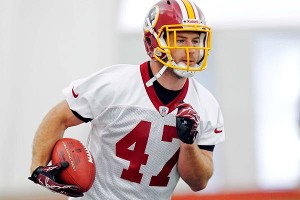 Geoff Burke/US PresswireRedskins TE Chris Cooley, hampered by injuries last season, returned to the field in May for OTAs.
The two biggest things working against Cooley are health concerns and his salary. Cooley missed 11 games last year with hand and knee injuries, and he's been limited this offseason by knee, hamstring and groin problems. He turns 30 next month, and while a writer who turns 40 next month would never, ever suggest in print that 30 is old, it is an age after which injuries don't generally become less of a problem for an NFL player. (Or, for that matter, a writer.) There is some skepticism in the building about whether Cooley can be healthy enough to help, and with Davis now one of the best receiving tight ends in the league and
Niles Paul
being groomed as a tight end, it appears Cooley might have to accept a greatly reduced role.
With that, of course, could come a greatly reduced salary. Cooley is scheduled to make a base salary of $3.8 million this year, and it's unlikely the Redskins could or would want to keep him at that number, given their league-imposed cap difficulties and Cooley's status as the No. 2 or No. 3 tight end on the roster. Cooley may have to accept a pay cut if he wants to stay.
What's working in Cooley's favor, of course, is the sort of guy he is and his affinity for the team for which he plays. He loves playing for the Redskins and likely would accept a reduced salary and/or a reduced role if that's what it took to stay. He also could show in training camp and the preseason that he's healthy enough to play a larger role than they currently suspect he can. So the situation remains fluid, and Cooley's status is far from determined.
Some other notes left in my notebook from my Tuesday and Wednesday in Ashburn:
-Mike Shanahan has no concerns about Paul's ability
to develop into a passing-game weapon as a tight end: "I had
Shannon Sharpe
, and I also had
Byron Chamberlain
,
Billy Miller
, Desmond Clark… I've had a lot of wide receivers that have been tight ends that have wound up playing at a very high level," Shanahan told me. "And this kid is faster than all of them. He's probably as physical as any receiver I've ever been around. You watch him as a gunner on the punt team. And defensive backs, I don't care whether it's a safety or a corner, they can't slow him down. He's under a 4.5 (40-yard dash time) guy. There aren't too many tight ends at 235 pounds who can run like that."
The only question about Paul is whether he can block well enough to really be an effective replacement for Cooley if it comes to that. I asked Shanahan that question directly, and while he didn't want to talk specifically about Cooley's status, he did mention Cooley was exceptionally strong as a blocker and there's no way to know how Paul will do as a blocker until the portion of the offseason in which the players are allowed to put pads on and make contact with each other.
-The running back situation remains a muddle
, as
Tim Hightower
,
Roy Helu
,
Evan Royster
,
Tristan Davis
and fullback
Darrel Young
all missed minicamp practices this week with injury issues. This resulted in a lot of carries for
Alfred Morris
in practice. The Redskins like their depth at this position if everyone's healthy, but they'll continue to monitor everyone's health, especially Hightower's as he recovers from last year's ACL tear, and decide whether they need to bring another running back to camp next month.
-All eyes on the offensive line
are on right tackle
Jammal Brown
. The Redskins looked at options for replacing Brown but couldn't sign any of them, and now they're hoping he stays healthy. If he can, they love what he brings to their zone blocking scheme. An offseason yoga regimen is said to have improved Brown's flexibility and eliminated some scar tissue. And if he does struggle with his health again, Shanahan mentioned
Willie Smith
,
Tyler Polumbus
and
Maurice Hurt
as guys who impressed and improved when pressed into service last year and
James Lee
as a veteran who has some experience in the NFL. Basically, he feels a little better about his depth behind the starters on the line than he did a year ago.
-Roster overhaul.
Since Shanahan took over before the 2010 season, the Redskins have cut 150 players, and only one of those players -- San Francisco's
Carlos Rogers
-- is currently starting for another team.
-Wow. Would you look at that?
More than 800 words on the Redskins and not one mention of the rookie quarterback. Bet you didn't think it could be done.
June, 8, 2012
6/08/12
10:04
AM ET
Picking up our occasional series looking at each of the NFC East's four teams on a position-by-position basis, today we will examine the offensive lines. They all come with questions this year, and we'll start with the one that may have the most -- that of the
Washington Redskins
.
Projected starters:
LT
Trent Williams
, LB
Kory Lichtensteiger
, C
Will Montgomery
, RG
Chris Chester
, RT
Jammal Brown
Reserves:
T
Willie Smith
, T
Tyler Polumbus
, T
Tom Compton
, T
James Lee
, G Josh LeRibeus, G
Adam Gettis
, G
Maurice Hurt
, G/C
Erik Cook
[+] Enlarge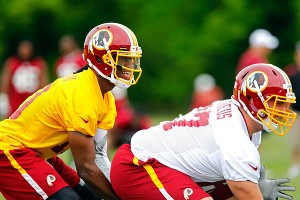 Geoff Burke/US PresswireThe Redskins drafted a couple of offensive linemen, including Josh LeRibeus, right, who they feel will thrive in the team's zone blocking scheme.
Potential strength:
The Redskins believe the strength of their offensive line is in the scheme -- specifically the zone-blocking run game. Mike Shanahan tells them stories of Terrell Davis glory days and all of the running backs who had success with him in Denver and convinces his linemen that they can make stars of their backs if they learn the scheme and stick to it. For that reason, they look for specific kinds of linemen who can do what they do in the run game. The third-round pick of LeRibeus and the fifth-round pick of Gettis stand as examples of that -- the Redskins targeting specific players because they believe they could fit the zone-blocking scheme -- and for that reason don't be surprised if one (or even both) of them works his way into the starting mix before long.
Potential weakness:
The problem last year was a lack of depth behind the starters. The line was playing well during the 3-1 start, but injuries to Williams and Lichtensteiger, along with the ongoing hip issues that limited Brown all year, left them exposed. I believe this remains a weakness, especially with Lichtensteiger and Brown continuing to carry injury questions. Yes, they added pieces in the draft, but they can't be sure either of those aforementioned guys is going to be ready soon. And although Lee comes with something of a résumé as a potentially solid backup, a major injury to a starter could force someone from the Smith/Polumbus/Hurt group to show more than they showed last year when thrust into a replacement role. I'm also not sure Montgomery is the long-term solution at center, and if they do develop someone at that spot this year or in the future, they could move him to one of the guard spots. That would help the depth.
Keep an eye on:
Williams. He's the most important part of this whole mix -- the franchise left tackle and former No. 4 overall pick in the draft. He missed the final four games of 2011 due to a drug suspension, so all eyes are going to be on him to make sure he stays clean, first of all. And assuming he's on the field for 16 games, he needs to find a way to make them 16 consistently good games. Redskins coaches have no problem telling you that, while they've seen the flashes of brilliance from Williams, the important thing is for him to bring that brilliance consistently. They believed he was making strides in that area last year before the suspension, and if he emerges as a top tackle this year, that will go a long way toward helping this line be a helpful unit.
April, 9, 2012
4/09/12
6:22
PM ET
Yeah, I know. You want to know when the
Washington Redskins
are going to re-sign
London Fletcher
. Don't have anything for you on that. All I can tell you is that they still plan to do it, he hasn't signed with anyone else yet and there are five months left before the season starts, so there's no real reason to worry that I can see.

In the meantime, though, they are still working. Mike Shanahan has said many times that the biggest thing the Redskins have lacked since he got there was depth. Having struck out in their pursuit of an upgrade at right tackle, they announced Monday that they have signed tackle James Lee, a former Buccaneer and Brown who will be thrown into the reserve tackle mix along with
Willie Smith
and
Tyler Polumbus
. He provides some level of veteran insurance in case
Jammal Brown
still can't shake his hip injury. At this point, with the top free-agent tackles all signed elsewhere and unless they can find a starter in the third round of the draft or later, the Redskins' best bet at right tackle is a healthy Brown. They just need to make sure they have some coverage in the somewhat likely event that Brown is not healthy.
Earlier in the day, ESPN 980 in Washington reported the Redskins had agreed to terms with defensive end
Kedric Golston
, who played for them last year and gets thrown into the defensive line mix. Having already re-signed
Adam Carriker
earlier in the offseason, and expecting
Jarvis Jenkins
back from the injury that cost him his rookie season, the Redskins believe their defensive line depth is a strength of the team. They signed defensive linemen
Stephen Bowen
and
Barry Cofield
in free agency last year, and both are back as projected starters in 2012.
Expect the Redskins to keep making depth moves in advance of the draft. They had defensive back
Madieu Williams
in for a free-agent visit last week, and they still intend to re-sign Fletcher and running back
Tim Hightower
.
December, 22, 2011
12/22/11
8:00
AM ET
It's quiet this morning. Too quiet. Quick, somebody put a microphone in front of a Giants or Jets player while I work on these links.
Dallas Cowboys
Rookie right tackle Tyron Smith has been one of the Cowboys' best players this year, but
he knows he's got his hands full
Saturday against red-hot Eagles pass-rusher Jason Babin, who has six sacks in his last two games, a league-leading 18 for the year and got the better of Smith the last time they faced off.
Brandon George explains why the Cowboys
aren't even allowed
to negotiate a contract extension with surprise standout wide receiver Laurent Robinson if they want to before the end of this season. Expect the Cowboys to make him one of their priorities when the season ends, but he's likely to have other suitors as well and drive the price up. Which is the point of this vested-veteran rule.
New York Giants
Gary Myers writes that, if Eli Manning wants to keep Tom Coughlin around as his head coach,
he'd do well to deliver him a win
on Christmas Eve against the Jets. A loss would drop the Giants to 7-8 and possibly out of the playoffs for the third year in a row. And whether you blame Coughlin for this season or not, the recent history just isn't real helpful to his chances.
The Jets' wide receivers have the rings and the cool nickname, Johnette Howard says, but
the Giants' wide receivers are simply better
. This is likely why Hakeem Nicks, Victor Cruz and Mario Manningham were so confident and unflinching Wednesday in discussing the Jets' defense and top cornerback Darrelle Revis.
Philadelphia Eagles
Les Bowen writes on the development over the course of this season of the Eagles'
young and much-maligned linebacking corps
. There's no question that the Eagles' defense, and especially this unit, is playing much better than it did over the first half of the season. The problem is that the youth and mistakes of the linebackers were a big reason for the rotten start. So as much as they're doing to try and salvage things now that they're all more comfortable, it's likely too late.
Juan Castillo is headed home to Dallas for Saturday's game, and given the way this season has gone for him, it's
anything but a triumphant homecoming
. One has to wonder what level of miracle has to occur over the final two games or even beyond for Castillo to return as the Eagles' defensive coordinator in 2012.
Washington Redskins
Hey, remember what we were talking about up at the top with the Smith-Babin matchup? Well, the Redskins have a rookie tackle, too -- Willie Smith, who's been pressed into left tackle duty by the Trent Williams drug suspension. And he gets to go up Saturday against Minnesota's Jared Allen, who has 17.5 sacks and is right there behind Babin in the race for the league lead.
Tough test for young Willie
, to be sure. But the Redskins are checking him out to see what he might be able to offer in 2012 and beyond.
Redskins coach Mike Shanahan thinks Lorenzo Alexander should have received more votes than he did from fans
as a special-teams Pro Bowler
. Alexander is a bit of a coach's dream. Since Shanahan got there, he's moved Alexander from defensive lineman to outside linebacker and then to backup linebacker/special-teams captain. Alexander makes nary a peep, just works and plays his tail off and sets a great example for the younger players on the team. It's no surprise his coach feels strongly about him and wants to help get him some recognition.
December, 16, 2011
12/16/11
4:07
PM ET
It didn't slow their offense down last week against the Patriots, but the
Washington Redskins
will once again be without both of their starting offensive tackles when they take on the
New York Giants
on Sunday. Left tackle
Trent Williams
is serving the second game of a four-game drug suspension, and right tackle
Jammal Brown
, who injured his groin warming up before the New England game, still isn't ready to go.

According to
Redskins.com
, that means
Tyler Polumbus
draws a second straight start at right tackle while
Sean Locklear
and rookie
Willie Smith
will split reps at left tackle. The Redskins rotated Locklear and Smith throughout the game last week in an effort to find out what they have in Smith for the future while not over-taxing him by giving him a starter's workload this late in his rookie season. Smith was an undrafted free agent last offseason, and it's possible the Redskins would like to know if he factors into their plans beyond this season and, if so, to what extent.
Under normal circumstances, an offensive line playing without its starting tackles would be the equivalent of fresh meat for a Giants' defense that relies on its front four to pressure the quarterback. But as brilliant as defensive end
Jason Pierre-Paul
has been,
Osi Umenyiora
is out with an injury and
Justin Tuck
is dealing with a toe injury that could limit him or even keep him out of Sunday's game. So the Redskins might be getting a break by facing the Giants when the Giants are at less than full strength on their defensive front.
December, 14, 2011
12/14/11
8:00
AM ET
Good morning and a happy Wednesday to you all. I hope your holiday shopping is going well enough to allow you to spend some time hanging out here on the NFC East blog today. We have another edition of the All-Division Team on the way and a number of other goodies planned. But as always, we start you off with a big plate of links.
New York Giants
Paul Schwartz caught up with Manny Martin
, the Florida high school football coach responsible for turning Jason Pierre-Paul from a basketball player into a football player when Pierre-Paul didn't want to make that switch. Martin was the defensive coordinator at Deerfield Beach High School at the time and was struck by how long Pierre-Paul's arms were. "The kid could stand up and probably scratch his kneecap without even bending over. I just knew he had a body frame to be a nice defensive end." Martin knew it before Pierre-Paul did, apparently.
Antrel Rolle's New York radio appearances are getting more wide-reaching and bizarre every week. This week, he ranted against those who blamed him for Dez Bryant's wide-open touchdown catch Sunday (without explaining what did happen on the play) and said he "doesn't plan on losing to the Redskins" this Sunday. Remember, Rolle was one of the most vocally furious Giants players about the season-opening loss to Washington, saying at the time that, if the teams played each other 100 times, the Giants would win 95.
He apparently now has that number at 99
.
Dallas Cowboys
Todd Archer says that, for the Cowboys to
recover and make the playoffs
, they need Felix Jones to run the way DeMarco Murray was running. The issue as I see it is not whether Jones can be a full-time starter or rack up yards, but rather what happens at the end of games. That's what changed most about the Dallas run game when it switched from Jones to Murray -- the ability to grind out the clock by picking up first downs on the ground in the fourth quarter. They couldn't do it earlier in the season with Jones, they could with Murray, and now they're back to Jones again. So they'll have to show something they haven't been able to show with him as the starter in the past.
Mike Jenkins tells Calvin Watkins that the problems in the secondary are the result of
communication issues
, that the Cowboys have identified them and know what it is that they need to improve on. Saturday's game in Tampa Bay gives them a chance to get things right. The free-falling Bucs have lost seven games in a row, and if Dallas can't come up with a way to win that game, then their issues run too deep to fix before the end of this season.
Philadelphia Eagles
Michael Vick says he
wasn't 100 percent healthy
Sunday in his return after missing three games with broken ribs. But he doesn't think that was the reason he had so many passes batted down, because as he points out, that's been happening to him all year. I don't think it's as simple as Vick being relatively short for a quarterback. Unless a quarterback's 7-foot-5, he's not going to be tall enough to consistently throw the ball over his and the other team's linemen. Quarterbacks throw through passing lanes, and one of Vick's weaknesses as a passer is that he's not consistently good at finding those.
Paul Domowitch
takes a moment to step back
from a year's worth of well-deserved criticism and appreciate the brilliant LeSean McCoy season that is getting lost in the Eagles' overall disappointment.
Washington Redskins
Veteran linebacker London Fletcher loves playing for the Redskins, loves his coaches and teammates and is determined to do what he can to make sure he's still in Washington when things turn around for the franchise. Jason Reid says the Redskins
need to sign their veteran leader
before he hits free agency at the end of this season and has a chance to change his mind. Fletcher is a major asset to the Redskins for a number of reasons, not least his play on the field. But a team that's still going to be young and building next year would do well to have a guy like this around.
John Keim's weekly Five Questions
are always worth a read, and this week he looks at whether LaRon Landry and DeAngelo Hall should be back with the Redskins next year, what Willie Smith showed in his first start at tackle and a couple of other issues. I find it tough to believe the Redskins would move on from both Landry and Hall, considering all the work they need to do on the offensive side of the ball this offseason. But given Landry's health issues and the issues that bubbled to the surface with Hall this past Sunday, it's possible.
December, 6, 2011
12/06/11
8:00
AM ET
Tuesday morning in the East, which means we look ahead to a day of chatting, Stock-Watching and Power-Ranking. But it always starts with the links.
Dallas Cowboys
Jason Garrett said he
wouldn't do anything differently
about the end of Sunday's game if he had it to do again. My guess is that this is false, and meant as a way of expressing confidence in rookie kicker Dan Bailey. But if it's actually true, it's worth keeping an eye on just how stubborn a young coach Garrett intends to be. Anyway, Tim MacMahon thinks it would help Garrett if the team brought in
someone else to call offensive plays
.
Good news on the injury front for the Cowboys. In addition to perpetually injured wide receiver Miles Austin, it appears as though fullback Tony Fiammetta is recovered from whatever illness was keeping him out of action and
should return
for Sunday's critical division game against the Giants. The run game hasn't worked as well without Fiammetta as it did when he was in there blocking for DeMarco Murray, and Fiammetta's return should make the Cowboys an especially formidable run team against the Giants' below-average run defense.
New York Giants
That Giants' run defense will suffer from the absence of injured safety Kenny Phillips, who appears as though
he'll miss the game
with a sprained knee ligament. While the Giants have some depth in the secondary and can cover the Phillips injury from a manpower standpoint, he's been a consistent bright spot on their defense and one of the best safeties in the league this year -- especially helpful in run support with the Giants' relative weaknesses at linebacker.
On the offensive side, however, the Giants have more reason than they've had all year to feel good about
their own run game
. The return of Ahmad Bradshaw seemed to spark everyone from Brandon Jacobs to the patchwork offensive line, which had one of its best run-blocking games of the season in Sunday's loss to the Packers.
Philadelphia Eagles
Bob Ford thinks the Eagles should release Vince Young and sign Donovan McNabb to be
their backup quarterback
for the final four games of this season. I understand that McNabb is well remembered in Philadelphia, but the fact is Young -- interceptions and all -- has shown a great deal more effectiveness as a quarterback over the past two years than has McNabb, who appears finished and went unclaimed when put on waivers last week by the Vikings. I'd agree with Bob if this were the McNabb of even two years ago. But it's not.
Meantime, Andy Reid appears to be
playing the "youth" card
, as he pointed out on a radio appearance that he has the youngest team in the league and building a winner takes time. Fans will hate this, of course, but he's saying it either because he wants the front office and ownership to understand it or because he and the front office already have discussed it and it's to become the going-forward narrative about what went wrong in Philly this year.
Washington Redskins
Rich Campbell brings you
the bright side
of the Trent Williams and Fred Davis suspensions, which is potential playing-time opportunities for guys like Willie Smith and Sean Locklear at tackle and Logan Paulsen at tight end. No offense to any of those guys -- or to Rich for his silver-lining hunt -- but the upshot of all of this is that the Redskins are going to find it very difficult to score any points over the final four games.
One of the guys who will find the going tougher as a result of the behavior of those two knuckleheads is rookie running back Roy Helu, who willingly acknowledges that he still has plenty to work on. Helu says he knows he has to become a better pass-blocker, for instance, and had a great quote for Mike Jones about where he is in his development: "
Complacency is one of my enemies
."
July, 22, 2011
7/22/11
5:21
PM ET
In April of 2010,
Sam Shields
was an undrafted free agent. In February of 2011, he was helping the
Green Bay Packers
win the Super Bowl. It can happen. Players who were overlooked in the NFL draft in April can become significant contributors in spite of their snubs. This year's crop of undrafted free agents has had a rough summer, as they weren't allowed to sign with teams because of the lockout.
Assuming the lockout ends in the coming days, teams will soon be allowed to sign undrafted free agents. So here's a look at a few who might make sense for the teams in the NFC East. Obviously, some of these guys would work for multiple teams, but I'll trust you guys to make those leaps on your own. For fairness' sake, each team gets three. Enjoy:
Dallas Cowboys

1. Joe Lefeged, Rutgers safety. He plays the Cowboys' biggest "need" position, and while he's not likely to be a starter right away, he could help in sub packages and on special teams while he's groomed for a starter's role. The Cowboys need at least one starter, and will need two if
Gerald Sensabaugh
leaves. Depth at the position would be a good thing.
2. DeAndre McDaniel, Clemson safety. Doesn't have Lefeged's speed, but he's got enough size to make a contribution in a backup role. Pre-draft scouting reports liked his instincts at the position.
3. Kai Forbath, UCLA kicker. I don't think they'll do it, but I'm not convinced
David Buehler
won't cost the Cowboys a critical game at some point. Forbath would provide another option or at least maybe some competition that spurs Buehler to be better.
New York Giants

1. Cedric Thornton, Southern Arkansas DT. They've spent second-round picks on interior defensive linemen in each of the past two drafts, but with
Barry Cofield
likely on his way out, they could look to deepen their talent pool there.
2. Mark Herzlich, Boston College LB. Could be one of the great comeback stories. He was an elite defensive player in 2008, then spent 2009 fighting cancer and struggled to regain his old form in 2010. If he's on his way back to full health and strength (or there already), someone's going to get a steal.
3. Nick Bellore, Michigan LB. Scouts liked his makeup as a potential middle linebacker in a 4-3. The Giants aren't exactly overloaded with such guys.
Philadelphia Eagles

1. Kendrick Burney, North Carolina CB. They'll aim higher, obviously, for the starting corner they need to play opposite
Asante Samuel
. But the undersized Burney could be a nice fit if the Eagles are transitioning to more of a Cover-2 scheme, as many believe they are.
2. Zach Hurd, Connecticut guard. Drafting
Danny Watkins
in the first round gave the Eagles the starter they needed at right guard, but that doesn't mean they couldn't stand to add more depth at the offensive line spots. Same could be said for the Giants, incidentally.
3. Will Hill, Florida safety. They're planning to let
Quintin Mikell
go and can't be sure about
Nate Allen
's health or
Jaiquawn Jarrett
's readiness. Yes,
Kurt Coleman
and
Marlin Jackson
are intriguing options, but Hill has enough upside to warrant a look at a position where the Eagles might not have enough depth.
Washington Redskins

1. Darvin Adams, Auburn WR. They used a couple of draft picks on receivers, but it's not as if they can be sure they have their answers there yet. Especially if
Santana Moss
signs elsewhere, the Redskins could use someone of Adams' pedigree as they sort out their reserve receiver spots.
2. Ian Williams, Notre Dame DT. Not sure if he's big enough to play nose tackle in the NFL, but he's seen as a versatile defensive lineman who could help against the run.
3. Willie Smith, East Carolina OT. He's got the size of an NFL tackle but needs to develop. As they continue to figure out the configuration of their offensive line of the future, the Redskins could work with someone of Smith's raw ability.