November, 6, 2014
Nov 6
4:55
PM ET
EAST RUTHERFORD, N.J. -- First things first:
Dominique Rodgers-Cromartie
is not 100 percent physically, but he has no intention of sitting out games.
"I'm healthy enough," the
New York Giants
cornerback said. "The way things are, I don't have much choice. I'm playing."
Rodgers-Cromartie
Rodgers-Cromartie is something close to the last man standing among the Giants' group of cornerbacks right now. They have suffered season-ending injuries to
Prince Amukamara
,
Walter Thurmond
and
Trumaine McBride
, and
Zack Bowman
missed Thursday's practice while being treated in the hospital for an abdominal issue. Rodgers-Cromartie has been limited for more than a month with back and leg injuries, but he's not on injured reserve or in the hospital, and that is the current standard one must meet to play cornerback for the Giants right now.
Defensive coordinator Perry Fewell said
Jayron Hosley
would move from the nickel corner position to the outside position opposite Rodgers-Cromartie in the base defense if Bowman can't play Sunday in Seattle. When the team goes to nickel (assuming no Bowman), Hosley would play inside and
Chandler Fenner
would be the outside corner opposite Rodgers-Cromartie. On the bench are
Mike Harris
, who was signed last week from the Lions' practice squad, and
Chykie Brown
, who was claimed on waivers this week after the Ravens released him Tuesday.
Fewell said Hosley and Fenner would get the first crack because they've been with the team all year, but that they would work to get Harris and Brown up to speed as quickly as possible. He also said the coaching staff would have to simplify their coverage plans because of the rash of injuries.
"When you have new faces, you cannot and will not do as much as you've done in the past," Fewell said. "We'll have to simplify our package."
Fewell said verbal communication would be key for a secondary that hasn't played together very much -- that guys will have to make sure they're calling out and repeating calls rather than relying on each other's body language. No easy task, and the players know it. But they also know it's a fact of life.
"It's football. There's a 100 percent chance of injury when you play this game," Hosley said. "That's why you have to have depth on your depth chart, and the team has to have confidence in those guys to get it done. It's a big loss in terms of experience in the secondary, but at the same time, we know we have talent on our defense and in our secondary. It might take a little bit of time for guys to get confidence in playing new positions, but it will work out."
October, 19, 2014
Oct 19
4:05
PM ET
Rodgers-Cromartie
ARLINGTON, Texas -- Cornerback
Dominique Rodgers-Cromartie
is active and expected to play for the
New York Giants
here Sunday against the
Dallas Cowboys
. Rodgers-Cromartie was listed as questionable after missing practice Wednesday and Thursday and being only a limited participant Friday due to continuing leg and back injuries.
It remains to be seen how much Rodgers-Cromartie will be able to play. He was in and out of the Giants' Week 4 and 5 games due to leg injuries, and he left last week's game for good in the second quarter due to back spasms that the team said were related to the ongoing leg problems.
Zack Bowman
will fill in for Rodgers-Cromartie when he's not on the field, but if Rodgers-Cromartie can play at all, he'll have a tough time containing top Cowboys wideout
Dez Bryant
if he's less than 100 percent.
On the offensive side of the ball, newly signed wide receiver
Kevin Ogletree
is active and rookie
Corey Washington
, for the first time, is not. Due to last week's season-ending injury to
Victor Cruz
, the Giants have only four wide receivers active for the game -- Ogletree,
Rueben Randle
,
Odell Beckham Jr
. and
Preston Parker
-- and are likely to deploy a run-heavy game plan that leans on the tight ends as blockers and receivers.
The full list of inactives for Sunday's game here at AT&T Stadium:
GIANTS
RB
Rashad Jennings
WR Corey Washington
OL
Brandon Mosley
OL
James Brewer
OL
Adam Snyder
DE
Kerry Wynn
DT
Jay Bromley
COWBOYS
LB
Bruce Carter
RT
Doug Free
DE
Jack Crawford
QB
Dustin Vaughan
S
Jakar Hamilton
DT
Davon Coleman
OT
Donald Hawkins
October, 16, 2014
Oct 16
1:30
PM ET
EAST RUTHERFORD, N.J. --
New York Giants
cornerback
Dominique Rodgers-Cromartie
missed a second straight day of practice Thursday, casting significant doubt on his availability for Sunday's game against
Dez Bryant
and the Cowboys in Dallas.
Rodgers-Cromartie
Giants coach Tom Coughlin said Wednesday morning that Rodgers-Cromartie would practice on a limited basis. But Rodgers-Cromartie did not practice at all Wednesday, and he was not on the field for the portion of Thursday's practice that was open to the media.
Rodgers-Cromartie has been struggling for weeks with a leg problem that has been described at various times as an ankle, hip or hamstring injury, and he left Sunday night's game in Philadelphia with back problems. His official listing on Wednesday's injury report was "Did not practice (back/hamstring)."
If Rodgers-Cromartie can't play,
Zack Bowman
likely would take his place as a starting outside cornerback along with
Prince Amukamara
, who likely would draw Rodgers-Cromartie's usual assignment of covering the opposing team's top wide receiver. For the Cowboys, that means Bryant, who's one of the best and most physically dominating wide receivers in the game. Amukamara is having a strong season, but he does tend to look better when Rodgers-Cromartie is on the field.
The Giants also are down to their third option at nickel cornerback. With Walter Thurmond and
Trumaine McBride
out for the season with injuries,
Jayron Hosley
will draw that assignment Sunday, though it's possible safety
Antrel Rolle
could play that spot as he has in the past. If that happened, the Giants might have to revive their old three-safety look, which could bring benched starter
Stevie Brown
back into the mix.
September, 26, 2014
Sep 26
10:00
AM ET
LANDOVER, Md. -- The
New York Giants
were one of only three teams in the NFL that didn't take the ball away from its opponent in the first two weeks of the season. It was a trend they have spoke in practice and meetings about reversing.
Amukamara
"Coach [Perry] Fewell has been challenging us to get turnovers, and ever since the first week he's been telling us we need to be more
Zack Bowman
-ish, since [Giants cornerback] Zack Bowman is known for getting turnovers," cornerback
Prince Amukamara
said after Thursday's
45-14 victory
over Washington. "We've been rising to the challenge."
Bowman did not have one of the Giants' four interceptions Thursday, but Amukamara did, and it was something of a milestone for him. After collecting just one interception in each of his first three NFL seasons, Amukamara now has one in each of his last two games -- and a career-high two for the season.
"Zack's been staying with me after practice, catching balls off the JUGS machine, and he told me after last week, 'There's more to get,'" Amukamara said. "And tonight he came to me and said, 'You broke your record.' The knock on me has always been I have bad hands or I'm not a big playmaker or whatever. So it's definitely good to be able to show that part of my game."
It's vital for the team as well. The Giants had six takeaways in the game and only turned the ball over once. A plus-five turnover differential is a pretty good way to ensure a victory in the NFL. According to ESPN Stats & Information, since the start of the 2013 season, the Giants are 7-0 when they have a positive turnover differential, and 2-11 when they do not.
"It's Christmas, that's what it is," said safety
Antrel Rolle
, who had another of the interceptions. "You want games like that, where you're playing ahead and the other team is trying to play catch-up, and you know they have to force the ball. They're trying to make the long throws and complete long passes, and it gives the defense more opportunities to create turnovers."
Amukamara and safety
Quintin Demps
, who also had an interception in his first game replacing
Stevie Brown
as a starter, said Washington quarterback
Kirk Cousins
was staring down receivers Thursday night, and that helped the defensive backs jump routes and anticipate where the ball was going.
Good pressure by the defensive line and blitzing linebackers in the first half helped get Cousins off his game -- especially when
Mathias Kiwanuka
came unblocked for an early sack/fumble.
And Amukamara and
Dominique Rodgers-Cromartie
held up their end in man coverage against star Washington receivers
Pierre Garcon
and
DeSean Jackson
, respectively. Strong defensive effort all around, but the Giants feel a lot better about those strong defensive efforts when they come with a big pile of turnovers.
"It's a mindset," said Bowman, who came over from the takeaway-happy Bears this offseason and has been preaching that since training camp. "Once you start getting them, it can snowball. It can get contagious. That's where we are right now."
August, 14, 2014
Aug 14
8:00
PM ET
EAST RUTHERFORD, N.J. -- A daily review of the hot topics coming out of
New York Giants
training camp:
OK, so now I think the Giants' offense is just trolling us. There was a play Thursday when Eli Manning looked right, Rueben Randle cut up the field but Manning threw short and cornerback Zack Bowman intercepted the pass and ran it back into the end zone. Which is the exact same thing that happened in the Giants' loss to the Bears in Chicago last October -- right down to Bowman, who was playing corner for the Bears that night! That had to be staged, right? Like some kind of obscure Civil War battle re-enactment? Maybe they're just messing with us and they're going to be the 2013 Eagles offense when the curtain goes up next month. Think about it.
Tom Coughlin said Curtis Painter would be the No. 2 quarterback behind Manning on Saturday night in Indianapolis, which is a change from the first two preseason games, in which Ryan Nassib was. And it's not a coincidence -- it's because Painter is playing better. Asked whether this was the plan all along or whether that's just where things stand right now, Coughlin said the latter.
Wide receiver Victor Cruz had a strong practice, beating slot cornerback Walter Thurmond for one of the few times this camp and scoring on an Eli Manning pass up the seam.
Rookie Odell Beckham Jr. continues to do more and more, and his hamstring is feeling better to an extent that he's able to be a bit less careful out there. He caught a pass from Nassib with Ross Weaver in coverage and fell to the ground with Weaver tumbling on top of him. He got up without issue and walked back to the sideline. Beckham won't play Saturday, but Coughlin said they believe he'll play in next week's preseason game against the Jets.
The Giants are lining up fullback Henry Hynoski all over the field, and had him split out wide on one play in practice Thursday, though Coughlin said the idea of lining Hynoski up at the line is far fetched. "Up position, wing position, all over the backfield," Coughlin said. Hynoski's versatility could be important for a team struggling to find answers at tight end.
Tight end Daniel Fells continues to miss practice with a knee injury. Return man Trindon Holliday continues to miss practice with a hamstring injury. Defensive tackle Mike Patterson (shoulder) was back at practice Thursday.
Coughlin, GM Jerry Reese and Eli Manning all took the ice bucket challenge for ALS after practice.
Though they will continue to practice in the same place and at the same times next week as they have been for the past three, Thursday was the last official day of Giants "training camp." So no more practices open to the public. The team is off Friday and will travel to Indianapolis for Saturday night's preseason game against the Colts.
August, 7, 2014
Aug 7
8:10
PM ET
EAST RUTHERFORD, N.J. -- A daily review of the hot topics coming out of
New York Giants
training camp:
Let's get the nightly interception rundown out of the way first. Zack Bowman intercepted Curtis Painter, Charles James intercepted Eli Manning and Bowman intercepted Ryan Nassib in the end zone. Chandler Fenner almost got a pick for the second night in a row, but Corey Washington turned into a defensive back and knocked it away from him at the last second. The secondary is ahead of the offense, is the basic point here.
The star of the secondary is Walter Thurmond, though. He came on a corner blitz and got to Andre Williams in the backfield on one play. And while they love him as the nickel corner, Thurmond got a lot of work on the outside Thursday night as well, staying on the field with the first-team base defense while Prince Amukamara or Dominique Rodgers-Cromartie took a break.
Left guard Geoff Schwartz returned to practice, but his left knee is obviously bugging him and he didn't take many reps. Weston Richburg got most of the snaps at first-team left guard. Charles Brown took most of the first-team left tackle snaps, but not because of any fresh injury to Will Beatty. It's just that Beatty isn't playing Saturday and Brown is.
I watched running back pass-catching drills. The most natural pass-catchers in the group are Rashad Jennings and fullback Henry Hynoski. Rookie Andre Williams seems to be doing a bit better job catching the ball in his hands (as opposed to against his body), but it's a work in progress.
The tight ends still look bad catching the ball, other than Larry Donnell. Adrien Robinson had a bad drop. Kellen Davis caught a ball awkwardly near the sideline and stepped right out of bounds even though there was no one near him. Some of the players not in on that play groaned a bit.
Marcus Harris made two nice catches, including one jumping at the goal line to corral a touchdown pass from Nassib.
I'm always fascinated to see who stays after practice for extra work. Charles James, Preston Parker, Harris and Jayron Hosley stayed to work on punt returns a bit more. Cooper Taylor was off to the side with a blocking sled, presumably honing that punt-protection technique. Amukamara and Rodgers-Cromartie stayed late for the third night in a row so Amukamara could work on jumping for interceptions. And all three quarterbacks, including Manning, stuck around to practice taking shotgun snaps from all three centers.
The Jets were playing a home preseason game across the parking lot at MetLife Stadium that kicked off about an hour and 20 minutes into Giants practice. During Giants practice, some (presumably Jets) fans kept driving by on Paterson Plank Road and hollering insults at the Giants. None were printable, sorry.
The Giants are off Friday in advance of Saturday night's preseason game against the Steelers at MetLife Stadium.
August, 6, 2014
Aug 6
10:00
AM ET
EAST RUTHERFORD, N.J. --
New York Giants
players have to watch where they're going if they're carrying something in this training camp. New cornerback
Zack Bowman
, formerly of the
Chicago Bears
, has convinced the Giants' defensive backs that it's a good idea to knock things out of teammates' hands. Pencils, books, footballs, water bottles ... nothing is safe. If you're walking past a Giants defensive back, there's a good chance he's going to try to knock something out of your hands.
"Bowman has brought that mentality from Chicago," Giants cornerbacks coach Peter Giunta said Tuesday. "They used to knock the playbook out of each other's hands walking to meetings. I think with the iPads now, we don't want to do that."
[+] Enlarge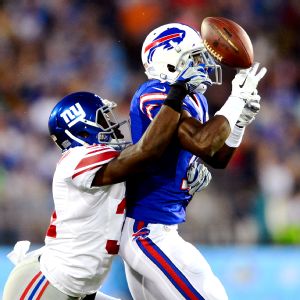 Andrew Weber/USA TODAY SportsNew Giants cornerback Zack Bowman is trying to instill a turnover mentality.
No, probably not, but you get the idea. The Bears have been known in recent years as a defense built on takeaways. They preach and coach and practice forcing turnovers. By bringing in someone who played on that defense, the Giants (who had a middle-of-the-pack 17 interceptions and 12 fumble recoveries last year) hope their defense starts to feel more strongly the importance of getting turnovers.
"It's just having a mindset," said Bowman, who intercepted a pass in the end zone in Sunday night's preseason victory over Buffalo. "That's what they instilled in us in Chicago, just having a mindset of, 'Hunt the ball. It's all about the football.' So that's what I try to tell
Prince Amukamara
and the rest of our guys -- what you do in practice is going to carry over into the game. If you make plays in practice, it creates habit, so when you get into the game, you're used to doing it. I'm trying to bring that same mentality and that same attitude here."
Amukamara's on board. With only three interceptions so far in his three-year NFL career, collecting more turnovers has become a point of emphasis for him this year. He learned to juggle in the offseason to work on his hand-eye coordination. He was beating himself up so much about a deep ball he thought he should have intercepted Sunday night against the Bills that he stayed late after Tuesday night's practice and had
Dominique Rodgers-Cromartie
throw him deep passes so he could practice going up high to catch the ball.
"I think guys can learn to have ball skills, and I think some guys are born with it," Amukamara said. "I played offense in high school, and I played basketball. So I think I'm pretty coordinated with the ball. I think some guys are born with it and some aren't, but I think it's something that can be worked on."
Giants coaches told Amukamara prior to last season that his goal was to play all 16 games for the first time. He did that, and proved himself a solid technician in coverage. But he has yet to establish himself as the kind of cornerback who can make the big, game-changing play, and he's determined to do so.
"It's huge for him to be able to go out and play the ball in the air better, not wait for it to come down," Giunta said. "So he'll work on that in practice. But I think it's just confidence -- seeing it and doing it, seeing himself on tape, what position he's in, where the receiver was in relation to the sideline. He'll be able to do those things, go up and get it."
If he does, that will greatly enhance the ability of the Giants as a team to create turnovers. And once they get better at that, look out. Nobody will be able to carry anything around this building anymore.
May, 22, 2014
May 22
10:00
AM ET
»
NFC Wrap:
East
|
West
|
North
|
South
»
AFC:
East
|
West
|
North
|
South
»
Grades

With free agency and the draft in the rearview mirror and training camp just a couple of months away, we assess the
New York Giants
' offseason moves.
[+] Enlarge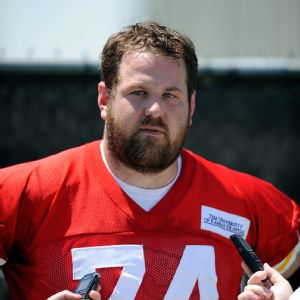 Denny Medley/USA TODAY SportsThe Giants knew they needed help on the offensive line, so signing Geoff Schwartz was a move in the right direction.
Best move:
Signed to start at left guard after a season in which the interior of the Giants' offensive line crumbled completely and decimated the offense, Geoff Schwartz will be an immediate upgrade at a key position and should help the run game as well as
Eli Manning
's protection in the passing game. The Giants needed to make the offensive line a priority, and signing Schwartz at the start of free agency showed that they understood that.
Riskiest move:
Letting defensive tackle
Linval Joseph
leave for Minnesota in free agency. Joseph is still just 25 years old -- younger than any free agent the Giants signed. He and
Justin Tuck
(who left and signed with the Raiders) were the Giants' two best defensive linemen in 2013. The Giants are hoping 2013 second-round pick
Johnathan Hankins
can fill Joseph's shoes, but letting him go risked leaving the Giants too thin on the defensive line -- a position of renowned strength during their last two Super Bowls.
Most surprising move:
Dominique Rodgers-Cromartie
, and in general the amount of free-agent attention the Giants paid to cornerback. They spent big to acquire Rodgers-Cromartie and also signed
Walter Thurmond
,
Zack Bowman
at
Trumaine McBride
. They obviously needed to replace
Corey Webster
(who they should have replaced last offseason), but the extent to which they beefed up at the position was surprising for a team that appeared to need more help on offense than on defense.
Draft pick impact:
First-round pick Odell Beckham Jr. has a chance to make a rookie-year contribution as
Hakeem Nicks
' replacement at wide receiver if he can learn the offense quickly. Ditto second-round pick
Weston Richburg
, who has a chance to beat out
J.D. Walton
for the starting center job. And fourth-round pick
Andre Williams
, who led all of college football in rushing yards last year at Boston College, could get into the mix early at running back. The Giants are counting on their draft picks to help fill holes on the offensive side.