December, 11, 2014
12/11/14
4:30
PM ET
EAST RUTHERFORD, N.J. -- On Wednesday, the high-ranking NFLPA officials in the
New York Giants
' locker room basically offered the union's official reaction when asked about the NFL's new personal conduct policy. They were on the practice field when it was announced, hadn't had a chance to look at it yet and were upset that the league hadn't agreed to collectively bargain it with them.
A day later, after everyone had a chance to review the particulars of the policy itself, we went back to Giants long snapper
Zak DeOssie
and linebacker
Mark Herzlich
. Both serve on the union's executive council.
"It still ends the same way it always did," DeOssie said. "With Roger [Goodell] as the arbitrator. We want neutral arbitration, and that will continue to be our stance."
DeOssie said he also had issues with the idea of the league conducting its own independent investigations concurrent with law enforcement's investigations.
"Different laws in different states, things like that," he said. "We'd love more clarity on that, and I'm sure we'll get it, but that doesn't sit well. And then if the policy is universal for owners and team officials as well as players, how's it going to work when the arbitration officer is someone who's employed by the owners?"
Basically, the whole thing has left a sour taste in the union's mouth, and union leadership it taking the position that this was forced on them without their consent. As Herzlich pointed out, that's the league's right, per the collective bargaining agreement. He just doesn't think it was the wisest way for the league to go.
"The more channels it goes through, the more fair it seems to us," Herzlich said. "I think they're moving in the right direction in terms of changes. But at the same time, we want to have a say. I think it works best when we can all sit and talk about it."
Herzlich pointed out that the owners were willing to open up the collective bargaining agreement to rework the drug policy earlier this year in an effort to secure HGH testing. But the rebuttal to that is that the CBA contained a specific stipulation that allowed for that part of it to be renegotiated once a reliable HGH test was identified.
The result is that the players know they're stuck with the new policy, but they will push back if they believe there are parts of it that are unfair.
"If they do something that takes away players' rights unfairly, we will fight that, absolutely," Herzlich said. "That's a union's job. So we'll keep looking at it and we'll see where things go from here."
May, 12, 2014
5/12/14
12:55
PM ET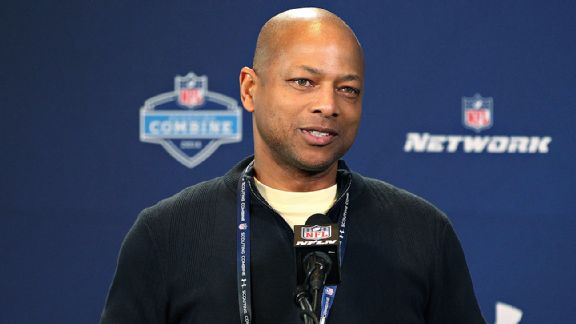 Pat Lovell/USA TODAY SportsOf the 39 players drafted during GM Jerry Reese's first five drafts, only eight remain on the roster.
EAST RUTHERFORD, N.J. -- There are
New York Giants
fans reading this who aren't sure how to feel about this year's draft but assume it'll be all right because they trust GM Jerry Reese as a good drafter.
They shouldn't. Because the evidence says he's not.
Reese's reputation as a good operator of the draft rests on two things -- his very good debut draft as Giants GM in 2007, and the fact that the Giants have won two Super Bowls during his seven seasons in the position. But that shouldn't be enough, really. The 2007 draft was seven years ago now, and he hasn't had a good draft since. And the Super Bowl is used far too often to excuse other sins. It's one game (or two, in this case). If
Mario Manningham
's pinkie toe is on the sideline when he makes that catch, or if
Rob Gronkowski
's end-zone lunge starts a half-second sooner that night in Indianapolis, would it then be OK to criticize the Giants' recent draft record? If the answer is yes, then it should be OK to do so anyway. Credit the people who run the Giants for the Super Bowl titles, but it's also on them that their team has missed the playoffs four of the past five years.
I don't think Reese is a bad GM. His in-season work last year to patch holes with guys such as
Jon Beason
and
Brandon Jacobs
kept the Giants from being historically awful. He was active and smart in free agency this spring, wisely identifying his roster as one that needed widespread repair.
Victor Cruz
as an undrafted free-agent find is on his résumé, too. But when it comes to the draft, a deeper look reveals a troubling lack of clothes on this particular emperor.
Discount, just for our purposes here, the 2012 and 2013 drafts, which are still too recent to evaluate. (Though it's tough to feel real excited about the
David Wilson
/
Rueben Randle
/
Jayron Hosley
start in 2012 so far). Look at Reese's first five drafts -- 2007, 2008, 2009, 2010 and 2011. He selected a total of 39 players and only eight are on the current roster. One of those eight, Manningham, left for two years and came back. Four of the eight came from the 2011 draft, so only four of the 31 players he took in his first four drafts are on the team at the moment, and only three have been on it all along.
[+] Enlarge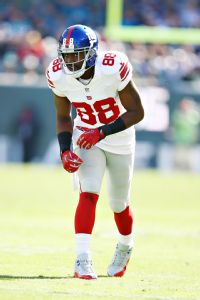 Al Bello/Getty ImagesHakeem Nicks is the latest former Giants first-rounder who didn't sign a second contract with the team.
Of all the players Reese has drafted for the Giants, exactly three --
Ahmad Bradshaw
,
Will Beatty
and
Zak DeOssie
-- signed second long-term contracts with the team after their rookie deals. Reese's first three first-rounders --
Aaron Ross
,
Kenny Phillips
and
Hakeem Nicks
-- all signed elsewhere when they hit free agency.
Linval Joseph
, the second-round pick in 2010, also was not re-signed. These were fine picks who produced for the Giants, but you can't say you're building through the draft when you're not retaining those types of guys. Even in a league where the average player's career lasts less than four years, consistent failure to retain your top picks beyond that time frame is evidence that you're doing something wrong.
Who's Reese's best pick? After Bradshaw, the 2007 seventh-round steal who helped deliver one Super Bowl as a rookie and another as a veteran, it's probably 2010 first-rounder
Jason Pierre-Paul
. They don't make the 2011 playoffs, let alone win that year's Super Bowl, without Pierre-Paul. But 2011 was Pierre-Paul's only good year so far. He's a near-permanent resident of the weekly injury report and he has a total of two sacks in the Giants' past 23 games. He could become the fourth to join that list of second-contract guys, but so far he hasn't. And if he limps around and fails to produce this year, he becomes a contract-year question mark just like Phillips and Nicks were. Best pick? The most consistently reliable long-term contributor Reese has taken is DeOssie, the fourth-round mainstay long-snapper.
There's miss after miss at key spots in early and middle rounds, and Giants fans know their names:
Clint Sintim
,
Ramses Barden
,
Phillip Dillard
,
Marvin Austin
,
James Brewer
. Since Bradshaw in 2007, there are no late-round gems who've surprised and become major contributors. Some of it is because of injury. Some can be blamed on those charged with player development. But this is a results business, and for whatever reason -- too many risks, too much trust in poor evaluations, whatever -- Reese hasn't delivered the kinds of draft results that help build strong organizations.
The Giants have drafted as poorly over the past half-decade as any team in the league. The results showed up last year in a hollowed-out roster that had to overachieve to get to 7-9 and required Reese to sign more free agents than anyone else this offseason in order to fill its many holes. This past weekend, Reese delivered a tepid draft. The Giants are excited about the dynamic
Odell Beckham Jr
., their first-round pick. And they like the center,
Weston Richburg
, they got in the second round. But the rest of the draft was safe and dull, devoted to finding what Reese calls "clean" players. Every pick after the second round looks like a player who's just about at his ceiling and can make an immediate contribution as a backup and/or special-teamer, but almost all of them were reaches and very few look likely to blossom into future stars.
Maybe that's for the best. The Giants needed to draft differently this year than they have in recent years, because they've been absolutely terrible at it. They needed to pull a George Costanza and start doing everything the opposite of the way they usually do it, because it never seems to work out. Reese's reputation as a shrewd drafter isn't deserved, and good for him if he realized he needed to change things up. It's time to stop assuming all is well here just because of the four trophies in the lobby. It's time for the Giants to start thinking about what they can do to build their roster back up and put themselves back in a position to even have a shot at winning a fifth.
February, 10, 2014
2/10/14
2:45
PM ET
One of the major questions in the wake of Missouri defensive lineman
Michael Sam
's announcement he is gay is how NFL teams will react. With the draft less than three months away and the scouting combine next week, the focus will be on how and whether Sam's coming out will affect his draft stock. To hear the owners of the
New York Giants
tell it, it shouldn't affect it at all.
"I would just echo what the league and
Zak DeOssie
, one of our captains, have said in welcoming Michael into our league and supporting him as he attempts to achieve his dream of playing in the NFL," John Mara said Monday in a statement released by the team. "Our sport, our game, is the ultimate meritocracy. You earn your way with your ability. As Patrick Burke and Wade Davis constantly remind all of us, regardless of who you are, what your background is and what your personal or sexual orientation is, if you can play, you can play. Michael's announcement will not affect his position on our draft board."
"As I said last night, Michael Sam is a gifted athlete and a courageous man," Steve Tisch said in his own statement released by the team. "I hope any NFL team would not hesitate to draft Michael if he is right for their team. Our game is the ultimate team game, and we often talk about how a team is a family. Regardless of where you are from, what your religious beliefs are, what your sexual orientation is, if you are good enough to be on the team, you are part of the family. How the University of Missouri and its football program embraced and supported Michael is a tremendous blueprint for all of us, but frankly, I think the lessons of our game also provide the same positive example."
I'll echo what
I wrote this morning
, which is that the Giants likely would be a welcoming environment for Sam due to their strong leadership. The question in the Giants' draft room will be whether Sam represents good value at the mid-round pick with which he'd be available to them. The Giants run a 4-3 defense, but while Sam played 4-3 defensive end in college, there is concern that his lack of prototypical size would inhibit his ability to do so in the NFL. That doesn't mean the Giants won't take him if they think he's a good enough player to help them on special teams and in certain roles, but it's hard to see him as the kind of player they have to have.
October, 28, 2013
10/28/13
12:30
PM ET
PHILADELPHIA -- Taking a look at four pressing issues a day after the
Philadelphia Eagles
' 15-7 loss to the
New York Giants
.
[+] Enlarge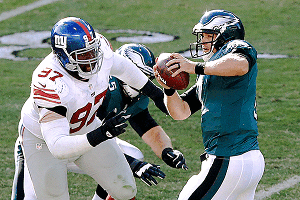 AP Photo/Matt RourkePhiladelphia's offense has been woeful the past two weeks with Matt Barkley at quarterback.
Maybe QB Matt Barkley should practice with the first team this week
. As coach Chip Kelly acknowledged in his weekly appearance on 94.1 WIP FM Monday morning,
Michael Vick
is almost certainly out for next week.
Nick Foles
has not yet been cleared by doctors to resume practicing. Even if Foles does get clearance through the concussion protocol, Kelly may want to make sure Barkley is better prepared than he was for his last two unplanned relief appearances.
"I think it is valuable just to practice with those guys and see their timing and know their breaks in a full-speed environment," Barkley said. "Routes versus air is one thing, but to be able to get reps in team periods and seven-on-seven, I think it will be valuable."
Unless, of course, the Eagles can convince the Raiders to cover
DeSean Jackson
with air instead of a defender.
Jackson's history might have worked against him Sunday. There was booing after he let a punt skip off his fingers and go out of bounds deep in Eagles territory. Eagles fans are all too aware that Jackson has admitted to letting outside issues, like his contract, affect his commitment on the field.
But this just seemed to be a punt that was carried by the wind.
"The punter punted it pretty far," Jackson said. "It was one of those things where he outkicked me. It was over my head and the wind took it."
LeSean McCoy took the blame again
. The running back said, "I didn't show up" for the game against Dallas last week, when clearly there were a lot of problems with the running game. McCoy vowed Sunday's game against the Giants would be different.
He gained 48 yards on 15 carries. McCoy remains the NFL's rushing leader with 733 yards, but all that talk about his early pace seems like ancient history. After three weeks and 395 yards, McCoy was on pace for more than 2,100 rushing yards. He's now on pace for 1,466 and trending sharply downward.
"It starts with me," McCoy said. "I feel like, coming into the game, we want to establish the run. Teams know that. It starts with me. I have to get out there and get it going."
The last two games may be reality. The previous two might have been misleading.
The Eagles got to 3-3 with consecutive road wins against the Giants and the Tampa Bay Buccaneers
. That had Kelly's team feeling like it was on the right track, with a chance to assume control of the NFC East with home games against Dallas and New York.
The Eagles are 0-2 with zero offensive touchdowns in those games. While there is plenty to chew on in explaining their offensive futility, it may be worth a second look at the Eagles' wins. The first came in the season opener at Washington, against a rusty
Robert Griffin III
and a defense with no game tape of Kelly's offense to study. The next two came against teams that were winless when the Eagles played them.
It's totally understandable for the Eagles to lose against exceptional teams like Kansas City and Denver, who are a combined 15-1. The losses to similarly flawed teams like San Diego, Dallas and the Giants suggest that the Eagles just aren't good enough to be called average.
Najee Goode outscored his father
. John Goode played in 30 NFL games as a tight end with the Eagles and the St. Louis Cardinals. He never scored a touchdown.
Goode's son Najee, a linebacker and special teams mainstay for the Eagles, recovered an errant long snap Sunday to score the Eagles' only touchdown of the game -- and the Goode family's only NFL touchdown as well.
"I was just going to go hit him," Goode said, referring to Giants punter
Steve Weatherford
's inept pursuit of
Zak DeOssie
's bad snap. "I was going to knock the mess out of him to get the ball into the end zone. Then the ball came through and I saw it and my eyes got big and I scooped it up."
Goode found the end zone, something the Eagles' offense has failed to do for the past eight quarters.
September, 15, 2013
9/15/13
9:01
PM ET
EAST RUTHERFORD, N.J. --
Observed in the locker room after the New York Giants' 41-23 loss to the Denver Broncos.
Snee
They know they have been here before:
Giants coach Tom Coughlin said the fact that the 2007 Giants started 0-2 and went on to win the Super Bowl "was mentioned" in the postgame locker room, and guard
Chris Snee
said he believed it was defensive end
Justin Tuck
who mentioned it. But Snee was ready for the question and not eager to rush to the comparison. "That was a different team," Snee said. "We'll see what kind of team we have and what kind of fight we have."
Brotherly love:
Eli Manning
said that he and his brother, Broncos quarterback
Peyton Manning
, spoke for about 10 minutes before the game and that he didn't expect Peyton to give him a hard time about being 3-0 lifetime in their head-to-head starts. "These are our jobs," Eli said.
Unusual request:
When there's a crowd of reporters around the locker of long snapper and special teamer
Zak DeOssie
, you know something went wrong. DeOssie didn't offer much of an explanation for
Trindon Holliday
's 81-yard punt return for a touchdown. "I missed him," DeOssie said. "I wish I hadn't."
September, 5, 2013
9/05/13
5:40
PM ET
EAST RUTHERFORD, N.J. --
Antrel Rolle
said that one thing he gained this offseason was a better perspective of
becoming more of a leader
this season.
Snee
Rolle
For some reason, Rolle knew he would have to lead more. On Thursday, the Giants announced that Rolle was elected as one of five captains for this coming season.
Eli Manning
,
Justin Tuck
and
Zak DeOssie
will return as captains. But the players also elected Rolle and veteran guard
Chris Snee
-- two Giants who were also considered leaders in the locker room.
Rolle is one of the most respected voices on the team.
"I was extremely honored," Rolle said. "As a young kid, you always dream about certain things. You dream about playing in the NFL, you dream about making Pro Bowls. I know being named captain of the New York Football Giants is a huge accomplishment. It's something I never, ever even imagined would take place. I'm definitely excited for it and I thank my teammates for even having that trust in me and the accountability in me to even name me a captain."
This is the first time the Giants have named five captains since the 2008 season when Manning, Amani Toomer, Antonio Pierce, Fred Robbins and Jeff Feagles were captains.
"These guys were all elected by the players," Tom Coughlin said. "Am I happy they were selected? Yes, I am because I think the No. 1 thing is always 'team' and people have to lead by example and 'well done is better than well said.'
"Yet, through the course of the long and difficult, challenging season, you're going to see an opportunity for people to show what they're made of in good and bad and that's where leadership comes from. Adversity, remember, makes you stronger, according to John Wooden."
Rolle said he is not going to change one thing about the way he acts or leads now that he is a captain.
"This is my first privilege to be captain on an NFL level," Rolle said. "I know what value it holds. Just go out there and play ball. You can say what you want, you can lead however you want but what gets determined more than anything [is how] you play between those white lines.
"That is my plan before anything else, go out there and being accountable, being in the right position where my teammates expect me to be, making the plays that present themselves and going out there and doing my thing."
January, 21, 2013
1/21/13
2:54
PM ET
This week we are rolling out some Giants top five lists.
So in honor of Martin Luther King Jr. Day and Inauguration Day, the first list of the week will focus on the Giants' five most important leaders on the roster with an eye toward the 2013 season.
These five Giants make this list because of their stature on the team, how vital their success on the field is to the Giants and how important their leadership skills are. These are five guys Tom Coughlin can use to lead in the locker room and on the field.
1. QB Eli Manning
: He isn't the most vocal of this bunch. In fact, he might be the quietest of them all. But because this team follows his lead and the Giants go as far as he can take them, Manning is at the top of this list.
[+] Enlarge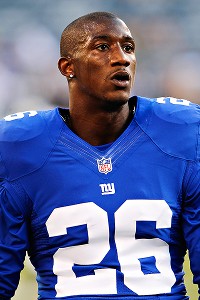 Debby Wong/USA TODAY SportsAntrel Rolle is the most outspoken of the Giants' leaders.
In the rare moments that he does choose to talk, he commands the team's undivided attention. But really more than anything, Manning leads by example with his steady demeanor. If the Giants are going to be Super Bowl contenders in 2013, Manning has to lead the way and play like the elite quarterback that he was in 2011.
2. S Antrel Rolle
: Rolle has emerged as one of the most important leaders on the team. The safety usually rings the alarm when the Giants need a wake-up call. When the Giants aren't showing enough fire or not enough "dog," the safety will let his teammates and the media know.
Rolle often spits out the hard truth when things are going bad and his criticism is often welcomed by teammates, who usually agree with what he has to say. On a team that often needs somebody to be vocal, hold nothing back and hold teammates accountable, Rolle might be the best to play that particular role.
3. DE Justin Tuck
: The team's defensive captain rallies his unit on the field before every game and typically knows the pulse of the team. He is capable of delivering stirring halftime speeches to spark his team, like he did in a win over Jacksonville during the 2010 season. He prefers, however, to lead by example.
But Tuck hasn't played up to the level he is accustomed to recently. The Giants need a bounce-back season from Tuck, who is entering the final year of his contract.
4. DE Jason Pierre-Paul
: The team's best young player was more comfortable this past season in voicing his opinion at times and telling it like it is. Like Rolle, he can be frank and straight to the point when the Giants are struggling.
Considering his stature on the team and his importance to the success of the Giants -- and with
Osi Umenyiora
potentially moving on -- it's time for JPP to grow more as a leader as well. He showed signs of doing that last season. GM Jerry Reese wants JPP to talk with
Michael Strahan
this offseason to learn how to deal better with double teams, but he certainly wouldn't mind Strahan sharing some leadership tips as well.
5. RB Ahmad Bradshaw
: Bradshaw is another who leads by example. His strong, violent runs can often spark the team. He also rallies the team on the field with stirring pregame talks and his emotions can be good for the team. Sometimes he might take it a little too far, like he did during a game this season when he slapped
Victor Cruz
on the helmet too hard and exchanged some words with Coughlin on the sideline at one point.
But Bradshaw is the toughest Giant on the roster and can be the heart of the team. He would be higher on this list except for the fact that injuries have plagued him and he was uncertain about his future on the team with
David Wilson
emerging. Still, Coughlin likes to keep multiple backs and he loves Bradshaw for his toughness and heart.
Honorable mention:
LS
Zak DeOssie
(special teams captain), RG
Chris Snee
, MLB
Chase Blackburn
(free agent), DT
Chris Canty
and LB
Michael Boley
(future uncertain).
Tell us below which Giants leaders are critical for the team's success in 2013.
April, 12, 2011
4/12/11
10:12
AM ET
By
ESPN.com staff
| ESPN.com
January, 20, 2011
1/20/11
3:48
PM ET
By
Matt Mosley
| ESPN.com
New York Giants
deep snapper
Zak DeOssie
has been added to the NFC Pro Bowl roster by
Atlanta Falcons
coach Mike Smith. DeOssie is the fifth Giants player to make the roster, although center
Shaun O'Hara
won't play after undergoing foot surgery this week.
"Through my experience from the last time I went, I understand that this is the time where they choose the long snappers," DeOssie said Thursday. "In the back of my mind, I had a one-in-16 chance at the worst. So, I figured maybe I could be getting a call, maybe not. I don't know how it works and who it's up to ultimately, but apparently somebody down in Atlanta saw something that they like and they extended an invitation to me, which I'm very fortunate about."
The NFC East will now have Cowboys punter
Mat McBriar
, Eagles kicker
David Akers
and DeOssie in next Sunday's game. This has to be some type of record for specialists from one division, but the Beast blog has always stayed away from Pro Bowl research projects.
August, 13, 2009
8/13/09
9:17
AM ET
By
Matt Mosley
| ESPN.com
Posted by ESPN.com's Matt Mosley
ALBANY, N.Y. -- It's too bad the Giants aren't playing a preseason game tonight. They desperately need to see some other uniforms. Coach Tom Coughlin had to separate two players Wednesday evening -- and they weren't even participating in a drill.
I've seen the Cowboys, Eagles and Giants during my ongoing NFC East training camp tour. Of those three teams, the Giants definitely seem to have the highest tempo in practice. In two practices Wednesday, the defense was dominant at times. Backup defensive end (he hates that phrase) Mathias Kiwanuka jolted Kevin Boothe so hard on one play that the 315-pound guard almost toppled over. Here's a look at some of the things that stood out to me Wednesday:
Every time I looked up, a guy wearing No. 29 was knocking the ball away from a receiver or making an interception. That would be Stoney Woodson, a seventh-round pick out of South Carolina. The rookie doesn't seem to be overwhelmed at all in his first camp. And he's seizing the opportunity to have more reps with starters Aaron Ross and Corey Webster out with injuries. Mike Garafolo is driving the Woodson bandwagon, but I've decided to hop aboard.
There's a lot more trash talking that goes on in Giants camp than the other two camps I've been in. The offense and defense really take things personally and it creates a highly competitive atmosphere. In Eagles camp, Asante Samuel was the one guy who was constantly running his mouth. Otherwise, it was fairly quiet. I know that Giants safety Michael Johnson got in someone's face Wednesday night. Still not sure what that was about. Practice ended with veteran offensive tackle Tutan Reyes wading into the middle of at least 25 defensive players and taunting them -- in a good-natured sort of way.
Have I mentioned that rookie wide receiver Ramses Barden has taken this camp by storm? You can tell that Coughlin's trying to play it down, but Barden's been the most impressive receiver on the field -- by a wide margin. Am I getting carried away after watching two practices? Maybe, but some of my guys on the beat such as Tom Rock (Newsday) and Garafolo (Star-Ledger) say that Barden's been doing this the entire camp. Rock kept describing one play to me where Barden went up in the back of the end zone, twisted his body back around and snagged a ball with one hand. Maybe Hakeem Nicks will catch up to him at some point, but right now Barden has earned more playing time than the first-rounder. OK, I'm finished gushing.
I don't know how Kevin Dockery can hold off Terrell Thomas for the nickel spot much longer. Dockery's a scrappy little guy who's making plenty of plays in camp, but Thomas is the smoother player. He doesn't rush anything, but when the ball's in the air, it's his. Everyone wants to talk about the reinforcements along the defensive line, but this team is stacked at cornerback.

Since many of you have been asking about the other receivers, it looks like fourth-year player Domenik Hixon wants to nail down a starting job. He'll still drop the occasional slant because of a lack of concentration, but he's a true deep threat who's getting a lot better at beating jams. I should also tell you that Derek Hagan, a fourth-year player out of Arizona State, is quietly putting together a solid camp. He's not dropping the ball, and that's a big step for him. Steve Smith and Nicks need to get healthy and stay on the field. Nicks returned to practice Wednesday night. Smith remained on the sideline with a knee injury. Oh, and David Tyree doesn't look all that rusty to me. He's the veteran of this bunch. And Sinorice Moss catches everything thrown his way. I loved watching him come back on the ball on an Eli Manning bullet in the evening practice.
The linebackers were going through a drill Wednesday evening where they lifted up a 30-pound sandbag and chucked it to the side.
Coughlin just about lost it when an offensive lineman didn't finish a block during 9-on-7 drills. "Finish the block, finish the block," he shouted while adding a certain expletive for emphasis. What happened to the calmer Coughlin that I kept reading about two years ago?

I think Kiwanuka's about to have the same type year Justin Tuck had in '07. He'll be the third man in the defensive end rotation, which means offensive lines will be worn down because of Tuck and Osi Umenyiora. I wouldn't be surprised if Kiwanuka finished with eight or nine sacks.

Safeties coach Dave Merritt is asking the defensive backs to treat everything like a live ball. When there's an incompletion, he wants his safeties to race over and scoop it up.
"We have to learn how to pick up a fumble," he shouted to Woodson at one point Wednesday evening. "Hot ball, hot ball!"
Dockery always seems to be in really good position, but he's still using the wrong hand at times when going after the ball.

Linebacker Chase Blackburn had the play of the day when he jumped high into the air to snag a David Carr pass during team drills. Tuck was heard on the sideline shouting, "Who said white men can't jump?"

For more information on Giants camp, I encourage you to read my Camp Confidential on Friday afternoon.
January, 23, 2009
1/23/09
11:12
AM ET
By
Matt Mosley
| ESPN.com
Posted by ESPN.com's Matt Mosley
Cowboys
Eagles
Giants
Redskins
January, 22, 2009
1/22/09
7:37
PM ET
By
Matt Mosley
| ESPN.com
Posted by ESPN.com's Matt Mosley
Giants
Redskins
Jason La Canfora and Jason Reid did an outstanding job of analyzing how the Redskins could be more like the Ravens, Dolphins and Falcons. Those teams appear to have a plan in place. We're still waiting to see one emerge in Washington.
In this blog item, La Canfora compares the Redskins to the teams that advanced to the conference championships.
Folks, we've had a Chris Dishman sighting.