January, 20, 2015
Jan 20
11:00
AM ET
The
New York Giants
right now project to have about $14 million in salary cap space for 2015. That assumes a $140 million cap (which I think is a conservative projection) and accounts for the $1.3 million reduction once
David Wilson
's retirement becomes official. It does not take into account the additional $4.825 million they can save by cutting
Mathias Kiwanuka
(which I expect they will) or the additional $3.53 million they can save by cutting
Jon Beason
(which is possible).
So at this point assume something close to $19 million in cap room and expect them to push it over $20 million with roster cuts, pay cuts or other contract adjustments. That would give the Giants enough cap room to operate their offseason even if they don't extend the contract of quarterback
Eli Manning
.
[+] Enlarge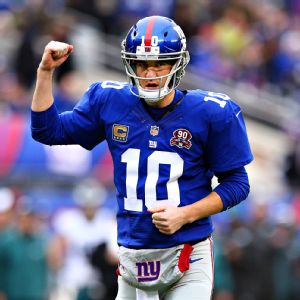 Brad Penner/USA TODAY SportsThe Giants could extend Eli Maning's contract to gain cap space in the short term and keep the QB around for the long term.
But extending Manning would help make things even looser for the Giants under the cap this offseason. He has one year left on his deal at a salary of $17 million and a cap number of $19.75 million. By not extending him now, they run the risk of having to pay him more (or franchise him) in 2016 and beyond, or of losing him in free agency and having to start over with a new, likely far less reliable quarterback option.
If the Giants do extend Manning this offseason, what would that deal look like? He has averaged $16.25 million a year on the six-year, $97.5 million deal he signed just prior to the 2009 season. Given his production in recent years, it's easy to say they should just extend him for the same money. But given the way quarterback contracts have gone since then, with guys such as
Matt Ryan
and
Joe Flacco
averaging more than $20 million a year on new deals and
Jay Cutler
,
Tony Romo
and
Matthew Stafford
coming in around $18 million a year, it's legitimate for Manning to ask for more.
For the sake of argument (JUST AS AN EXAMPLE), let's give him Romo's deal -- six years, $108 million with a $25 million signing bonus. Takes him to age 40 if he plays it out, but we all know those last couple of years aren't guaranteed. If they structured it the way Dallas structured Romo's deal, they'd knock another $11 million off this year's cap by rolling this year's salary into the new deal and giving Manning a low base salary in 2015 in exchange for the signing bonus. They'd be on the hook for big guaranteed salaries in 2016 and 2017 but nothing after that, and the length of the deal would allow them to restructure that big guarantee in Year Two if they wanted to do it.
I don't know what the Giants' plans are for this. I know they're considering all options, and I know they'd like to keep Manning around for the rest of his career. I know the options on the market aren't any better than Manning, and I believe an extension for Manning is the right way for the Giants to go -- whether now or a year from now. As for the timing: Yes, they can operate their offseason with a fair amount of flexibility if they don't extend Manning this year. But they could have a much more effective and helpful offseason if they do.