NFC North:

2013 Stock Watch
December, 17, 2013
12/17/13
10:00
AM ET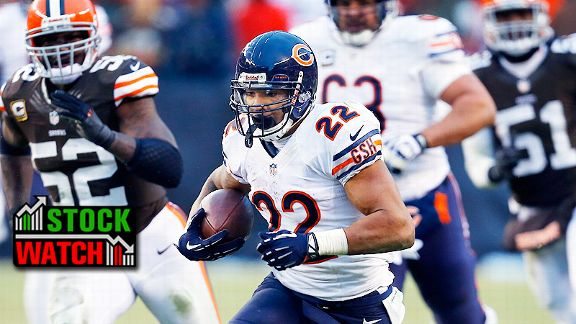 Matt Sullivan/Getty ImagesWith another 39 yards rushing, Matt Forte will have a new career high.
RISING


1. Matt Forte, RB:
Forte has done some of his best work of the season in the month of December. Sunday's 127-yard rushing effort against the
Cleveland Browns
marked the third straight week Forte topped 100 yards on the ground. Through 14 games, Forte has rushed for 1,200 yards, and is just 38 yards shy of the career-best 1,238 yards he ran for as a rookie in 2008. One of the best all-around tailbacks in the NFL, Forte has accumulated a career-high 1,722 yards from scrimmage, the highest total of any player in franchise history other than Walter Payton. While the Bears' quarterback position is receiving the bulk of the attention, the ground game led by Forte is stronger than ever.


2. James Anderson, LB:
The veteran strongside linebacker recorded a team-high and season-best 14 tackles in the win against the Browns. Anderson, along with rookie middle linebacker
Jon Bostic
(eight tackles), were around the football much of the afternoon. The past couple of months have not been easy for Anderson. With veterans
Lance Briggs
and
D.J. Williams
unavailable because of injuries, Anderson was thrust into the leadership role at linebacker, playing alongside rookies Bostic and
Khaseem Greene
.


3. Zack Bowman, CB:
Bowman had perhaps the finest game of his six-year NFL career against the Browns when he intercepted two passes, returning the second one 43 yards for a touchdown. Although cornerback
Charles Tillman
is a two-time Pro Bowler and the greatest defensive back in team history, it's not as if the Bears have fallen off a cliff with Bowman in the starting lineup the past five weeks. Bowman recorded eight or more tackles in three of the four games prior to the Browns victory, and is now tied for the team lead with three interceptions. He is a relative bargain at a combined $785,425 salary in 2013.


4. Alshon Jeffery, WR:
Jeffery receives a weekly mention in the stock report. His remarkable 45-yard touchdown catch in the fourth quarter over two Browns defenders swung the momentum in the Bears' favor for good. Jeffery has caught four touchdowns in the past three weeks, and is on pace to earn a trip to the Pro Bowl with 80 catches for 1,265 yards and seven touchdowns. Jeffery joked after the game Sunday that his teammates called him a "human highlight reel." With apologies to basketball Hall of Famer Dominique Wilkins, that nickname is very appropriate for Jeffery.
FALLING


1. Stephen Paea, DT:
Paea's problematic toe limited the nose tackle to 15 snaps in the win against Cleveland. Injuries are part of the game, but unfortunately for Paea, veteran
Jeremiah Ratliff
has emerged in his absence. Ratliff was on the field for 44 of the Bears' 58 defensive snaps, recording three tackles, one tackle-for-loss and three quarterback hits, according to the coaches review of the film. If Ratliff continues to produce at that level, it could make it difficult for Paea to be on the field as much as he would like in the final two regular season games.


2. Shea McClellin, DE:
McClellin played 46 snaps in Week 15 and registered zero tackles and two quarterback pressures. That means McClellin has a combined four tackles in the past four games since returning from a hamstring injury. McClellin hasn't recorded a sack since he had the hat trick (three sacks) against the
Green Bay Packers
on Nov. 4 en route to winning NFC Defensive Player of the Week. His hit on
Aaron Rodgers
altered the NFC North race, but that occurred more than a month ago. It would be great for the Bears' defense -- and for McClellin's confidence -- if the former first-round pick can finish out the regular season on a high note. Pressuring the quarterback is important. McClellin can do that. But can he begin to sack the quarterback on a regular basis? That remains to be seen, as McClellin has six sacks in 26 career games.
November, 19, 2013
11/19/13
8:30
AM ET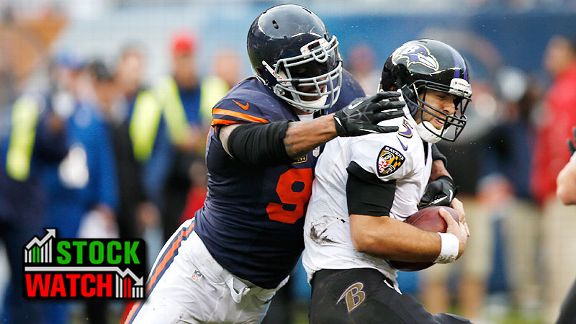 AP Photo/Charles Rex ArbogastJulius Peppers had his best game of the season with 11 tackles, 2.0 sacks and four tackles-for-loss.
RISING


1. David Bass, DE:
A seventh-round pick of the Raiders in 2013 out of Missouri Western State who was claimed by the Bears off waivers, Bass made the biggest play of his young professional career on Sunday, intercepting a
Joe Flacco
pass at the line of scrimmage and returning it 14 yards for a touchdown. Bass' pick-six changed the momentum of the game, and without it, the Bears likely don't crawl out of the 10-0 hole they dug for themselves before Sunday's lengthy weather delay. At 6-foot-4, 256 pounds, Bass isn't built like a prototypical 4-3 defensive end, but he's shown promise this season in six appearances. In addition to the interception, Bass finished the Baltimore game with four tackles and one tackle-for-loss. Expect Bass to keep himself in the mix at defensive end, especially with
Shea McClellin
dealing with a hamstring injury.


2. Julius Peppers, DE:
Peppers easily had his most productive game of the year with a season-high 11 tackles, 2.0 sacks and four tackles-for-loss in the 23-20 victory against Ravens. This proves that Peppers, 33, can still be a difference-maker. But these kinds of efforts from Peppers have been few and far between in 2013. Can the veteran defensive end string a bunch of these games together down the stretch as the Bears push for a postseason berth? The answer to that question is unknown. But with three sacks over the past three games, Peppers seems to be heating up at the right time for a Bears' defense ravaged by injuries.


3.
Robbie Gould
,
K
: Gould's candid and confident demeanor can rub certain people in Chicago the wrong way, but his on-field results are indisputable. Gould was 3-for-3 on field-goal attempts on Sunday, this despite horrendous weather conditions at Soldier Field. But Gould has made a living navigating the treacherous winds of Chicago, and is 19-of-20 for the season. The most accurate kicker in franchise history and one of the most accurate in league history, Gould has now kicked 11 game-winning field goals with six of those in overtime.


4. Josh McCown, QB:
All McCown does is win games and run the offense. Whenever a quarterback protects the ball and doesn't turn it over, his team has a shot to win every week. McCown's 2013 numbers are remarkable: 61-of-101 passes completed for 754 yards, five touchdowns and zero interceptions. That's a 100.0 quarterback rating. Even if the good times don't last much longer for McCown, this has been one of the most unexpected and enjoyable stories that I've covered in quite some time. McCown always wins the news conference with his genuine, kind, intelligent and humble personality, but now he's winning important games for the Bears. McCown is 2-0. He runs the offense the correct way. There is no need for
Jay Cutler
to rush back from his high-ankle sprain. None.
FALLING


1. Landon Cohen, DT:
The Ravens were averaging 73 rushing yards per game entering Week 10, but Baltimore had plenty of success on the ground against the Bears.
Ray Rice
ran for 131 yards and one touchdown, and Baltimore finished the game with 174 rushing yards on 41 attempts. Baltimore found much of the running room up the gut of the Bears' defense, where Cohen played 59 snaps because nose tackle
Stephen Paea
(19 snaps) left the game early with a toe injury. Cohen hasn't been a bad addition, but Sunday wasn't his finest moment.


2. Brandon Marshall, WR:
Marshall has been great for the Bears with a team-high 64 receptions for 828 yards and eight touchdowns, but he caught just four passes for 42 yards on 10 targets against the Ravens. Marshall more than carries his weight on offense, but he will occasionally drop catchable balls, as he did on Sunday when the wideout let a perfectly thrown pass from McCown slip through his fingers. In the rare instances when Marshall has been a non-factor for the Bears, he usually responds the following week by putting up big numbers. The smart money says Marshall finds the end zone multiple times in Week 12 when the Bears travel to St. Louis, and finishes the game as the club's leading receiver. History has shown us that Marshall generally finds a way to bounce back, regardless of the quarterback.
November, 12, 2013
11/12/13
9:00
AM ET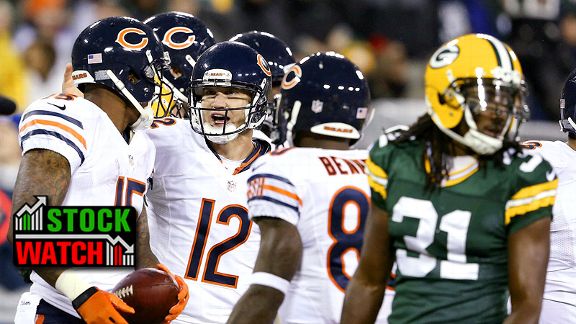 Nuccio DiNuzzo/Chicago Tribune/Getty ImagesBrandon Marshall and Josh McCown have hooked up on touchdown passes in each of the past two games.
RISING


1. Brandon Marshall, WR:
Marshall is red hot. The four-time Pro Bowl selection topped 100 receiving yards (7-139-2) for the second straight week on Sunday. Over the past four games, Marshall has 29 grabs for 408 yards and five touchdowns. He leads the Bears with 60 catches for 786 yards and eight scores, and he is on-pace for 106 total receptions, barring injury. On another positive note, Marshall seems to have chemistry with
Josh McCown
, the Bears' new starting quarterback for the foreseeable future.


2. Josh McCown, QB:
All McCown does is move the football. The veteran quarterback stepped in for Jay Cutler at the end of the fourth quarter against the Lions and promptly guided the Bears' offense on a 10-play, 74-yard scoring drive that culminated with an 11-yard touchdown pass to Marshall. On the drive, McCown went 6-of-9 for 62 yards and the score. In three appearances this season, McCown has completed 42-of-70- passes for 538 yards with four touchdowns and zero interceptions for a 103.2 quarterback rating. McCown can't be perfect forever, but the Bears hope the veteran can protect the ball and lead them to a key victory Sunday against the
Baltimore Ravens
.


3. Cutler, QB:
Sorry, but I believe Cutler had a good game against Detroit despite his physical limitations caused by the groin injury and high-ankle sprain he suffered late in the second half. Despite all that, Cutler should have finished the game with three touchdown passes --
Alshon Jeffery
failed to catch two potential scores. Cutler flashed the arm several times on Sunday, throwing rockets to his receivers. Of course, the quarterback did throw a costly interception in the end zone, and by the second half, was a shell of his former self in the mobility department. But the Bears failed to capitalize on numerous opportunities in Week 10 that were not Cutler-related. He did enough to help the Bears win that game. And let's not forget that Detroit has a pretty good front seven. While I think the Bears made an error not removing Cutler from the game sooner, he has nothing to be ashamed about. He played through injuries and put his team in position to win. He did his job.
FALLING


1. Matt Slauson, LG:
There is plenty of blame to go around on the Bears' offensive line, but Slauson's mistakes against the Lions garnered the most attention. With 10:57 left in the game, Slauson was called for a holding penalty that negated a
Matt Forte
9-yard touchdown run. The Bears eventually had to settle for a field goal. At the end of the game, Slauson failed to help center
Roberto Garza
block Detroit defensive tackle
Nick Fairley
on the second failed two-point conversion attempt. Slauson has been a solid professional all season and certainly looks to be a candidate to receive a contract extension in the offseason, but Sunday wasn't his best effort.


2. Matt Forte, RB:
Forte was a non-factor in the 21-19 defeat, rushing for just 33 yards on 17 carries (1.9 yards per attempt). Some of Forte's issues can be attributed to poor play from the Bears' offensive line, a unit that missed its share of blocks. However, Forte failed to avoid a couple of tacklers in the open field on plays that were set up to produce sizeable gains for the offense. Forte also caught four passes for 16 yards, giving him only 49 all-purpose yards in Week 10. Forte is rarely this ineffective.


3. Michael Bush, RB:
The Bears asked Bush to pick up one first down on Sunday. He failed to do it. For the season, Bush has gained 69 yards on 32 attempts (one touchdown), while catching two passes for 21 yards. There are plenty of undrafted rookie running backs who can give you that kind of production. Bush will earn $2.55 million in 2013. He's on the books for total cash payouts of $2.850 million in 2014 and $3.6 million in 2015. The Bears will have to carry $1 million worth of dead salary-cap money over the next two years to cut Bush in the offseason. In a featured role, Bush might be OK. But in his current role in this offense, Bush isn't giving the Bears much bang for their buck.
November, 6, 2013
11/06/13
2:22
PM ET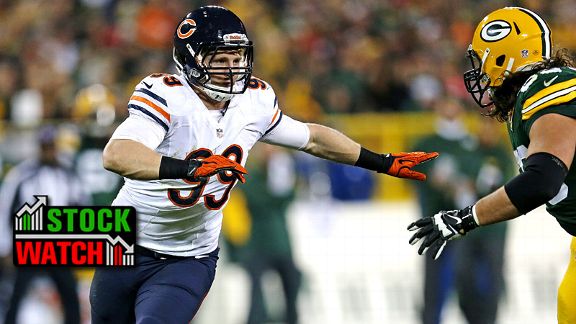 Jonathan Daniel/Getty ImagesShea McClellin won NFC Defensive Player of the Week honors for his performance against the Packers.
RISING


1. Shea McClellin, DE:
This came out of left field, but McClellin had the game of his life against the
Green Bay Packers
with 3.0 sacks, two tackles-for-loss and the hit that knocked Green Bay quarterback
Aaron Rodgers
out of the contest with a fractured left collarbone. For one night, there was no talk about the Bears missing out on
Chandler Jones
in the 2012 NFL draft. Give McClellin, who was named NFC Defensive Player of the Week, some credit. Lesser players would have gone into the tank after such a sluggish and disappointing start to the season, but McClellin persevered. There is no guarantee that McClellin will ever have this type of performance again, but at least now he has the confidence that he can dominate a game from the defensive end position.


2. Julius Peppers, DE:
This is what people expect from Julius Peppers. The veteran defensive end flashed his athleticism when he deflected a
Seneca Wallace
short pass in the air and grabbed the football with one hand to secure the interception. Later in the game, Peppers was credited with a sack, just his second of the year, and also had a tackle-for-loss and another pass defensed. Peppers seemed to be extremely active on the field and fired up on the sidelines. Peppers is a team captain. His teammates need to feed off his emotion. Valid questions have been raised this season about Peppers' motor, or lack thereof. But Peppers' motor was running on Monday night, and the hope is the perennial Pro Bowler still has plenty left in the tank for the second half of the season.


3. Josh McCown, QB:
McCown will head back to the bench on Sunday if
Jay Cutler
returns from a torn groin muscle to face the
Detroit Lions
, but the veteran quarterback did his job. In fact, McCown totally exceeded expectations in both of his appearances, and really should have led the Bears to a pair of victories in relief of Cutler if not for a leaky defense in the Redskins' loss. McCown protected the football, something Cutler has been unable to do in his career versus the Packers, and passed for 272 yards and two touchdowns in the victory. This should end the debate of whether or not McCown is a viable No. 2 NFL quarterback. The Bears are lucky to have McCown, and who knows, maybe he earned himself another one-year deal from the Bears in the offseason.
FALLING


1. Chris Conte, S:
Conte seems to be taking bad angles to the football. He desperately needs a shot of confidence, like McClellin received in the 27-20 victory at Lambeau Field. Conte has talent, that is undeniable. Former general manager Jerry Angelo once remarked that Conte had the potential to be the most complete safety the Bears had drafted since 2001, and Angelo's assessment looked to be valid the past two seasons. But Conte is in a funk and the Bears need to find a way to snap him out of it. I wrote last week that maybe the Bears should consider inserting
Craig Steltz
or
Anthony Walters
into the mix at safety to push Conte. There is nothing wrong with competition, and I believe Conte would respond well to it. He just needs to break out of his slump.


2. Bears linebackers:
We all know the Bears are dealing with injuries at linebacker --
Lance Briggs
and
D.J. Williams
. And we also all know the Bears have been forced to start two rookies at the position in
Jon Bostic
and
Khaseem Greene
. So while the natural inclination is to cut the Bears a certain degree of slack, the linebackers overall did not have much success against the Packers. Green Bay rushed for 199 yards and two touchdowns on 29 attempts, numbers that would likely have been higher if Packers coach Mike McCarthy hadn't abandoned the run in the second half. Much of that is on the linebackers. Also, veteran
James Anderson
failed to catch a sure interception that would have resulted in a pick-six. Anderson is in the midst of a solid season and the future appears bright for Bostic and Greene, but Monday night was not their finest moment.


3. Dante Rosario, TE:
The reserve tight end likely earned himself a spot in the special teams' doghouse when he missed his man and allowed Green Bay to block an
Adam Podlesh
punt in the third quarter. Rosario has been fine since the Bears acquired him from the
Dallas Cowboys
, but that's a costly mistake for a player on the bottom of the 53-man roster to make. A seven-year NFL veteran, Rosario committed an uncharacteristic gaffe, that luckily didn't cost the Bears the game. But it very well could have.
October, 1, 2013
10/01/13
11:00
AM ET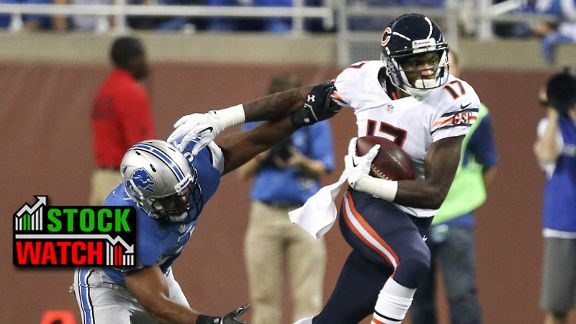 Nuccio DiNuzzo/Chicago Tribune/Getty ImagesAlshon Jeffery had five catches for a career-high 107 yards against the Lions.
RISING


1. Alshon Jeffery, WR:
Jeffery did a little bit of everything in the Week 4 loss in Detroit. He came up with a tough touchdown catch despite blanket coverage (he dropped a sure touchdown the play before), showed the ability to beat a defense deep with a 44-yard reception, and proved he can also be a weapon in the run game with a 27-yard end-around. With the exception of the Bears' win against the Vikings on Sept. 15, Jeffery has been a reliable target for
Jay Cutler
the entire season. Jeffery figures to reach 60 catches in 2013 if he continues to avoid injury -- he missed six games his rookie season. Jeffery's confidence seems to be growing every week.


2. Julius Peppers, DE:
The Bears' failure to sack the quarterback is still alarming, but Peppers had his best game of the year on Sunday, by far. According to NFL statistics, Peppers finished with six tackles and the Bears' lone sack and quarterback hurry. Peppers also dropped
Reggie Bush
for no gain on the Lions' first offensive play from scrimmage, and overall, the defensive end appeared to be moving better than in previous weeks. With the Bears' depth on the defensive line tested due to injuries, it's vital Peppers contribute some impact plays to the defensive effort moving forward.


3. Earl Bennett, WR:
Bennett's role in the offense is expanding. The wide receiver participated in 49 plays and caught a late fourth-quarter touchdown from Cutler, Bennett's second score in the past two weeks after hauling in the Week 3 game-clincher versus the
Pittsburgh Steelers
. Bennett isn't targeted often, he has seven catches on the season, but when the ball does come his way, the wideout generally makes a play. Bennett is clearly the fifth option on offense, but he is sure-handed and dependable.
FALLING


1. Jay Cutler, QB:
The Bears lost to the Lions for two reasons; (1) Cutler turned the ball over four times, and (2) the defense failed to tackle Bush. Cutler will throw interceptions. That is a fact. Sunday marked the seventh time since 2009 that Cutler tossed three or more interceptions in a game. The Bears claim Cutler's mistakes were all physical, that his decision-making was sound in the 40-32 defeat. If that's the case, then all of Cutler's miscues are correctable. But these performances are always a concern with Cutler. The Bears might be able to beat a bad Minnesota team at home when the quarterback turns the ball over three times, but on the road against a quality opponent, the Bears have no shot to win if Cutler gives the ball away at such an alarming rate.


2. Entire defense:
The whole group gets the nod for Bush rushing for 112 yards on 11 carries in the first half alone. The Lions seemed to have a solid gameplan for how they wanted to attack the Bears, but that does not excuse the poor tackling. Bush was making Bears defenders miss all over the field. The Bears have allowed way too many big plays on defense this season. The turnovers and defensive touchdowns are great, but this group is expected to produce better results. Even without Lovie Smith, Rod Marinelli,
Brian Urlacher
and now
Henry Melton
, there are enough Pro Bowl-caliber defensive players on the roster to prevent these kinds of breakdowns. And where is the pass rush? This all better improve in a hurry with
Drew Brees
coming to town on Sunday, otherwise the Bears' 3-0 head start to begin the season could evaporate over the next month.


3. Adam Podlesh, P:
He had a rough afternoon at Ford Field, there is just no other way to put it. Despite punting in a controlled climate, Podlesh averaged only 40.2 yards per kick with a net average of 28.8 yards. Heading into Week 4, Podlesh had been averaging 44.6 yards per punt with a 42-yard net average. Punters will have bad games from time to time. Podlesh had a mild slump last year but finished the season exceptionally strong. The hope is he puts the Lions game behind him and bounces back against the Saints. Field position figures to be at a premium against the high-powered Saints' offense, so Podlesh pinning the Saints deep in their own territory whenever possible will be an important key to victory.
NFC NORTH SCOREBOARD
Thursday, 11/27
Sunday, 11/30