NFC North:

Cincinnati Bengals
December, 22, 2013
12/22/13
10:00
AM ET
By
ESPN.com staff
| ESPN.com
Join our ESPN.com NFL experts as they break down the Minnesota Vikings' visit to the Cincinnati Bengals. Contribute your thoughts and questions beginning at 1 p.m. ET. And, be sure to visit our
NFL Nation Blitz page
for commentary from every game, as well as fan photos and the latest buzz from Twitter. See you there.
December, 19, 2013
12/19/13
10:00
AM ET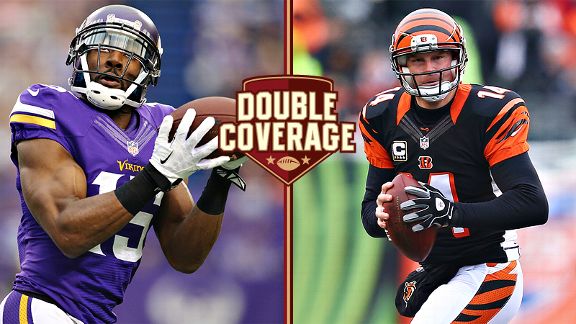 Getty ImagesCan Greg Jennings and the Vikings help spoil the playoff hopes of Andy Dalton and the Bengals?
The
Minnesota Vikings
and
Cincinnati Bengals
are two teams headed in completely opposite directions.
For the Vikings, the 2013 season has been a difficult one, defined mostly by a quarterbacking carousel and the lack of wins because of it. As for the Bengals, the year has been a mostly good one. With home wins over the Packers and Patriots, and road victories against the Lions and Chargers, the Bengals have looked for much of the year like a team poised for a longer postseason run than the past two years. Cincinnati's 2011 and 2012 seasons ended with first-round playoff losses.
If the 9-5 Bengals are even going to get to this postseason this year, though, they first have to bounce back from a Sunday night loss at Pittsburgh and beat the four-win Vikings. Such a win isn't a guarantee. Minnesota has embraced the role of postseason spoiler, rolling NFC East-leading Philadelphia last weekend.
To break down the contest, ESPN.com Vikings reporter Ben Goessling and Bengals reporter Coley Harvey teamed up for this edition of Double Coverage. As this week's visitor, we'll start with Ben:
Ben Goessling:
Andy Dalton
was one of the Vikings' options at QB when they drafted
Christian Ponder
in 2011. The Vikings seem to have given up on Ponder, and while Dalton has been better, it's hard to tell whether he's going to be the answer in Cincinnati long-term. How do the Bengals feel about his progress?
Coley Harvey:
It certainly appears that for now the Bengals feel comfortable with Dalton moving forward. Despite calls at times this season from some groups of angry fans, the Bengals have remained firm in their support of him. No matter how poorly Dalton played, they weren't shopping for another quarterback, and they weren't trying to give backup
Josh Johnson
any shared playing time. In short, they were committed to seeing Dalton through the year. And why not? Although he has had some struggles this season, Dalton has still shown that he can handle the duties of being a starting quarterback. He was the AFC's offensive player of the month for October, and had three consecutive 300-yard passing games during one stretch. If Dalton can't get the Bengals past the first round of the playoffs, it will be interesting to see whether the sides discuss a contract extension, with the 2014 season his last on his current contract.
To your broader point, Ben, that 2011 quarterback class certainly hasn't been all that amazing.
Speaking of progressing quarterbacks, it seems like
Matt Cassel
has given the Vikings some semblance of offensive success in games he's appeared in this season. Why didn't Minnesota stick with him sooner?
Goessling:
That's been the big question all season here, and on Sunday, coach Leslie Frazier finally gave those of us in the media a hint of what we'd expected all along. He said the Vikings always liked Cassel, but had to go through the "process" a little bit, and unfortunately weren't able to win games in the meantime. The "process" I believe he's referring to is the act of evaluating Christian Ponder to a point where the Vikings could be absolutely sure he wasn't the answer at the position. When
Josh Freeman
got inserted into the mix -- and both Frazier and general manager Rick Spielman said the Vikings planned to play Freeman soon -- that complicated things even more. The biggest thing Cassel had working against him was his age (31), and the Vikings didn't necessarily see him as the long-term guy. The question will be whether the quarterback tryouts wind up costing Frazier his job, but now that Cassel's starting, maybe Frazier will be able to make a case to keep his job by showing he can win when he has a competent quarterback.
The Vikings have struggled all year with small, shifty running backs. How do you expect
Giovani Bernard
to fare against them Sunday?
Harvey:
If the Vikings have struggled with those types of backs, then they could be in serious trouble Sunday, Ben. Bernard has been the five-tool player the Bengals thought they were drafting earlier this year and more. Not only can he hit the edge hard on pitches and outside runs, but he has enough power in his smaller body to hit the middle of a defensive line hard and keep going. His most important trait, though, may be what he's able to do as a receiver. You'll see the Bengals use him fairly regularly in the screen game. If the blocking sets up right on those plays, he won't just go for 5 or 6 additional yards. He typically will break off another 10, 15, 20 or more yards after the catch. Once the rookie gets in space, it's like he hits a fourth and fifth gear.
Having said all of that, I do believe he and the more between-the-tackles running
BenJarvus Green-Ellis
will be keys to the game. If they get going, the Bengals have a chance to showcase the balanced offense that has been coming on of late.
Minnesota has obviously had one of the NFL's best rushing attacks the past seven seasons because of
Adrian Peterson
.
Matt Asiata
did a great job of getting to the end zone last week. What kind of challenge do you think he poses the Bengals if he ends up playing in place of Peterson?
Goessling:
Not much of one, based on what we saw last week. Asiata averaged less than 2 yards a carry, and while he runs hard between the tackles, he doesn't offer much else; he doesn't break tackles the way
Toby Gerhart
can, and Peterson's gifts are obviously on a different level from either of those guys. I think Peterson will play, though; he wanted it known last week that he could have gone, and Frazier said after the game that he expected Peterson would be back. The guy prides himself on his pain tolerance, and as hard as he pushed to play last week, I'd be really surprised if he's not in there Sunday.
Assuming he plays, how tough a matchup is this for Peterson? The Bengals have been one of the NFL's best teams against the run this year. What's made them so effective there?
Harvey:
It won't be an easy one for Peterson. This Bengals' defense prides itself on playing physically, emotionally and flowing quickly to the football, particularly when it's on the ground. If this were a normal week, I might contend that as good as Cincinnati's run defense has been that Peterson might still end up surprising them and have a big day. This isn't a normal week, though. The Bengals are coming off a loss that had many questioning their heart and attitude, and they also happen to be playing this game at home. There's something about Paul Brown Stadium this season. Opponents have struggled, and the Bengals have fed off the crowd's energy. Cincinnati is 6-0 at home this season, and the defense is a big reason. If linebacker
James Harrison
(concussion) doesn't play, that could take away a key piece of the Bengals' run defense.
Cincinnati lost punter
Kevin Huber
to a season-ending injury last week and is bringing along his replacement,
Shawn Powell
, this week. He'll be kicking to Minnesota's
Marcus Sherels
. How dynamic is Sherels, Ben? His numbers seem so-so for most of the season, but he does have a return for touchdown.
Goessling:
I think you summed it up nicely there, Coley. Sherels did have the punt return touchdown, but his numbers otherwise have been just OK. The thing the Vikings like about him is that he doesn't make mistakes. He fumbled a punt earlier this year, but he's typically very sure-handed and makes good decisions about when to call for a fair catch. He doesn't get them in trouble by taking unnecessary chances, and special-teams coordinator Mike Priefer is a big fan of his partly because of his decision-making skills. But watch out, though. The Vikings are trying to find ways to get
Cordarrelle Patterson
the ball now that teams have stopped kicking to him, and Frazier mentioned they could give him a look on punt returns. If that happens, the Vikings will have a completely different kind of threat back there on punts.
October, 17, 2013
10/17/13
7:35
PM ET
ALLEN PARK, Mich. -- The last time
A.J. Green
played in Detroit was his first time wearing an NFL uniform in a game. His first preseason game. His rookie year.
Already down two touchdowns in the first quarter, Cincinnati quarterback
Andy Dalton
threw Green the ball on his very first play as a Bengal. It was intercepted by Detroit cornerback
Chris Houston
.
Not the start Green would have wanted.
"I had to make a tackle," Green said. "I hope I get off to a better start than that."
Since that point, not much has gone wrong for Green, who visits Detroit on Sunday with the Bengals.
[+] Enlarge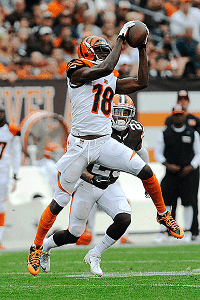 Ken Blaze/USA TODAY SportsBengals receiver A.J. Green has 37 catches for 464 yards and 4 touchdowns this season.
Over the past three seasons, stopping Green has been a major issue. He has 11 100-yard games in his first 37 games. In his career, he's only dropped 14 passes. Since entering the league as a first-round draft pick out of Georgia in 2011, he's seventh in the NFL in receiving yards (2,871) and of guys in the top 10 in that span, only
Vincent Jackson
,
Steve Smith
and
Dez Bryant
have fewer drops.
In the past three years, he's caught 22 touchdown passes, tied for 10th in the league during that span.
Part of what makes him good is he is incredibly tough to read as a receiver. He is a vertical threat, much like his offseason workout partner,
Detroit Lions
receiver
Calvin Johnson
, but his ability to run any route is what makes him completely dangerous.
"You can tell he works on every part of his game," Houston said. "Some guys, you can just know that they just run nines, jump balls, and they are not good in-and-out of breaks.
"Him, you've got to play everything because he's so precise in everything he does."
There is a rare fluidity there, something only a few receivers have and even less are able to excel with. But Detroit cornerback
Rashean Mathis
has been around a while.
He's covered a lot of receivers. As a former Pro Bowler, he's handled a lot of them well, too. Green, though, he's one of the best current NFL receivers Mathis has seen.
"I've seen a lot of guys," Mathis said. "But there's not a lot of guys that possess the smoothness of route running that he has, that capability. He can be an explosive guy as well.
"It's a good combination he has."
But the key to stopping Cincinnati's offense is to keep Green from taking those vertical routes too often. Force him to use those quick stops and fluid movements he has when he's making cuts to run hitches and slants instead of go routes, corners and posts.
This, Houston believes, is the way to frustrate Cincinnati's offense.
In some ways, Detroit's cornerbacks practice this every day because they have the older, perhaps more elite version of Green: Johnson.
Like any quarterback in the league, Dalton throws a lot of his passes within 10 yards of the line of scrimmage and Dalton likes to go outside of the hashmarks on those throws. When throwing to receivers, Dalton has been his most efficient throwing to the outside of the field. His highest completion percentage beyond the line of scrimmage is to the left side of the field between the line of scrimmage and 10 yards away, where he is completing 75 percent of his passes.
Three of Dalton's four highest QBR zones are on the left side from 10-to-20 yards away (94.3) and then deeper than 20 yards (86.7) along with over the middle more than 20 yards away (98.5).
"They want their quarterback not to make mistakes," Houston said. "A lot of quick three-step (drops), lot of quick five-step (drops).
"Then, once you start biting up on the quick three-and-five step, then they hit you deep."
A lot of that deeper success comes because of the route running fluidity Green possesses. When he makes it hard to read, he becomes that much more difficult to stop. And it has turned him into one of the best receivers in the NFL.
"You could put him up there," Mathis said. "I'm not the one to crown anyone too quick but he's made plays his first three years so to knock him, you can't do that. You have to give him his props.
"He's a very good young talent and if he keeps it up you definitely can put him in the top three or four receivers in the league easily."
ESPN Bengals reporter Coley Harvey contributed to this report. Information from ESPN Stats & Information was also used in this report.
September, 22, 2013
9/22/13
12:40
PM ET
By
ESPN.com staff
| ESPN.com
Join our ESPN.com NFL experts as they break down the Green Bay Packers' visit to the Cincinnati Bengals. Contribute your thoughts and questions beginning at 1 p.m. ET. And, be sure to visit our
NFL Nation Blitz page
for commentary from every game, as well as fan photos and the latest buzz from Twitter. See you there.
September, 20, 2013
9/20/13
12:00
PM ET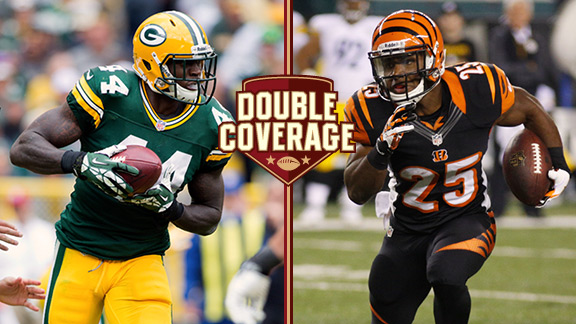 AP Photo Running backs James Starks and Giovani Bernard look to continue the success they had in Week 2.
As the
Green Bay Packers
and
Cincinnati Bengals
enter the third week of the season, both teams are looking to capitalize off Week 2 victories.
The Packers, buoyed by quarterback
Aaron Rodgers
' record-tying 480-yard passing performance, improved to 1-1 with a 38-20 win over Washington last Sunday. The Bengals also moved to 1-1 after being sparked Monday night by rookie running back
Giovani Bernard
's two-touchdown effort in a 20-10 win over the Steelers.
This week, ESPN NFL Nation's Coley Harvey and Rob Demovsky preview the Packers-Bengals game.
Coley Harvey:
Rob, we'll pose the first question to you. If Rodgers' impressive outing last week against Washington was foreshadowing, then defenses across the NFL better buckle up for a long season. I mean, 480 yards? That's special no matter who did it. Still, I have to ask since it seemed like Washington's defense threw in the towel a little early: Were Rodgers' yards simply a function of him being that in sync with his receivers, or was some of it a function of the Packers rightfully beating down a team that eventually didn't want to be there? If it was mostly Rodgers and his receivers, how much do you think they can sustain this high-octane offense?
Rob Demovsky:
I don't know if Washington threw in the towel as much as it's just not a very good pass defense. The Eagles shredded them the week before, too. And then losing safety
Brandon Meriweather
to a concussion in the second quarter against the Packers didn't help. One thing about Rodgers is he's great at taking what the defense gives him. If a defense is going to play tight press coverage, he will work the ball down the field. If the defense is going to play soft and give cushion, he'll use the underneath routes to get his guys the ball, which is what he did against Washington, and his receivers did the rest. He doesn't force very many throws. This year, he seems even more in tune with his receivers.
Randall Cobb
destroyed the 49ers and Redskins from the slot. Also, Rodgers has a lot of trust in tight end
Jermichael Finley
right now.
However, it looks to like the Bengals might have the best pass defense the Packers have faced so far this season. What makes them so effective?
Harvey:
I'd venture to say that it's a combination of things. For starters, the Bengals have gotten decent push from their defensive line in the first two games. The unit's two sacks, though, only tell part of the story. Against Pittsburgh's
Ben Roethlisberger
on Monday, the group was in the backfield often, making it difficult for Big Ben to get comfortable in the pocket. That lack of comfort, combined with the defensive backs' ability to stay with receivers, made it difficult for Roethlisberger to connect deep. Roethlisberger completed only four of his 15 attempts of 20 yards or more.
Stepping away from the passing game, I'm curious about Green Bay's rushing attack. What made
James Starks
go off last week? And how confident are the Packers in him in the event
Eddie Lacy
doesn't go this week?
Demovsky:
Starks has always been a powerful, decisive runner, so it wasn't a total shock to see him rush for 132 yards against the Redskins. After all, Starks was good enough to be their starter in Super Bowl XLV. In fact, he was their starter throughout that playoff run following the 2010 season and had a 100-yard game against the Eagles in the wild-card round. Starks' problem over the years is that he could never stay healthy over long periods of time, but he's been healthy since the beginning of training camp this year and waited for his turn. Packers coach Mike McCarthy was so satisfied with Starks' performance against Washington that he's going to start him against the Bengals regardless of Lacy's status.
Speaking of running games,
Giovani Bernard
sure looked effective against the Steelers on Monday. What dynamic does he add to the Bengals' offense?
Harvey:
Good points about Starks. That's the beauty of the NFL. When hot-shot youngsters come along, it's so easy to forget how good and dominant older players once were -- and in Starks' case, still can be.
I guess you could say the Bengals are going through a similar situation themselves right now with the rookie Bernard coming in and stealing attention from 28-year-old
BenJarvus Green-Ellis
. The elder running back had a rather sneaky-good evening Monday. While most attention was focused on Bernard's two-score night, Green-Ellis rushed for 75 yards, picking up virtually all of them while running between the tackles.
Whenever the Bengals need an explosive play, though, they turn to Bernard. Two Packers who could be important in slowing him are linebackers
A.J. Hawk
and
Clay Matthews
. Football fans in Ohio are probably curious to know how important Hawk, in particular, is to Green Bay's defense. What say you?
Demovsky:
Hawk has been a steady player but has never really lived up to where he was drafted -- fifth overall in 2005 out of Ohio State. He plays in the Packers' base and nickel packages but he comes off the field when they go to their dime package in obvious passing situations. But I'm sure he'll be charged up for the rare opportunity to play in his home state.