NFC North:

Cleveland Browns
December, 15, 2013
12/15/13
10:00
AM ET
By
ESPN.com staff
| ESPN.com
Join our ESPN.com NFL experts as they break down the Chicago Bears' visit to the Cleveland Browns. Contribute your thoughts and questions beginning at 1 p.m. ET. And, be sure to visit our
NFL Nation Blitz page
for commentary from every game, as well as fan photos and the latest buzz from Twitter. See you there.
December, 12, 2013
12/12/13
10:00
AM ET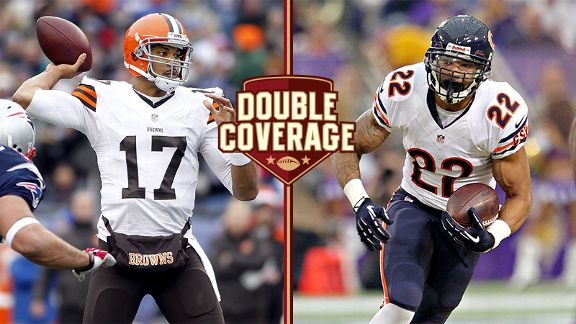 USA TODAY SportsJason Campbell has been steady for the Browns at quarterback, while Matt Forte's versatility poses a challenge for opposing defenses.
The
Chicago Bears
won a very important game over Dallas on Monday night that kept the team in the playoff hunt.
Chicago's offense under first-year coach Marc Trestman had a huge game, especially
Josh McCown
at quarterback. Trestman used to coach in Cleveland, and he once coached Cleveland hero
Bernie Kosar
at the University of Miami. He has been winning with McCown playing for
Jay Cutler
.
While the Bears fight for a playoff spot, the Browns fight to simply win a game. They've lost four in a row and eight of nine, including gut-wrenching losses the past two weeks to Jacksonville and New England. Cleveland is quarterbacked by
Jason Campbell
, the Bears' backup last season.
Bears writer Michael Wright of ESPN Chicago and ESPN.com Browns writer Pat McManamon look ahead to Sunday's game.
McManamon:
Mike, the Bears are fourth in the league in passing offense under Trestman. He came from Canada with the reputation as an offensive wizard and produced 45 points in a frigid December game. What does he do in the passing game and in the offense to get these results and this success?
Wright:
Pat, probably the most important thing Trestman and the offensive coaching staff have done is taught the importance of understanding the actual concepts of the offense as opposed to simply telling players where to go on any given play. The players know exactly what the offense wants to accomplish on a given play, and each player knows how they individually help the club to make the play work by carrying out their particular responsibilities. For instance,
Brandon Marshall
may not be the primary receiver on a certain play. But he'll know exactly why he needs to run a route at a particular depth to free up the No. 2 or No. 3 receiver underneath. As you know, every player knows what they're supposed to do on a particular play, but Trestman makes sure they know why, and that's played a significant role in the offense's success. And it's taught at every level, from the line to the running backs out to the receivers. That, to me, leads to a certain synergy that's paramount in offensive football.
Pat, I know the loss to New England was disappointing considering the Browns blew a 26-14 lead and the fact there were a couple of controversial calls down the stretch. But is there any feeling at all of encouragement about what the team might be able to do in the coming weeks after the way it played against the Patriots?
McManamon:
Any positive in a storm, Mike, and the Browns will take it. They point to the heart the team showed in bouncing back from a bad loss to Jacksonville, and to the fact that they did not quit after that loss. They also point to Campbell, who has had three incredible games and two very average ones. The one in New England was one of the incredibles. Finally, they point to
Josh Gordon
, who has done so many good things the past month.
These are all building blocks -- and good building blocks. But the problem with the Browns is they've given their fans nothing but building blocks since 1999, and since 2007 they have won 27 games -- total. Fans are sick of building, tearing down and rebuilding. They show loyalty and faith every time there is a restart. They're ready to really win and not just come close. Anything that happens in the final three games won't matter a whole lot.
Let's turn to quarterback, Mike. Campbell has been shockingly good in Cleveland. Did the Bears ever see this guy in Chicago? On Chicago's side, has McCown taken the job from Cutler permanently?
Wright:
They saw it, Pat. The problem is the Bears couldn't afford to keep Campbell. When the Bears brought him in, they paid him a $2 million signing bonus and a base salary of $1.4 million, and his cap number was $3.754 million. So when the Bears started making decisions in the offseason about some of the free-agent additions they needed to make, Campbell was more of a luxury than a priority. The Bears spent big to bring in left tackle
Jermon Bushrod
and tight end
Martellus Bennett
, and after losing linebackers
Brian Urlacher
and
Nick Roach
in free agency, they needed to add two more starters at linebacker. Remember, the Bears also placed the franchise tag on defensive tackle
Henry Melton
, which resulted in a cap hit of $8.45 million. McCown, at $840,000, was simply a cheaper option than Campbell.
Speaking of McCown, he's the first Bears quarterback to produce three consecutive 300-yard passing games. But he hasn't taken the starting job from Cutler. Trestman has made that very clear, and even McCown says that right now, he's simply playing his role until Cutler returns. So right now, the team has been on record on numerous occasions saying Cutler is the guy as soon as he's medically cleared to play.
Out here in Chicago, Campbell made his only start during a slaughter at San Francisco in which I'm not sure Cutler would have made a difference. How would you measure his play out there in Cleveland?
McManamon:
Surprisingly good. Perhaps shockingly good. Campbell had a good game against Kansas City, a very good game against Baltimore and an excellent game against New England -- along with so-so outings against Cincinnati and Pittsburgh when he was dealing a painful and unspecified rib injury. Campbell returned from a concussion to a lot of uncertainty. But he stepped in against New England and threw for 391 yards and three touchdowns. More importantly, he brought a sense of calm to the Browns' offense that was badly needed.
It's a bit of a mystery where this Jason Campbell has come from. He is not the same guy he was in his one start in Chicago, and he is far better even than when he was starting in Oakland. He still has limitations -- a strong pass rush should give him problems -- but to call him anything but a positive in Cleveland would not be fair to him.
Mike, Chicago's one weakness might seem to be its 2-4 road record. Can the Bears win on the road, and with a game following this one in Philadelphia, don't they pretty much have to win in Cleveland if they hope to make the playoffs? Even if it means playing on the road following a Monday night game?
Wright:
It's been more than a month since the Bears have won on the road (Nov. 4 at Green Bay), and they absolutely have to win Sunday to have any realistic shot of making the postseason. Because of their putrid 4-6 conference record, the Bears would lose out in any tiebreakers for an NFC wildcard. So Chicago needs to win the division to make it to the postseason. But right now, Chicago is a half-game behind the
Detroit Lions
, who swept the Bears this season. So they've got to win out, basically, and hope the Lions slip. If the Bears do manage to win at Cleveland, the road gets tougher at Philadelphia in a game that has been flexed to a night matchup. A win at Philadelphia would mark the team's first consecutive wins since September. But remember, Chicago still has to host the
Green Bay Packers
in the season finale Dec. 29. And by then, the Bears could be facing a Packers team with a healthy
Aaron Rodgers
back in the fold.
Pat, Josh Gordon has gone off over the past four games. What's he doing to opponents that makes him so difficult to handle, and how much of a focal point has he become to what the Browns are doing offensively now?
McManamon:
First of all, a little perspective on Chicago not winning a road game since Nov. 4. The Browns have won one game since Oct. 3, home and away.
As for Gordon, he's just an amazing physical presence, with size and sprinter's speed that lets him get away from defenders. He also has amazing strength, and has learned how to avoid jams and run routes. It is rare on a play that he is not open. Teams have refused to double-cover him, and they've paid. Bill Belichick had a week to prepare, gave the job of covering Gordon to
Aqib Talib
, and Gordon had the best game by any receiver against New England this season. The Browns lack a run game, and Gordon can't catch every ball. But he clearly has grown into option No. 1 on almost every pass play.
October, 18, 2013
10/18/13
12:00
PM ET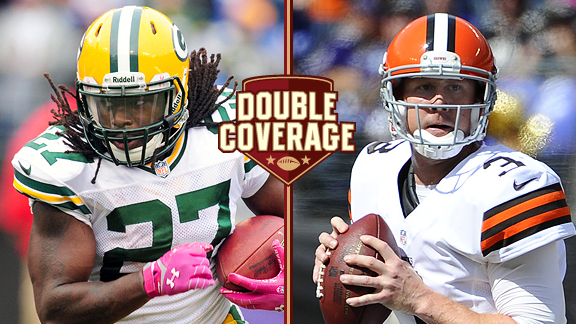 USA TODAY SportsThe Packers may have to rely more on their run game, while Browns QB Brandon Weeden seeks to recover from a forgettable outing.
The
Green Bay Packers
have made it past a difficult stretch in which they played four playoff teams from last season in their first five games.
And they came out of it with a respectable 3-2 record.
The
Cleveland Browns
, despite going from
Brandon Weeden
to
Brian Hoyer
and now back to Weeden at quarterback, also aren't out of anything yet at 3-3.
ESPN.com Packers reporter Rob Demovsky and Browns reporter Pat McManamon break down the matchup:
McManamon:
Rob, what will Green Bay do at receiver with all those injuries, and how much will it affect the offense?
Demovsky:
It's bound to have a significant impact.
Randall Cobb
more or less became the focal point of the passing game last season and if anything, that intensified this season. Sure, he's only a slot receiver and the Packers still have the deep threat of
Jordy Nelson
on the outside. But in this offense, a lot of those quick-hit passes -- especially against teams that blitz -- are directed to the inside. No team used more three-receiver sets than the Packers had until Cobb went down last week against the Ravens. They had used a three-receiver set on 90 percent of their snaps. That number likely will go down beginning this week against the Browns. They might have to rely on their new-found running game more than ever. But with fewer threats in the passing game, teams might be able to load up to stop running back
Eddie Lacy
.
The Browns have offensive issues of their own, Pat. Brandon Weeden's turnovers in the loss to the Lions looked like killers, especially that backhanded, underhand flip. How can they get him to play smarter?
McManamon:
That backhanded, underhand flip will live for a long time in the annals of Cleveland Browns misplays since 1999, Rob. A lengthy list just got longer. As for getting him to play smarter, that's the challenge. And the challenge has gone on for 18 starts. Weeden actually started fairly well as a 29-year-old rookie, but he struggled the end of last season and this season he's played in fits and starts. Which of course won't be good enough against Green Bay. With Brian Hoyer injured, the Browns have few other options -- it's not like
Tom Brady
is on the streets waiting for a job -- so they will stick with Weeden. But you have to wonder whether the Browns aren't coming to the conclusion that what they see is what he'll be when it comes to this 30-year-old quarterback.
Rob, Weeden does not read the rush well and does not move well. The Packers are ninth in the league in sacks. Is that yet another bad recipe for Weeden and the Browns offense?
Demovsky
: It remains to be seen whether they can keep up their sack pace. They did it without
Clay Matthews
last week, getting five sacks at Baltimore, but now they're going to be without another outside rusher,
Nick Perry
. Matthews and Perry each have three sacks on the season, which ties
A.J. Hawk
for the team lead. At some point, those injuries have to slow down their pass rush. The one thing that's helping them is they're playing the run very well, probably the best they have since they led the league in rushing defense in 2009. After shutting down
Ray Rice
last week, they're up to third in the NFL in rushing yards allowed per game (78.2). That's putting teams in a lot of third-and-long situations, which allows defensive coordinator Dom Capers to blitz. That's how Hawk got all three of his sacks against the Ravens.
Perhaps the Browns can help protect Weeden if they run the ball effectively to keep the Packers from rushing like crazy. What are their prospects for doing that?
McManamon:
Running the ball would protect Weeden. But it helps to have a ... well ... a running game. At present, the Browns are in make-do mode with the running game, and as the season continues that will more and more become a problem. Since the trade of
Trent Richardson
the Browns have relied on aging
Willis McGahee
, young
Bobby Rainey
and fullback
Chris Ogbonnaya
. These guys give effort, but there's only so much they can give. McGahee can't run outside, Rainey is inexperienced and Ogbonnaya is what he is. The Browns rank 22nd in the league by running for 86.8 yards per game -- though they are averaging 3.9 yards per carry. If the Browns want to run, they will have to commit to it and pound it out, something I am not sure they can do.
Rob, the Browns have had 19 starting quarterbacks since 1999 -- and it appears next year or soon after that number will hit 20. Do the Packers and their fans realize just how fortunate they have been these many years to have
Brett Favre
and
Aaron Rodgers
?
Demovsky:
They should. There are only a handful of organizations who can say they've had the kind of quarterback transition that the Packers had. The 49ers with
Joe Montana
to
Steve Young
come to mind. Maybe the Colts have that now with
Andrew Luck
following
Peyton Manning
. Not only was Favre a great quarterback, but he was there week in and week out. Rodgers is pretty much the same way. Those guys rarely get injured and when they do, they still play.
Most Packers fans here are still fond of Mike Holmgren, for leading them to the Super Bowl XXXI title. His tenure with as a Browns executive was much shorter. What impact, if any, did he have on the organization?
McManamon
: Let's just say the feelings for Holmgren are a lot warmer in Green Bay -- odd as that sounds -- than in Cleveland. Many fans feel Holmgren's epitaph with the Browns should be "As a president, he was a great coach." A lot of that is frustration at constant losing. Some is frustration at the job title and salary scale Randy Lerner gave Holmgren. More still that Holmgren never took on the coaching duties himself. On balance, Holmgren's tenure was no worse than many, and better than some. He and GM Tom Heckert brought in some good players who are helping the team win now. But with any regime change comes more change, and Joe Banner has gotten rid of some of Holmgren's guys -- notably Richardson. Holmgren's biggest gamble was selecting a quarterback in the first round a year ago who is now 30. But Weeden clearly would have been helped by more continuity in the front office.
.
October, 13, 2013
10/13/13
10:00
AM ET
By
ESPN.com staff
| ESPN.com
Join our ESPN.com NFL experts as they break down the Detroit Lions' visit to the Cleveland Browns. Contribute your thoughts and questions beginning at 1 p.m. ET. And, be sure to visit our
NFL Nation Blitz page
for commentary from every game, as well as fan photos and the latest buzz from Twitter. See you there.
September, 17, 2010
9/17/10
5:01
PM ET
Getting inside the Friday injury report:
Chicago Bears:
Linebacker
Nick Roach
(hamstring) was limited in practice Thursday and Friday and is listed as questionable. The guess is that he won't play Sunday at the
Dallas Cowboys
. All other Bears players are expected to be available.
Detroit Lions:
Defensive end
Cliff Avril
(knee/finger) and quarterback
Matthew Stafford
(right shoulder) have been ruled out for Sunday's home opener against the
Philadelphia Eagles
. Linebacker
DeAndre Levy
(groin) and safety
Louis Delmas
(groin/biceps/leg) are listed as questionable. The guess is Delmas has a better chance of playing than Levy. The Lions haven't given up on the possibility of Levy playing after he participated in two days of practice this week, but he might be set up to make his return in Week 3.
Green Bay Packers:
Left guard
Daryn Colledge
(illness) and fullback
Korey Hall
(hip) were added to the injury report and listed as questionable, but it seems likely that Colledge will play Sunday against the
Buffalo Bills
. If he can't, rookie
Bryan Bulaga
would get his first NFL start. Defensive end
Mike Neal
(side/rib) and cornerback
Brandon Underwood
(shoulder) are questionable but might be a week away from returning. All other players, including cornerback
Charles Woodson
(toe), should be available.
Minnesota Vikings:
Receiver
Percy Harvin
(hip) returned to practice Friday and is expected to play Sunday against the
Miami Dolphins
even though he is listed as questionable. Cornerbacks
Cedric Griffin
(knee) and
Chris Cook
(knee) are also questionable, but much less likely to play than Harvin. Running back
Toby Gerhart
(knee) is probable and will be available to play.
August, 15, 2010
8/15/10
1:26
AM ET
By
ESPN.com staff
| ESPN.com