December, 29, 2014
12/29/14
4:14
PM ET
LAKE FOREST, Ill. -- In the
Chicago Bears
' final embarrassment of the 2014 season, a 13-9 loss to Minnesota, cornerback
Tim Jennings
lined up against receiver
Adam Thielen
.
When Thielen took off down the sideline, Jennings, thinking the defense was in Cover 2, passed him off to nobody as the rest of the Bears were playing a different coverage.
[+] Enlarge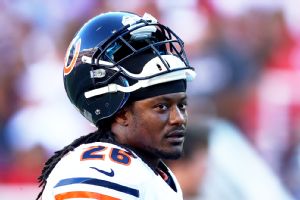 Jeff Gross/Getty ImagesTim Jennings and the Bears' defense struggled mightily throughout the season.
Thielen turned it into an easy 44-yard touchdown, the only one for either team. It was a play the Bears have perfected the last two years, as this defense has made a mockery of the one thing the Bears have traditionally done well as a franchise: play defense.
"We kind of got away from what we are as the Chicago Bears," Jennings said. "We kind of got away from the style of defense that we play. It was more of a transition from defense to offense. I don't know. We all thought it would be a good thing. We've got all the weapons; we've got all the tools. It kind of got away from the tradition of what the Chicago Bears are known for."
Jennings said the failures of the last two years are on the players, not defensive coordinator Mel Tucker and his staff.
"It's always players," he said. "We're out there playing the game. We're out there executing the plays. Coaches make the calls and we execute them. It's never on a coach when things go wrong on the field. I'd never put that on a coach."
Jennings' accountability aside, everyone should share the blame. That's why general manager Phil Emery got fired, along with head coach Marc Trestman.
The downfall of the Bears' defense wasn't as buzzworthy as
Jay Cutler
's struggles, but it didn't give this team a chance to be even mediocre.
The Bears gave up 442 points (all but 21 were on offensive touchdowns or field goals), the second-most in the NFL, a year after giving up a franchise-record 478. In Lovie Smith's final season, the Bears gave up 277 points.
Ex-Bears have worked the cell phones of reporters and players alike the past two years, wondering what is going on. Jennings claimed he didn't have anything to tell them.
"I don't know," he said. "I'm the same way, just as lost as you guys are. We're still trying to figure it out. Just one of those rough years. As players we didn't make plays."
With injuries piling up each year, there wasn't depth or talent to offset the losses.
The Bears gave up 6,033 yards after allowing a franchise-record 6,313 in 2013.
Those back-to-back games giving up 50-plus points to New England and Green Bay (14 points were on defensive touchdowns) likely sealed this group's fate. That hadn't happened in the NFL since 1923, the year of Virginia McCaskey's birth.
Jennings had a bad year after signing an extension in January that guarantees him just under $12 million. He carries a cap hit of $4.5 million next year.
Does he want to see a defensive-minded coach like Rex Ryan come in? Sure. But whomever it is has to bring in their own defense and get players to buy in.
"I'm all for it," he said. "I'm all for anybody who comes in here. Hopefully the next guy who comes in here has his foundation all planned out."
The notion that Tucker could blend with Smith's old defense, an idea championed by too many people, backfired fantastically.
"You have to go back to having a foundation," Jennings said. "What's your foundation? What can you build on?"
That's the big question for the Bears' brain trust to answer.
May, 9, 2014
5/09/14
12:27
AM ET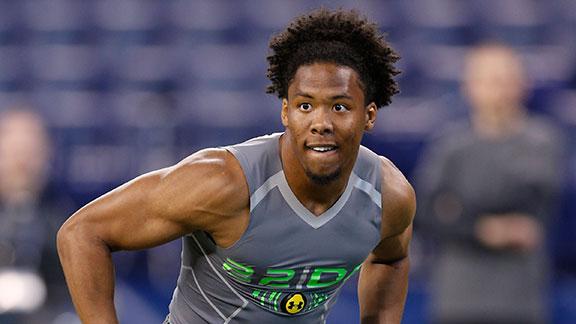 LAKE FOREST, Ill. -- As
Chicago Bears
general manager Phil Emery finished up a 17-minute news conference Thursday night at Halas Hall, the muted TV to his right showed the
Green Bay Packers
taking Alabama safety
Ha Ha Clinton-Dix
with the 21st pick in the draft.
Emery passed on Clinton-Dix, a mock draft favorite, when he took Virginia Tech cornerback
Kyle Fuller
with
the 14th pick in the first round

of Thursday's made-for-TV draft.
[+] Enlarge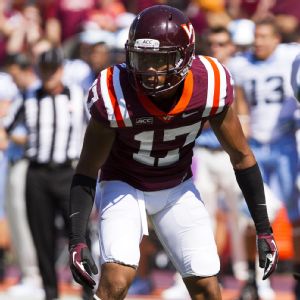 Lee Coleman/Icon SMIBears first-round draft pick Kyle Fuller was a four-year starter at Virginia Tech.
If Fuller struggles and we see Clinton-Dix picking off
Jay Cutler
next year, we'll have a good laugh (ha ha) about it, right, Bears fans?
Don't answer that.
You'll be surprised to know Fuller was the player the Bears wanted all along. Emery played coy about Pitt defensive lineman
Aaron Donald
, who ended up going a pick before the Bears' turn, but he couldn't help but effuse over Fuller, a tough, versatile cornerback who should excel playing Chicago Bears defense in Chicago Bears weather on Chicago Bears chewed-up turf.
He can hit and he can cover. Basically, he's the perfect football player, according to Emery's news conference.
"He's even a great person," Emery said.
No kidding.
Emery's a wild card around draft time, but we all figured he would go defense, given the glaring needs up front and, well, all over. But you shouldn't be surprised he wasn't monomaniacally focused on safety. It's a long draft. I think it's over in July. So there will be more chances to draft a young safety this season.
This wasn't a best-player-available situation, either. The Bears have a need, a hybrid defensive back, and Fuller filled it. ESPN guru Mel Kiper Jr. even picked this one.
"We decided on Kyle Fuller, the player," Emery said. "That's the important thing. He's a good player with a lot of versatility in his coverage."
Versatility is a word thrown around a lot around this time, and Fuller said, as draft picks are wont to do on draft night, that he's open to playing anywhere.
"I feel like they know I can play corner, nickel and possibly safety," Fuller said in a conference call with reporters. "I'm a versatile player."
Versatility is nice. The Bears just need more bodies. Let's go back to how last season ended, with safety
Chris Conte
blowing coverage, however it happened, and Packers receiver
Randall Cobb
going 48 yards for a division-clinching touchdown. At that time, the call was for a complete demolition of the defense, starting at safety.
Conte's still around, but his partner,
Major Wright
, is gone. The Bears re-signed Charles "Peanut" Tillman and corner
Tim Jennings
, and brought in a handful of free agents at safety.
This isn't a leap. Fuller makes perfect sense. Emery just wants someone to cover the wide variety of receivers and tight ends in the modern NFL offense. The Bears need to match up with Green Bay and Detroit, not to mention the various offenses they see around the league.
Emery mentioned how Fuller covered tight ends like
Eric Ebron
, who was taken 10th by Detroit.
"His versatility of coverage was a big attraction," Emery said.
We already know the Bears are going to go more "hybrid" this season under coordinator Mel Tucker. That's the new rage, and of course, the old one. Disguising coverages is nothing new.
Fuller, who will line up inside and eventually supplant Tillman or Jennings on the outside, is expected to play right away, wherever.
"We see him as a corner with a lot of versatility in terms of coverage, in terms of covering different sorts of athletes," Emery said. "That's where his length comes in."
Ah, length, another favorite buzzword come draft time. Fuller's no giant, he's a shade under 6-foot and 190 pounds, but Emery fell in love with him when he live-scouted Virginia Tech-Georgia Tech. Fuller forced a fumble and made two tackles for loss in that game.
"I knew that day that's the type of player that I wanted to represent the Chicago Bears," Emery said.
Let Emery explain.
"He was playing Georgia Tech, and they lined him up at inverted safety and ran him through the A gap against an option team to crash the mesh point between the quarterback and the fullback," Emery said in plain English. "And he repetitively did that. This is one tough football player."
On Thursday, Emery marveled at Fuller's physicality, including 129 solo tackles as a four-year starter (with some injury history, that is of course, no concern whatsoever). In 2011, as a hybrid "whip linebacker/nickelback," he led all college defensive backs with 14 1/2 tackles for loss. He's also a highly-regarded special-teams player, blocking two punts in his career with the Hokies' always dangerous unit. He's got a good pedigree, with two older brothers who have played in the NFL. His brother Corey is a practice squad receiver with Detroit.
Emery, of course, raved about
Shea McClellin
when he drafted him as a versatile pass-rusher. Two failed years later, McClellin is being moved to linebacker this year as a last-ditch effort to save his Bears career.
The Bears GM has made bold moves to renovate this defense for 2014, most notably signing defensive end
Jared Allen
. But Chicago will need Fuller to be more like
Kyle Long
, an instant starter.
A confident Emery left the press room Thursday sure the Bears have hit on this pick. Fuller was the best player on their board and is the start of a new defensive generation.
After all, he was the guy they wanted all along, and maybe the guy you wanted all along, too. Even if you didn't know it.
October, 21, 2013
10/21/13
12:00
PM ET
A review of four hot issues from the
Chicago Bears
' 45-41
loss
to the
Washington Redskins
:
Run defense:
The Redskins kept the Bears off balance all game with their ability to run the football.
Alfred Morris
averaged 5 yards per carry, while
Robert Griffin
III averaged 7.6. By establishing the run, the Redskins kept the Bears on their heels, thus opening up other facets of the game. Typically, the Bears shut down the run, making opponents one dimensional. But Chicago hasn't been able to accomplish that objective consistently this season. Certainly, injuries along the front four contribute to the problem, but until the Bears solve the issue, teams will continue to gash them on the ground before taking chunks through the air via play action.
[+] Enlarge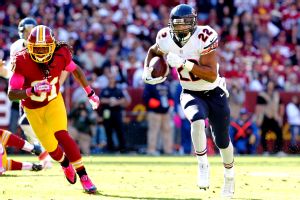 Geoff Burke/USA TODAY SportsMatt Forte rushed for 82 yards and two scores after halftime against the Redskins.
Inconsistency against the pass:
Jordan Reed
became the third Bears opponent to catch at least nine passes for 134 yards or more. An anemic pass rush from the injury-riddled front plays a role, but up-and-down play at safety between
Chris Conte
and
Major Wright
seems to be Chicago's most pronounced deficiency against the pass. Coming into the season, Conte and Wright seemed destined to become a productive duo at safety for the Bears. Wright has graded out higher than Conte for the majority of the season because of his takeaways and run support, but together, they've been more of a liability on the back end than the playmakers the club envisioned. The Bears yielded five completions for gains of 26 yards or more, including 30-, 38- and 45-yarders.
Feeding Forte:
They don't seem to be involving
Matt Forte
enough early on, and that's diminished Chicago's ability to find a rhythm. In six first-half drives, the Bears handed off to Forte just four times, including only once in each of the first two possession. Forte didn't receive back-to-back attempts until the team's second drive of the second quarter. By then, Washington held a 17-10 lead. Forte carried four times for nine yards and a score in the first half, yet finished the game with 91 yards and three TDs on 16 attempts. The offense should run through Forte from the onset.
Veterans on the front four:
Given the injuries, inexperience and inconsistency on the defensive line, veterans
Julius Peppers
,
Stephen Paea
and
Corey Wootton
need to step up and start carrying the group. Peppers finally showed up on the stat sheet with seven tackles, while Paea and Wootton contributed two tackles apiece. Still, that's not enough. The team needs even more, especial in the pass-rushing department. One of the best to play the game at his position, Peppers hasn't contributed a sack since September.
October, 17, 2013
10/17/13
4:45
PM ET
LAKE FOREST, Ill. -- When leading somebody down a dark tunnel, trust is the key, and so it will be Sunday when veteran linebacker
Lance Briggs
stands alongside rookie linebacker
Jon Bostic
, who will be seeing his first significant NFL action.
With linebacker
D.J. Williams
lost for the season because of a torn pectoral muscle, Bostic will finally get his chance to shine after a solid preseason. Briggs remembers when he was in Bostic's shoes.
"Jon is further along than I was as a rookie and he understands things," Briggs said. "He understands all our concepts. For him, it's just about getting game experience. There are things that he is still learning to trust. It's just like me when I was young and Brian [Urlacher] would give me a tip off. I might be a step late because I didn't really trust what he was saying."
[+] Enlarge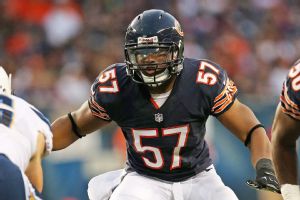 Jonathan Daniel/Getty ImagesWith D.J. Williams lost for the season, rookie Jon Bostic has been thrust into the lineup.
Anything Briggs says Sunday will likely be followed with the words "trust me."
"For him he just has to know that hey, if it's going to be there, if it's a tip off, they're probably going to run it," Briggs said.
Bostic has played primarily on special teams this season, but the second-round pick out of Florida has been taking notes when it comes to the defense and often asks Briggs why things sometimes look different on the field than they did in practice.
"I'll tell him that depending on the down and distance there are certain checks and adjustments you want to do differently than first and second down or against certain formations," Briggs said. "For him it's just allowing himself to be as sharp as he can be on Sunday."
Coach Marc Trestman is less concerned about the transition from the veteran Williams to the rookie Bostic, primarily because of Briggs' presence.
"I do know enough to watch (Briggs) work every day, his ability to communicate, his understanding of the defense and the standards that he has and wants to get to with our defense," Trestman said. "I think that Jonathan is in very good hands."
Bostic's speed could come in extremely handy as the Bears go up against
Washington Redskins
quarterback
Robert Griffin III
and running back
Alfred Morris
.
"For Jon, you don't want to think too much when you're on the field," Briggs said. "That's what practice is for, getting that kind of stuff down, getting your keys down and your reaction to be as sharp as it can so that once you get in the game you read and react. You allow your athletic ability take over."
Briggs' ability to communicate figures to be put to the test as he guides a young teammate.
"There are always certain tip-offs before a play, but once game time comes, you have to get 11 of us aligned, making some of those adjustments, throwing out some of the tips and keys to him," Briggs said. "I know [veteran linebacker] James [Anderson] will help too. Major [Wright] and [Chris] Conte, Peanut [Tillman] and
Tim Jennings
, we have a good group back there that does understand how teams will attack us."
October, 9, 2013
10/09/13
2:57
PM ET
LAKE FOREST, Ill. -- The play this season of
Chicago Bears
defensive end
Julius Peppers
has been similar to his interview sessions: Lacking in substance.
Peppers has struggled in his 13th NFL season, with his slow start highlighted by the fact that the defensive line has been hit hard by injuries. He has failed to record any defensive statistics in two of his starts this year, the most recent coming last week against the
New Orleans Saints
.
For anybody looking for some insight as to what has happened or how things can get better, Peppers has preferred to keep it to himself.
[+] Enlarge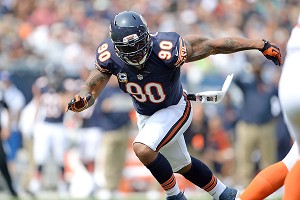 AP Photo/Greg TrottJulius Peppers is off to a slow start with just one sack through five games.
The eight-time Pro Bowler was asked Wednesday if the line might have to change its approach in the wake of its struggles that are evident in the group's eight total sacks and their opponents' 69.0 completion percentage, both third worst in the league.
"We're going to stick with the game plan," Peppers said.
How about the opportunity Thursday night to go against a struggling
New York Giants
offensive line and an anemic running game?
"We're going to go into the game and execute the game plan and we'll see how it goes," he said after a long pause.
Can blitzes and new schemes help cover for past struggles?
"We're going to see about the game plan," Peppers said, making it perfectly clear that he'll talk, he just won't say much. "I don't know. If you want to know about the game plan specifically you have to ask [defensive coordinator] Mel [Tucker] about that. As far as blitzing and all that, we're just going to play what's called and we're going to get the job done."
With the Giants' big-play tendencies behind quarterback
Eli Manning
, more blitzes could be on the agenda.
"We just have to eliminate the big play," Tucker said. "These guys take more shots down the field than almost anybody in the NFL. They are in the tops in the league in air yards and shots down the field so that's big. But [Manning] is a fierce competitor. There isn't a whole lot that you can throw at him that he hasn't seen."
With the Giants struggling, the Bears are making sure they don't get lulled to sleep. Manning's career success is being mentioned prominently this week and the consensus is that the Giants won't lose every game so make sure this isn't the first one they win.
The defensive line could be in prime position for a breakout game, but Peppers won't take anything for granted.
"We're not concerned about having a breakout game necessarily for ourselves, we want to do it for the team because if we do it will more than likely improve our chances of winning," he said.
If there is one thing the Bears' defense does well, it's taking the ball away and creating turnovers, so it is being stressed against a Giants team that struggles in that department. The Bears' 12 forced fumbles lead the NFL. The Giants lead the league with 20 turnovers.
"We have to be opportunistic on defense," Tucker said. "Our job is to get stops and take the ball away, score ourselves or set up the offense."
If there was anything Peppers was willing to be specific about, it was the turnover game.
"Every game, well most of them, come down to turnovers and the turnover battle," Peppers said. "We've been pretty good at it. We didn't do as well last week so we have to try to win the turnover battle this week."
August, 26, 2013
8/26/13
11:26
AM ET
As of right now, there's no clever name to call this feature. The hope was to find something cool like colleague Kevin Seifert's "Black and Blue All Over" staple on the NFC North blog, but nothing comes to mind right now.
So let's keep this thing unnamed until we find something we can deal with on a day-to-day basis. Obviously, this is an attempt to get input from you guys on our daily look at the headlines involving the Chicago Bears. We want this to be a one-stop shop every day where you guys can take in a nice-sized sampling of Bears news. "Bear bites?" "Bear of a breakfast?" See what I mean? I've got nothing.
Anyway, let's go.
-- CSNChicago.com's John "Moon" Mullins ponders whether this year's preseason performance by the Bears has provided less perspective on where they are than other seasons. Mullins takes it back to 2012 to explain his point, writing: "The four preseason Bears opponents -- Carolina, San Diego, Oakland, Cleveland -- all had losing records in 2012. The Chargers and Browns fired coaches after the season; the Panthers and Raiders could after this one unless fortunes change."
"Doubters didn't trust the 7-1 start last season because of the quality of opponent.
Trusting the positives this preseason might be viewed through the same prism."
I tend to agree with Moon here, but not solely because of Chicago's bad preseason opponents. I keep going back to the fact that Jay Cutler is in a contract year, playing in his fourth offense in five seasons with a new head coach in Marc Trestman, not to mention a couple of potentially explosive personalities to manage in receiver Brandon Marshall and tight end Martellus Bennett. Everything's good now between Cutler, Bennett and Marshall. But what happens when those guys aren't getting the ball and the Bears aren't successful on offense? After all, they'll face some adversity.
It's also natural to be concerned about the right side of the line, where the Bears will likely go into the regular season with a pair of rookies in Kyle Long and Jordan Mills. Sure, they've played solid football throughout the preseason. But inevitably, those rookies will face some adversity. How will they bounce back, and how will Cutler handle that?
-- Mark Potash of the Chicago Sun-Times takes a look at some of the
blitzes
the Bears employed against the Raiders.
-- The Chicago Tribune's Fred Mitchell says the Bears showed a sliver of their potential against the Raiders. Basically for the Bears on defense,
nothing has changed
.
-- Adam Jahns of the Sun-Times takes
a position-by-position look
at some of the battles for final roster spots.
September, 23, 2012
9/23/12
4:34
PM ET
CHICAGO -- Despite all the additions and lofty expectations for the offense, defense -- as usual -- carried the
Chicago Bears
to a
23-6 triumph
Sunday over the
St. Louis Rams
at Soldier Field.
Led by
Israel Idonije
(2.5 sacks), the Bears sacked Rams quarterback
Sam Bradford
six times and picked him off twice, with
Major Wright
returning an interception 45 yards for a touchdown, in addition to limiting the signal-caller to a passer rating of 39.2.
Coming off a meltdown in a Week 2 loss to the
Green Bay Packers
, Chicago's offense -- which operated without starting running back
Matt Forte
-- sputtered, but showed small signs of improvement.
Here's a closer look:


What it means:
The entire NFC North entered this week's games with 1-1 records, so the Bears needed a win to stay in the mix atop the division standings. Obviously, it's still early in the race. But the Bears didn't want to put themselves in a hole so early in the season and fall into a situation where they're playing catch-up.
Besides that, winning is the best way to rebound from a devastating defeat like the one suffered on Sept. 13 at Green Bay.
Front four still fearsome:
Chicago's front four built on its impressive start to the season by generating six sacks of Bradford on Sunday to run up their season total to 14.
The Bears entered the game tied for second in the NFL with eight sacks, accounting for 47 yards in losses. Interestingly, every one of those sacks had come from the defensive line. But
Nick Roach
broke the string of sacks by defensive linemen by getting in on the action for the club's linebackers.
Missed opportunity:
Devin Hester
's drop of a sure touchdown pass from
Jay Cutler
in the fourth quarter seemed to sum up a day of missed opportunities by the Bears' offense. The Bears had just driven 11 plays, and siphoned away close to six minutes off the clock only to settle for a 22-yard
Robbie Gould
field goal that made the score 13-6.
Hester's miss was just one of many by the Bears, who suffered multiple dropped passes from
Brandon Marshall
and some errant throws by Cutler.
The offense hoped to rebound in front of the home crowd after last Thursday's embarrassing performance. The unit showed improvement in several areas, but for the most part sputtered.
Major playmaker?
Wright has dealt with his fair share of criticism throughout his three-year tenure with the team, ranging from questions about durability to his grasp of Chicago's defensive system. Well, Wright finally seems to be dispelling the doubts.
In the fourth quarter Sunday, Wright intercepted a Bradford pass intended for
Danny Amendola
with 9:06 left to play and returned it for a 45-yard TD to make the score 20-6 after the extra-point kick.
Tim Jennings
, who also picked off a pass late in the game, tipped the ball right into Wright's hands. But on the return for a TD, Wright showcased the physical traits the Bears raved about when they drafted him with a third-round pick in 2010.
Wright recently admitted that a lack of knowledge of the team's system contributed to his problems over the first two years of his career. But in the offseason, Wright said he put forth more of an effort to gain a firm grasp of the intricacies of the defense, and that appears to be paying off.
Wright entered Sunday's game with 15 tackles in three starts.
Windy City:
Kickers took advantage of light east winds in the first half with Gould connecting on a 54-yard field goal in the first quarter, and Rams kicker
Greg Zuerlein
hitting on a 56-yarder with 27 seconds remaining in the second quarter.
Gould's 54-yard bomb was his longest since Dec. 11 of last season when he booted a 57-yard field goal at Denver. Since Dec. 5, 2010, Gould is 6-of-6 on field goal attempts of 50-plus yards.
Two No. 1s down, three to go:
Bradford marked the second of five No. 1 overall picks the Bears will face this season. The club faced 2012 No. 1 overall pick
Andrew Luck
in Week 1 and came away with three interceptions in 41-21 victory over the Colts and limited Bradford, the first pick of 2010, on Sunday to 152 yards, two interceptions and a passer rating of 39.2.
Each of the club's first four home games features No. 1 overall picks. The next two are
Detroit Lions
quarterback
Matthew Stafford
, the first pick of '09, and
Carolina Panthers
quarterback
Cam Newton
, the top pick in '11. The Bears wrap up matchups against No. 1s in Week 11 when they face
Alex Smith
(No. 1 overall in '05) at San Francisco on Nov. 19.
Best actor goes to:
No contest, Bears right tackle
Gabe Carimi
wins. After locking up with Rams defensive end
William Hayes
at the end of a
Michael Bush
run, Carimi flopped to the turf in an attempt to draw a penalty. If you recall, Carimi was called in the team's loss to the Packers on Sept. 13 for a personal foul for continuing after the whistle was blown.
Hayes didn't appear to be doing that when Carimi appeared to throw up his arms and basically launch himself backward onto the ground.
Bad acting, Gabe. You deserve a Razzie. It was certainly entertaining, though, drawing giggles throughout the Soldier Field press box.
What's next:
The Bears receive another opportunity on the national stage next Monday night when they face the
Dallas Cowboys
at Texas Stadium. Surely the memory of the meltdown at Lambeau Field on Sept. 13 will remain fresh on the club's mind in preparation for the Cowboys. So the Bears will work hard to avoid a repeat performance in the national spotlight.