November, 27, 2014
Nov 27
9:00
PM ET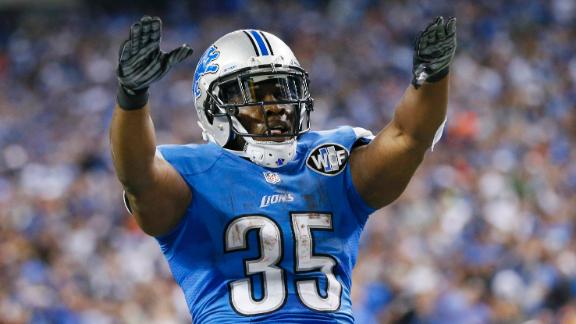 DETROIT --
Joique Bell
ran up the middle and had nothing. Just a wall of his own blockers and any hole being plugged up by defenders. Instead of caving, though, he bounced outside and ended up gaining a couple of yards Thursday against Chicago.
It was a small play during the
Detroit Lions
'
34-17
win over the Bears on Thursday, but it was perhaps a play of larger significance. For the first time this season, Detroit stuck with mainly one running back -- Bell -- and let him handle all of the carries.
It was a strategy perhaps forced by
Reggie Bush
's third straight missed game due to an ankle injury, but it also was one that worked.
"We certainly feel that we have guys that can play when [Bush's] not there, that can come in and give us a lift," Lions coach Jim Caldwell said. "So you have to say the offensive line has done a nice job in that area.
"But overall, we have guys that step in and do it and that's key. The next man steps up and performs decently."
That man has been Bell running the ball and
Theo Riddick
, who had six receptions for 54 yards, catching it.
Part of the Lions' success running was due to them sticking with it -- and with one back -- throughout the game. Bell was the only Detroit player to have a carry Thursday and he had 23 of them for 91 yards and two touchdowns.
More important, the Lions hit Caldwell's desired four yards per carry average for only the second time this season.
"You keep pounding and pounding and pounding and eventually, something's going to open up," Bell said. "And we were able to make some big runs toward the end."
Bell has taken advantage, mostly, because of Bush's ankle injury. It is an ankle that has kept him from being healthy the past two months. His last fully-healthy game came in Week 4 against the Jets. Since then, he's been in and out of the lineup.
Bush continues to say he expects to play and then by game day, he is inactive. He has missed the past three games.
"It's just health," Caldwell said. "Whenever he gets in shape, not good shape from being out of shape but in terms of injuries that he's sustained. He's just not quite where he should be yet and hopefully in another week, he'll be back."
Until then -- and maybe even after -- Bell seems to be the Lions' best, most consistent rushing option.