October, 23, 2014
Oct 23
3:00
PM ET
BAGSHOT, England –
Nick Fairley
doesn't regret how he reached this point now that he's playing the most consistent and best he has in his career. There are times, though, where he will let his mind percolate the possibilities of what might have been.
What could have happened if he had committed himself to being in shape sooner?
The fourth-year
Detroit Lions
defensive tackle knows why the question is asked, too. For the first three seasons of his career, Fairley was inconsistent and unable to stay on the field for long stretches, either because of being out of shape or injured.
His play yo-yoed between flashes of dominance and stretches of invisibility – a long way away from the dominant defensive lineman who helped Auburn win a national championship in 2010, becoming a first-round draft pick in 2011.
[+] Enlarge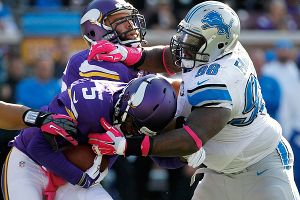 AP Photo/Ann HeisenfeltNick Fairley is in better shape and it's translated well to the field, as he's having his most consistent season.
"It's in the back of my mind," Fairley said. "But I'm not trying to let it bother me. I'm just moving forward and I'll put my best foot forward from here on out."
In the past seven games, that foot has been a large reason why the Lions have the top-ranked defense in the NFL. While
Ndamukong Suh
often demands double-teams from opposing offensive linemen, teams now have to be more wary of Fairley.
Even though Fairley's numbers are down from the past two seasons statistically (14 tackles, one sack this season), he has become a far better and more consistent player for the Lions in 2014. He is the No. 9 defensive tackle in the league according to Pro Football Focus – ranked sixth in rushing the passer and ninth against the run.
He's becoming what general manager Martin Mayhew hoped when he declined Fairley's option for a fifth season during the offseason, making him a free agent following this year.
"He's playing well," Mayhew said. "I think the coaching staff has done a great job working with him, teaching him the right way to go. His linemates, or teammates, have high expectations for him.
"He's obviously taking the lead on getting his weight down and getting in better condition and hired a chef and helped with that process. I think Nick gets a lot of credit for that. I think it's great what he's doing and I'm glad he's doing that and I want him to keep doing it."
Mayhew talks with Fairley often about a gamut of things, but said not about his contract. Even though Fairley is having a good season, Mayhew said he is not talking about future contracts with anyone, including Suh and Fairley.
Fairley is at least doing what Mayhew hoped he would, so it puts him in the conversation for a contract if both players want it.
And with Fairley, there might be room to improve, too, as this is the first time in his career he has been playing with consistency. And even though he thinks about it, it doesn't bother him he didn't get into better shape sooner because he believes he is at the beginning of a long career.
"I can't call how it would be," Fairley said. "But I think I would be up there in the top [among defensive tackles], you know what I'm saying, be recognized a lot more."
One of his biggest supporters – from the time he was struggling until now – has been the guy he lines up next to play after play, Suh.
"He's a guy that's going to be a dominant force in this league for many years to come," Suh said. "I don't expect anything less from him.
"I've said it before and I'll say it again: He has the talent to be better than me and he's just got to continue to work and take care of business like he's been."