October, 28, 2013
Oct 28
3:00
PM ET
A review of four hot issues as the
Chicago Bears
return from their bye week:
Don't bury yourself:
With Detroit and Green Bay coming off victories Sunday, the Bears -- regardless of the injury situation -- can't afford to lose the next two and bury themselves beneath the division. Given the way things appear to be shaking out so far, it looks as though at least one of the wild cards will come out of the NFC West (Seattle or San Francisco) and one could come from the NFC North. But consecutive losses at Green Bay on Sunday followed by the Lions at Soldier Field would put Chicago in a position where it would be nearly impossible to reach the postseason.
[+] Enlarge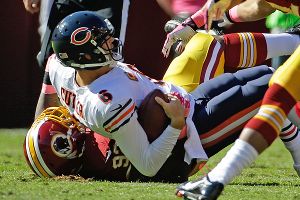 AP Photo/Alex BrandonWith Jay Cutler injured, the Bears need to force more turnovers and make more plays on special teams to keep from falling out of the playoff race.
Takeaways:
It's pretty well established that the Bears can't stop the run or the pass, but they can alleviate those major deficiencies with their uncanny ability to generate takeaways. So they definitely need to get back to taking the ball away, with quarterback
Jay Cutler
and linebacker
Lance Briggs
expected to miss a significant chunk of action. Against the Redskins, the Bears forced only one takeaway, and that's clearly not sufficient. In each of the past two losses, Chicago generated one turnover or fewer. But in each of the four wins, the club forced at least three. The turnover differential comes into play here, too. When the Bears have finished on the minus side or equal in turnover differential, they've lost their past three games.
McCown using supporting cast:
QB
Josh McCown
doesn't need to step outside of himself and try to be a hero as he fills in for Cutler because he has plenty of playmaking talent around him. The staff can help out with a game plan that features plenty of
Matt Forte
in the rushing attack to keep the Packers out of pass-rush mode. By establishing the run early, McCown can operate off play-action and hit high-percentage passes that allow the targets to gain their yards after the catch.
Special teams needs to carry heavier load:
Devin Hester
finally found his groove against the Redskins with an 81-yard punt return for a touchdown. But given the limitations on offense and defense, special teams needs to become a more dynamic facet of Chicago's game.
Adam Podlesh
can help the Bears win the field-position battle with long punts, while the coverage units on kickoffs and punts need to limit the yards gained on returns.
Robbie Gould
missed his first field goal attempt of the season against the Redskins, but it's unlikely he'll continue that course.
September, 18, 2013
Sep 18
5:30
PM ET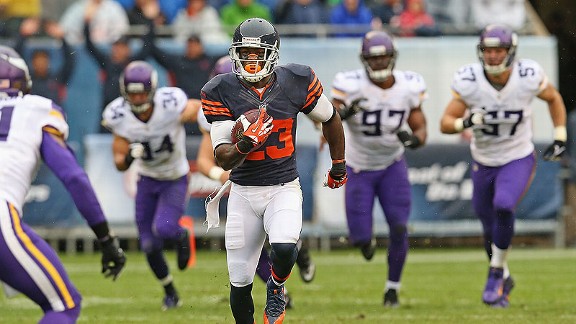 Jonathan Daniel/Getty ImagesDevin Hester had a career day against the Vikings on Sunday.
LAKE FOREST, Ill. -- Those personal-best 249 return yards
Devin Hester
racked up for the
Chicago Bears
on Sunday appear to have been born from a conversation early in the summer.
New coach Marc Trestman revealed Monday that it was Hester who suggested that a reduction in responsibilities could help him to once again be the kind of return man who used to pile up weekly honors while heading off to Pro Bowls.
"The conversation, to my recollection, was, 'It sounds to me like you just want to be a returner, and that's OK with me. I would like you to be the returner and focus solely on that,'" Trestman said.
The revelation debunks a common belief that Hester was demoted to a return-only role after years of mostly choppy results as a wide receiver.
"I don't ever remember me telling him that that was the way it's going to be," Trestman said. "I remember our conversation being more like, 'I know that's what you want to do, and I'm all-in.' That's sort of the way I remember it.
"Now, this was six and a half months ago. It was literally the second week I was here, I think. And it just stopped right there. [Special-teams coach] Joe [DeCamillis] started meeting with him, and we started developing a dialogue when we saw each other. It wasn't complicated at all. It just seemed to happen that way."
September, 8, 2013
Sep 8
6:00
AM ET
LAKE FOREST, Ill. -- Finally, it's time for the Bears to kick off the regular season Sunday, when they host the
Cincinnati Bengals
at Soldier Field.
Let's take a look at five things to keep an eye on in this matchup:
Rookies on right side of OL:
The debuts of rookies
Kyle Long
and
Jordan Mills
at right guard and right tackle, respectively, seems to have been one of the most widely debated topics all offseason. Well, now it becomes real.
Long is set to be the first rookie to start at right guard for the Bears in the Super Bowl era. In fact, the Bears haven't started multiple rookies on opening day since 1998.
"That's a cool trivia question," Long joked. "I try not to focus on that type of stuff. It's a good tidbit to know. But right now, I'm so focused on who to block on inside zone right and that kind of stuff. That stuff is far more important to me at this point."
[+] Enlarge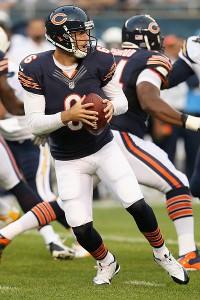 Jonathan Daniel/Getty ImagesProtecting Jay Cutler remains a top priority for Chicago's offensive line.
It definitely should be. Long and Mills face a Bengals defensive line that accounted for 43 of the team's record 51 sacks in 2012, and led by defensive tackle
Geno Atkins
, who led all NFL interior linemen last season with 12 sacks.
"Just having another rookie [in Long] to go through it with you is priceless," Mills said. "They have a great front seven with Geno Atkins,
Carlos Dunlap
,
Michael Johnson
,
Rey Maualuga
and the rest of the guys. But we're trying to be a great offense. We're going to come in there with a great game plan and we're going to be fine."
The new offense:
In terms of diversity with formations and play calling, this will be the most extensive look at the Bears' offense we've seen since the Aug. 23 preseason game at Oakland. Look for tons of shifts, formations and plays that get the ball out of
Jay Cutler
's hands quickly, not to mention some plays designed to move the pocket.
"The game plan is put together relative to how much we get practiced, how we want to spread the ball around," Bears coach Marc Trestman said. "Certainly it all starts with how we want to attack running and throwing the football. It's just a process you go through every Monday and Tuesday so to speak, during the course of a normal week; who you want to feature, how you want to use personnel groupings, how you want to use formations to be able to create advantages and working toward the strengths and weaknesses of the teams you'll be playing."
Trestman sounds as if Chicago's playbook is much deeper than what the team will select to execute against the Bengals. That's definitely a positive the Bears haven't had in the years before Trestman.
D.J. Williams at middle linebacker:
Trestman said Williams will play, but wouldn't give an indication of what degree, whether he'll be starting or how much he'll contribute. It's expected that Williams will start in the middle alongside
Lance Briggs
and
James Anderson
. But when you consider how much time Williams missed (virtually the entire training camp and preseason), it's reasonable to question whether the linebacker's conditioning level will be up to par to where he can play an entire four quarters.
It's also worth noting that Williams has missed the preseason the past two years, which means Sunday might not be as difficult for him as we think.
"I don't what to say I'm used to it, but I've been through this before," Williams said. "Being a veteran guy, you kind of know what you need to do to get yourself prepared for the game. I know coming into the first game there's going to be a little gas, a little winded. But the first game of the season, everybody is going to be kind of like that."
If Williams can't play the entire game, the Bears are confident they can go to
Jonathan Bostic
, who put together a strong enough preseason to inspire confidence in his ability to be a starter.
"I'm preparing like I'm a starter," Bostic said. "You never know what's going to happen."
Julius Peppers vs. Anthony Collins:
The Bengals might be thinking "uh-oh" when looking at this matchup on paper. Cincinnati Pro Bowl left tackle
Andrew Whitworth
is listed as doubtful heading into the game, which means the Bengals will line up Collins at the position, where he'll take on Peppers.
Look for the Bears to try to exploit the loss of Whitworth with Peppers, who is coming off a 2012 campaign in which he posted 11.5 sacks.
Former Bengals offensive lineman Dave Lapham, who is not a radio analyst told ESPN 1000's "Chicago Gamenight" on Thursday how he expected Cincinnati to handle Peppers without Whitworth in the fold.
ESPNChicago.com's Jeff Dickerson
takes you deeper
.
"I don't think he'll have movement issues with respect to Julius Peppers, but Peppers can bull rush you now, too," Lapham said. "He's a strong dude. So I'll be interested to see if Collins can hang in there against that bull rush that Peppers can employ to complement that quickness that he's got."
Devin Hester exclusively as a return man:
Hester worked all offseason exclusively as a return man, with the team stripping away his duties as a receiver. Now it's time to see if the extra focus on returns will pay off for Hester, who didn't receive much action in the preseason. Hester took part in just five returns (three kickoffs and two punts) and gained a combined 94 yards, with his longest runback being a 45-yard kickoff return.
Given that Hester is in a contract year, expect him to put together one of the best return seasons of his career. Hester needs only one more return touchdown to tie Hall of Famer Deion Sanders for the most career return touchdowns. My guess is Hester winds up breaking the record by Week 9.
August, 28, 2013
Aug 28
8:45
AM ET
Don't ring the alarm
regarding recent concerns expressed
by Bears receiver
Brandon Marshall
about his place in the offense, level of conditioning and recovery from a January arthroscopic hip surgery.
Marshall dropped two passes and had another knocked away against the Raiders. But the week before, he caught four of the five passes thrown his way, including one grab for a 5-yard touchdown. Despite the limited action we've seen thus far from Marshall, would any of the few snaps we've seen (50 by my count) suggest the Bears should be worried?

Marshall
"I had about 10 drops," Marshall said in recalling last week's win over Oakland. "I think the offense did well. For myself -- mentally, physical -- we need to pick it up a little more."
That's the mentality of an elite player: hypercritical. It's simply Marshall digesting the reality that with less than two weeks before the start of the regular season, with the team learning a new offense, he's still got a ways to go if he plans on matching his record-setting production from 2012.
Against the Raiders,
Jay Cutler
targeted second-year receiver
Alshon Jeffery
eight times for seven completions; twice the number of passes thrown to Marshall. But let's not forget Marshall accounted for close to half of the team's receiving yardage in 2012, and while that number will fall off some in 2013 in Marc Trestman's new offense, he'll still catch his fair share of balls. So Marshall, at this point, shouldn't be worried that he's "still trying to figure out my role and my place in this offense."
Jeffery and tight end
Martellus Bennett
will see plenty of passes thrown their way. But ultimately, the success of Chicago's passing game this season will hinge on Marshall, who at this point says "it's [now about] getting a feel for [the new offense], and having more experience in the offense."
Trestman made that clear Monday, saying the receiver is "going to have a lot of catches and certainly be instrumental in the success of our offense, and ultimately our team."
"It's B,"" Cutler said. "He's going to take it hard for a couple of days, and then he'll snap out of it and he'll be the guy we need next week. This week we don't need him. So he can stay on the ledge for a couple more days, and then come back next week. Conditioning-wise, he's a little behind. He knows where he needs to be. It's just a matter of him pushing his hip through things when it gets tight a little bit. Once we start getting into a routine in a game week, and we shorten some of these reps, we'll really figure out exactly what routes we want him on, and where we want him on the field. Hopefully things will sharpen us for his hip, and he'll be able to make it go."
Given the limited amount of snaps played by Marshall throughout the offseason, training camp and the preseason, he can't yet fully visualize the role Trestman envisions for him because he simply hasn't been on the field enough to become immersed in it. As for Marshall's implication the club might be rushing him back too soon, perhaps there's some truth to that. But he should know and understand the balancing act the team is performing in its attempt to keep him healthy, while also getting him the necessary reps to fully digest the offense which, eventually, will work the receiver into playing shape.
Coming into training camp, it appeared Marshall and Trestman weren't necessarily on the same page. On the day the club reported, Marshall said he needed to "listen to his body" and expected (and also eventually received) a few days off here and there as he continued to recover. That same day, Trestman spoke about how teams could no longer be liberal in granting days off for veterans because of the limited practices allotted in the new collective bargaining agreement.
When Marshall first underwent the surgery, a source close to him said he expected the receiver to be back "playing basketball in two weeks." Surely, Marshall expected the same.
Now that things haven't gone the way he expected, Marshall's a little concerned, and rightfully so, because only the receiver truly knows what's going on in his body. Still, it's worth it to remember the type of athlete Marshall is, and his sky-high expectations for the season.
"Brandon is working his tail off to get himself ready," Trestman said. "He feels a sense of urgency. He's a highly competitive man. He can only comment on how he feels. You saw him on the field at Soldier Field. You saw that he does have those moments where he can practice and work at a very high level. There have been days that haven't gone so well for him, and then he will bounce back."
So now isn't the time to get overly worked up about Marshall. Oakland might have been the setback, but my guess is Cincinnati on Sept. 8 is the bounce back.
Here's a couple of links to Bears news:
-- ESPN The Magazine columnist Chris Jones
loves him some Jay Cutler
.
-- Adam Jahns would be surprised if the Bears
cut Devin Hester
.
-- John "Moon" Mullin looks at the battle at swing tackle between
Jonathan Scott and J'Marcus Webb.