NFC North:

Indianapolis Colts
January, 18, 2015
Jan 18
11:20
PM ET
The law of averages took over for the NFL's championship weekend, ensuring that the NFC and AFC titles were determined by the performance of players and coaches rather than officials.
Unlike the
previous
two weeks,
no game-changing calls impacted the
Seattle Seahawks
'
28-22 victory
over the
Green Bay Packers
or the
New England Patriots
'
45-7 win
against the
Indianapolis Colts
.
There is one initial tidbit to consider in advance of a Seahawks-Patriots Super Bowl, which will be refereed by Bill Vinovich. (That's according to multiple reports, including one from ESPN rules analyst Jim Daopoulos.) Since Vinovich returned to the referee role in 2012 after recovering from heart problems, he has been assigned five Seahawks games. Seattle is 5-0 in those games, including three victories by at least 20 points.
For the penultimate time in the 2014 season, let's run through a handful of calls that expose and explore the gray area in NFL officiating.
[+] Enlarge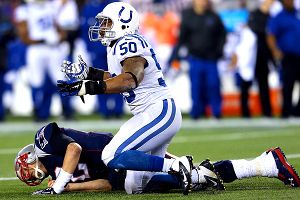 Jim Rogash/Getty ImagesColts linebacker Jerrell Freeman was called for roughing the passer on this hit on Patriots quarterback Tom Brady in the second quarter.
Play:
Colts linebacker
Jerrell Freeman
called for roughing the passer
Referee:
Walt Anderson
Analysis:
With 1 minute, 34 seconds remaining in the first half, Freeman rushed as a free blitzer and knocked down Patriots quarterback
Tom Brady
just after he released the ball. The pass was incomplete, but Anderson penalized Freeman for roughing the passer.
On replay, you see Freeman make contact with his helmet on Brady's chest near his right shoulder. No helmet-to-helmet contact occurred and there didn't appear to be contact with the neck, either.
So what did Anderson see? It's possible he assumed helmet-to-helmet contact because Brady's head snapped back on impact. It's also not out of the question that he believed Freeman's facemask slid up Brady's chest to the neck area, which would have violated Rule 12, Section 2, Article 7(b-1) prohibiting contact between a defender's helmet with the head or neck area of a defenseless player "even if the initial contact is lower than the player's neck."
Most likely, however, Anderson would cite Rule 12, Section 2, Article 7(b-2), which prohibits defenders from "making forcible contact with the top/crown of the forehead/'hairline' parts of the helmet against any part of the defenseless player's body." Such contact wasn't conclusive in the replay, but it's the closet thing we can get to explaining this penalty. I certainly would have supported a no-call in this instance.
Play:
Seahawks offensive lineman J.R. Sweezy penalized for unnecessary roughness in live action
Referee:
Tony Corrente
Analysis:
With 8:02 remaining in the third quarter, Packers linebacker
Clay Matthews
sacked Seahawks quarterback
Russell Wilson
for a 15-yard loss. Matthews landed on top of Wilson during the play, at which point Sweezy dove into Matthews' back to peel him off the pile.
Corrente's crew correctly penalized Sweezy, but the Packers declined to enforce. Why? Because Corrente did not rule it a "dead ball foul," which would have tacked the 15-yard penalty on top of the 15-yard sack and led to a second-and-45 situation. Instead, he apparently believed Sweezy hit Matthews before Wilson was down.
Viewed on replay, it's clear Wilson's knee had touched the ground before Sweezy hit Matthews. Rule 7, Section 2, Article 1 directs officials to call the ball dead and the down complete "when a runner is contacted by an opponent and touches the ground with any body part other than his hands or feet. The ball is dead the instant the runner touches the ground."
The Packers should not have been in position to choose between declining the penalty or giving the Seahawks another first-and-15. It's fair to note, of course, that the Packers could have made the call moot had they stopped the Seahawks on an ensuing third-and-19 two plays later.
Play:
Seahawks defensive end
Cliff Avril
penalized for illegal use of hands
Referee:
Corrente
Analysis:
Avril had already been called once for illegal use of hands when this play took place with 11:58 remaining in the second quarter. Quarterback
Aaron Rodgers
' pass had fallen incomplete on third down, but the penalty on Avril gave them an automatic first down.
Illegal use of hands was a point of emphasis in 2014 and was called 242 times during the regular season. Rule 12, Section 1, Article 7 penalizes a defensive player who "thrusts his hands forward above the frame of an opponent to contact him on the neck, face or head."
When you watch the replay, you see Avril actually turn his left arm parallel to the ground and push it toward the neck of Packers right tackle
Bryan Bulaga
. Avril was livid with the call, but if Corrente didn't tag him for illegal use of hands, he could have used Rule 12, Section 2, Article 12. That rule prohibits a player from "Striking, swinging at, or clubbing the neck, head or face of an opponent wit the wrist(s), arm(s), elbow(s) or hand(s)."
December, 23, 2013
12/23/13
8:00
AM ET
KANSAS CITY, Mo. -- An examination of five topics from the
Indianapolis Colts
'
23-7 victory
over the
Kansas City Chiefs
.
[+] Enlarge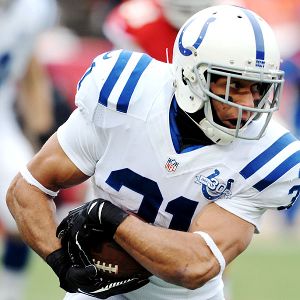 Denny Medley/USA TODAY SportsDonald Brown had 110 total yards and two scores against the Chiefs.
Charles causes pain:
Colts defensive lineman
Cory Redding
left the game in the fourth quarter with a shoulder injury. He said it happened while trying to tackle Chiefs running back
Jamaal Charles
. "I was trying to get a diving tackle on Jamaal and landed on my shoulder, and it just kind of popped out and came back in," Redding said. "I'm good to go. I'm from Texas where we're tough." Redding took part in the sack party that the Colts had on Chiefs quarterback
Alex Smith
. Redding had a sack and recovered a fumble.
What can Brown do for you?
Running back
Donald Brown
rushed for a team-high 79 yards on 10 carries with a touchdown. His 51-yard touchdown is the longest run of the season for the Colts. Brown also had two catches for 31 yards and a touchdown. The 110 total yards are a season high for Brown. He's averaging 5.6 yards a carry this season. That average is good enough for second-best in the NFL among running backs with at least 90 carries. That's the good. Here's the not-so-good part. The rest of the Colts are averaging 3.7 yards a carry this season, with quarterback
Andrew Luck
averaging 6.1 yards a carry.
Protecting the ball:
Protecting the football is part of the reason the Colts have a chance to match their win total of 11 from last season. They didn't commit a turnover against the Chiefs and have committed a league-low 14 turnovers this season.
Toler returns:
Cornerback
Greg Toler
returned to the lineup for the first time in seven weeks. He didn't start, but the fact that he was able to play after an extended absence because of a groin injury was a step in the right direction for him. Toler didn't have any tackles. "I was happy. I was able to get my foot in the ground when I wanted to," Toler said. "They had me on a couple of meds before the game, but I was happy to have a chance to get back out there. I've been past the stage of thinking about my groin."
Moving up the rankings:
Luck was 26-of-37 for 241 yards and two touchdowns. Luck is 7 yards shy of surpassing Carolina quarterback
Cam Newton
for the most passing yards in the first two seasons of a career. Luck shouldn't have a problem moving ahead of Newton because the Colts close the regular season against the
Jacksonville Jaguars
on Dec. 29. Luck threw for 257 yards against the Jaguars in the Week 4 meeting between the two teams.
November, 11, 2011
11/11/11
11:00
AM ET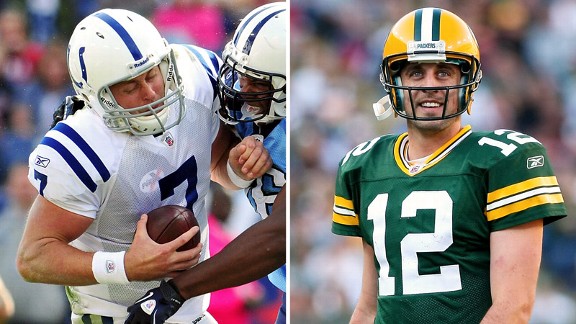 US PresswireCurtis Painter's Colts, left, and Aaron Rodgers' Packers are on pace for historic seasons.
We're past the halfway point and there's a team with a zero in the loss column and a team with a zero in the win column.
We smelled a Double Coverage.
Is one of those zeros going to last? We got our AFC South and NFC North wizards together to talk it out.
Paul Kuharsky:
For starters, Kevin, on behalf of those who follow the AFC South, we'd like to thank the NFC North representative for deeming us worthy to be a conversational partner. I mean, your teams are a combined 21-11 and mine are a measly 12-22. You are indeed very gracious.
Kevin Seifert:
No problem, Paul. As the blogger for the NFL's most dominant division, I thought it would be interesting to see how the other half lives. Maybe those of us in the Black and Blue could learn something. Perhaps the untold value of mediocrity?
PK:
More graciousness. The Colts and Jaguars thank you for the compliment. They haven't been viewed as even mediocre in some time.
OK, we're here to discuss what's more likely, the Colts going winless or the Packers going undefeated. I think finishing a 16-game season with a zero in either the W or L column is equally hard. Over in the AFC South, we've actually seen the flip side of this. The 2009 Colts had a shot at an undefeated regular season, and they took their foot off the gas, pretty much sacrificing the final two games of the season in the name of resting and preserving people.
It was their prerogative of course. They said it wasn't about going undefeated, it was about winning it all. I thought they were stubborn, acting as if they couldn't conceivably do both and suggesting there would be no extra meaning to it. When they lost the Super Bowl to the Saints, it was all moot. It's remarkable that just two seasons later, we're talking about an 0-9 Colts team with a shot to go winless. Maybe karma is in play.
KS:
There is no doubt that winning all 16 regular season games is a difficult task and requires some luck.
But I think it's harder to go 0-16, and I speak from experience.
You forget, Paul, that three years ago I covered a team that didn't win a game all year. The 2008
Detroit Lions
were a terrible team, hitting rock bottom with poor drafts and mismanagement, but they proved how hard you have to work to lose 16 games.
Just one example: The margin of victory in the Lions' 12-10 loss at the
Minnesota Vikings
that year was a safety. It occurred when quarterback
Dan Orlovsky
forgot where he was on the field and ran out of the end zone -- by a solid three yards -- while attempting to elude a pass rush. It was the easiest sack of defensive end
Jared Allen
's life.
Even someone like you, who isn't averse to embarrassing yourself on camera for your blog readers, could probably have avoided a safety on that play.
The point is that even a historically bad team is liable to get its chances to win a game. A really good team has a better chance of limiting its chances of losing. Hopefully that makes sense to your AFC South people.
PK:
I didn't forget, Chief, I was setting you up. And I know Mr. Orlovsky personally, as he's been with the Texans and is now on the very Colts team we are talking about. Imagine, he and linebacker
Ernie Sims
could be part of two winless teams in a four-season span. That's not a very good line on the old resume.
Though they've given me little reason to believe it, I still think the Colts win a game "by accident" in their final seven. Many people seem to think the big chance comes with Jacksonville coming to town this weekend. But apparently those people have not seen the Jaguars' defense, which is capable of squashing the Colts.
Dwight Freeney
might need to score for Indy to win.
I look through what the Colts have left after the Jags and I can't pick one to win -- Carolina, at New England, at Baltimore, Tennessee, Houston and at Jacksonville. Those games at New England and Baltimore were expected to be monster AFC contests when the schedule came out. Now they might be breathers for the Patriots and Ravens.
I love the Packers, but they have a far more difficult road to a singular season -- they could lose on Thanksgiving at Detroit, they could lose a week later on the road against the Giants. They could lose on Christmas to Chicago or on New Year's to the Lions, though it's awfully nice that those last two are at home.
KS:
They also could have lost last week to the
San Diego Chargers
, or in Week 1 if
Mark Ingram
had gotten the
New Orleans Saints
one more yard or in Week 3 if
Cam Newton
had converted one more fourth down for the
Carolina Panthers
. The point is the Packers have demonstrated to everyone watching that they have the tools and guile to pull out victories of all shapes and sizes and regardless of the circumstances.
There has been a fair amount of consternation about their pass defense, and even
Charles Woodson
has spoken out about it. They've been giving up gobs of yards all season, but to this point, they've minimized the impact by grabbing an NFL-high 16 interceptions.
The concern is that the Packers could be done in by a more efficient and careful quarterback than the ones they've played so far. The list of remaining quarterbacks on their schedule includes these names:
Christian Ponder
,
Josh Freeman
,
Matthew Stafford
(twice),
Eli Manning
,
Carson Palmer
,
Matt Cassel
and
Jay Cutler
.
So if the Packers don't do anything to improve their pass defense, that leaves the Lions and Giants as probably the best candidates to beat them. That assumes, of course, that Stafford and/or Manning not only play mistake-free but also match
Aaron Rodgers
in a score-fest. The Packers are averaging 34.4 points per game.
PK:
I think the Colts' best stretch of play might actually be behind them. They nearly found a way to beat Pittsburgh in Week 3 but lost by 3, they were in it late in Tampa Bay on a Monday night but lost by a touchdown, they were in range of Kansas City but lost by four.
Every week is a new deal. We just saw the Dolphins emerge from a similar quagmire and win in Kansas City. The Colts could stumble into a game where things align for them. My gut still says they will, because 0-16 is so hard.
So my verdict: The Colts are more likely to go 0-16 than the Packers are to go 16-0. But I don't think we're seeing either.
You?
KS:
We can agree on that: Neither is happening. But on the relative scale, I like the chances of Rodgers throwing a touchdown pass to
Greg Jennings
in Week 17 and sealing a perfect season more than the chances of Dan Orlovsky running out of the back of the end zone again.
Just a guess.