NFC North:

New England Patriots
January, 18, 2015
Jan 18
11:20
PM ET
The law of averages took over for the NFL's championship weekend, ensuring that the NFC and AFC titles were determined by the performance of players and coaches rather than officials.
Unlike the
previous
two weeks,
no game-changing calls impacted the
Seattle Seahawks
'
28-22 victory
over the
Green Bay Packers
or the
New England Patriots
'
45-7 win
against the
Indianapolis Colts
.
There is one initial tidbit to consider in advance of a Seahawks-Patriots Super Bowl, which will be refereed by Bill Vinovich. (That's according to multiple reports, including one from ESPN rules analyst Jim Daopoulos.) Since Vinovich returned to the referee role in 2012 after recovering from heart problems, he has been assigned five Seahawks games. Seattle is 5-0 in those games, including three victories by at least 20 points.
For the penultimate time in the 2014 season, let's run through a handful of calls that expose and explore the gray area in NFL officiating.
[+] Enlarge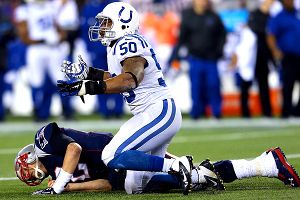 Jim Rogash/Getty ImagesColts linebacker Jerrell Freeman was called for roughing the passer on this hit on Patriots quarterback Tom Brady in the second quarter.
Play:
Colts linebacker
Jerrell Freeman
called for roughing the passer
Referee:
Walt Anderson
Analysis:
With 1 minute, 34 seconds remaining in the first half, Freeman rushed as a free blitzer and knocked down Patriots quarterback
Tom Brady
just after he released the ball. The pass was incomplete, but Anderson penalized Freeman for roughing the passer.
On replay, you see Freeman make contact with his helmet on Brady's chest near his right shoulder. No helmet-to-helmet contact occurred and there didn't appear to be contact with the neck, either.
So what did Anderson see? It's possible he assumed helmet-to-helmet contact because Brady's head snapped back on impact. It's also not out of the question that he believed Freeman's facemask slid up Brady's chest to the neck area, which would have violated Rule 12, Section 2, Article 7(b-1) prohibiting contact between a defender's helmet with the head or neck area of a defenseless player "even if the initial contact is lower than the player's neck."
Most likely, however, Anderson would cite Rule 12, Section 2, Article 7(b-2), which prohibits defenders from "making forcible contact with the top/crown of the forehead/'hairline' parts of the helmet against any part of the defenseless player's body." Such contact wasn't conclusive in the replay, but it's the closet thing we can get to explaining this penalty. I certainly would have supported a no-call in this instance.
Play:
Seahawks offensive lineman J.R. Sweezy penalized for unnecessary roughness in live action
Referee:
Tony Corrente
Analysis:
With 8:02 remaining in the third quarter, Packers linebacker
Clay Matthews
sacked Seahawks quarterback
Russell Wilson
for a 15-yard loss. Matthews landed on top of Wilson during the play, at which point Sweezy dove into Matthews' back to peel him off the pile.
Corrente's crew correctly penalized Sweezy, but the Packers declined to enforce. Why? Because Corrente did not rule it a "dead ball foul," which would have tacked the 15-yard penalty on top of the 15-yard sack and led to a second-and-45 situation. Instead, he apparently believed Sweezy hit Matthews before Wilson was down.
Viewed on replay, it's clear Wilson's knee had touched the ground before Sweezy hit Matthews. Rule 7, Section 2, Article 1 directs officials to call the ball dead and the down complete "when a runner is contacted by an opponent and touches the ground with any body part other than his hands or feet. The ball is dead the instant the runner touches the ground."
The Packers should not have been in position to choose between declining the penalty or giving the Seahawks another first-and-15. It's fair to note, of course, that the Packers could have made the call moot had they stopped the Seahawks on an ensuing third-and-19 two plays later.
Play:
Seahawks defensive end
Cliff Avril
penalized for illegal use of hands
Referee:
Corrente
Analysis:
Avril had already been called once for illegal use of hands when this play took place with 11:58 remaining in the second quarter. Quarterback
Aaron Rodgers
' pass had fallen incomplete on third down, but the penalty on Avril gave them an automatic first down.
Illegal use of hands was a point of emphasis in 2014 and was called 242 times during the regular season. Rule 12, Section 1, Article 7 penalizes a defensive player who "thrusts his hands forward above the frame of an opponent to contact him on the neck, face or head."
When you watch the replay, you see Avril actually turn his left arm parallel to the ground and push it toward the neck of Packers right tackle
Bryan Bulaga
. Avril was livid with the call, but if Corrente didn't tag him for illegal use of hands, he could have used Rule 12, Section 2, Article 12. That rule prohibits a player from "Striking, swinging at, or clubbing the neck, head or face of an opponent wit the wrist(s), arm(s), elbow(s) or hand(s)."
November, 28, 2014
11/28/14
8:00
AM ET
When:
4:25 p.m. ET Sunday.
Where:
Lambeau Field; Green Bay, Wisconsin.
TV:
CBS.
In the quarterback world, they don't come much better than
Tom Brady
and
Aaron Rodgers
. And because Brady's
New England Patriots
and Rodgers'
Green Bay Packers
play in different conferences, they don't often cross paths on the field.
That makes Sunday's matchup at Lambeau Field one of the most highly anticipated games of the season.
The quarterback matchup is so intriguing that ESPN Patriots reporter Mike Reiss and Packers reporter Rob Demovsky devoted a separate,
double coverage-style preview
just to them earlier this week.
However, there's still much to discuss about the Patriots (9-2) and the Packers (8-3).
Reiss:
We touched on the quarterbacks earlier in the week, so let's go deeper. The Packers' offense has looked unstoppable at home. Where is the deficiency on offense, if there is any?
Demovsky:
There's probably two of them, Mike, but they both might be minor. One is at tight end, where the Packers still haven't found anyone who can do what Jermichael Finley used to do, and that's stretch the field and draw multiple defenders down the seam.
Andrew Quarless
and rookie
Richard Rodgers
have made some plays in short areas, but that's about it. The other might be the depth behind
Jordy Nelson
and
Randall Cobb
. The Packers have been fortunate that both have stayed healthy this season, but it might serve them well to develop some other weapons. A team like the Patriots, with two shutdown corners, could expose that.
A lot of teams have one cornerback who can shut down a receiver, but it looks like the Patriots are one of those rare teams with a pair. How do you think they will use them against Rodgers' primary targets, Cobb and Nelson?
Reiss:
The Patriots played a lot of man coverage last Sunday against the Lions and had
Darrelle Revis
on
Golden Tate
and
Brandon Browner
on
Calvin Johnson
, often with safety
Devin McCourty
helping over the top. The week before in Indianapolis, they put Revis on
Reggie Wayne
and had Browner on tight end
Coby Fleener
, with cornerback
Kyle Arrington
on
T.Y. Hilton
(and often with safety help over the top). New England can do a lot of different things, and it's been fun to watch the plan unfold each week. My educated guess early in the week would be Revis on Cobb and Browner on Nelson, with the safety help from McCourty over the top. The Patriots will obviously mix up their looks between man and zone, as is the norm.
The Patriots have struggled to draft and develop receivers in Bill Belichick's tenure, with 2013 second-round draft choice
Aaron Dobson
the latest example. This seems to be a strength of the Packers. Any sense of why they have been so successful in that area?
Demovsky:
You're right; the Packers rarely miss on a receiver drafted in the first few rounds, and the latest one -- rookie second-round pick
Davante Adams
-- looks like he has a chance to be the next in line following the likes of Cobb, Nelson, James Jones and
Greg Jennings
. General manager Ted Thompson and his staff have done well identifying receivers who fit their system. Jennings and Cobb were tailor-made for the inside routes in coach Mike McCarthy's version of the West Coast offense, while Jones and Nelson had the size to play on the outside.
From the outside, the Patriots' offense looked rather ordinary until
Rob Gronkowski
got going in that blowout of the Bengals. What happened to spark him, and why does he make this offense so much better?
Reiss:
It was strictly health-related, as he was coming off his torn right ACL from Dec. 8. Gronkowski hadn't played in the preseason despite practicing from day one of training camp, so there was a process of easing him back into the game-day mix and him getting comfortable physically and mentally. Gronkowski averaged 35 snaps per game through the first four weeks, and he has been averaging 63 per game in the seven games since. So the first four games were really his preseason in a sense. As for why he makes the offense better, he is 6-foot-6 and 265 pounds, has a large catch radius, runs well and can throw people out of the club in the blocking game. He's a complete tight end who is extremely difficult to match up with -- safeties get overpowered and linebackers often can't run with him -- and draws significant attention in the red zone to often open things up for others. Based on the aforementioned factors, I believe he has a strong candidacy for MVP consideration. I know it almost always goes to quarterbacks, and one can't go wrong with Rodgers or Brady, but my vote right now would go to Gronkowski, based on what I've seen.
Where do you see potential weaknesses on defense?
Demovsky:
It's the run defense, hands down. There should be real concern this week if the Patriots come out the way they did against the Colts, when they were intent on running the ball. It could be a real problem for the Packers. Defensive coordinator Dom Capers said this week that he believes he has enough bulk up front to handle that, but there's no denying the Packers' smaller defensive front (that got even smaller than expected after
B.J. Raji
was lost for the season in training camp) has struggled against the run all season. When the Packers have been decent against the run, they have gotten great tackling games from their linebackers and defensive backs. They are going to need that again.
The run defense has been a little better of late, but it's still the biggest question mark on this team. Whom should they expect to see the bulk of the carries this week, and how committed are the Patriots to the run game?
Reiss:
The Patriots are as committed to the run as they want to be, depending on the week and if they believe it gives them the best chance to win. Two weeks ago in Indianapolis, for example, they ran the ball 44 times (against 30 pass attempts) and had a sixth offensive lineman in the game on 37 of those snaps. They basically declared their intentions before the snap and still powered through the Colts. But then last week against the Lions, who entered as the NFL's No. 1-ranked run defense, they ran the ball only 20 times and threw it 53. This is the essence of what they refer to as the "game-plan offense" -- an attack that morphs into something new every week based on what they perceive the opponent's weakness to be. I would expect to see plenty of power backs
LeGarrette Blount
and
Jonas Gray
against the Packers, in addition to smaller back
Shane Vereen
. The Patriots are going to want to run the ball, at least to set up play-action possibilities but also because the matchup looks favorable.
What type of impact has free-agent signing
Julius Peppers
made on the defense?
Demovsky:
It's been two-fold: It has given the Packers another pass-rushing threat. In the past, it was
Clay Matthews
, Clay Matthews, Clay Matthews. Peppers leads the team with five sacks and has returned two interceptions for touchdowns, so he has delivered in the big-play area. But perhaps just as important, he has allowed Capers to be more creative with Matthews, who has played inside, outside, on the line of scrimmage and off the line of scrimmage this season. Oh, and here's one other thing: Peppers has captured the locker room much in the way veteran
Charles Woodson
did when he was here. The younger players seem to respect and look up to Peppers.
There's something we didn't hit on with the quarterbacks earlier in the week, and it's this: Rodgers has talked many times about the possibility that he will play his whole career as a starter with one head coach, McCarthy, which makes that coach-QB relationship so important. Brady is in the same boat. How do he and Belichick work together?
Reiss:
They meet multiple times per week, and both have talked extensively about how they value their partnership. Brady has said how fortunate he has been to play in one offensive system over his entire career, and Belichick has talked about Brady as a challenging player to coach because he's always so prepared, which means coaches always have to try to stay a step ahead. Jackie MacMullan, columnist for ESPNBoston.com,
wrote a piece about this subject
in January that is timely to revisit.
This is the type of game in which special teams could be a big factor. Tell us more about the Packers' special-teams units and some of the key players.
Demovsky:
Some people (myself included) think McCarthy is crazy for still using Cobb on punt returns, but at least the Packers are platooning him with safety
Micah Hyde
, who returned a punt for a touchdown against the Eagles. But that tells you how much value they place on the return game. Special-teams coordinator Shawn Slocum calls those the first offensive plays of a series. Their kicking game is solid with punter
Tim Masthay
and place-kicker
Mason Crosby
, but they have had issues protecting on punts. The Patriots would be wise to go after Masthay, who has had two punts blocked this season. Slocum needs cornerback
Jarrett Bush
, who missed last Sunday's game against the Vikings because of a groin injury. He has been the Packers' best special-teams cover man and blocker for nearly a decade.
One more Belichick-related question: Packers fans don't get to see him up close often, and what they do see is probably just his grumpy, news conference persona. What is he really like?
Reiss:
That's a tough one to answer, Rob, because much like the players we cover, we aren't around him much more than a short period of time each day. That adds up over time, so I guess I'd say the main thing about Belichick is that this is what he lives for -- football. That's my impression of him; he's the football coach and teacher through and through, and if what you're bringing to the table doesn't have anything to do with that or doesn't align with his goal of winning the next game, it's probably not going to produce much fruit. That's one of the things I've come to appreciate about covering his teams; there are no bells and whistles, and perception is reality. It's all ball with him.
October, 20, 2014
10/20/14
3:05
PM ET
EDEN PRAIRIE, Minn. -- Of the 15 plays the
Buffalo Bills
used to cover 80 yards and score their final touchdown in a 17-16 win over the
Minnesota Vikings
on Sunday, there's unequivocally one the Vikings wish they could have back.
"Fourth-and-20," safety
Harrison Smith
said. "Game over."
Smith
Greenway
The play, in which Bills quarterback
Kyle Orton
found tight end
Scott Chandler
on a 24-yard strike just behind linebacker
Chad Greenway
, was still on players' minds in the postmortem analysis of the game. The Bills stressed the Vikings' defense with quick snaps a few times on Sunday, and while the Bills went into a no-huddle offense for the play, which came after Tom Johnson's third-down sack, Greenway was communicating a coverage adjustment to cornerback
Captain Munnerlyn
when the ball was snapped, putting the linebacker a half-step behind in his coverage drop.
"You look back -- I've watched the tape a couple times now -- and you wish you could change something, but it's hard to stop the clock when a team's driving on you in (a) two-minute (drill)," Greenway said. "A timeout, that's not my decision. All I remember is looking back and seeing that Captain was real deep, from trying to get back from the last snap, and we weren't lined up. I was trying to give him the call, and the ball was on top of us. I got to a good spot, but you've got to make the play in that situation. My hand was right in the pocket. The ball just didn't come out.
Asked if he would have had a better chance to knock the ball down if he hadn't been working on coverage adjustments with his head turned when the ball was snapped, Greenway said, "I wouldn't have been in that position, but that's on me. I can't blame anybody else for that."
The Bills have the fourth-fastest rate of play of any team so far this week, according to ESPN Stats & Information, averaging a snap once every 35.5 seconds of real time on Sunday. The Bills sped up their offense at a few different points, but a two-minute drill will obviously increase their pace, and it was in that situation where things got hectic for the Vikings.
"When you go fast, and it's one of those situations, (you're thinking), 'What's the down and distance? How many timeouts are left?'" Smith said. "When it's a two-minute, you're thinking, 'Keep them in bounds, clock running.' But when it's fourth down, it doesn't matter what the clock's doing. If you stop them, the game's over. There's a lot to process there, when they go no-huddle, kind of quick. I think that's why they do that."
June, 3, 2014
6/03/14
11:00
AM ET
Join us today at 1 p.m. ET, 10 a.m. PT for ESPN's NFL Nation TV's Spreecast episode No. 8. Host Paul Gutierrez (Oakland Raiders reporter), co-host Coley Harvey (Cincinnati Bengals reporter) and guests Mike Reiss (New England Patriots reporter) and Ben Goessling (Minnesota Vikings reporter) discuss a range of topics from the Bills going on the market to the ongoing controversy surrounding the name of the NFL's Washington, D.C. franchise to garage sales, yes, garage sales. Viewers are encouraged to log in and ask the panelists questions as well as contribute in the chat feature.
June, 2, 2014
6/02/14
6:45
PM ET
There's another potential suitor for tight end
Jermichael Finley
, but it's with the same caveat as there is with the
Green Bay Packers
.
Finley
Everything hinges on Finley's surgically repaired neck.
The free-agent tight end visited the
New England Patriots
last Friday, according to ESPN's Adam Caplan. The trip to Foxborough came less than a week after Finley was in Green Bay
to check in with the Packers' team doctors
.
Finley has reportedly been cleared by the doctor who performed his neck fusion surgery, Dr. Joseph Maroon. But the Packers' doctors did not put Finley through the full battery of tests that would need to be done in order to clear him to return to the team.
Last week, Packers tight end
Brandon Bostick
, one of Finley's closest former teammates, said he believes Finley
will play in the NFL again
but was not sure whether it would be in Green Bay.
Finley bruised his spinal cord -- an injury that left him briefly without movement and feeling -- after taking a hit in the Oct. 20 game against the
Cleveland Browns
. He has not played since. Less than a month later, he had his C-3 and C-4 vertebrae fused together.
He was in the final season of a two-year, $14 million contract when he was injured. As an unrestricted free agent, he is allowed to visit and be examined by any team.
The Patriots' interest in Finley makes sense. Tight end
Rob Gronkowski
is coming off ACL reconstruction. The other tight ends on their roster are former Packers draft pick
D.J. Williams
,
Michael Hoomanawanui
and rookies
Justin Jones
and
Asa Watson
.
September, 22, 2013
9/22/13
2:35
PM ET
FOXBOROUGH, Mass. -- Sharing some halftime thoughts from the Patriots' game against the Buccaneers (
New England leads 17-3
):
[+] Enlarge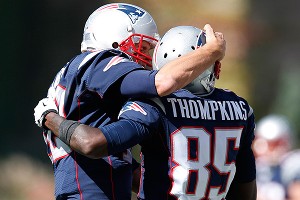 AP Photo/Elise AmendolaKenbrell Thompkins, right, had two first-half touchdowns.
Offense rebounds after first quarter
. The Patriots only ran 12 plays in the first quarter despite receiving the ball to open the game. Not a strong start, but the attack found its groove on its fourth drive of the game and the key from this viewpoint was getting the running game going. A switch to "11 personnel" (1 back, 1 tight end) was the catalyst, as the Buccaneers matched with their nickel defense. The Patriots got enough of a ground game going to help settle things down, and things started to click in the passing game. It still isn't up to the standards quarterback
Tom Brady
wants, but some signs of life from the passing game. The rookie receivers have looked better this week, especially
Aaron Dobson
as some chemistry appears to be developing between Brady and Dobson. The Patriots are running the majority of their snaps with three or more receivers in the game, with
Kenbrell Thompkins
,
Julian Edelman
and Dobson as the top three. Thompkins has two touchdowns and has played every snap.
Fourth-down stops like turnovers
. Two fourth-down stops in the game have essentially been turnovers for the Patriots' defense. Cornerback
Alfonzo Dennard
seemed to get away with a defensive holding call on one of them, and linebacker
Brandon Spikes
(one of the team's top performers) and Dennard combined for a stop on a run play late in the second quarter. The defense has carried the Patriots through the first 10 quarters of the season, and the fourth-down stops were complemented by the offense today. Some drops by the Buccaneers have obviously helped the cause.
A lot of Bolden … and the rust shows
. With
Shane Vereen
and
Leon Washington
out, the Patriots turned to
Brandon Bolden
as their top "passing back" and he played 16 snaps in the first half. This was Bolden's first game of the season after being sidelined with a knee injury and he looked rusty. At one point late in the second quarter, he stopped running a route as the pass sailed past him incomplete down the right sideline. On the first drive, he struggled in pass protection. When the Patriots turned to
Stevan Ridley
more in the second quarter, the results seemed to be better.
Good situational football at end of half.
The Patriots played good situational football at the end of the half, stealing three points on
Stephen Gostkowski
's 53-yard field goal. Great interception by
Aqib Talib
.
Overall, it hasn't been pretty, but the Patriots will take it at this point. The Buccaneers get the ball to start the second half.
December, 19, 2010
12/19/10
7:31
PM ET
By
ESPN.com staff
| ESPN.com
Join ESPNBoston.com's Mike Reiss and Mike Rodak on Sunday night for an in-game chat during the Patriots-Packers game at Gillette Stadium. The chat kicks off around 8:15 p.m. ET.


December, 12, 2010
12/12/10
7:31
PM ET
CHICAGO -- No sense devoting too much wordplay to this stinker.


It became abundantly clear very quickly the home-team
Chicago Bears
were more affected by the inclement weather conditions than the visiting
New England Patriots
, who rode Tom Brady's arm to
a 36-7 smackdown
at Soldier Field.
Chicago's embarrassing loss brings back the question that has hung over the club all season: Are the Bears the real deal?
They definitely didn't look the part against the Patriots.
What it means
: The Bears squandered an opportunity to pad their lead atop the NFC North by falling to the Patriots. Earlier in the day, the
Green Bay Packers
-- already a game behind the Bears in the division -- lost 7-3 to the
Detroit Lions
. Further complicating matters for Green Bay was the concussion quarterback
Aaron Rodgers
suffered in the first half that casts doubt about his availability for the Packers' matchup next week at New England.
So had the Bears taken care of business Sunday against New England, they'd be two games up against a Packers team that could very well be on the way to yet another loss next week on the road against what appears to be the best team in the league.
Snow what?
That's probably what the Patriots say to the notion of inclement weather at Soldier Field affecting their offense. The Patriots racked up 273 yards in the first half, converting on 67 percent of third downs.
The team with home-field advantage, meanwhile, managed just 33 yards of offense in the first half as quarterback
Jay Cutler
succumbed to two sacks and finished with a passer rating of 58.3. The area the Bears hoped to lean on most -- the rushing attack -- produced just 19 yards in the first half, led by
Matt Forte
, who averaged 1.9 yards per carry. The club's longest run in the first two quarters was a 7-yard scramble by Cutler.
Brady lights up Cover 2
: Chicago made no secret of its plan to stay in Cover 2 and test Brady's patience by forcing him to make short passes. Brady did that and more in the first half, lighting up the Bears' Cover 2 defense for 195 yards in the first half with two touchdowns and a passer rating of 124.1.
Brady displayed patience against Chicago's Cover 2 in taking New England on 12- and 11-play scoring drives to start the game. Then, when the Bears started to take more chances in coverage, the quarterback and his receivers took advantage. On the final play of the second quarter, Brady hit
Deion Branch
-- who beat Bears corner
Charles Tillman
on the route -- for a 59-yard touchdown as time expired.
In the first half alone, the Patriots lined up in six different personnel packages on offense, in addition to no-huddle. The Bears seemed to have no answer, and by the end of the third quarter, two New England receivers -- Branch and
Wes Welker
-- had each racked up more than 100 yards on a combined 15 catches.
Record-setting first half
: Chicago's performance in the first half Sunday will go in the team's record books, just not the way it would like. The Bears allowed the most first-half points in franchise history, surrendering 33 through the first two quarters, shattering the old mark of 31 points scored on the club by the Detroit Lions on Sept. 18, 2005.
What's next
: Minnesota is next up on the schedule, but there's uncertainty concerning whether the Bears will be able to play the Vikings at the Metrodome next Monday night because the facility's inflatable roof caved in under the weight of heavy snows in the area.
Bill Lester, executive director of the Metropolitan Sports Facilities Commission -- which operates the Metrodome -- reportedly said that extent of the damage was still being assessed. But Steve Maki, the facilities manager, told the Associated Press he is optimistic the roof can be repaired in time for the Monday night matchup.
December, 12, 2010
12/12/10
2:00
PM ET
By
ESPN.com staff
| ESPN.com
Join our ESPN.com NFL experts as they break down the match up between the New England Patriots and the Chicago Bears.

Contribute your thoughts and questions starting at 4 p.m. ET. See you there.


October, 31, 2010
10/31/10
3:57
PM ET
By
ESPN.com staff
| ESPN.com
Join our ESPN.com NFL experts as they break down the Minnesota Vikings trip to face the New England Patriots.

Contribute your thoughts and questions starting at 4 p.m. See you there.